8 Best Rooftop Bars in Hanoi with Stunning Views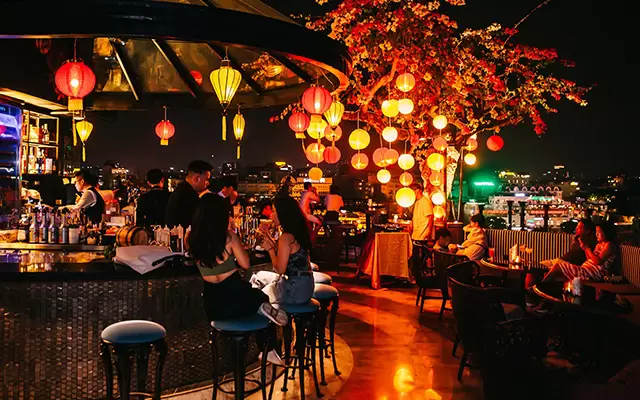 In the first impression of most foreign people, Hanoi is often seen as a city of nostalgia, of lost time, of picturesque antique houses a city, city of chaotic traffic & ubiquitous motorbikes. However, a few people know that when night falls, Hanoi comes out another face: night life with lots of interesting activities. One among 8 best Rooftop Bars where travelers can chill out, enjoy lively atmosphere and stunning view overlooking the shimming city. This guideline will take you to 8 favorite rooftop bars for both local and international visitors, with all information given: opening hours, dress code, pictures, styles and much more.
Scroll down and find the Hanoi rooftop bar best suited for you. Enjoy my city 😀
 8- Terraço Sky Bar at La Sinfonía del Rey Hotel & Spa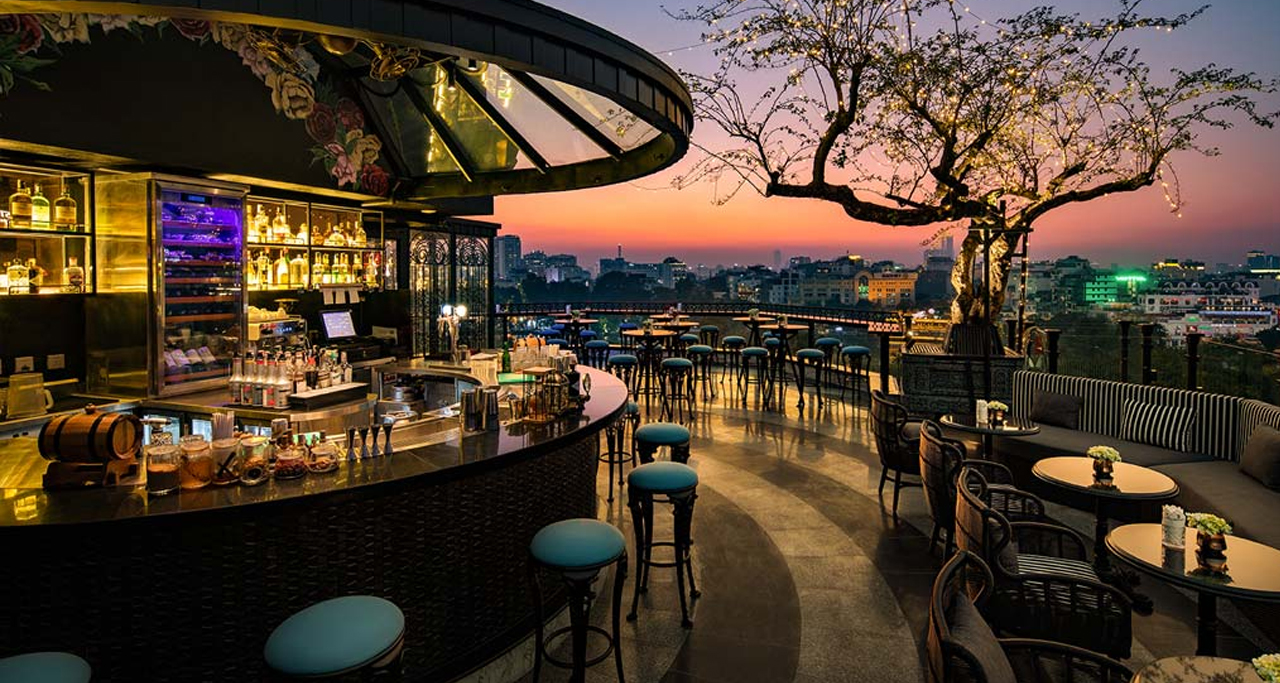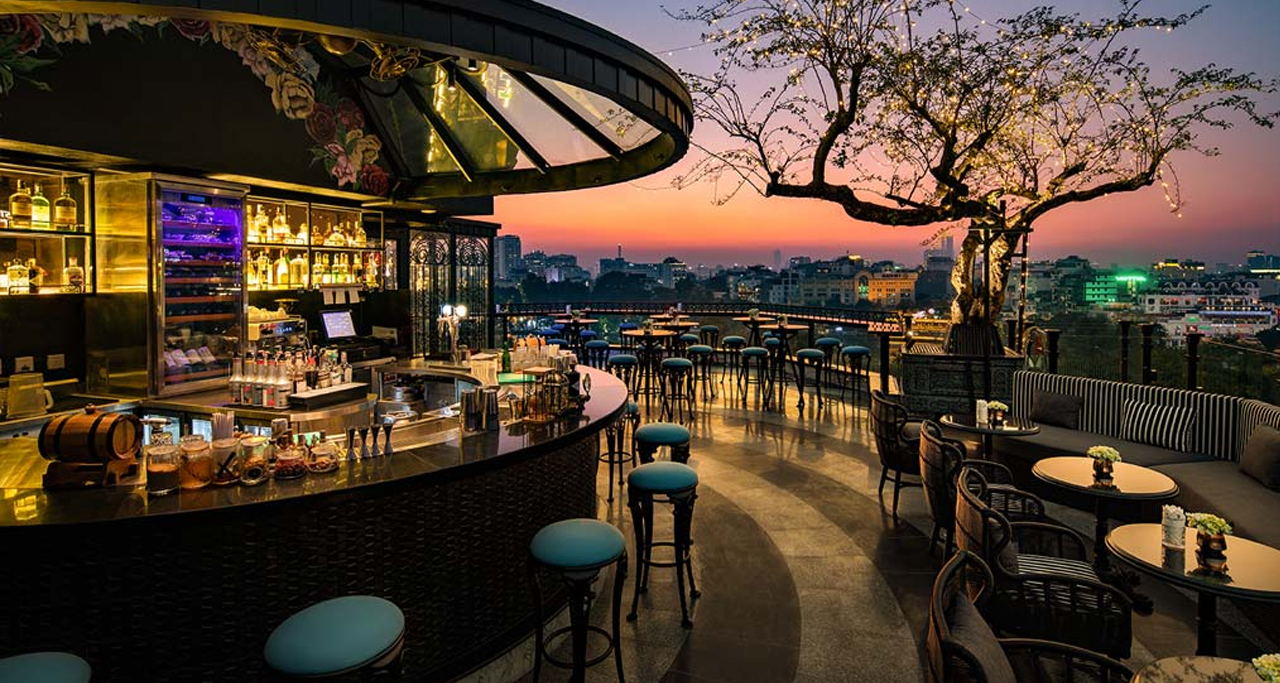 Address: 33-35 Hàng Dau street, Hoan Kiem, Hanoi
Highlights: Spectacular view of Hoan Kiem Lake & Old quarter of Hanoi.
Located by the Water Puppet Theater. Brand-new hotel and well-furnitured
Offering 360-degree panoramic views over Hanoi's legendary Hoan Kiem Lake, the top floor Sky Bar affords fresh angles of Ngoc Son Temple and Turtle Tower, two of the city's central icons. Beyond these landmarks, you can feast your eyes on a shape-shifting city of buzzing motorbikes, architectural mismatch, and dazzling street life. On clear afternoons you can sit back and relax while gazing at an orange sun sinking into the city horizon from our west-facing terrace.
Pursue a menu of wines and beers from across the world or consider treating yourself with a personalized cocktail from one of our skilled mixologists. Delve into a menu of classic cocktails or consider a La Sinfonía signature that takes inspiration from the city – each signature cocktail tells the story of an ancient Old Quarter street through its flavor and character. 
 7. Lighthouse Sky Bar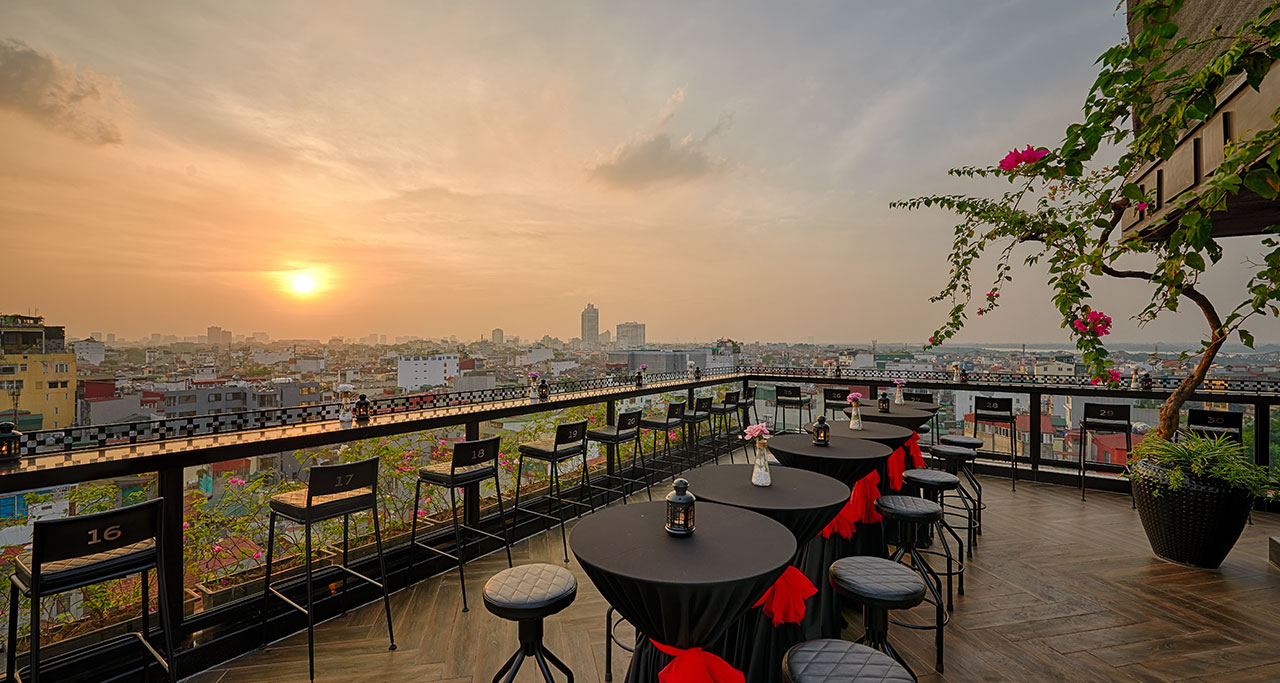 Add: No 27 Hang Be St, Old Quarter, Hoan Kiem Dist, Ha Nội
Highlights: 360 panoramic view over Hanoi, excellent service.
Tel: +84 24 3929 0011
Operation hours: 16.00 – 00.00 daily
Menu: Asian / Western
Dress code: Smart casual
Nested conveniently right in the classic Hang Be street of Old Quarter, Lighthouse Sky Bar is defined as one of the most modern & stylish rooftop bar. Step into the bar and receive the warmest welcome from friendly & professional staffs, the travelers will get a glimpse into a different side of Hanoi where the city is chic and modern.  At Lighthouse Sky Bar, the bar tips over the 10th and 11th roof terraces, decorated with blankets of green potted plants, velvet cushions, and an open seating area overlooking the city. With a mix of black, granite grey and hints of cream, the bar is 'moored' over three levels of terrace space; its bow with the bar area overlooks the street below, while at the back the stern faces the Red River.
Lush and open-air the terraces are equipped with both comfy lounge sofas and front-row bar stools. So you can choose to chill more 'in the back' or be up front with the fantastic vistas over Hanoi. The Lighthouse rooftop bar offers a fantastic set of well-made and unique signature cocktails, along with classic ones, local craft beer and premium wine sets
Open daily from 4pm to midnight, Lighthouse Sky Bar works perfectly for both a relaxing afternoon cocktail and stylish al-fresco vibes at night, with background chill-out music creating a trendy understated vibe. The very best time to visit Lighthouse rooftop is however between 4pm-6pm, when you can enjoy daily happy hour with promotion (50%) on drinks, and wander around to watch the amazing sunset over Hanoi. Come to Lighthouse Sky Bar, and see Hanoi in a new light!
6. Twilight Sky Bar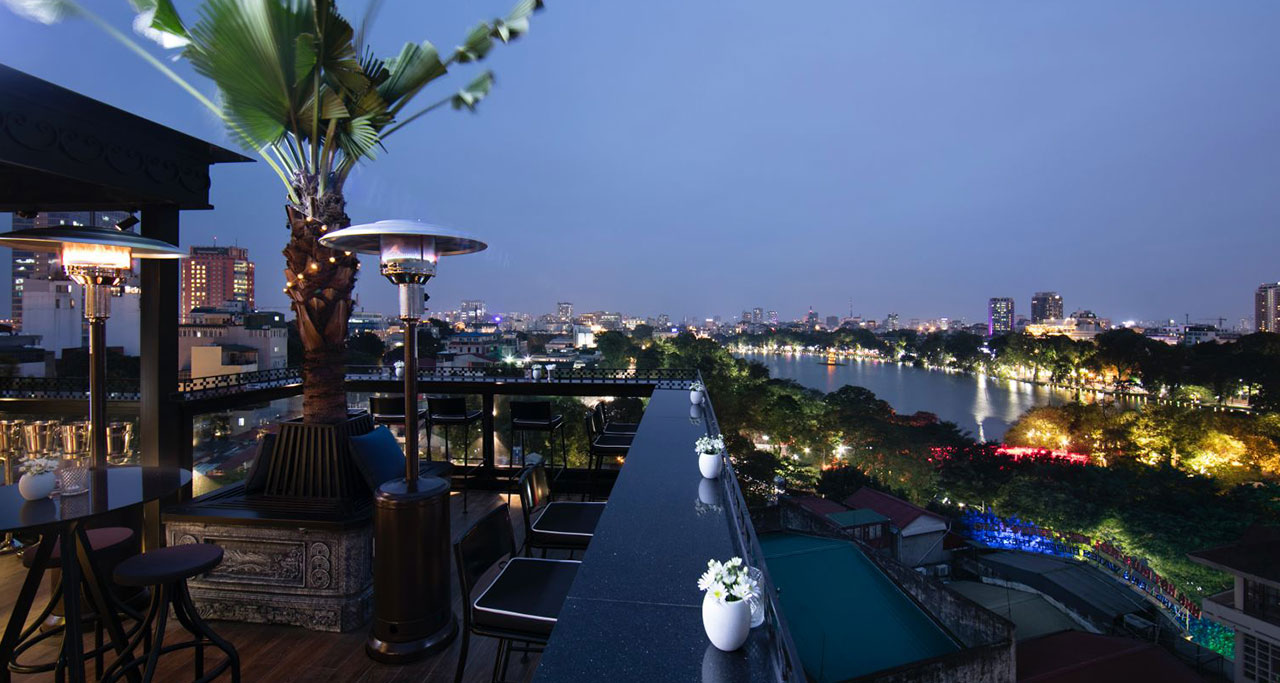 Add: 1 Cau Go Street, Hang Bac, Hoan Kiem, Ha Noi
Highlights:  8th floor bar, Hoan Kiem Lake-view & skyline, Charming & sophisticated Crafted cocktails
Tel: +84 24 3938 0963
Opening hours: 09.00 – 00.00, daily
Menu: Asian / Western
Dress code: Smart casual
Located on one of the newest properties Hanoi La Siesta Central Hotel & Spa, close to Hoan Kiem Lake in the Old Quarter, Twilight Sky Bar is a chic and intimate rooftop bar.
Eight floors up, the rooftop is high enough to seize a romantic 270-degree view of the city skyline and stunning vista over Hoan Kiem lake, close enough to feel the pulse of the bustle city streets.
Trendy, modern and sophisticated decor, the Twilight terrace comes with both comfy lounge sofas and a long stretch of bar stools right by the edge, giving front-row seats straight to the views. From the rooftop bar you have attentive staffs to serve fresh and crafted signature cocktails, along with lots of classics, craft beer and an extensive range of international wines. The well-chosen food menu offers both Asian bites and more filling Western dishes.
Let's imagine you are holding chilled cocktail grass in hand in the greatly decorated bar space overlooking the city with chill-out background music, all create a laid back, yet charming and elegant vibe in the heart of Hanoi city.
Open daily from morning to midnight. Yet, the absolute best time to visit the rooftop is probably between 5-7pm, which does not only mean daily happy hour in the bar, but also the chance to experience fantastic sunset view over Hanoi and Hoan Kiem Lake.
5. Summit Lounge at Pan Pacific Hanoi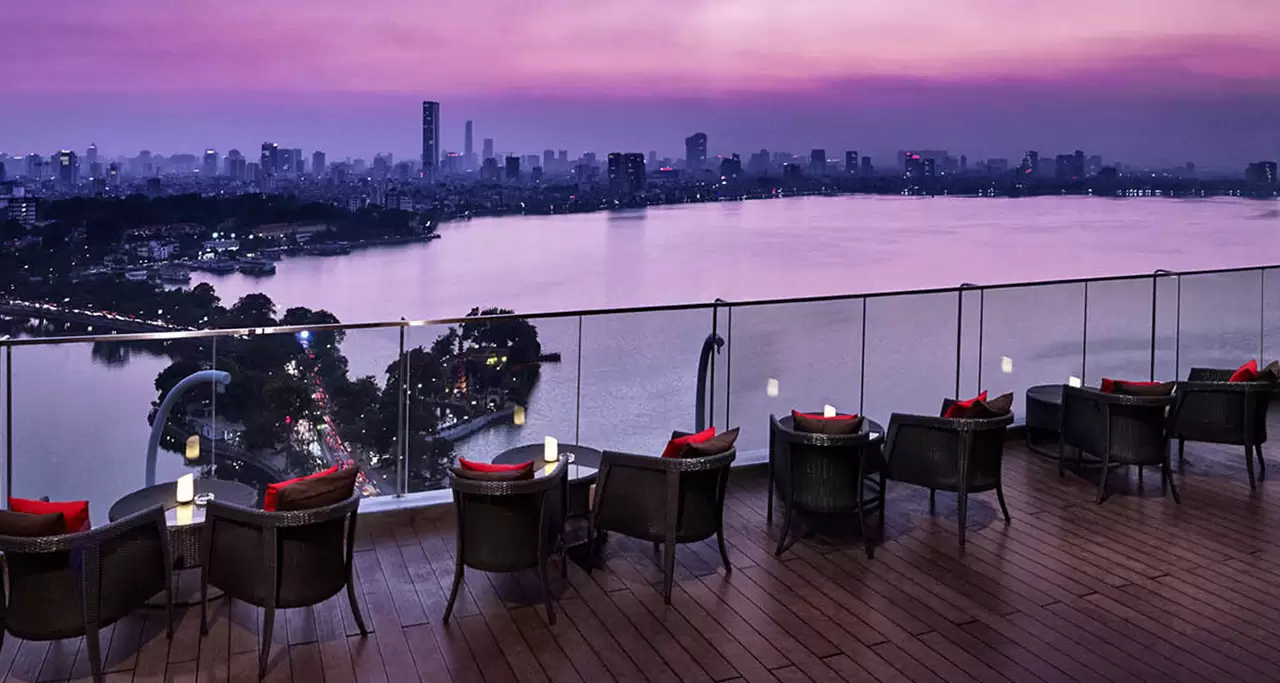 Add: 20th floor – Pan Pacific Hanoi, 1 Thanh Nien Road, Ba Dinh District, Hanoi
Highlights: 20th floor, 360-view nice ambience, crafted cocktails
Tel: +84 4 3823 8888
Opening hours: 16.00 – 00.00, daily
Menu: Western/ Asian
Dress code: smart casual.
The Summit Lounge, located on top of the fabulous 5 star Pan Pacific hotel in Hanoi city, is one of the most luxurious rooftop bars Hanoi has to offer. With the most costly vitas, facing the West Lake and Truc Bach Lake, Thanh Nien Road, Tran Quoc Pagoda and Red River, the bar can satisfy any travelers chasing for romantic unique experience in the bustle capital.
Both indoor lounge and rooftop terrace, this rooftop bar in Hanoi offers great drinks, luxury furnishings, fabulous views and unwinding atmosphere. The vibe at the indoor lounge is a bit more vibrant with tunes of soft house music from the live DJ while the outdoor terrace is a fantastic place for chilled cocktails with a loved one, enjoying the amazing sunset over the lakes.
The professional bar team is available to serve a wide variety of tasty and well-crafted signature cocktails or premium spirits and wine / champagne. For those who are hungry, there is a nice set of Asian gourmet bar bites to choose from. Sometimes the terrace also holds special events, like rooftop BBQ.
For a class rooftop, the service is a huge plus. Professional and friendly service will steal your heart at the very first time of visit.
Come to enjoy drinking and great panorama of Hanoi city. Besides, you will feel the cool atmosphere, seeing the professional services.
With the breathtaking views as No.1 selling point and luxury service, The Summit Lounge is a bit expensive for Vietnamese, but really worth splashing out on for a special occasion.
4. Top of Hanoi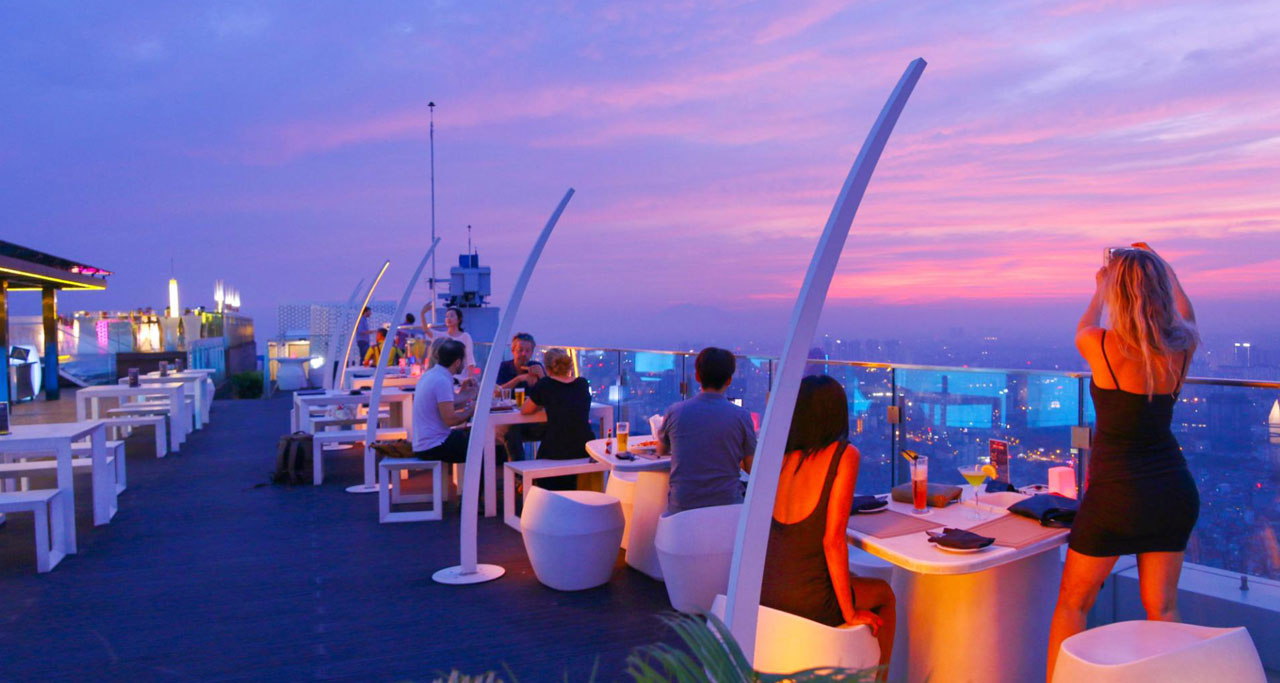 Add: 67th floor of Lotte Tower, 54 Lieu Giai Street, Lieu Giai, Ba Dinh district, Hanoi
Highlights: highest rooftop bar, open-air kitchen, 360-view Large terrace
Opening hours: 5:00 pm – 11:00 pm
Tel: +84 433 333 016
Menu: Western/ Asian
Dress code: smart casual.
Located on 67th floor of the fantastic Lotte Hotel Hanoi, until now Top of Hanoi is proud to be the highest coffee bar with the widest panoramic view of Hanoi. With a large array terrace and a long range of balcony making a very open space so that you can look over discovering the very beauty of Hanoi. The Top of Hanoi is designed to give it a maritime look as it is shaped like a ship, with two upper decks at each end and a lower deck in between. The design makes the experience more perfectly!
The interior of the Lotte Hotel Hanoi roof terrace is stylish and towards minimalistic, where cool lighting and the view does most of the work. The ambience is sophisticated but relaxed, with trendy music by live DJs keeping the lounge vibe high.
So, for jaw dropping views, Top of Hanoi is the best rooftop bar with the most impressive views in the entire city. But that is absolutely not the only reason to visit.
From the chill-out and spacious rooftop bar in the middle of the terrace you can order signature cocktails, classics, premium spirits and fine wines. Top of Hanoi is also an open-air rooftop restaurant, serving tasty and classic bistro-style cuisine, ranging from Western to Asian dishes and made in the open kitchen located on the rooftop. A great spot for both dinner and drinks with close ones. The selling point of the bar is not only the stunning city view from one of the skyscraper, but also fantastic service and the feeling of touching the Vietnam sky.
3. Skyline Hanoi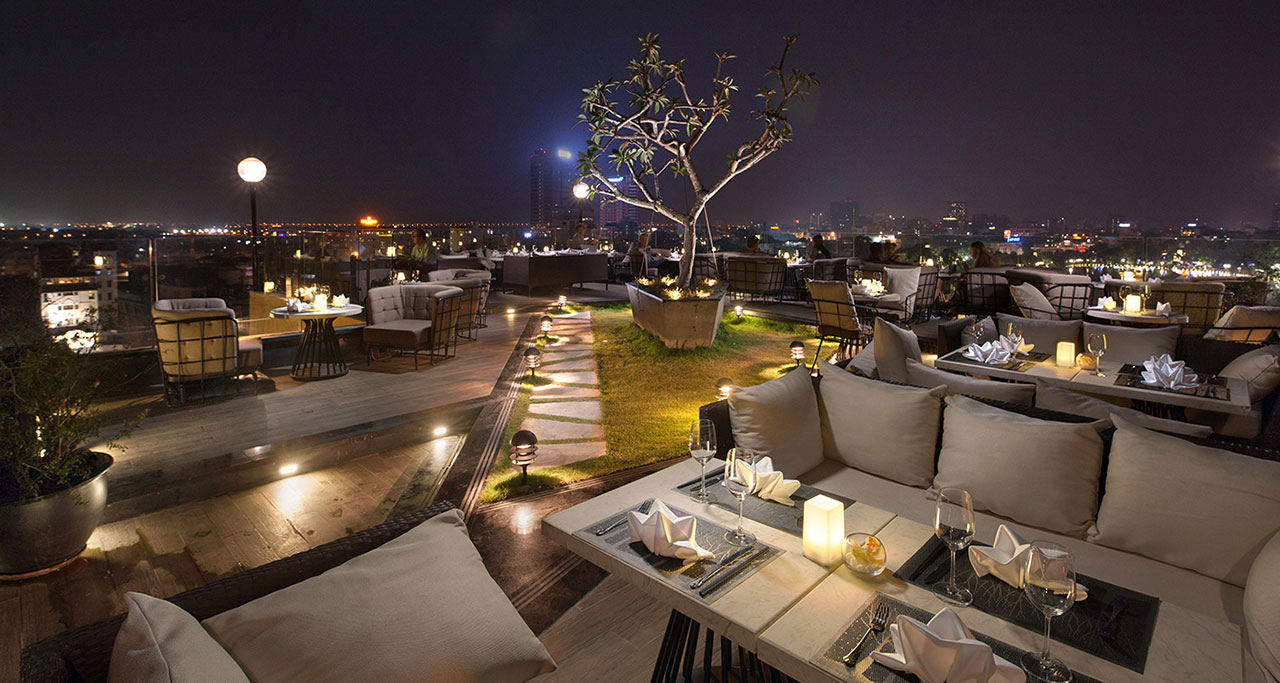 Add: 36-38-40 Gia Ngu Street, Old Quarter, Hoan Kiem, Hanoi
Highlights: 11th floor, Charming rooftop oasis, 360-view Restaurant & bar
Tel: +84 96 808 30 66
Opening hours: 09.00 – 23.00, daily
Menu: Western/ Asian
Dress code: smart casual.
Set favorably on top of the fantastic 4 star Hanoi Tirant Hotel, located in the heart of Old Quarter Hanoi, Skyline Hanoi is a charming and beautiful rooftop restaurant and sky lounge and attracts lots of foreign tourists. The rooftop even comes with the byline 'Rooftop of the Old Quarter'.
Eleven floors up, you get not only impressive 360-degree views over the Old Quarter & Hoan Kiem lake, but also panoramic over the Hanoi skyline. The Skyline Bar is rated the best at dawn and the streets start to shimmer the light up.
The rooftop spans over several levels, with both a classic and stylish indoor restaurant with panoramic windows, as well as a spacious outdoor rooftop terrace. Have a seat at dining tables or in some comfy lounge sofas. If you want to escape from the crowd and noise, just choose another corner, overlooking the iconic Long Bien Bridge at night would probably be great on your eyesight. The restaurant provides guests with a great experience, whether dining at a table in the main restaurant, relaxing on comfort sofas next to the panoramic windows, enjoying the top deck for a 360′ view or even sitting by the pool.
The Skyline Hanoi menu ranges from tasty authentic Vietnamese food and international classics, to well-made and crafted cocktails, chilled beers and an extensive selection of wines.
Ideally, the bar is open during from midday – perfect for poolside drinks – and turns into a romantic cocktail bar in the evening on the top deck.
Just imagine ending an exhausting day with a frozen drink in your hand while listening to chill-out music, contemplating the amazing views over skyline and enjoying the sunset over the Hanoi skyline…. What a sweet ending note!
2. The Rooftop Hanoi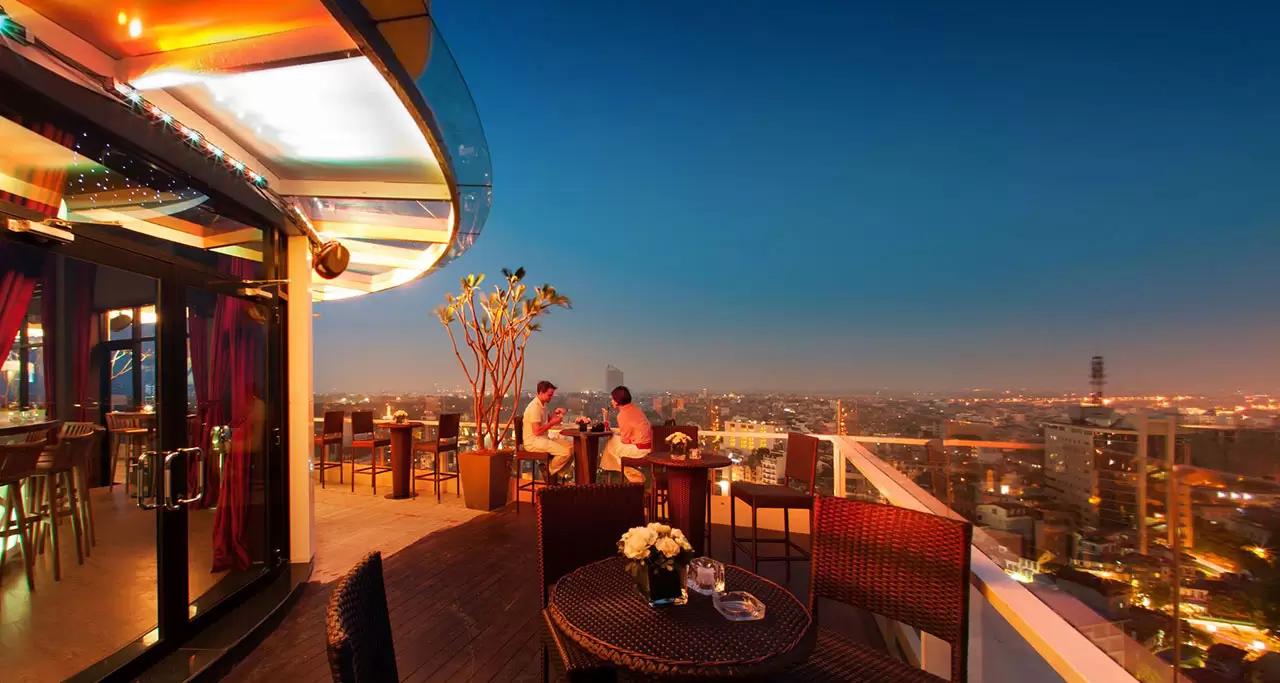 Add: 19th floor, Pacific Place, 83B Ly Thuong Kiet Street, Hoan Kiem District, Hanoi
Highlights: 19th floor, resto-bar, panoramic view, live music & DJs
Tel: +84 91 370 69 66
Opening Hours:
Restaurant: from 09:00 AM to 09:00 PM every day
Bar: from 09:30 PM until midnight
Menu: Western/ Asian
Dress code: smart casual.
Combining a rooftop bar, lounge, restaurant and nightclub all in one, the Rooftop Bar Hanoi is considered as a symbolic destination of the interesting nightlife in the capital of Vietnam.
Ideally located on top of the Pacific Place Apartment just a short walk from the Hanoi Railway Station, the bar offers impressive view over the buzzing city. From this astonishing height, visitors completely escape from the crowded roads, annoying noises of a busy city.
Available from morning to midnight, The Rooftop Hanoi customize different settings depending on when (and where) you visit. A business lunch and early afternoon cocktails will obviously be in a quieter setting. When the night comes, the vibe starts turning up, especially at the indoor lounge. The indoor lounge and restaurant is quite spacious and comes with stylish and cozy dining seating. The terrace is more narrow as it winds around the building. However, this means that almost all the seats out here are right at the edge, giving stunning front row views over the skyline.
So while the terrace is quite chill and perfect for more romantic vibes, the indoor lounge comes with live music three nights a week and live DJs turning the mood up closer to nightclub.
From the rooftop bar, travelers can order signature cocktails and the restaurant offers diversity of the most outstanding and delicious dishes of both Asian and Western-style. Pricey, but for vibes and views this is a great "drinks with a view" place.
A little romantic jazz music and warm, sparkling golden candles, plus a fine frozen drink in a chill-out evening sitting on the 19th floor, you already have a perfect night in Hanoi.
If you share this wonderful experience with your friends or loved ones, your memory will become even more unforgettable.
1. Cielo 13 Sky Bar & restaurant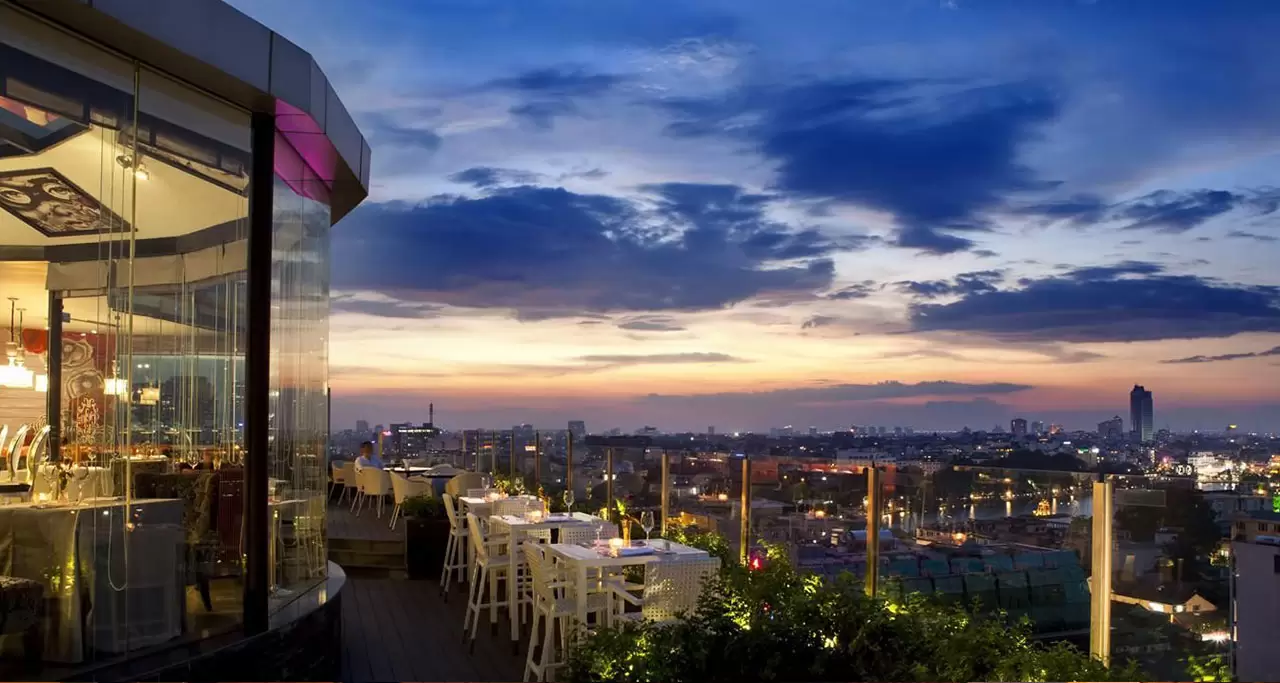 Add: 13 Hai Ba Trung, Hoan Kiem District, Hanoi
Highlights: spectacular views, excellent authentic dishes, bountiful wines & flavorful cocktails
Opening hours: 10:00 am – 11:30 pm
Tel: +84 438 248 899
Menu: Western/ Asian
Dress code: smart casual.
Ideally located on the top floor of the building Sun City 13 in the south of Hoan Kiem Lake, in the French Quarter, Cielo 13 skybar wins one of the best locations for a Hanoi rooftop. It will give you the feeling that you can reach out to touch the famous historical attractions nearby: Hoan Kiem Lake, Opera house, Hilton De Opera hotel. This skybar's decoration is a mix of vintage and contemporary decor, inspired by a famous Italian painter, but still preserving some green space for relaxation.
Cielo is well-known for a huge range of French wine, slight wine, and attractive desserts. There is nothing more romantic than an evening with wine and candlelight, sitting on the rooftop of Sun City, enjoying a panoramic view of Hanoi nightlife, and taking some shots of Hanoi twinkling in lights. This will be the ideal place for you to have a romantic date in a cozy and elegant ambiance.
The signature cocktails such as the Cielo Martini are also a must try when you drop in.