Overview of Hue, Vietnam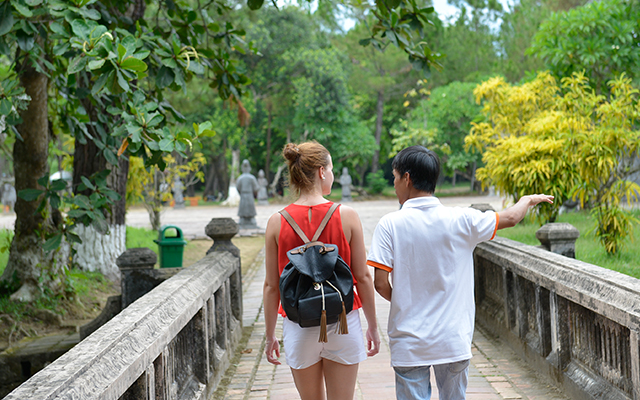 Today Hue is a quiet and attractive city in Central Vietnam. In fact, history of Hue is really impressive and hard to remember even for local people. It was the capital of 9 reigns of Nguyen Lords and 13 Nguyen Kings in nearly 400 years (1558 – 1945), and now home to some of most impressive feudal remnants. Hue retains culture and intangible heritages which contain values of wisdom and spirit of Vietnam. Throughout the centuries, the quintessence of country converges here to create a fantastic natural picture with romantic river and charming mountain. Therefore, Hue is considered as the palaces, temples, majestic tombs, famous attractions in Vietnam…
1. Weather and Best time to visit Hue
Hue's weather is hot and humid throughout the year but it is known to be hotter than other cities during the summer months due to its location in Central Vietnam and the hot south-westerly wind from Laos. The city has two indistinct seasons: dry season and rainy season.
The perfect time to visit Hue is from February to April when the weather is pretty pleasant and ideal for all activities. The average temperature is about 22°C, making it considerably much more comfortable to go outside and explore the city. It is still possible to visit Hue between May and August if you are not afraid of heat. This is summer time with an average temperature of 30°C. You should avoid the rainy season, from September to December, with a flood season from October, onwards. Temperatures drops to around 20°C and rainfall tends to occur frequently and lasts for hours. This may ruin your vacation.
For more information about the weather of Hue, check this link: https://vietnamtravel.com/hue-weather/
2. How to get to Hue Vietnam
Hue is located in Central Vietnam, on the banks of the Perfume River, just a few kilometers inland from the East Sea. It is about 700km south of Vietnam's capital – Hanoi, about 1100km north of Ho Chi Minh City (Saigon) and about 100km from Danang City. There are some means of transportation you can choose to travel to Hue, depending on your prefer and location.
2.1. From Hanoi/ Saigon
Hue has an airport, named Phu Bai, which is just 15km from city center. You can take a direct flight operated by Vietnam Airlines and Vietjet Air from Hanoi or Saigon to Hue. It takes over one hour with ticket price from 70 USD to 120 USD. There are just some flights per day so you should book ticket in advance.
You can also join a 13 hour journey on a night train from Hanoi to Hue by Livitrans first-class sleeper train. This is a private company operating a separate coach to the certain train lines. There are 2 tightly departures at 19:25 and 22:15 and you will arrive Hue in the next morning. From Saigon or other places in Vietnam, you can take a Reunification Express train running from North to South and vice versa and making several stops along the way. Traveling by train takes more time but you will have chance to admire the beauty of nature though window, especially when you pass by Hai Van pass.
2.2. From Danang and Hoi An
There is the Hai Van pass and a nice drive in between Danang and Hue. If you travel from Danang or Hoi An, it is pretty easy to reach Hue. Just 100km from Danang or 120km from Hoi An Ancient Town, you can catch a taxi, a local bus or ride motorbike to Hue with 2-3 hours. But the most convenient way is to book a private car with local travel agent, which gives you more flexibility and comfort. Taxi or bus will take the tunnels to save time and cost. The private car will take the nicer option to drive over the Hai Van pass where you could see the mountains, the ocean and the spectacular view or the beach and Danang city…
Read more: How to get to Hue from Danang
3. Sightseeing in Hue Vietnam
3.1. Hue Imperial Citadel
Being one of Vietnam's eight UNESCO World Heritage Sites, the Hue Imperial Citadel has long been a must-see attraction for tourists visiting a hidden charm of Vietnam. This was actually a walled fortress and palace belonged to the ancient city of Hue which was a capital of the Nguyen Dynasty for 140 years, date back from 1805 until 1945.
The grandeur architecture was planned to be built in 1803 by Gia Long – an Emperor who founded the Nguyen Dynasty. It started to be constructed in 1805 and completed in 1832 under the sovereignty of Emperor Minh Mang. This complex is the most massive structure being built in the history of modern Vietnam involving thousands of workers, millions cubic meters of rock and huge volume of burden workload.
The citadel palace complex is located on the north bank of Perfume River, inside Hue city. It covers an area of 520ha and comprises 3 circles of ramparts, including: Capital Citadel, Royal Citadel and Forbidden Citadel. The remaining buildings in the Citadel have been carefully restored. Much of the land that used to be the Purple Forbidden City; however, is today just rice fields. This beautiful and fascinating historical site is an ideal attraction for those who want to understand more about Vietnamese history and unique architecture.
Location: Right on Perfume River, Hue City center.
Entrance fee: 200,000 VND/ visitor.
Opening time: 6:30am – 17:00pm in summer, 7:00am – 17:00pm in winter.
3.2. Thien Mu Pagoda
Thien Mu Pagoda (Heaven Fairy Lady Pagoda), also known as Linh Mu Pagoda, is one of the most beautiful and ancient pagodas in Hue city. It is situated on Ha Khe hill, on the north bank of the Perfume River, in Huong Long village, 5km far from Hue city.
The name of the pagoda derives from a special legend. Long time ago, an old woman appeared on the hill where the pagoda stands today, telling the local people that a Lord would come and build a Buddhist pagoda for the country's prosperity. One day, when Lord Nguyen Hoang passed by this area, upon hearing the story, he ordered the construction of the pagoda named Heaven Fairy Lady Pagoda.
Here tourists have a chance to enjoy both the scenery landscapes and the typical traditional architecture of Hue pagodas. Thanks to its high position upward a charming curve of Perfume River, the pagoda offers a mind-boggling view of both the flow and the surrounding areas. Covered with pine trees, bonsai and delicate manmade pond, this religious site brings to a peaceful feeling which is hard to find anywhere else.
It is suggested that tourists should come here in the early morning to see the fresh beginning of the daily activities or visit the pagoda in the afternoon to enjoy the beautiful sunset on the Perfume River. Remember to dress respectfully when visiting the pagoda, avoid wearing short skirts or tank-top since the entrance to the main hall Dai Hung is not allowed for those wearing these costumes.
Location: Huong Hoa, Hue City, Thua Thien Hue.
Entrance fee: Free
Opening time: 8:00am – 18:00pm.
3.3. Tombs of the Emperors
The other great attractions in Hue Vietnam are the Tombs of the Emperors, which are located along the Perfume River south of the city. They are accessible by bicycle, motorbike or private car from the city. But it is recommended to take a river boat cruising along Perfume River to visit the tombs. This will give you a better experience.
• Tomb of Minh Mang
In this opulent complex, the main buildings are arranged on an east-west axis, including a courtyard surrounded by warrior statues and several temples and pavilions. Several bridges cross two lakes before the axis ends before the vast burial mound (which is circled by a fence). The mausoleum features large gardens and lakes: a pleasant place to sit and relax. If you're dropped off by boat note that there is a stretch of souvenir sellers to navigate during the short walk to the mausoleum entrance.
Location: Huong Tho, Huong Tra, Thua Thien Hue, 12km from Hue city center.
Entrance fee: 150,000 VND/ visitor.
Opening time: 7:00am – 17:30pm.
• Tomb of Tu Duc
Constructed from 1864 to 1867, the complex served as a second Imperial City where the Emperor went for "working vacations". Tu Duc's contemplative nature and poetic spirit is reflected in the landscape and arrangement of the 50 buildings that at one time stood here. A vast, sprawling complex set around a lake, with wooden pavilions and tombs and temples dedicated to wives and favored courtesans (Tu Duc had 104 to choose from). The courtesans' quarters are in ruins, with only outlines and crumbling walls left amid waves of overgrown grass and silence, but other areas are stunningly well-preserved. The Emperor's tomb itself, tucked away in the back, is surprisingly modest – the final courtyard is nearly empty with just a stone coffin in the middle. (The tombs of Empress Le Thien Anh and Emperor Kien Phuc, who briefly ruled in 1884, are also located here.) Try to dodge the crowds for this one.
Location: Thuong Ba, Hue City, Thua Thien Hue, 7km from Hue city center.
Entrance fee: 150,000 VND/ visitor.
Opening time: 7:00am – 17:30pm.
• Tomb of Khai Dinh
Dating from 1925, this is the best preserved of the lot and, while comparatively compact, quite grand at first sight. While it follows the classic formula of forecourts leading up to the tomb of the Emperor, complete with statues in attendance, architecture buffs will spot some European influences. The tomb itself is completely over the top with incredibly detailed and opulent mosaics of cavorting dragons. Try to get to this one early, as it is a favorite stop for Asian tour-bus groups. Also, you may want to leave the tourist path and head up the hill on the right side of the tomb, where a small temple stands. You will have a great view of the tomb and the valley it faces.
Location: Khai Dinh, Thuy Bang, Huong Thuy, Thua Thien Hue, 10km from Hue city center.
Entrance fee: 150,000 VND/ visitor.
Opening time: 7:00am – 17:30pm.
3.4. Dong Ba Market
Dong Ba Market is the oldest market in Hue. It is considered as a paradise for snapshots of daily activities and shopping. Here visitors can gain insights into the local life, explore special street foods and buy some souvenirs to bring home. Everything can be found here from handicrafts, garments, clothing, footwear to jewelry. The more you explore, the more you will discover.
Location: 2 Tran Hung Dao, Phu Hoa, Hue City.
Opening time: 6:00am – 18:00pm.
4. Accommodation in Hue Vietnam
Hue has recently become a popular tourist attraction in Central Vietnam appealing both locals and foreigners. So there are a plenty of accommodations which is suitable and meets all customers' needs from budget to luxury. Here below is Vietnam Travel's recommended hotel list based on their location, quality of services and friendly staff.
4.1. Romance Hotel Hue (3 star)
Located in the heart of Hue City, Romance Hotel has an ideal location, just steps away from the Perfume River on a street with several tourist information spots. All ample rooms come with air conditioning and large windows offering plenty of natural lights.
Address: 16 Nguyen Thai Hoc, Hue City, Vietnam.
Price: 45 – 120 USD/ room/ night
4.2. Hue Serene Palace Hotel (3 star)
This is a wonderful three-star property in the middle of Hue City, a UNESCO World Heritage Site representing the final resting place of the Nguyen Dynasty and the end of the Vietnamese Empire.This new hotel is just 200 metres from the Huong River and Trang Tien Bridge, guaranteeing convenient access to many of the main attractions of the area, such as the varied cultural hotspots at the Imperial Citadel, diverse shopping opportunities at the Dong Ba Market, or an easy daytrip to the nearby historical DMZ.
Address: 21 Lane 42 Nguyen Cong Tru street, Hue City, Vietnam.
Price: 30 – 50 USD/ room/ night
4.3. Cherish Hue Hotel (3 star)
Cherish Hotel includes 11 floors with 98 well-equipped and comfortable rooms, created from stone, brick and Padauk wood. The hotel was designed sensibly and elegantly in order to bring a relaxing private and comfortable space to guests.
Address: 57 -59 Ben Nghe, Hue City, VietNam.
Price: 40 – 85 USD/ room/ night
4.4. Moonlight Hotel Hue (4 star)
The hotel is conveniently located in the heart of Hue City, within walking distance of Perfume River, shopping malls and restaurant. Many beautiful landscapes of Hue City can be accessed from the hotel in 30 minutes or less such as Dong Ba market, Imperial Citadel and several national monuments.
Address: 20 Pham Ngu Lao str, Hue City, Vietnam.
Price: 50 – 120 USD/ room/ night
4.5. Eldora Hotel Hue (4 star)
This is a boutique hotel which embodies the very essence of colonial elegance and blends it with modern conveniences, affording guests a truly singular experience. 81 well-appointed luxury rooms feature distinctive the Renaissance elements and include furnishings made of luxurious materials, immersing guests in the mystique of the "premier of luxury".
Address: 60 Ben Nghe street, Hue City, Vietnam.
Price: 65 – 75 USD/ room/ night
4.6. Vinpearl Hue Hotel (4 star)
Centrally located in Hue, walking distance to the Perfume River, Vinpearl Hotel Hue offers the ideal accommodation. The substantial cube design displays its modernity and energy, yet Vinpearl Hotel Hue still embraces the signature quintessence of Vietnam with charming patterns of the sea and mountains.
Address: 50A Hung Vuong Street, Hue City, Vietnam.
Price: 80 – 135 USD/ room/ night
4.7. Indochine Palace Hue (5 star)
Surrounded by the lush exotic garden, Indochine Palace Hue has set an outstanding landmark in Hue with new standards of excellence. It is designed to appeal to the affluent, up-market leisure and business travelers. Its luxuriously appointed rooms are spacious starting from 35sqm, highlighted by its new generation open bathroom concept. The cosmetics and toiletries carry the exclusive Indochine Palace fragrance. The graphics on every item in the room, from the matchboxes to the in-room dining, reflect the attention to detail that Indochine Palace has paid to all its services and facilities.
Address: 105A Hung Vuong Street, Hue City, Vietnam.
Price: 90 – 250 USD/ room/ night
4.8. Pilgrimage Village Boutique Resort & Spa (5 star)
Pilgrimage Village is a traditional Vietnamese boutique resort blending harmoniously in the local environment. Set amidst lush tranquil gardens and lily ponds, Pilgrimage Village is a heaven, where the pace of life slows down.
Address: 130 Minh Mang road, Hue City, Vietnam.
Price: 120 – 350 USD/ room/ night
4.9. Lapochine Beach Resort ( 5 star)
Lapochine Beach Resort (formerly Ana Mandara Hue Resort) is Hues' first beach resort, located 20 minutes from downtown Hue, 45 minutes Phu Bai Airport, and 5 minutes Tam Giang Lagoon. This location offers guests a taste of "real" Vietnam with the neighboring fishing village and lagoon one side and 400m of private beach. The resort consists of 78 rooms and villas scattered through 2.8 hectares of landscaped gardens. All villas and rooms are designed with the most modern and complete facilities.
Address: An Hai village, Thuan An town, Phu Vang district, Thua Thien Hue province, Vietnam.
Price: 90 – 300 USD
4.10. Azerai La Residence Hue (Luxury)
Azerai La Residence Hue is an enchanting luxury resort situated on the fabled Perfume River, facing the Imperia Citadel. Endowed with opulence and warmth, this former residence of the French "Résident Supérieur" has been painstakingly restored and refashioned into an enchanting luxury boutique hotel with 122 guestrooms and suites, which offer visitors the chance to relive the pleasures of a bygone era.
Address: 5 Le Loi Street, Hue City, Vietnam.
Price: 210 – 800 USD/ room/ night
5. Cuisine in Hue Vietnam
One of the highlights in Hue that you should definitely forget is cuisine. Though it forms the heart of Central Vietnamese cuisine but its flavors and spices are so unique that distinguish from Danang's and Hoi An's.
Hue cuisine has both luxurious and popular rustic dishes. With such a rich history, Hue's royal cuisine combines both taste and aesthetics. As a vestige of its royal cuisine, Hue dishes are relatively small serving size with refined presentation. And it is notable for often being very spicy.
5.1. Clam Cooked Rice (Com hen)

"Com hen" is a very unique dish of Hue. It contains cooked rice, baby basket clams, crispy pork skins, roasted peanuts, shrimp paste, and fresh greens. Commonly eaten as a filling breakfast, the clams are stir-fried with chopped garlic, onion, fish sauce, pepper, and mint leaves before they're poured over a plate of steamed jasmine rice. In some restaurants, "com hen" is often accompanied with a bowl of clam broth as well as a platter of coriander leaves, shredded banana blossoms and bean sprouts.
5.2. Hue-style Beef Noodle Soup (Bun bo Hue)
"Bun bo Hue" is a popular Vietnamese noodle soup, and one of the most typical foods in Hue. Unlike "pho", this dish is a combination of sweet, sour and spicy and the fine combination of ingredients makes the food famous. The broth is prepared by simmering beef and bones for a long time, after that a large range of different spices containing lemon grass and chili are added in. Shrimp paste holds no less importance.
Hue people usually add thin slices of beef shank, chunks of boiled oxtail, and pig's knuckles or pork into the bowl. It can also contain cubes of maroon brown congealed pig blood, which are good for those suffering from high blood pressure. The specialty is commonly served with a plenty of herbs like sprouts, lime wedges, cilantro sprigs, onions, and sliced banana blossom. You may have chance to try "Bun bo Hue" at other places but remember that "Bun bo Hue" in Hue is much spicier. This dish is suitable for breakfast as well as dinner.
5.3. Steamed Rice Cake (Banh beo)
"Banh beo" is a kind of small steamed rice pancake. The name is to refer from the shape of the cake (like a waterfern – "beo" in Vietnamese). It is white in color, sometimes nearly transparent and usually has a dimple in the center, which is covered with savory recipes including chopped dried or fresh shrimp, scallions, deep-fried pork rind, crispy fried shallots, rice vinegar and herbs. With fish dipping sauce and red chilies, you can enjoy a simple, cheap and delicious dish which can be eaten throughout the day.
5.4. Hue Fig Salad (Va tron)
"Va tron" was once a dish prepared only for royalty in Hue Vietnam. The salad is made with a combination of boiled local figs, onions, carrots, mushrooms, and either shredded pork or shrimp. The local figs are only available in Central Vietnam, and especially in Hue, making the salad a must-try for first time visitors. This dish can be additionally enriched with fried shallots, roasted sesame seeds, and fermented shrimp paste. Nowadays, this salad is usually served on special occasions such as weddings and family celebrations, and it's sometimes accompanied by rice crackers called "banh trang".
5.5. Hue Lemongrass Skewer (Nem lui)

The lemongrass skewers are made from pig's skin, milled pork and pig oil mixed with pepper, salt, sugar and a Vietnamese traditional spice. Then, this mixture is divided into a few small parts, attached to a lemongrass and then grilled on coal stove. It makes the meat ball more flavor. "Nem lui" is served with vegetables such as sliced lettuce, cucumbers, local fig, Vietnamese herbs and rice paper wrapper which you make like a spring roll and dip it on a unique local sauce. To make this special sauce, they mince peanut and then boil it with some fish sauce. In some other places, they add minced pork and pig's liver to the sauce for more attractive taste.
5.6. Hue Lotus Seed and Longan Sweet Soup (Che hat sen long nhan)

Hue lotus seed and longan sweet soup is a famous dessert in Hue Vietnam. It was an imperial dish only served for royal families in the past. Recently, Hue people serve this to valuable guests and on important occasions but you can find it in many restaurants in Hue. The typical smell of lotus seed and light sweet taste of longan flesh makes it more special and unforgettable. Beside "che hat sen long nhan", Hue also offers a variety of sweet soup that you give it a try when visiting this ancient city.