How to get to Hue from Danang
Hue used to be Vietnam's imperial capital during the Nguyen Dynasty from 1802 to 1945. This is a quiet and attractive city with its rich history and impressive feudal remnants. Located in Central Vietnam, about 100km from Danang City center, Hue can be easily accessible by many means of transportation such as by train, by motorbike, by bus or by private car. Below is detailed information that you should know about how to get to Hue from Danang, provided by Vietnam Travel team.

1. By motorbike
Traveling to Hue from Danang by motorbike is undoubtedly doable. Nothing beats the feeling of freedom and adventure during a motorbike ride. Most of young backpackers choose this way. However, this is only for experienced drivers with good driving skills. It takes around 2.5-3 hours depending on your stops and driving pace. You can go through Hai Van Tunnel to save your time but it is recommended to go over Hai Van Pass which offers a spectacular view of the coast. From Danang City, you will reach Hai Van Pass after nearly 1-hour driving. You are totally flexible to stop anywhere and anytime to take photos and admire the beauty of nature. Motorbike rental is available in Danang. The price is about 130,000 – 200,000 VND per day.

2. By train
You can reach Hue from Danang by train. It is simply to buy a train ticket online on Vietnam railway website or take it up at train station. One-way ticket just costs 140,000 VND (6 USD) for a hard seat. If you want to have a soft seat or a soft bed, just pay a little more, up to 20 USD. But it is not that needed since the journey will take about 2.5 – 3.5 hours. You should take a daytime train departing at 12:45pm and 14:00pm so that you can admire the stunning view of Hai Van pass and don't draw your curtains.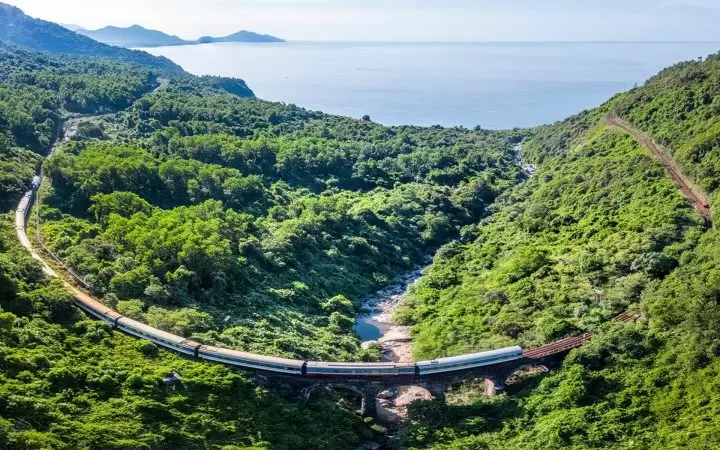 Danang Railway Station: 791 Hai Phong street , Thanh Khe District , Da Nang City.
Hue Railway Station: 2 Bui Thi Xuan Street, Hue City, Thua Thien Hue Province.
3. By bus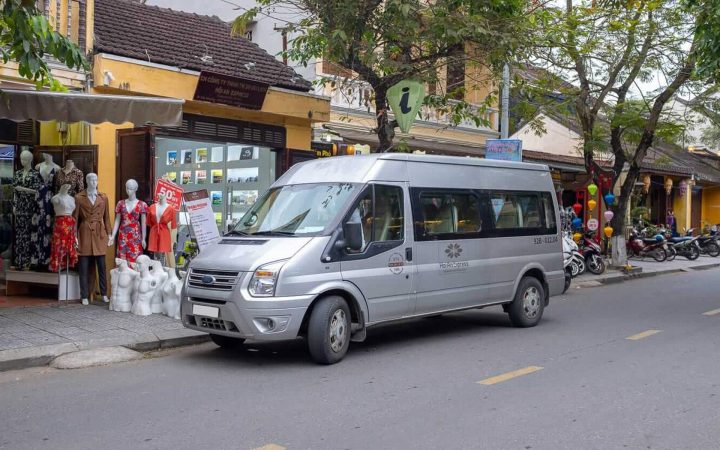 Taking buses is another option to get from Da Nang to Hue Vietnam. The bus usually goes through the Hai Van Tunnel. The journey will take a bit longer than other ways, about 3 – 3.5 hours. Some reputable travel companies you can consider to buy tickets are The SinhTourist, Hoi An Express, Hanh Café… A bus ticket costs around 100,000 VND (~4 USD). You just need to visit their website and book ticket online, then receive a bus e-ticket. Your job is to print it out or keep it on your phone and show it at the ticket counter of bus station before boarding the bus in Danang.
4. By private car
Traveling from Danang to Hue by private car is a good choice if you're in a group, especially with kids or elderly. It is the most comfortable and flexible option of all. We recommend you to book a private transfer in advance, just let us know your hotel addresses for pick up and drop off. The travel time often takes 2 hours. With private transfer, you can stop anywhere you want to take good photos or appreciate a place more, which you cannot do in a train or bus. Unlike local bus going through the tunnel to save time and cost, a private car service will offer you a drive over Hai Van Pass where you can enjoy spectacular views of green mountains and vast blue sea.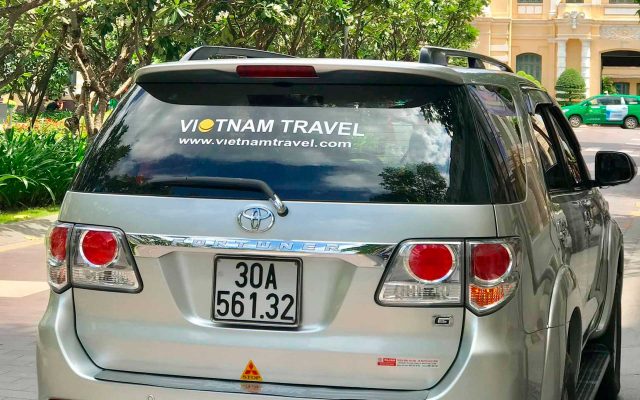 Vietnam Travel provides private transfer service with experienced driver as well as customized tours which are built based on your specific requests. Just contact our travel consultants to get more information and constant support if you are planning to visit Vietnam.