Thien Mu Pagoda, Hue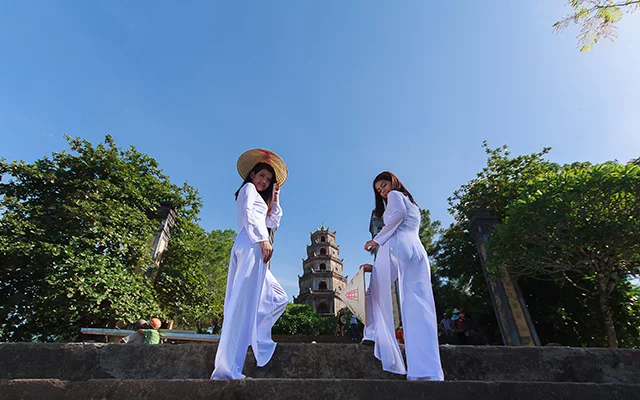 With over 400 years old, Thien Mu pagoda is one of the most ancient pagodas in Hue City. Considered as the city's symbol, it is an attractive place you should not miss when visiting Hue.
History and Legend of Thien Mu Pagoda

In 1601, Lord Nguyen Hoang – the first lord of Nguyen Dynasty in Dang Trong (Southern Vietnam), along with his army, moved to the South to settle down. He himself made a survey of the terrain to choose a suitable place to site for his own capital. One time, when he was riding his horse upstream along Perfume River side, he saw a small hill that had the shape of a dragon turning its head back and a harmonious combination between mountains and rivers. It was called Ha Khe hill. The local people also said that there was an old lady, in red and green clothes, appearing on the hill every night and telling the local people that a true Lord would come and build a pagoda for the country's prosperity. Upon hearing the story, he asked to set up a pagoda on the hill, facing the Perfume River and named Thien Mu (means Heaven Lady). Its name derives from this special legend.
Thien Mu pagoda was first built in 1601, and then Lord Nguyen Phuc Tan had it renovated in 1665. In 1710, this Lord ordered a large Dai Hong Chung bell, with an inscribed teaching, to be cast. And in 1714, the pagoda was again restored on a much bigger scale and many great architectural structures were added, including Thien Vuong Temple, Dai Hung and Thuyet Phap buildings, Tang Kinh Pavilion, Monks' rooms and a house for religious meditation. Many of these buildings no longer exist today. From then on, Thien Mu was said to be the most beautiful pagoda in Dang Trong at that time.
In 1904, the pagoda was seriously damaged by a terrible storm, and many structures were ruined, as a result. Through many reconstructions and restorations, Thien Mu pagoda still retains valuable architectural structures such as Phuoc Duyen Tower, Dai Hung shrine, Dia Tang and Quan Am temples, the stone stele and bronze bell… until now.
What to see in Thien Mu Pagoda

* Phuoc Duyen Tower
From Perfumer River, it is easy to see the 21m-high Phuoc Duyen tower, a famous symbol of Thien Mu pagoda. It was built in 1844 by Lord Thieu Tri in front of the pagoda. This octagonal tower has 7 storeys, each of which has a Buddha statue inside. Going inside the tower, you can see a spiral staircase leading to the top floor where a golden Buddha statue was previously on display.
* Dai Hong Chung Bell & Giant Turtle

On the left side of Phuoc Duyen tower, there is a large bell which was cast in 1710 under Lore Nguyen Phuc Chu. It is famous for its great size: 2,5m high and 2,052kg weigh. It is considered to be one of the most outstanding achievement in bronze casting at that time. Locals refer to Thien Mu bell sound as the sound of their homeland, which flows along with Huong River to the sea, resonating the ancient capital's people's souls.
There is a massive marble turtle located on the right side of the tower. Turtle is one of the 4 holy animals in Vietnam, the symbol of longevity and education. The stele on the back of the turtle is a commemoration of Lord Nguyen Phuc Chu's renovation, dated back from 1715.
* Three-Doors Gate & Dai Hung Shrine

Entering in the three-doors gate with 12 holy guardians, you will reach Dai Hung Shrine. The sanctuary shrine that people pray and worship three Buddha statues, symbols of the past, present, and future, three lives of human beings. It is also the place where Buddhist monks worshipped.
* Immortal Austin Car & Thich Don Hau Tomb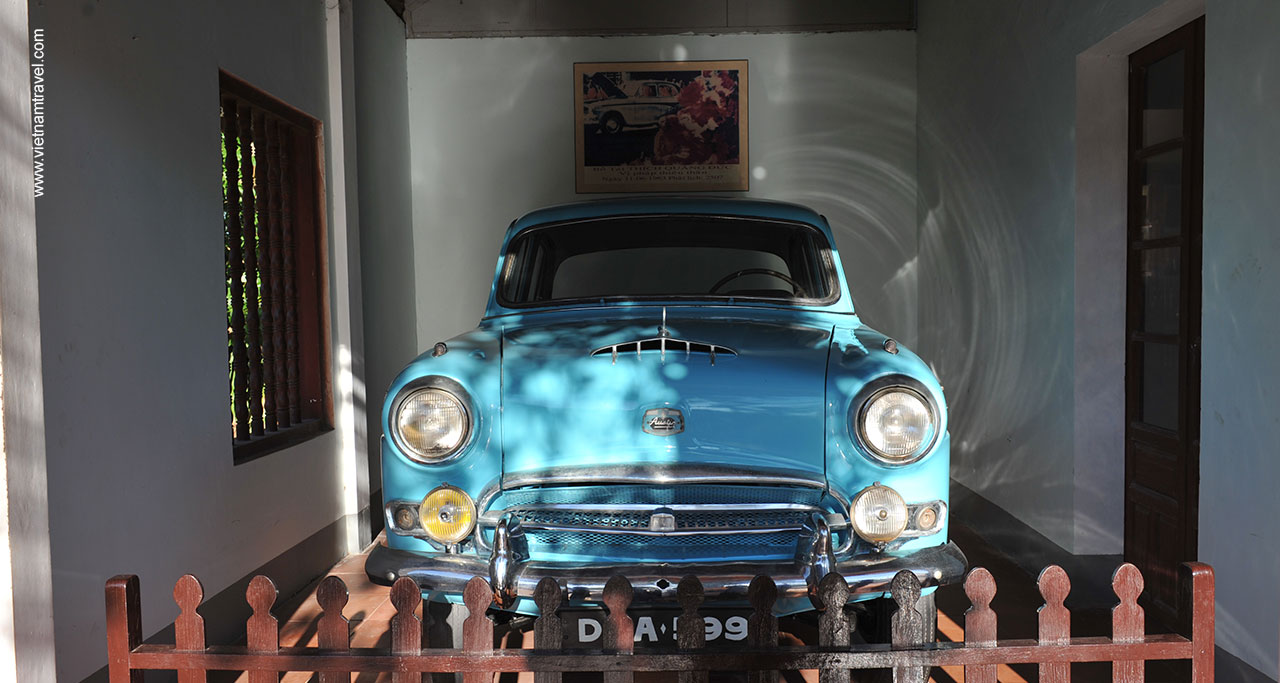 Walking to the backyard, you will see a beautiful and peaceful garden with a lot of plants and fabulous bonsai trees. There is an Austin blue car relic of the late monk Thich Quang Duc left before burning himself to protest the Buddha suppressing policy of Ngo Dinh Diem regime in 1963. Over half a century has passed, this car has become old and rusted but still lives forever with the heroic event of the self-immolation of the patriotic Patriarch Thich Quang Duc.
At the end of the garden is the tomb of the late Venerable Thich Don Hau, the famous head of Thien Mu pagoda, who devoted his whole life for charitable activities.
How to get to Thien Mu pagoda

Thien Mu pagoda is about 5km far from Hue city center so you can get there by motorbike, bicycle, cyclo or taxi. The best way is to take a dragon boat at Toa Kham pier, along peaceful Perfume River to reach the pagoda. As it is a sacred place, remember to dress respectfully when visiting the pagoda, avoid wearing short skirts or tank-tops, and try not to make noise and respect the historic and cultural values in the pagoda.
Coming to Thien Mu Pagoda, you will have a chance to enjoy both the scenery landscape and the typical traditional architecture of Hue pagodas. Thanks to its high position upward a charming curve of Perfume River, the pagoda offers a mind-boggling view of both the flow and the surrounding areas. Covered with pine trees, bonsai and delicate manmade pond, this religious site brings about a peaceful feeling which is hard to find anywhere else. It is suggested to visit the pagoda in the early morning to see the fresh beginning of the daily activities or in the afternoon to enjoy the beautiful sunset on the Perfume River. You can combine a visit to Thien Mu pagoda with Imperial Citadel, Ming Mang Tomb or Tu Duc Tomb.
Location: Huong Long village, North bank of Perfume River – 5km from Hue city center
Opening hours: 8:00 AM – 6:00 PM
Entrance fee: Free.