How to get to Hue from Hanoi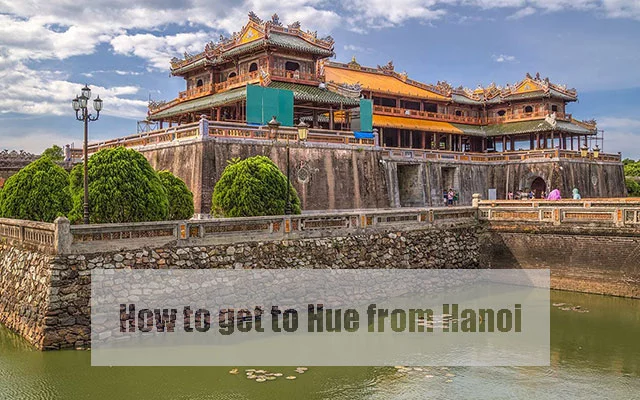 Hue is the former capital of Vietnam and the seat of the Nguyen dynasty from 1802 to 1945. It is famous for its imperial citadel, royal tombs, pagodas and monasteries along the Perfume River. Hue is also known for its refined cuisine, which reflects the legacy of the royal court and the influence of French colonialism.
If you are planning to visit Hue from Hanoi, you have several options to choose from. You can fly to Hue's Phu Bai Airport, which takes about an hour and a half. You can take a train on the Reunification Express line, which offers scenic views of the coast and the countryside. You can hop on a bus or a minivan, which is convenient and affordable. Or you can rent a car or a motorbike and drive yourself, which gives you more flexibility and adventure.
In this guide, we will show you how to get to Hue from Hanoi by each of these modes of transport, as well as their pros and cons, prices and schedules. We will also give you some tips on what to do and see in Hue once you arrive.
1. Get to Hue from Hanoi by plane
It is undeniable that flying is the quickest and most convenient way to travel to Hue from Hanoi, especially for those who are tight on time. Vietnam Airlines and VietJet Air are only 2 carriers offering daily flights from Hanoi to Hue and the journey takes just 75 minutes. However, you need to account for the fact that airports in Hanoi and Hue are located pretty far to the city center so you should add on the transfer time to and from the airport. Even so, this way is still substantially faster than taking other means of transportation. Vietnam Airlines is the currently best airline in Vietnam which aims to provide the better services so the airfare is more expensive than that of VietJet Air – a low-cost airline. A one-way ticket costs you from 30 USD (VietJet Air) and from 60 USD (Vietnam Airlines). But you possibly get the cheaper ticket in promotions. Besides, it is better to book flight well in advance if you have already travel date.
• Hanoi: Noi Bai International Airport (~ 26km from city center)
• Hue: Phu Bai International Airport (~ 15km from city center)
2. Get to Hue from Hanoi by train
Though traveling by train from Hanoi to Hue takes more time, about 13 – 14 hours, it offers a good chance for those who would like to explore the scenery along the way. Besides, you're able to walk around and buy some snacks, fast food, drink, fruits… right on the train when you want to. There are 4 seat types with different price, starting from 20 USD for a soft seat to 35 USD for a soft berth so you can choose the best affordable one. Vietnam Reunification Train are operating 5 train trips per day, departing between 6:00 am and 22:20 pm.
If you are looking for a higher quality service, you can opt for private companies, including Livitrans Express and Violette Express. They provide Deluxe 4-berths cabins which are more comfortable than the standard cabins, plus you'll get a better level of service. As such, you will pay more for those trains, 55 USD on Violette and 80 USD on Livitrans. However, keep in mind that if you're on a sleeper train, you will save a night stay in Hue or Hanoi. It is a good compromise.
• Hanoi Train Station: 120 Le Duan Street, Cua Nam Ward, Hoan Kiem District, Hanoi.
• Hue Train Station: 2 Bui Thi Xuan, Duc Ward, Hue City, Thua Thien Hue.
3. Get to Hue from Hanoi by sleeper tourist bus

Bus is the cheapest option to travel from Hanoi to Hue but it is not a wise choice for people who like space or want to walk around. If you prefer to make the journey by bus, it is recommended taking the night bus so you can save on valuable day time. Along the way about 13 hours, there are several stops for you to relax, stretch your legs, buy some snacks and have meal. Some sleeper buses are well equipped with small toilet, LCD screen, free mineral water, pillow and blanket, making your trip more comfortable…. The price for a ticket bus from Hanoi to Hue is about 300,000 VND (~13 USD). Hung Thanh, Queen Café… are good companies offering daily Hanoi – Hue trips.
• Queen Café:
– Departure time: 18:00 PM & 18:30 PM
– Departure point: No. 208 Tran Quang Khai, Hoan Kiem, Hanoi
– Ticket price: ~ 250,000 VND
• Hung Thanh:
– Departure time: 18:00 PM
– Departure point: No. 162B Tran Quang Khai, Hoan Kiem, Hanoi
– Ticket price: ~ 300,000 VND