The Golden Bridge: The Most Famous Tourist Attractions in Danang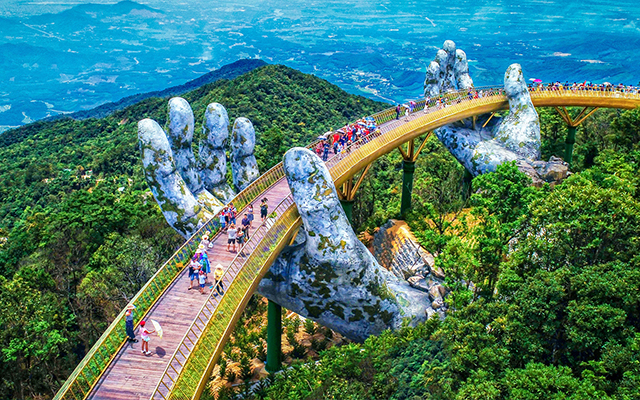 The Golden Bridge has become a global phenomenon of Vietnamese tourism since its inauguration in 2018. The construction was from the need to connect the landscape from Marseille Station to Thien Thai Garden and Le Jardin D'Amour Flower Garden of Sun World Ba Na Hills (Danang City). It is a proud of Vietnam when Golden Bridge – Ba Na Hills was voted by the US news site – Insider as one of the 28 stunning bridges in the World.
In this post, Vietnam Travel proudly introduces to you all useful information about this amazing site and don't miss your chance to visit this attraction in your trip to Danang, also called "City of bridges" of Vietnam!
Location of Golden Bridge and Its Meaning.
Golden Bridge is located in the Sun World Ba Na Hills Complex, at an altitude of more than 1,400 meters on Nui Chua mountain, An Son Hamlet, Hoa Ninh Commune, Hoa Vang District, Da Nang City. From here, looking around when the sky is clear, the jungle and mountains are immense and majestic and the city of Da Nang is full of life in the distance.
Regarding Ba Na Hills, it is located nearly 40km southwest of the city center of Danang and features breathtaking natural landscapes, lush green mountains, word-class amusement park and inspiring architectural constructions. Used to be a hill station founded in 1919, Ba Na Hills was invested to become a leisure holiday destination for French colonists at that time.
The Golden Bridge was designed by TA Landscape Architecture as an architectural unit for the investor Sun Group – a Vietnamese private enterprise of international scale with strategic investments in Travel & Leisure, Entertainment and Recreations, Real Estate and Construction.
"When standing on the mountainside looking towards Danang City, I thought that I was standing in the hands of a giant God. The idea of ​​a bridge supported on the hands of a God was immediately shared with the team of architects and investor Sun Group and received great support." – said by Ms. Thuy, Deputy Director of TA Landscape Architecture. That is how the Golden Bridge was born in such special design.
For its meaning to the tourist area, the Golden Bridge likes as a very precious gift that the resort cherishes for visitors, conveying an interesting landscape story that attracts people to come and experience.
Architecture of Golden Bridge.
This is the only bridge in Danang that does not cross any river. On the contrary, it is located on the top of a high mountain, with an extremely impressive design like to golden silk strip drawn from the mountain and supported by two giant hands.
Completed after 6-month construction from October 2017 to April 2018, the Golden Bridge became one of the top notch attractions of the region as well as nationwide. This "made in Vietnam" project also got endless praises from the world's largest news agencies such as Time, CNN, BBC, The New York Times, Fox News, The Guardian… since its inauguration in June 2018.
The Golden Bridge consists of 8 spans, 7 pillars and 2 abutments with a total length of 150m. The width of the entire bridge is 5m, of which the pedestrian deck is 3m wide, and two flower beds are 1m wide on each side. The abutment foundation structure is made of reinforced concrete while the pillars and spider legs are made of steel pipes. Span structure with I-shaped steel beams linked together in the form of a sturdy frame. The bridge shell is covered with gold-painted steel plate in combination with the polished gold-plated stainless steel railing, creating a glowing effect in front of sunlight. The bridge deck is paved with natural sandalwood, free from termites, sustainable against the harsh weather conditions in Ba Na.
The most impressive highlight of the bridge is the hands of the God lifting the silk ribbon. The look of those hands with the patches of moss, the rough natural surface of the mountain rock even surprised the experienced architects in the industry to learn that they were not carved out of mountain rock, but were made up of tubular steel and grouted steel mesh.
Nowadays, the site has been invested and expanded to become a top-notch recreational complex with the finest French architecture as well as the most significant resort and exciting entertainments under the official name as Sun World Ba Na Hills.
Climate and Best Time to visit Golden Bridge.
With a cool climate in Ba Na Hills, you can visit Golden Bridge all year round. A day can experience four seasons: spring in the morning, summer at noon, autumn in the afternoon and winter in the evening. The average temperatures are around 20oC.
April to September can be peak season to visit Golden Bridge when domestic and Asian tourists gather for their summer holiday, and it is also school break in Vietnam (June-August) when many Vietnamese families flock to famous attractions for their holiday. If you are fan of the bustle scene, this is appropriate time to meet and interact with many domestic and foreign friends.
For a quieter space to avoid the noise of urban places, you can choose to visit Golden Bridge in weekdays or cooler season from October to February. However, October – November is rainy season with flooding in Central part of Vietnam, please be aware about the weather if you travel a plan to the Central Vietnam during this period.
To get the most beautiful and great moments of Golden Bridge, you should go in the morning, right after the opening hour. You can avoid the most crowded of the day and have space for your beautiful selfies here.
Ticket Price & Opening Hours.
Golden Bridge is a tourist attraction in the complex of Sun World Ba Na Hills. In fact, you don't have to buy single ticket to visit Golden Bridge. However, to get to Golden Bridge, you have to get ticket to Sun World Ba Na Hills Complex which includes the following services for your experience:
– Two-way cable car tickets to the top of Ba Na.
– Train tickets for mountain climbing.
– Visiting following sites: French Village, Le Jardin Flower Garden, Golden Bridge, Bich Hoa Street, Debay Wine Cellar, Sensory Garden, Spiritual Area …
– Experience more than 100 indoor games in Fantasy – Vietnam's largest indoor amusement park, festivals and music …
– Ticket price (applied from 1 Jan 2020):
   + Adult & child above 1.4m: 750,000VND/ticket
+ Child from 1m – 1.4m: 600,000VND/ticket
+ Child under 1m: Free
– Opening hours: 07.00 – 22.00 daily.
However, during Covid-19, the current opening hours are adjusted until further notice: 08.00 – 17.00 daily. Cable car will take around 17 minutes from the first station (Hoian Station) to Marseille Station where you can see the Golden Bridge.
Useful tips.
– Do not litter indiscriminately while moving on the bridge to preserve the beauty of nature and the environment;
– Do not climb on the railing or lean outside the bridge;
– Always keep an eye on the little children while visiting for safety;
– According to the unpredictable weather of Ba Na Hills due to its altitude, you should bring the following things, such as: light raincoat – good for rain and cold spells; sun cream; hat or umbrella to shield the sun; comfortable shoes; drinking water.
– No food is allowed to bring inside. There is culinary space with many restaurants in the complex for your chosen meals (lunch or dinner).
– This is favorite place for beautiful check-in photos, wedding pictures or even fashion show.
How to get there?
Ba Na Hills is far nearly 40km from the center of Danang City, and about 60km from Hoi An Town. To reach Ba Na Hills for your visit to Golden Bridge, you can easily take a motorbike, shared bus or metered taxi as your transfer. For private arrangement, just contact Vietnam Travel team for prompt assistance and services.
More details about How to get Ba Na Hills from Danang City, you can read here: https://vietnamtravel.com/how-to-get-from-danang-city-to-bana-hills/
Obviously, the Golden Bridge appears as a new wonder, a new tourism symbol of Danang City in particular and Vietnam in general. The site really promotes millions of international visitors to wish for the experience at least once in their life.
Together with Golden Bridge of Sun World Ba Na Hills, there are many other attractions in Danang City that you can make a great combination in your trip. Find more about Danang attractions here. Go with us and our team will provide you a complete organization for your unforgettable trip in Vietnam!