Overview of Binh Hung Island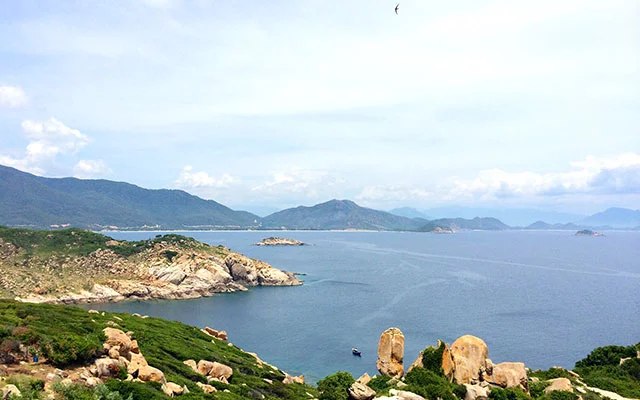 Binh Hung Island is a hidden gem in Central Vietnam with its stunning beaches, crystal-clear water, giant rocks and lobster farms. This island is a relatively a new destination for tourists but thanks to its pristine beauty, many people are curious about this place. If you have not heard about Binh Hung Island or not known so well, keep reading this following article to get useful information.
1. General Information
Binh Hung Island, also known as Ty Island or Chut Island, belongs to Cam Binh Commune, Cam Ranh, Khanh Hoa Province, about 82km from Nha Trang City. The island is relatively small with a total area of less than 2 sq.km. The whole village currently has about 375 households with more than 1,800 people. The locals live mainly on fishing, especially lobster farming.
Binh Hung used to be a rather isolated island; only local residents travel between the island and the mainland. Since the road to Bai Kinh was completed and a few tourists visited the island and reviewed about its beautiful beaches on the island, making it more popular. Gradually, more and more tourists come to the island.
Binh Hung Island is considered as "a raw pearl" since it has not been exploited much by tourism and has still retained its intact beauty. It boasts with its incredible freshwater rock caves, blue water beaches and smooth white sand. Not only that, Binh Hung Island is also known as a fresh seafood paradise waiting for visitors to enjoy.
2. Best time to visit Binh Hung Island
Tourists can visit Binh Hung Island at any time of the year but the most ideal time is during summer months, from March to August when it is sunny and the sea is calm, then you will be free to swim and explore the beautiful natural scenery. September, October and November should be avoided as this period is rainy season and occasional storms many occur.
3. How to get to Binh Hung Island
To reach Binh Hung Island, you have to reach Bai Kinh first – the pier to catch boat to the island.
By plane
This is the fastest and most convenient way to travel. Vietnam Airlines, Vietjet Air, Bamboo Airways… are operating daily flights between Hanoi/ Saigon to Cam Ranh International Airport. You can easily to book the best suitable flight depending on your schedule and budget. The round-trip airfare varies from 70 – 200 USD/ passenger for flight from Hanoi to Cam Ranh and half of it for flights from Saigon to Cam Ranh. To get better deals, you should book the flight tickets 2-3 months in advance.
Upon arrival Cam Ranh International Aiport, you continue to travel to Bai Kinh (~ 50km) by taxi or private car which should be booked with a local travel agency.
By train
From Hanoi Train Station, you catch the Thong Nhat Train (SE3, SE5, SE7) to Thap Cham Station in Khanh Hoa Province. It takes you about 27 hours, such a very long journey and one-way ticket price is from 30 – 45 USD, depending on the seat type. So it is recommended to take a flight instead to save your time.
Traveling by train to Binh Hung Island from Saigon is a good alternative. You also take Thong Nhat Train (SE2, SE6, SE8, SE22) departing from Saigon Train Station to Thap Cham Station. The traveling time is about 6 hours. One-way ticket costs you from 6 – 13 USD.
After getting off at Thap Cham Train Station, you will take a taxi to Bai Kinh (~ 50km).
In Bai Kinh area, there are a lot of local boats transporting passengers to Binh Hung Island. It costs you only 10,000 – 20,000 VND and you will reach the island within 10 minutes boat ride.
In addition, tourists can travel to Binh Hung Island by a local bus or a motorbike but the travel time is very long, more than 12 hours so you should consider two recommended options: by plane or by train.
Go around Binh Hung Island
Binh Hung Island is quite small so you can go on foot around the island to explore its beauty. To reach other beaches or visit lobster farms, boats are available here. The farthest location like Hon Chut Lighthouse, there is electric car to take you there. You can also hire a motorbike to save your time at the hostels or guesthouses with price of 120,000 – 150,000 VND/ per day.
4. Where to stay on Binh Hung Island
Hostel/ Guesthouses/ Homestays
Due to the recent tourism development, many guesthouses, homestays and small hotels have been built to meet the tourists' demand. The price is about 100,000 – 500,000 VND/ per room/ night. Some homestays and guesthouses are equipped with air-condition, wifi, private bathroom… Here are a list of recommended accommodations you can consider to book if planning a trip to Binh Hung Island:
7 Yen Homestay
Chu Lam Homestay
Lost Station Homestay
Tham Trang Binh Hung Homestay
Bich Thao Guesthouse
Cam Hong Guesthouse
Binh Hung Quan Guesthouse
Hong Nhan Hotel
Annie House
Local raft houses
The owners of the raft house now open more accommodation, guests can sleep in the hammock or mattress with cheap price, about 50,000 per person per night. This type of accommodation is suitable for whose who want to experience the local life and get close the touch with the sea.
Camping
Camping on Binh Hung Island is chosen by many young travelers. There are many nice places to set up a tent and sleep overnight on the island. This will be a great experience.
5. Attractions on Binh Hung Island
Bai Kinh (Kinh Beach)
Bai Kinh is the first place you set on foot when traveling to Binh Hung Island since this is a place for boats to transfer tourists to the island. Kinh Beach is shallow so it is suitable for the whole family to play. There are several rental huts on the beach, the price is about 100,000 VND/ hut.
Bai Binh Tien (Binh Tien Beach)
Located in Binh Tien village, Bai Tien Beach was planned to become a resort by the local government but the project has not been built for many years. The only way to reach Binh Tien Beach is by boat since the management board does not allow tourists to travel by road. Here, you can take a walk on the beach, visit the Nui Chua freshwater stream, catch fish in the stream and lay on the cliffs exposed to the sun.
Bai Nuoc Ngot (Fresh Water Beach)
Fresh Water Beach is one of the most beautiful beaches on Binh Hung Island with clear blue water. The beach got this name because there is a fresh water stream flowing inside the stone cave and the outer is the sea. Fresh Water Beach is relatively shallow and stretches about 15-20m. It is safe for both children and non-swimmers to swim here. You can also camp overnight and wake up to welcome the beautiful sunrise at this beach.
Hon Chut Lighthouse
Follow the way up the mountain to Hon Bo, soon you will reach to the Hon Chut lighthouse, which was built in 1988. It is considered to be the symbol of the unspoiled Binh Hung Island. From the lighthouse, you can observe the hustle and bustle cargo ships on the Cam Ranh Port and the panoramic view of the island.
Bai Chuoi (Banana Beach)
Bai Chuoi is the largest sandy beach on Binh Hung Island. The sea level is also the deepest so it is only recommended for experienced swimmers or those swimming with life jacket. The scenery around the beach is very pristine and peaceful. The water here is green like the banana leaf color, which is a reason why the locals call it Bai Chuoi.
Bai Da Trung (Egg Stone Beach)
There are a lot of huge and round rocks like dinosaur eggs on Bai Da Trung. This beach is mainly for sightseeing and taking photos. It is unsafe to swim here since the whole beach is rocky. To reach the beach, you will follow the road to Hon Chut Lighthouse then turn right to a road nearby the top of the lighthouse and go down to the beach. It will take you about 10 minutes walking.
6. Travel Advisory
You should bring lightweight luggage, cotton clothes and don't forget to bring swimsuits for water activities, sunscreen, hat, sunglasses…
Remember to bring ID card and driving license when coming here. There is no ATMs or banks on the island so make sure you bring enough money.
It is better to prepare some snacks, lighting equipment such as flashlight, backup charger… since electricity on the island is also very flicker.
Note: By the time of publishing this article, foreign tourists are not allowed to come to Binh Hung Island. You may check with our Vietnam Travel's consultants for further information or advice of the other tentative.