Things to do in Nha Trang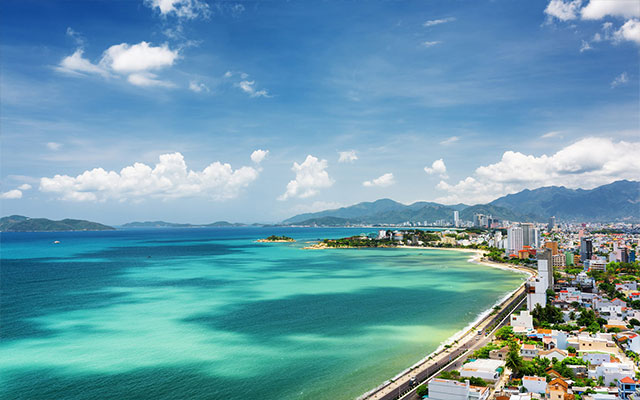 Nha Trang is one of the most popular and exciting cities in Vietnam. This coastal city offers a variety of attractions and activities for all kinds of travelers. Whether you are looking for fun, relaxation, culture, or adventure, Nha Trang has something for you. We have carefully selected the top things to do in Nha Trang that will make your trip unforgettable. You can go diving or snorkeling in the crystal clear waters, visit the amazing waterfalls and temples, cruise the islands and bays, and enjoy the lively nightlife and cuisine. Join us on a journey to the city of fun and relaxation in Nha Trang.
1. Swim & sunbathe in picturesque beaches
With total length of about 7 kilometers coastline, Nha Trang has some of the most breathtaking beaches in Vietnam where the blue sea mixes harmoniously with white sandy coastline. Possessing many beaches which are equal in beauty, Nha Trang can accommodate different choices for anyone's beach break. From bustling beaches in downtown center to quiet and pristine beaches, tourists can have all to their own tastes. Nha Trang's beaches can be distinguished from beaches in other regions in Vietnam by its minor waves, which makes it as an ideal place for persons who look for a peaceful beach vacation. Not only attracting tourists by beautiful beaches, Nha Trang also has a wide array of beach resorts and recreational beach-side activities. Below are our suggested beaches:
– Tran Phu Beach: It's the most popular beach of the city because it can easily be seen and accessed from everywhere in Nha Trang. The beautiful Nha Trang coastal city is partly formed by the boulevard running along Tran Phu Beach with swaying palm trees; wide range of seaside resorts, hostels and restaurants. Nightlife is also active here with most popular bars, such as: The Sailing Club, ZIMA, Skylight Skydeck & Rooftop Beach Club.
– Doc Let Beach: lying 50km north of Nha Trang City, relatively untouched due to its remote location. Featuring warm blue sea, hot white sand, plenty of palm trees, and fishing boat docked offshore, Doc Let Beach is a romantic place for married couples and honeymooners.
– Long Beach: located 28km from southern coast of Tran Phu Beach, Long Beach can be a perfect day trip for those who seek for empty and pristine beaches. This beach is mostly visited by backpackers so it's famous for the hippy-like ambiance.
2. Discover local religious life through cultural sites
Besides beautiful beaches, Nha Trang attracts tourists by its historical relics and various ritual areas, which reflects local residents' beliefs and religions.
2.1. Ponagar Towers.
Location: 2 Thang 4, Vinh Phuoc.
Opening hours: Daily from 6 am to 5:30 pm.
Ponagar Towers – a scared Hindu site dating back to the 7th century, is the most well-preserved ruins of Cham Culture in Central Vietnam, just after the World Heritage My Son Sanctuary in Hoian. Each of the towers honors different Gods and Goddesses but the most striking structure is Yang Po Inu Nagar, which was built to worship Goddess Ana – the mother of Champa Kingdom. The towers are square red-bricked structures with tapered roofs. Situated on the top of a hill, Ponagar Towers offers spectacular views to the Cai River and the fishermen's village. There are traditional music and dance performances in special occasions.
2.2. Long Son Pagoda.
Location: No. 22 Road 23/10, Phuong Son.
Opening hours: Daily – open 24 hours.
Long Son Pagoda with a remarkable history of over 100 years is the most famous and impressive Buddhist pagoda in the style of Taoist architecture in Nha Trang. Coming there, tourists will be impressed by its plethora of Vietnam's largest outdoor Buddha Statues. The main highlight is the 24-metre tall white Buddha image seated on a lotus throne. Another impressive structure is the large reclining Buddha whose back panel features a bas-relief representation of the monks and nuns who died in the late 1950s while fighting against the corrupt US-backed Diem regime.
As Long Son Pagoda is set upon a hilltop, visitors can enjoy a bird's eye view of Nha Trang and the sea beyond from the platform at the base of the white Buddha statue.
2.3. Nha Trang Stone Cathedral.
Location: No. 31 Thai Nguyen Street, Phuoc Tan.
Opening hours: 5:30 AM – 5 PM on Monday-Saturday | 5 AM – 7 AM & 11 AM – 4:30 PM on Sundays
Nha Trang Stone Cathedral is also called Nha Trang Mountain Church and official name as King Christian Church. It was built from 1928 to 1933 by the French with the architectural style of a Catholic cathedral. The design is the perfect combination of the French Gothic style and distinct Vietnamese architecture elements. The church layouts are constructed by simple cement blocks and the chapel's dome was made of lattice girders and hard-core bamboo.
Perched atop a small hill, the cathedral has picturesque setting with the mountains rising dramatically in the distance behind it. Therefore, it's a must see site for visitors and photographers to take excellent photos in both day and night time.
3. Snorkeling and Scuba Diving – Unique things to do in Nha Trang
Snorkeling and Scuba Diving in nearby islands are two most interesting water-related activities in Nha Trang. Known as Vietnam's premier scuba location, Nha Trang and nearby Hon Mun Marine Park give divers the chance to enjoy 350 species of hard coral species and many colorful sea creatures in clear and calm waters. June to August is the peak season of diving because the sea water will be at its clearest and most beautiful conditions during these months. Even you take any level of diving, the most important things are following basic safety rules to ensure a fun but safe diving experience. In addition, many foreign tourists said that diving in Nha Trang is cheap and straightforward.
* Suggested diving organizers:
– Sailing Club Divers – 72 – 74 Tran Phu Boulevard.
– Rainbow Divers Vietnam – 132 Nguyen Thien Thuat Street.
4. Wallow in a mud bath to refresh your body & mind
It will be such a regrettable loss if you visit Nha Trang without trying mud bath because it's considered as the quintessential experience in this coastal city. The mud used in mud bath resorts in Nha Trang is mineral mud with lots of benefits, such as: remove dead skin cells, deposit minerals into the body, eliminate blackheads, and support blood circulation.
If tourists are tired of sightseeing trips and islands hopping tours, it will be a great idea to spend at least half day to relax your body and soul in a hot mineral spring.
* Where to take mud bath?
– I-Resort hot mineral spring – To 19 – Xuan Ngoc – Vinh Ngoc.
– Thap Ba hot mineral spring – 438 Ngo Den – Ngoc Hiep.
5. Celebrate festive spirit in Vinpearl Amusement Park
Location: Vinpearl Resort Island, Nha Trang Bay.
Opening hours: Daily 9 AM – 6 PM.
Regarded as Disneyland in Vietnam, the fun and festive Vinpearl Amusement Park makes for a great day out for all the families with children or youngsters with high adventurous spirit. Located on Hon Tre Island, the park can be approached by 15-minute ride by Vinpearl Cable Car from Nha Trang mainland. This Cable Car used to be the world's longest oversea cable car with a length of more than 3km before 2018. The park offers a plethora of rides, games, water slides, fish-filled aquarium and huge water park. The park complex consists of restaurants and shopping malls, as well as a gorgeous beach for tourists to recline on, with lots of fantastic watersports.
6. Enjoy Nha Trang bustling nightlife
In the night time, Nha Trang brings tourists a tremendous feeling with wide range of options from local experiences to rooftop night clubs and bars, all which will keep you entertained.
6.1. Buying some local souvenirs at Nha Trang Night Market.
Nha Trang Night Market is really a great place for tourists to take insight into local culture of this city. The walking street and night market are opened along Tran Phu Street from 6-7 pm and busy until midnight. Walking here, you can find a lot of items like clothing, souvenirs, handicrafts to bring home. But don't forget to stop at street food stalls where you can enjoy the mouth-watering local dishes with affordable prices.
6.2. Have fun at bars & nightclubs.
Nha Trang bars and clubs are exactly where you can find the sleepless atmosphere of the late night revelers as well as this dynamic city. To mingle with the locals and fellow tourists; you are highly recommended to take a stroll along Tran Phu Street; where plenty of bars and clubs are welcoming you to come.
Here are some popular nightlife spots to check out:
* Nha Trang Sailing Club

Location: 72 – 74 Tran Phu Street,
Opening hours: Daily 07:30 – 02:30
Located along Tran Phu Beach; Sailing Club is like an open space offering diverse services such as restaurants, bars and a vibrant club. During sunset, the club appears with a shimmering and fanciful look. It becomes busier after sunset until late night because more and more tourists will come there to dance and swing with the latest electro house tunes and EDM tracks from the talented hands of famous DJs.
* Louisiane Brewhouse and Restaurant:

Location: 29 Tran Phu Street
Opening Hours: Daily 07:00 – 00:00
Louisiane Brewhouse Nha Trang offers exciting combinations of beer, cuisine and entertainment against the stunning backdrop of Nha Trang beach. It serves the most exclusive beers in Vietnam, that are made with specialty malts from Australia and New Zealand. To match its special home-brewed beers; this all-day beach bar also offers a special collection of favorite Western and Asian dishes. Evening events are held from 8:30 AM to 11:00 PM with a wide range of popular music styles from Latin American, Pop & Mainstream to Rock & Blues.
* Skylight Skydeck & Rooftop Beach Club:

Location: 38 Tran Phu Street, Nha Trang
Opening hours: Skylight Skydeck: 9.00 – 12.00 and 15.00 – 18.00 daily | Rooftop Beach Club: 17.00 – 00.00 Tuesday to Sunday
To enjoy the nightlife of the young and admire the shimmering lights of Nha Trang City at night from above at the same time, there is no place as perfect as Skylight Skydeck & Rooftop Beach Club. Located in the 43th-45th floors of Havana Nha Trang Hotel; this is the first attraction of its kind in Nha Trang that allows guests to view the beautiful beach city from unrivaled heights. Meanwhile, the Rooftop Beach Club features handcrafted specialty cocktails, ice-cold draught beer, international Pan-Asian cuisine, and an unparalleled nightlife experience.
6.3. Sunset Cocktail & Dinner on luxury Emperor Cruise.
Duration: 4 hours (approx.) from 4:30 PM – 8:30 PM
Services included pickup and drop off at hotels/stay in Nha Trang City Center.
Set sail on Emperor Cruise in Nha Trang Bay; you will have the great opportunity to enjoy the wonderful panorama of Nha Trang Bay; along the coastline while cruising and enjoying the dinner with best selection of cocktails.
Highlights:
Admire the spectacular landscape of Nha Trang and its necklace of hills decorating the edges of the island.
Delight in an appetizing cocktail session on cruise as the sun sets before dinner.
Savor the culinary delight of beach capital.
Revel in live musical performances on the ship.
Experience the fabulous service of the most luxurious cruise on Nha Trang Bay.
In comparison with other beach destinations in Vietnam; such as Mui Ne and Phu Quoc; Nha Trang is more urban and lively and home to some of Vietnam's best beach resorts. It will be definitely the perfect choice for those who are looking for a mix of big city life and a relaxing coastal atmosphere; busy night markets and quiet places under the palm trees; modern buildings and ancient architectures. Contact Vietnam Travel's consultants for your Vietnam holiday plan and get instant support today.