Best Beaches in Vietnam
With 3260 km of coastline, Vietnam is the country has many beautiful beaches in Southeast Asia. Except some areas at the mouth of Red River & Mekong river, the water is muddy and does not form the sand beach. Some beaches could be access by only local visitors.
There are some of the best beaches in Vietnam cover with white sand, tropical islands and countless coves and lagoons just waiting to be discovered.
We listed all the Vietnam beaches that worth to visit from North to the South by province and hope this information is helpful when you plan a Vietnam Trip.
1. Northern part of Vietnam
1.1. Co To, Quang Ninh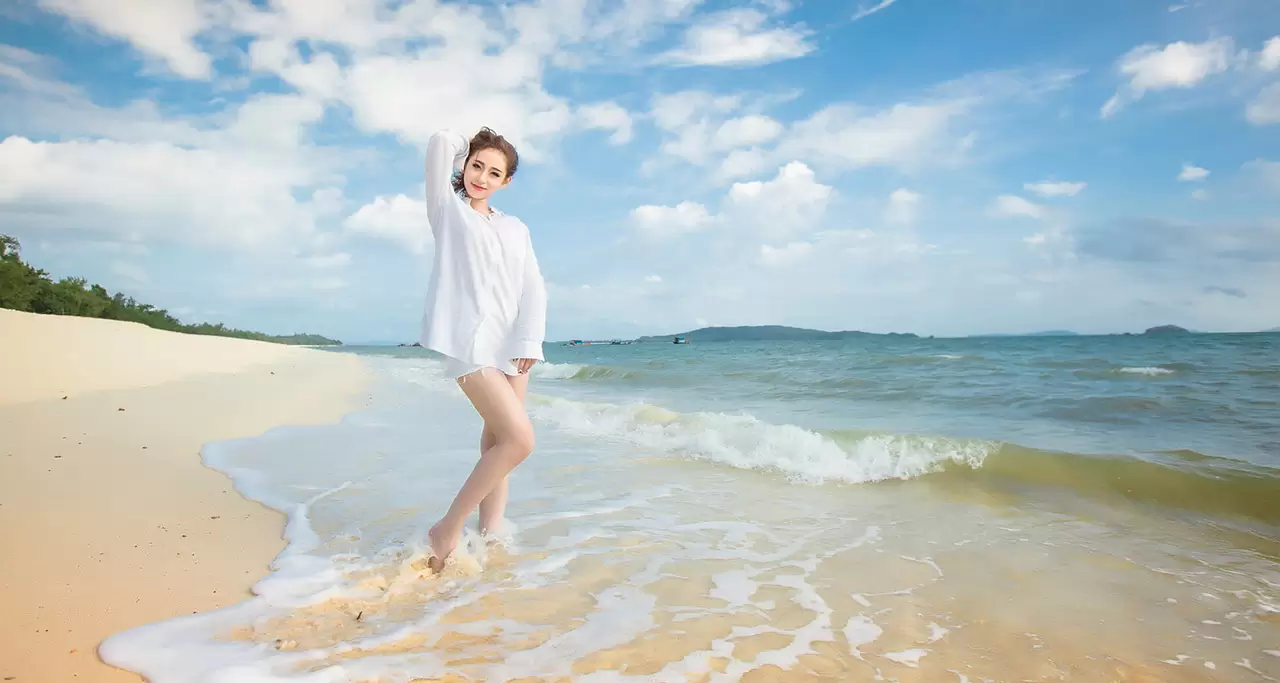 Consisting of around 50 islands, Co To is an archipelago in the east of the Quang Ninh province. There is great tourist potential and it is expected that the islands will be developed into tourist zones in the near future. Being only 6 miles (9 kilometers) away from Halong Bay, Co To is great to visit in combination with a Halong Bay trip.
From beaches which have a wonderful shore with white sand and blue, crystal-like water, to landmarks, there are a lot of things to see and do in Co To.
Dawn and sunset are the most ideal times to see the charms of the island and take the best photos. If you get up early and take a relaxing walk on the beach, you can witness the bustling atmosphere of fishing boats returning home from the sea. You can also get an insight into the daily life of the local fishermen here. This beach is mostly for local visitors.
1.2. Quan Lan island, Quang Ninh
Despite being inhabited by locals, the island scenery remains mostly untouched, with long white sandy beaches and beautiful forest areas. Quan Lan island is also a great place to sample some of the local seafood, due to the abundance of squid, butterfish, mackerel, and shrimp in the waters.
The two most well-known and popular beaches are Quan Lan beach & Minh Chau beach:
• Quan Lan Beach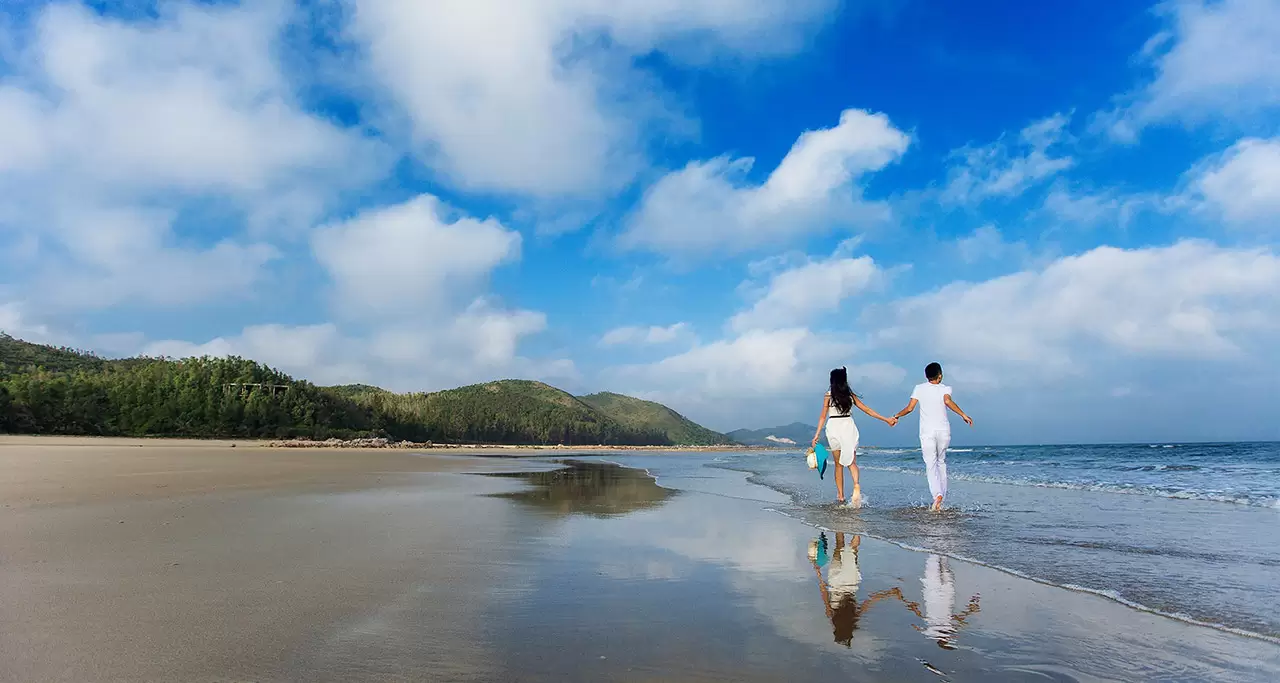 Located about 34 miles (55 kilometers) from Halong City, in Bai Tu Long Bay. The beach stretches for some miles and consists of fine white sand. The ocean is deep blue and a beautiful green pine forest serves as a backdrop to the beach.
• Minh Chau Beach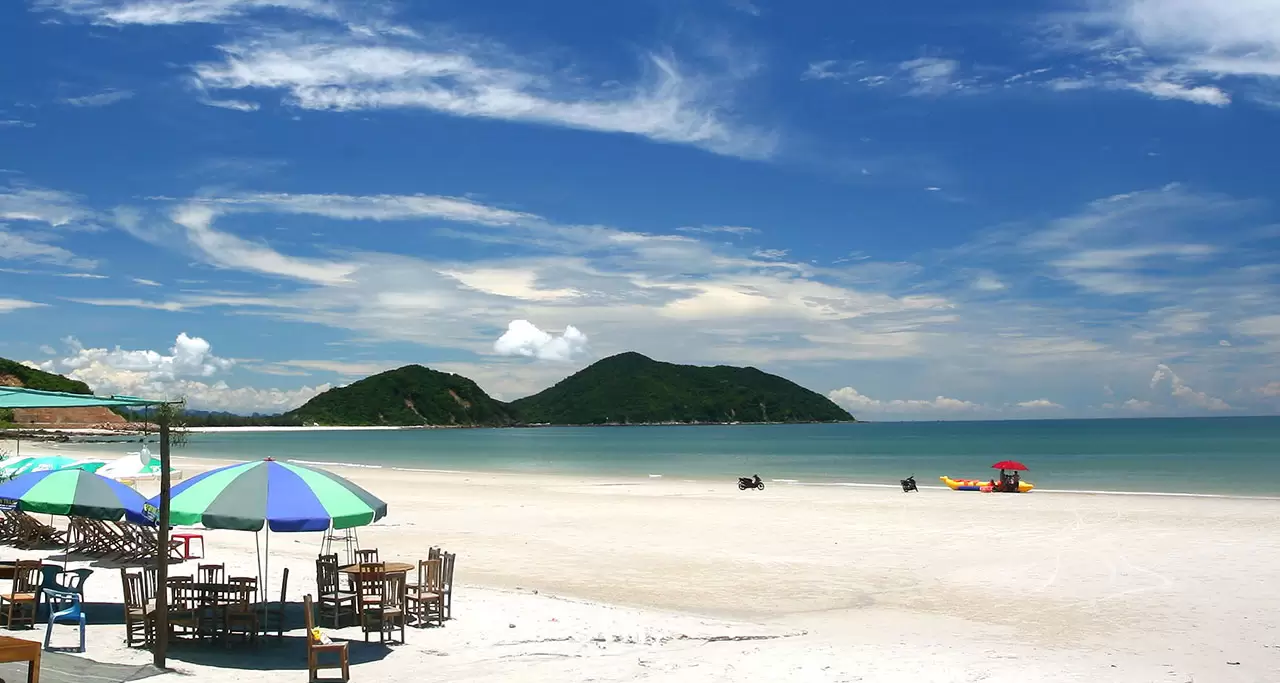 This is considered by many to be one of the most splendid beaches of Northern Vietnam.
Minh Chau is about 9 miles (15 kilometers) away from Quan Lan beach. Thousands of locals travel to this beach every year to shoot some wedding pictures or simply enjoy their honeymoon. One of the beach's most redeeming features is the smooth sand which gives a very satisfying sensation when walking on it.
1.3. Cat Ba Island, Hai Phong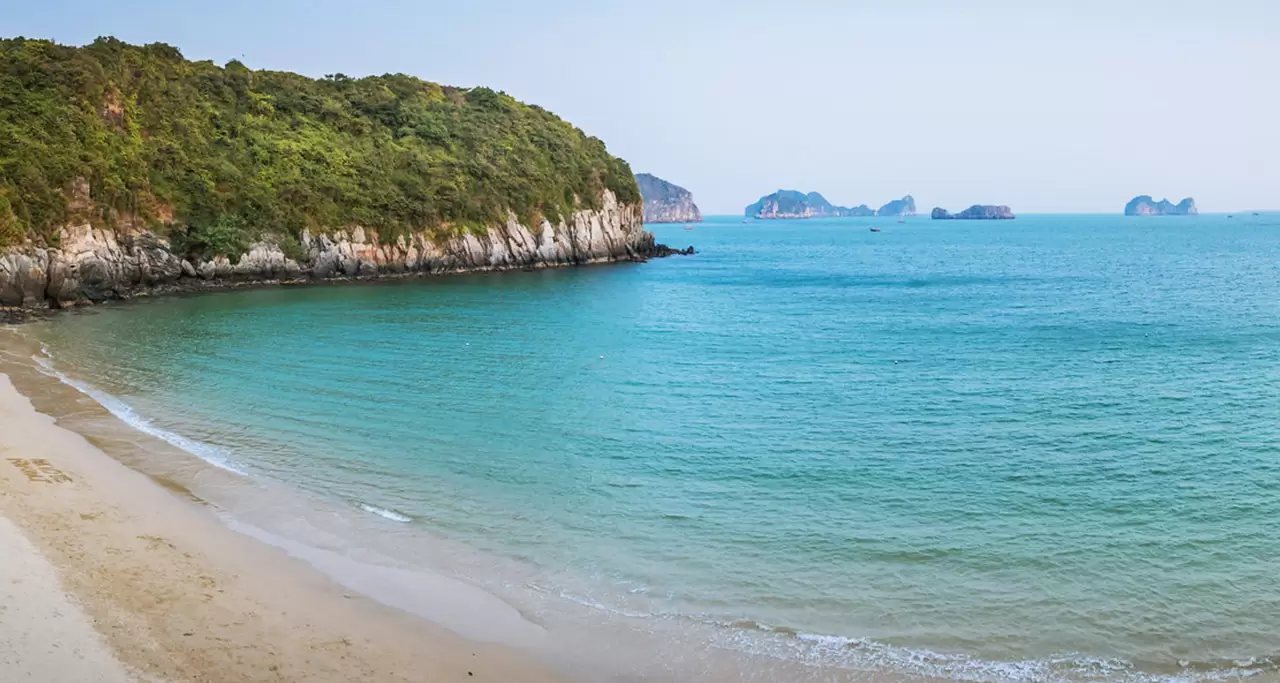 Cat Ba Island, one of the largest and most beautiful islands among nearly two thousand islands in the World natural heritage site of Ha Long Bay was honored to be recognized by UNESCO as a World Biosphere Reserve on December, 2004.
About 40km away from Hai Phong city or 23km from Halong city, Cat Ba island is blessed with a pristine beauty: forests, sea, mountains, hills, beaches, pine trees, cave caves alternating with each other, creating many beautiful scenes.
You can spend your day on the white-sand Cat Co beaches (simply called Cat Co 1 and Cat Co 2 and 3) which make a great place to lounge around. While Cat Co 1 and 3 are linked by a cliffside path that's great to stroll anytime, day or night, the other is a quieter retreat, perfect for romantic getaways.
1.4. Halong Bay, Quang Ninh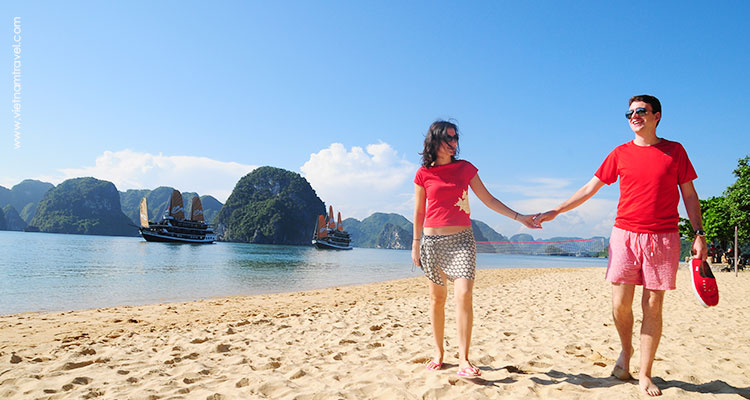 Though not really a beach, any of Vietnam's "to-do" list seems incomplete without Halong Bay being a part of it. Located about 170km far from capital Hanoi, Halong Bay is known for its spotless oceanic beauty and is also often considered as one of the natural wonders in the world. Coming here, tourists will have a good chance to immerse in the vividly amazing panorama of landscapes, take exotic photos with emerald water, cool countless caves and unique grottoes resembling fantastic scenes, go kayaking at your own pace and visit some unique fishing villages in Halong Bay.
Apart from the above, there are few other beaches which are more favorite choices for the locals during summer time but still be popular in North Vietnam, such as:
• Do Son Beach, Hai Phong
20km to the Southeast of Hai Phong City is Do Son Beach. The place is lucky to possess relatively warm climate in winter but cool in summer that help it to attract customers to come mostly in the Summer. Even though the water is not so clear but it is easy to access from Hanoi neighboring provinces.
• Dong Chau Beach, Thai Binh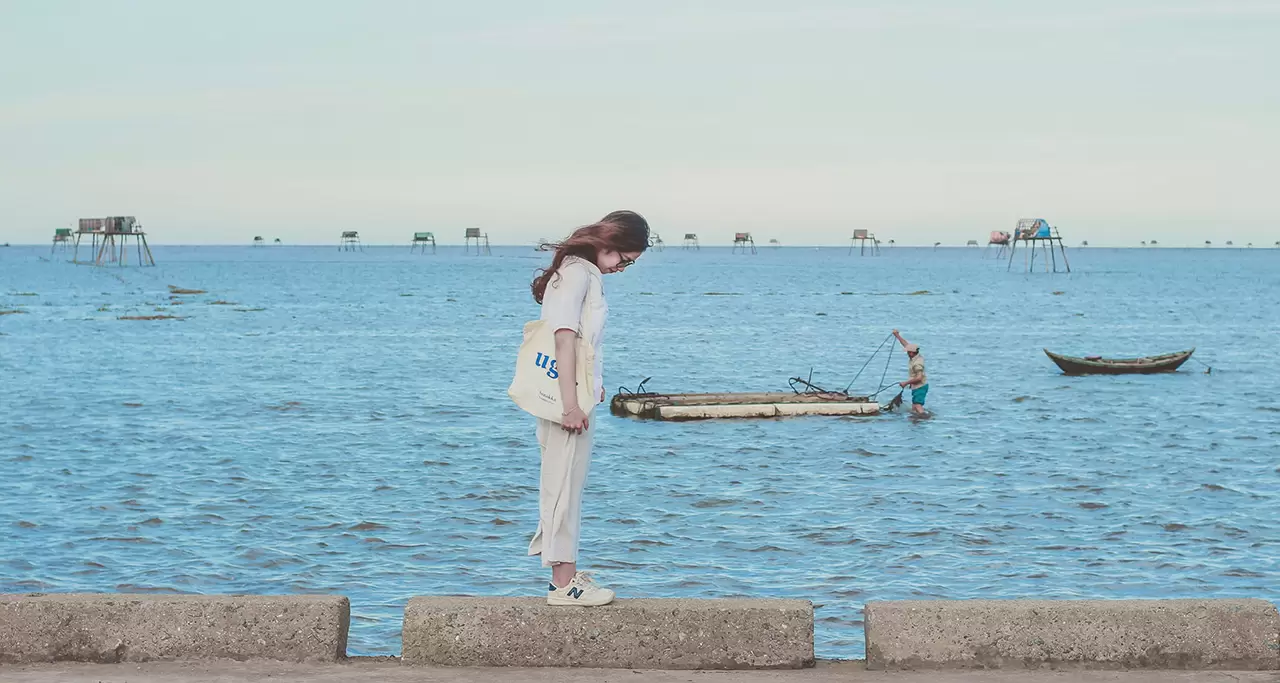 Located in Dong Minh Commune, Tien Hai District, 30km far from Thai Binh City along National Road 39B, and 145km from Hanoi, the beach lies 5km in length and has reserved much of a wild beauty. The best of Dong Chau Beach is pure air, soft winds and good climate, which are good conditions for relaxation and convalescing. Seafood is good to taste and reasonably price. Water is bit muddy as the beach located near the mouth of Redriver.
• Hai Thinh Beach, Nam Dinh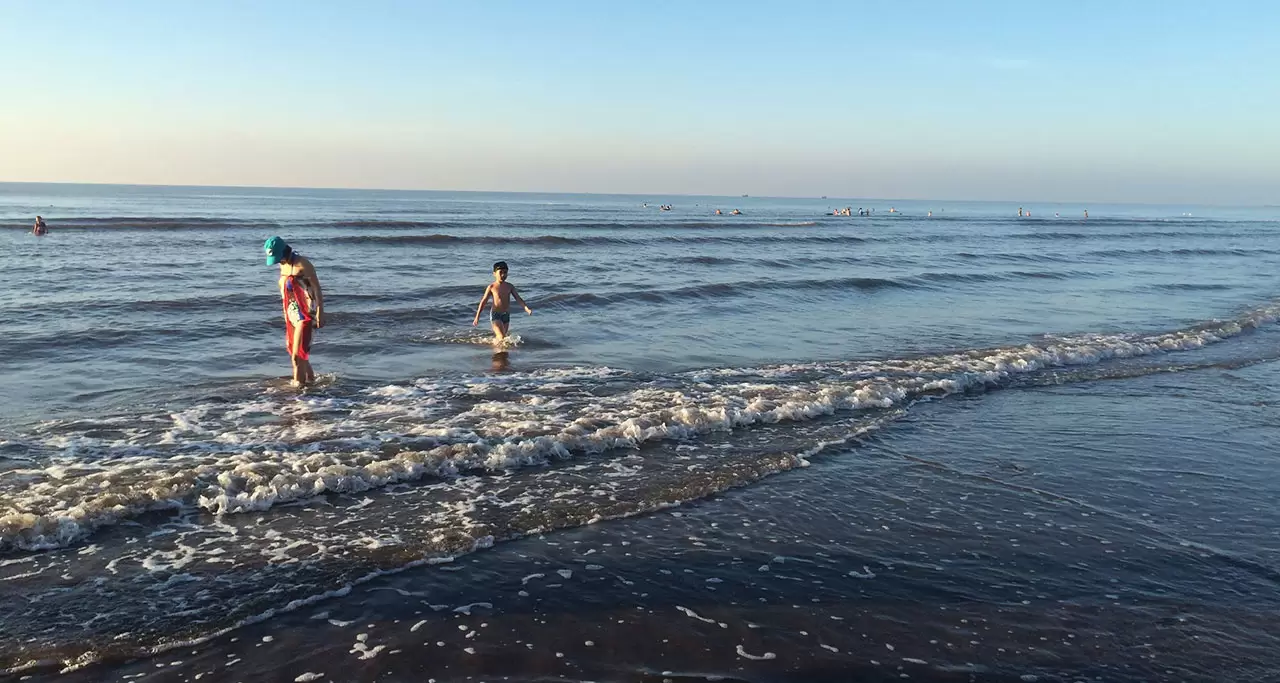 Located on Western Nam Dinh Province, Thinh Long Town, Hai hau District, Hai Thinh Beach is a peaceful romantic beach which is a very clean beach with smooth sand and absolutely safe for swimmers. In addition, Hai Thinh Beach is still not very developed so tourist who like resting peacefully, forget about the busy and noisy of normal life or other famous beaches may find this an ideal choice. Water is bit muddy and mostly local people visit.
• Quat Lam Beach, Nam Dinh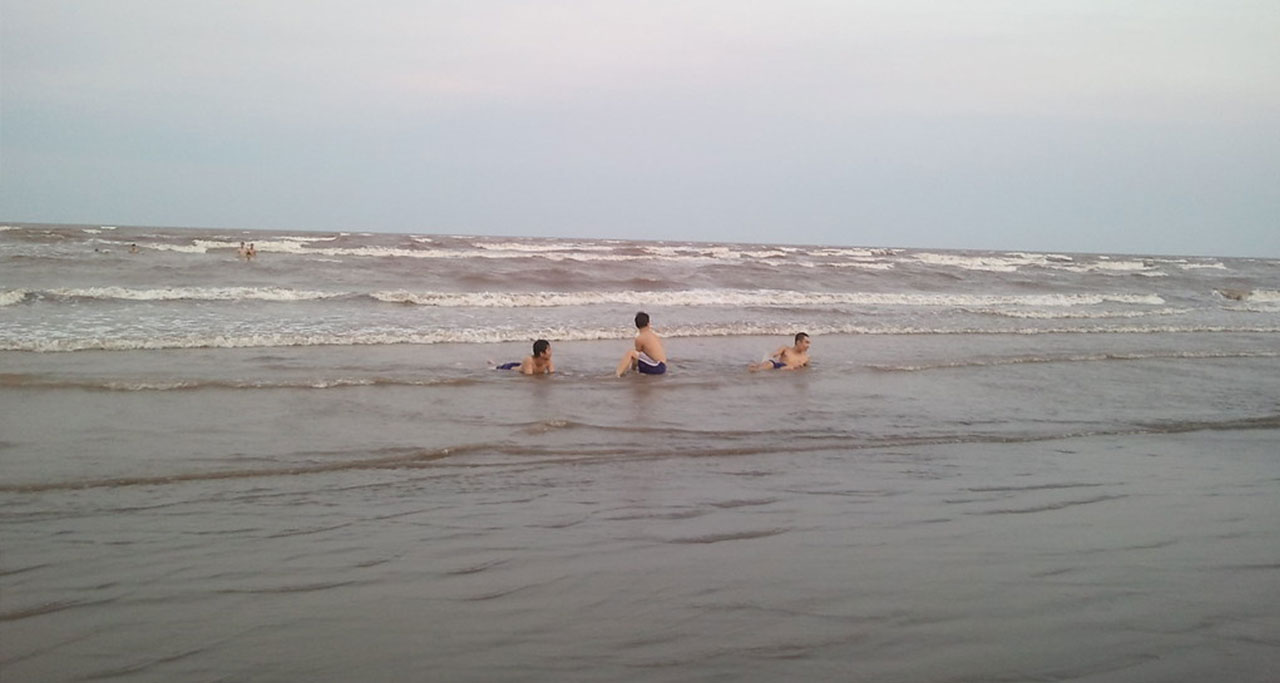 Quat Lam Beach is pristine with fine sand, embracing the green casuarina forests in sea breeze like a beautiful girl sleeping in the forest. During the French colonial period, the French also came to this place for holiday even though the water is not so clear. From 1975 to 1985, Soviet oil and gas exploration specialists came here for sea bathing. High salinity and strong waves attract many visitors in hot summer.
• Sam Son Beach, Thanh Hoa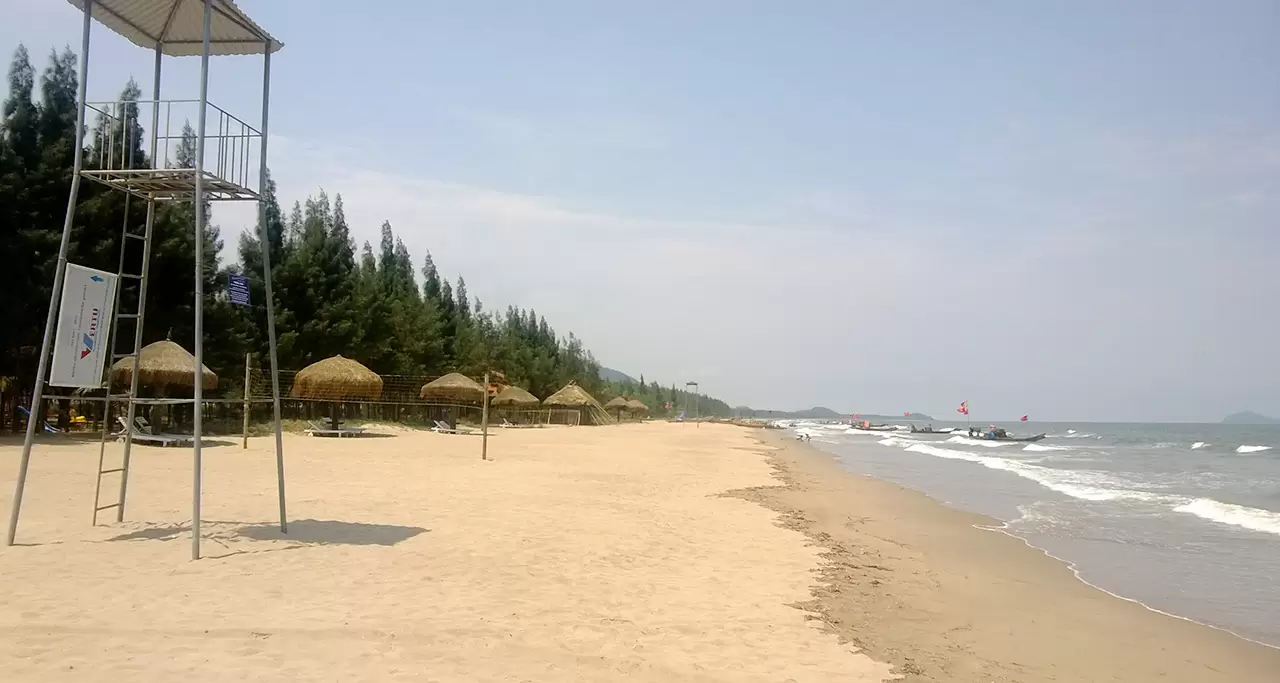 Driving more than 170 km from Hanoi, you will reach Sam Son Beach. This is a long and beautiful beach reaching more than 16km in length. The very flat and gentle sandbank, combined with the clean water makes the scenery of Sam Son beach become good choice for local people mostly in the Summer.
Recently there are better accommodations as Van Chai resort, FLC Thanh Hoa… and make the visit to Sam Son is more comfortable and relaxing.
2. Central part of Vietnam
2.1. Thuan An Beach, Hue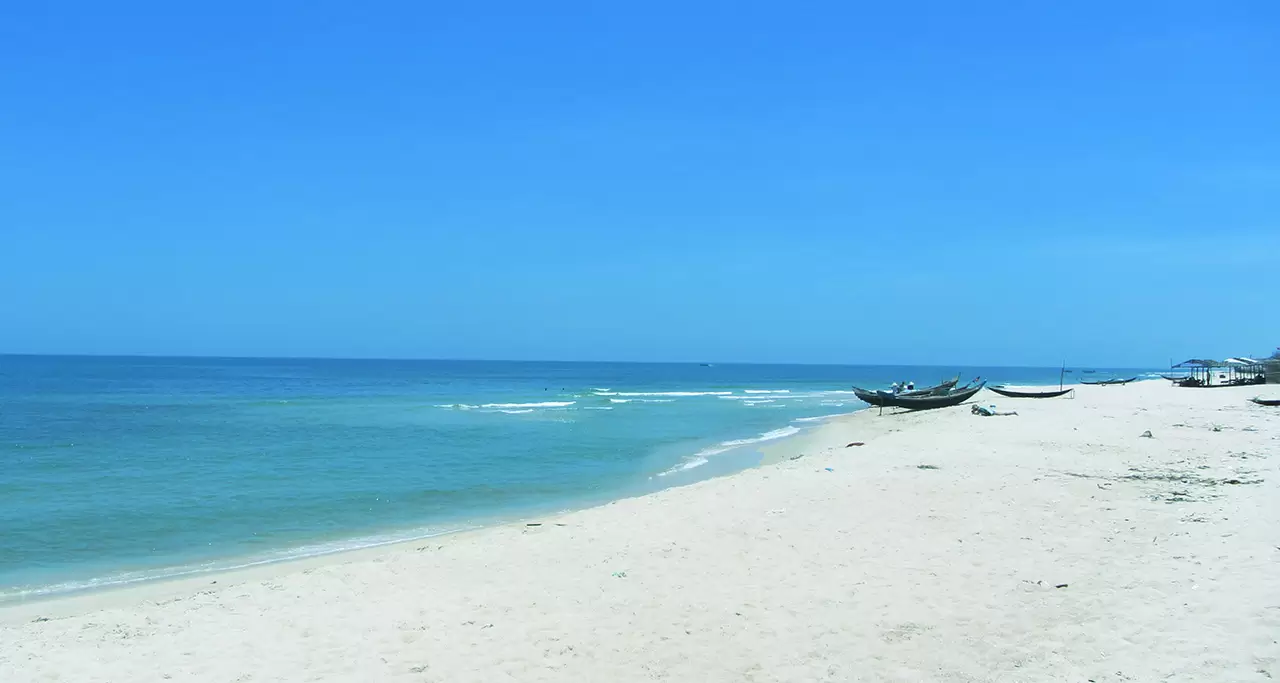 Thuan An beach is situated on the spectacular Tam Giang – Cau Hai Lagoon, in the northeast of Hue Vietnam. It is far about 15km from Hue city center and due to its close distance, Thuan An is a top choice for locals, especially during the summer.
Though Thuan An does not possess stunning scenic nature like many other top beaches of Vietnam, it is a nice and pleasant beach with a long stretch of sand and especially splendid sunset. Coming here, you can hang around with the locals, get to know the life and culture in Vietnam, and enjoy your holiday away from the bustling life. The beach is also an exciting place for tourists after visiting pagodas, tombs, temples and other scenery of Hue City.
2.2. Lang Co Beach, Hue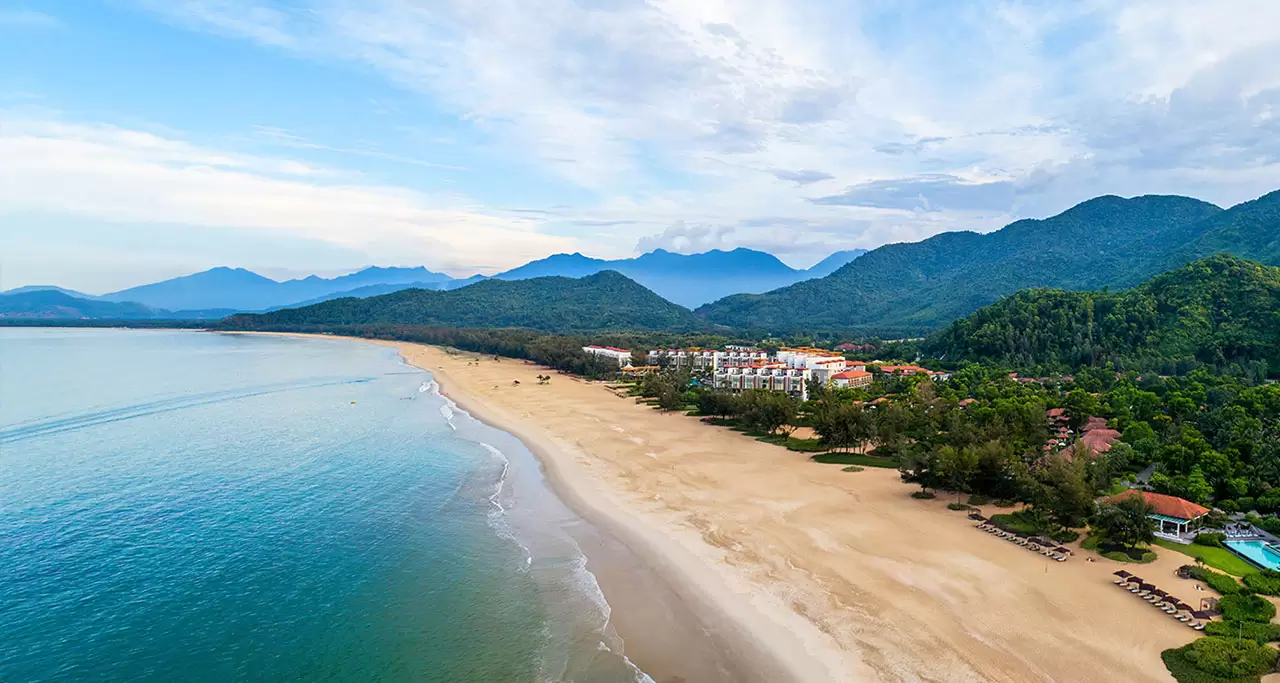 Lang Co Beach is a natural attraction of Thua Thien Hue Province that is included in the list of Vietnam tourist sites. People know Lang Co Beach as a beach with the most beautiful nature and landscapes conditions in Vietnam for a long time.
Lang Co beach is about 8km long, located along with the National Highway 1A, near Hai Van pass. It is about 24km from Bach Ma National Park. This is a white sandy beach and large waves which are suitable for the type of beach tourism, scuba diving. Especially, it is an ideal place for luxury resorts along the beach for decades.
2.3. Danang Beach, Da Nang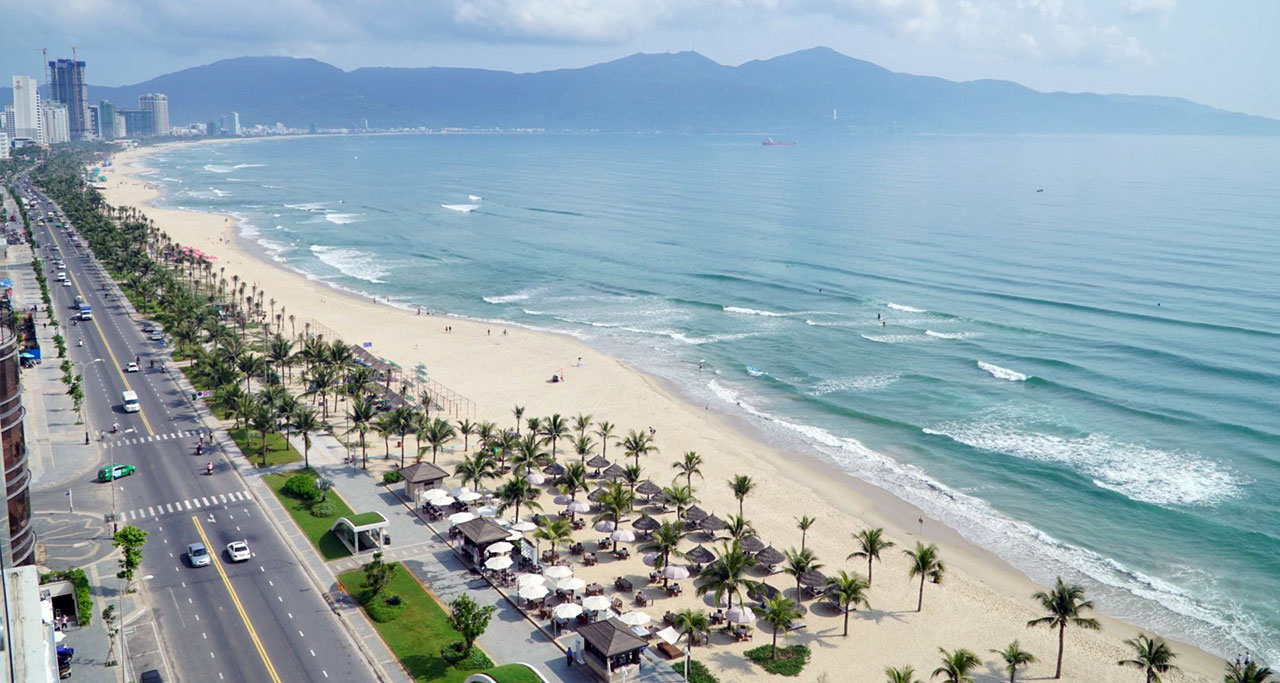 With a pristine coral reef, palm-fringed shoreline, and some top-notch beach resorts, Danang Beach is definitely one of the most well-liked beaches not only in Vietnam but the entire world.
The Beach is an excellent spot for water activities such as surfing, scuba diving, sunbathing, and swimming. Additionally, the area is known for its active expat scene.
There are several sections of the beach, some of which are My An, My Khe, Cua Dai and Non Nuoc, of which My An, My Khe, and Non Nuoc are collectively known as 'beaches of Da Nang'. My Khe is a busy expat area, while Non Nuoc an unkempt village with an idyllic beach.
2.4. An Bang Beach, Hoi An
An Bang Beach is one of the few stretches of beach in Hoi An. It is relatively unspoiled by development, making it a popular option for soaking up the sun and enjoying an array of seaside activities.
Unlike other beautiful beaches in Vietnam, An Bang beach is peaceful, still pristine and suitable for both locals and tourists who are looking for a place of relaxing. The most attractive thing to travelers is the wild beauty of white smooth sand, green trees along the beach and several bamboo basket boats. Also, it is a home of many beachfront resorts, seafood restaurants, hippy bars you can find easily along the coastline.
Coming here, you can take part in some of the most popular activities such as swimming, paddle-boarding, and surfing. If you're looking to learn how to surf during your visit, there are plenty of board rentals, surf and stand-up paddling classes offered by An Bang Beach's expat surfing community.
2.5. Nha Trang Beach, Nha Trang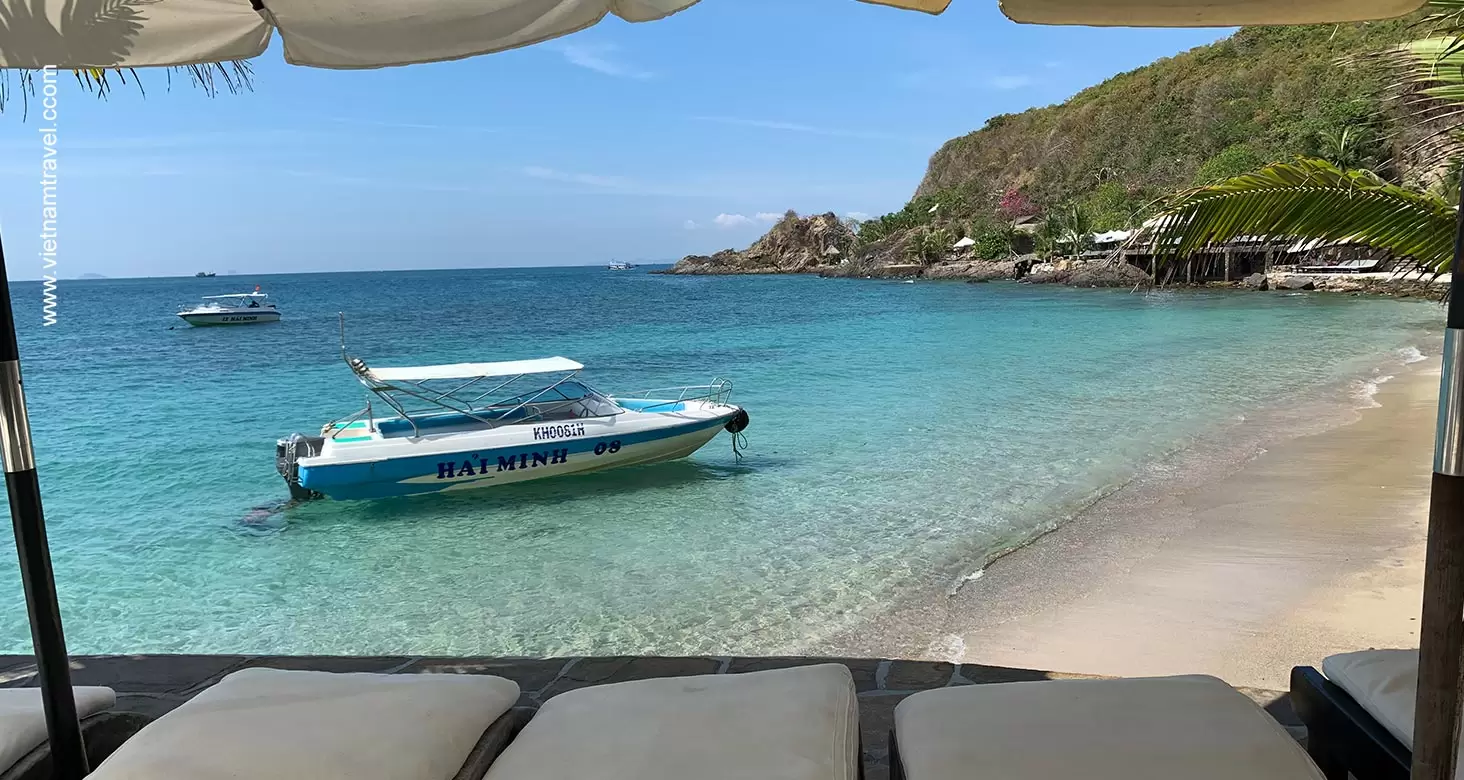 Nha Trang is a coastal city and capital of Khanh Hoa Province. It is well-known for its pristine beaches and excellent scuba diving and is fast becoming a popular destination for international tourists.
Many stunning beaches name in this city including Tran Phu Beach, Hon Chong Beach, Bai Tru Beach, Bai Dai Beach and Doc Let Beach. It is also known for excellent scuba diving and water sports activities. If you are interested in discovering Vietnamese aquatic diversity, Nha Trang Oceanography Institute will be your first choice with thousands of oceanic life samples.
Not only the mentioned above, there are some other amazing beaches in Central part of Vietnam for your pocket list, as following:
• Cu Lao Cham, Hoi An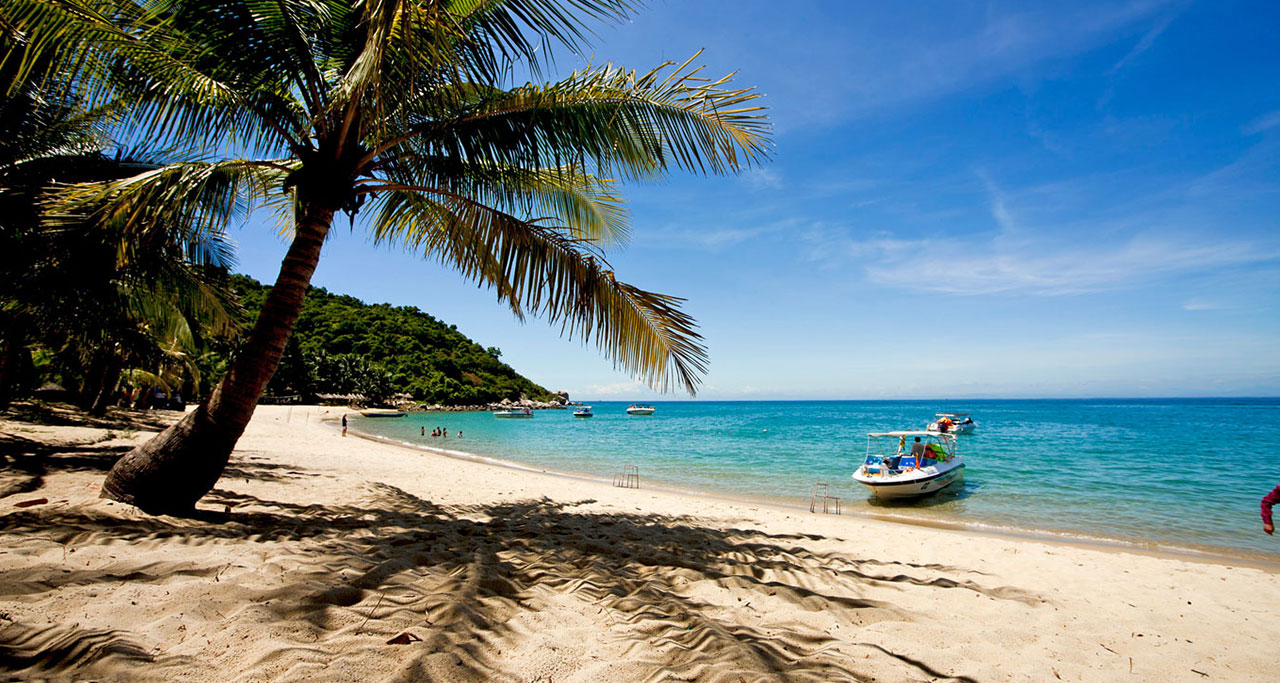 Located in Tan Hiep village, Cu Lao Cham is known as one of the most beautiful beaches in Vietnam. Coming here, you have a chance to enjoy the tranquility, pure beauty of nature and immerse in nature. Possessing many interesting destinations, it promises to be a great spot for spending your vacation. Besides, the island where the beach is located is a great source to learn about the history, local festivals, traditional customs, and the way to make marine products.
• Quy Nhon, Binh Dinh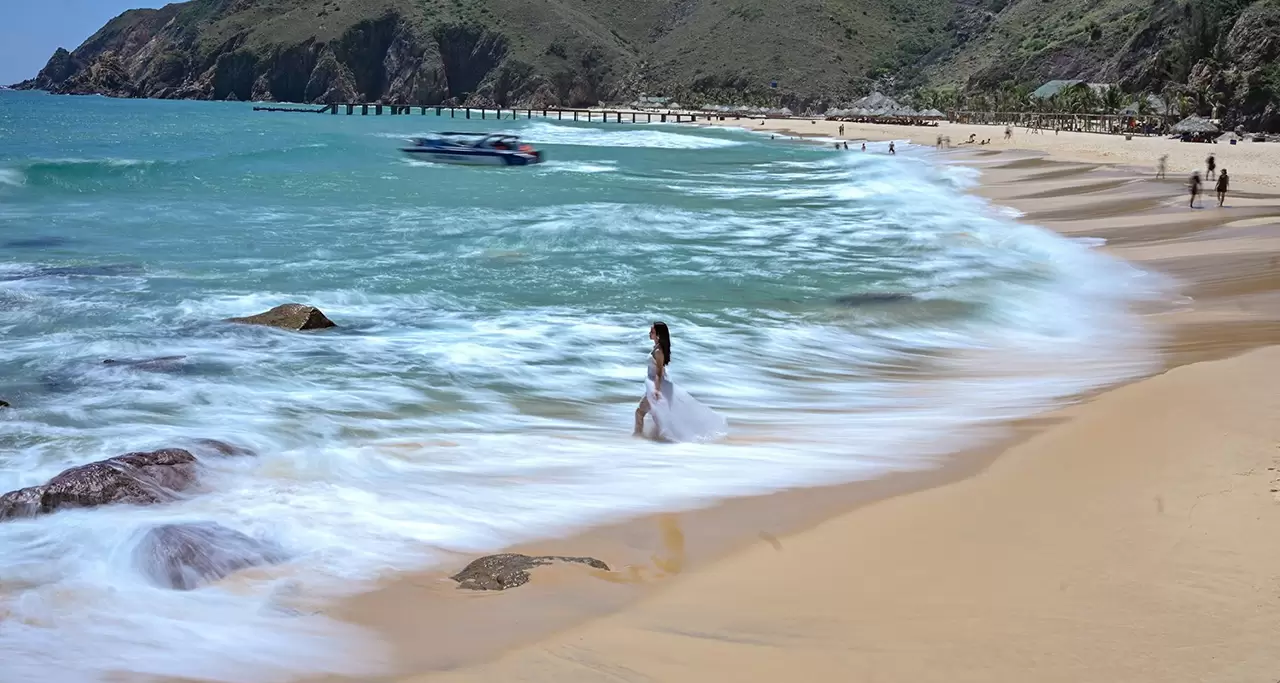 Situated in a halfway between Hoi An and Nha Trang, Quy Nhon is extremely different from these bustling cities. Quy Nhon is recommended for swimming, relaxing and promenade-walking activities.
Ky Co Beach is also one of the attractive thing to visitors. It is situated 25km off the coast of Quy Nhon and it takes roughly 20 minutes by canoeing. It is inevitable that Ky Co can still retain its original untouched wilderness thanks to the transparent seawater, dazzling coral reefs.
• Phu Yen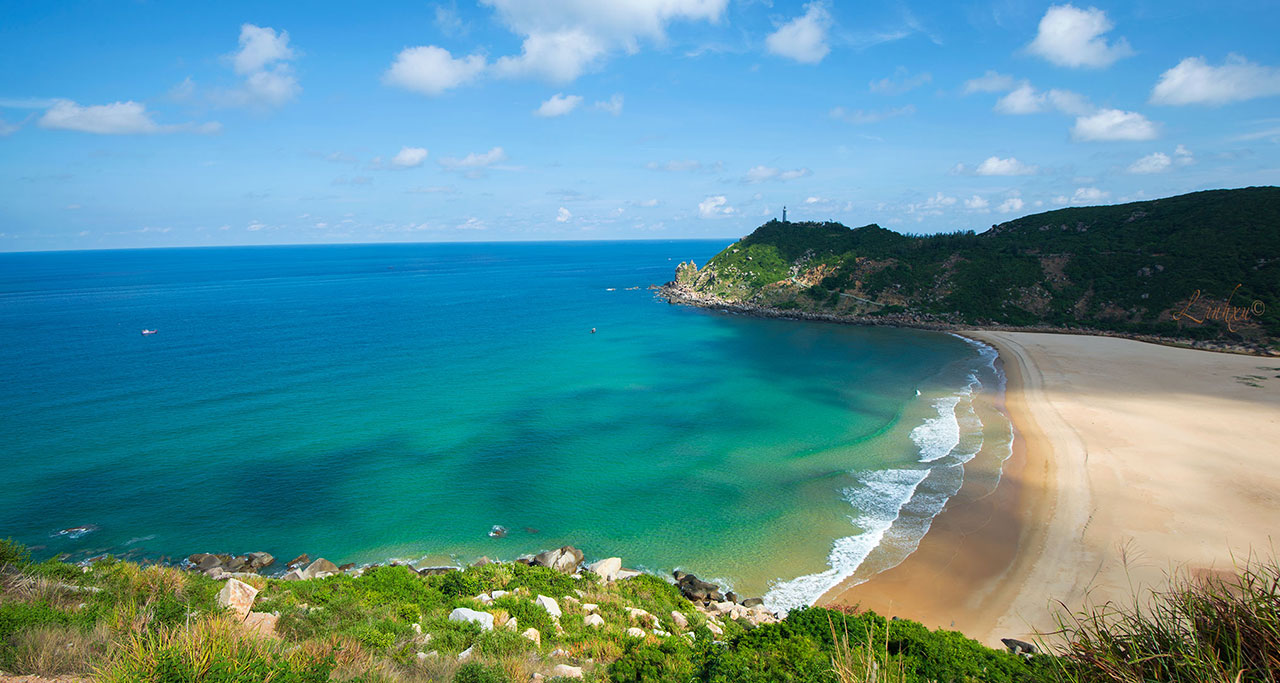 Phu Yen borders Binh Dinh Province to the north, Khanh Hoa Province to the south. This destination is still developing, and has extremely pristine beaches namely Mon Beach (Bai Mon), Xep Beach (Bai Xep), Vung Ro Bay, etc. Tourists can see the locals and nature are perfectly harmonious there, fishermen work in white sandy beaches. Not only the beaches but splendid mountains and rivers are also worth exploring. Da Dia Reef, Da Bia Mountain and Nhan Mountain are stunning landscapes for tourists to take wonderful photographs.
• Ninh Chu Beach, Ninh Thuan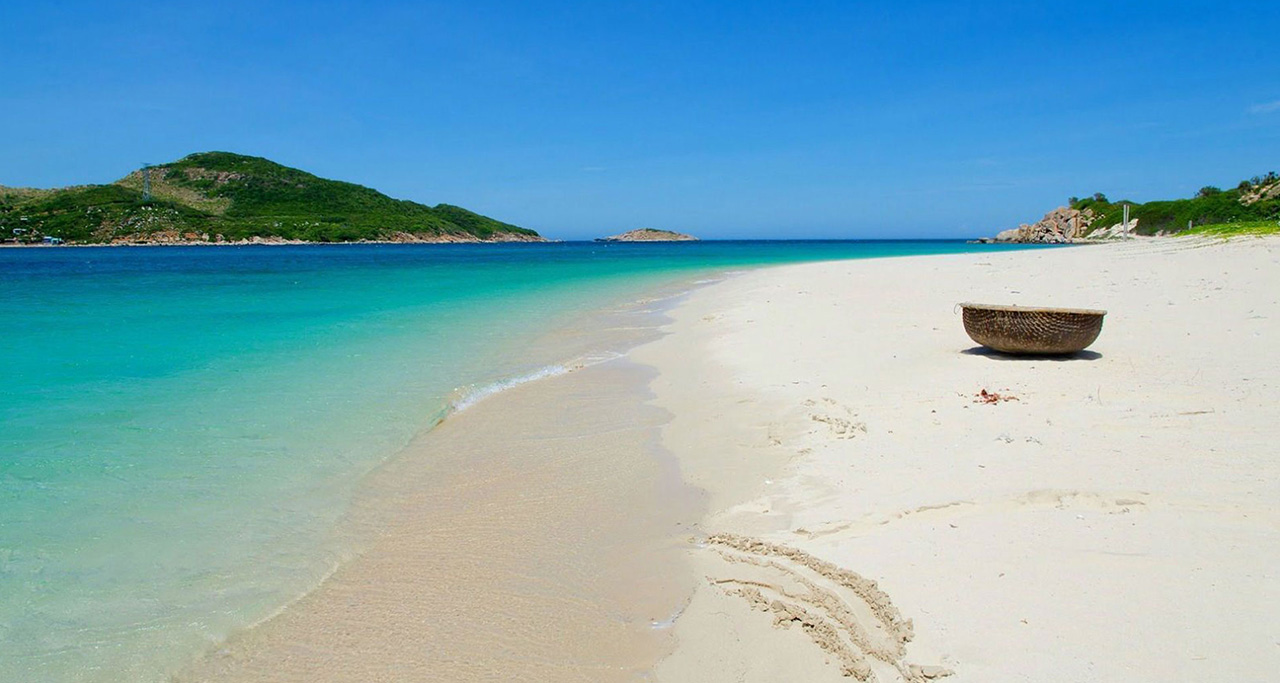 Ninh Chu Beach, located 6 km north of Phan Rang, is a crescent-shaped coastal area within Ninh Thuan province that spans 10 km in length. Unlike the neighbouring Phan Rang Beach, it offers locals and savvy travellers a quiet getaway during the weekdays, where they can enjoy a day of swimming, sunbathing and beach volleyball. Ninh Chu Beach is also home to natural attractions such as Nai Pond, as well as Du and Da Chong Mountains.
• Binh Ba Island, Khanh Hoa
Located in Cam Ranh Bay, Binh Ba Island is about 60km away from Nha Trang. Because of its military connections, this island is restricted to tourists, so although it's unlikely the average traveller will come here, it's filled with unspoiled views and beaches, as well as excellent snorkelling.
3. Southern part of Vietnam
3.1. Vung Tau Beach, Ba Ria – Vung Tau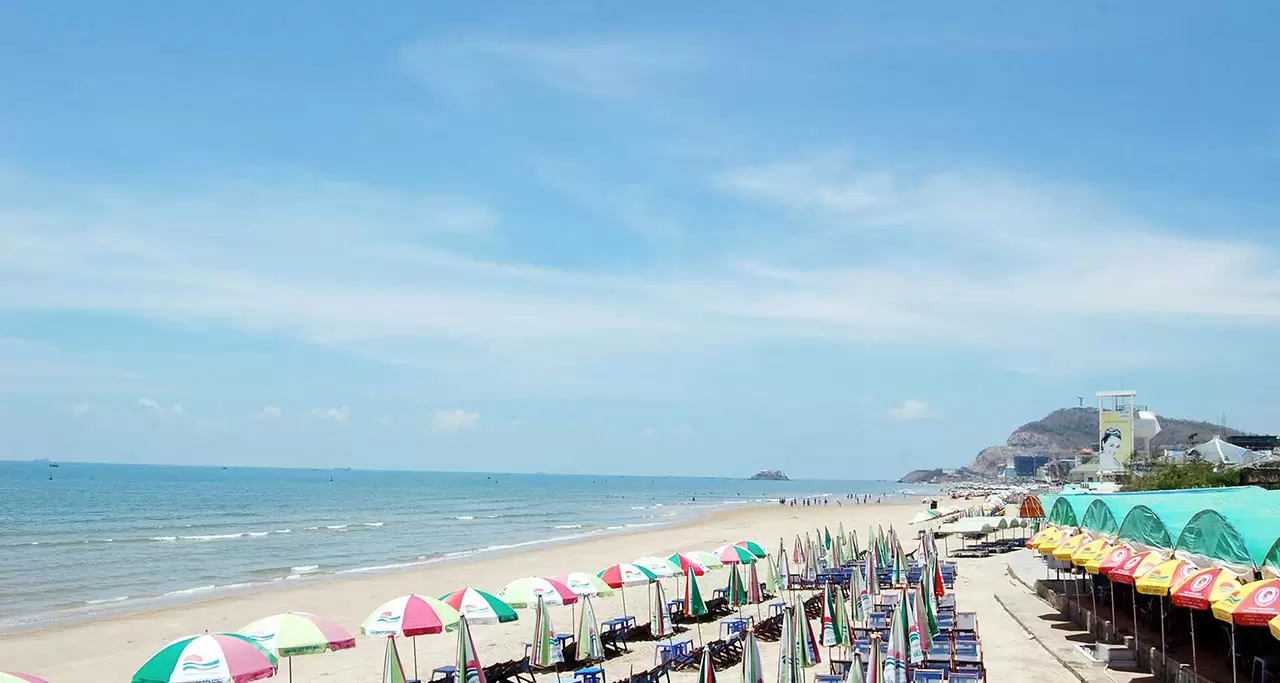 Located about 125km from Ho Chi Minh City, Vung Tau has long been known as one of the most famous beaches in the South Vietnam and become a very popular destination for weekend trips.
There are up to 4 beaches in Vung Tau, namely Front Beach (Bai Truoc), Back Beach (Bai Sau), Pineapple Beach (Bai Dua) and Mulberry Beach (Bai Dau). Each beach is named in accordance with their geographic location in relation with the city center. As such, each beach is unique in their surroundings and thus will vary your experience with the city. One common plus is that all beaches are clean and safe for leisure activities.
3.2. Mui Ne Beach, Phan Thiet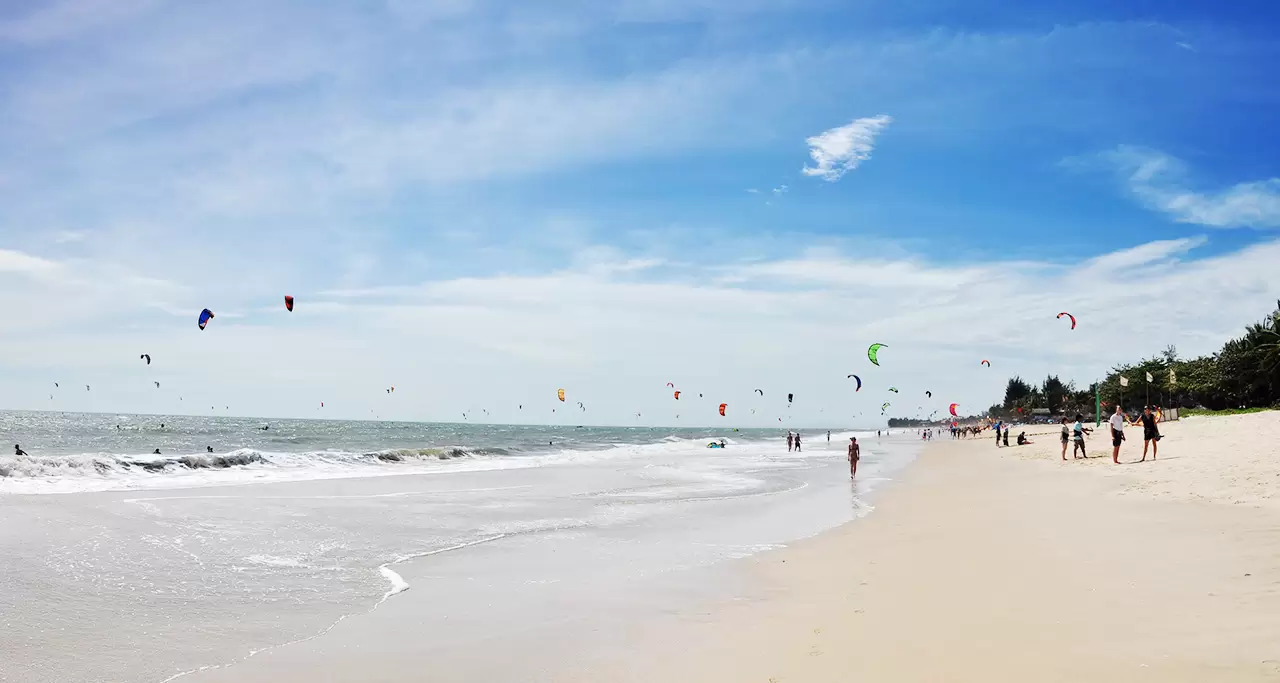 Mui Ne is the most prominent coastal resort town in Phan Thiet with 15km sandy beach. Here is a picturesque of coastline including swaying palm trees, colorful fishing boats and some traditional fishing villages – a popular getaway for tourists and locals alike. Thanks to its rock-free waters and steady wind conditions in the dry season from November to March, it is a top destination for windsurfing, kitesurfing, sailing, kayaking and other water sports.
3.3. Long Beach, Phu Quoc Island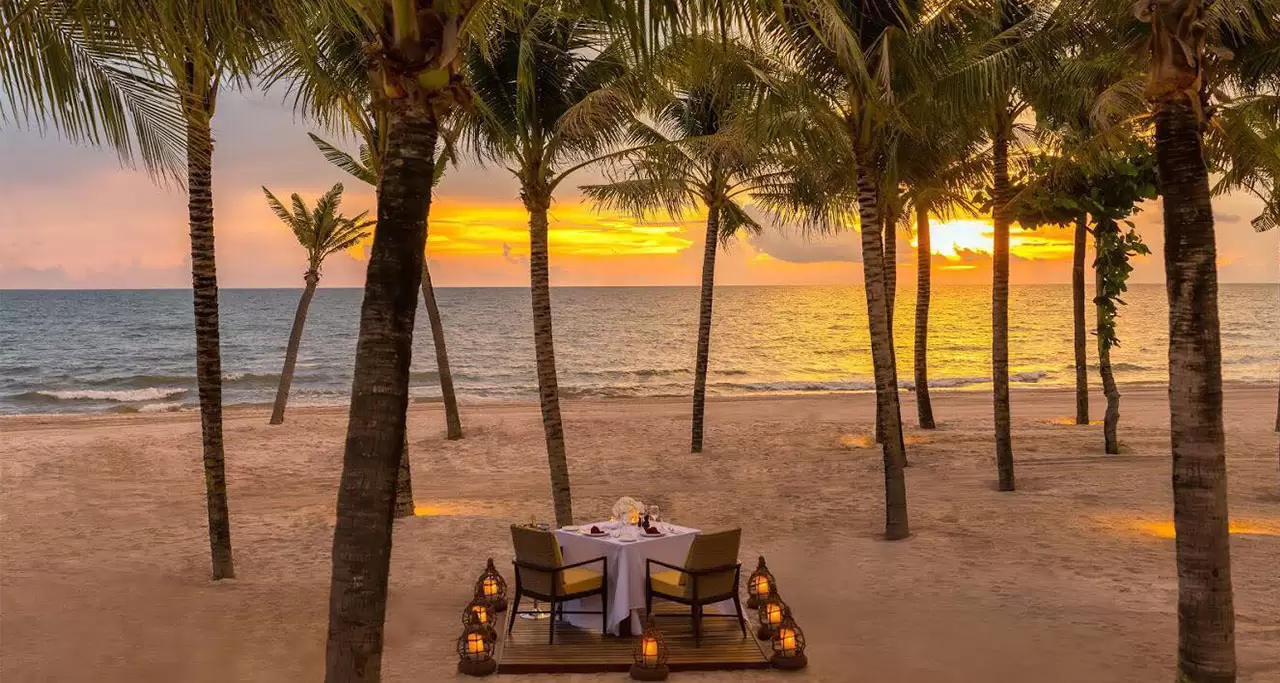 As its name, Long Beach is the longest beach in Phu Quoc Island with a 20km stretch of soft yellow sand with green coconut palm lines. Herein you can find many swanky beachfront resorts, beachfront restaurants, coffee shops and bars where to have a short stop and contemplate the classic tropical beach view. Long Beach is ideal for sunbathing, swimming, kayaking and jet skiing or exploring traditional fishing villages and pearl farms located on the southern end of the beach.
Read more: Things to do in Phu Quoc Island
3.4. Sao Beach, Phu Quoc Island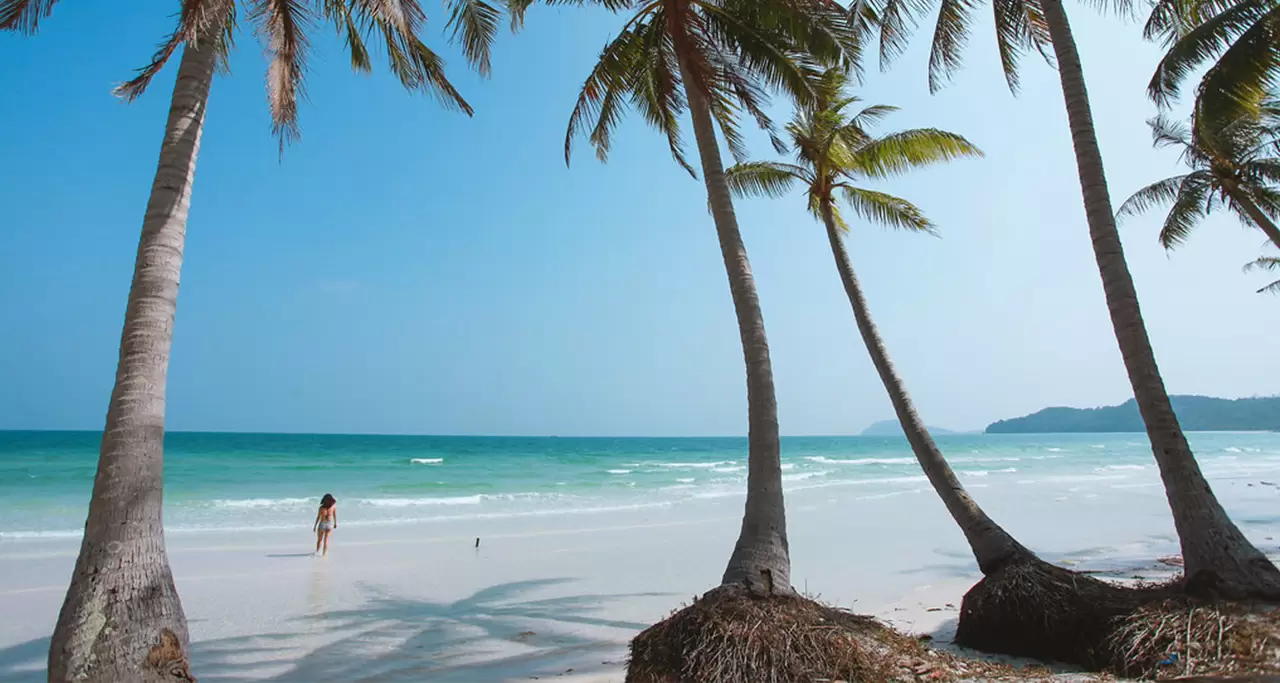 Located just 25km from Duong Dong, the island's capital, Sao Beach is relaxed tropical lifestyle, quiet secluded beach, unspoiled nature, abundant amenities and easy access to the An Thoi archipelago. This is an ideal place for a day trip or a longer stay.
Sao Beach often gets pretty crowded on sunny days during the peak season (from December to March). But this still doesn't detract from the exotic beauty. It has an extraordinary scenic and stands out with endless white fine sand and the graceful coconut trees shadowed the turquoise seawater.
Here, tourists will have an opportunity to immerse in the fresh air from the cool breeze blowing from the sea. It brings moments of relaxation and tranquility for tourists. Wandering along the beach to observe sunrise or salute faint sunlight at the end of the day will be the moments that you wish you could freeze.
3.5. Con Dao Island, Ba Ria – Vung Tau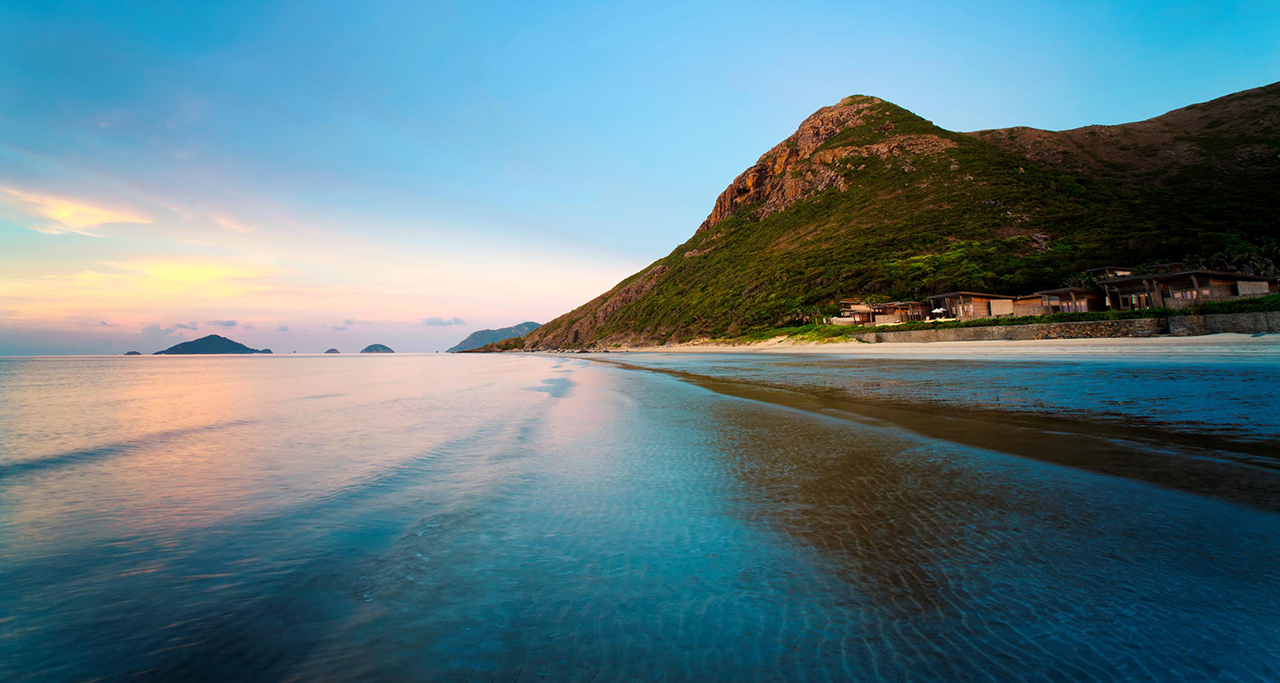 This island is known for not only the famous prison system established and ran by French colonist and American military but also the lovely romantic beaches and the beauty of the wild nature. Ranked 4th in the top 10 must-see places in Asia in 2016 by Lonely Planet magazine, the island has now become an international charming tourism destination for tourists worldwide to explore.
Home to beautiful, unspoiled beaches, a fresh and delicious cuisine and a rich biodiversity, Con Dao island promises to be the ideal vacation destination. It is also an ideal destination in Vietnam for swimming and exploring. Some beaches names should not be missed such as Nhat beach, Dam Trau beach, An Hai beach…
Other than that, here are some more beach names for your reference:
• Nam Du Island, Kien Giang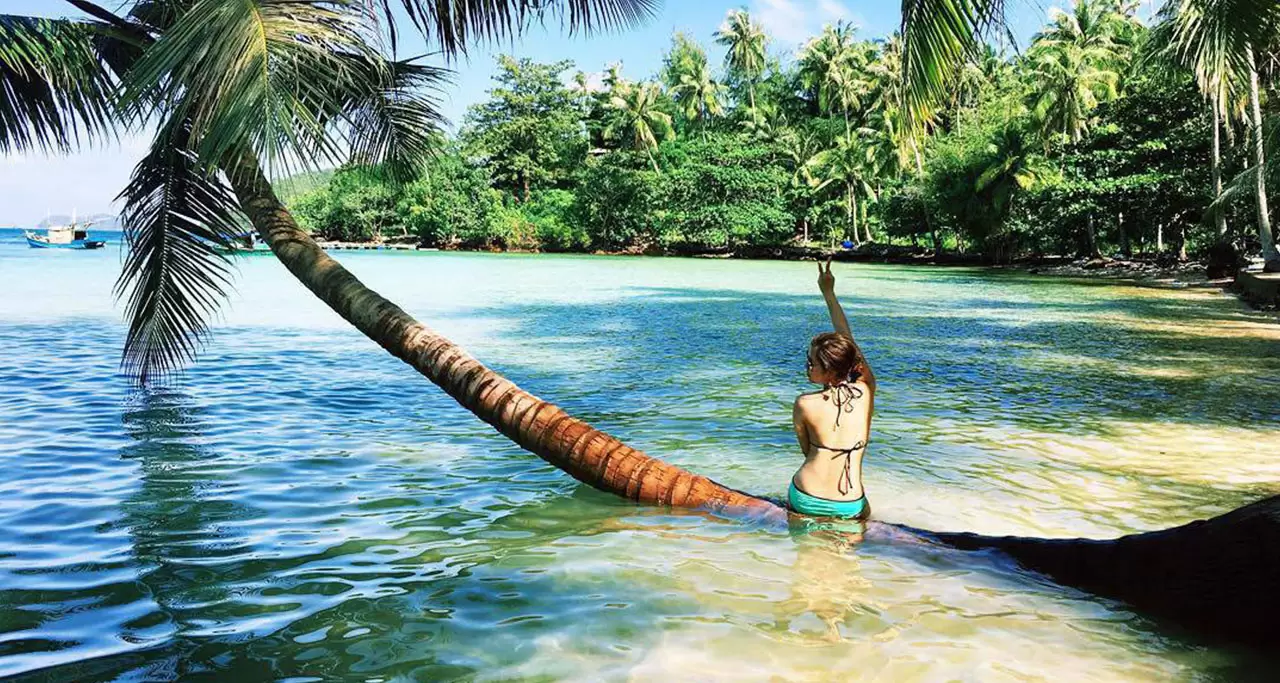 Nam Du Island, around 40km away from Phu Quoc Island, has become an inviting tourist attraction for those who look for pristine tropical beaches. The immense blue sea and sky, imposing mountains erupting amidst the ocean, endless evergreen primeval forests, long stunning beaches and splendid rock cliffs of Nam Du Archipelago have seen it compared to the "new wonder of the world" that is Halong Bay.
• Doi Duong Beach, Phan Thiet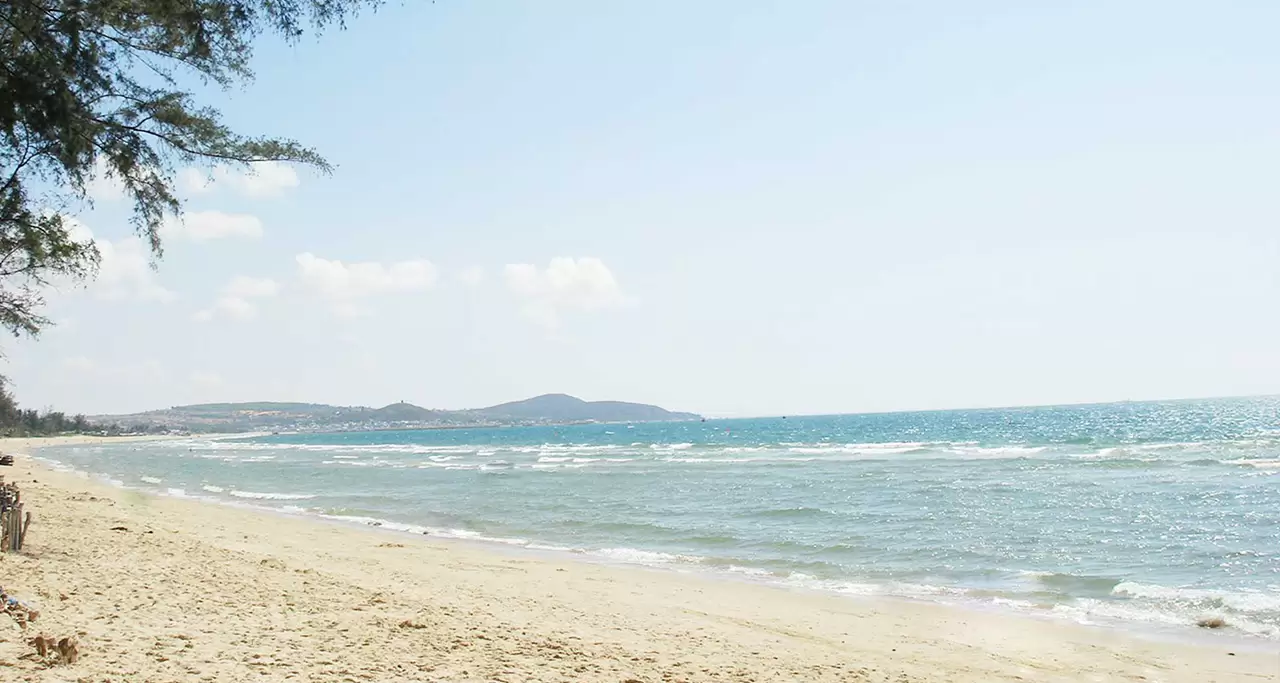 Doi Duong is a lovely beach on the edge of Phan Thiet City. This is the public place, so you don't have to pay for anything to enjoy the atmosphere, except parking fee when you go with the motorbike. Doi Duong beach with white sand beaches and hills interspersed slant distance to the sea. Sea shallow, fine sand, sea calm, blue water, the natural environment here is very fresh.
• Ong Lang Beach, Phu Quoc Island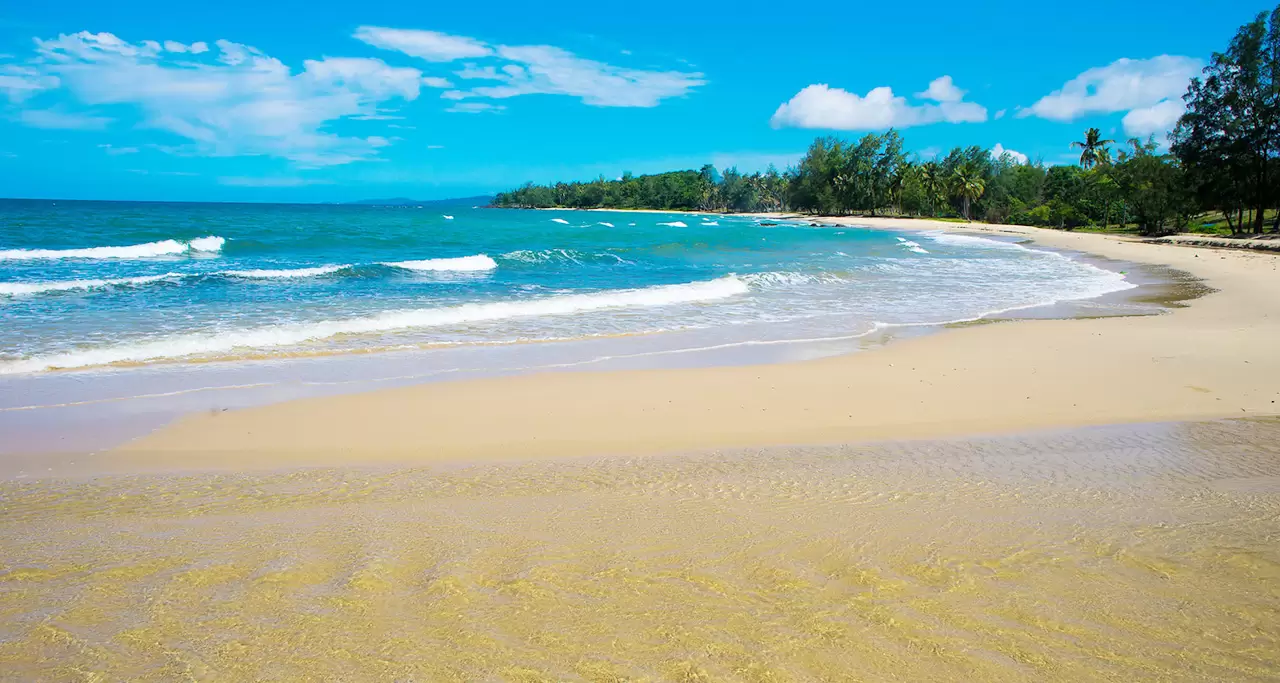 Phu Quoc certainly has its share of nice beaches, and Ong Lang Beach does not disappoint. It is much more relaxed than the famous Long Beach just South from it, but provides the same kind of amenities.
There are several resorts lining the beach where you can spend the night or just pop in for a drink or dinner. Being on the Western coast of Phu Quoc, this place has beautiful sunsets, and there are plenty of hammocks around for you to lie back and enjoy the view.