Best Tourist Islands In Vietnam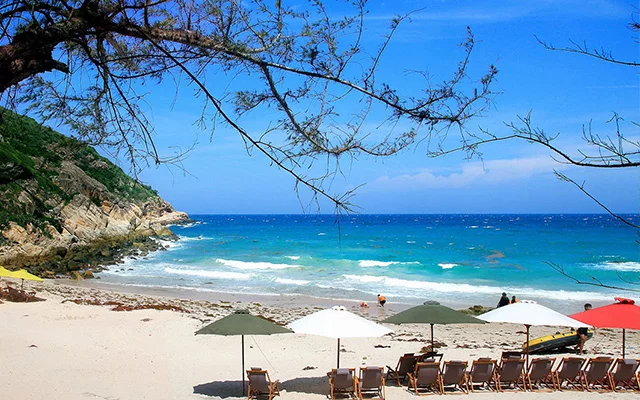 Vietnam's reputation as a beach destination is growing, and it's slowly becoming a favorite sun-soaked holiday in South East Asia for beach lovers. With 3,000 kilometers of coastline, Vietnam has undergone substantial growth, resulting in a wide range of resorts and hotels, and tourist facilities in beach cities. However, even though city beaches and seaside resorts are beautiful, noise and traffic often aren't far.
Therefore, if you are looking for off-the-beaten-track beach destinations, Vietnam's islands are exactly where you should look for because they offer a wonderful place to relax with deserted white sand beaches, enjoy local cuisine and hospitality and give you the chance to experience the quintessence of Vietnam. In this article, we've come up with a list of the top best tourist islands to visit in Vietnam (listed from the North to the South), which may useful to help you choose which islands to include in your next adventure in our beautiful country.
1. Co To Island, Quang Ninh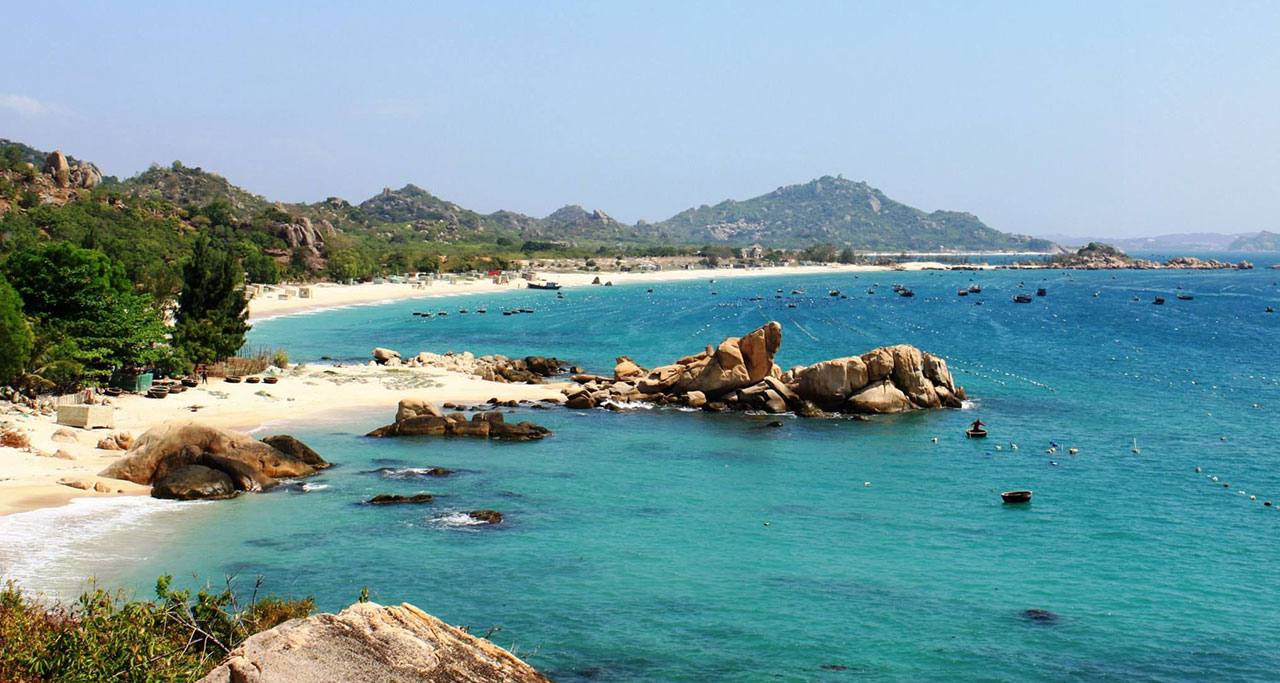 The paradise of white sand and blue sea is not only found in Central and South Vietnam. Co To Archipelago in Quang Ninh Province – one of the most beautiful destinations of North Vietnam, also attracts tourists with pristine beaches, white sand and blue water. This is an archipelago with more than 50 large and small islands. Locals living in Northern Vietnam take the short vacation to Co To in summer time to explore beautiful sediments, wonderful sandy beaches, small paths through the primeval forests, fresh delicious seafood and other interesting activities. From 2016, foreigners don't have to obtain a permit from the governmental authorities. Foreign travellers now are free to visit Co To Island.
Co To has just recently developed for tourism, so high-end accommodations and luxury eating and entertainment services are hard to find here. Co To, however, is still in the travel bucklet list due to its wild nature, local friendliness, and the irresistible fresh seafood.
2. Cat Ba Island, Hai Phong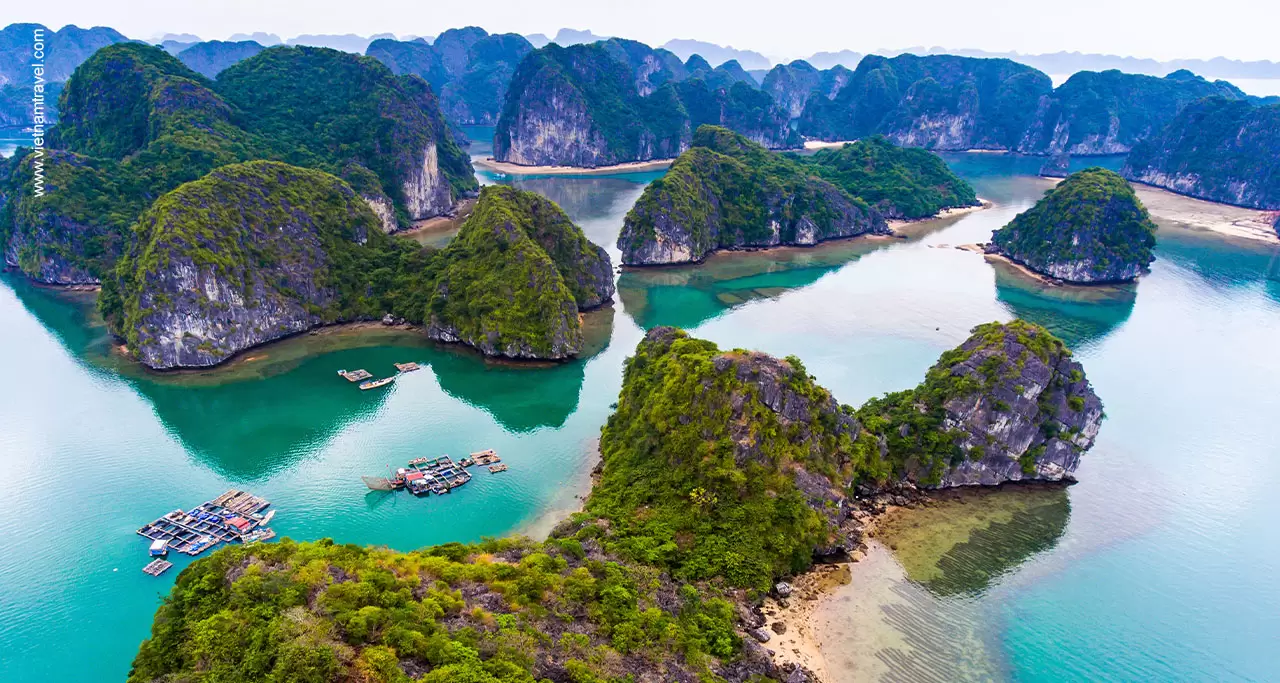 Cat Ba is one of the largest islands in Northern Vietnam, surrounded by Bai Tu Long Bay and Halong Bay and the paradise of relaxation in the Gulf of Tonkin.
If you're already in the north of Vietnam and are visiting Halong Bay or Lan Ha Bay, Cat Ba Island should also be included on your itinerary. Several overnight cruises choose Viet Hai Village in the secluded eastern area of Cat Ba as one of the most highlights in their cruise itinerary. You will take a walking tour around the gorgeous village and its attractively wild borders, then ride bicycles around the rainforest and rice fields of the local farmers.
With travellers having more time to stay overnight in the island, there are more attractions to offer. Cat Ba is famous for three small beaches named Cat Co 1, 2, 3 with soft yellow sand and crystal clear water, luminous waves and bracing winds. While Cat Co 1 and 3 are linked by a cliffside path that's great to stroll anytime, day or night, the other is a quieter retreat, perfect for romantic getaways.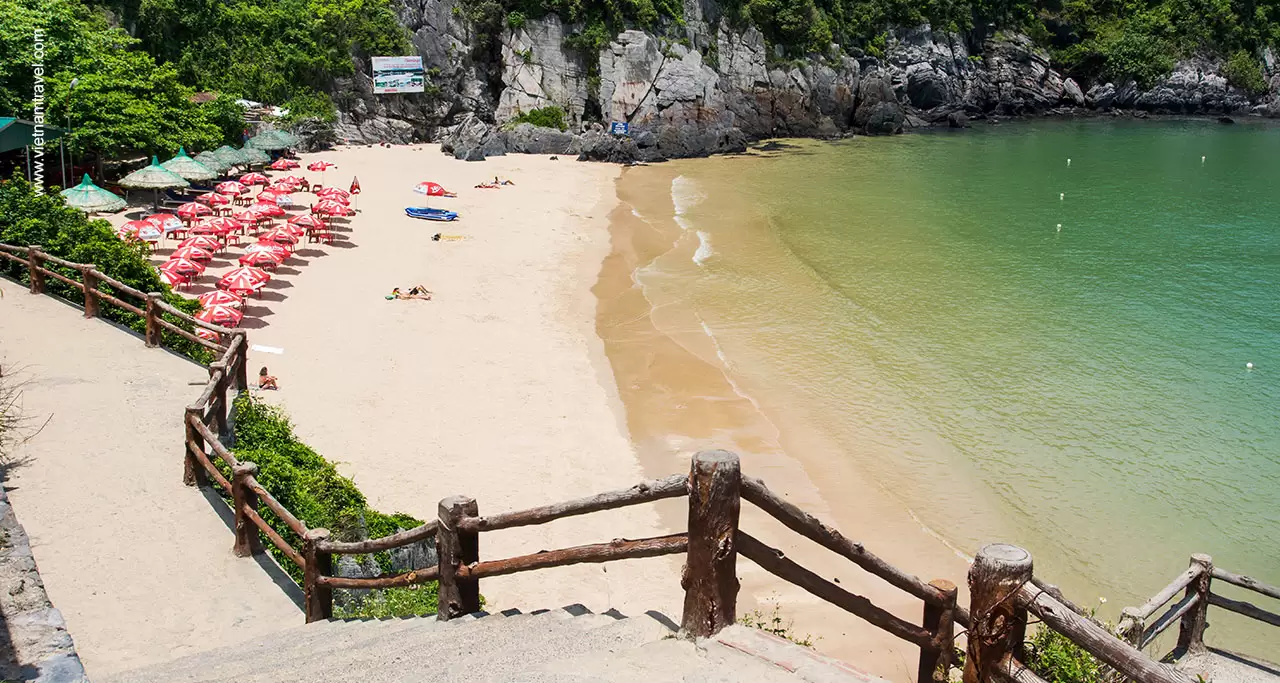 There are interesting remnants of the Vietnam War for those who are intersted in Vietnam history. You can check out the historic Cannon Fort, a military site which was used by the Japanese during WWII, the French during the Indochina War and the Viet Cong during the Vietnam War. Perched on a 177-meter high hill, it offers panoramic views of the bay and made for a great defensive point back in the day. Hospital Cave is another cool place to explore. Half cave, half bunker this three-story building has 17 rooms, one operating theater and a natural cavern which was used as a cinema.
3. Cham Island, Quang Nam
Lying 18km offshore from Hoi An, the Cham Island (known locally as Cu Lao Cham) occupies beautiful sand beaches, forested hills, and breathtaking landscapes. It is a group of 8 small islands, which has been recognized by UNESCO as the World Biosphere Reserve (Cu Lao Cham Marine Park).
From the busy streets of the World Heritage Hoi An Town to the soft sands and quiet Cham Island, it's only a short boat ride (30 minute speedboat) but it gives a complete change of scenery. With the picturesque and pristine setting, Cham Island is an ideal place for island seekers but are tight on time because they can take a day trip from Danang or Hoi An with Vietnam Travel. This trip departs daily and includes the returned speedboat transfer, a visit to the island's main town, snorkeling to explore corals and colorful marine life, seafood lunch on the beach and some time to relax and swim before heading back to the mainland in the afternoon.
Read more: Things to do in Hoian
4. Ly Son Island, Quang Ngai
Ly Son Island, formerly known as Re Isle (Cu Lao Re) of Quang Ngai Province, off the South Central Cost of Vietnam. It takes around one hour to travel on speedboat from the mainland to Ly Son Island. In recent years, it has become increasingly popular with young Vietnamese travelers, but foreigners have not caught on to this trend yet. That makes Ly Son a great place for those who seek for a place that has not yet been over-dominated by mass tourism.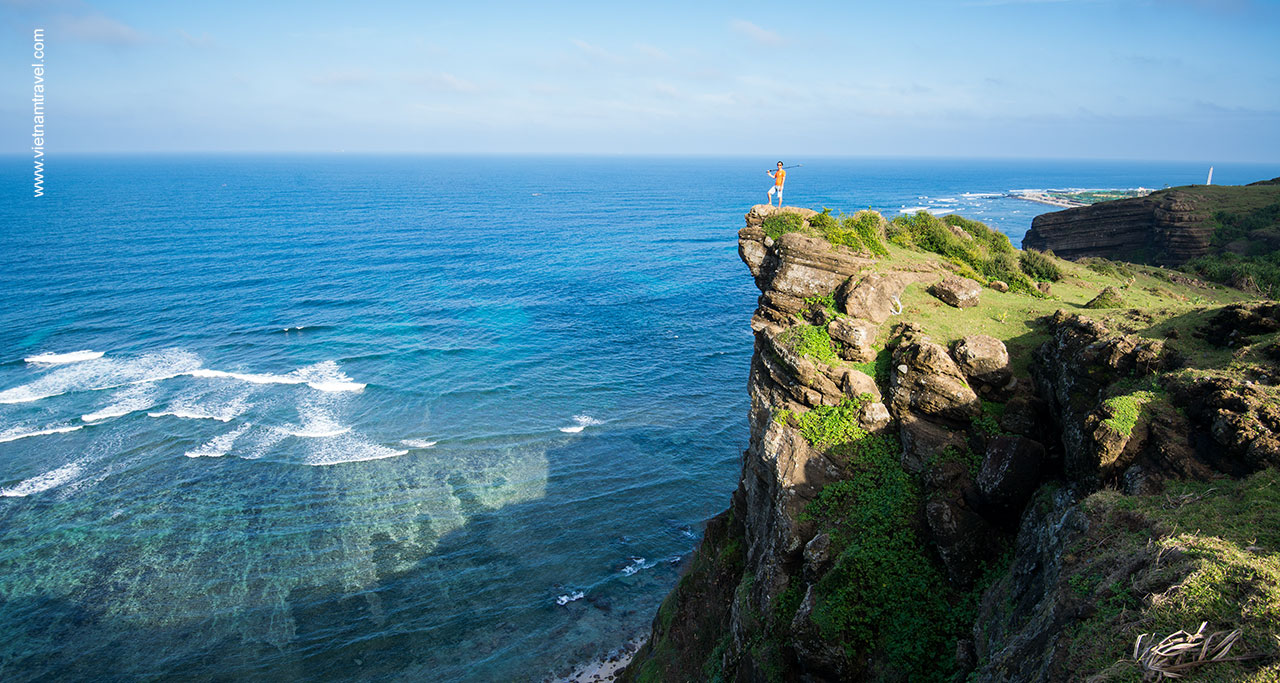 Five prominent mountains in the middle of the vast ocean and blue sky capture the whole view of island. You can climb to the hills for great view of the ocean and garlic and onion fields because the rocky beaches are not suitable for you to linger and relax. Growing mild, fragrant garlic and onions are also characteristics only to stumble on in this island. Ly Son cuisine uses these two ingredients liberally to create yummy seafood specialties you won't easily find elsewhere.
If you want to fulfill your beach dream, small Ly Son Island (also called as An Binh Island) is definitely a must-try experience. Just 15 minute boat from Ly Son Island, you will find beaches of white sands, swaying palm trees and clear blue waters.
5. Hon Tre Island, Khanh Hoa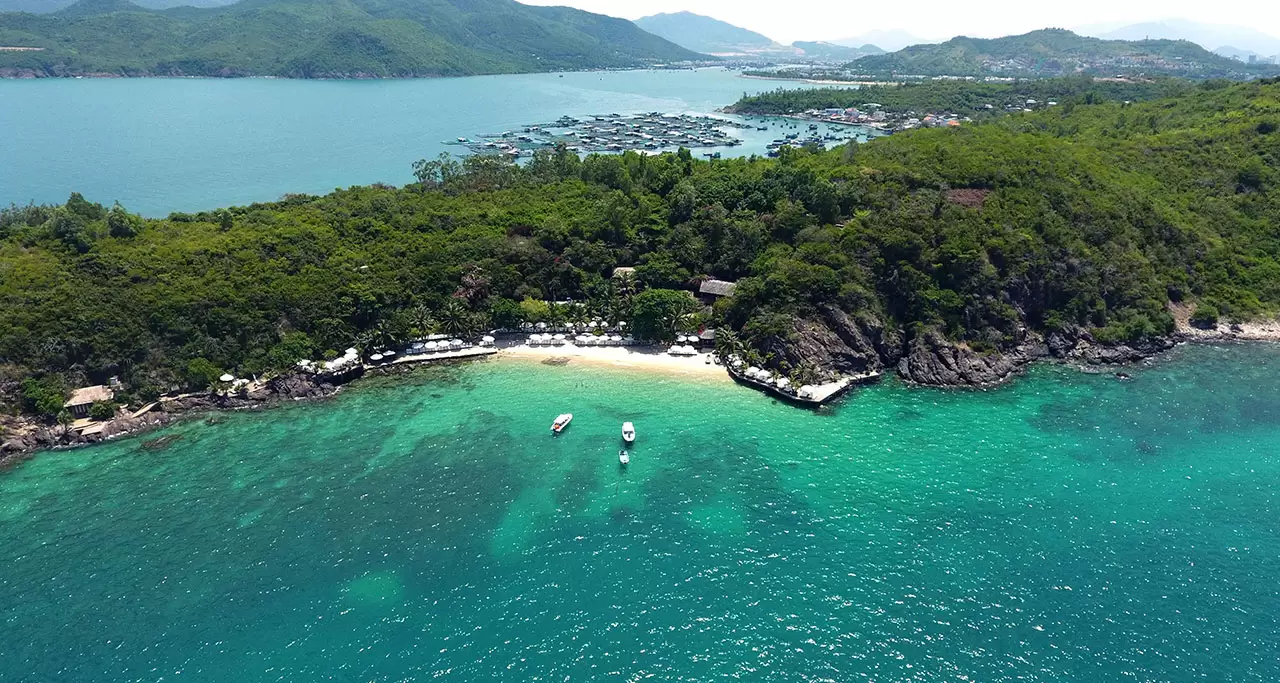 Hon Tre Island, just off the coast of Nha Trang, is best known for housing Vinpearl Amusement Park. Getting to Hon Tre Island from Nha Trang is fairly easy thanks to daily ferries and speedboat transfers from Cau Da Port, near the Oceanographic Museum. For those heading to Vinpearl Amusement Park, they can enjoy a 10-minute cable car ride from the port. Roundtrip cable car tickets cost VND 880,000 per adult and VND 660,000 per child, inclusive of access to all games (except water sports) in the park. Vinpearl Cable Car is a 3,320 metre long gondola lift, which links Nha Trang mainland with Hon Tre Island, is the world's longest cable car over the sea.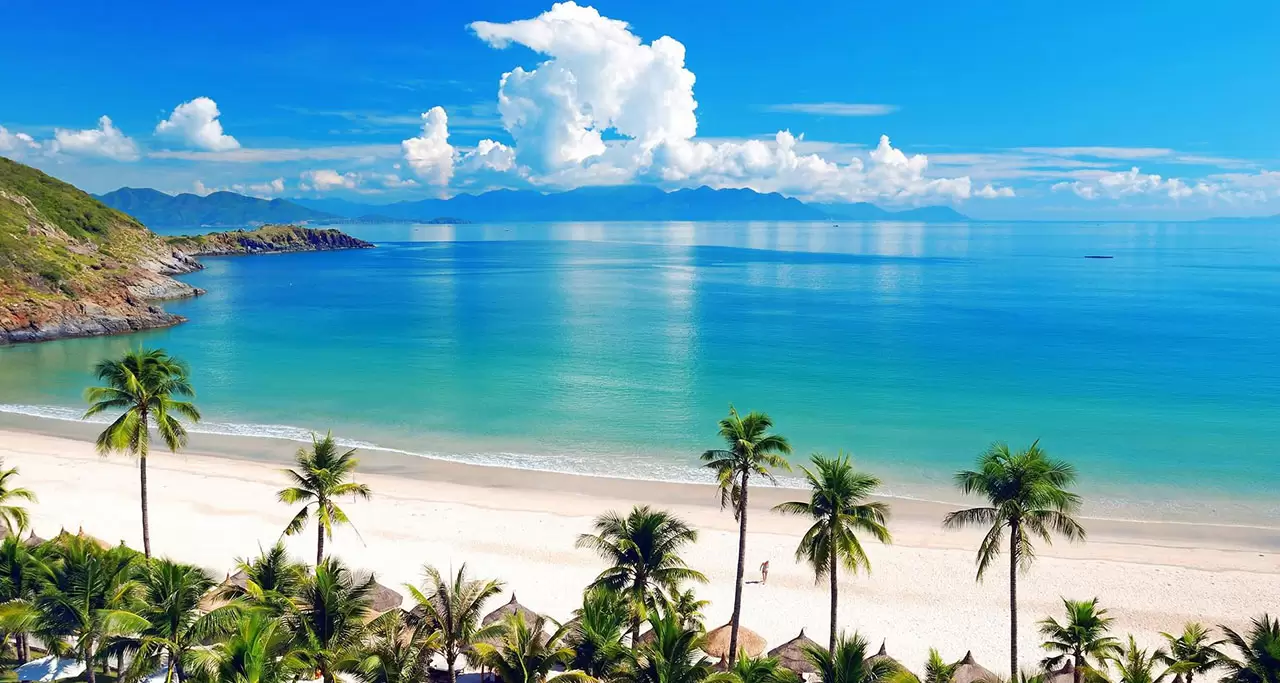 You will find a massive aquarium, amphitheater, shopping mall, and a variety of rides to enjoy on the island. Another highlight is Bai Tru Beach, located adjacent to the park. Despite the immense development on the island, nature lovers can still enjoy a hiking day on Hon Tre Mountain, or enjoy a peaceful retreat from Bay Lagoon to the bustling town centre.
The best time to visit Hon Tre Island is during the dry season, around mid-February until May. If you're a fan of diving activity, plan your visit between April and August to enjoy clear waters in coral-rich dive sites around Hon Tre Island.
Attractions on Hon Tre Island are mostly resulted from the private business investment of luxury all-inclusive resorts, expansive amusement park and cultural village. However, there are plenty of natural beaches that are great for water sports, beach volleyball, and sunbathing.
6. Binh Ba Island, Khanh Hoa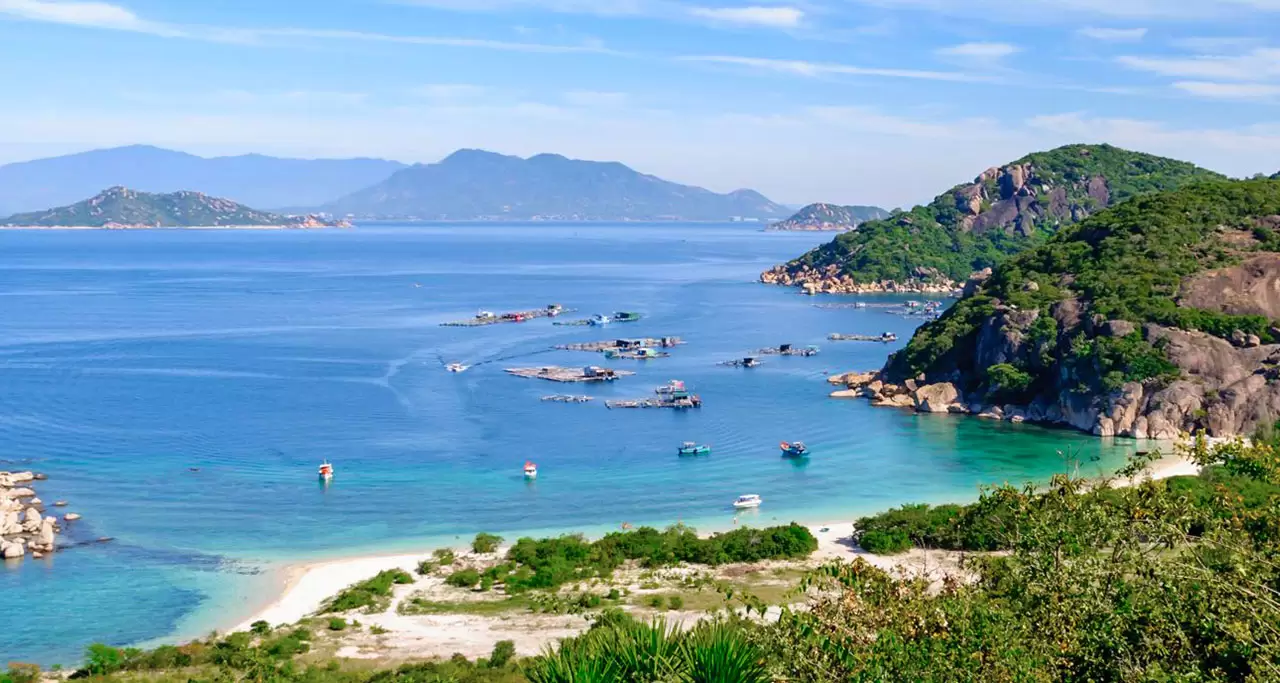 If you are looking for a beach destination to escape away from the noisy and overcrowded cities, Binh Ba Island is among the best place to spend your time. Historically speaking, it was a military island with restrictions on outsiders entering this island. In the recent years, the rules has been lossened and Binh Ba has become a hot name on the lips of domestic tourists, even it's still a new destination for international visitors. This island is only 15 km from Cam Ranh Airport, 60 km from Nha Trang City and can be reached in within 90 minute boat.
The day starts in Binh Ba earlier than other places because it's in the eastern-most island of Vietnam. Don't miss the chance to catch the sunrise from one of the beautiful beaches when you are here and take the advantages of the gentle morning light to explore rich and colorful marine life. Binh Ba island possesses lots of beaches, but the most famous beaches are Bai Chuong beach, Bai Nom beach, and Nha Cu beach. All three are practically deserted and have soft sands and clear waters.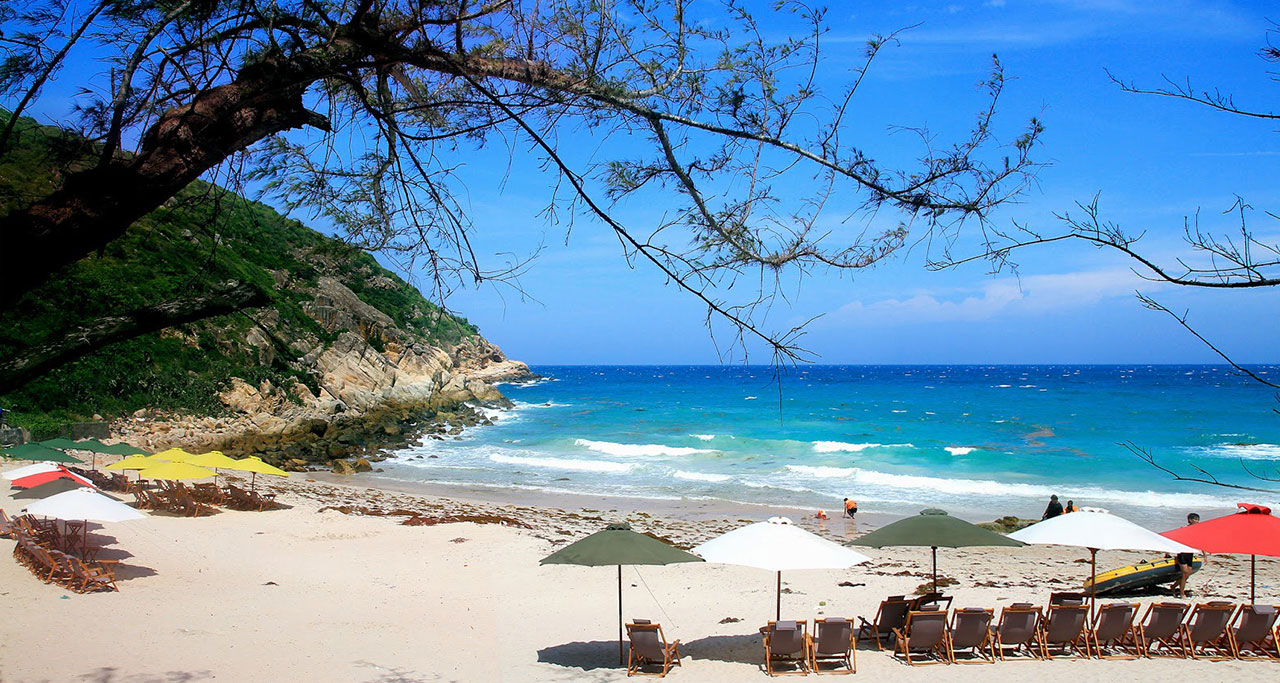 Apart from its incredible scenery, the island has a culinary sumptuousness to fascinate every food lovers. Binh Ba Island is also locally known as the "Lobster Island" because you can try very fresh lobster with reasonable price here. You can find from clams and spiny lobsters to shrimp and prawns in this island, so be sure to work up an appetite and try them all.
There are some great viewpoints complete with old artillery and watchtowers. Since there is still a military presence today, be aware and respectful of "no entry" and "no photo" signs.
7. Con Dao Islands, Ba Ria – Vung Tau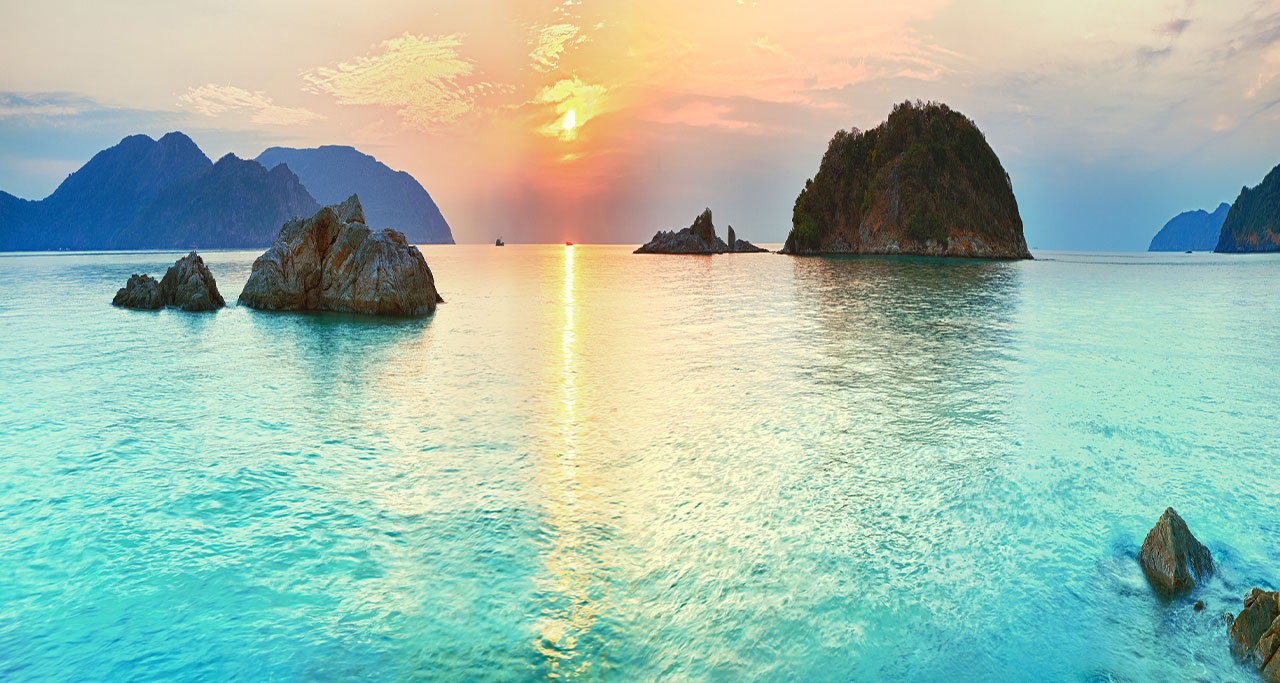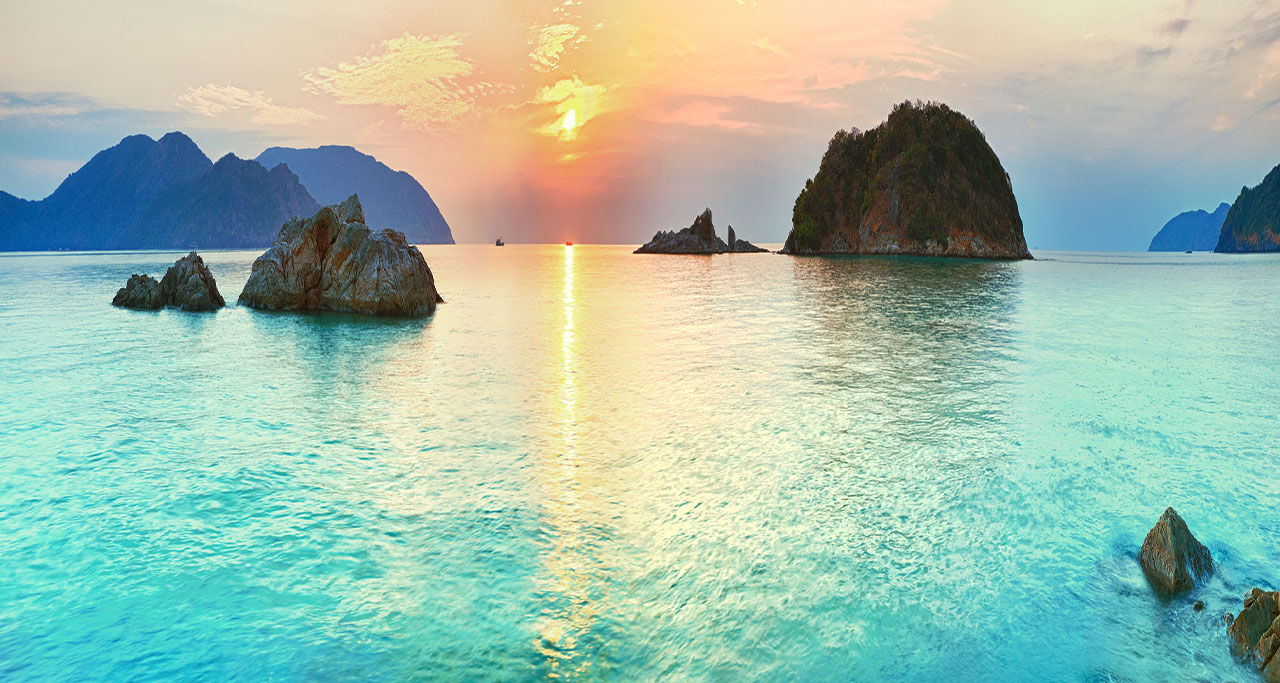 Con Dao Islands, or also called as Con Dao National Park, are an archipelago of sixteen mostly uninhabited islets just off the southern coast of Ba Ria – Vung Tau Province. With about one-hour flight from Ho Chi Minh City, Con Dao is a great escape from noisy bustling cities, immerse yourselves in striking natural beauty surrounded by granite cliffs and crystal blue water.
It was ranked the 4th in the top 10 must-see places in Asia in 2016 by Lonely Planet magazine; and was named on a list of the best secret islands on Earth compiled by the New York-based site Travel + Leisure.
Island-hopping and diving are popular activities on Con Dao Islands, where you can explore most of the isolated islets and spot various wildlife. In terms of tourism infrastructure, Con Dao is still fairly primitive with not many choices for accommodation. The most luxurious Six Senses resort, part of a chain of luxury hotels in exotic destinations around the world, has its own private beach and is a great getaway from everything.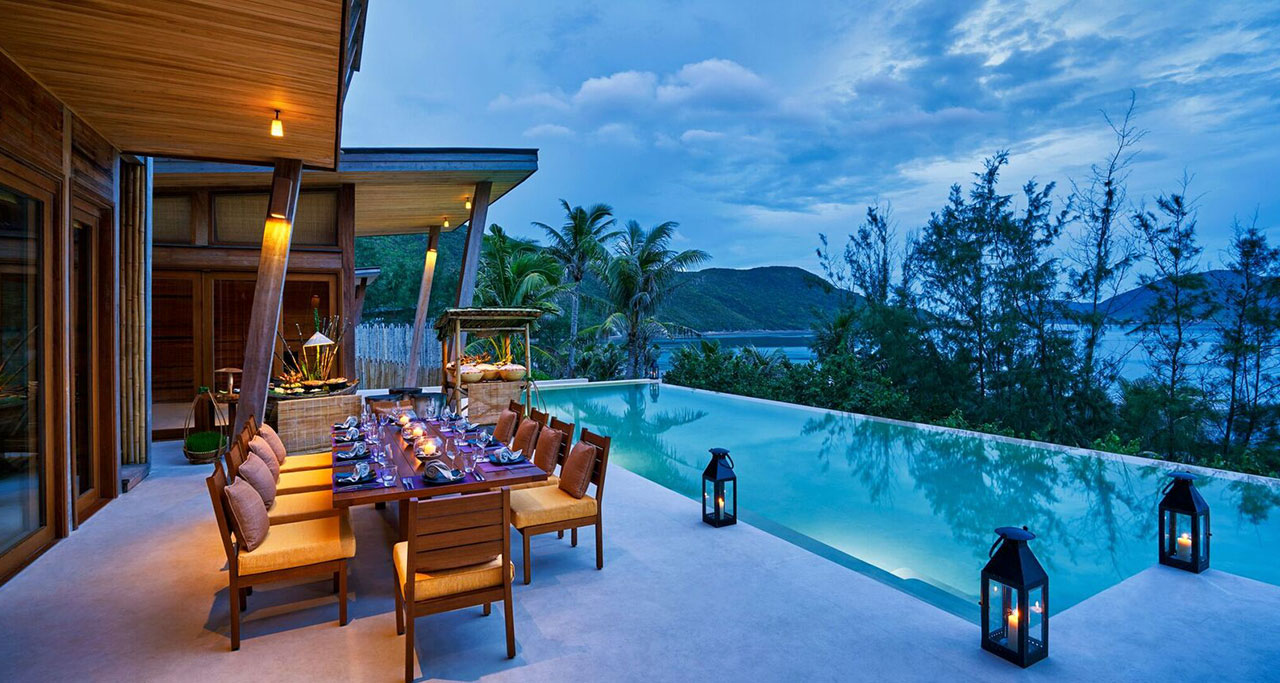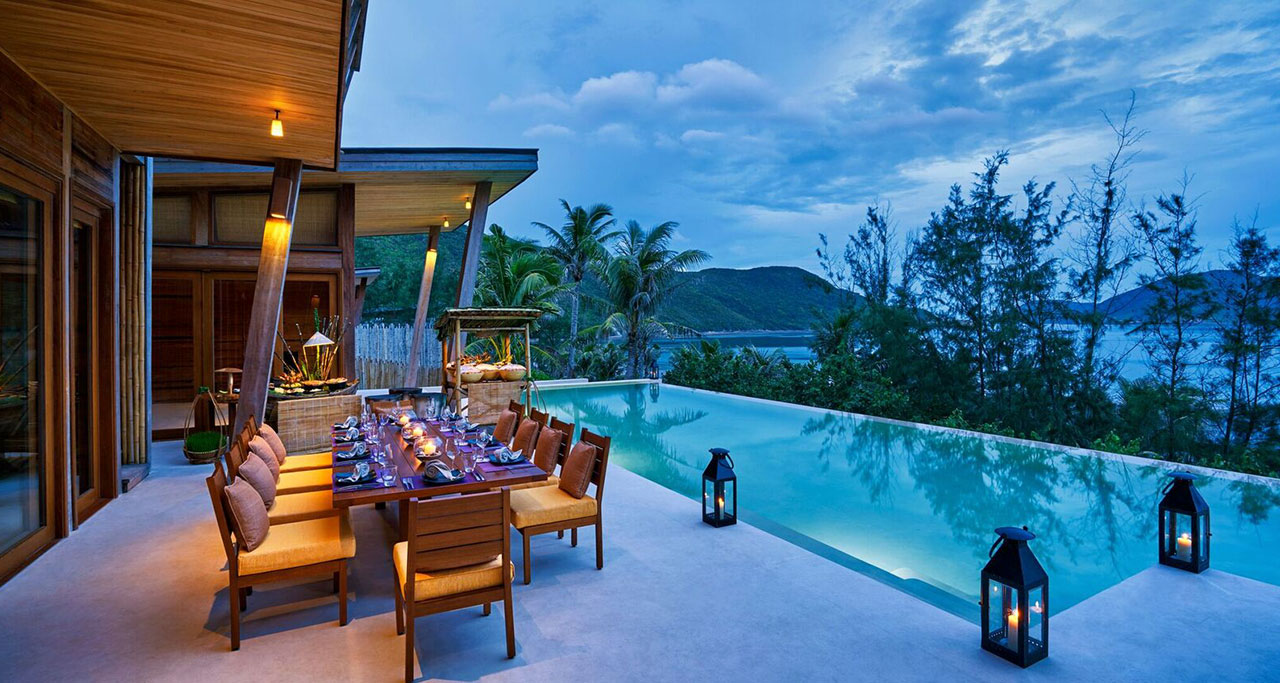 Beaches aside, Con Dao is also known as a spiritual destination where you can see the evidence of a period of dramatic time, with the prison system established and ran by French colonist and American military. Con Dao Prison was once called "the Hell on Earth" where hundreds of Vietnamese political prisoners were detained and cruelly tortured during wartime. Home to beautiful, unspoiled beaches, a fresh and delicious cuisine, a rich biodiversity, and significant historical values, Con Dao island promises to be the ideal vacation destination.
8. Nam Du Island, Kien Giang
Nam Du Archipelago, around 40 kilometers away from Phu Quoc Island, is becoming an attractive destination for backpackers heading to the Mekong Delta province of Kien Giang. Reachable by ferry from Rach Gia (2.5 hour ferry) or Phu Quoc (1.5 hour ferry), Nam Du is another great getaway when island-hopping in Vietnam. This pristine island has 21 islets, 11 islets of which are inhabited, while the others remain completely untouched.
The immense blue sea and sky, imposing mountains erupting amidst the ocean, endless evergreen primeval forests, long stunning beaches and splendid rock cliffs of Nam Du Archipelago in Kien Giang Province have seen it compared to the "New Wonder of the World" – Halong Bay in Quang Ninh Province. Formed from a volcano, it has numerous six-meter creeks which are advantageous for transportation. As it is endowed with high mountains, Nam Du also is suggested as a great spot for offshore fishermen to flee rough storms.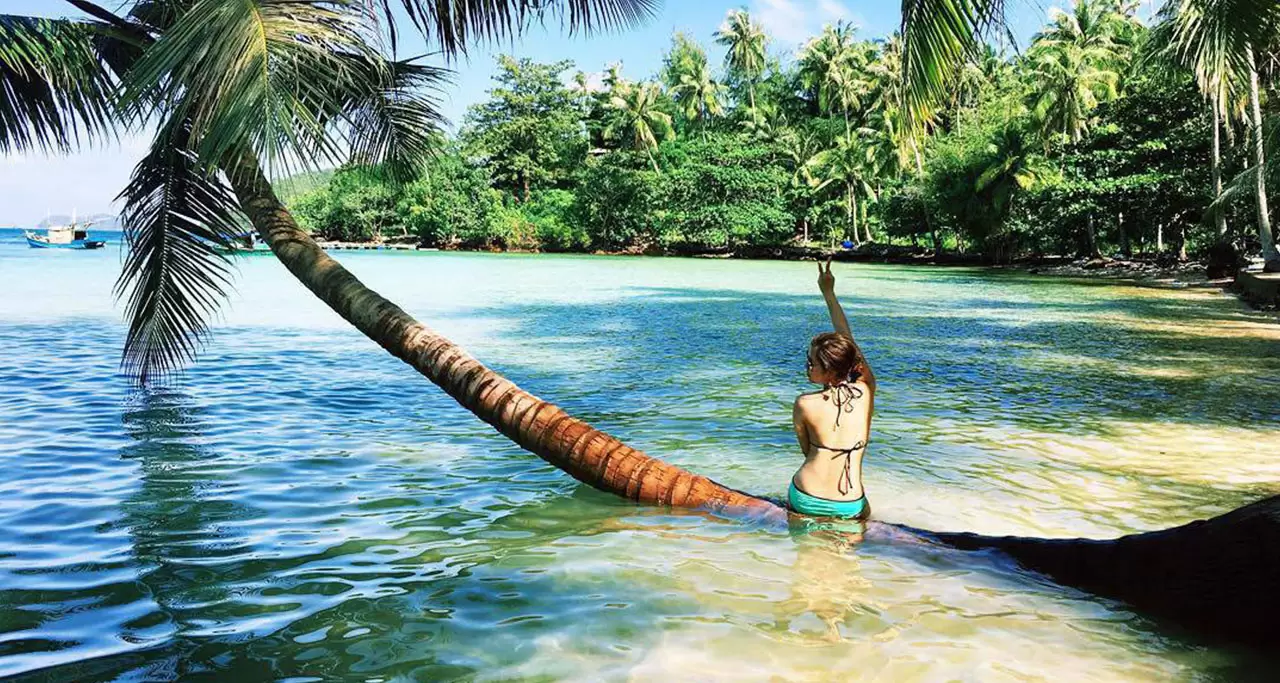 The best time to visit Nam Du Island is from December to April when the sea is peaceful and turquoise, the temperature is comfortable and the weather is consistent and sunny. Spend few days here to immerse in this island's rich natural beauty and join local fishermen as they get some of the freshest fish and seafood you'll ever have.
Foreigners need a valid passport, visa, residence papers and "permits for entry into maritime boundary areas issued by provincial-level public security departments" to go to Nam Du Island. However, Nam Du is off limits to foreigners because Nam Du businesses cater to mainly "package tourists and tour group", please check with us for foreigner's permission information to travel to Nam Du, which is best worth to spend your beach holiday when you want to extend your Mekong Delta tour.
9. Phu Quoc Island, Kien Giang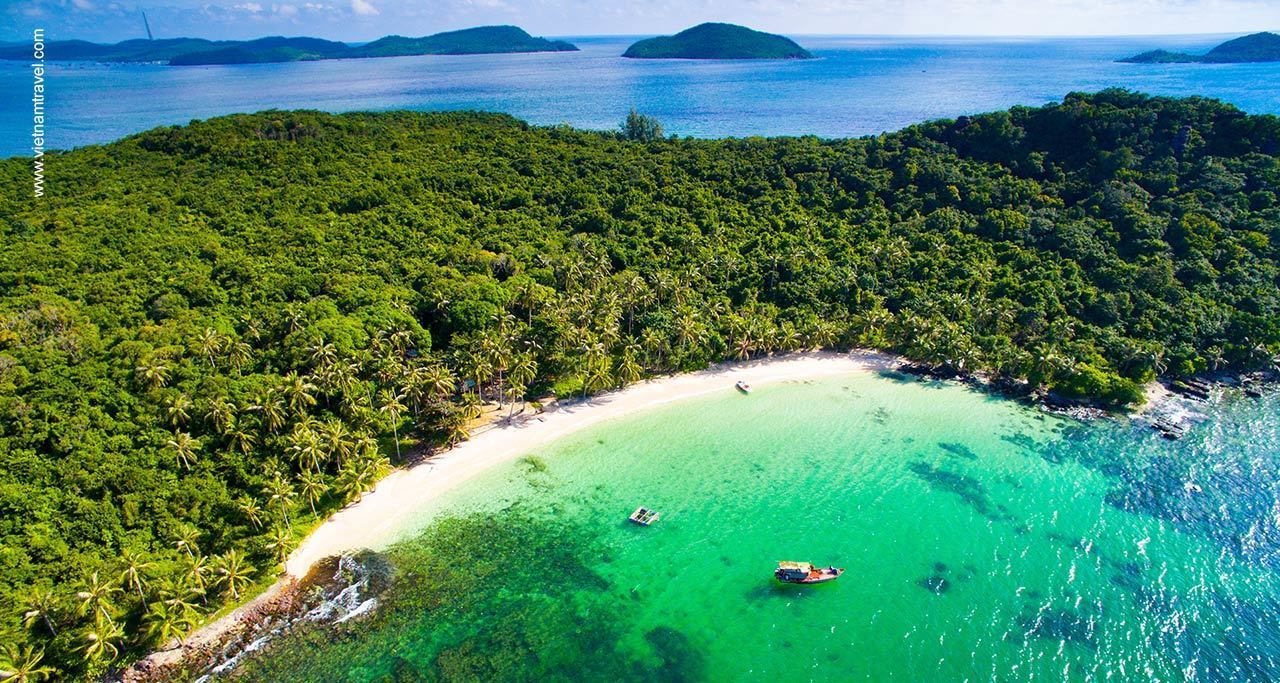 Last but not least, it can't be somewhere other than Phu Quoc being in this list of best islands in Vietnam. Phu Quoc Island with 150km of coast, off Vietnam's southern province of Kien Giang, is considered one of the most accessible and affordable getaways for Vietnamese and foreigners alike. You can reach there by plane at Phu Quoc International Airport, it offers a 30-day visa-free policy and multiple friendly tourism services.
You may like: Things to do in Phu Quoc
Phu Quoc is well known with many white sandy beaches and a perfect combination from mountain to forest and sea. With such a balmy weather, Phu Quoc is a good choice for all travelers who love nature and seek for a place to balance sightseeing and beaches. You can spend your time at your luxury resort or walk along the sandy beach to enjoy the fresh air or dipping yourself under the fresh green water of the sea. At the end of the day, Phu Quoc will end up with the colorful sky to complete your day with such a customized romantic dinner next to the beach.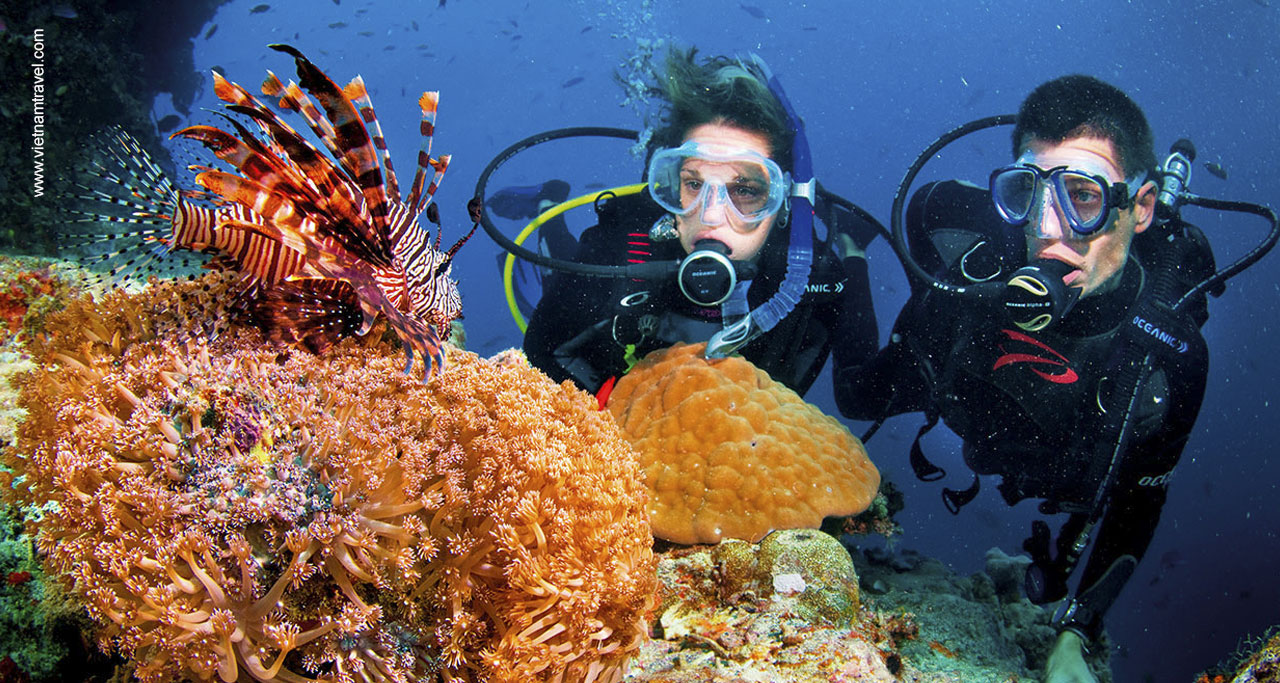 The Phu Quoc National Park covers around 50% of the island, which means you can experience more adventurous activities like riding around the island, hiking through jungle or trekking to mountains if you want to move away from the gorgeous palm covered beaches. Aside from beach-side activities, visitors can also explore local fishing villages, fish sauce factory, pepper plantation, or express your admiration for political and wartime convicts in former prisons. Phu Quoc, with its spectacular landscapes and wild nature, rich history and local culture, must be in the bucket list of all travel addicts.
Being one of the most popular beach vacation destinations in Vietnam, it is not difficult for tourists to find suitable accommodation in Phu Quoc. From affordable hostels to luxurious beach resorts, Phu Quoc has a variety of accommodations suitable for your taste and budget plan. Here are some suggested luxury hotels, resorts for you to take a look: JW Marriott Phu Quoc Emerald Bay Resort & Spa, MGallery La Veranda Resort Phu Quoc, Premier Village Phu Quoc Resort, Salinda Resort Phu Quoc Island, Novotel Phu Quoc Resort, Chen Sea Resort & Spa…
Read more: Best Beach Hotels And Resorts In Vietnam