An Ultimate Guide to Ly Son Island – Vietnam's Hidden Gem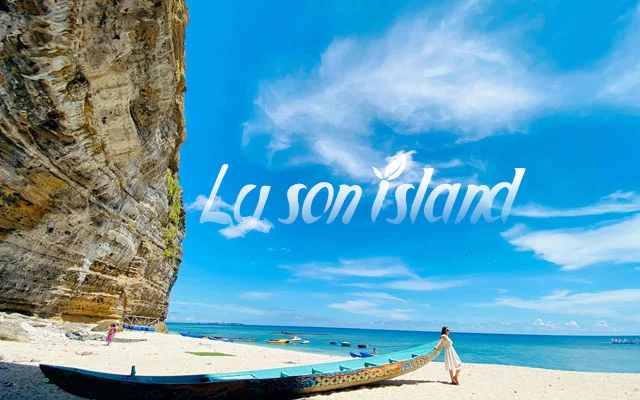 It is undoubted that Ly Son Island is a hidden gem in Vietnam with its pristine beauty, majestic natural landscapes and stunning beaches. It might be unfamiliar with foreign tourists but always on the top travel bucket list of Vietnamese travelers. So let's explore what it offers.
General Information
Ly Son island is a district of Quang Ngai Province in Central Vietnam with an area of 10km2 and a population of more than 20,000. It is about 30km away from mainland. About 25-30 million years ago, Ly Son was a volcano with 5 calderas. Signs of volcanic activity are everywhere – from the tortured weave of the cliffs to the black rocks partitioning the fields. The extinct volcanoes make for a dramatic and striking landscape, offering beautiful, short hikes, and fantastic views.
Ly Son consists of 3 islands: Lon Island, Be Island and Mu Cu Islet. Lon Island, also called Cu Lao Re, is in the center of Ly Son island. Be Island or An Binh Island is a paradise with a stunning beach. Mu Cu Islet, on the eastern side of Lon island, is the smallest and unpopulated one.
Weather & Best time to visit
Weather on Ly Son island is generally warm all year round but it expects heavy rain and storms sometimes. There are 2 seasons: dry season (March – August) and rainy season (September – February). For water activities like swimming, scuba-diving, snorkeling…, from June to September is a perfect time to visit Ly Son island when it is hot, sunny and humid. During the period of December and February, the weather is mild, warm and pleasant, which is a right time to harvest garlic – a very famous and special spice of Ly Son island.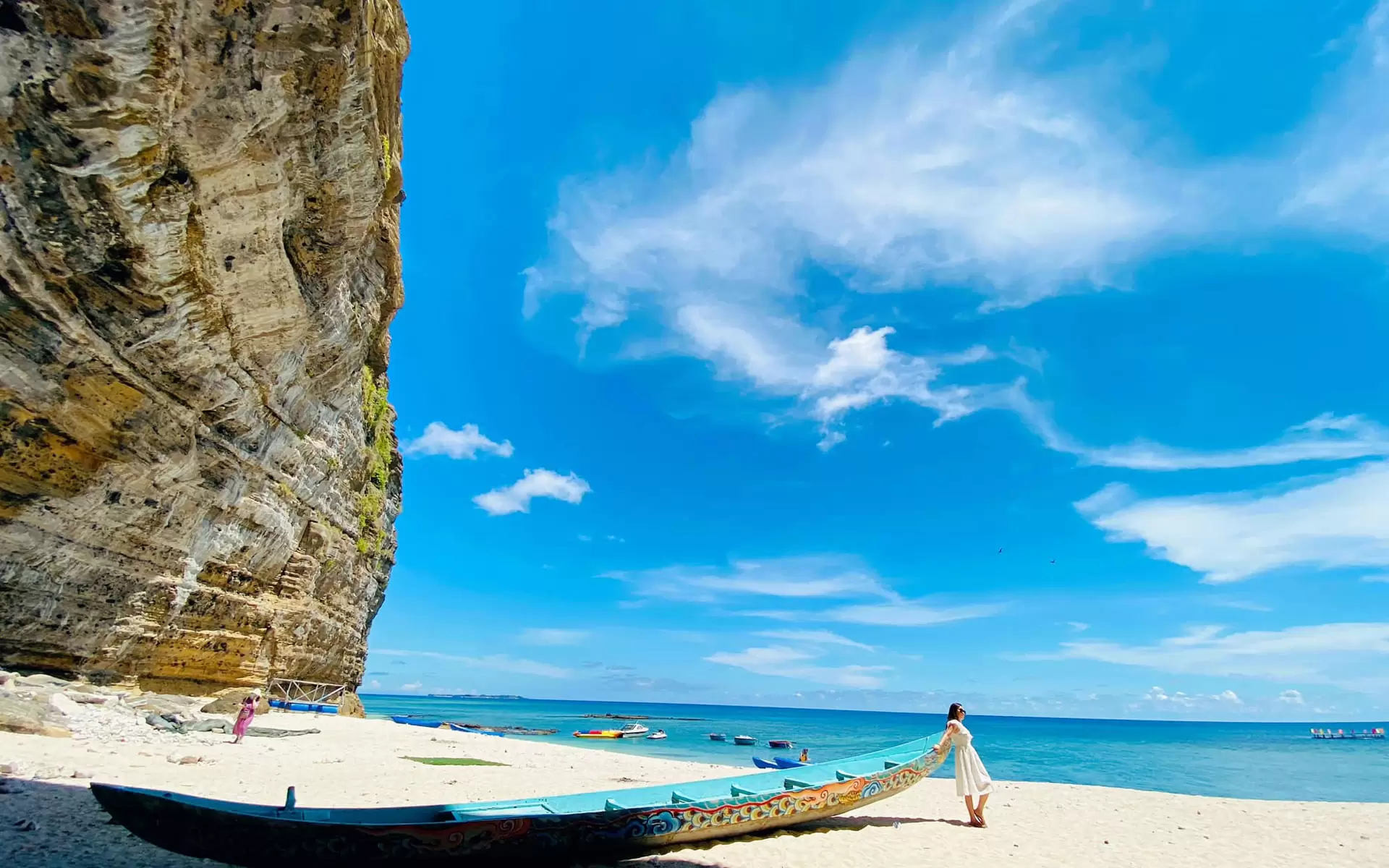 In addition, Ly Son has a special holiday to commemorate the Hoang Sa soldiers and it takes place on 18th, 19th, and 20th of March lunar calendar. Come here during this time if you want to take part in the holiday and discover some cultural aspects of locals.
Ly Son island: How to get there
Getting to Ly Son Island is a bit challenging and tricky as you need to take a few transportation methods. There is no direct way to reach the island but taking a ferry or speedboat from Sa Ky Port. So firstly, you need to be at Sa Ky Port where you can buy speedboat ticket. It is suggested to buy ticket in advance to make sure you have a seat in the peak season (June – September). Ticket price is 178,000 VND/ passenger for Sa Ky – Ly Son route and 160,000 VND/ passenger for returning route. It takes about 35-40 minutes. A speedboat can accommodate about 70-80 passenger. The speedboat ride is very fast and a bit bumpy and choppy, depending on the waves. If you are a seasick type person, make sure you take motion sickness medication before getting on board.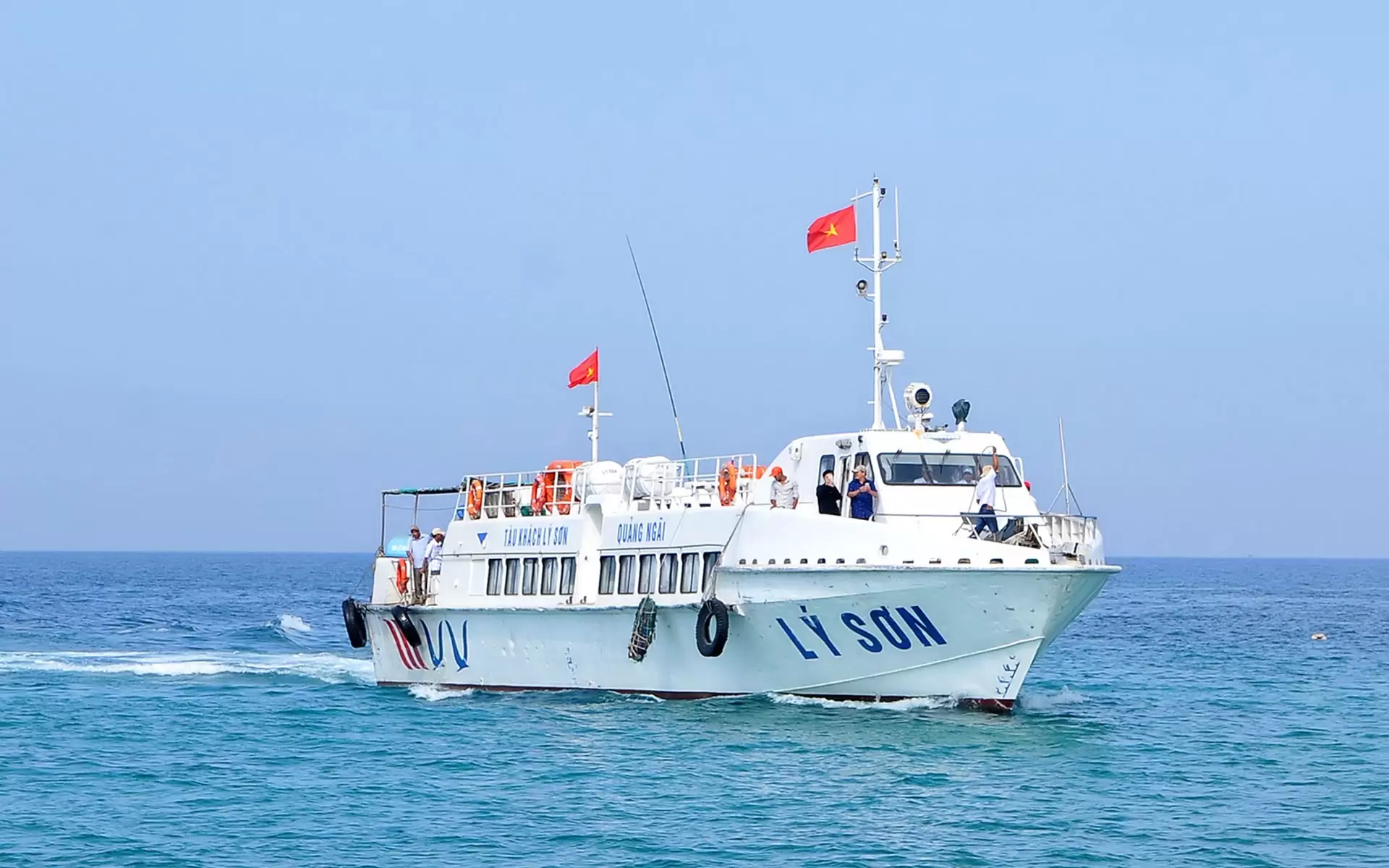 * From Hanoi/ Ho Chi Minh City
If you are coming from Hanoi or Ho Chi Minh City, you can book a direct flight to Chu Lai International Airport of Quang Ngai, about 50km away Sa Ky Port. Vietnam Airlines and Vietjet Air are currently operating this route, one flight per day per airline. Airfare varies from 80 – 150 USD for round-trip flight. It is suggested to book the ticket 2-3 months in advance to get better deals. After 90-minutes flight, you arrive at airport and then you can take a taxi to go ahead to Sa Ky Port in one more hour driving.
* Get to Ly son island from Hoi An / Danang
Sa Ky port is located about 165km from Danang city center and 120km from Hoi An Ancient Town. There is no local buses operating the direct route Danang/ Hoi An to Sa Ky. Tourists will get off at Quang Ngai City and continue to catch taxi to reach to Sa Ky port. This way takes you much time. So it is suggested to take a taxi or book a private transfer from local agent to save your time to get to Ly Son Island from Hoi An/ Danang. The price varies depending on your group size. After a 2.5 hours journey, you will arrive at Sa Ky port and buy speedboat ticket here.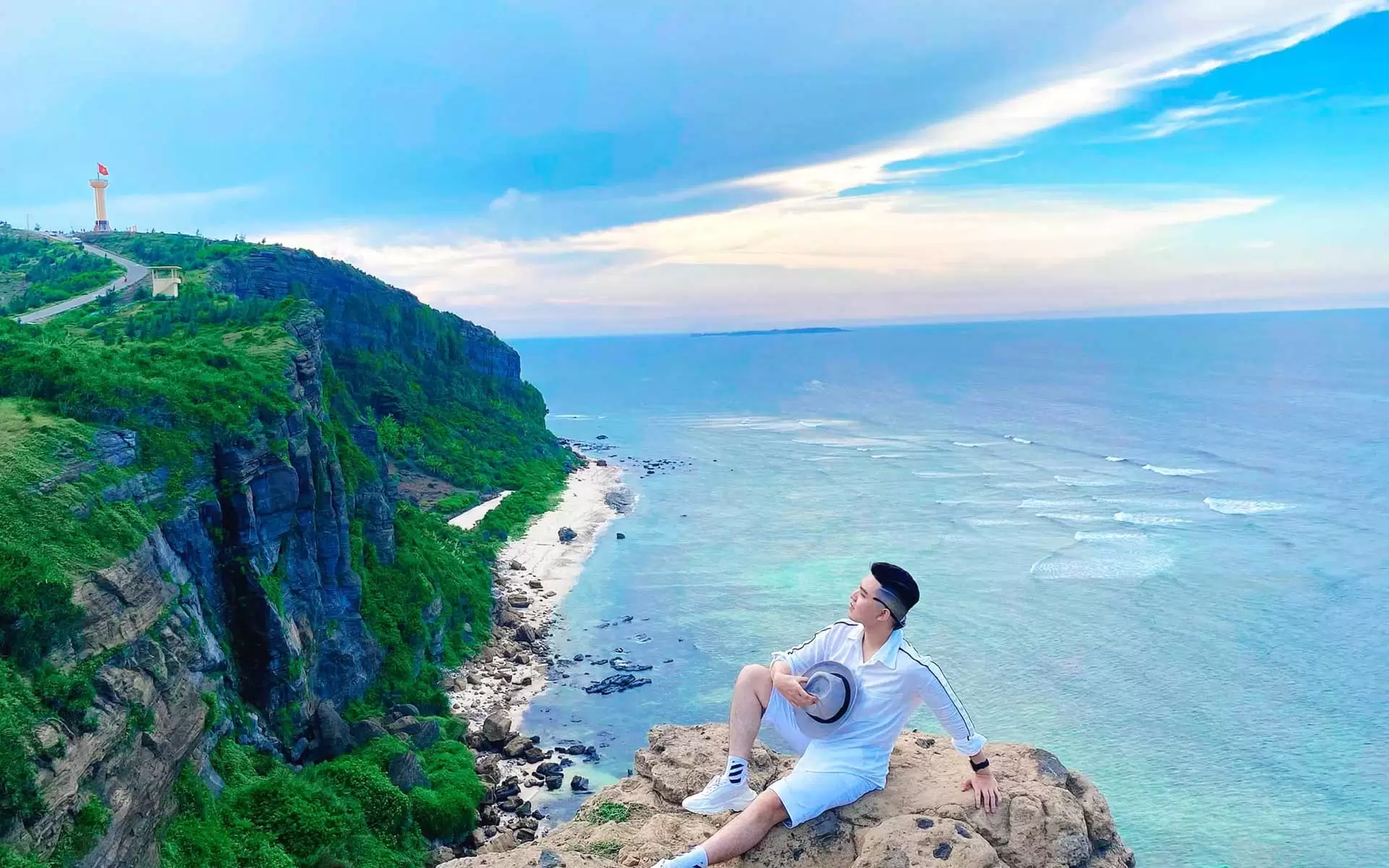 Getting around Ly Son island
Ly Son Island is relatively small, so the best way to explore island is to rent a motorbike. It costs about 100,000 – 150,000 VND per day. There are a few taxis on the island also. You can choose this option if you go with children.
Attractions in Ly Son
Ly Son is very well-known for its clear turquoise beach, kingdom of garlic and many other interesting places:
Lon Island

Lon Island is the very first place you step in from Sa Ky Port. A lot of accommodations and restaurants are located here. There are many electric tourist cars, taxis, motorbikes, markets and bars. Tourists often book a room here and go to explore the other places of the island by motorbike.
Be Island
As its name suggests, this is a very small island with an area of less than 1km2 and about 100 households living. Millions of years ago, the island was built by volcanic eruptions and became a typical geological region, where you can see the ancient black rock layers. To reach Be Island, you have to take a 15-minutes canoe which costs you around 40,000 VND/ person for ticket. It departs every day at 7:30 AM and returns at 15:10 PM.
Be Island is a definite gem of Ly Son Island. It is pretty quiet, peaceful and pristine. Your trip is not complete without going to Be Island. Step a foot on Be Island, a picturesque scenery of stunning beach, crystal blue water, white sand, sparkling coral reefs and green typical coconut rows appears in front of you. Almost of tourists come to Be Island and return within a day, but you can bring sleeping bags or tents for camping overnight on the island. This will be a memorable experience.
Mu Cu Islet
Mu Cu islet is located on the eastern side of Lon island. It is also the smallest and uninhabited island with pristine beauty and fresh air. From the lighthouse on Mu Cu islet, you can admire the majesty of the shimmering sunrise, regarded as the greatest spot to enjoy the sunrise of the island.
To Vo Gate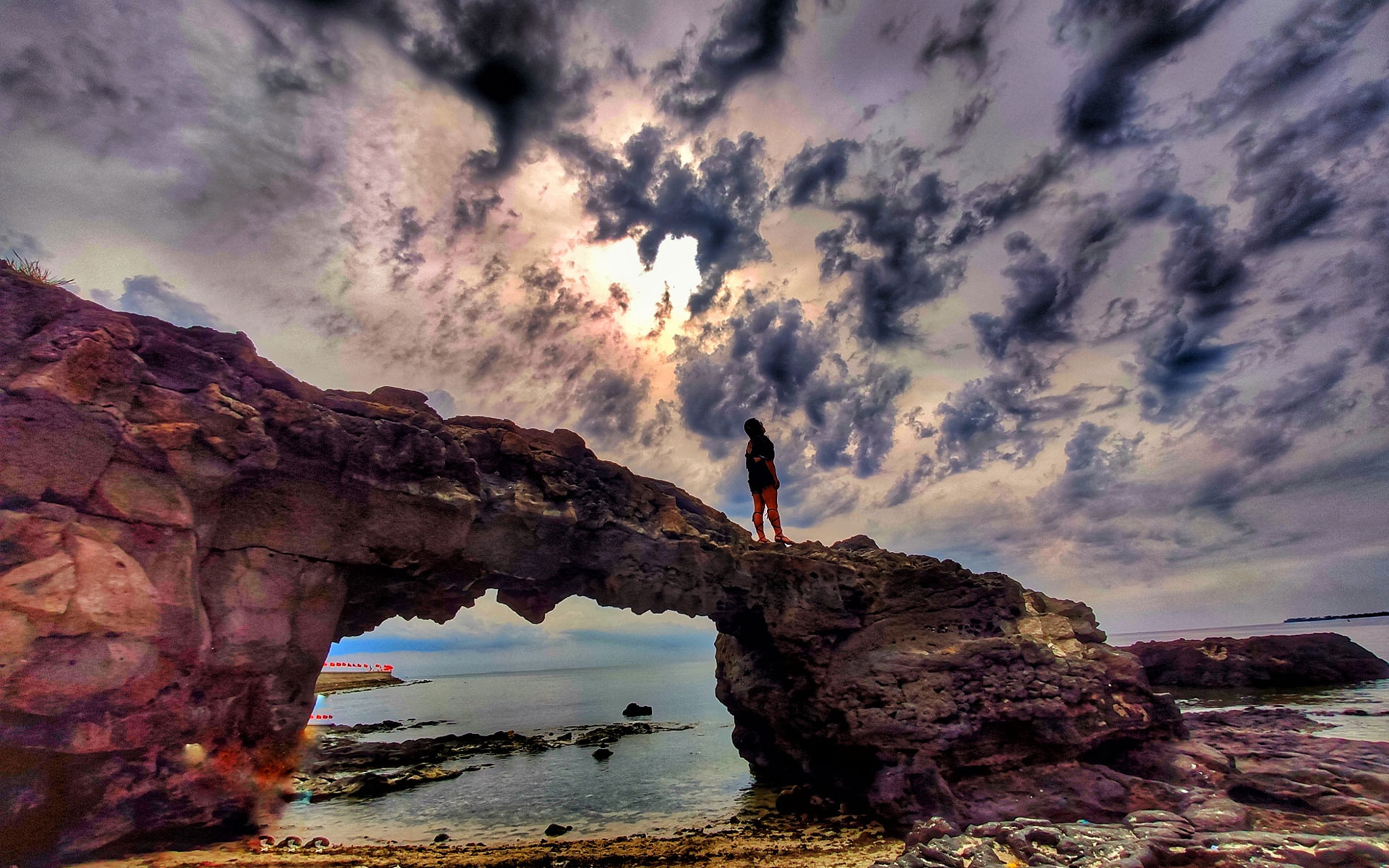 To Vo Gate is one of the favorite places for photography enthusiasts on Ly Son Island, especially at sunrise and sunset to get wonderful photos. Of courses, it is full of young travelers here during these time. To avoid the crowded, you can absolutely come here between 8 AM and 3 PM but it is relatively hot. This gate was created from the remnants of volcanic activity that occurred millions of years ago, when the lava encountered the sea and hardened, then created a unique arch. The gate is about 2.5m high, has spectacular shape, and shows no signs of human impact.
Duc Pagoda
Duc Pagoda is located halfway up Gieng Tien mountain. To reach the pagoda, visitors have to climb more than 100 stairs along the mountainside. There is a 27m-tall Guanyin statue leaning back on Gieng Tien mountain and facing the ocean.
Thoi Loi Mountain
Thoi Loi mountain is the highest point of Ly Son Island with 149m in height. It is a giant, gaping crater in the east of Ly Son. Looking down from the peak, you will be in awe of the breathtaking scenes with the turquoise waters, white clouds and green garlic fields. There is a 20-meter high National Flagpole on top of Thoi Loi to confirm the sovereignty of Vietnam.
Cau Cave
Cau Cave is less than 15 minutes from the center of Ly Son island. The two sides of the road leading to it are filled with garlic fields. Cau Cave is also a great location to take good sunset photos. You can go swimming and snorkeling to see corals here. It is very fun.
Cave Pagoda
Hang Pagoda is located deep in the foot of Thoi Loi mountain that stands on the seashore. It was built under King Le Kinh Tong (1588 – 1691) and recognized as the national heritage as its historical and architectural value. Hang Pagoda is surrounded by lush green trees and rocks. There is a large yard with a lotus lake at the center and a statue of Guanyin facing to the sea. Many residents and visitors often come here to pray for their family and relatives.
Ly Son Island Accommodation
Ly Son Island still remains its pristine and tranquility as it is not exploited much to tourism. Accommodations on Ly Son Island are basic, mainly guesthouses, homestays and small hotels. Those who are looking for a luxurious retreat, Ly Son Island should not be your choice. Let's check out some recommended accommodations as below and choose one for your stay: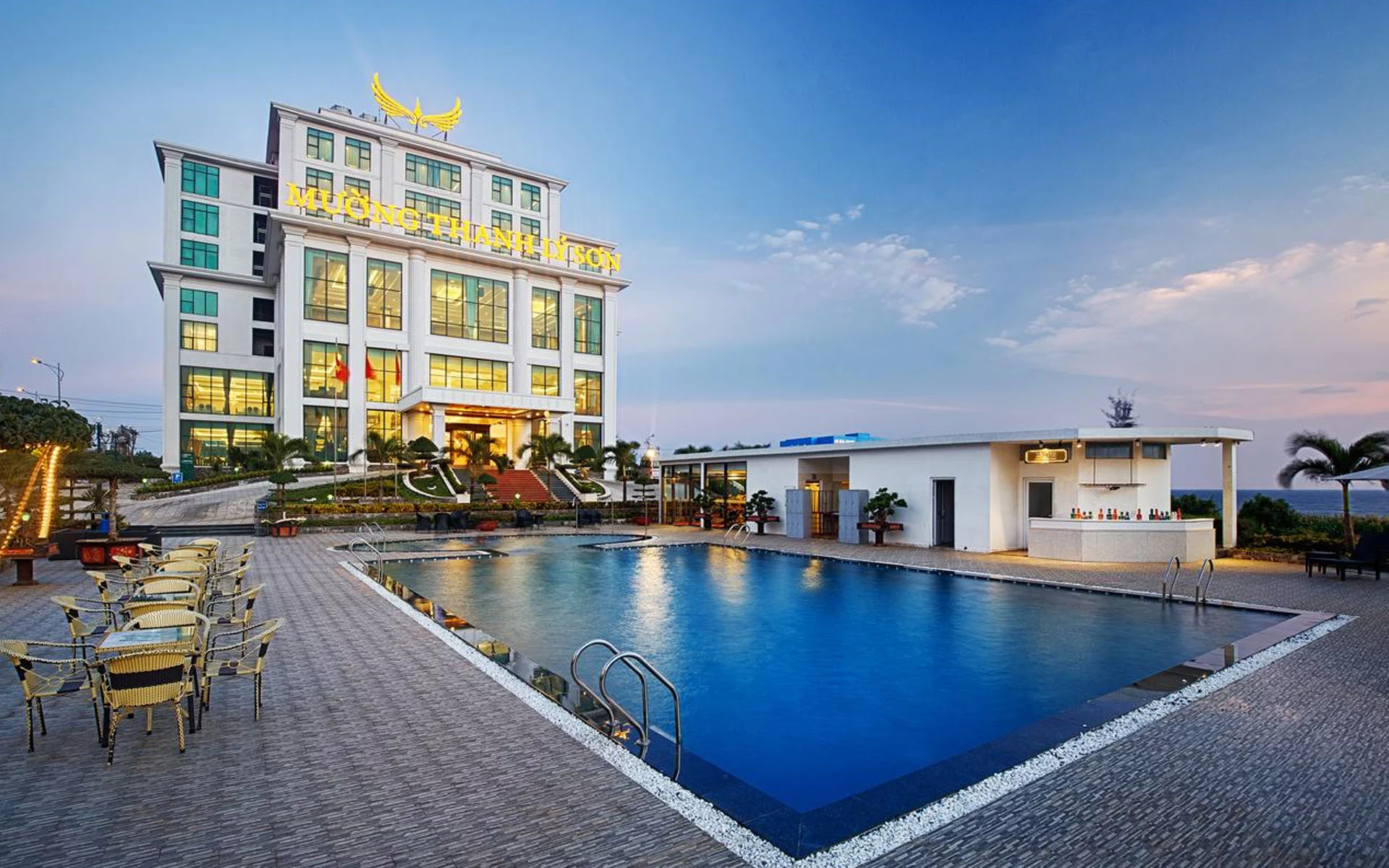 * Ly Son Pearl Island Hotel & Resort (4 star): ~ 45 – 100 USD/ per night
Ly Son Pearl Island Hotel & Resort has an ideal location with a beach length of 155m. There are 85 rooms with an area from 29-48m2. It features with an outdoor swimming pool, garden, a restaurant, a 24-hour front desk and room service, along with free WiFi.
* Muong Thanh Holiday Ly Son Hotel ( 4 star): ~ 50 – 100 USD/ per night
Located right in the center of Ly Son Island, Muong Thanh Holiday Ly Son is a 4 star hotel which is a harmonious blend of nature space and modern design. Just a few walk, you can reach beautiful beach with white sand, blue sea and sunshine. The hotel has a total of 92 spacious and elegant rooms with beautiful sea view. In addition, there are an outdoor swimming pool, restaurants, conference center, massage, karaoke, coffee bar… in modern and sophisticated design to meet guests' demand.
* Quang Vinh – Ly Son Island Guest House: ~ 10 – 20 USD/ per night
* Quynh Anh Guest House: ~ 8 – 20 USD/ per night
* Bep's House: ~ 7 USD for a person in a 4-bed dorm and ~ 18 USD for a private double room.
This homestay is pretty cute and suitable for young travelers.
All above hotels, guesthouses and homestays are located on Lon Island but there are a few options on Be Island for those who want to spend a night there:
* Ly Son Bungalow Hostel: ~ 3 – 10 USD/ per night
The hostel provides tent for rent, private room for 2 people and 4 people. Especially, it has the most beautiful sea view on Ly Son Island.
* Gio Bien Homestay & Camping: ~ 8 – 20 USD/ per night
There are dorm room, double room and family room to suit any travelers' request. You can also rent a tent for camping right on the beach at night from this hotel. Price is about 130,000 VND. A tent can sleep up 3 people.
* Alabin Homestay: ~ 5 – 40 USD/ per night
Alabin Homestay has an ideal location and a spacious campus with many kinds of trees. You can choose a private family room for 4 people or private room with balcony and sea view for 2 people.
What to eat on Ly Son Island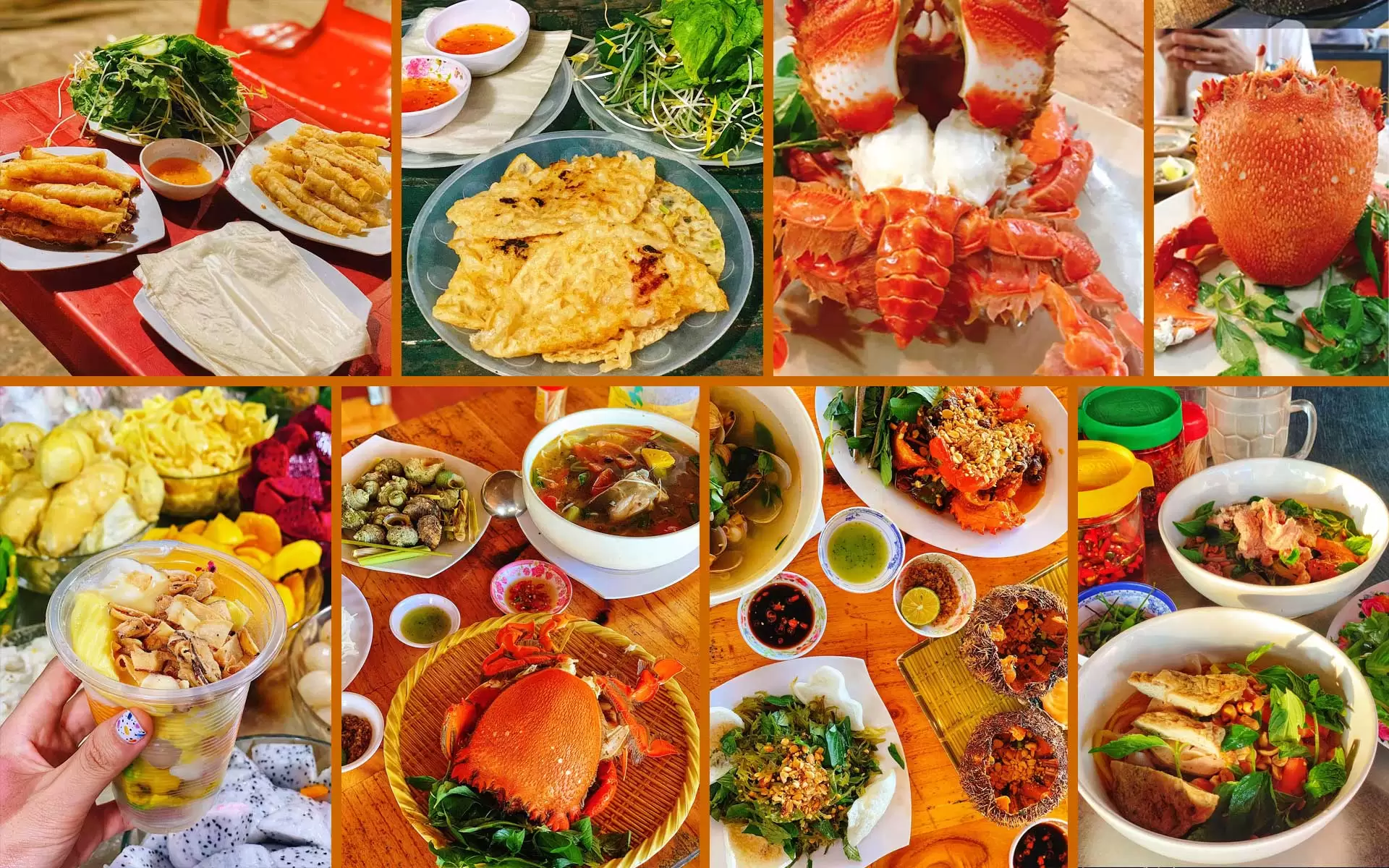 Garlic Salad

Garlic is a very famous and special spice of Ly Son Island. So you should try some dishes made with garlic, one of which is garlic salad. The outer shell of garlic is removed, then washed and steamed without water to ripen. Later mix processed garlic with spices and sprinkle a little peanut, fresh vegetable, and herbs. Garlic salad is not only absolutely delicious but also good for your health.
Jellyfish Salad
Fresh jellyfish just caught up by fishermen in the morning is soaked in water with a green banana chopped to prevent from losing its water. Then jellyfish is mixed with aromatic herbs, sliced mangos, and the sauce of fish sauce, garlic, chili, sugar, and vinegar, etc. In addition, fried onion and peanuts are sprinkled on the top to boost the smell. This a must-try dish when visiting Ly Son Island.
Seafood
Yes, you should try some kinds of seafood on Ly Son island such as king crab, squid, shrimp… They are all fresh with affordable price.
Useful Information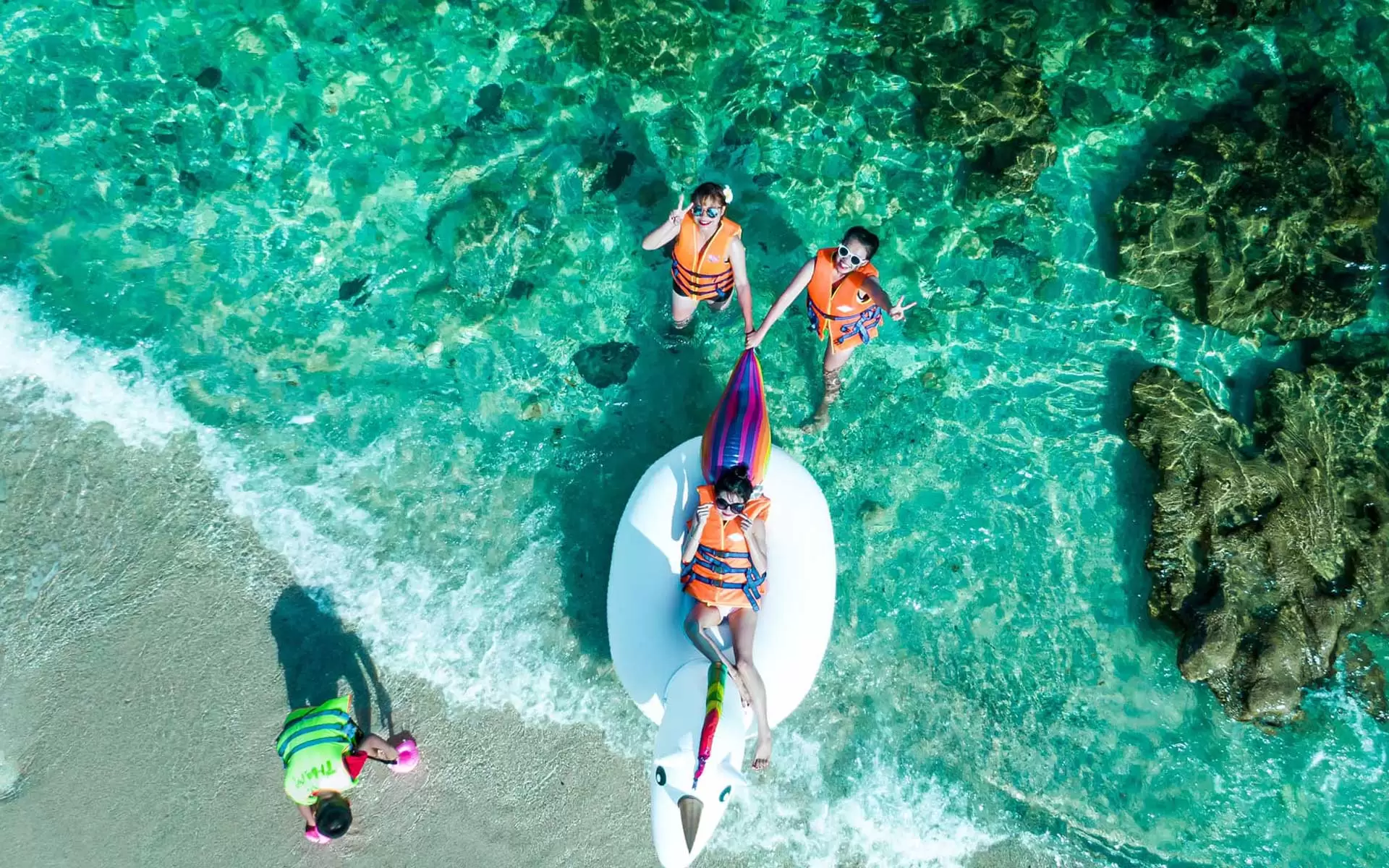 – There is no ATM, so make sure that you bring enough cash in VND to spend on the island.
– Passport is required to buy speedboat tickets.
– It's rare to see foreign tourists on Ly Son Island, so it is better to practice some Vietnamese sentences or come with Vietnamese friends.
All in all, Ly Son is hands down a wonderful island that you need to explore. It's beauty still remains untouched and pristine. Come here and spend at least two nights to unwind!