Hon Son Island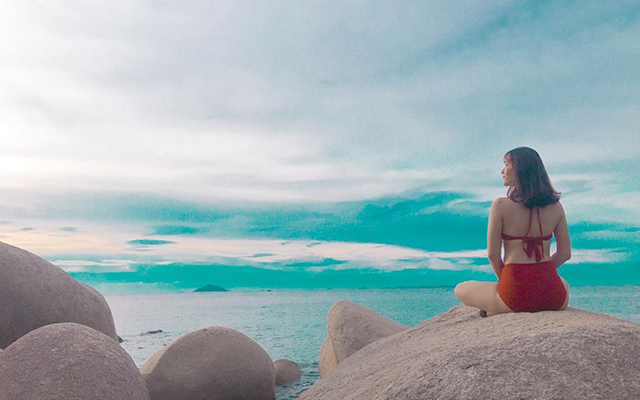 Hon Son Island, located in Kien Giang Province, is a new hidden gem of beach destination in Southern Vietnam. With its pristine beauty, graceful stunning beaches reflecting the vast ocean, Hon Son appears as a sparkling jewel surrounded by coconut groves along the beach with a wild look, no trace of mining. Below is information that you should know before traveling to Hon Son Island.
1. Overview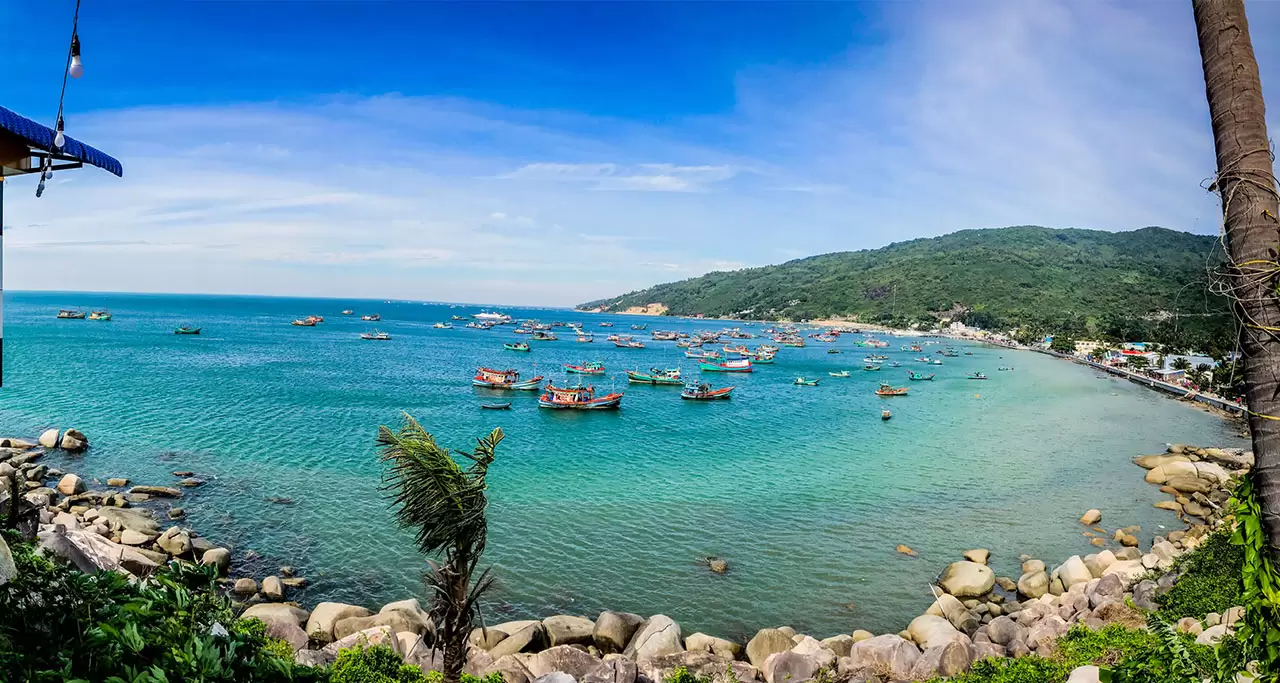 Hon Son Island, often referred to as Hon Rai, is located in Lai Son commune, Kien Hai District, Kien Giang Province. It lies between Hon Tre Island and Nam Du Archipelago, about 65km from the west of Rach Gia City. The total area of Hon Son Island is 11.5 square kilometers with 7 undulating mountains and 6 surrounded beautiful beaches. Hon Son is a home to more than 8,200 people living on aquaculture, shipbuilding, shrimp and fish processing and fish sauce making. Lai Son, the island's main village, sits on a bay in the middle of south coast. The village has an attractive, laid-back air and a tangible sense of the past.
Since there are many coconuts growing from the beach up to the hill, Hon Son is also called "Coconut Island". Biking along the coast under the tilting coconut shadow, next to the sea is one of the must do on the island. Additionally, tourists will be surprised by the natural stone blocks with different shapes, like dolphins, turtles, lying under the clear water. The scenic seafront road at Lai Son village is perfect for promenading in the mornings & evenings.
2. Best time to visit Hon Son Island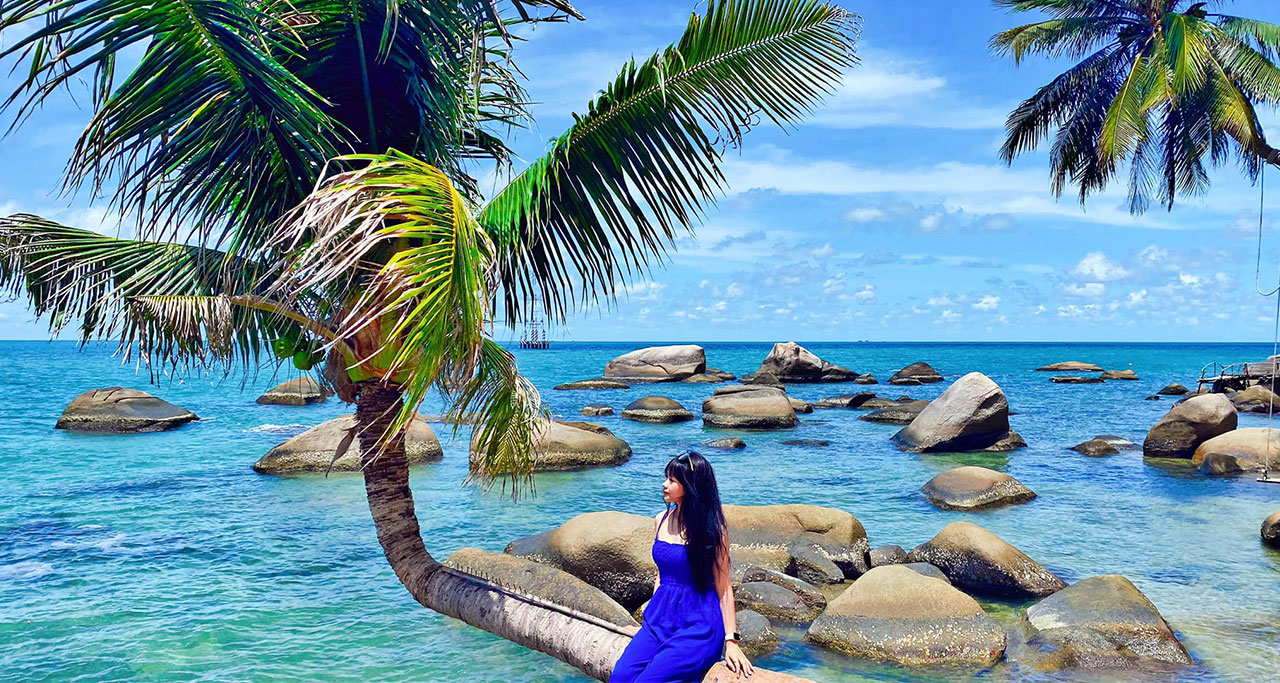 Weather information is essential for any beach vacation, especially to islands. Port operating office will ban all ships sailing because of rough sea, big wave and strong wind. To avoid rain and storms as well as have a memorable trip on Hon Son Island, you should come here between May and December. During this time, the weather is quite pleasant, the sea is calm and seafood is abundant and cheap such as squid, shrimp and crab.
3. How to get to Hon Son Island
Hon Son Island can be only reached by speedboat from Rach Gia Pier, 3 km from center of Rach Gia City.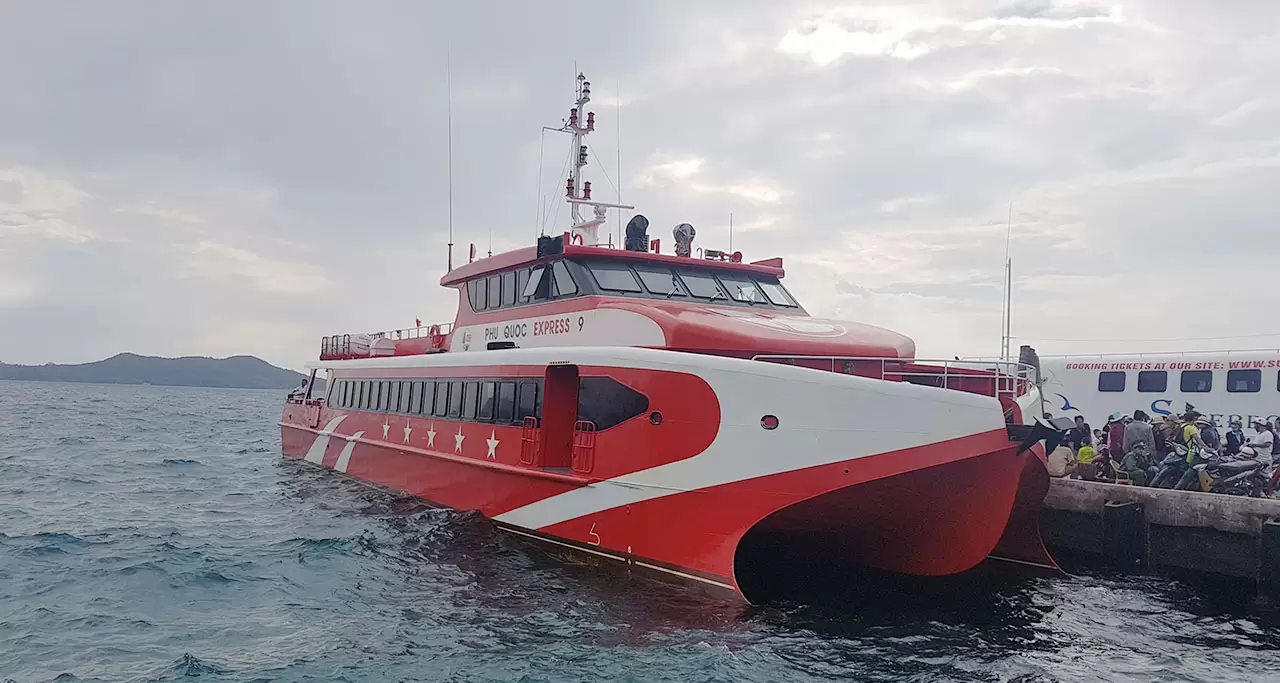 * From Ho Chi Minh City: It is possible to take a direct flight from Ho Chi Minh City to Rach Gia Airport, just 50 minutes flying. There is only one flight per day departing in the early morning so you should check the flight schedule and book the ticket in advance. It is operated by VASCO, a part of Vietnam Airlines. One-way airfare is around 40 – 50 USD. Of course, travelling by car/ bus to Rach Gia from Ho Chi Minh City is a common way that tourists often choose as they can combine a visit to Mekong Delta's highlights such as My Tho, Cai Be and Can Tho's floating market.
* From Hanoi: No direct flight from Hanoi to Rach Gia, thus you have to book a flight to Can Tho or Ho Chi Minh City instead and catch a local bus to Rach Gia City. The journey time is roughly 6 hours from Ho Chi Minh City and 3 hours from Can Tho. Phuong Trang is a popular bus serving these routes and price varies from 150,000 – 250,000 VND one way. If you are looking for the convenience and flexibility, a private car is recommended.
Once you arrive Rach Gia pier, catch a speedboat to Hon Son Island. There are several companies such as Ngoc Thanh Express, Superdong, Phu Quoc Express… Almost the speedboat will depart in the morning so it is better to stay one night in Rach Gia or take a night bus to come there.
Ferry
Route
Departure – Arrival Time
Adult
Child
Ngoc Thanh Express
Rach Gia – Hon Son
08:05 – 09:45
135,000 VND
95,000 VND
Hon Son – Rach Gia
12:15 – 13:45
Superdong
Rach Gia – Hon Son
06:35 – 08:15

08:40 – 10:25

140,000 VND
100,000 VND
Hon Son – Rach Gia
11:00 – 12:45
12:00 – 13:45
Phu Quoc Express
Rach Gia – Hon Son
06:30 – 07:50
170,000 VND
70,000 VND
Hon Son – Rach Gia
11:10 – 12:20
Alternatively, you could also travel by traditional ferry for 90,000 VND, which takes around 3.5 hours.
Vietnam Travel recommends you to choose Phu Quoc Express or Superdong for traveling between Rach Gia City and Hon Son Island. They are simply the best and the most professional operators in the region's public marine transportation.
* Getting around Hon Son Island
There is no taxi on the island so the only way to get around Hon Son is to hire a motorbike from your motel or guesthouse. The price is about 200,000 VND – 250,000 VND per day. One of the most memorable things to do on this island is to ride around the coast at sunrise or sunset when the scenery is so stunning and the ocean is absolutely gorgeous.
4. Accommodations in Hon Son Island
As the island is still largely unknown to many, there are not many accommodation options. In the absence of modern hotels, luxury restaurants or high-end services, homestays and guesthouses are alternative and good choices. The communal People's Committee is working with relevant agencies to provide training on communication skills and tourist services for businesses and households which want to do tourism activities. In the short term, the local authority will focus on home-stay service, protecting the environment and natural landscapes and ensuring safety for visitors so that Hon Son will truly become an attractive and friendly destination.
Hotels, guesthouses and homestays are located around Hon Son Island such as Bai Bac area, Thien Tue hamlet, nearby Lai Son wharf and they are quite close to the beach. It is very crowded at weekends and public holidays, so you should book room in advance before traveling to the island. Most accommodations on Hon Son Island are in the budget or mid-range category.
Below are some recommend accommodation options on Hon Son:
4.1. Lai Son Wharf Area
• Thuy Duong Hotel (2 star): 300,000 – 700,000 VND per night. This four-storey townhouse, opened in 2019, is probably the most comfortable one in Hon Son Island, with terrific views over the wharf from the front rooms.
• Windy Hon Son Guesthouse: 250,000 VND – 700,000 VND. Just opened in early 2020, walking distance from the tourist pier and night market but no sea view.
• Rai Ca Homestay: 550,000 – 1,050,000 VND. Best for sunrise view and open beach bar. It is located between Thien Tue Hamlet and Lai Son Pier.
4.2. Bai Bac Area (6.5km from Lai Son Pier)
• Bac's Homestay: 550,000 VND – 1,050,000 VND.
• Bai Da Hon Son Resort (Rocky Beach): 450,000 VND – 750,000 VND. This trendy mini-resort in a highly scenic bay has a range of rooms clustered tightly within the confines of a rocky bay studded with big, photogenic boulders, aimed for Vietnamese youth.
4.3. Thien Tue Hamlet (about 2.5km from Lai Son Pier)
• Dung Liem Hon Son Guesthouse: 250,000 – 400,000 VND per night. Budget homestay, close to Gieng local market in the resident area.
5. Things to do on Hon Son Island
As a small island, it is recommended to spend 2 or 3 days only on Hon Son. There are some attractive and interesting places for travelers to explore such as majestic mountains, beautiful blue beaches, historical temples…
5.1. Beach relaxation & Swimming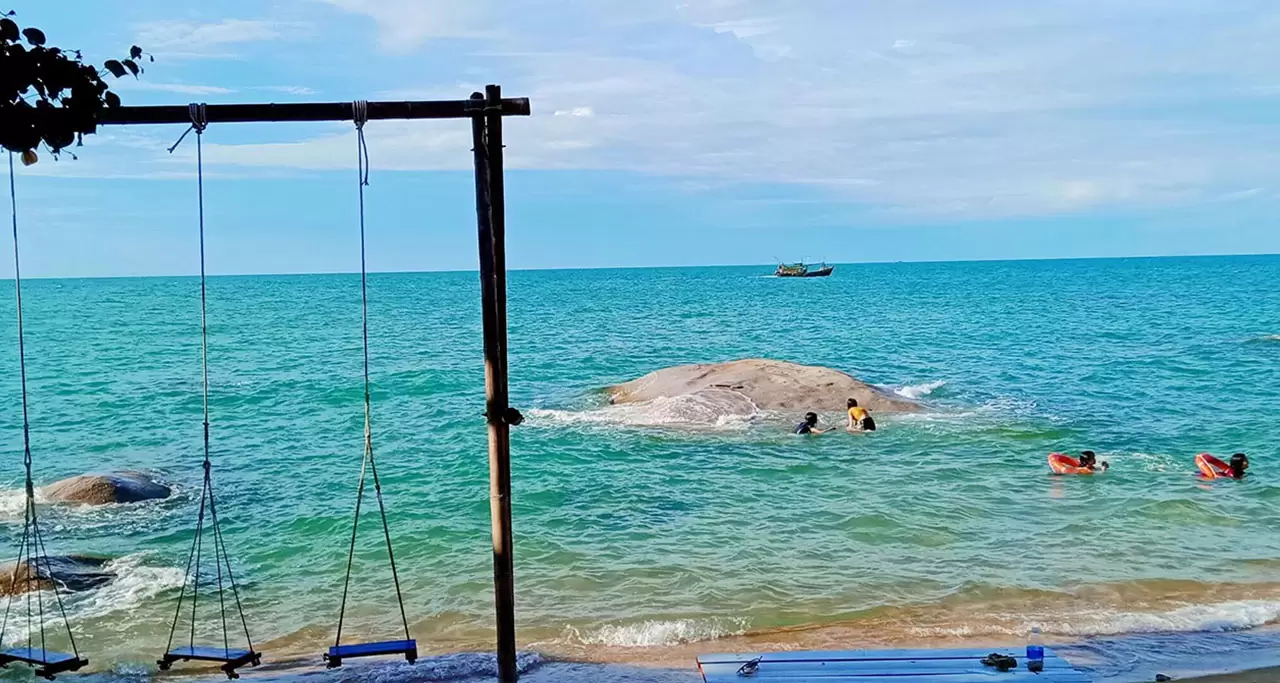 All tourists come to Hon Son for swimming and beach relaxation. All five beaches on the island are pretty, clean, and pristine, including Bai Bang, Bai Nha, Bai Thien Tue, Bai Gieng, and Bai Bac. Each of them has its own beauty but Bai Bang is regarded as the most charming white sandy beach, in which the coastline stretches over a 1km in the shape of a crescent. Relaxing in the blue water and on the deserted beach, watching coconut groves along the coast swinging in the wind, and breathing fresh air makes you feel fully blended with nature.
5.2. Conquer Ma Thien Lanh Mountain Peak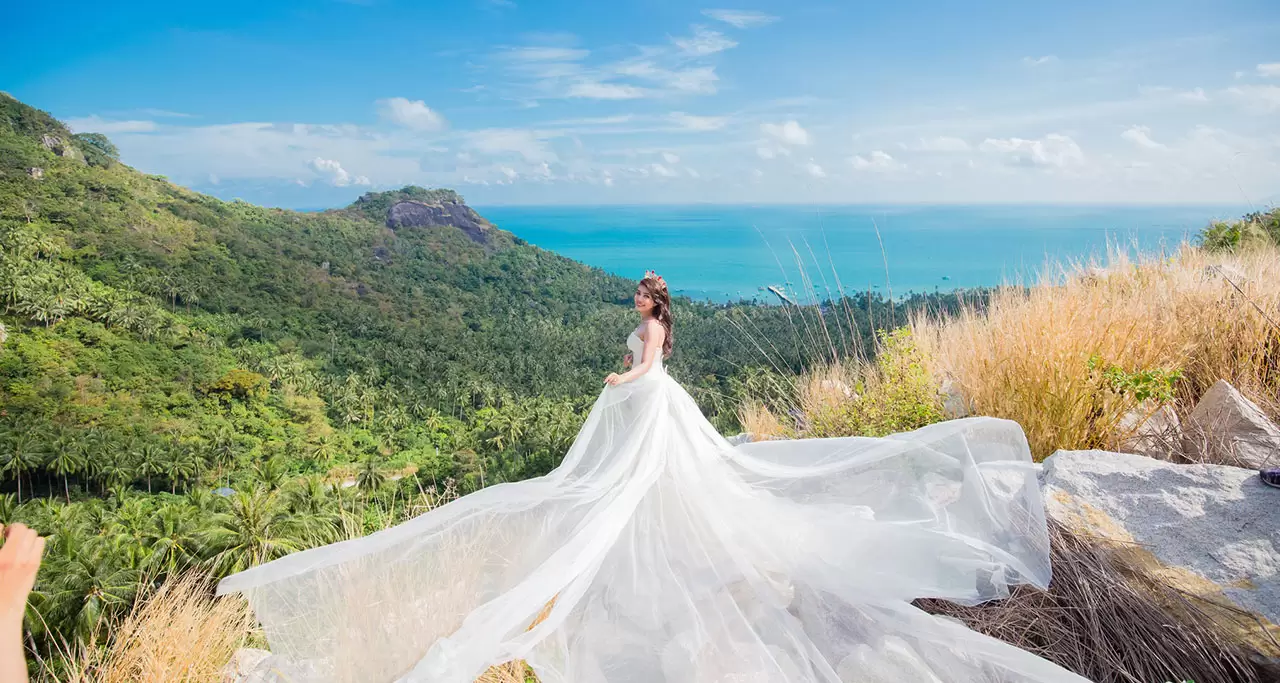 For those who are into adventure, climbing up to the top of Ma Thien Lanh Mountain to enjoy a panoramic view of Hon Son Island is an interesting experience. The summit is at 450m above the sea level but it is quite easy to conquer thanks to thousands of steps built by the local authorities instead of the rocky trail in the past. Legend has it that the spectacular Ma Thien Lanh mountain had a flat rock, surrounded by picturesque scenery, so fairies gathered there whenever they came down from the sky. The views on Ma Thien Lanh summit are breathtaking. You'll need at least a half day to trek there and back. After hiking, you can swim at Bai Bang Beach, which is quiet near the Ma Thien Lanh Mountain.
5.3. Experience local life at Bai Gieng Market, Thien Tue Hamlet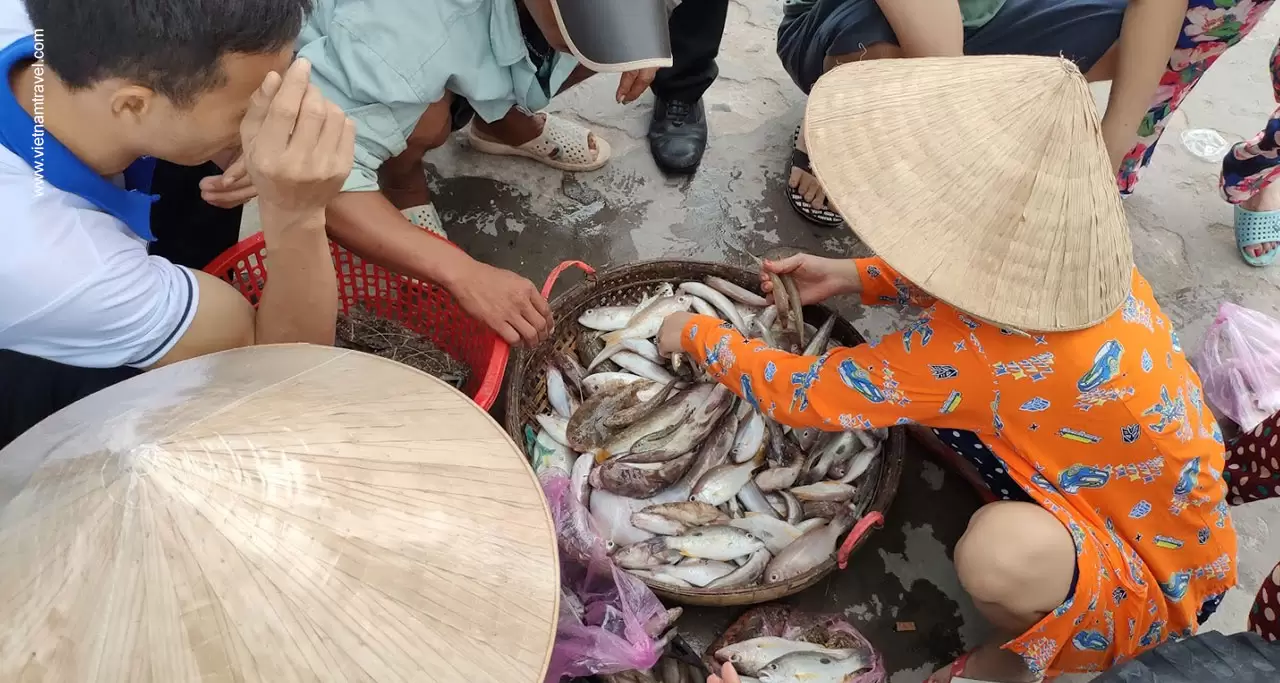 Bai Gieng is the central market in Thien Tue Hamlet, also the busiest seafood market of Hon Son Island. The sights, smells, and sounds will overwhelm your senses in the best way. The market gets very busy and crowded in the morning. The fishermen usually drop off their catch of the day around 7 A.M, and that's when the bargaining begins. You can chat with vendors and "people watch" the locals going about their days. That will offer a unique view of the local culture.
5.3. Pay a visit to some relics and temples on the island
In addition to its beautiful landscapes, Hon Son also has some relics of the spiritual origin of the sea, associated with anecdotes of indigenous people such as Nam Hai Temple, Hai Son Pagoda. Legends are so mysterious and interesting, don't you want to know?
5.5. Visit Sake floating village
Sake floating village is 500m far from Bai Bang Beach. You do not need to book a boat in advance to visit the floating village as the locals often travel from and to the island. It means you pay about 30,000 – 50,000 VND/ person to the local people for traveling around. Sea is wide and blue, and the village shimmers in the sun, backed by high, forested hills. Local people here rarely meet foreigners as tourism is less concentrated but they are very friendly. You can chat with them freely to learn about their daily life. Other activities that you can experience while visiting Sake floating houses are squid or shrimp fishing, diving…
5.6. Wander the night market and enjoy seafood
Located in the central area, about 200m from wharf yard, Hon Son night market is quite large and offers full range of food and beverage options. Typical local dishes are fried mackerel, grilled squid, sour soup with rabbitfish, and herring salad… There's a good noodle shop, called "Như Y", where you can try "Bun Quay", a fish noodle soup that's a local specialty, from 30,000 VND.
6. Other information and advice
• There is no taxi and public transportation on the island. A rented motorbike is the ideal way to explore Hon Son.
• There is no ATM, so make sure that you bring enough cash in VND to spend on the island.
• Sao Bien Coffee, a few minute walking distance from Lai Son Pier, has a prime location for sunrise or sunset and a good selection of drinks.
• Try a Hon Son coconut. Coconuts for drinking are sold all across the island.
• Hon Son is a new travel destination and mostly visited by Vietnamese youth from the mainland, therefore, international tourists will be difficulty in communication with local people on the island.
• To buy speed boat tickets, passport is required.
Related post: Best Tourist Islands in Vietnam