Best places for Christmas in HCM City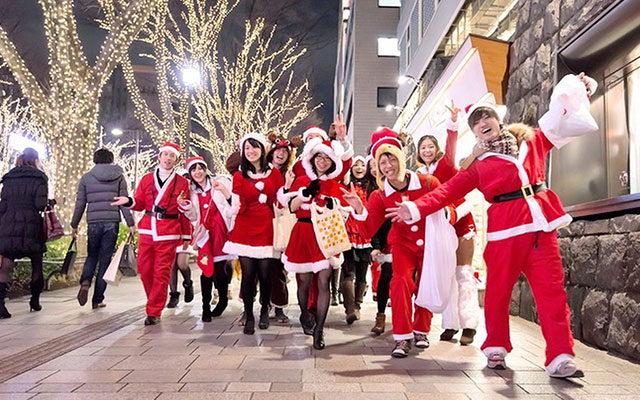 If you travel to  HCM City (Saigon) during Christmas, there would be a nice experience of tropical vibes of Christmas. You should be wonder where should you visit? What should you do? and how Christmas in Saigon like? … Below are suggestions that ensure the best local experience for you Christmas in Saigon.
Ho Chi Minh 's weather during Christmas
Christmas and New Year comes in the dry season in the South Vietnam and you'll find similarly warm weather here in Saigon with the average temperature of 26 to 28 Degrees Celsius.  This is the best time of the year with nice temperature and no tropical rain.
Even people in the Northern & Central of Vietnam would be jealous with the weather of Saigon during Christmas.  Whole the holidays, it is sunny with nice breeze all over South Vietnam especially at the attractive beaches in Nha Trang, Phu Quoc island, and Mui Ne…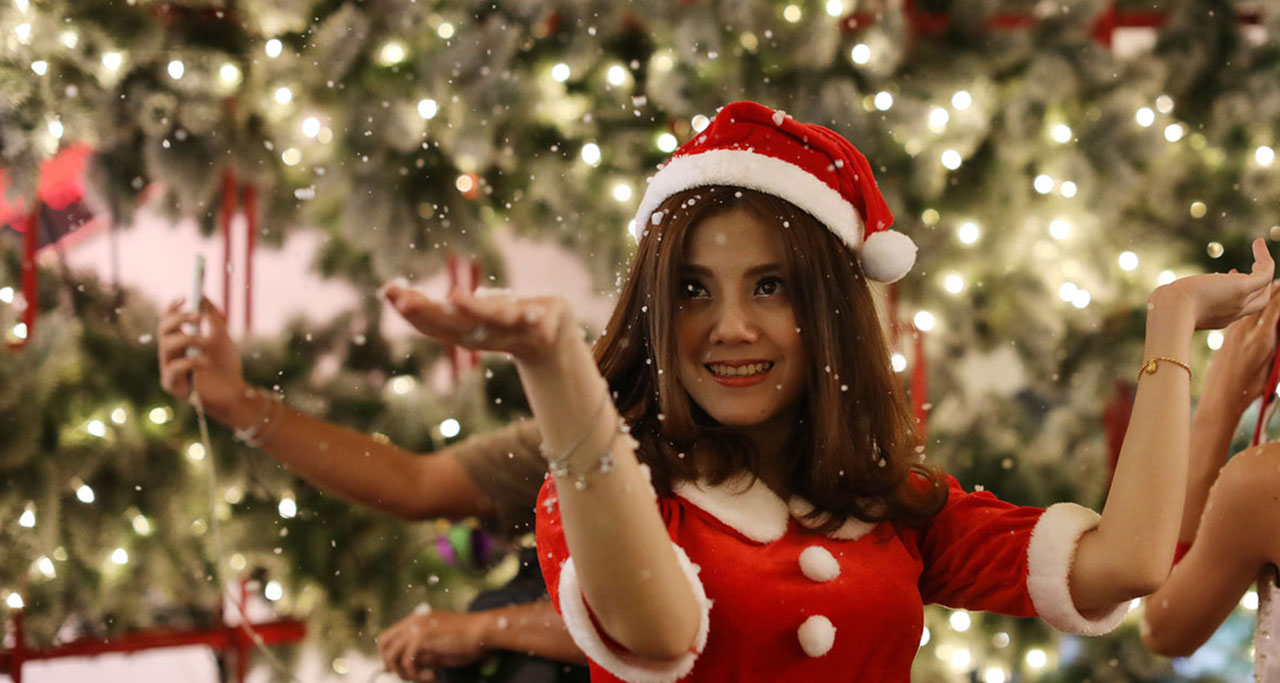 Christmas decoration in HCM City

Actually, Christmas is not considered as public holiday in Vietnam. Locals are mainly influenced by Buddhism and the Chinese philosophies of Taoism and Confucianism. Recently, as there're a significant increase in number of foreign visitors especially Westerners, Christmas is getting more and more popular in big cities like Hanoi, Ho Chi Minh city. Youngsters are the most active. They gather at a local church, pray for peace and happiness, and listen to Christian Hymns.  Built during the French colonization, Joseph's Cathedral in Hanoi Old Quarter and Notre-Dame Cathedral in District 1, Ho Chi Minh City have become the biggest and most crowded centers in Vietnam.
Several weeks before the occasion, many hotels and office buildings are decorated with Christmas trees and sparkling ornaments, making foreign travelers feel like home. Big shopping centers, local shops and restaurants, bars offer special promotion campaigns and parties to attract not only international visitors but also local residences.
Where should you visit in Christmas in HCM City?

Notre Dame Cathedral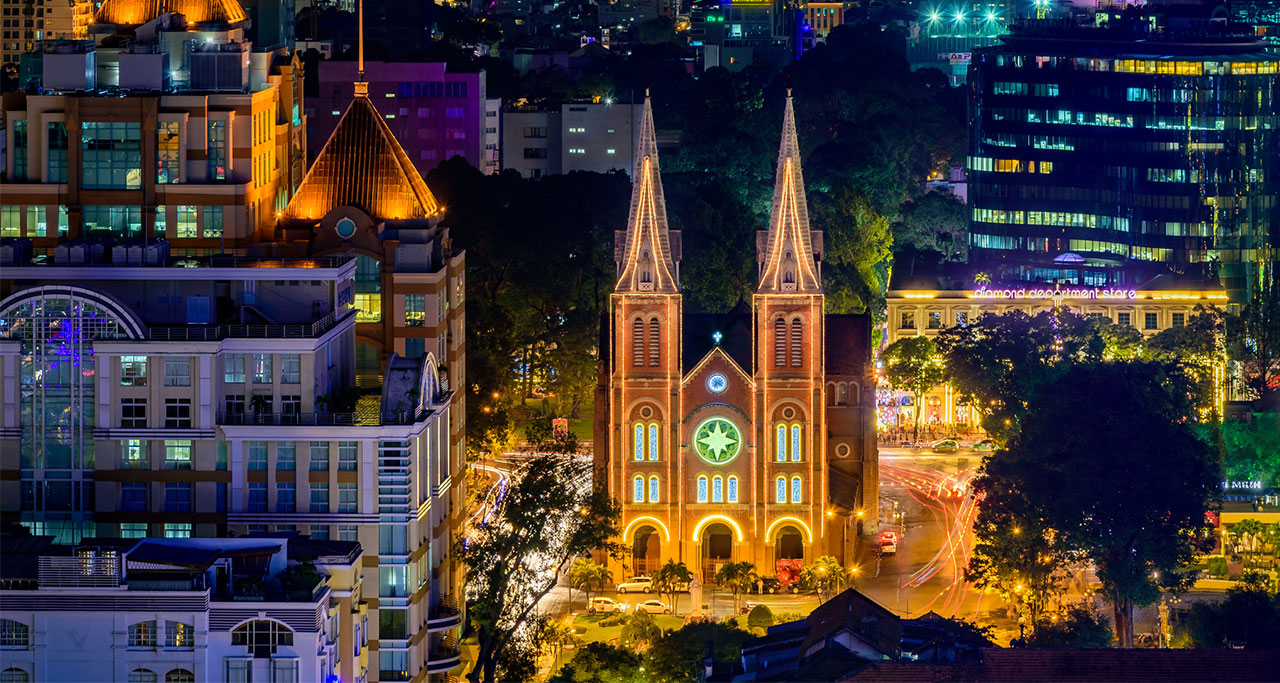 The Notre Dame Cathedral is a must not only for people seeking Christmas vibe but also for any first-time visitors. Constructed between 1863 and 1880 under the French colonists, it has become a symbol of Saigon along with Ben Thanh Market. All the original building materials were totally imported from France with an overall neo-Romanesque design. Beautifully decorated by splendid Christmas items, it will surely catch the eyes of anybody wandering around the center of Ho Chi Minh city.
Address: 1 Cong Xa Paris, Ben Nghe, District 1, Ho Chi Minh City
Nguyen Hue walking Street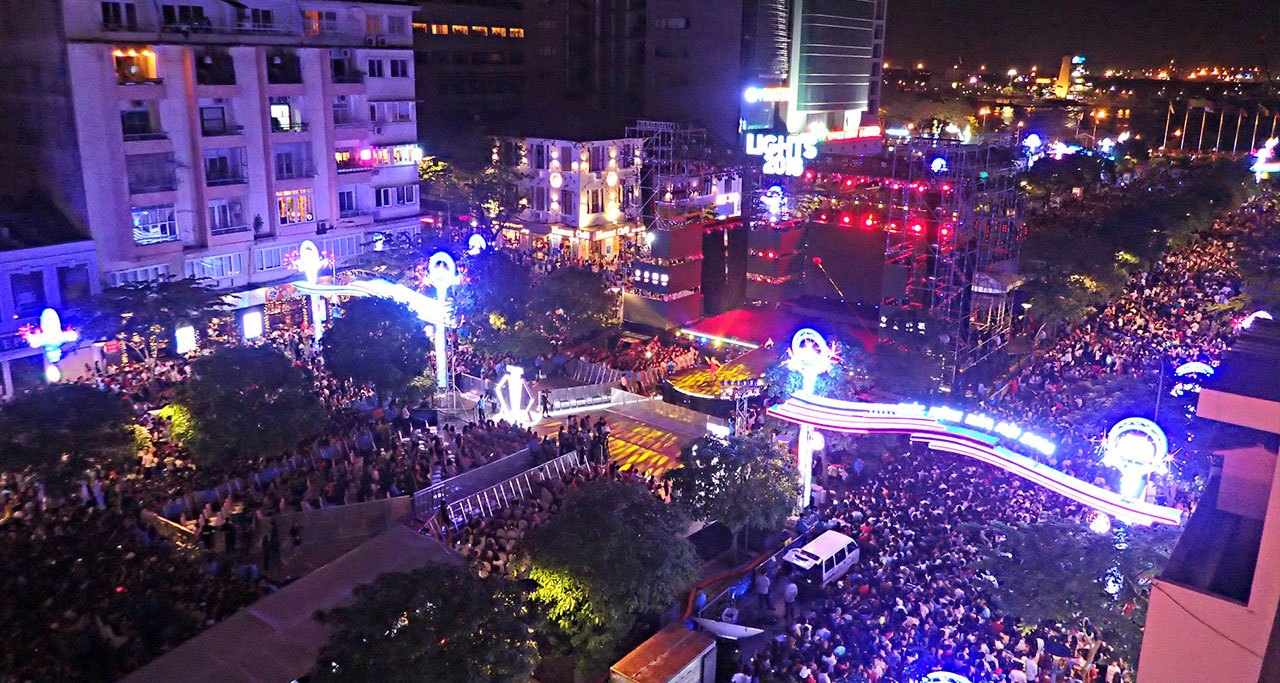 Centrally situated in District 1, Nguyen Hue is a walking avenue which connect Headquarters City People's Committee and Bach Dang Pier, Saigon River. Nguyen Hue Street is the center of the most radiant of Saigon, so at Christmas, this road is marvelously adorned. Coming here, you will be immersed in the cozy atmosphere of this occasion as well as enjoy dancing, singing, street bands, and cultural exhibitions. This lovely and present-day strolling road also serves food stalls, bubble tea shops, fast food restaurants, and convenient stores that entertain your whole Christmas evening.
Address:  Nguyen Hue Street, Ben Nghe Ward, District 1, Ho Chi Minh City
Chinatown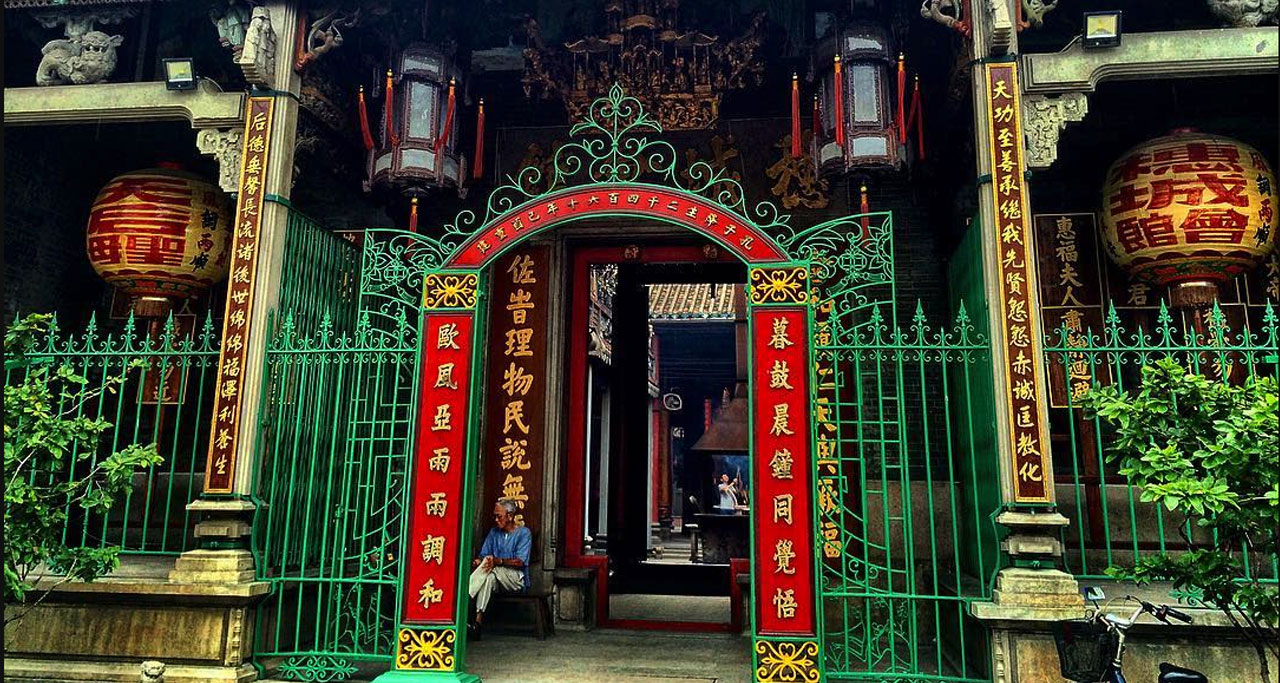 Since there are many temples, homes, and clubs of Chinese, there's no doubt that people call it Chinatown. You will be lost on festive vibe when the vast majority of shops sell Christmas and New Year decorations. The average prices are very cheap, so from early morning to late evening this area is always busy.
Address: District 5, Ho Chi Minh City
Bui Vien Street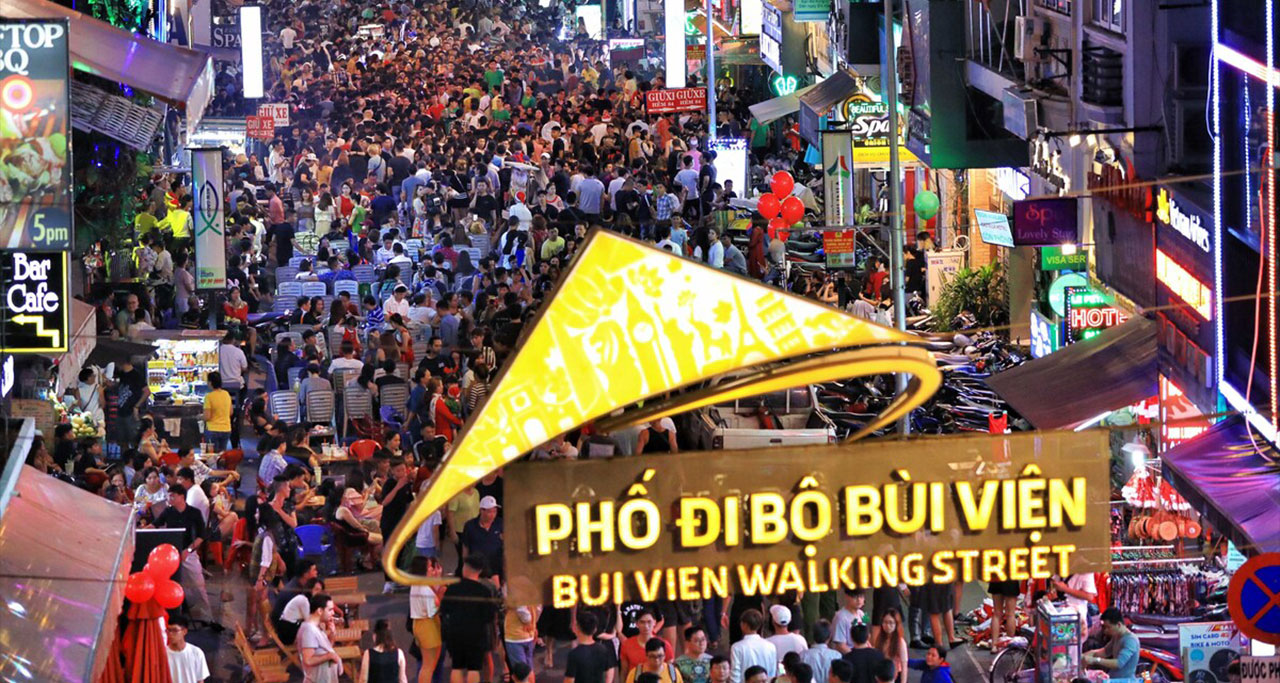 Bui Vien street is called 'the street that never sleeps' promising an unforgettable Christmas party. This street is a mixture of cafes, restaurants, sport bars, pubs, and nightclubs where both the locals and tourists are captivated when the night falls. This multinational and multicultural place can be enjoyed at its best by grabbing some bottles of Saigon beer with a few street foods, watching the passers-by, and definitely you will love Saigon from this moment.
Address: Pham Ngu Lao, District 1, Ho Chi Minh City
Ben Thanh Market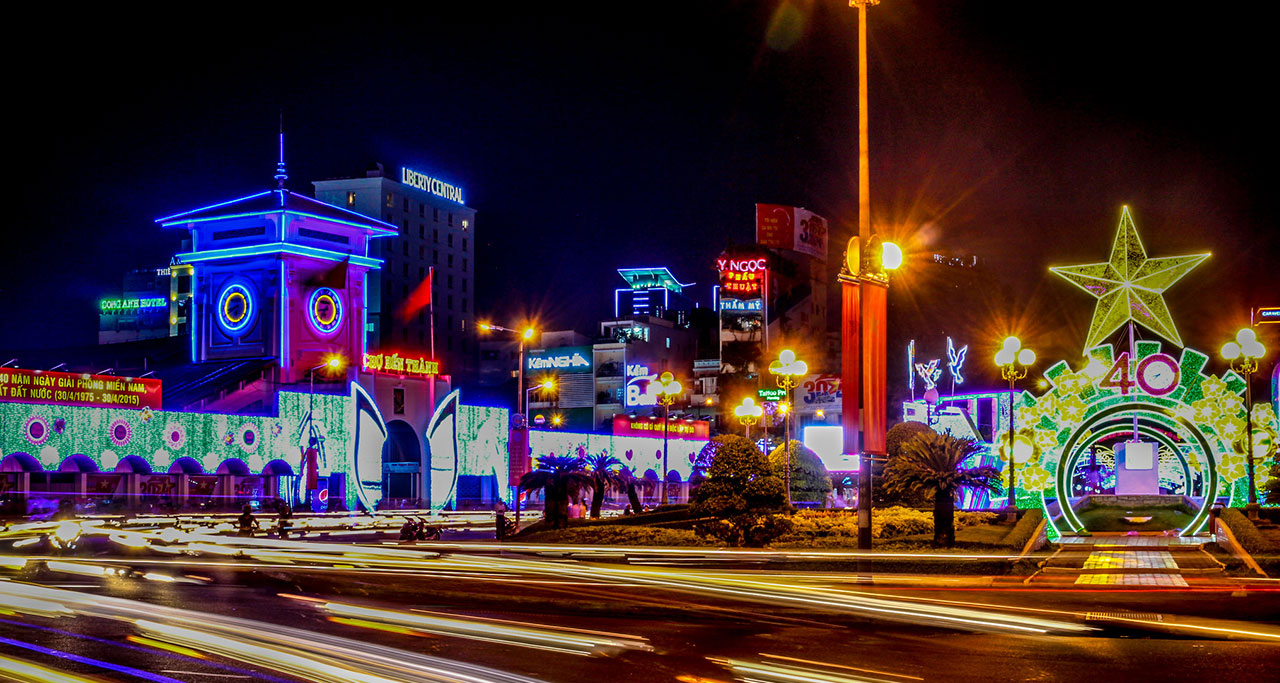 Built in 1912, Ben Thanh Market is the biggest market in Saigon where you can taste most of Saigon specialty including Goi Cuon, Banh Xeo, Hu Tiu, Che. It is considered as the soul of Saigon after many years of Vietnam war's vicissitudes together with several restorations.
Address: Le Loi Street, Ben Thanh Ward, District 1, Ho Chi Minh City.
Diamond Plaza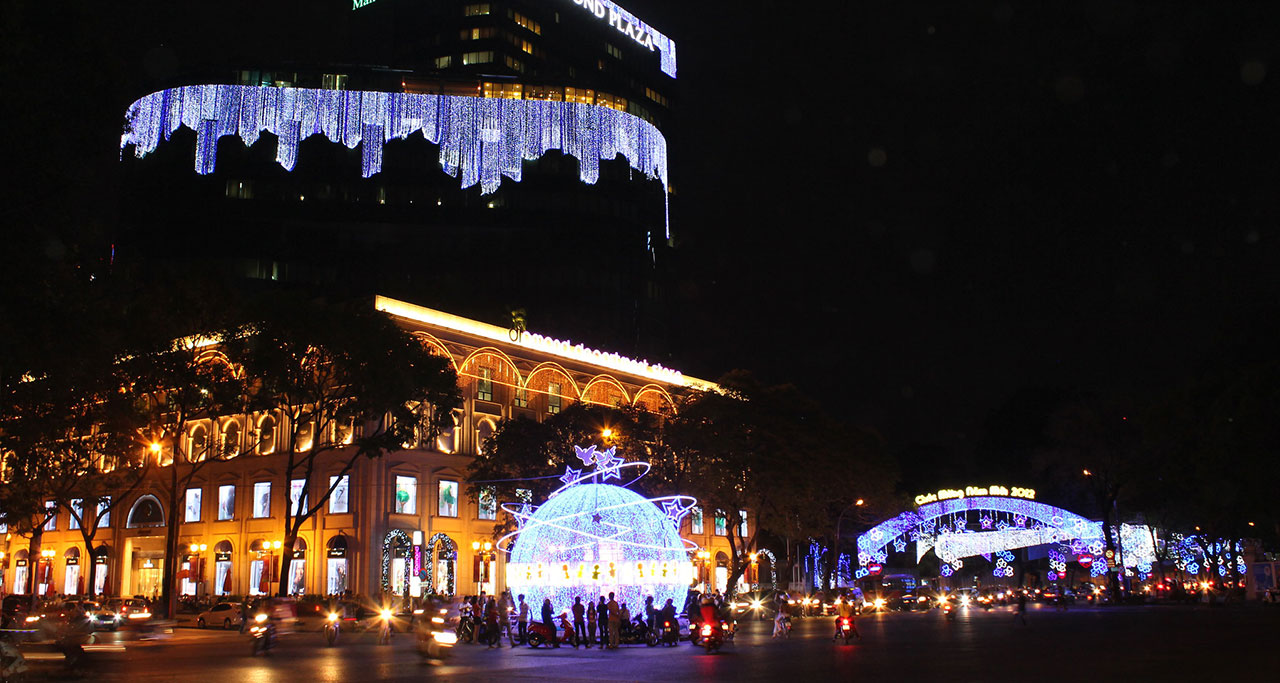 Diamond Plaza is a luxurious shopping center with its unique diamond-shaped design and sublime stylistic theme, vows to be an extraordinary spot for this Christmas. From above of the building, you can watch the Notre Dame Cathedral on this special event.
Address: 34 Le Duan, Ben Nghe, District 1, Ho Chi Minh City.
Bach Dang Pier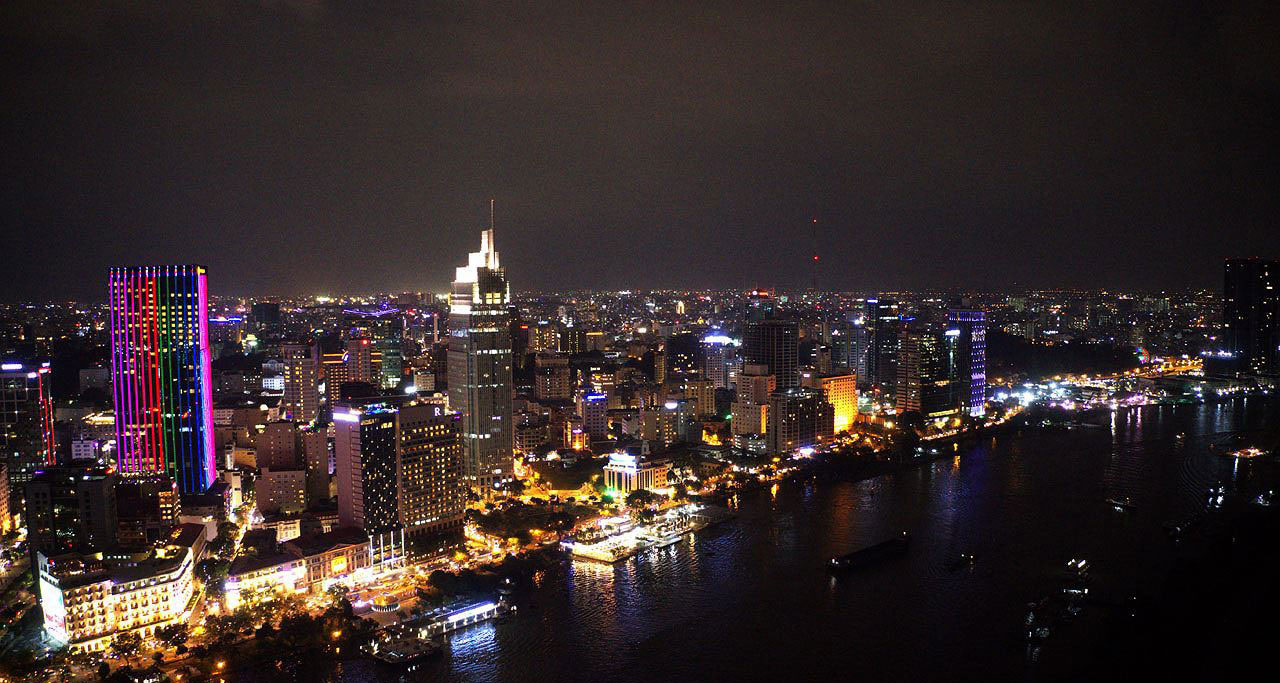 Cruising along Saigon River on Christmas is an enjoyable experience which presents you beautiful city scenery, romantic sunset and fresh air. There is a wide range of cruise styles and budgets, regularly operated from 6:30 pm – 10:00 pm. You can savor Christmas dinner on boat and escape from the crowd.
Wharf address: 05 Nguyen Tat Thanh, Ward 12, District 4, Ho Chi Minh City.
If you plan a vacation on Christmas and New Year in Vietnam, early reservations are highly recommended as hotels and flight tickets are often fully booked. However, you can enjoy and worry-free and smooth trip customized by our local travel consultants. Contact Vietnam Travel for special requirements and instant supports!