Vietnam for Families: 15 Things to Do in Vietnam with Kids
Sometimes traveling with kids can seem daunting, "What kind of activities are kid friendly?", "Is it safe to travel with kids?". When traveling to Vietnam, there are so many actives available for families, it makes traveling with kids fun, educational and more importantly, safe for travelers of all ages!
Vietnam is a country so rich in history and culture it dates back over four thousand years and exposing children to different cultures will broaden their minds and teach them about history at the same time. There are many interesting local legends and stories of years past when walking the streets of a place so rich in culture. Vietnam offers a variety of actives to suit every families interests from kayaking in Ha Long Bay or attending a water puppet show to snorkeling in the Phu Quoc Island and riding the longest cable car in the world. Vietnam Travel has put a list together offering a few family friendly suggestions. Please contact one of our travel advisors for additional details and help make your family vacation extra special!
Here are 15 great suggested activities to plan when traveling to Vietnam with kids:
1. Take a cruise on Halong Bay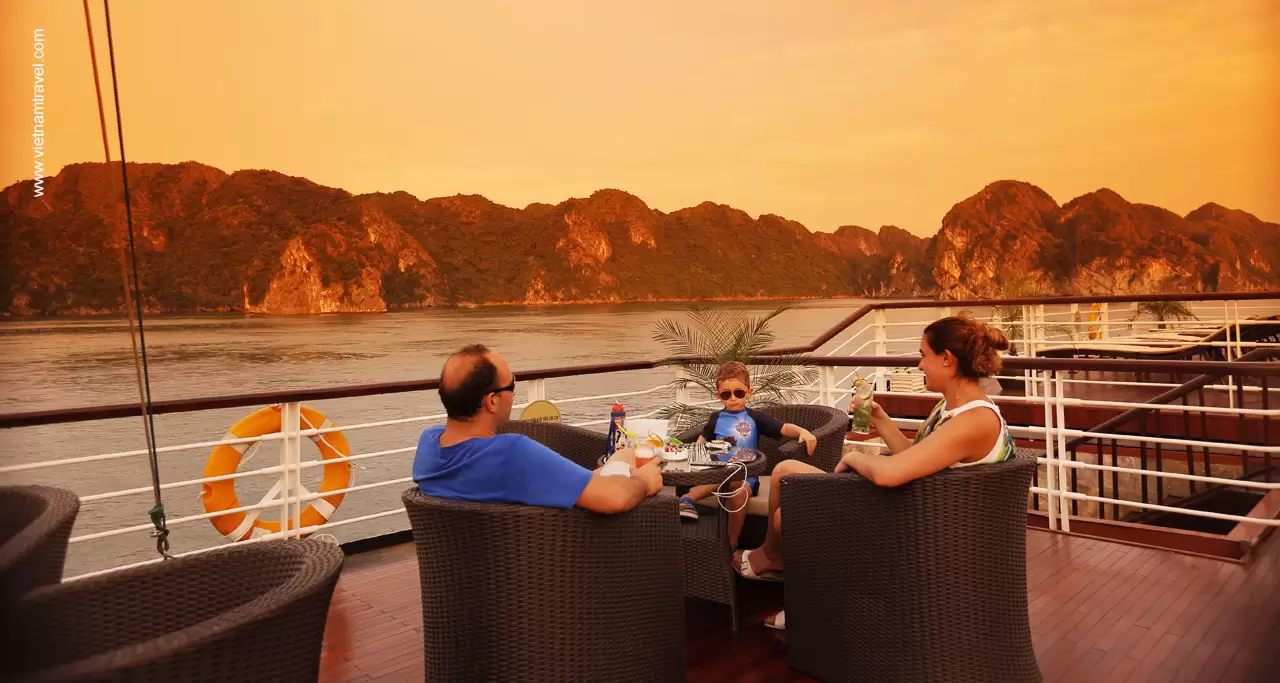 Take a cruise in the famous Halong Bay and disconnect from electronics and reconnect with family. Together, enjoy the beauty of the area while kayaking between the karsts, fishing, exploring the caves, or biking in Cat Ba National Park. While on board, attend a cooking class the entire family can enjoy or relax up on the sundeck taking in the surroundings.
Most of Halong cruises offer complimentary cribs or special discounts for older children. Connecting rooms are available on most ships for families traveling with kids. Consider Halong Bay for a family friendly destination!
A Vietnam Travel advisor can assist with your booking and make sure the correct family friendly accommodations are reserved for you.
Tips:
Halong Bay Complex includes three bays: Halong Bay, Bai Tu Long Bay & Lan Ha Bay. See the difference of these well-known bays in the Tonkin Gulf and decide to book a suitable cruise for your Halong travel by following this link.
2. Meet hill-tribe people in Sapa & See Bac Ha Market
A new highway recently opened up connecting Hanoi and Sapa making the trip to the northern hilltribe area far more enjoyable, not to mention faster! It now only takes nearly 6 hours to travel compared to the previous 9 hours drive by car or bus. A trip to the northwestern part of Vietnam offers a new glimpse into the lives of the hilltribe people & some of Vietnam's best trekking routes. Consider taking the kids to visit one of the Hmong/ Red Dzao villages. This can easily be done in a half day with a short trek to the nearby villages to meet and interact with local kids. Most of those kids speak basic English and love to practice with visitors. It's really fun to see the interaction between children from diverse backgrounds and observe how they are able to make themselves understood. One of the best parts of travelling is meeting people from different parts of the world and this adventure to the hilltribe villages will be memorable for many years to come.
While visiting the Sapa area, consider visiting one of the best ethic markets in Southeast Asia: Bac Ha Sunday Market. The ethic hilltribe people travel here by foot, horse or motor bike to buy their meats and produce for the upcoming week. The kids will be fascinated by differences in cultures, traditional dress and all the colors and smells! This weekly event should not be missed!
3. Visit the artisan village of Bat Trang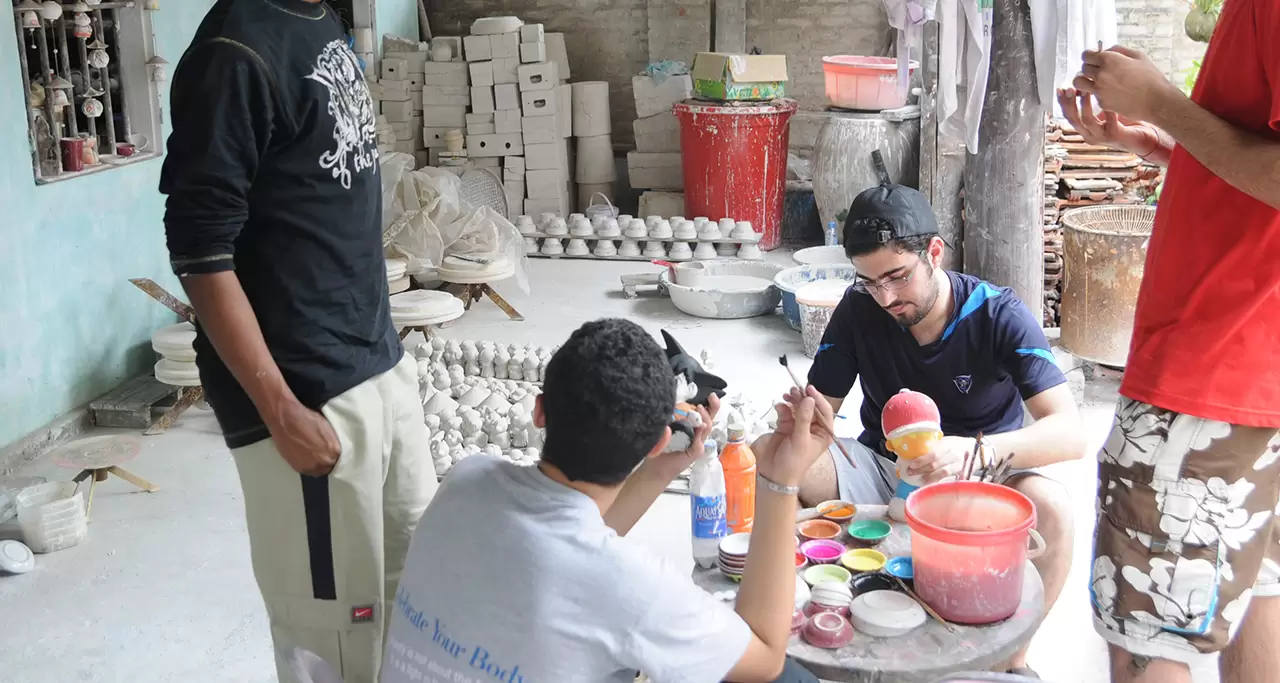 Bat Trang Village is located by Red River about 15 km from Hanoi. What makes this village extra special and so appealing to travelers is the art history dating back hundreds of years. This 14th century porcelain and pottery village houses local artisans who combine both traditional and modern techniques to create beautiful porcelain artworks.
When visiting Bat Trang, not only can you purchase beautiful works of art to take home but you see them being made right before your eyes! Why not take part in a ceramics workshop from one of these artisans! The kids can make their own works of art while learning a bit about the history of village and artisan techniques! What a great story to tell their friends when they return home!
4. Ride a Cyclo in the Old Quarter of Hanoi
Because Hanoi is so rich in history and culture, most visitors either visit this bustling city either at the beginning or the end of their trip. There are so many different sights, sounds and smells that peak your senses and a great way to get a feeling for Hanoi is to visit the Old Quarter of Hanoi.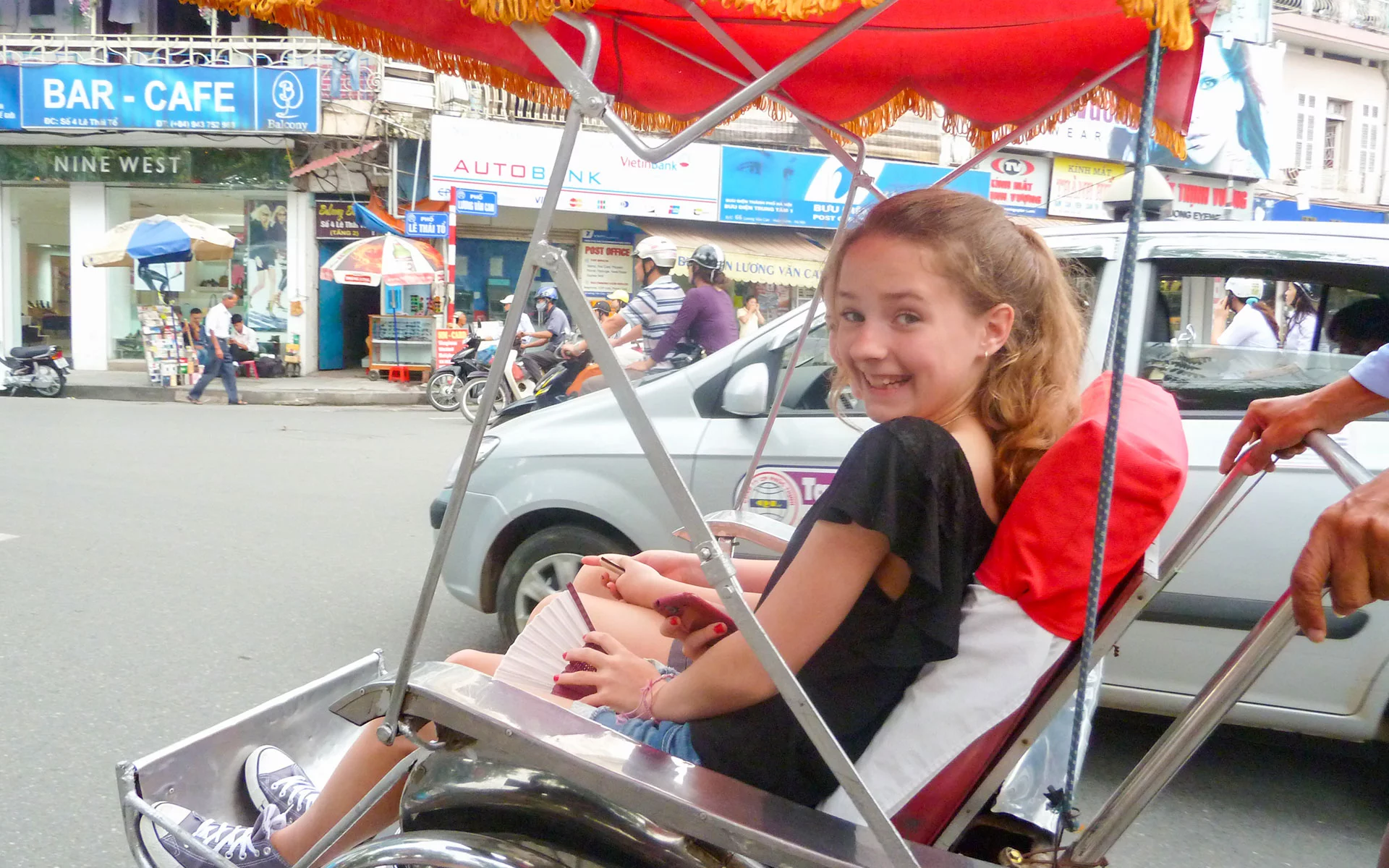 A great super fun way to explore the 36 guild street is to hop on a cyclo. A cyclo is a three wheeled cycle taxi that can maneuver freely through the busy narrow streets and boulevards. Enjoy the sights or take photos while your driver carefully handles to the traffic for you. Even watching the traffic in Hanoi is an event in itself! The kids (and adults) will love riding through the streets of ancient Hanoi to catch all the excitement of the city.
5. Visit Vietnam Museum of Ethnology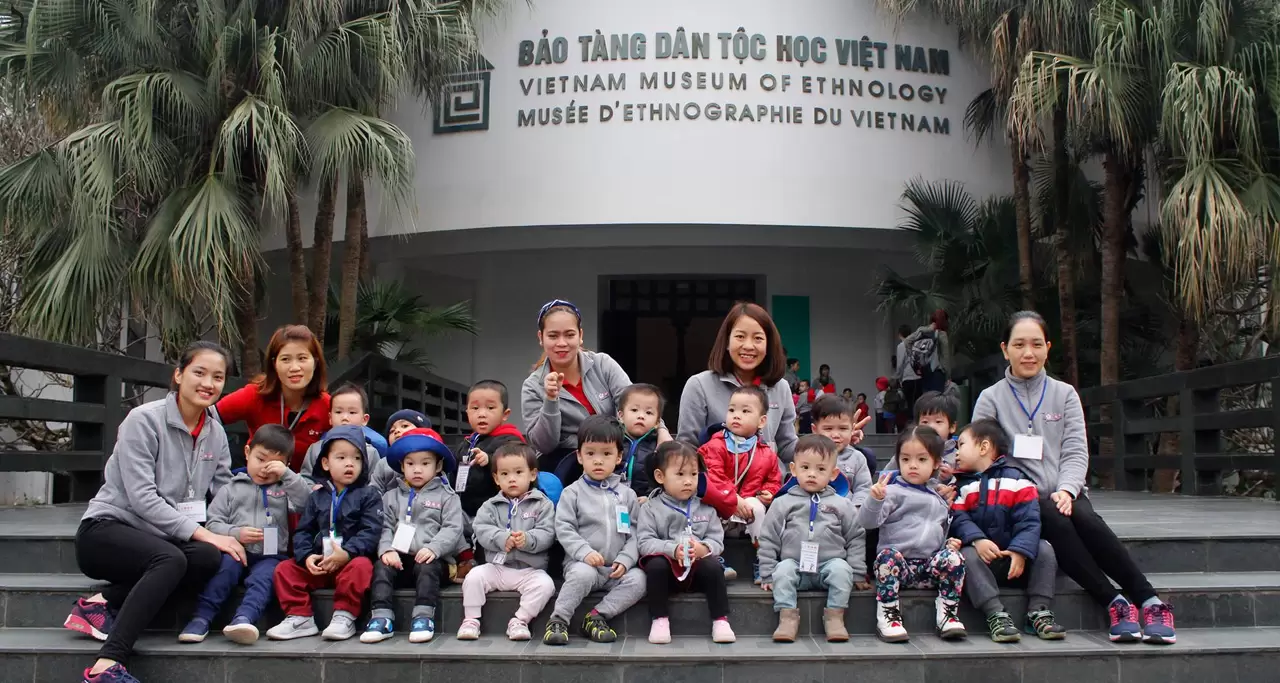 Located just about 7 km from Hanoi's Old Quarter, is the Museum of Ethnology. This is one of the best museums in Vietnam and quite suitable to visitors of all ages, a definite must on your Vietnam bucket list. Expect lots of hands-on exhibits and an immersive style of portraying life in Vietnam over the years. The most popular exhibits with your kids will probably be the many life-size houses and long houses of ethnic minorities that you and the kids can climb in and out of. Adults will find this extremely interesting as well as the museums explains the different minority groups in the country such as the Viet, Muong, Tav, Thai, H'Mong, Dao, Cham, Co Tu, Ede, Bana, Jarai, Ha Nhi, and Khmer ethnic groups. There are priceless antiques on display alongside everyday objects such as pipes, baskets, knives, jewelry and clothing.
Another great thing about Hanoi's Museum of Ethnology is space. After keeping your kids close to you when walking through Hanoi's crowded streets and sidewalks, this is a place where the kids can run free in the beautiful gardens of the museum.
6. Enjoy Water Puppets Show at Thang Long Puppet Theater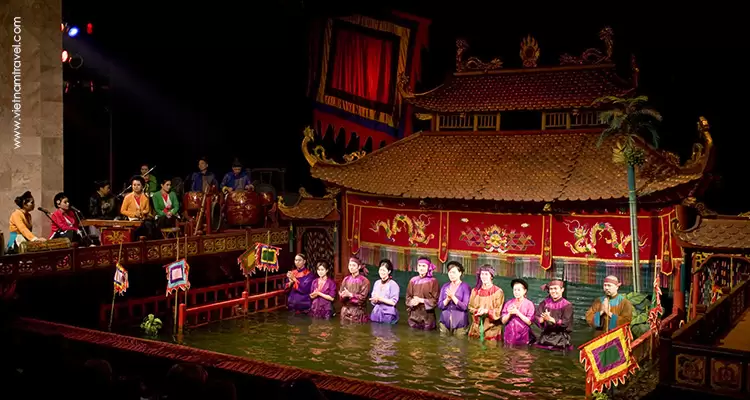 If you're traveling with kids, or even if you're travelling without kids, no visit to Vietnam would be complete without watching a water puppet show in Hanoi. Yes, you can see water puppet shows in Ho Chi Minh City and other Vietnamese cities, but Hanoi might be one of the best places to see a performance since there where the art originated back in the 11th century.
This type of puppet show offers a unique depiction of Vietnamese history, culture and agricultural life set to Vietnamese music. Keep in mind, as with anything, some will love it and some won't. The show is a unique experience and families can meet the puppeteers after the show! The entrance fee is about 4 USD – 7 USD per person. Travel consultants at Vietnam Travel will help you to reserve the best seats and arrange the meet and greet with performers.
7. Experience a homestay in a Thai village in Mai Chau
Some villages such as the villages of Lac and Pom Coong are now getting overcrowded with tourism but if you're looking for a unique and authentic experience staying with a real hilltribe family, Vietnam Travel can arrange for your entire family to experience a homestay in a Thai village. What a great way for kids to learn first-hand about another culture. An educational and unique experience for the entire family!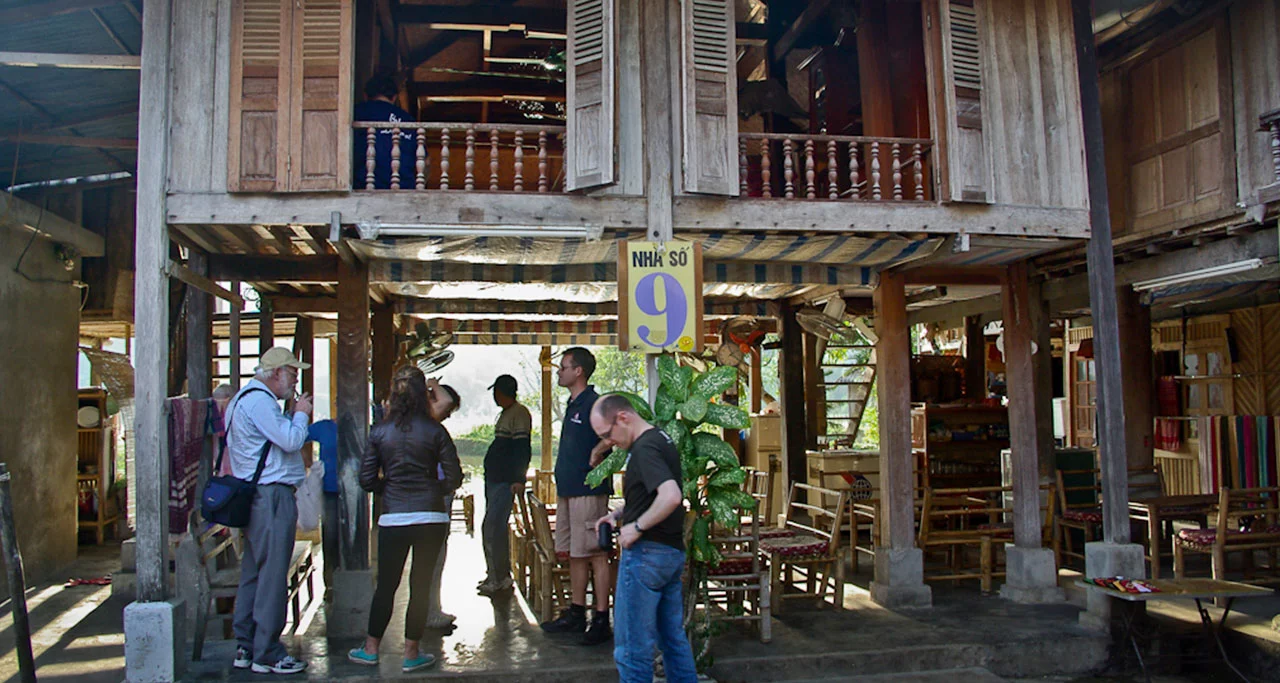 For children who somewhat take their lifestyle for granted, spending a night in a village homestay can be a rather humbling experience. Deep in the mountains of northern Vietnam is the gorgeous landscape of Mai Chau Valley, home to cascading rice terraces. Within the valley is a small village of stilted houses where you can spend the night with a friendly local family. Dinner will be cooked over the open fire, traditional beds will be a mattress on the floors under a mosquito net and the hot shower is provided. In the morning, take your family on a leisurely walk-through nearby villages and have the opportunity to meet and talk to local people at their homes or farms. Through the assistance of our tour guide, you will have the opportunity to learn some basic survival skills, local traditions and create memories that will last a lifetime!
8. Row through the mysterious caves in Ninh Binh
One-and-a-half-hour drive to the south of Hanoi lie the remains of the country's ancient capital of Hoa Lu. Although the history of the site is interesting, there isn't much to see. However, not far away is the small village of Trang An nestled in the heart of some of Vietnam's most sublime scenery. Here towering karsts shoot straight up out of the paddy fields and wide rivers meander past the steep cliffs.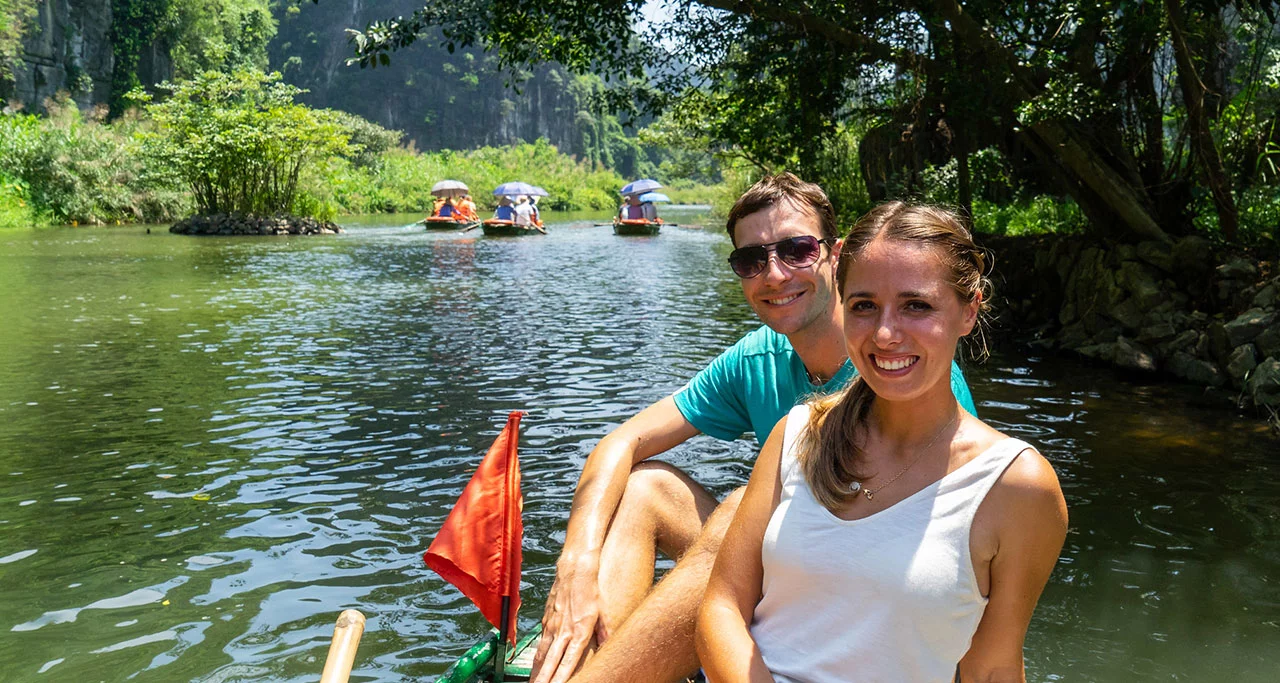 Take a rowboat ride on one of the rivers that has carved its way through the mountains over the millennia. The boat will be piloted by a local rower so you can sit back and take in the magnificent scenery. Follow the river as it curls around the mountains then head directly into a narrow opening at the base of a cliff. Soon you'll find yourselves in a dark cave that tunnels through the hills. Duck under low hanging stalactites and marvel at the dexterity of your rower, as they navigate the narrow channel. Kids will find rowing inside the caves fascinating and wonder how these large karsts are formed!
Recommended day tours and excursions to Ninh Binh:
• Ninh Binh Day Trip from Hanoi
• Ninh Binh Excursion (2 Days/ 1 Night)
9. Visit the historical citadel in Hue and sample local food
Hue is the capital city of the last King of Vietnam. Also called the Imperial City, Hue is located in central Vietnam and is incredibly rich in history. This area is the cradle of culture, education and the ideal area for history buffs. There are many lavish temples, tombs, and war history. This area was a kingdom ruled for more than two centuries by 13 kings of Nguyen Dynasty. One of the most interesting things to do here is to visit their tombs which lie along the Perfume River. The best thing to do is hire a boat along the river and have them take you up the river to the tombs. Many of these tombs are incredibly ornate and the stories behind them fascinating. Sometimes the kids get tired of visiting temple after temple so consult with a Vietnam Travel advisor to suggest the top attractions to visit according to the interests of each family. After you've worked up an appetite stop by a local restaurant and enjoy some foods off the royal menu. For dessert, try a banana fritter!
10. Explore Ba Na Hills & the Golden Bridge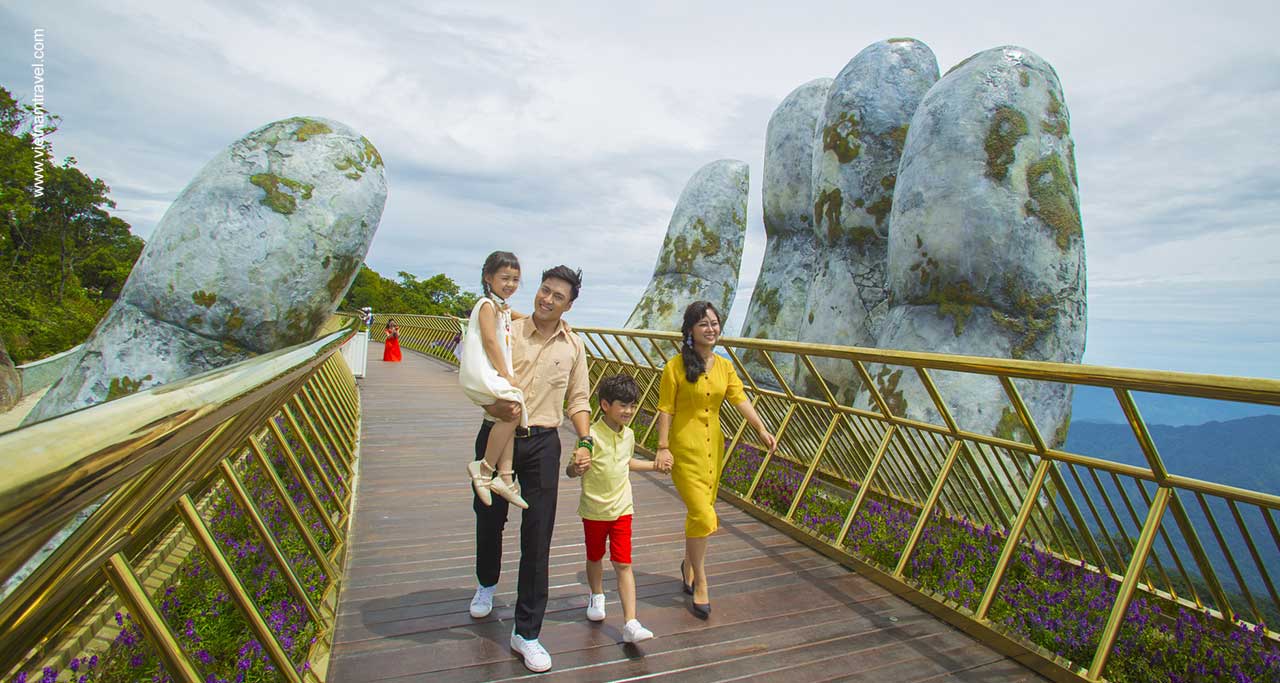 One of the newest and hottest spots in Vietnam is Ba Na Hills. Perhaps you've seen the photos of the large hands holding up a Golden Bridge and wondered where and what it is. Located just 25 kilometers away from Danang is a popular and tourist destination of Ba Na Hills.
The name "Ba Na" comes from the Katu language of a local minority group which means, "my mountain". Modernly, Ba Na Hills has turned into a very top-notch resort area where one can admire French architecture and lots of entertainment. The views are incredible, and this is certainly a must see! The kids will really enjoy this attraction as there is a cable car, Golden Bridge, lots to eat and so much to experience in this old French village nestled high up in the mountains. Plan a stay at the resort or simply take as a day trip to Ba Na, either way, Vietnam Travel can assist with your arrangements. This truly is a must see destination!
11. Take part in a day eco-tour in Hoi An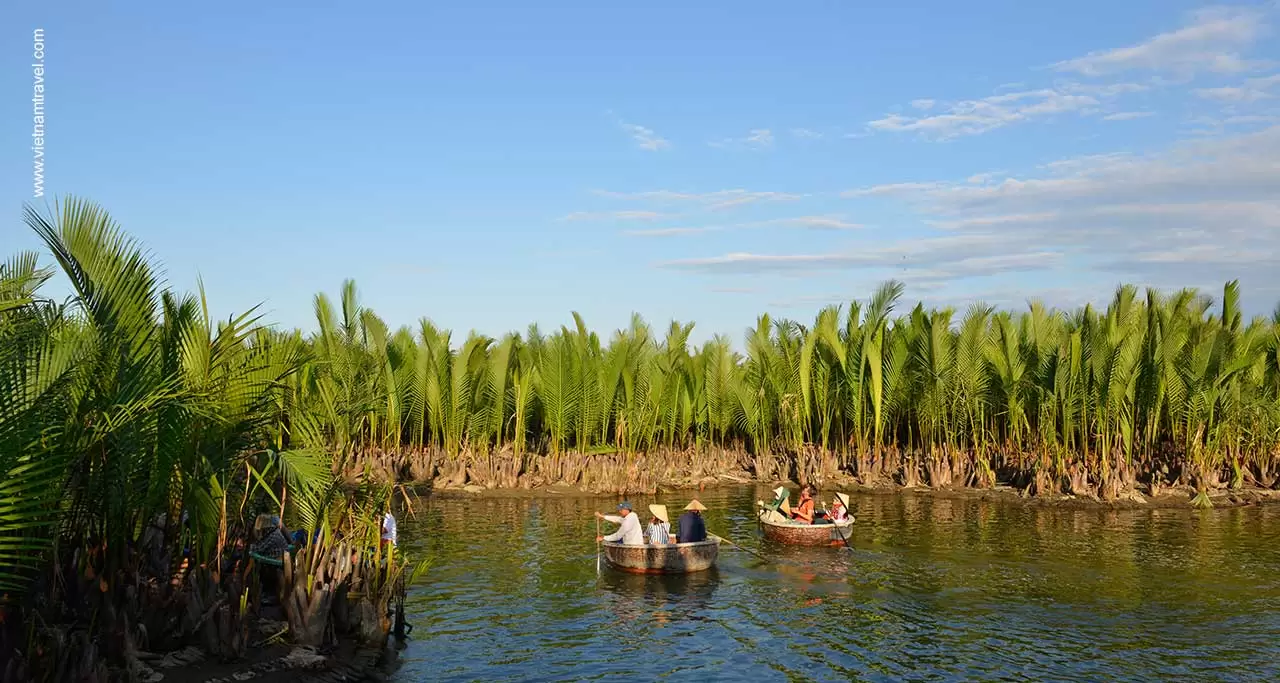 Ancient town of Hoi An is an essential stop on any Vietnam family holiday. Families will be seduced by the pretty town with its wooden shop fronts, bustling markets and sensational restaurants. Visit the Japanese Bridge and stroll through the quaint street of this charming town. There are also street vendors and nice boutiques to buy souvenirs for the kids and adults. Don't forget to buy the beautiful silk lanterns!
Few tourists venture far beyond the bustling town but if you do, you'll find a slower pace of life that offers great activities for children. Take a boat out into the estuary and then into one of the narrow channels that weave through the paddy fields. Here you can switch to a circular basket boat and paddle into thick groves of water coconut. Perhaps try crabbing Vietnamese style or try catching the well camouflaged purple crabs that scuttle around the water coconut stems.
Enjoy lunch on the banks of the river in a local restaurant then rent bicycles and cycle through nearby tranquil villages. This is similar to the scenery of the Mekong Delta so if you don't have time to make it to the far south, this is also a great option.
12. Crawl through the Cu Chi Tunnels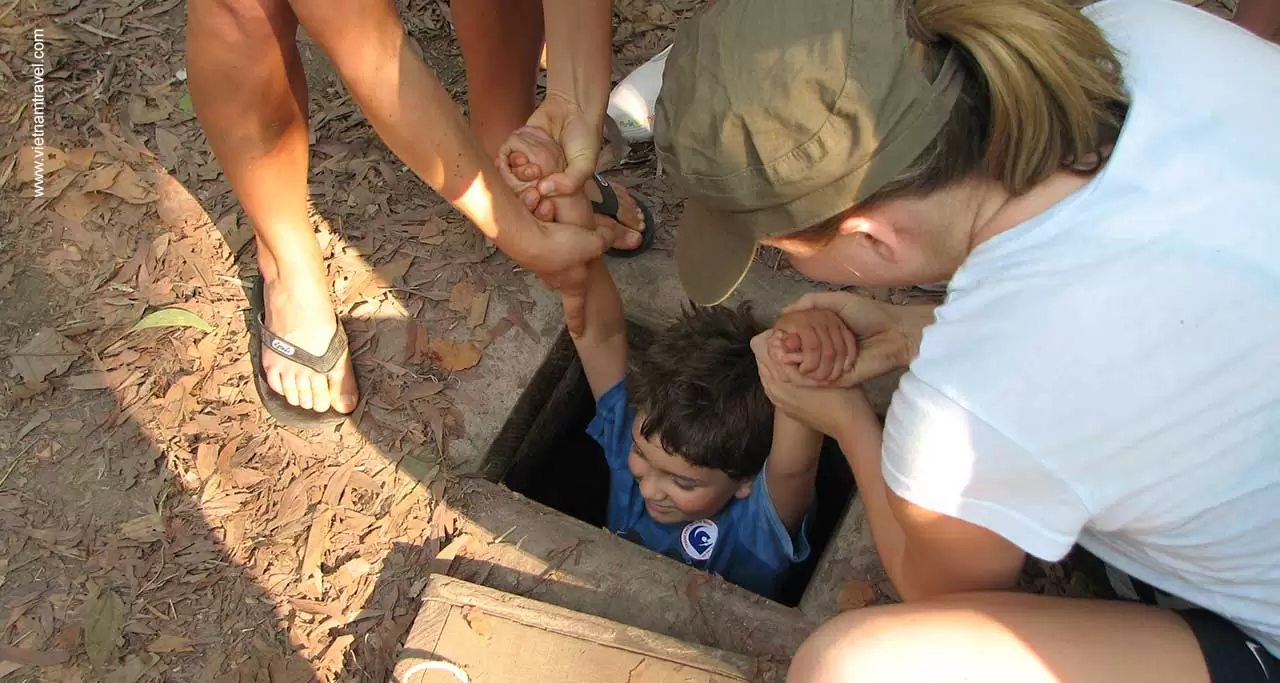 Curious how people lived underground during the Vietnam War? How did they live undetected and survive in the area?
This system of famous tunnels are located under the ground of up to 200 km long, were designed and dug with simple tools and bare hands during the French occupation in the 1940s, and further expanded during the Vietnam War in the 1960s to provide refuge and a defensive advantage over the American soldiers. Despite all the bombings in the area, the Cu Chi people were able to continue their lives beneath the soil, where they slept, ate, planned attacks, healed their sick, and taught their young. Some even wed and gave birth underground.
Visitors can now visit Cu Chi Tunnels and actually crawl inside and even taste some of the food they often ate. It's very interesting to learn how they were able to cook underground and survive. There are two different tunnel sites open to travelers NOT one, operated by the same organization and with similar experiences in each (a 15-minute scratchy B&W propaganda film, tunnel tour, displays of booby traps, and tapioca tasting): Ben Dinh & Ben Duoc.
Your family may choose to visit Ben Duoc (Vietnamese "Bến Dược") which is bit closer to Ho Chi Minh City with larger grounds and your kids can actually crawl through the Cu Chi Tunnels. Here you may also see some broken tanks and other war items along the walking route. There is the gun site is positioned at the end of the tour conveniently. There is a part of tunnels is open wider and make it more convenient for travelers. Most parents have to give up quite quickly as the heat and need to crouch and crawl takes its toll. However, most children will happily continue through the whole length of the tunnel, then meet you at the end.
13. Spend leisure on Mui Ne Beach & Discover Sand Dunes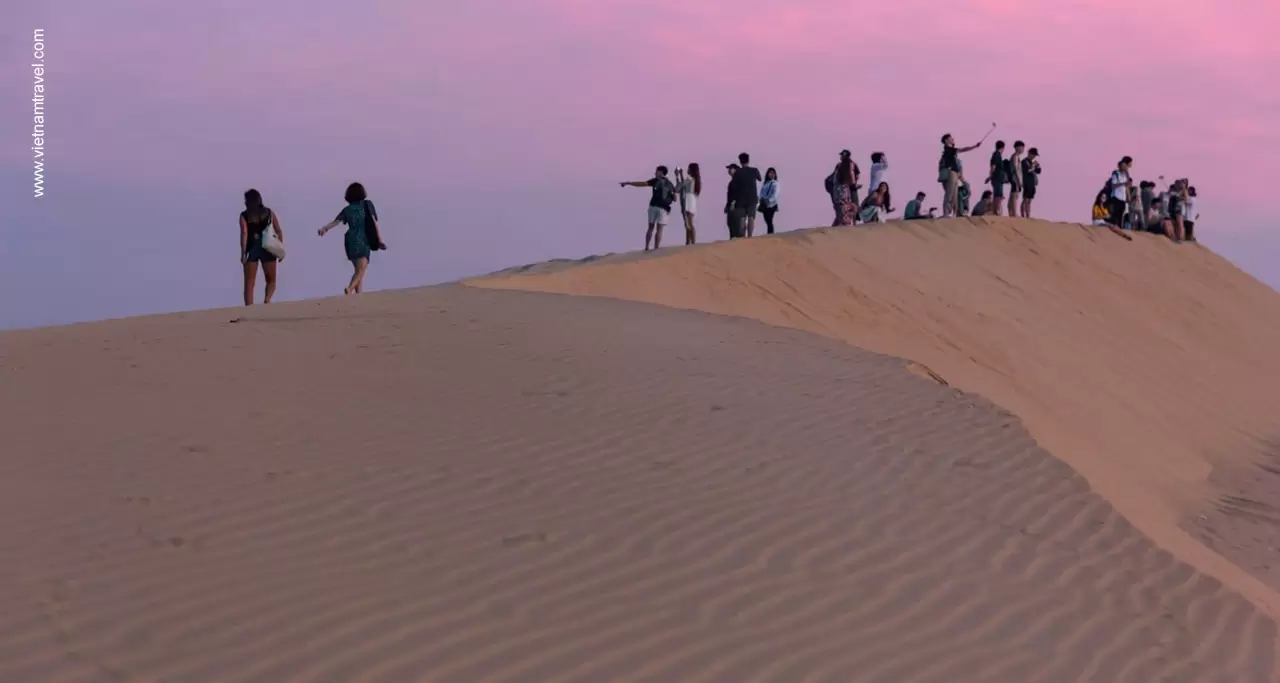 About four hours' drive from Ho Chi Minh City is the lovely beach town Mui Ne. Located in southeast Vietnam and surrounded by ancient Cham temples is this lovely beach town where one can frolic in the sand dunes or kitesurf and enjoy the warm waters. Vietnam Travel can assist in booking the most suitable waterfront accommodation for your family. It is best to book in advance since this area received many visitors from Saigon during the summer months.
The sand area boasts two interesting sites nearby: The sand dunes, a seemingly endless expanse of desert-like sand and the Fairy Spring, basically a shallow creek that runs through the sand dunes. It's a lot of fun – especially for kids – to walk up it for a few miles whilst splashing, jumping, rolling and frolicking in the cool water and its deliciously goopy sand. Book our half-day tour of Mui Ne that is suitable for lovers of dramatic landscapes, a taste of the desert and for family outing!
14. Ride a bike along the narrow channels of Mekong Delta

The Mekong Delta has changed a lot in recent years. Ignore any pictures taken more than a couple of years ago that show bustling floating markets as these have all but disappeared. However, this area is still well worth a visit as the Mekong fans out into an endless network of channels creating hundreds of small islands. These are best explored by bike and sampan and you can spend a wonderful day or two exploring the area. Families with older children might enjoy a night on a converted rice barge, slowly cruising along the palm-fringed canals and enjoying dinner on deck.
15. Relax on Phu Quoc's beaches and Discover VinWonders & Vinpearl Safari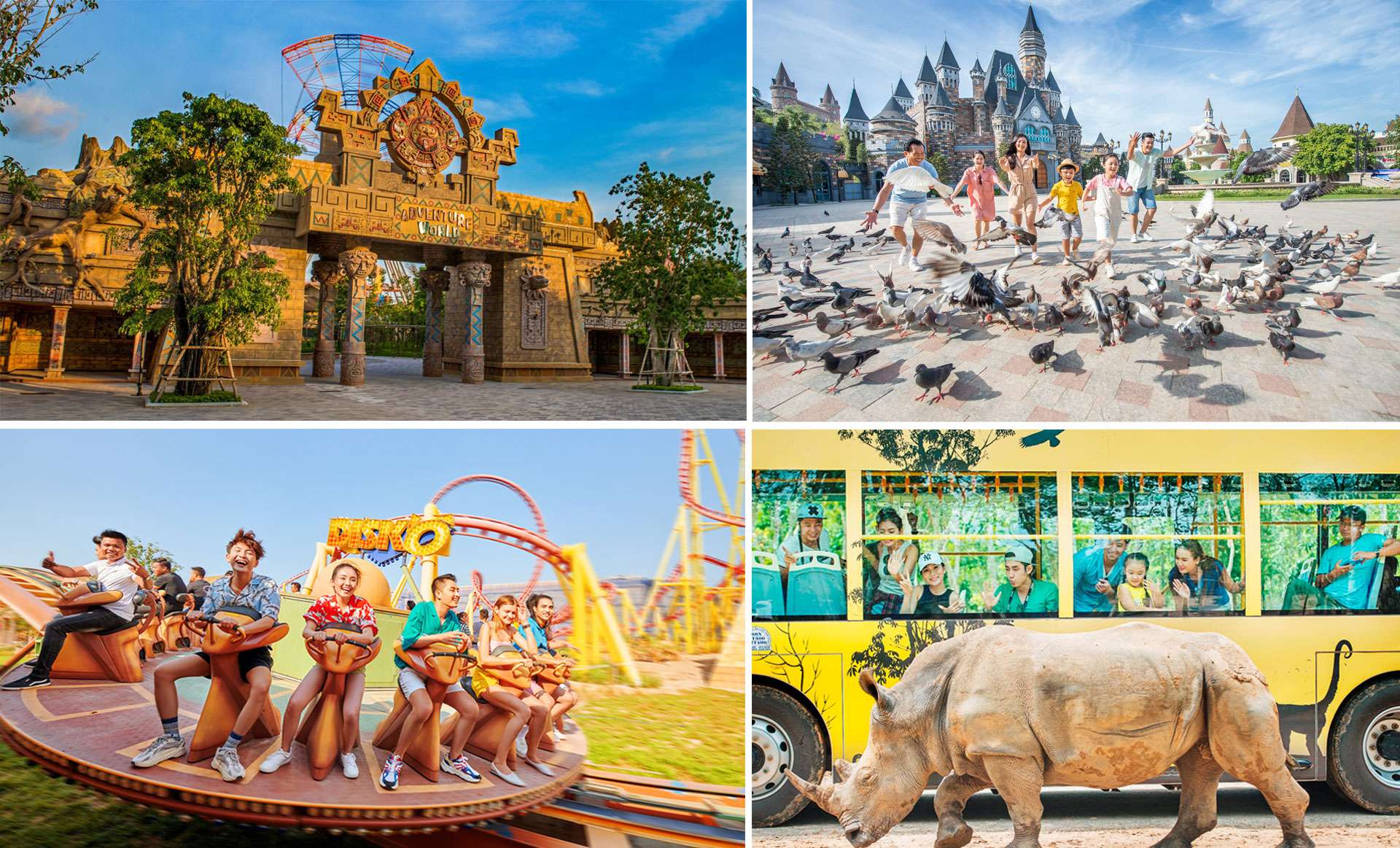 The fine white sands and sparkling waters of Phu Quoc hold universal appeal. This peaceful island mainly attracts honeymooners and families and is home to many luxurious beach resorts in Vietnam. There are plenty of island tours offering snorkeling and fishing, as well as visits to pearl farms and the infamous coconut prison where captured Viet Cong soldiers were held. If you're looking for a cheesy good time, VinWonders Phu Quoc & Vinpearl Safari are a fun day out. VinWonders is Southwest Vietnam's largest and most modern amusement park, while Vinpearl Safari is home to Vietnam's largest zoo, plus shows and a plethora of wacky water rides.
Additionally, while in Phu Quoc, your family may like to ride the longest cable car in the world in Phu Quoc. The journey takes 15 minutes each way and offers views of the crystal blue waters below.
You may like to read:
Top 10 Things to Do on Phu Quoc Island