Vietnam Packages From UK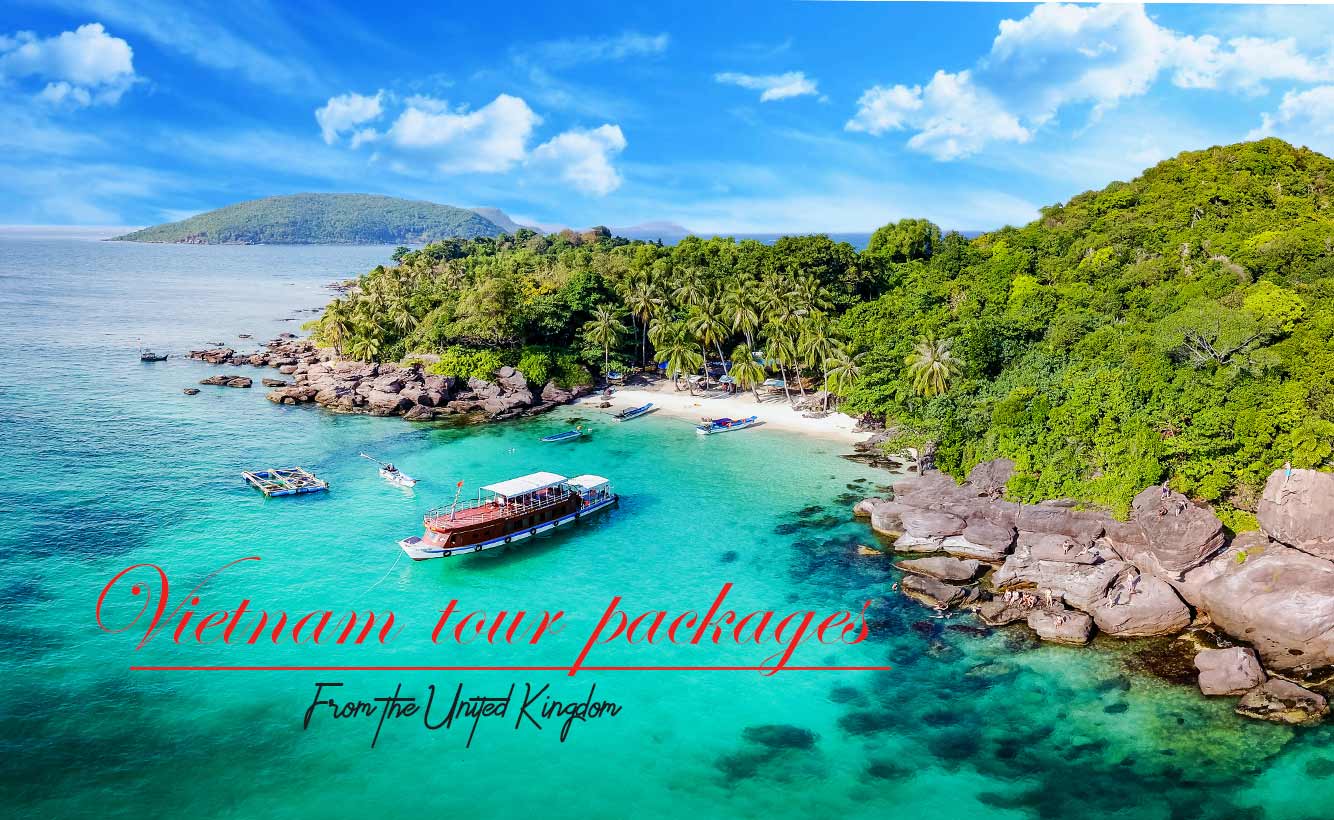 Today, in one of the world's last communist countries, the motorcycles and western dress of the industrious youth happily co-exist with orange-clad Buddhist monks and political posters from a different era, Vietnam attracts many British visitors to come with a direct flight from London to Hanoi and Ho Chi Minh City.
How to get to Vietnam from the United Kingdom
The fastest and the most convenient way to travel great distance of more than 10,000 kilometers from the UK to Vietnam is by airplane. You can catch flights from big cities in UK such as London (from both London Heathrow and London Gatwick Airport), Glasgow, Leeds, Manchester and Birmingham to Hanoi or Ho Chi Minh City – the two biggest cities of Vietnam. Especially, you could take a direct flight from London Heathrow to Hanoi (departing at 11 A.M on Tuesdays, Thursdays, Fridays and Sundays) or Ho Chi Minh City (departing at 11 A.M on Mondays, Wednesdays, Saturdays) if you fly with Vietnam's National Flag carrier Vietnam Airlines.
Airfares always depend on the season, with the highest generally being July to August, during the Christmas, New Year holidays and around Lunar New Year. Fares drop during the shoulder season from August to mid-October and in the low season from May to July, airlines may offer some special promotions.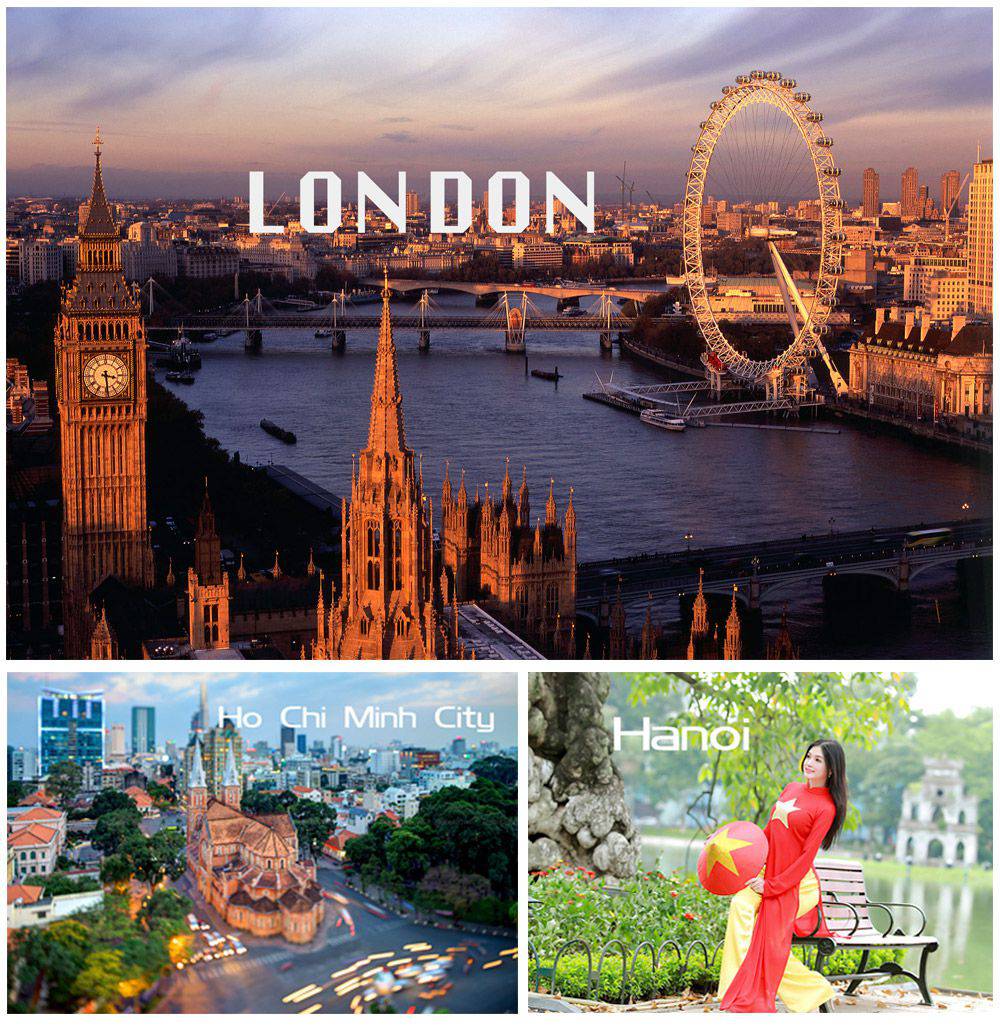 Vietnam Visa for British citizen
British citizen's passport holders travelling for tourism can enter Vietnam up to a maximum of 15 days, inclusive of dates of entry and exit, without a visa.
For visits of up to 30 days, you can get an e-visa online before you travel. However, use of the e-visa is limited to certain entry/ exit points which you must select at the time of application.
If you don't have fixed travel plans, consider applying for a regular single entry visa from the nearest Vietnamese Embassy, which allows more flexibility. For visits of longer than 30 days, you are obliged to obtain a visa from Vietnamese Embassy before travelling to Vietnam.
We can help you apply for a Vietnam Visa Approval letter which allows you to obtain a visa at the airport upon arrival to Vietnam. This service is free when you travel with us.
Tour Packages
Tours starting from Hanoi
Hanoi is the capital city of Vietnam, which is located on the banks of the Red River in the North. It is one of the most ancient capitals in the world where travellers can find well-preserved colonial buildings, ancient pagodas, and unique museums within the city centre. On the other hand, Hanoi is considered the entry point for visitors drawn to the country's mountainous areas (Sapa, Ha Giang, Dien Bien Phu), lush parks, traditional villages and the iconic Halong Bay.
With a tour of about 7 to 9 days, you will have opportunity to discover the Northern Vietnam or the whole Vietnam at a glimpse with its main tourist attractions such as Hanoi, Sapa, Halong Bay, Ninh Binh, Hoian, Saigon & the famous floating market in Mekong Delta. You could choose to get a culture and history tour, adventure tour or culinary tour.
If you want to truly experience and understand the local life, culture and history tours, check some of our sample Vietnam tours: Best of the North, The Uncrowded Alternative to Halong Bay, Highlights of Vietnam.
However, if you are into adventure, you could discover those places by trekking, biking or kayaking with our tours: 4WD North-West Vietnam, Mountains to The Sea and Biking – Trekking & Snorkeling.
If you have more time, spending about 2 weeks in Vietnam, then our tours of Vietnam Discovery, Vietnam Family Holidays and Vietnam in Depth are your perfect choice. Their itineraries cover almost all of the highlight destinations with must-sightseeing places in Vietnam.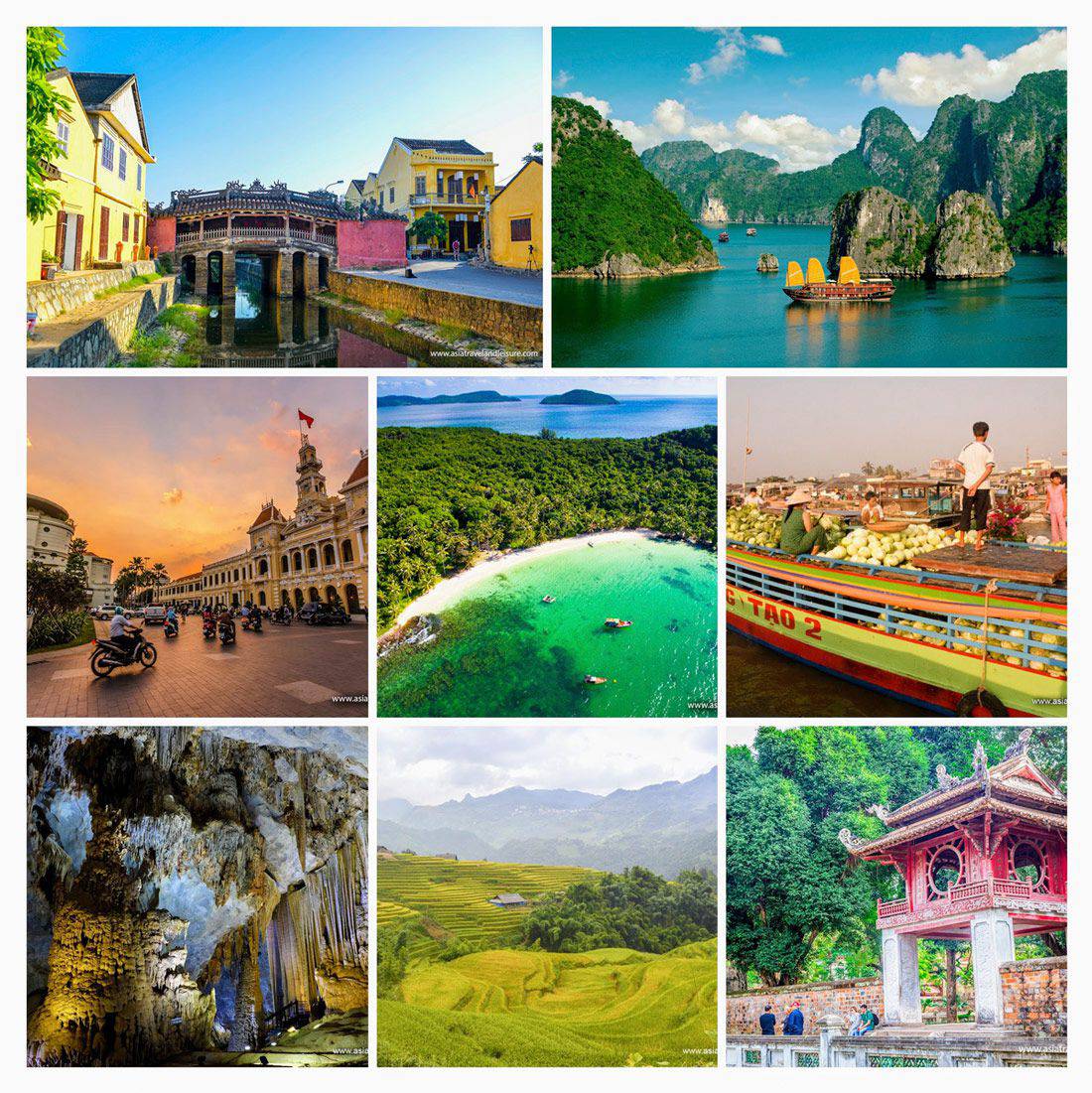 Tours starting from Ho Chi Minh City (Saigon)
Once dearly called "Pearl of the Far East" with the luxury level higher than Hong Kong or Bangkok, Ho Chi Minh City is now the most populated and modern city in Vietnam. Office skyscrapers, Oriental style pagodas and food stalls along the streets create a dynamic and bustling urban area and make Ho Chi Minh City is a truly happening city.
This is an ideal place to start your journey in Vietnam as Ho Chi Minh City and the surrounding area have a lot to offer, from a walking tour to main spots such as Notre-Dame Cathedral Basilica of Saigon, the Reunification Palace, Ben Thanh Market to a drift on Mekong's largest floating market – Cai Rang, from excursions to the iconic Cu Chi Tunnels to romantic sunset cruises zipping along the Saigon River. Just hours away from this city, you can get into beautiful beaches, islands, rivers, villages, jungles or historic sites.
No matter how long you stay in Vietnam, there are some tours that would suit perfectly to your needs and budget. If you are tight with time, you could spend some days exploring Ho Chi Minh City and Mekong Delta with our Southern Flavors and Saigon to Phu Quoc via Mekong Delta for example.
For those who want to have an insight into Vietnam culture and history, Essential Vietnam, Vietnam Impressions and Absolute Vietnam Discovery are some ideal ones.
For high-end travelers, we have designed and created luxury tours with beach breaks in the packages of Vietnam Luxury Journey, Luxury Vietnam Holidays and Best of Vietnam.
After visiting Vietnam, you can combine your holiday with other countries in South East Asia easily including Cambodia, Myanmar, Laos and Thailand. Click here to check out some of the ideas for your Vietnam & Indochina Tour from the UK.
And lastly, these tours are not fixed. All of our Vietnam tour packages are flexible and could be customized to meet your needs and interests and daily departure!