Vietnam Family Holidays – 2 Weeks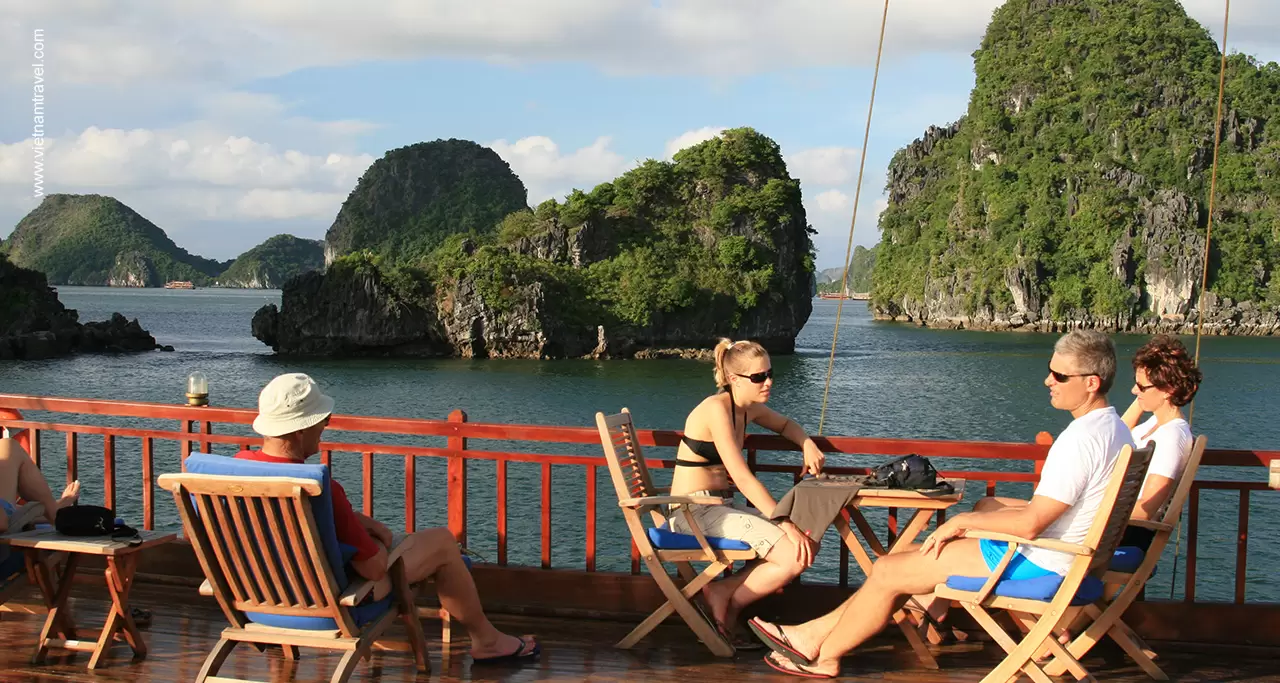 Starts

Hanoi

Destinations

Ends

Ho Chi Minh City

Hanoi → Mai Chau → Ninh Binh → Halong → Halong Bay → Da Nang → Hoi An → Can Tho → Mekong Delta → Rach Gia → Phu Quoc → Ho Chi Minh City
Highlights
Hanoi – rickshaw ride through the French Quarter and explore the 36 streets of the Old Quarter. Kids will enjoy the unique Vietnamese water puppet show.
Mai Chau – exchange culture with Thai minority people and trek through rice paddies.
Ninh Binh – cycle through typical Northern Vietnam's beautiful countryside.
Halong Bay – cruise the beautiful UNESCO-listed bay aboard a comfortable junk boat, kayak, swim and explore the remarkable caves.
Hoi An – stroll around the enchanting UNESCO Listed Ancient Town, with its picturesque riverside setting.
Can Tho – visit Mekong's largest floating market.
Phu Quoc Island – enjoy beach relaxation, tour Vietnam's biggest Safari Park and have fun in Vinpearl Land Amusement Park.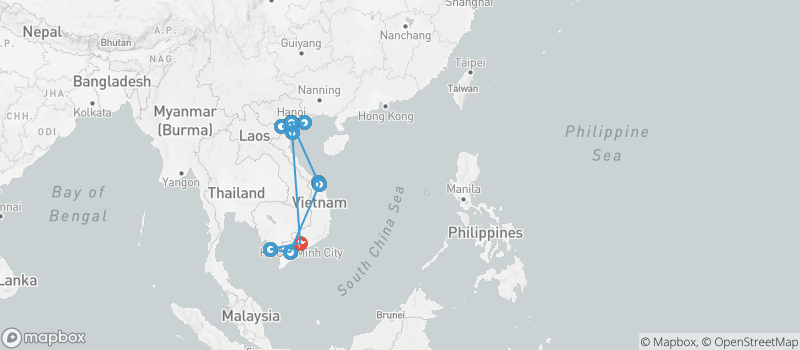 Age range

< 18 year olds +4 more

Accommodation

Transportation
With 2 weeks in Vietnam, you can experience the best of this premier destination of Southeast Asia in a way that is sure to delight both kids and adults. Our Vietnam Family Holidays package is designed for families looking for an active vacation focused on local experiences. This 14-day itinerary covers all the major highlights of the country from the North to the South. Your family will have passionate and helpful local guides along the way, stay in kid-friendly hotels and travel at a pace that is suitable for the younger family members to ensure each of you has the trip of a lifetime.
We offer even better rate for group of more than 10 people.
Let our travel consultant custommized your dream Vietnam Package
Go to customize.
Service Category

2

Adult(s)

0

Child(s)

0

Infant(s)
Discount
Total
Select
Itinerary
Download PDF Brochure
Show all
Day 1: Welcome to Hanoi.

Xin Chao or 'hello' in Vietnamese! Welcome to Hanoi, one of the region's most charming cities where French colonial elegance meets Asian spirit with attractive lakes, colourful pagodas and atmospheric streets. Upon arrival at Noi Bai International Airport, a private driver and Vietnam Travel's tour guide will take you into the city where you can check into your hotel and unwind.
The rest of the day is free at leisure to recover from your international flight.
Meals: N/A.
Accommodation: Hotel in Hanoi.

Day 2: Hanoi City Tour.

Today is a full day to explore Vietnam's charming capital. Start with a visit to the Temple of Literature, which is well known as the first university of Vietnam. Follow it with one of the city's museums (a choice between the History Museum and the Ethnology Museum).
In the afternoon, transfer to the Ba Dinh Square where stands the Mausoleum of President Ho Chi Minh who led Vietnam to its independence from French colonial rule. This site has become an important city landmark and a perfect place to learn more about Vietnam's rich history. From there, wander through the beautiful surrounding gardens toward the One Pillar Pagoda and Presidential Palace, where a replica of Ho Chi Minh's simple working space is on display.
Later, hop on a cyclo, one of the most typical vehicles in Hanoi, is a human-powered transport with a seat at the front for passengers and the driver at the back. With this an hour leisurely ride, which is perfect chance for photos and slow-moving sightseeing, you will have a great local touch.
Finish the day with a traditional Water Puppet Performance – a unique Vietnamese Art form hailing from Southeast Asia's wet – rice culture.
Meals: Breakfast.
Accommodation: Hotel in Hanoi.

Day 3: Hanoi – Mai Chau.

Wake early and enjoy breakfast at the hotel, before setting off on your drive to Mai Chau – a yawning valley, cradling picturesque rice paddies and boarded by looming karst rock formations. Enjoy picturesque views of the scenic landscape, sown with pagodas and rural villages. Stop along the way to visit the Muong tribe and then at Thung Khe Pass for a spectacular view of Mai Chau Valley.
On arrival, trek through terraced rice paddies and small villages, discovering the natural beauty of the valley and encountering the culture of the White Thai people, living in the region. Overnight in Mai Chau.
Meals: Breakfast, Lunch.
Accommodation: Hotel in Mai Chau.

Day 4: Mai Chau – Ninh Binh.

After breakfast, bid farewell Mai Chau for a countryside drive through Ninh Binh Province where fascinating limestone karsts jut forth skywards between verdant rice paddies and lazy rivers. A stop at Cuc Phuong National Park is an interesting way to break up the long drive. Upon arrival, check in to your hotel and spend a couple of hours to relax.
Later in the afternoon, you will enjoy a relaxing sampan tour along Ngo Dong River, passing under rocky outcrops and through three limestone caves (Tam Coc). During the rowing boat ride, you will enjoy a unique landscape that has been dubbed "Halong Bay on Land".
Cycle through limestone mountains to Thai Vi temple which was dedicated to the four Kings of the Tran dynasty in the 13th century and now offers a place of peace and simplicity against a back drop of ancient architecture.
Spend the night at your hotel in Tam Coc.
Meals: Breakfast, Lunch.
Accommodation: Hotel in Ninh Binh.

Day 5: Ninh Binh – Halong City.

Following breakfast, you may like to pedal along the countryside road to Bich Dong Pagoda, the perfect combination of ancient pagodas with cross-covered roofs, natural caves and majestic mountains. Then journey northeast through the rich farmland of the Red River Delta to Halong City for checking into the hotel.
After lunch, your driver will transfer you to Sun World Halong Complex – a pinnacle of amusement, excitement and endless joys! Spanning 214 ha in total, Sun World Halong Complex is world-class amusement and recreational complex that consists of two main areas: The Coastal Amusement Park and Amusement Park on "Ba Deo" Hill, which are connected together with a unique cable car system (Queen Cable Car). Spend your afternoon in a fascinating entertainment world in which grown-ups, children and young outdoor enthusiasts can figure out a lot of fun.
In the evening, why not wander through the night market in the town of Bai Chay? The market is a collection of open-air stalls that sell a wide range of traditional Vietnamese souvenirs like lacquerware, souvenirs, handicrafts, jewelry, bathing suits, backpacks, hats, and pearl handbags etc.
Meals: Breakfast.
Accommodation: Hotel in Halong City.

Day 6: UNESCO-listed Halong Bay – Overnight on cruise.

You are free in the morning. Around noontime, the driver will transfer you to Vietnam's scenic crown - the incredibly beautiful Halong Bay.
(The itinerary is a sample, depends on weather and it will be different between cruises. Our travel consultants will provide the exact schedule and program if you book other cruise such as Hera Cruise, Halong President Cruise, Emperor Cruise, Halong Violet, Halong Jasmine, Paradise Sails, Orchid Cruise, Indochina Sails, Au Co Cruise, Starlight Cruise, Oriental Sails, Peony Cruise etc.)
Welcomed onboard a traditional junk! Settle into a private comfortable cabin and unpack for a two-day cruise around Halong Bay. Along the way, enjoy a huge lunch served on board and admire the picturesque scenery of islands. These limestone karst formations are littered with beaches, grottoes and beautiful caves. You will anchor for a leisurely swim in a secluded cove and an enjoyable visit to Sung Sot cave, one of the many hidden grottoes beneath towering cliffs. The remainder of day is for your own pleasure; observing the bay, lazing around the deck or simply soaking up the sunshine.
Meals: Breakfast, Lunch, Dinner.
Accommodation: on cruise on Halong Bay.

Day 7: Halong Bay – Hanoi – Fly to Danang – Hoian.

Awake early and participate in Tai Chi on the top deck or simply relax and enjoy the sunrise over the bay's towering islands. Enjoy a morning cup of coffee or tea, before setting out to explore nearby islands by rowboat. Return to the junk for breakfast then take advantage of the sundeck and admire the amazing rock formations of the bay as you navigate back to Halong City. Your driver will meet you at the dock and take you to Noi Bai Airport of Hanoi for your in-country flight to Danang. Upon arrival, your driver will meet you and take you to your hotel in Hoian, a sleepy riverside ancient town.
Meals: Breakfast.
Accommodation: Hotel in Hoian.

Day 8: Hoian Walking Tour.

Immerse yourself in the tranquility and charm of this sleepy riverside town. From the 16th to 18th centuries Hoian was a thriving international port frequented by Chinese, Dutch, French, Japanese, Portuguese and Arab traders, who came to trade in the high quality silk still produced in the region. Today, Hoian is a relaxing resort popular with tourists for its eclectic architecture, skilled tailors and numerous cafes. Take a half-day walking tour through the narrow winding streets of the ancient quarter, visiting Chua Ong Pagoda, the Chinese Assembly Hall, the 200-year old Tan Ky ancestral house and the famous Japanese Bridge. Return to the hotel and enjoy a free afternoon at your leisure.
Rest of the day, you may like to rent bicycles to pedal around the town or to one of Hoian's beaches and relax there.
Meals: Breakfast.
Accommodation: Hotel in Hoian.

Day 9: Hoian Ecotour.

This morning, get a chance to ride on buffalo that has been trained and tamed quite well. Buffalo man and guide will escort you along the tour so that you have lot of funny experienced ride both in the field and even on the water. Surely, you will enjoy a truly authentic Vietnamese experience!
Later, transfer to a nearby local fishing village where you board on the boat. You will be welcomed by crews and continue to the next part to ride "Thung Chai" - Basket Boat/ Round Boat. Your local guide will tell you about the use of basket boat used by local fishermen and how to paddle the round boat not get rounded is big tip to learn. There are a few techniques but the best way to steer is with the figure out of the number eight to make it go. One of the most amazing part on this trip is that fact that you can enjoy a unique performance by "Thung Chai" on the river run by the crews. It is so funny and exciting to enjoy it. Row, row, row your traditional round basket boat - just like the locals. Relax over tea at a nearby fishing village and enjoy the beauty of the Vietnamese countryside.
Return to the hotel and enjoy rest of the day at your leisure.
Alternatively, you can opt for an excursion to the UNESCO-listed My Son sanctuary or enjoy a day trip to the popular Ba Na Hills mountain resort, where you will ride the second longest cable car in the world and walk along the striking Golden Bridge.
Hoian Cuisine is also one of the best favor in Vietnam so you may take this chance to taste some local food such as Chicken Rice, Phuong Bread, etc. If you are a shopaholic, don't miss to have a look at silk shop for tailor made your clothes with amazing quickly in couple hours. Or you can rent bikes to pedal around the ancient town at your interests.
Meals: Breakfast.
Accommodation: Hotel in Hoian.

Day 10: Hoian – Danang – Fly to Can Tho.

Have the free morning until drive to the airport for your domestic flight to Can Tho, the largest city in southern Vietnam's Mekong Delta region. Set on the southern bank of the Hau River, it's known for its canal network and nearby floating markets.
Your guide will pick up on arrival and you will get the taste of the city by visiting some main points. Binh Thuy ancient house, a fine architecture and antiques of 19th century, was recognized as a national heritage site. Here, you can explore the culture and the life of Southwest region's people in the 20th century. Then, move to visit Ong Temple, which remains a great influence of Chinese architecture in the area. Enjoy a relaxing walk in Ninh Kieu Wharf & Pedestrian Bridge.
Meals: Breakfast.
Accommodation: Hotel in Can Tho.

Day 11: Can Tho – Mekong Delta's largest floating market – Speedboat to Phu Quoc.

Wake early and leave the hotel to visit the famous Cai Rang Floating Market by motor boat. Experience the daily life of the Mekong River Delta as vendors from around the region gather to sell fresh fruits, local delicacies and handmade goods. Proceed your discovery of the region with a tour of the cottage industries to see people making coconut candies and rice paper. Continue to Rach Gia with 3 hours driving to take the speedboat to Phu Quoc Island (Optional: you can choose to fly to Phu Quoc from Can Tho with additional surcharge).
Situated in the Gulf of Thailand, 45km west of Ha Tien Province, the forested island of Phu Quoc and its beaches were voted as "The most cleanest and beautiful beach of the world" by the ABC News in the end of February, 2008". Upon arrival, the hotel shuttle bus will come to pick up you at the jetty. Check in to the hotel and free at leisure.
Meals: Breakfast.
Accommodation: Hotel in Phu Quoc.

Day 12: Phu Quoc – Vinpearl Safari & Vinpearl Amusement Park.

After breakfast, head to the Vinpearl Safari by private car to experience Vietnam's first and only open zoo! This safari experience involves walking along tree-lined roads and encountering various wildlife along the way such as elephants, giraffes and even tigers!
Later, spend your time at Vinpearl Land Phu Quoc, one of Vietnam's largest amusement parks. Make a splash in the wave pools and water slides at the water park, get your adrenaline pumping on the amusement rides, visit the aquarium, and attend a live show at the amphitheater. There's also a food village, a manmade beach, and an indoor games arcade in the amuse park. Fun for the whole family!
Meals: Breakfast.
Accommodation: Hotel in Phu Quoc.

Day 13: Phu Quoc Beach – Free at leisure.

Today you are at leisure on beach. Obviously, the beaches around the island are very pristine with clear crystal water. Further onshore, coconut palms and tropical forests feature a huge evergreen area. Apart from enjoying a complete relax in fine beach hotels and resorts, you can also cruise to the nearby islets for snorkeling, fishing, scuba diving or hiking along the dirt tracks and paths through the pepper and cashew plantations to explore the Island's natural beauty of sun-drenched beaches, vivid marine life, tropical forests and verdant countryside.
Meals: Breakfast.
Accommodation: Hotel in Phu Quoc.

Day 14: Phu Quoc – Fly to Saigon – Departure.

Today you fly from Phu Quoc to Ho Chi Minh City's Tan Son Nhat Airport to catch your departure flight. Tour ends. If you wish to extend your stay in Saigon with additional excursions, please contact Vietnam Travel's consultants for a help.
Meals: Breakfast.
Accommodation: N/A.
Detailed services
Show all
Accommodation

Rated Excellent by past passengers

Note:All the hotels/ cruise are subject to availability and can be changed. In case any of the listed hotels are fully booked, alternatives of equivalence will be taken.

Guide

Rated Excellent by past passengers

English Speaking Tour Guides (other language on request)

Meals

Rated Excellent by past passengers

As mentioned in the itinerary and inclusion.

Transport

Rated Excellent by past passengers

Private Car/Van with Air-Conditioning.
Flights

Hanoi - Danang by Vietnam Airlines
Danang - Can Tho by Vietnam Airlines
Phu Quoc - Saigon by Vietnam Airlines

Note:Please note that airfares are subject to availability and to change without notice
Price Includes
• Accommodations.
• Breakfast & meals as mentioned in the itinerary.
• Escorted by an English speaking Vietnamese tour guide.
• Transfer by private car with A/C.
• 2 days/ 1 night cruise package on Halong Bay.
• Domestic flights: Hanoi – Danang; Danang – Can Tho; Can Tho – Saigon.
• Drink water & tissues.
• Vinpearl Safari & Vinpearl Amusement Park pass.
• Entrance fees, boat trip, performance & excursions.
Price Excludes
• International flights into and out Vietnam.
• Meals other than those mentioned in the itinerary.
• Early check-in and late check-out at hotels.
• Personal expenses (such as laundry, telephone, drinks, etc.).
• Tips for guides and drivers.
• Travel insurance.
• Vietnam Visa fee (more at www.travelvietnam.com/visa).
START PLANNING NOW
Open