Overview of Danang, Vietnam
Located in Central Vietnam, Danang, the 4th largest city in Vietnam, marks the halfway point between Hanoi capital in the North and Ho Chi Minh city in the South. It is also the center of commerce, tourism and education. Has long been recognized by locals as the most worth-living place in Vietnam, Danang was listed in the world's top 10 worth-living cities in 2018 the famous travel magazine Live and Invest Overseas. It additionally consolidates Danang's position in the world tourism market.
1. Danang Weather & Best time to visit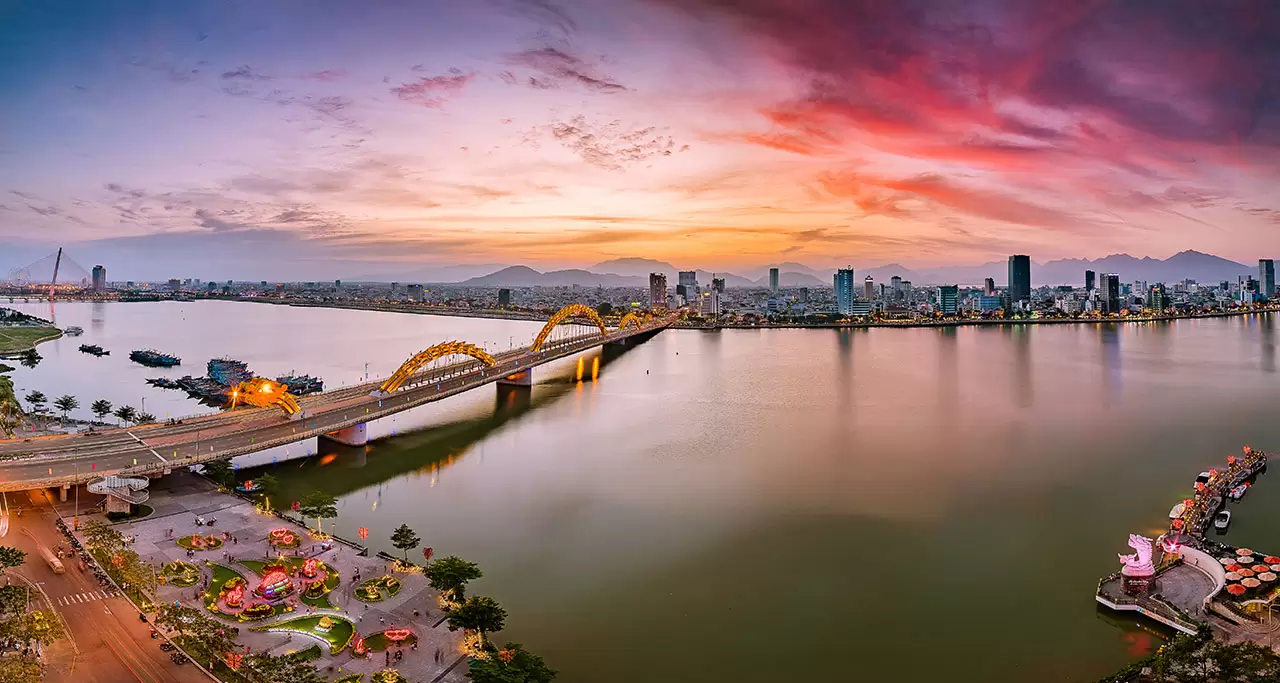 Danang marks the northern limits of Vietnam's tropical zone and has a pleasant climate all year round. There are two seasons: wet season from August to December and dry season from January to July. The highest temperature is 30°C and the lowest one is around 18°C. The best time to visit Danang is from March to May and September to October when the weather is cool and dry. If you can, avoid the summer months from June to August when Danang becomes a popular retreat for domestic tourists. It is very hot then but very little rain and the sea is clear and calm.
2. How to get to Danang
Danang is considered as a tourism hub of central Vietnam so there are many ways to reach Danang conveniently.
2.1. By Airplane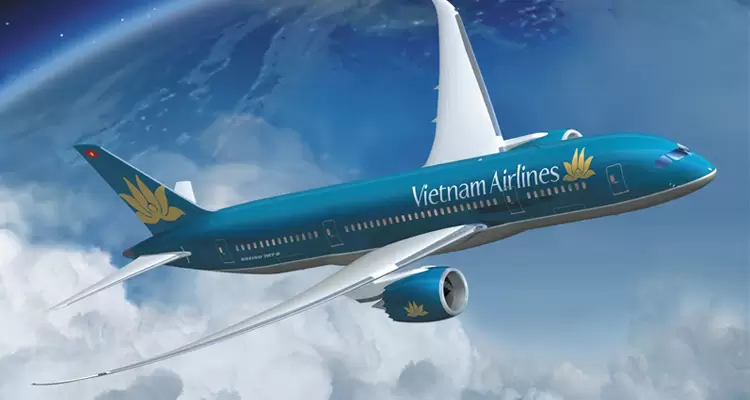 Danang has international airport within the city. There are many daily domestic flights connecting Danang with Hanoi, Saigon, Nha Trang, Dalat, Haiphong. The flight time is just over 1 hour. You can easily find the best suitable flight with reasonable price at Vietnam Airlines, Bamboo Airways and two low-cost airlines, namely, Vietjet Air and Jestar Pacific.
Besides, international flights to Danang are available from Guangzhou (China), Bangkok (Thailand), Seoul (Korea), Kuala Lumpur (Malaysia), Shanghai (China), Siem Reap (Cambodia), Singapore, Taipei (Taiwan) and Tokyo (Japan). This mean of transportation makes your trip to Danang easier.
2.2. By Train
Compared with the plane, the time to travel to Danang by train will be much longer, about 17-19 hours, either from Hanoi or Saigon. However, it is a best choice for those who want to take advantage of the beautiful scenery throughout the train windows. With prices ranging from 25USD (hard seats) to 50USD (air conditioned, soft berth), you have a lot of options to choose from depending on your budget. You can get the train ticket directly at train stations or contact with local agent to book in advance.
2.3. By Bus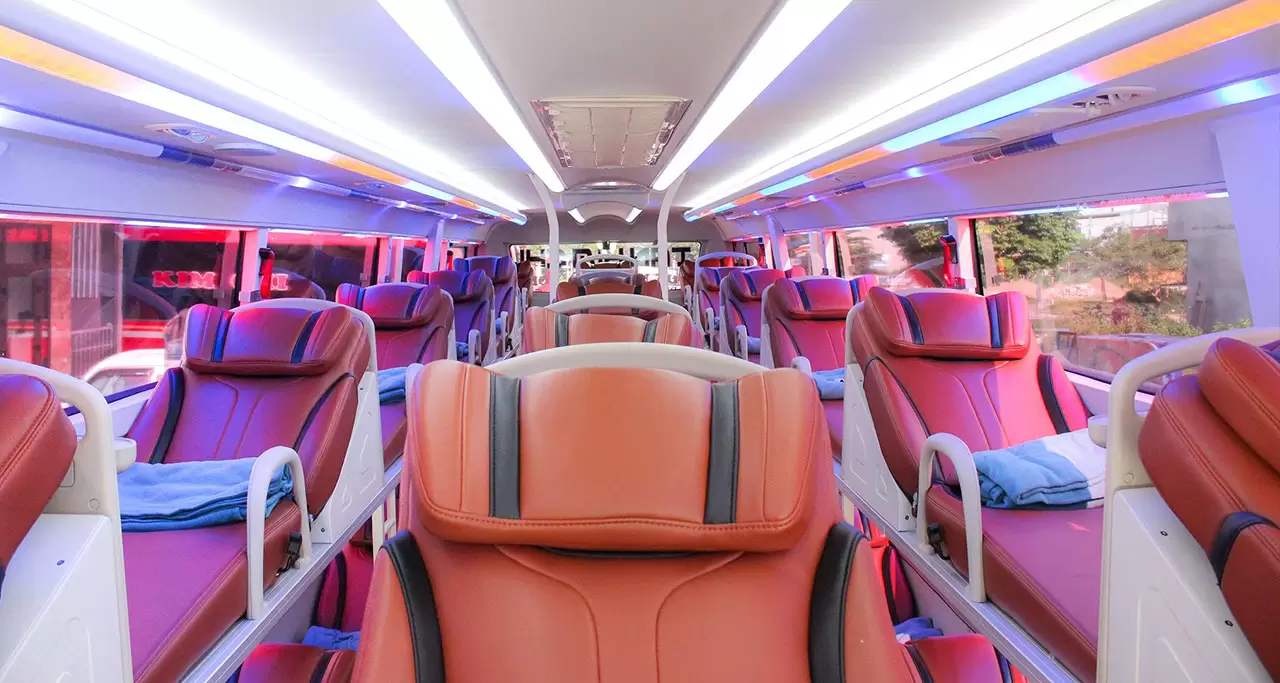 To save money, tourists can choose travel by a local bus to Danang. The price is around 15USD – 20USD/ one way from either Hanoi or Saigon. There are many local buses serving the route Hanoi – Danang such as Hoang Long, Phuong Trang, Camel Travel… and Sai Gon – Da Nang: Hoang Long, Phuong Trang, Thuan Thao, Xuan Tung, Dinh Nhan… It also takes around 17-19 hours like a train trip.
2.4. By private car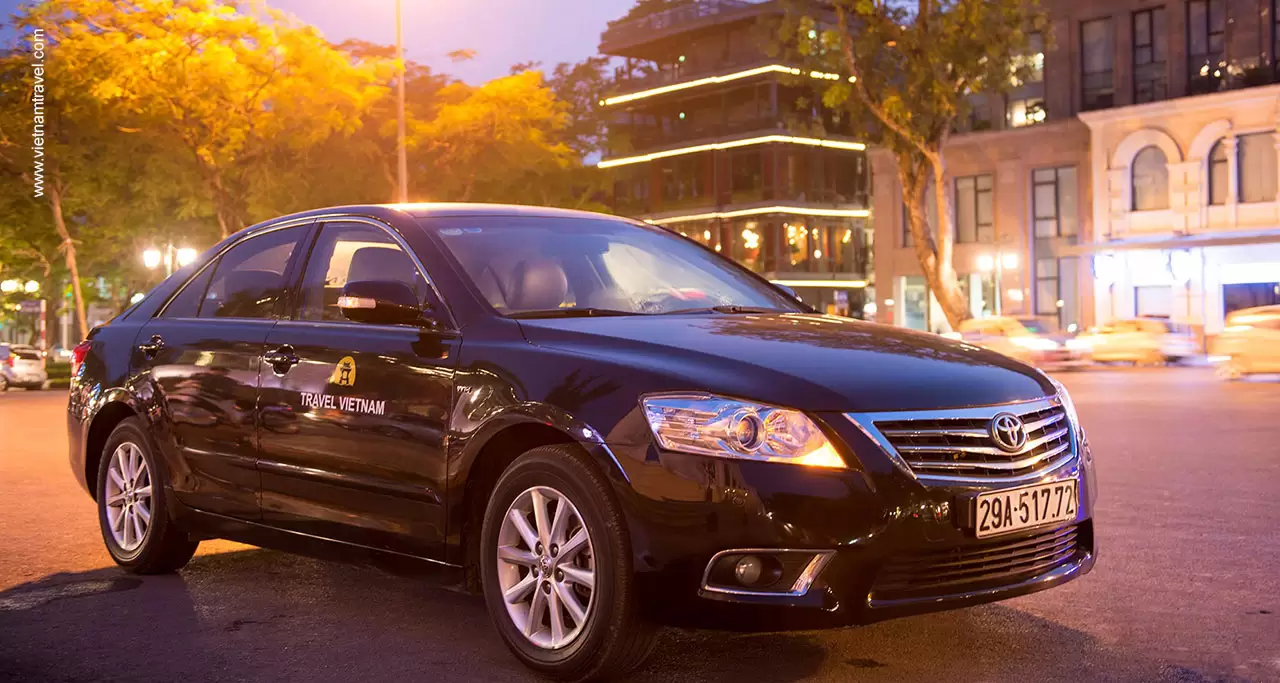 Private car is another option you may consider when planning to visit Danang. It is more comfortable than a local bus and a train. An experienced driver will accompany with you, passing by breath-taking sceneries from North or South to Central Vietnam. You can stop anytime and anywhere along the way you want to take a short rest, take some photos and admire the Vietnam's beauty.
3. Sightseeing in Danang
Danang is an ancient and peaceful land with the friendly local people. There are many interesting attractions awaiting you to explore such as Ba Na Hill Mountain Resort, Ngu Hanh Son (Marble Mountains), Son Tra Peninsula, Linh Ung Pagoda, Han River, Non Nuoc beach, My Khe beach, etc.
3.1. My Khe Beach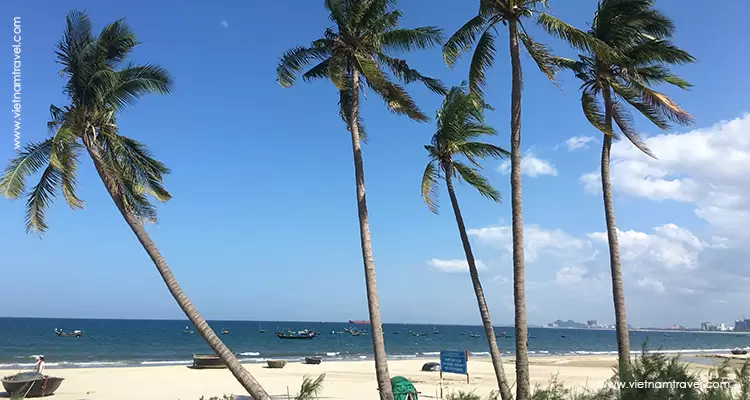 My Khe is recognized as the best beach in Da Nang city. It was voted as one of six most charming beaches on the planet by Forbes Magazine in 2005. With 900m in length, My Khe beach is famous for blue sky, white gentle slope sandbank, mild waves, clear warm water all year round and beautiful areas surrounded by coconut trees. It is definitely an ideal place for relaxing, sightseeing, swimming, surfing, sunbathing and taking the best photos.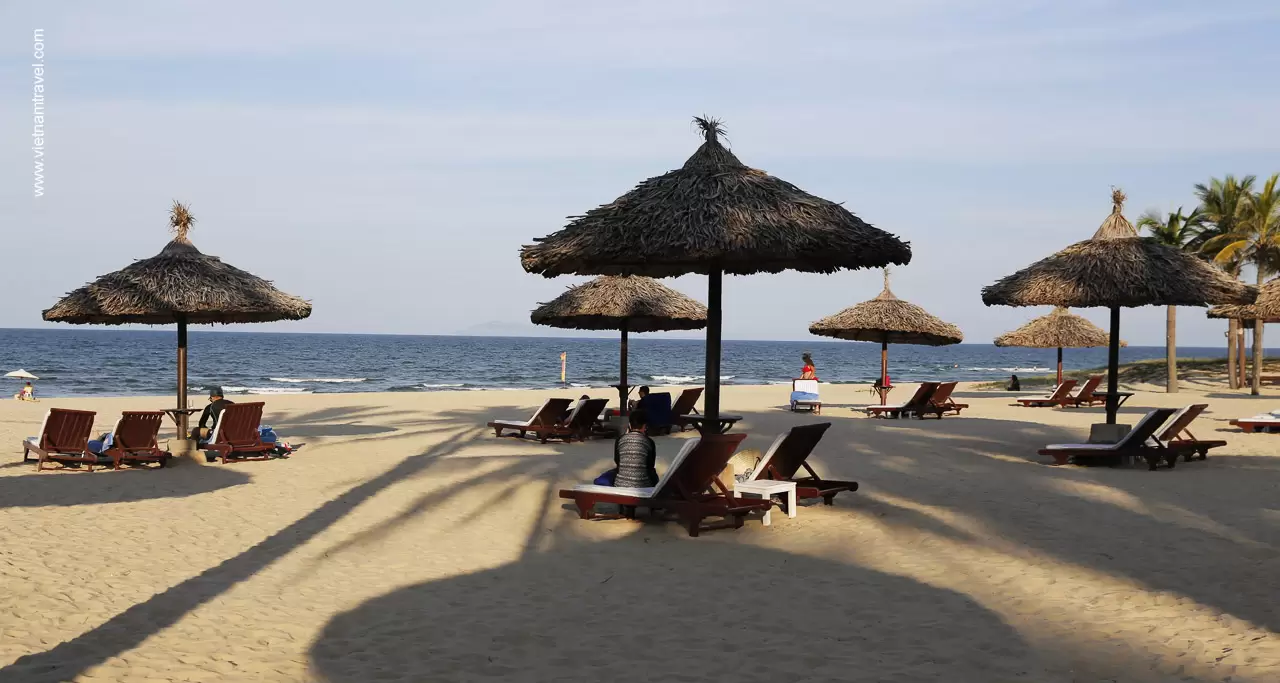 For those who want to enjoy sunrise and sunset, My Khe is one of the best choices. You will immerse in the fresh air and magnificent view, which gives you a huge energy. So stay close to the beach and get in close touch with the nature's beauty.
3.2. Non Nuoc Beach
Stretches 5km along the shore of Hoa Hai Ward at the foot of Marble Mountains, Non Nuoc beach is famous for its seaweed, which reaches exportation standards. Many five-star hotels were built in Non Nuoc to accommodate the domestic and foreign tourists in the area. Together with its feature of wave degree, climate, weather and salinity, the beach is suitable for water sports, especially surfing. In 1993, there took place an international champion with the participation of nearly 40 athletes from many countries around the world.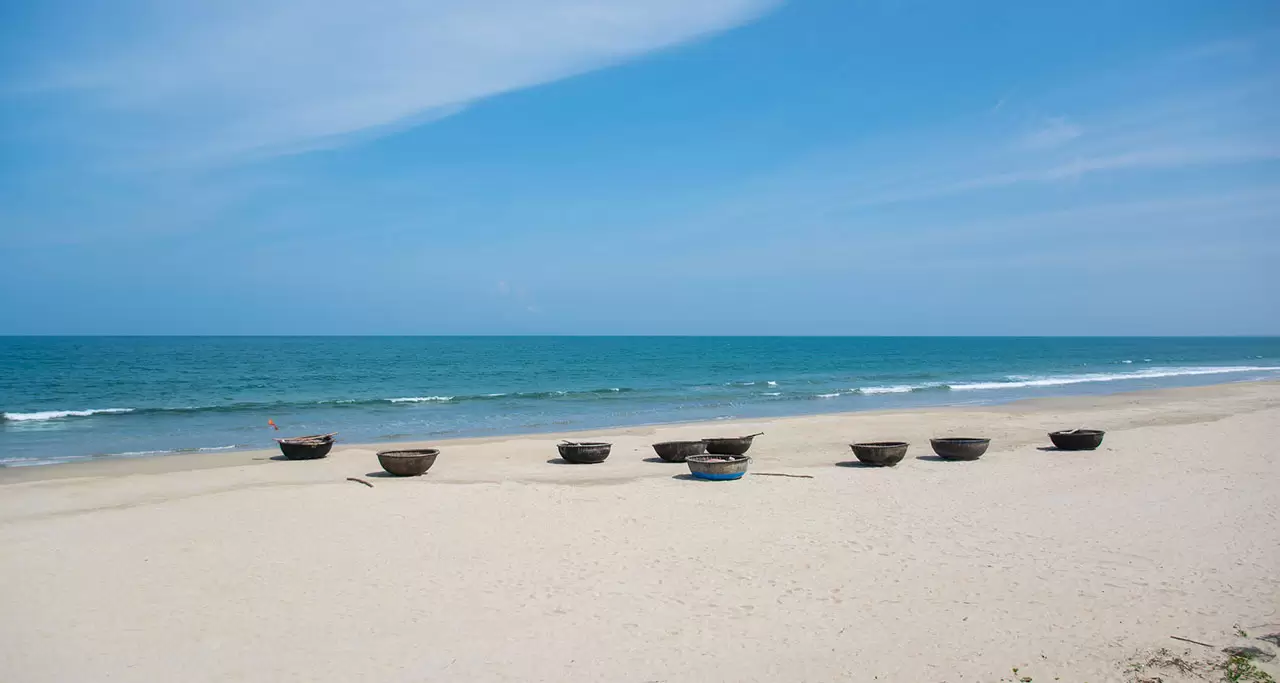 Along the beach, on the white sand is a forest of age-old casuarinas which is shady, green and is waving in the whistling wind. This is an ideal place for resting and camping. When the darkness falls and the moon rises, you can set yourself free on smooth benches along the beach to listen to melodious sounds of the waves and enjoy the occult space.
3.3. Son Tra Peninsula
Son Tra Peninsula, also called a precious gem in Danang, is not only famous for the beautiful picturesque landscapes but also a highly potential eco-tourism oriented resort area. Just 13km away from the city center, Son Tra Peninsula is an ideal getaway from the crowded and busy life. Visiting this place, you have a chance to immerse yourself in the beauty's nature of white sand beaches, untouched natural scene, dense green forest, and see many kinds of rare animals.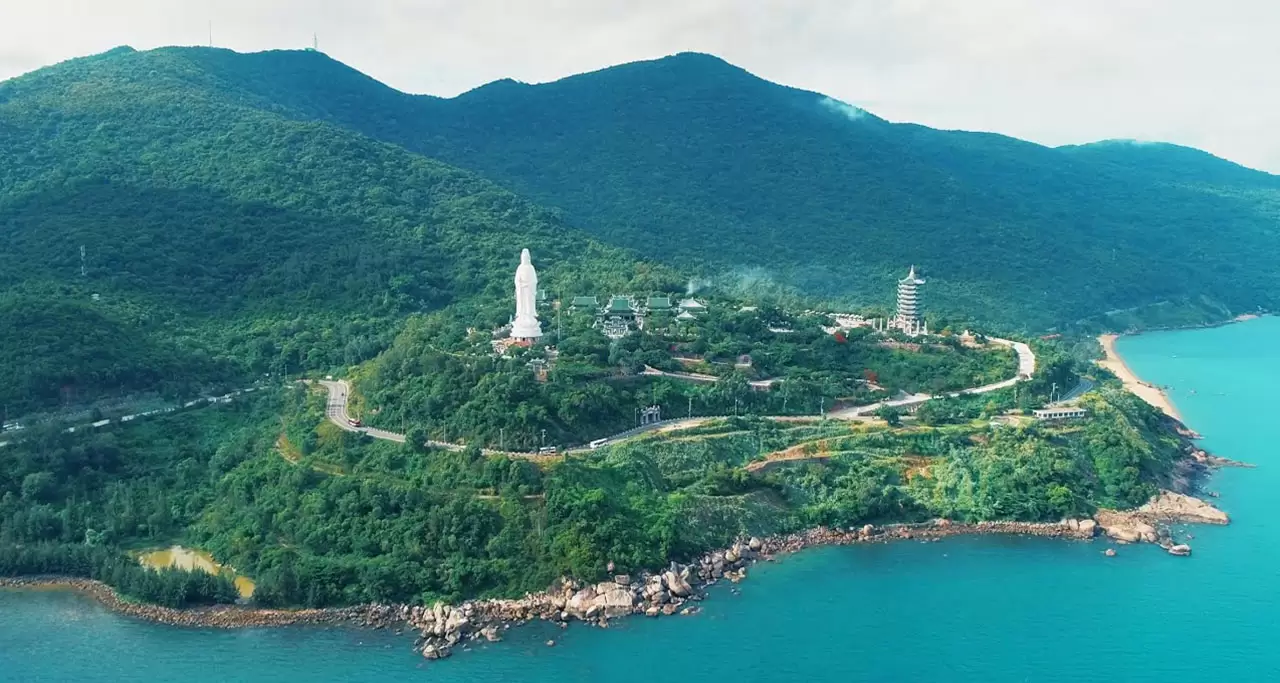 Son Tra is surrounded by many nice pristine beaches like Bai Bac, Bai Nam, Bai But and Tien Sa beach. Each of them boasts their own beauty with smooth sandbank, clear blue water and colorful coral reefs. If you want to explore the amazing life under the sea, it also provides you the best opportunity to go snorkeling or scuba diving.
3.4. Linh Ung Pagoda
Linh Ung Pagoda – Bai But is located at the Son Tra Peninsula. This is one of the biggest, newest and the most attractive of the three pagodas with the same name in Danang. The pagoda features a perfect harmony of modern and traditional architectures of a Vietnamese pagoda, especially in the three-entrance gate, the main chamber and the ancestors' house. Situated on an area of about 20 hectares on the side of Son Tra Peninsula, this pagoda is a magnificent artwork. There is the highest Quan Yin statue (67m) in Vietnam which leans on the mountain and looks toward the sea. You can see this statue from every corner of Danang city.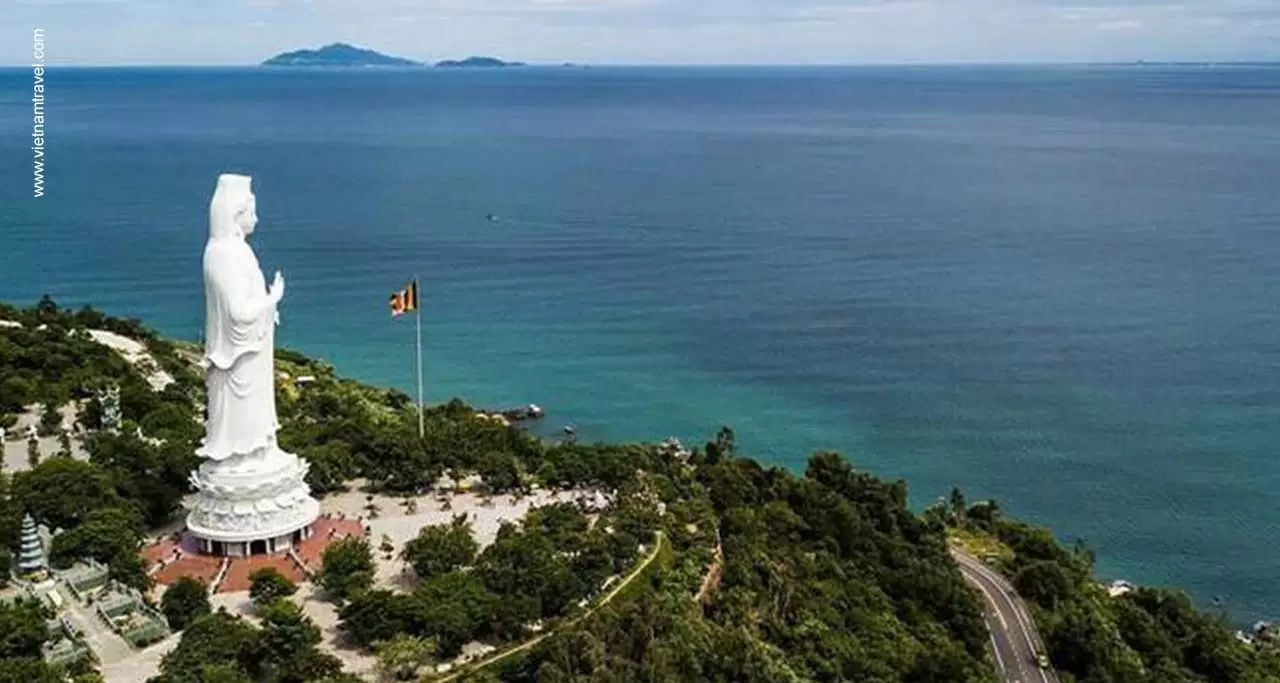 With its unique architecture and mountain landscape, Linh Ung pagoda has become a popular place for worshipping, living and practicing of monks and Buddhists as well as a spiritual tourist attraction in Danang. Just 10km from Danang city center, this pagoda can be reached by motorbike, taxi or private car for comfortable. This is a must-see place on the way to Son Tra Peninsula.
3.5. Marble Mountains
Marble Mountains or "Ngu Hanh Son" in Vietnamese, are located about 8km southeast of Danang city, close to the sea. It is a group of five marble and limestone mountains named according to the five elements of nature: "Kim Son" (metal), "Moc Son" (wood), "Hoa Son" (fire), "Tho Son" (earth) and "Thuy Son" (water).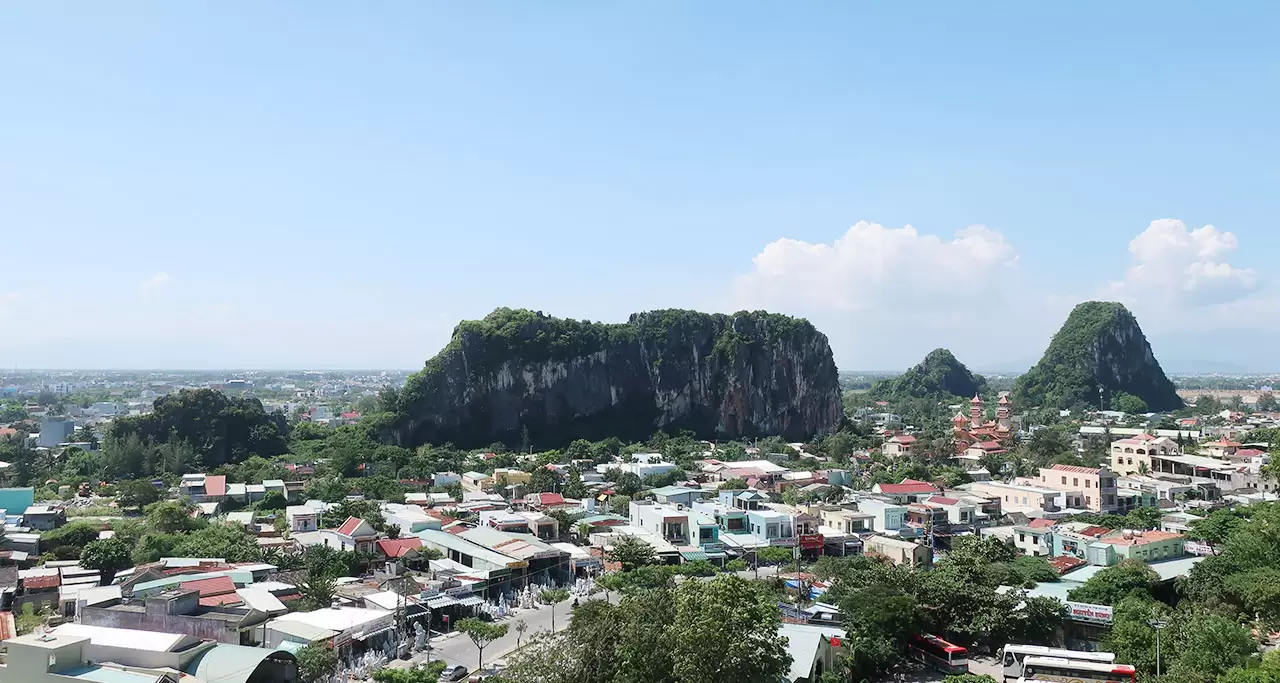 Among these five mountains, "Thuy Son" is the largest and the most beautiful one. It has become the main attraction for visiting. It has many caves and Buddhist temples, many dating back to the 17th century. A natural stone stairway leads you up to the top of the "Thuy Son" Mountain or you can take a glass elevator instead to enjoy the beautiful panoramic views from above.
3.6. Champa Sculpture Art Museum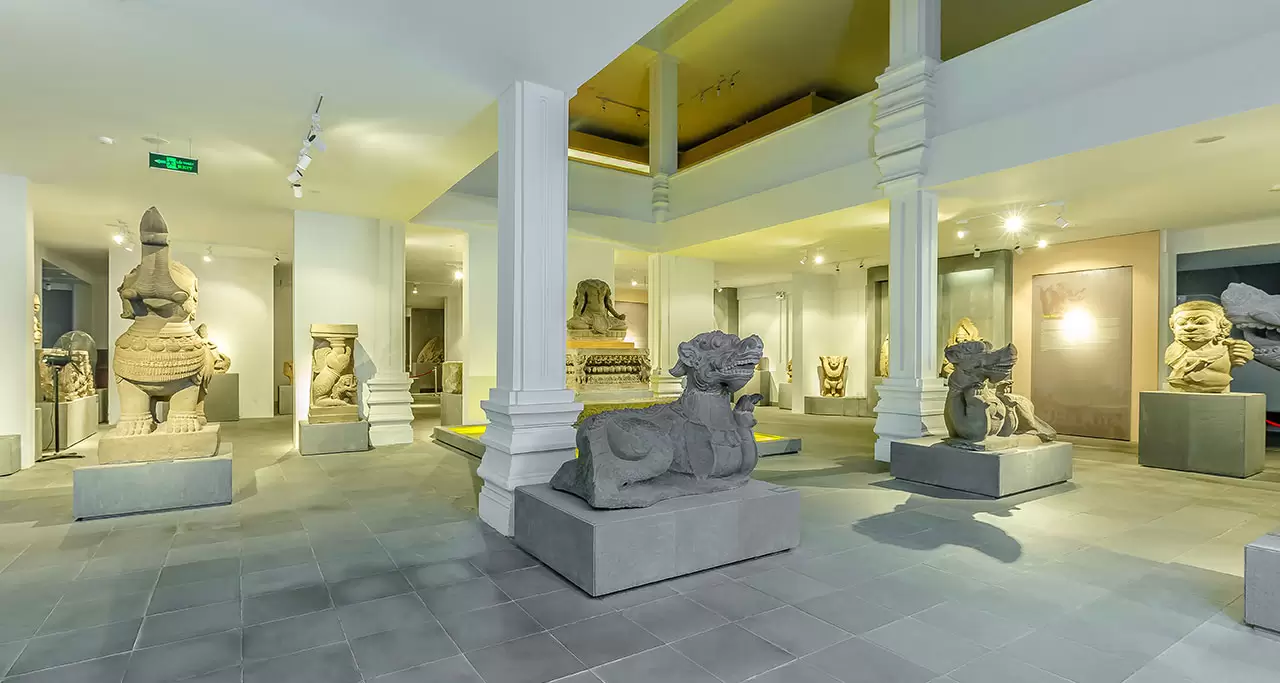 Located at the junction of Trung Nu Vuong and 2/9 Streets, Danang City, the Champa Sculpture Art Museum was built in 1915 under the sponsorship of the French School for Far Eastern Studies in Vietnam. It is based in the Danang region which was the seat of the old Champa Kingdom and boasts many attractions like Tra Kieu, Dong Duong, My Son and Thap Mam. In 1936 the Museum was expanded, and opened to the public in 1939. It conserves the last collection of the Champa Sculpture Art in Vietnam and the world. Its architecture bears the features of Cham architecture. It boasts a row of showrooms white in color with simple yet graceful decorations. The Museum exhibits 300 original sandstone sculptures and some baked clay products collected from the temples and towers that lie scattered from Quang Binh to Binh Thuan in Central Vietnam. The exhibits are statues, embossments, images, and patterns displayed in 10 rooms named after the places where they were found.
3.7. Danang's Golden Bridge on Ba Na Hills Resort
Considered as a work of art, Golden Bridge (Cau Vang) in Danang has attracted a big number of both domestic and foreign tourists since opening to the public in June 2018. People come here to see and take a photo with a novel piece of architecture famed for its unique design. The shimmering bridge is held up by two giant concrete human above the clifftops. In the midst of the forest, the bridge stands out in yellow and looks like a golden silk trip hiding in the clouds of Danang. Especially, the hands look aged and weathered as if they have been there for centuries.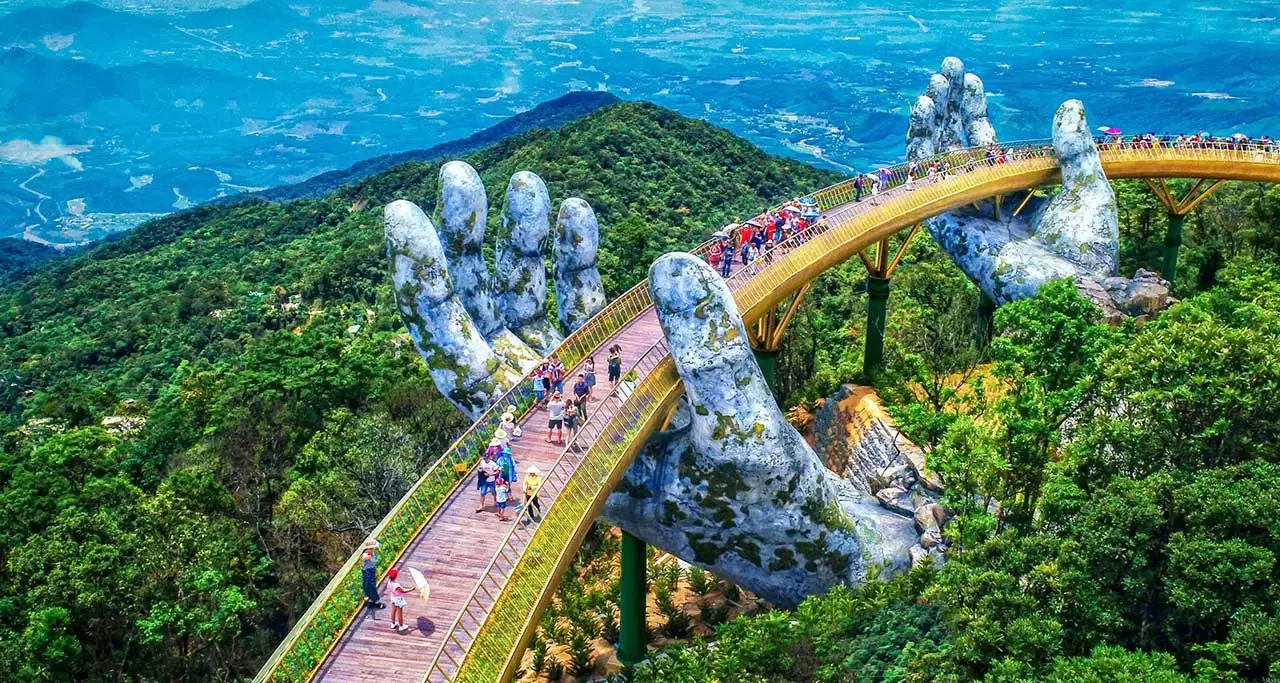 Golden Bridge rises above the Thien Thai gardens at the Ba Na Hills Resort, about 30km from Danang city. Opened in 1919 by French colonists with around 200 villas, today this area holds attractions like an alpine roller coaster and the longest nonstop, single-track cable car, according to Guinness World Records. You have to buy a ticket to enter this resort with the price of 750,000 VND a ticket/ adult including all cable cars and theme park entrance ticket. Then you freely explore Ba Na Hills and check out the world's most striking footbridge.
3.8. Dragon Bridge
As its name suggests, Dragon Bridge illustrates the image of a dragon flying towards the sea with the architecture inspired by Ly dynasty. It was opened on the 38th anniversary of the liberation of Danang city in 2013. This inventive design is not only a reflection of Vietnamese customs and beliefs but also highlights Da Nang's growth and development. Due to its unique design, the bridge has attracted worldwide attention.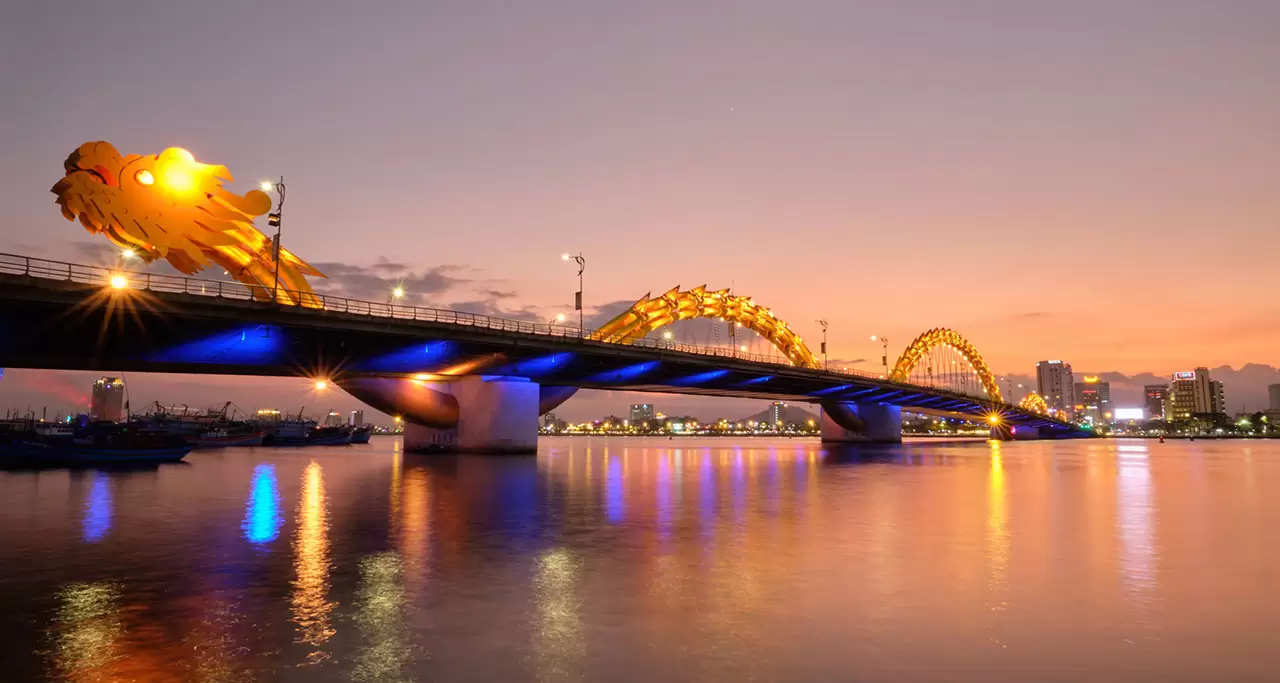 Having 6 lanes crossing the Han River, Dragon Bridge forms a direct way from Danang International Airport to this city's various main routes, easier to reach My Khe beach and Non Nuoc beach, two stunning beaches of Danang. Especially, there is dragon's fire breathing and water spraying performance at 9pm every weekends and during the holidays. This is an incredible scene you should not miss in Danang.
4. Danang Special Cuisine
Danang is a heaven of the authentic local cuisine. Check out some review articles about food in Danang, you will see many choices from the luxurious restaurants to street vendors. So don't forget to try some famous specialties to complete your amazing trip here.
4.1. "Banh trang cuon thit heo" (sliced pork rolled with rice paper)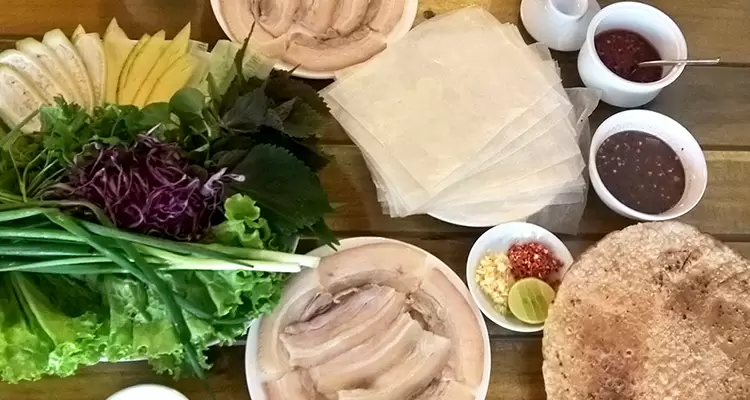 "Banh trang cuon thit heo" is one of Danang's specialties. It is a combination of fresh ingredients such as belly pork, fresh vegetables, slices of cucumber and green bananas. All things are wrapped in soft rice paper and eaten with dipping sauce called "mam nem". This dish is famous because of carefully selected ingredients, which makes perfect taste.
4.2. "Bun mam" (rice noodles with fermented fish sauce)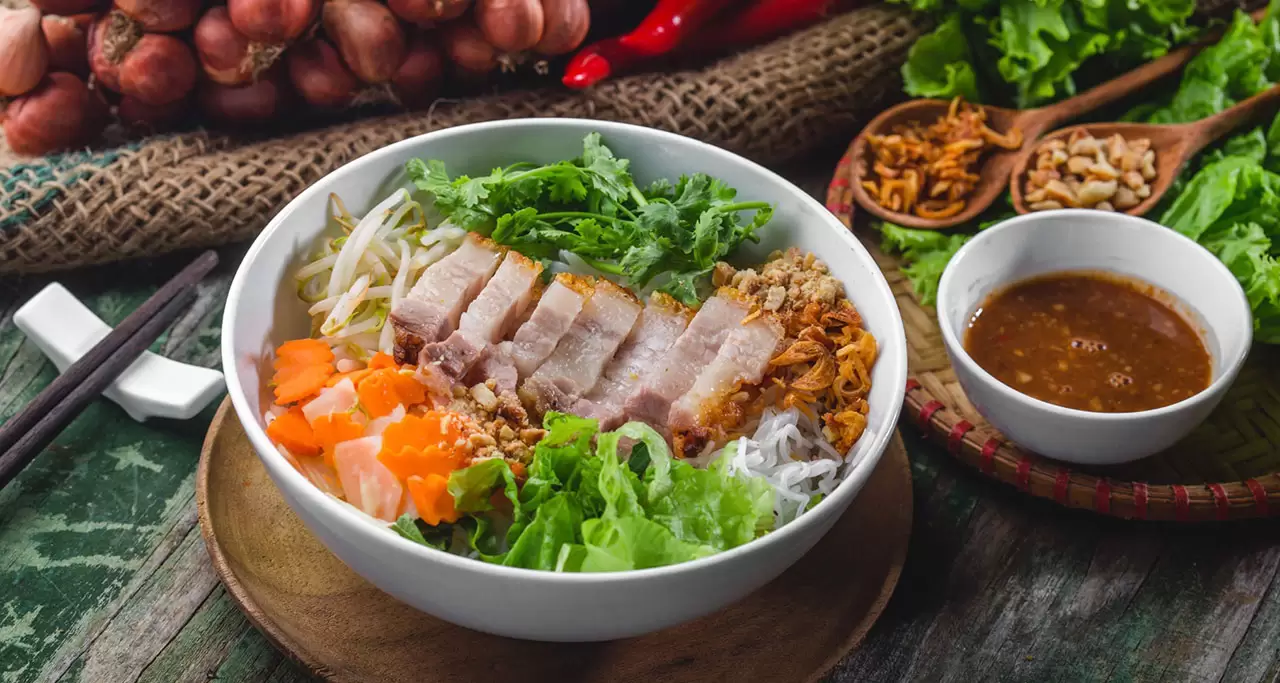 This noodle soup is a favorite food of locals. "Bun mam" is made of vermicelli, pork or roasted pork, vegetables, unripe papaya, peanuts and, of course, anchovy fish sauce. As the name suggests, the exquisiteness of this dish depends mostly on its anchovy fish sauce.
4.3. "Bun thit nuong" (rice noodles with grilled pork)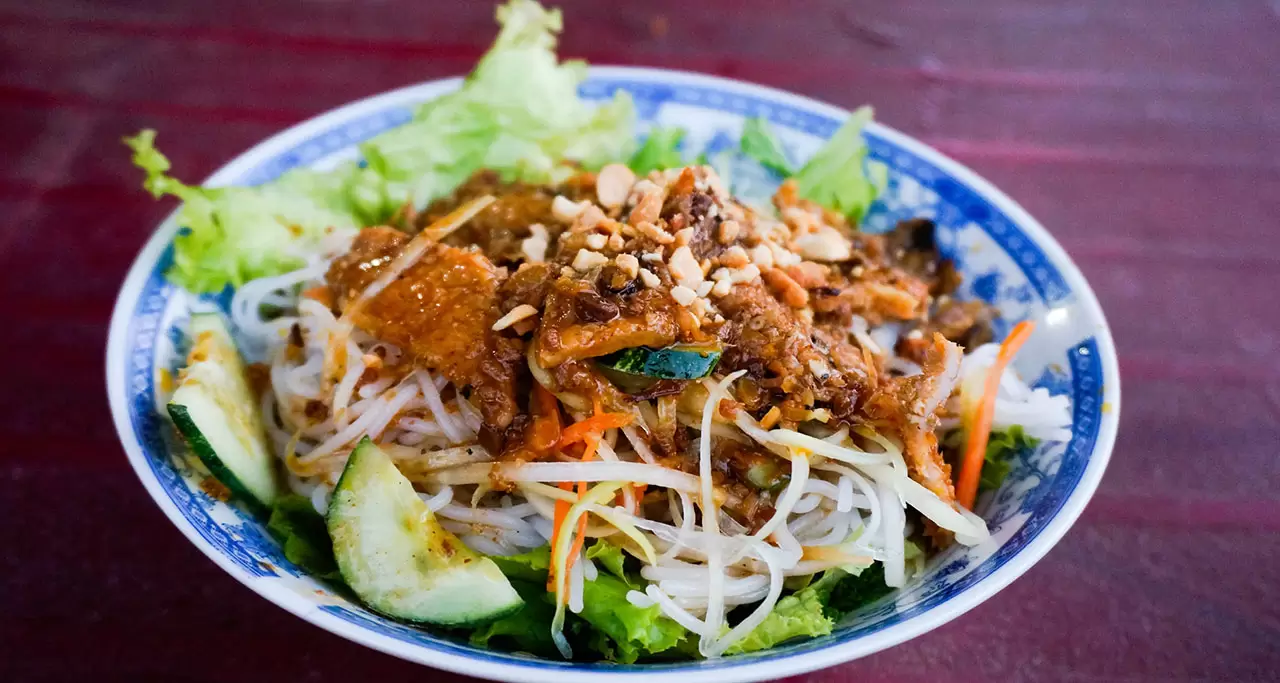 "Bun thit nuong" comprises thin vermicelli rice noodles, freshly chopped lettuce, sliced cucumber, bean sprouts, pickled daikon, basil, chopped peanuts, and mint, topped with grilled pork shoulder. You can also opt for "bun thit nuong cha gio", which comes with crunchy slices of "cha gio" (deep-fried eggrolls). As with most Vietnamese dishes, you also get a side of fish sauce to mix into the "bun thit nuong" for a flavorful ensemble.
4.4. "Banh xeo" (Vietnamese pancake)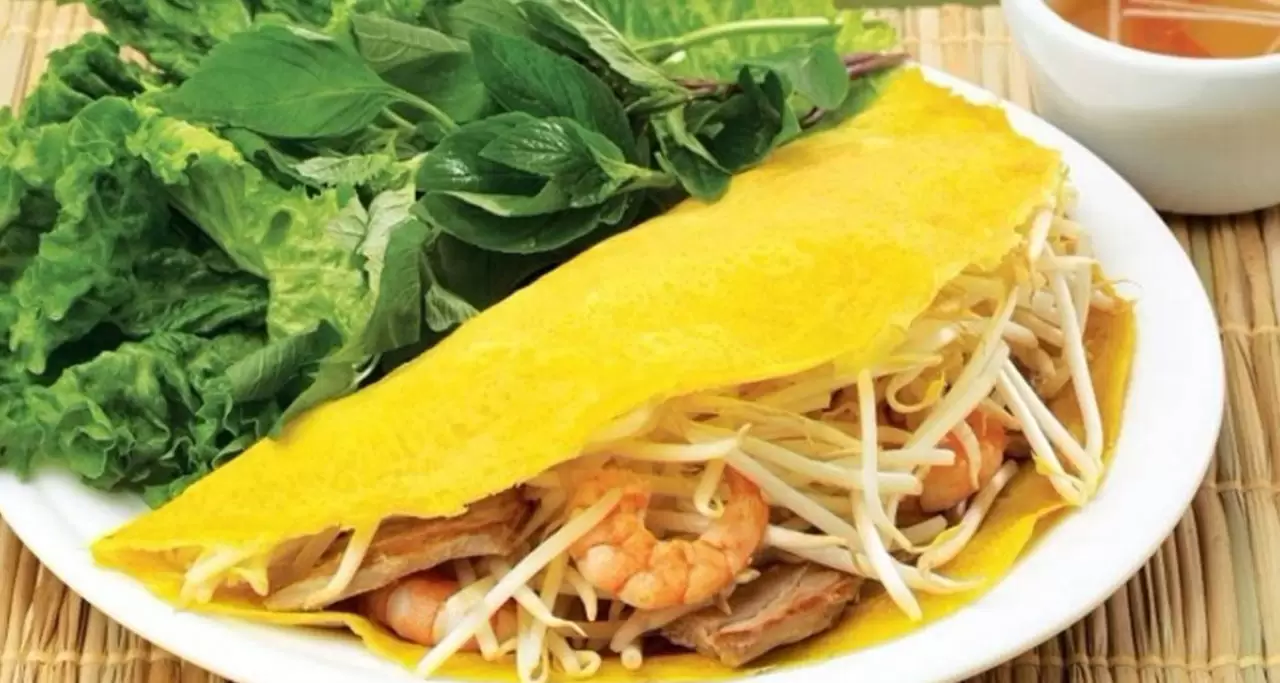 "Banh xeo" is a very popular food in Danang. It is made from rice flour, water, turmeric powder, stuffed with slivers of fatty pork, shrimp, diced green onion, and bean sprouts. In Danang, it is often wrapped in fresh rice paper with a sausage (nem lui) and then dipped in special sauce. It's great food for a cool or rainy afternoon.
4.5. "Banh canh" (Cake soup)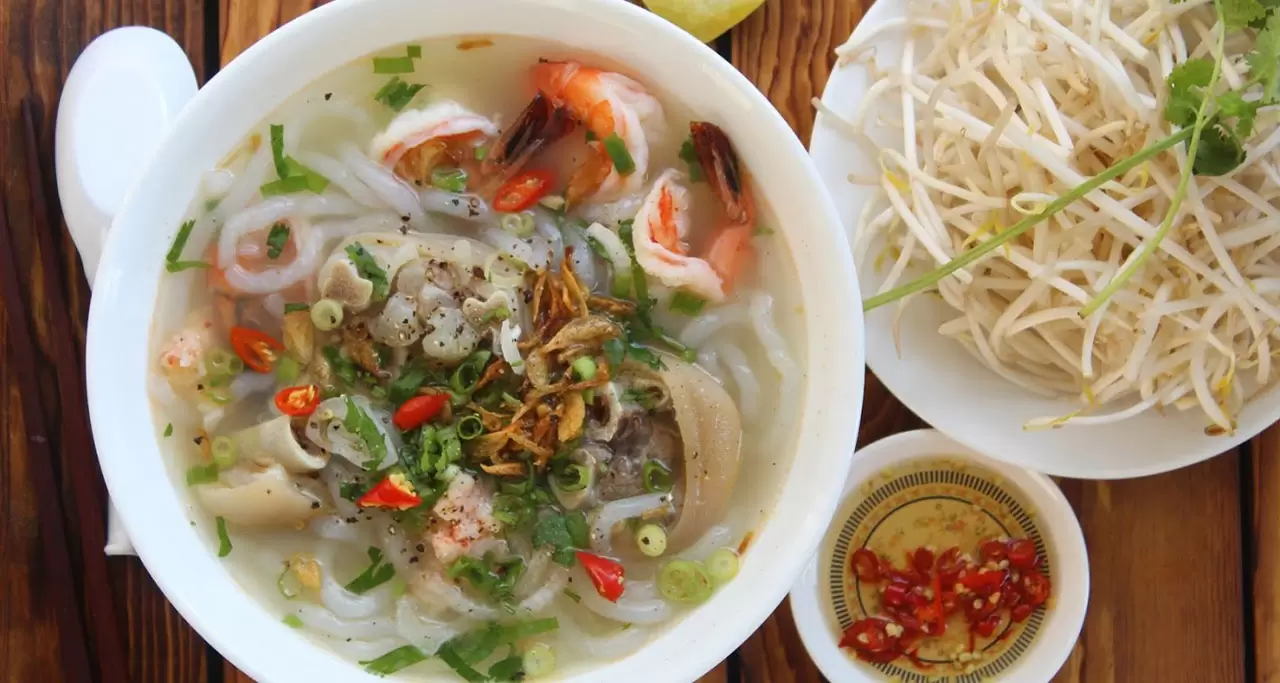 This is exactly the food that will warm your heart and soul! Cake soup can be made from both rice flour and wheat flour, but more commonly it's made with cassava flour. The cake is as long as a chopstick and super chewy. An interesting fact is that the cake isn't boiled until guests come in and order the food to prevent the unwanted fast expansion of its texture. The broth is made from fresh shrimp, fish, and pork bones. It goes best with boneless fish, fish balls, shrimp, and pork pie. And honestly, it tastes just as good, if not better, than it sounds!
4.5. Seafood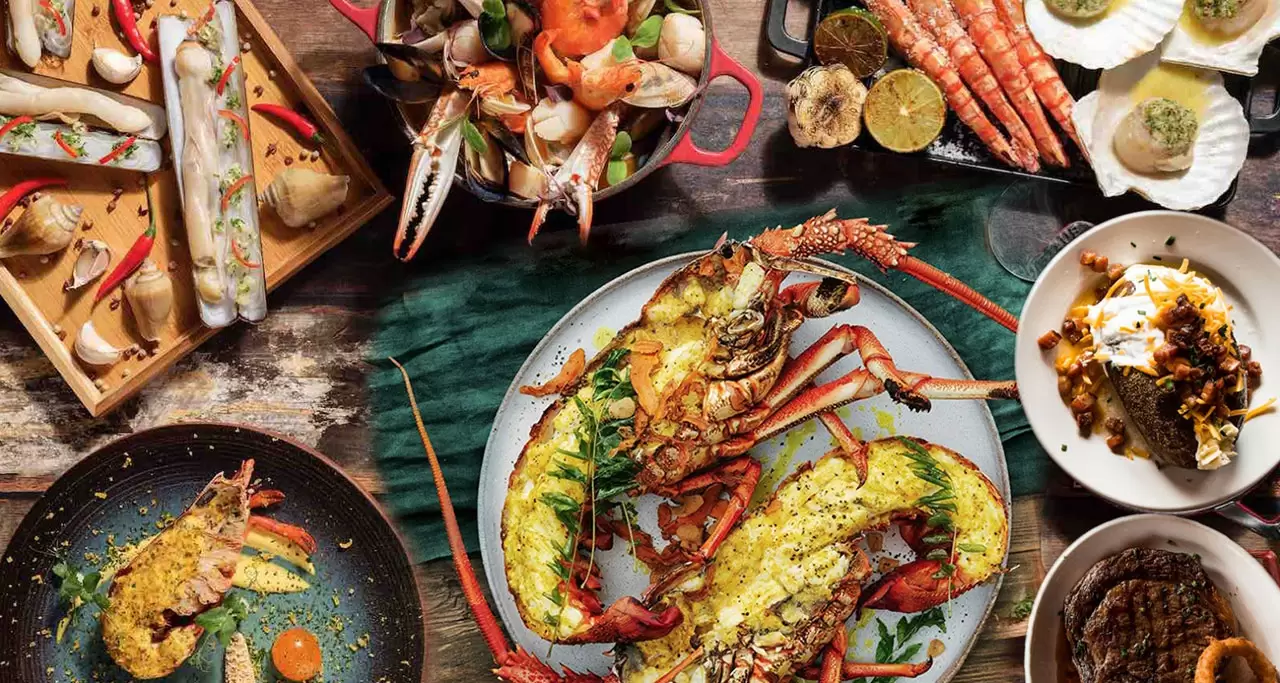 Da Nang is situated right on the coast of the South Vietnam Sea, which means seafood features majorly in Vietnamese cuisine. Traveling to Danang allows you to sample the most mouth-watering fresh seafood such as grilled mussels with a tasty sauce and peanuts, steamed clams, baby squid fried in fish sauce, prawn and scallion in sweet and tangy sauce, grilling spicy prawns, fried battered fish, crab in a tangy brown sauce and other billion kinds of tasty seafood dishes.
Read more: Things to do in Danang
5. Accommodation in Danang
Danang has countless resorts and hotels from budget to luxury options, which is suitable for any travelers.
5.1. Resorts in Danang
5.1.1. InterContinental Danang Sun Peninsula Resort (Luxury)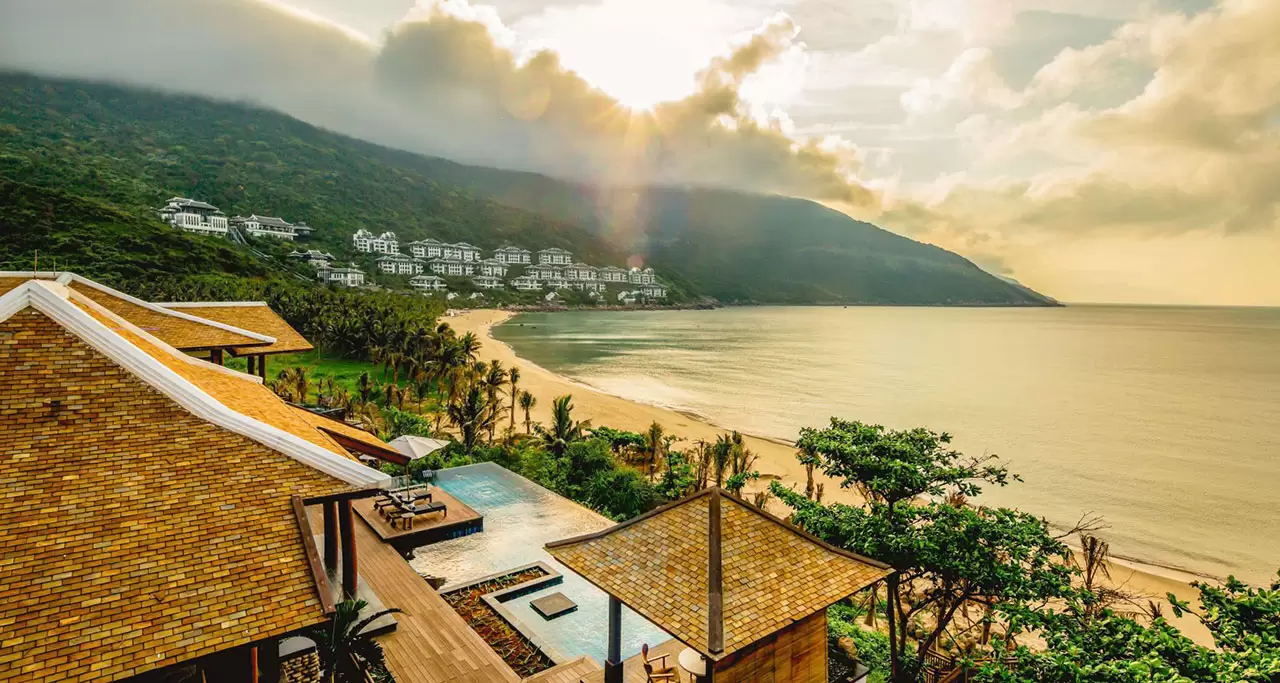 It is a luxury five-star beach resort nestled in the heart of Son Tra Peninsula in Danang city. Designed by famed architect Bill Bensley, the whimsical retreat with 201 rooms, suites, and villas, is spread out over four levels which are meant to represent Heaven, Sky, Earth, and Sea. Just 30-minutes drive from Danang city, the award-winning resort is the perfect setting to slip away into a jungle and beach oasis, while being immersed in the myth and beauty of Vietnam.
Address: Bai Bac beach, Son Tra District, Danang.
5.1.2. Pullman Danang Beach Resort (Luxury)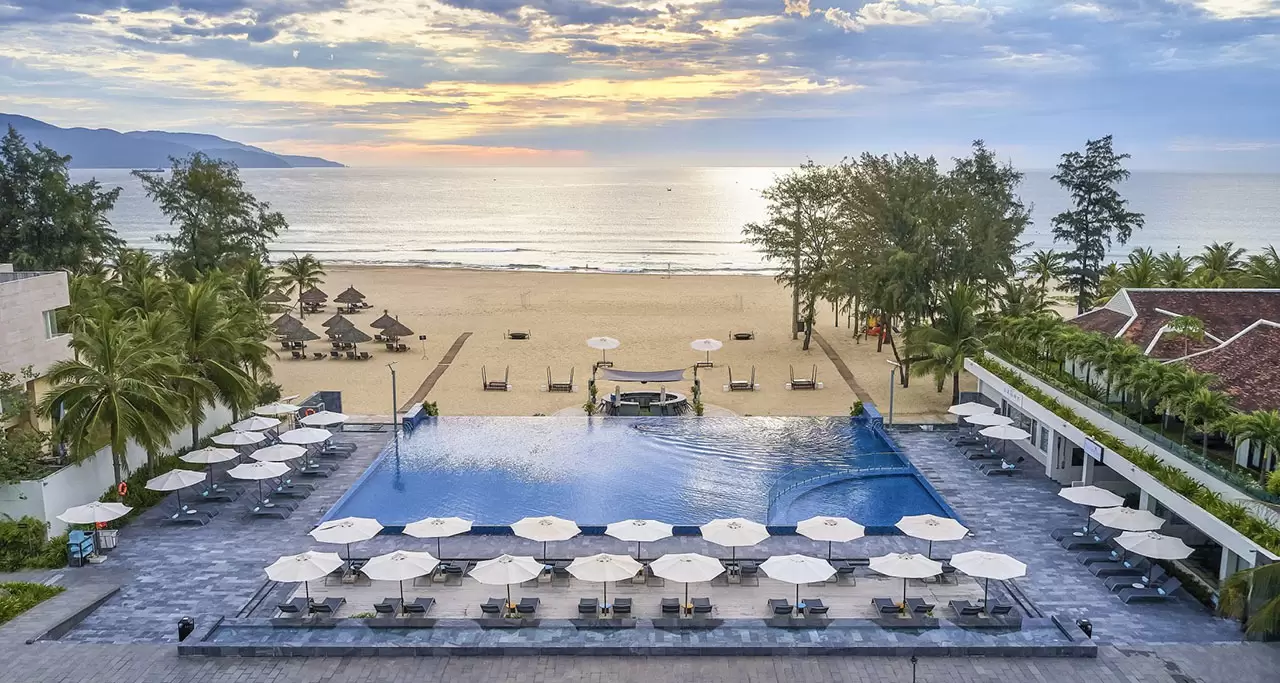 On the stunning white sands of Bac My An Beach, Pullman Danang Beach Resort is a vibrant oasis of activity and relaxation. Extensive events facilities, combined with Pullman's unique business services, make this resort the ideal choice for your next incentive getaway. When romance is in the air, the Grand Ballroom and private beach are fairytale venues for banquets and receptions. Destination weddings don't get any better than this.
Address: 101 Vo Nguyen Giap Street, Khue My Ward, Ngu Hanh Son District, Danang.
5.1.3. Naman Retreat (Luxury)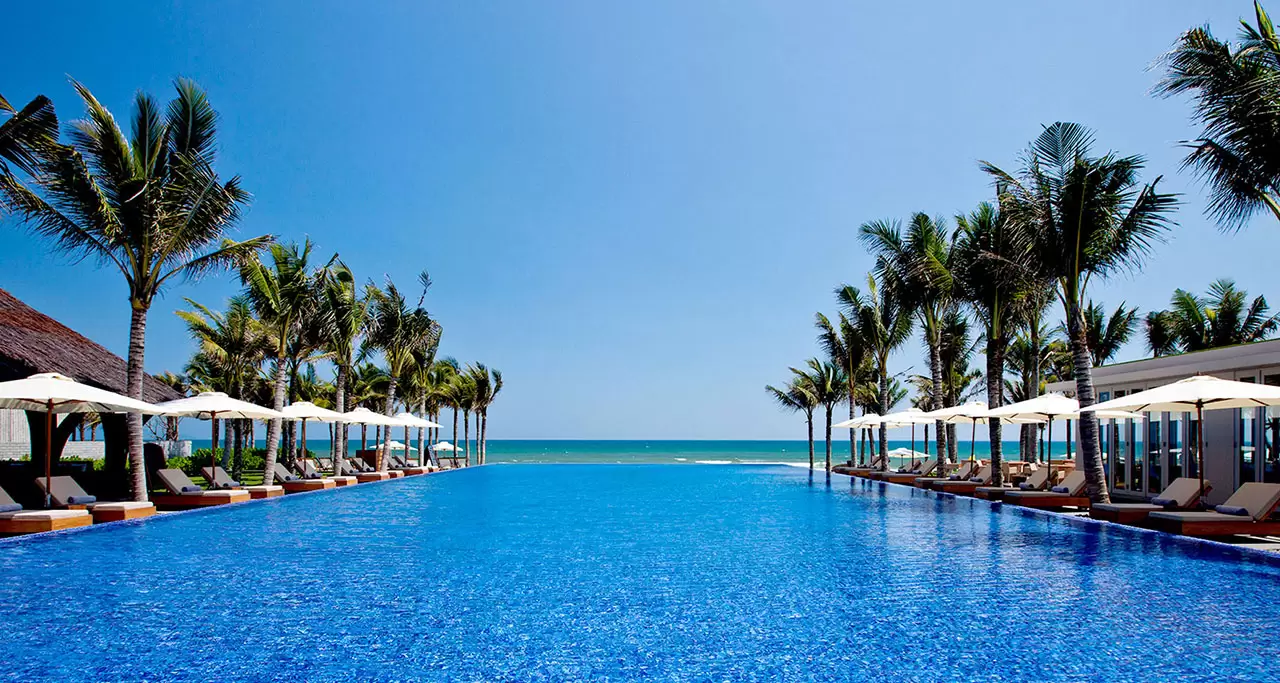 Naman Retreat seamlessly blends timeless Vietnamese heritage and culture with luxurious modern charm. Impressive traditional bamboo architecture and exquisite interiors, combined with our authentic Vietnamese hospitality assures you a wonderful retreat experience. This resort is the perfect getaway for those who crave something bold, unique, and desire to awaken your senses. Naman Retreat blurs the lines between resort and spa, offering marvelous living spaces and countless opportunities to calm your mind, heal your body, and renew your soul.
Address: Truong Sa Road, Ngu Hanh Son District, Danang.
5.1.4. Meliá Danang Beach Resort (5 star)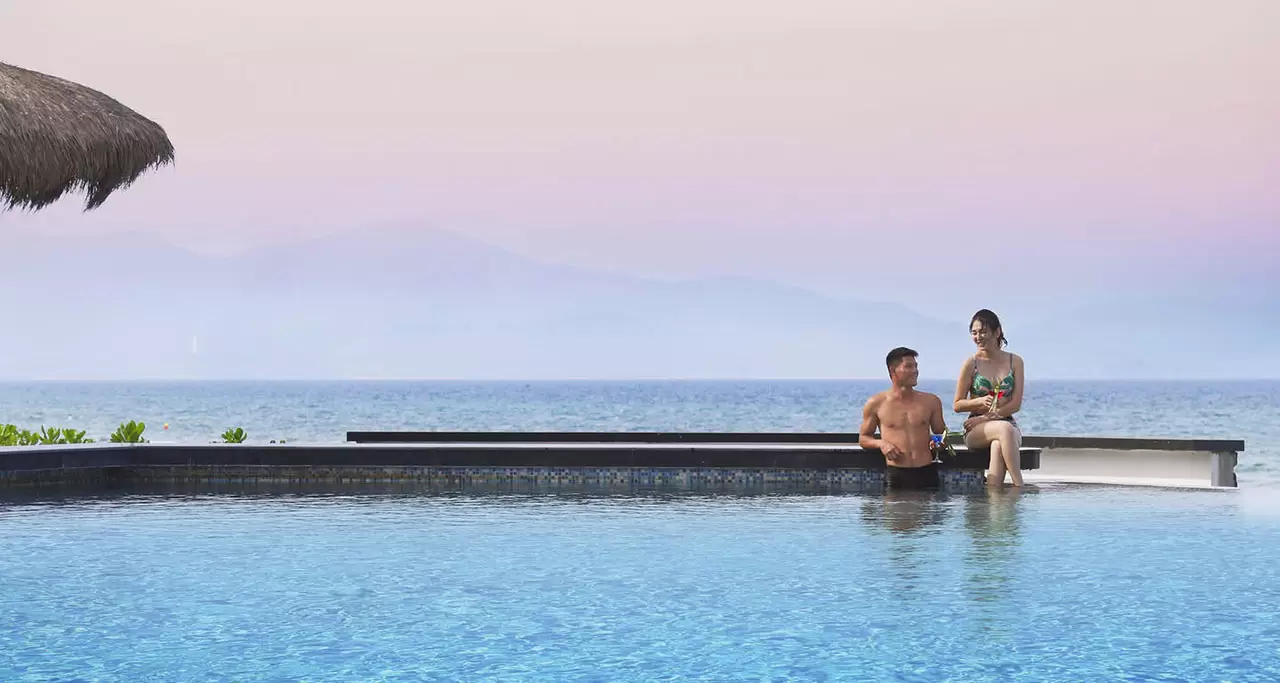 This hotel is also conveniently close to the airport (less than 10km) and is walking distance from many restaurants and bars. With direct access to a private stretch of Non Nuoc beach, among the top ten in Asia, it's the dream of anyone looking for a serene place to relax while looking out at the sea and listening to the gently lapping waves.
Address: 19 Truong Sa street, Hoa Hai Ward, Ngu Hanh Son district, Danang city.
5.1.5. Fusion Maia Danang (5 star)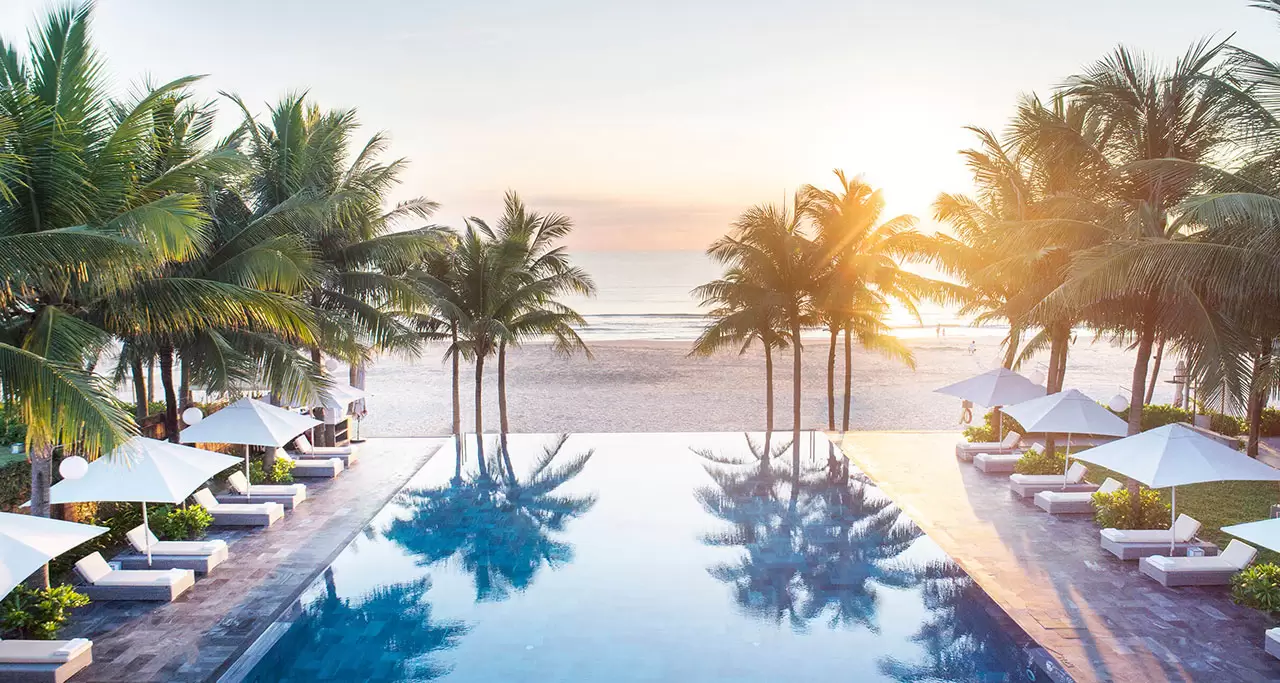 This resort offers a stunning beachfront location and a range of elegant private pool villas, plus Fusion's unique "all-spa inclusive" and "breakfast anywhere, anytime" services. Blending healthy living with understated luxury, Fusion Maia Da Nang is more than a resort – it's a way of life. It is ideal for couples, honeymooners, solo travelers, or families, the art of relaxation is available to all.
Address: Vo Nguyen Giap Street, Khue My Ward, Ngu Hanh Son District, Da Nang City.
5.2. Hotels
5.2.1. Four Points by Sheraton Danang (5 star)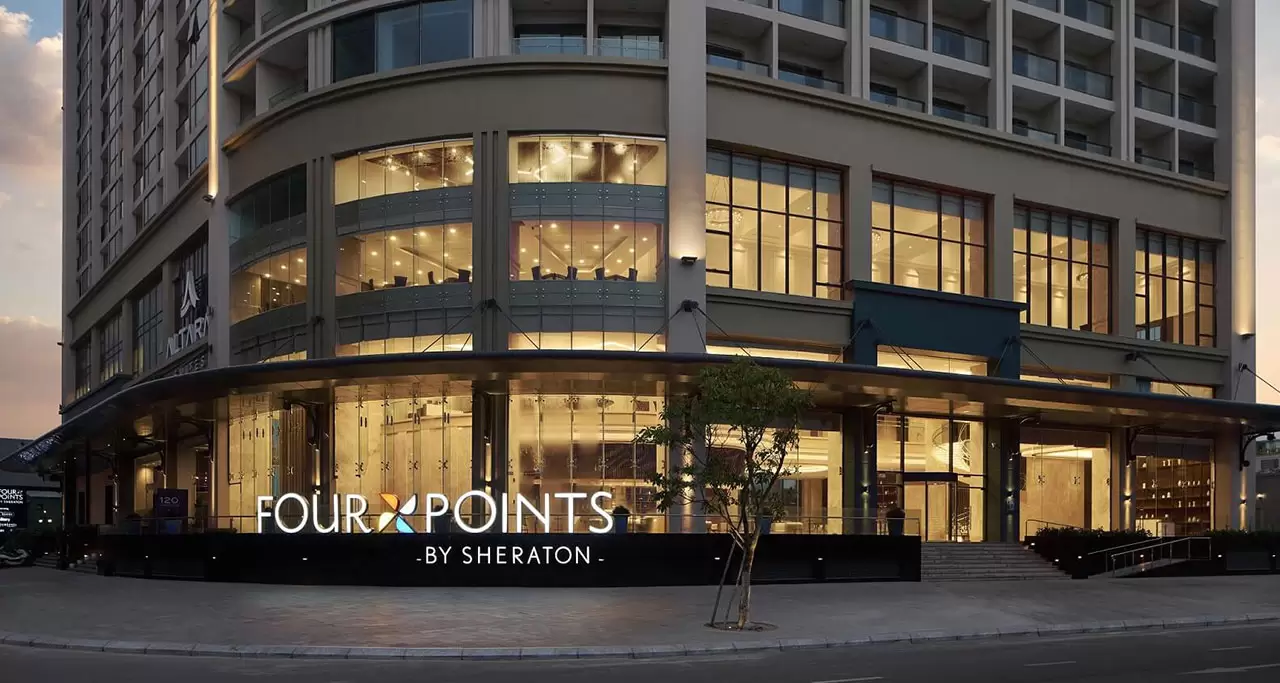 Enjoy a luxury getaway at Four Points by Sheraton Danang, a resort-style hotel nestled along the Da Nang coastline. Here, amid stunning panoramic views of the pristine beach and vibrant Da Nang City, you will experience a brilliant blend of upscale charm and gracious service. Showcasing 390 rooms set over 36 floors, our accommodations are exquisitely designed to promote relaxation and productivity.
Address: 118 – 120 Vo Nguyen Giap street, Phuoc My Ward, Son Tra District, Danang.
5.2.2. À La Carte Danang Beach (4 star)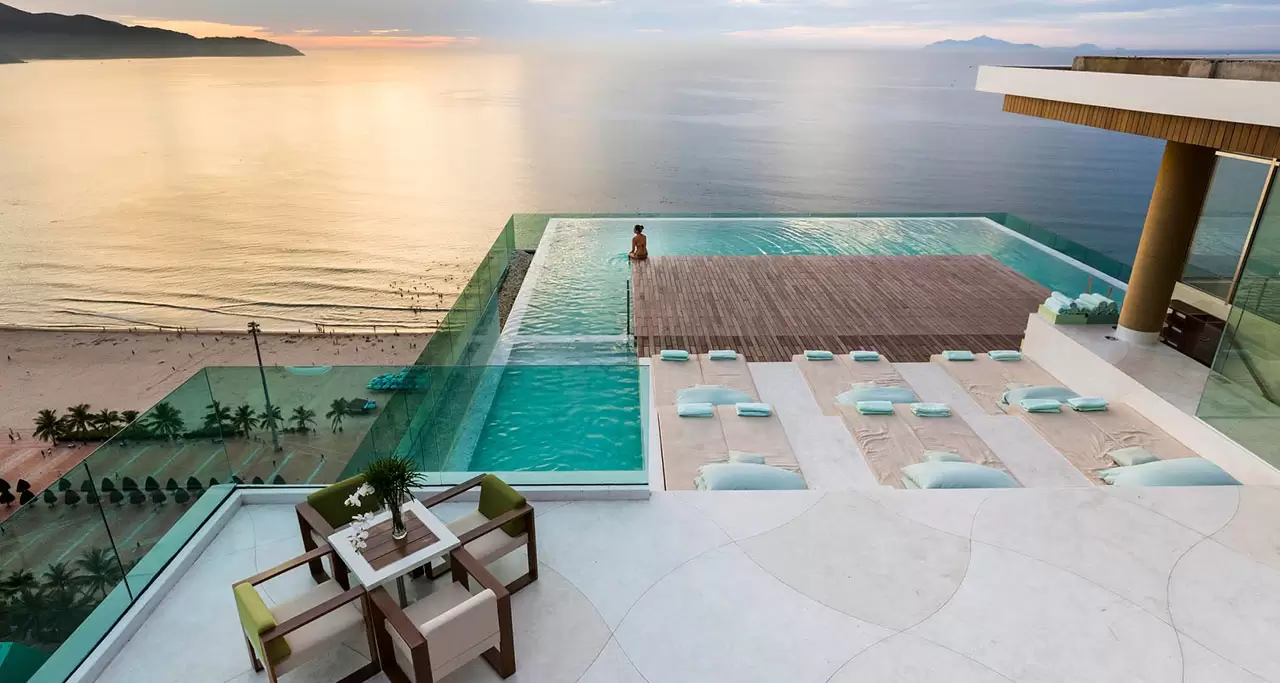 With a fresh modern design and a surprising concept, À La Carte Da Nang Beach is comprised of vibrant and spacious sea-view suites at amazing prices with a creative à la carte add-on concept, and fun casual service. All the spacious suites and apartments, featuring studios, one or two bedroom options, are designed with the latest modern conveniences and number of intelligent configurations to suit your needs.
Address: 200 Vo Nguyen Giap street, Son Tra District, Da Nang City.
5.2.3. Nalod Danang Hotel (4 star)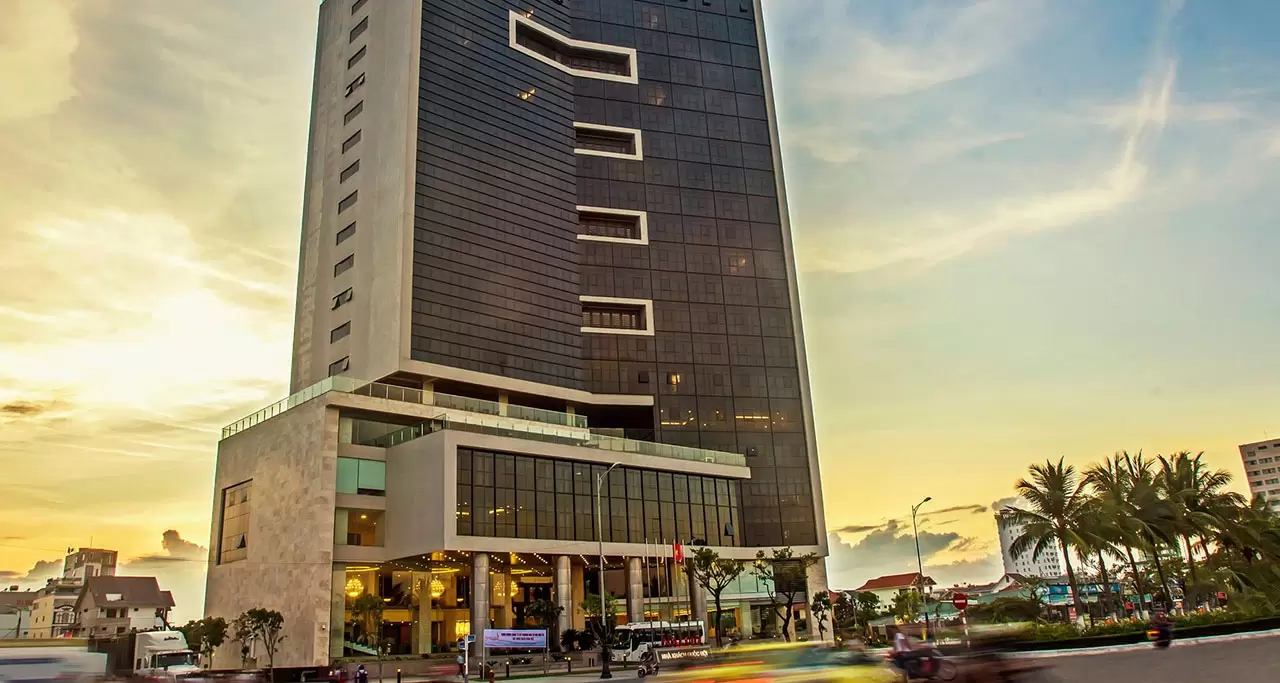 The hotel is located opposite My Khe beach, one of the most beautiful beaches in the world, only takes 5 minutes to go to the city center, 10 minutes to reach the Danang International Airport. This is a perfect choice for all businessmen and tourists when coming to Da Nang city.
Address: 192 Vo Nguyen Giap street, Son Tra District, Da Nang City.
5.2.4. Maximilan Danang Beach Hotel (4 star)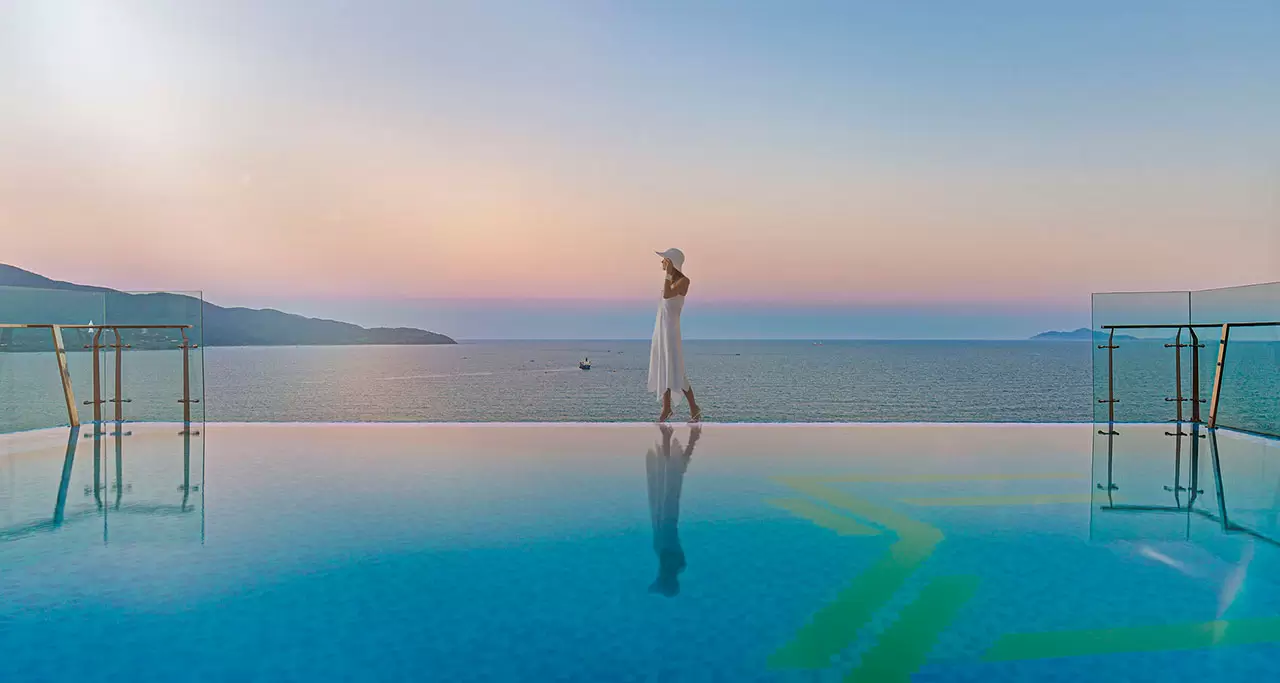 The hotel is ideally located directly at the beautiful beach. Combining antique architecture and elegantly modern design, this 22-storey hotel offers luxurious accommodations, world class facilities and a wide range of services at 5-star international standards, for both leisure and business.
Address: 222 Vo Nguyen Giap Street, Phuoc My Ward, Son Tra District, Danang City.
5.2.5. De L'amour Hotel (3 star)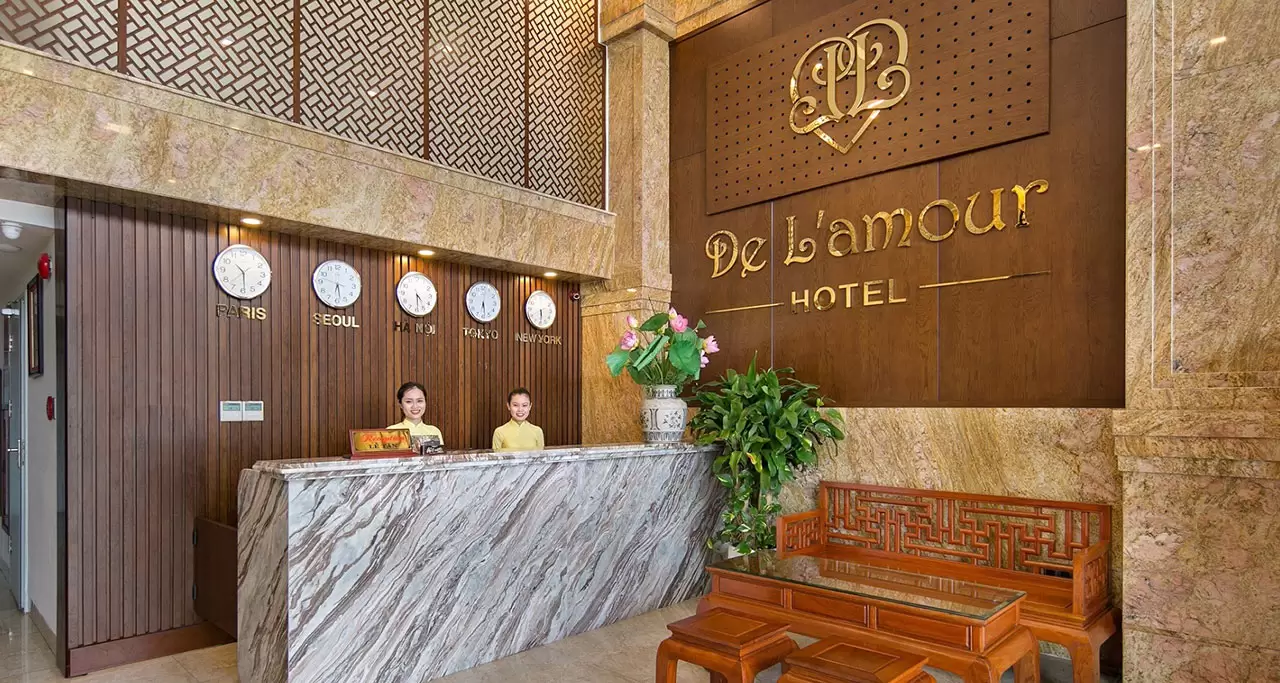 It is one of the three-star international hotels and facilities, located on the main road leading to the sea. With 52 rooms, De L'amour is a great combination of modern architecture and luxury equipment, meeting the needs of customers from relaxing, fresh air in the sea or to visit in Da Nang city.
Address: 46 Vo Nguyen Giap street, Son Tra District, Da Nang city.
5.2.6. Adaline Hotel & Suite (3 star)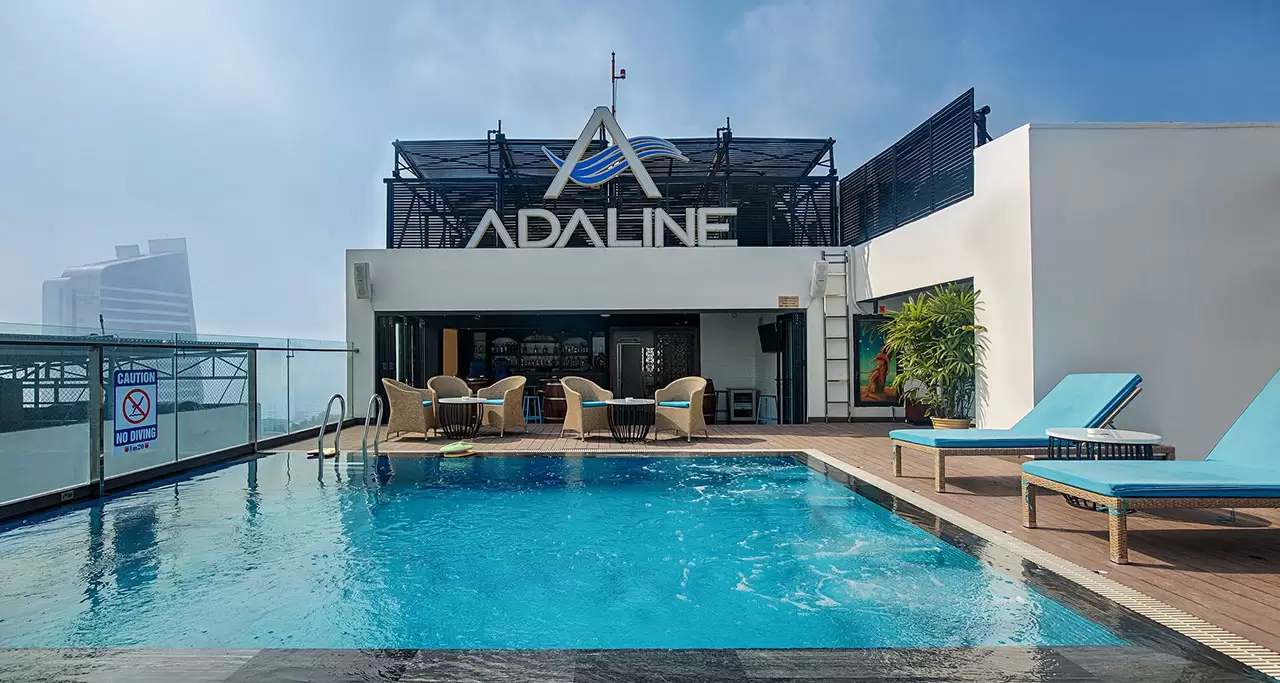 Located on Vo Van Kiet Street, the main beach road of Da Nang city, Adaline Hotel & Suites includes 64 rooms, and is just 300m far from the sea, 10 minutes to Danang airport, 20 minutes to get to Son Tra mountain- the green capital of the city, and 30 minutes to Hoi An Ancient Town.
Address: 45-47 Vo Van Kiet street, Son Tra District, Da Nang City.