Best Nightlife in Can Tho City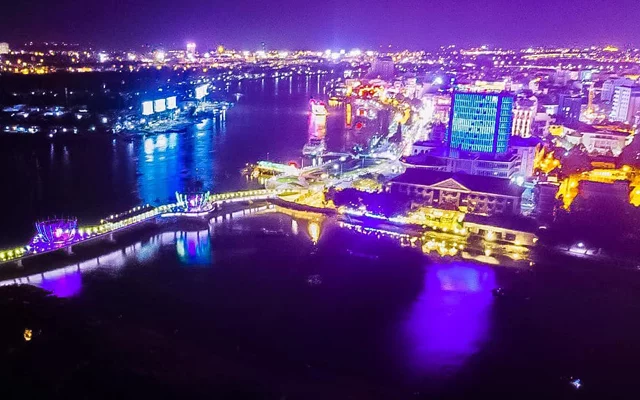 Can Tho City is the capital of Mekong Delta, knowing for its typical attractions of floating markets, rice paper making villages, picturesque rural canals, productive orchards and friendly people. After the sunset, there is another Can Tho of the night that exciting and colorful offers a lot of choice for travelers to enjoy. Here are some recommended activities for those who are looking for a night out in this beautiful city.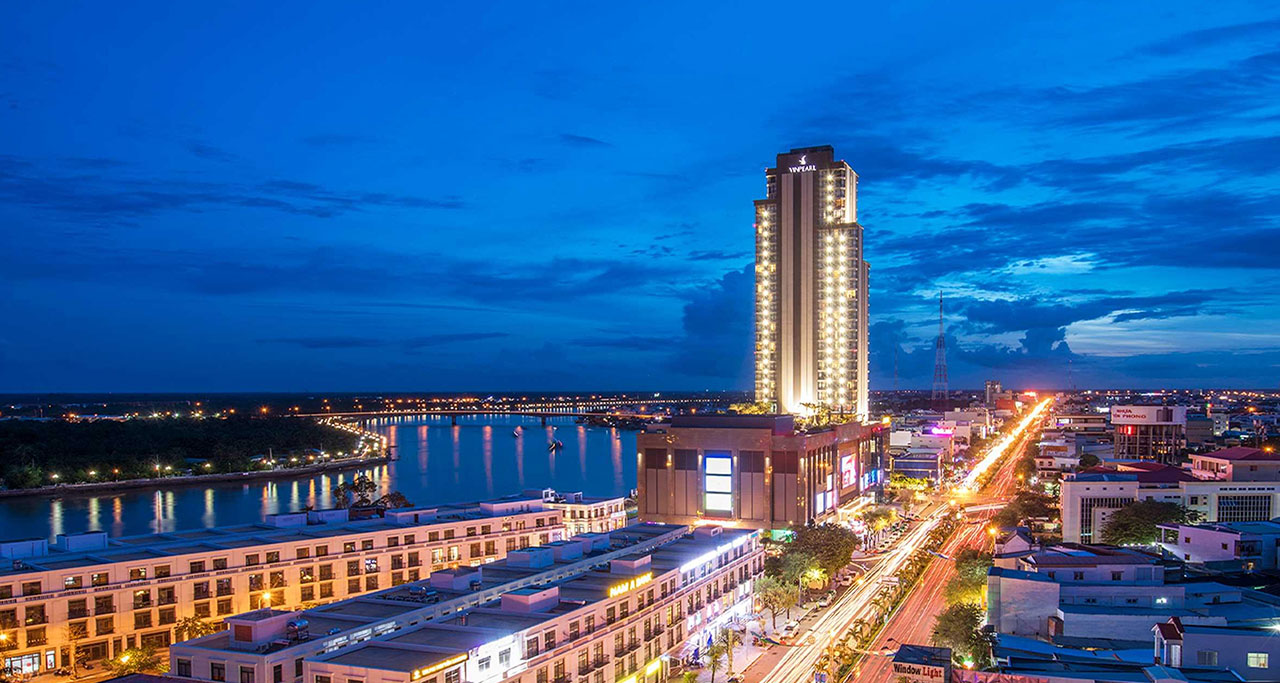 Can Tho Nightlife: Things To Do In Can Tho City
1. Can Tho Bridge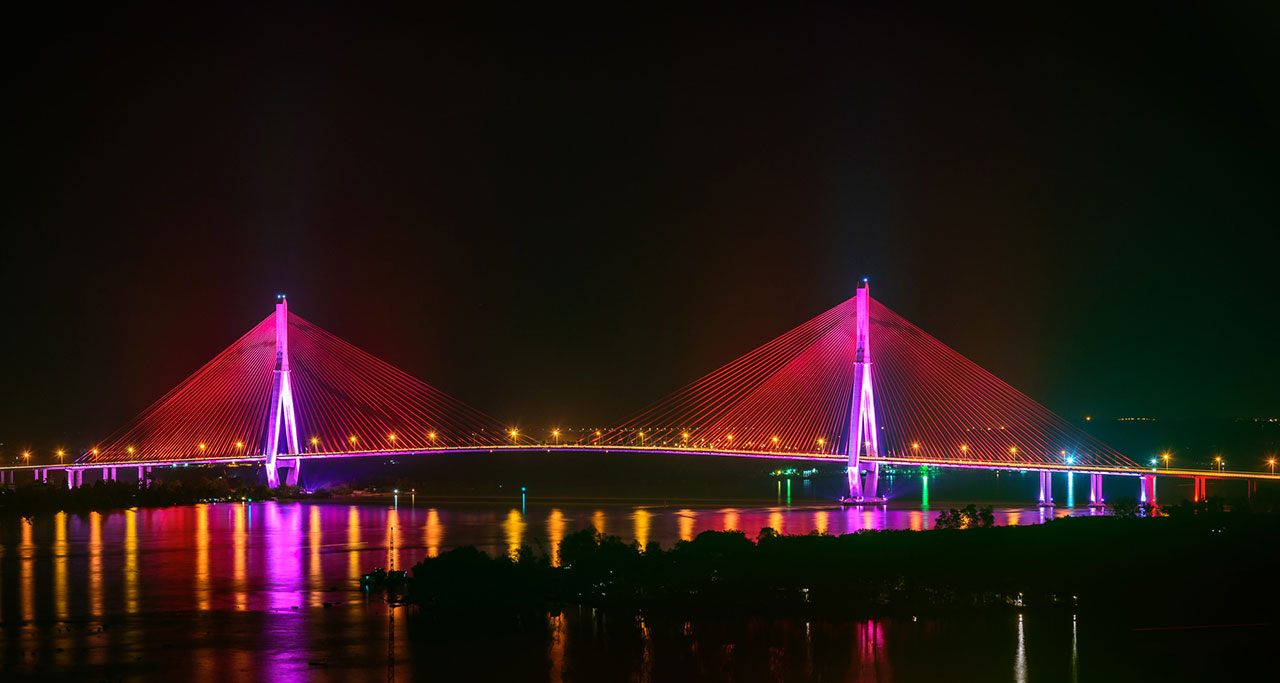 Can Tho Bridge is a bridge spanning the Hau River, connecting Can Tho City and Vinh Long Province. At the time of completion in 2010, this is the longest main span cable-stayed bridge in Southeast Asia. With 216 strands of cables, looking down from above, the bridge looks like a girl's long hair falls down the Hau River.
In the evening, Can Tho Bridge lights up in the middle of the night. Taking a drive along the bridge to feel every cool breeze and watching Can Tho City shimmering at night can make peaceful in mind after a long day.
2. Ninh Kieu Pedestrian Bridge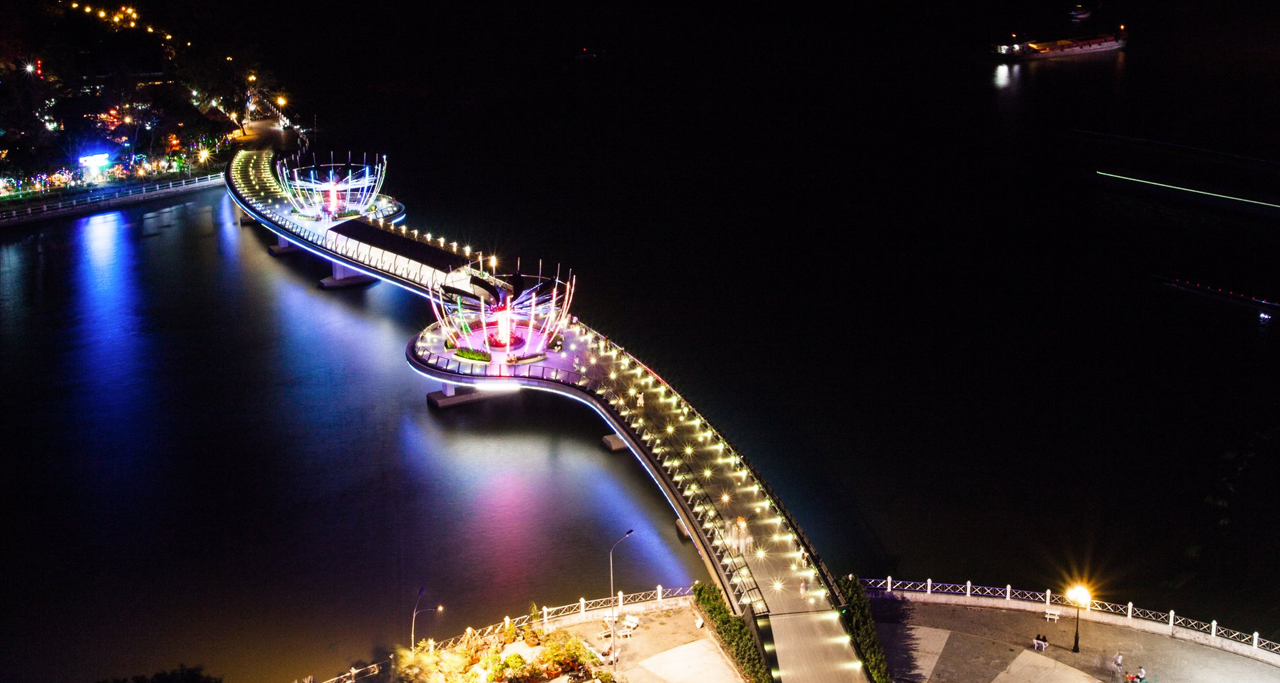 Ninh Kieu pedestrian bridge, also known as Love Bridge by locals, crossing Khai Luong canal, connects Ninh Kieu Ben and Cai Khe islet. The bridge is made of semi-permanent reinforced concrete, nearly 200 meters long, 7.2 meters wide. The sphere is designed in a stylized and curved S-shape representing the country. At the two sections of the extension bridge are arranged two lotus stations. The bridge is equipped with a color led system that is controlled according to different scenarios to create a lively and modern beauty. Outside the railing on the bridge wall is a system of green trees, flower beds creating more impressive beauty for this bridge.
Pedestrian bridge is a favorite destination of locals as well as tourists. People come for walks, sightseeing, taking pictures and check-in or watching many unique cultural events of the city held right here.
3. Ninh Kieu Wharf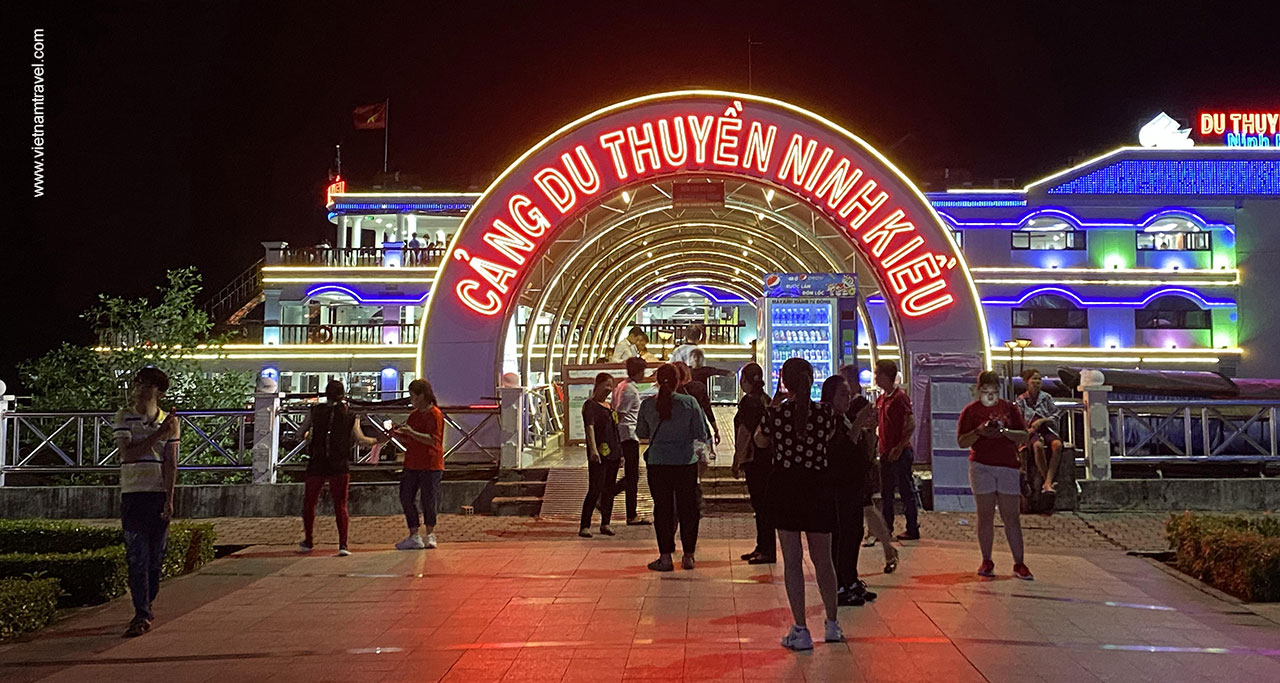 Located between the confluence of Hau River and Can Tho River, Ninh Kieu Wharf in Tan An Ward, Ninh Kieu District. This place was originally a river wharf at the beginning of Can Tho market. In 1876, the French occupied Can Tho, then the river wharf was built with bricks and stones along the bank to prevent waves and became a pier of the province's mainland – a busy place for trade. The beauty of Ninh Kieu Wharf has gone much into poetry. Today, Ninh Kieu Wharf is also invested to become a tourist park with an area of ​​7,000m², attracting a large number of locals and visitors to admire, walk, enjoy.
4. Go Shopping At Night Markets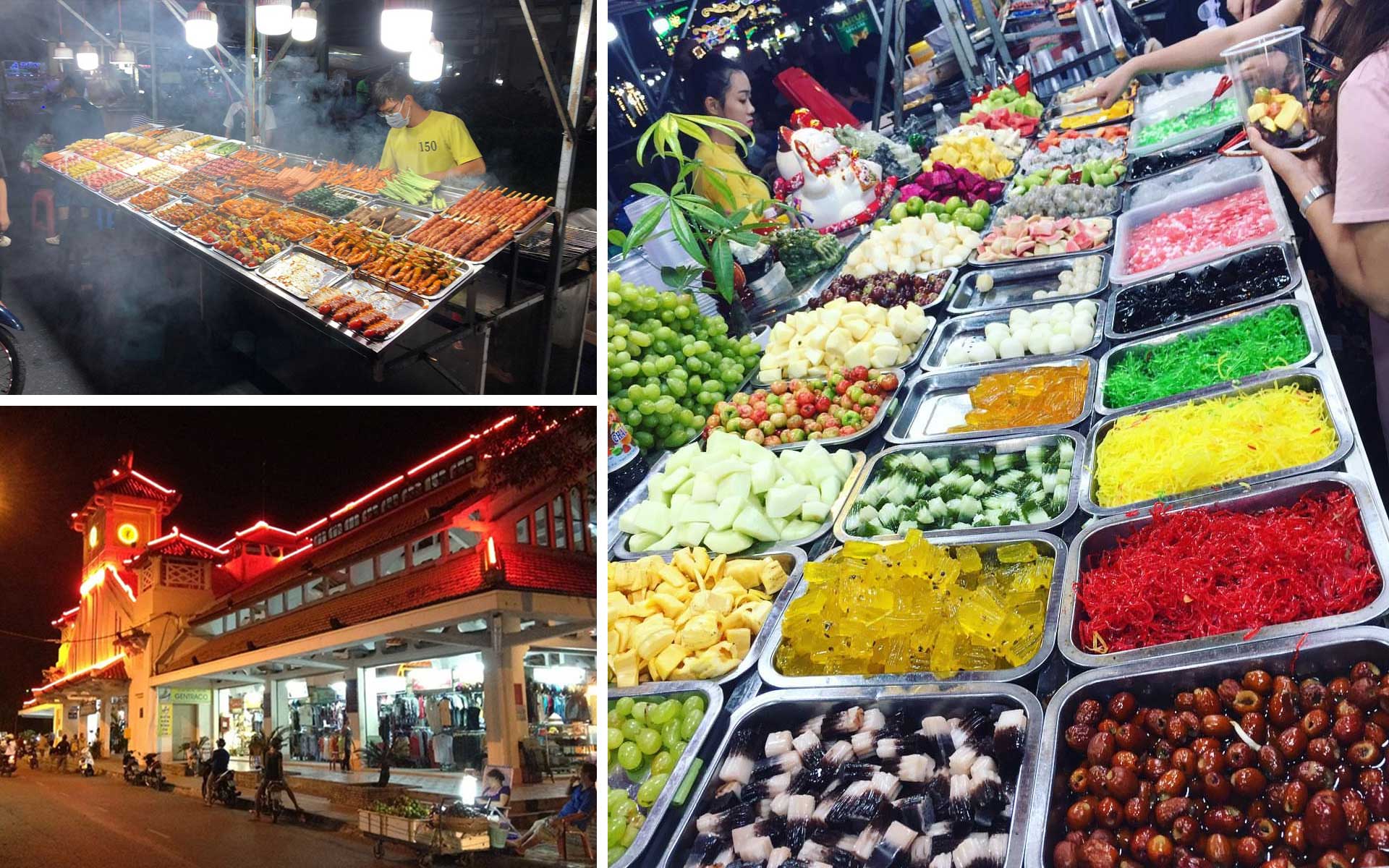 One of interesting nightlife activities in Can Tho is to go shopping at night markets. In close proximity with Ninh Kieu Wharf and pedestrian bridge, visitors can join with the locals to wander around one of nearby bustling night markets such as Tay Do and Ninh Kieu. Especially, Tay Do or Can Tho is an ancient market which is over a hundred years old. This market is considered as the most beautiful architecture in the Mekong Delta. Another night market for your choice is Tran Phu where sells a lot of fresh seafood, fruits and delicious dishes. Therefore, coming to night markets not only for fascinating atmosphere with all kinds of products and local food but for an impressive architecture and admiring the cultural beauty of the locals as well.
Read more: https://vietnamtravel.com/night-markets-in-can-tho/
5. Have A Drink By The Wharf

Let's spend a couple of hours to sit back, relax and enjoy fresh fruit smoothies or a traditional Vietnamese coffee or tea while watching the hustle and bustle of Ninh Kieu Wharf in front of you. Here are some for your choices.
Song Tho Cuisine – Cafe on the tree
Add: Song Hau Park, Cai Khe Ward, Ninh Kieu District, Can Tho City.
It is a destination that attracts a lot of visitors to have fun, enjoy food, drinks and watch the Hau River from the top of the old trees.
Café Lotus
Add: 2 Hai Ba Trung Street, Tan An Ward, Ninh Kieu District, Can Tho City.
Located next to Ninh Kieu Pedestrian Bridge – Lotus Coffee has an open space. Coming here in the evening, visitors can enjoy drinking while watching the illuminated pedestrian bridge and enjoy the cool breeze.
Cafe Kim Tho hotel terrace
Add: 1 Ngo Gia Tu Street, Ninh Kieu District, Can Tho City.
Kim Tho has a view of the poetic Ninh Kieu Wharf, which is an ideal place for you to enjoy coffee while enjoying the panoramic view of the beautiful city of Can Tho.
6. Dining On Yacht Along Hau River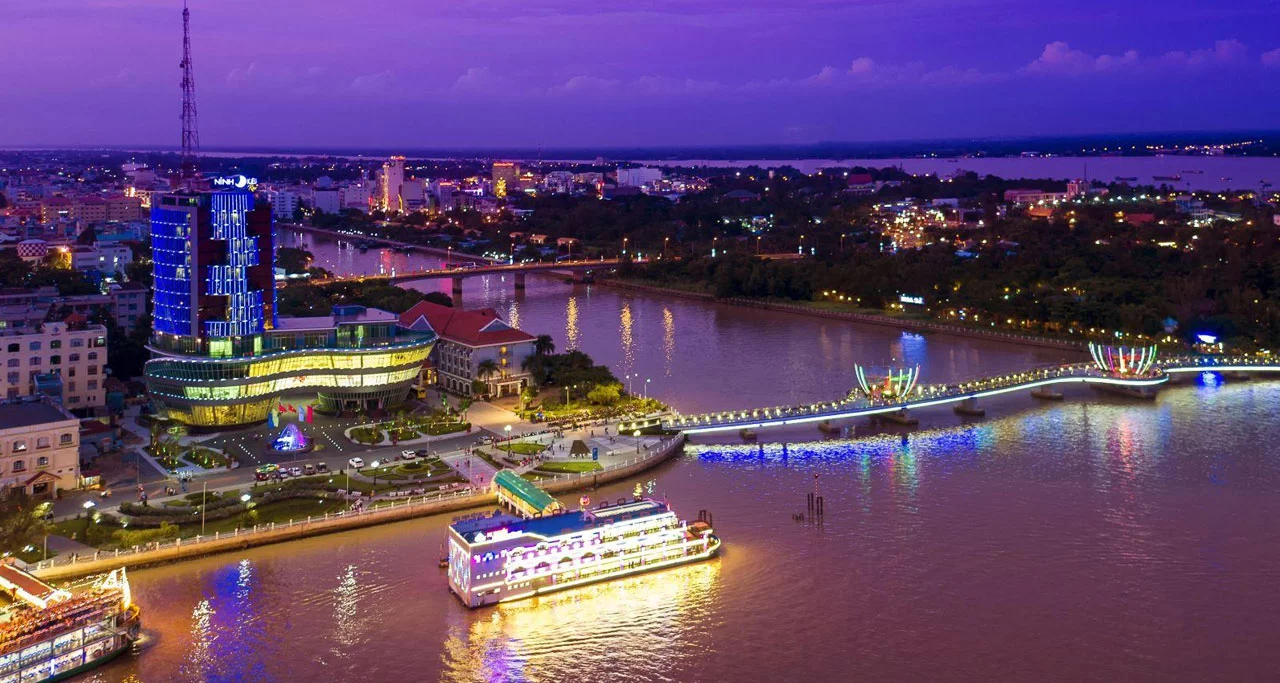 It will be a pity if you miss the dinner on a yacht along the Hau River. The Yacht departs from Ninh Kieu Wharf, taking visitors floating amid the waves, watching the gentle and poetic Hau River and the shimmering city at night in the distance. In addition, visitors can also enjoy many special music shows and performers and enjoy attractive Southern specialties in the journey.
Cruise activities on the river usually take place around 19:30 – 21:00 every day. For weekends or festivals, the yacht enhances 2 trips: 18:25 – 19:45 and 20:00 – 21:30. Free boarding pass.
7. Luu Huu Phuoc Park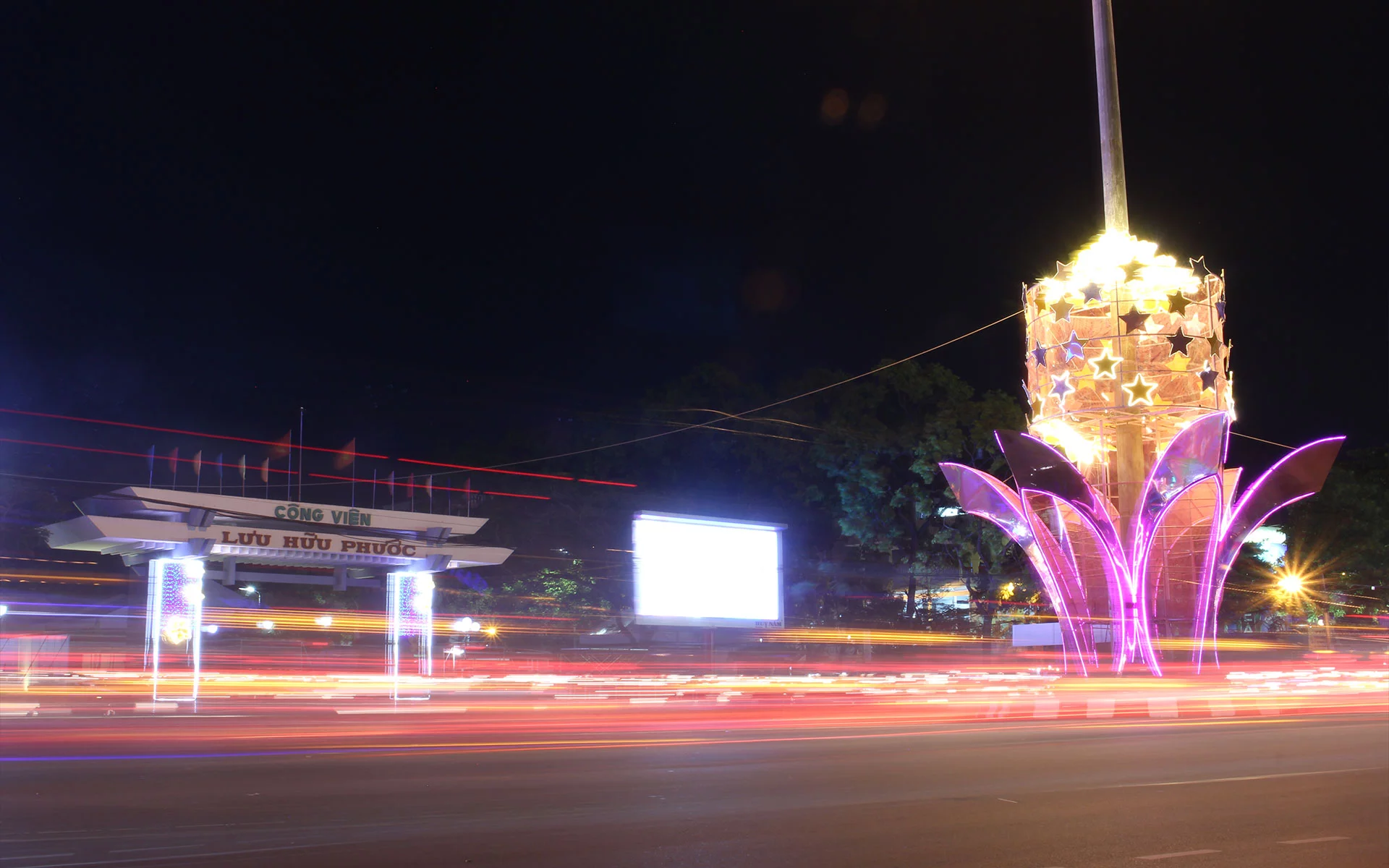 Luu Huu Phuoc Park is located at the beginning of Ly Tu Trong Street, adjacent to Hoa Binh Avenue, in An Cu Ward, Ninh Kieu District. A special feature is that the park is built in the shape of a guitar, and the park is named after the famous musician from Can Tho, Luu Huu Phuoc. This is the place where important events of the city or cultural activities taking place to celebrate the festival. In the evening, the park atmosphere is more bustling with seniors practicing nourishing, young people playing roller skates, or groups gathering to sing …
The park is clean, airy and does not allow motorbikes to enter. Visitors coming here can take a walk to enjoy the open space and admire the simple scene of the local people.
8. Xang Thoi Lake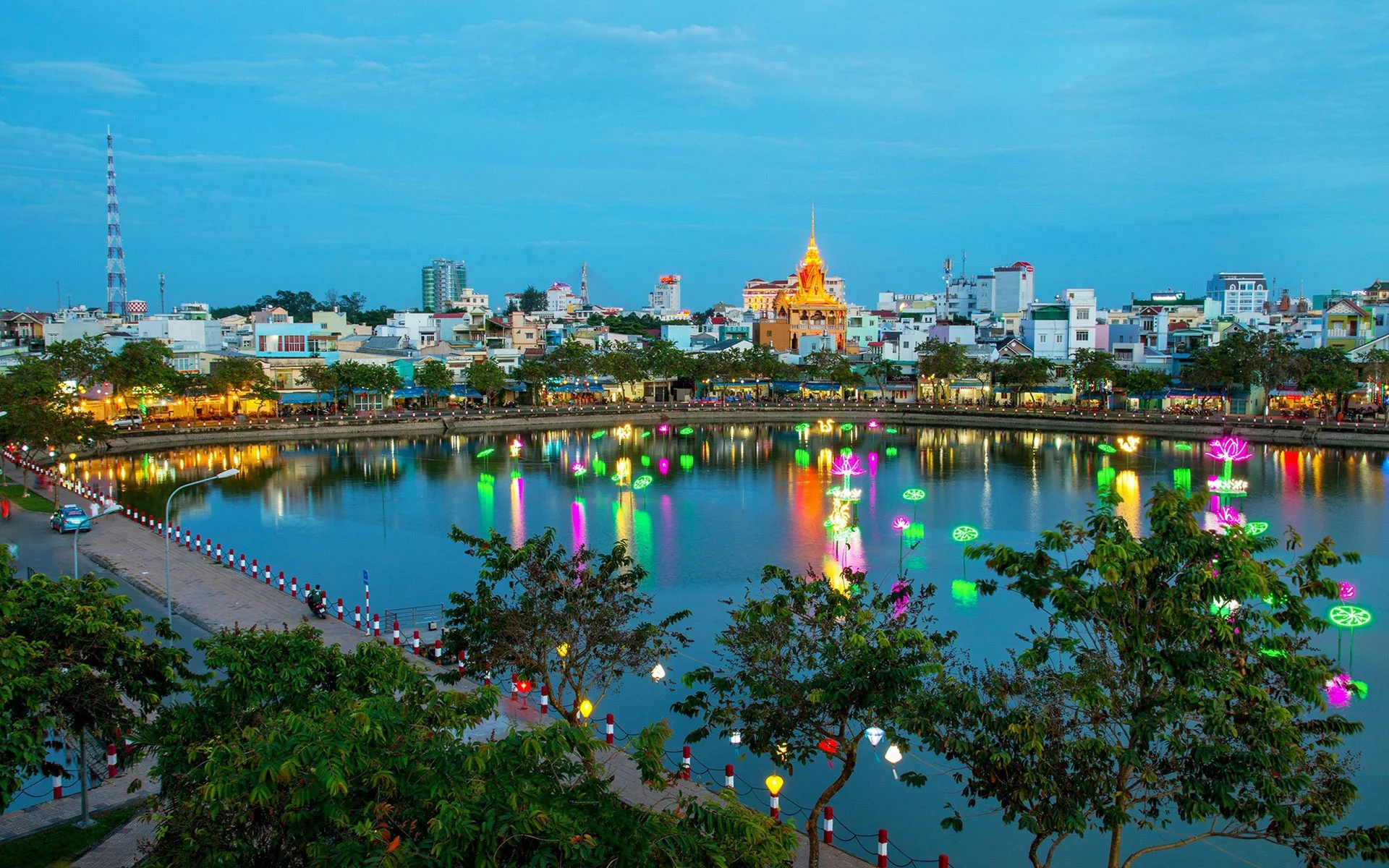 It used to be a place just to store "domestic waste" of the city. However, nowadays, Xang Thoi Lake (also known as Bo Ho) is a famous entertainment spot in Can Tho, especially in the evening. With an area of ​​6.5ha, visitors have to walk until getting tired feet to complete a round of lake. Although it is an artificial lake, the water inside the lake is still quite clean as it is changed regularly.
At this point, visitors walking by the lake will feel the fresh and pleasant air, surrounded by lights from the buildings to create a fanciful shimmering scene. Therefore, not only many tourists come to play here, but many motorists often come to "hunt" for impressive moments. When you are tired, visit a lakeside coffee shop to enjoy a cool glass of water and watch the quiet lake surface.
9. Hau River Embankment Park
Less knowing than other spots of the city such as Ninh Kieu Wharf, night markets…., Hau River embankment park is still good place to pass by at night. Located in Cai Khe, Ninh Kieu District, around 200m from Tran Phu night market, this park is spacious, airy, stretching along the Hau River. In the park, there are many green trees and small winding streets that are quite beautiful. Due to the location near the night market, visitors can buy food from the market and bring it to the park to eat.
This place also often has events such as fairs, music performances … so it attracts a lot of locals and tourists to participate, especially young people. The park is often crowded in the afternoon and evening.
10. Spend The Night Out In Bars and Pubs
Word "Party" seems not going well with a city like Can Tho because when you think of Mekong Delta, you will think about the countryside, tranquility and coconuts – not alcohol. However, due to the popularity of Can Tho City, a few bars and clubs have popped up over time. Here are the ones that have made a name for themselves.
Add: 224, 30/4 Street, Xuan Khanh Ward, Ninh Kieu District, Can Tho City.
Open till: 12.00am
Located on the rooftop of Iris Hotel, Iris Skybar offers the central location promising amazing views of Can Tho City. The menu has a great list of beer, cocktails, spirits and wines for you to choose from with affordable prices.
Add: 4th Floor, Nam Bo Hotel – 1 Ngo Quyen Street, Tan An Ward, Ninh Kieu District, Can Tho City
Open till: 10:30pm
This French restaurant on the top of Nam Bo Hotel doubles down as an upscale bar with romantic lighting and great river views as the perfect venue for a night out. You will be satisfied with a fantastic wine and drink menu. Head over here by sunset and sit at the veranda for the best views, or you can opt to dine in the wine cellar, which adds that much more romance to your night.
Add: 8th floor, TTC Hotel – Premium Can Tho – 2 Hai Ba Trung Street, Ninh Kieu District
Located on the 8th floor of the TTC Hotel – Premium Can Tho, Windy Sky Bar offers great scene of Ninh Kieu wharf on Hau river bank. You can enjoy the taste of your coffee or some other drinks in the open space of the bar while enjoying the panoramic overview of Can Tho City
Add: 14/7 Ly Tu Trong Street, Ninh Kieu District, Can Tho City
Open till: 10.00pm
Becoming popular among the young crowd who look to hang out and improve their English, Tiny Corner Café also functions as a bar and offers live acoustic music and event nights.
Add: 59-61-63-65, Pham Ngoc Thach Street, Can Tho City
Open till: 11:30pm
Located above the Holiday One Hotel, this skybar is a great place to chill on an evening with a wide range of cocktails and spirits of international standards that are also creatively adjusted with local ingredients of the season to give you an authentic taste of the Mekong. A bonus: there's a pool! Great for outdoor summer parties.
For a nightclubbing experience, XK Club, King Beer Club and V18 Club are jam-packed with young locals.
Address:
XK Club: 108B Tran Van Kheo Street, Ninh Kieu District
King Beer Club: 27 Le Loi Street, Cai Khe Ward, Ninh Kieu District
V18 Club: 18 Hai Ba Trung Street, Ninh Kieu District
11. Enjoy The Local Street Foods On Your Own
Can Tho City offer full of good food. In the evening, you should wander around and enjoy special street food which surely bring you unforgettable memories and mouthwatering, of course. There is a variety list of vegetables, fruits, and seafood that are combined nicely to create the best cuisines of the city. Among of delicious typical dishes include Cai Rang grilled rolls made out of pork served with some other vegetarian ingredients; bun ca (fish noodles), bun mam (sauce fish noodles), hu tieu (dry noodles), bun rieu (crab noodles), lau mam (fish sauce hot pot), banh xeo (Vietnamese pancakes), banh cong (small fried shrimp pancake) or even rat meat.
Some suggestions on where to eat
Braised Duck in Fermented Tofu (Vit Nau Chao)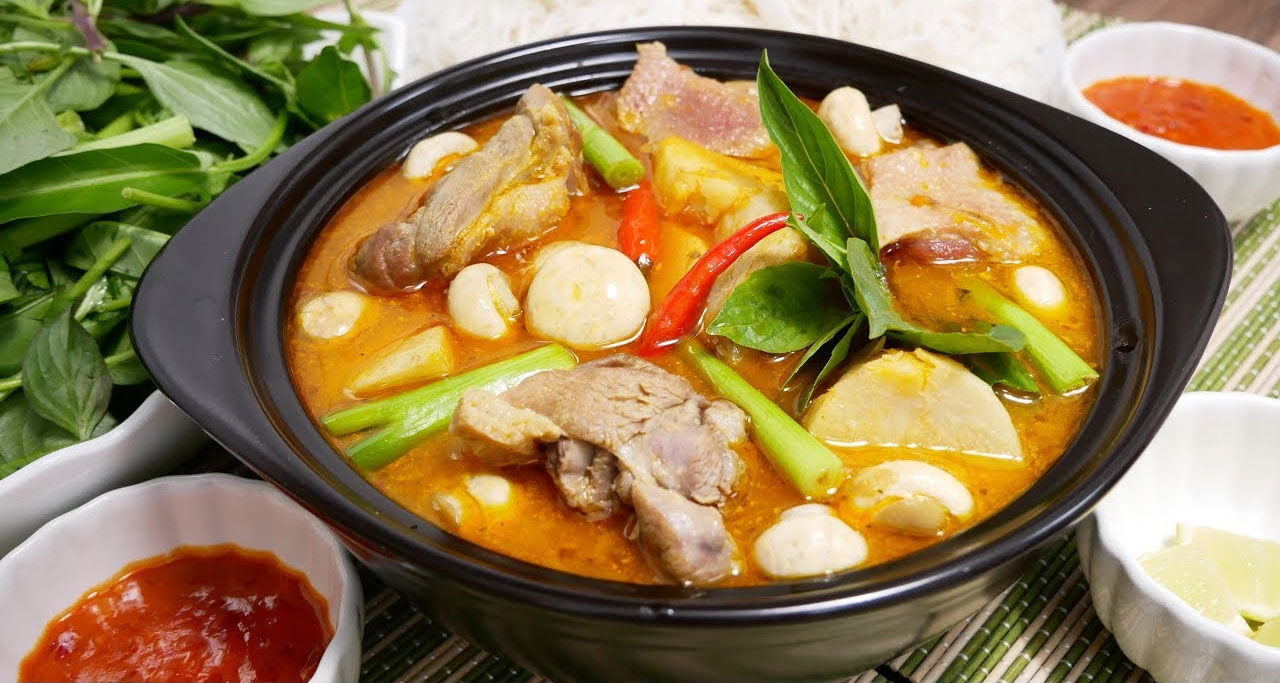 Vit Nau Chao Thanh Giao (10.00am – 11.00pm)
Add: 1/8 Ly Tu Trong Street, An Phu Ward, Ninh Kieu District
2. Vit Nau Chao Cam Tu (9.00am – 10.00pm)
Add: 1 Ly Tu Trong Street, An Phu Ward, Ninh Kieu District
Grilled rolls made out of pork served with some other vegetarian ingredients (Nem Nuong)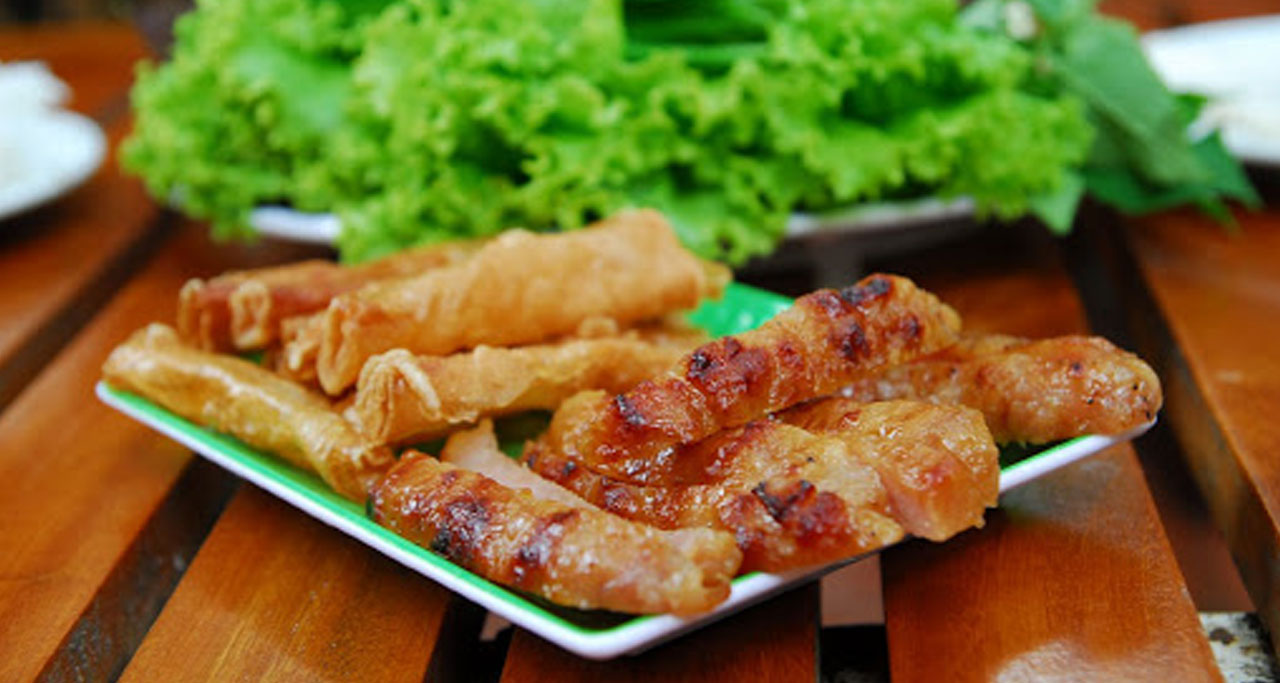 1. Nem Nuong Thanh Van (7.00am – 10.00pm)
Add: No 17 Hoa Binh Boulevard, Ninh Kieu District
2. Nem Nuong Hai Van (2.00pm – 10.00pm)
Add: No 98 De Tham Street, Ninh Kieu District
3. Nem Nuong Anh Map (8.00am – 10.00pm)
Add: No 12/21/19 Nguyen Viet Hong Street, Ninh Kieu District
Small fried shrimp pancake (Banh Cong)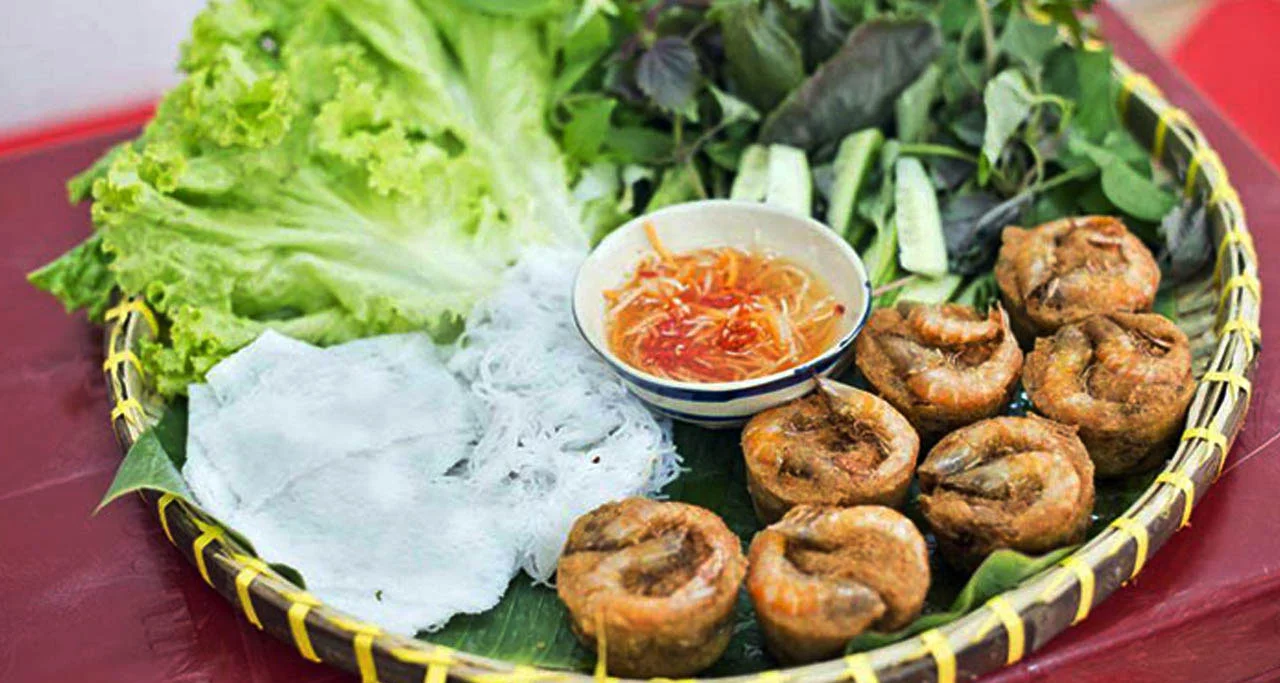 1. Banh Cong Co Ut (9.00am – 9.30pm)
Add: No 86/38 Ly Tu Trong Street, Ninh Kieu District
2. Banh Cong Nguyen Trai (11.00am – 10.00pm)
Add: No 18 Tran Van Hoai Street,  Ninh Kieu District
3. Banh Cong Hue Vien (5.00pm – 9.30pm)
Add: No 36 De Tham Street,  Ninh Kieu District
Fish Sauce Noodles (Bun Mam)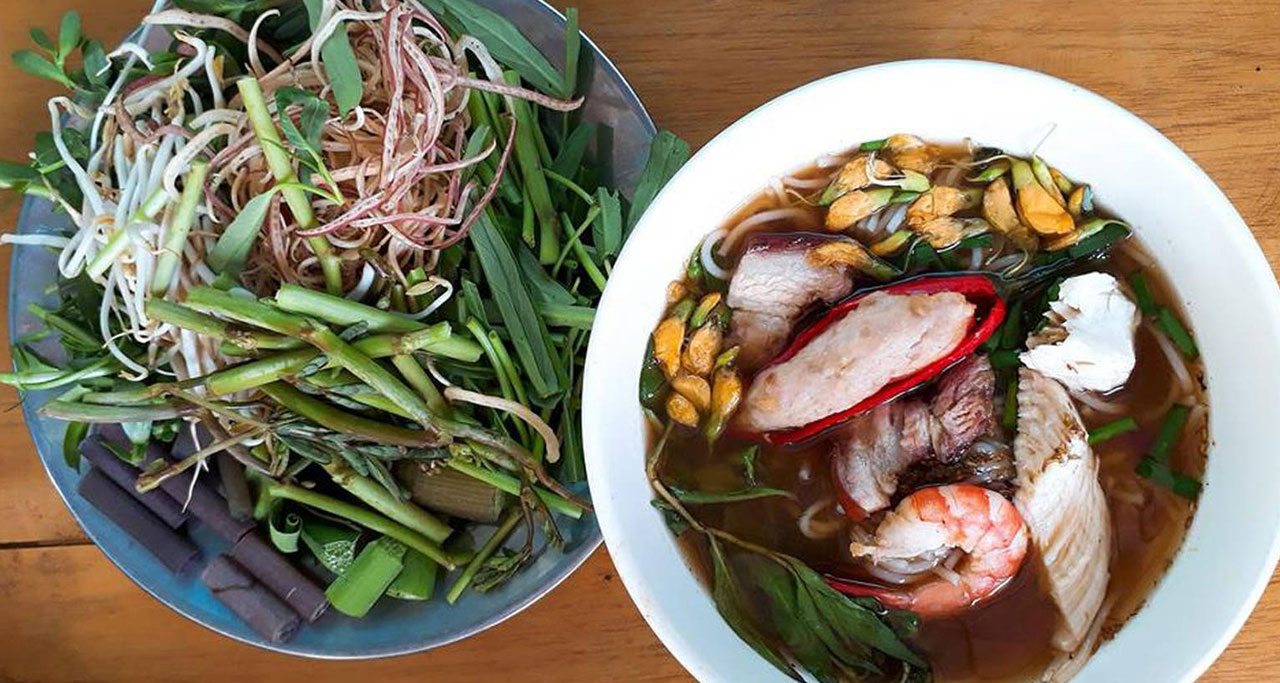 1. Bun Mam 233 (5.30pm – 11.00pm)
Add: No 233 Alley of Nguyen Van Cu Street, An Hoa Ward, Ninh Kieu District
12. Enjoy Can Tho Street Food Tour On The Back Of Scooters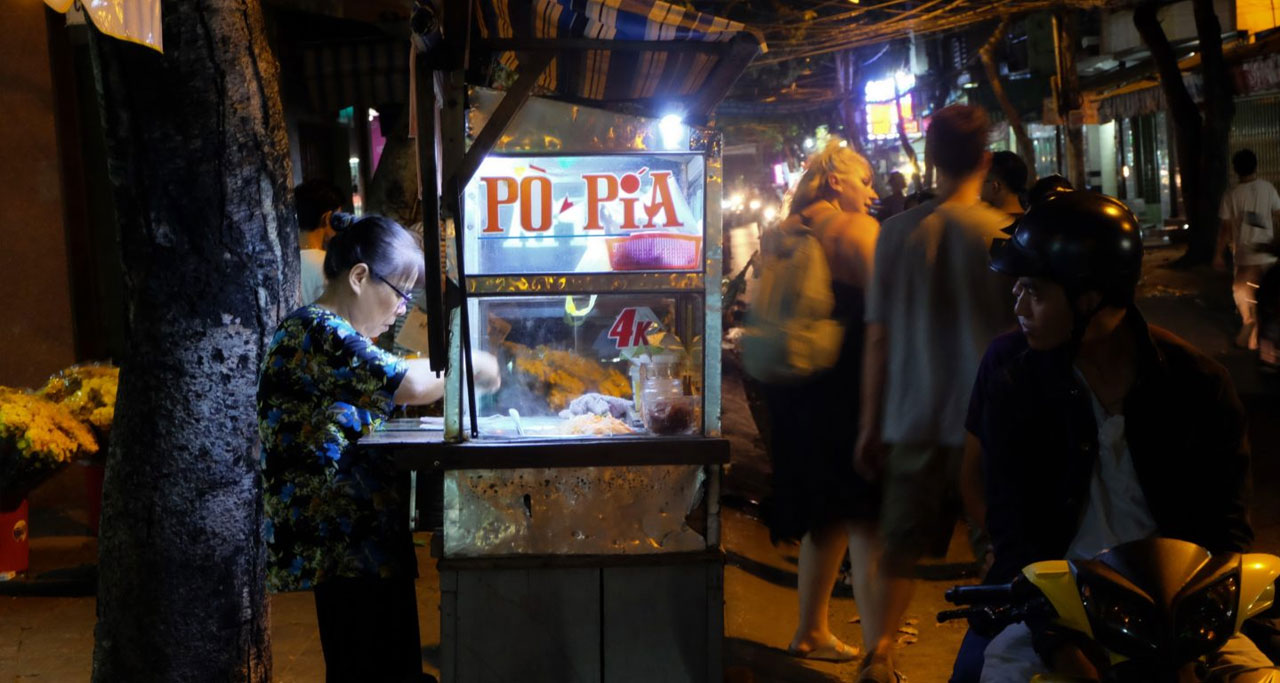 This foodie tour is designed for you to experience Can Tho after dark, all from the back of the scooter. Enjoy top authentic local foods where the native eat & have fun. End a perfect night at a unique Vietnamese-vintage coffee shop with live music.
Operation: 5:30 PM – 9:30 PM | 5 Food stops
It bases on joining group (minimum of 2 guests to operate). Private tour is available upon requests.
As you can see that Can Tho City is not boring at all. The city has more things to give all visitors not only day time but at night as well, with a lot of things you can do to enjoy the best Can Tho nightlife here. If you have any questions, please feel absolutely free to contact our travel consultant team. We are always more than happy to assist at any time.