The best things to do in Can Tho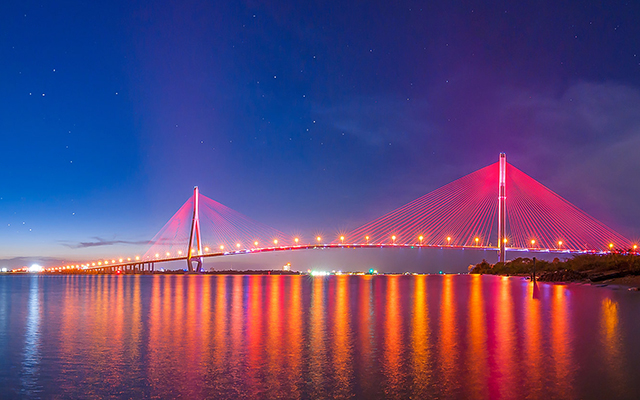 Discover the city with our list of the best things to do and see in Can Tho, for visitors and locals alike. From free days out to unmissable restaurants, this is your ultimate Can Tho checklist for 2023. As the center of the Mekong Delta and the largest city in the region, Can Tho tourism brings you many unique and interesting experiences of the land of Tay Do with the people of the West and the simple but attractive river landscape. The modernity of the city together with the rustic breath of long-standing cultural values make visitors lingering in their nostalgia for the Western capital. Visiting Can Tho City cannot be completed without knowing the best things to do. Let's explore this preferred list that you don't regret when travelling to this city.
Top things to do and see in Can Tho.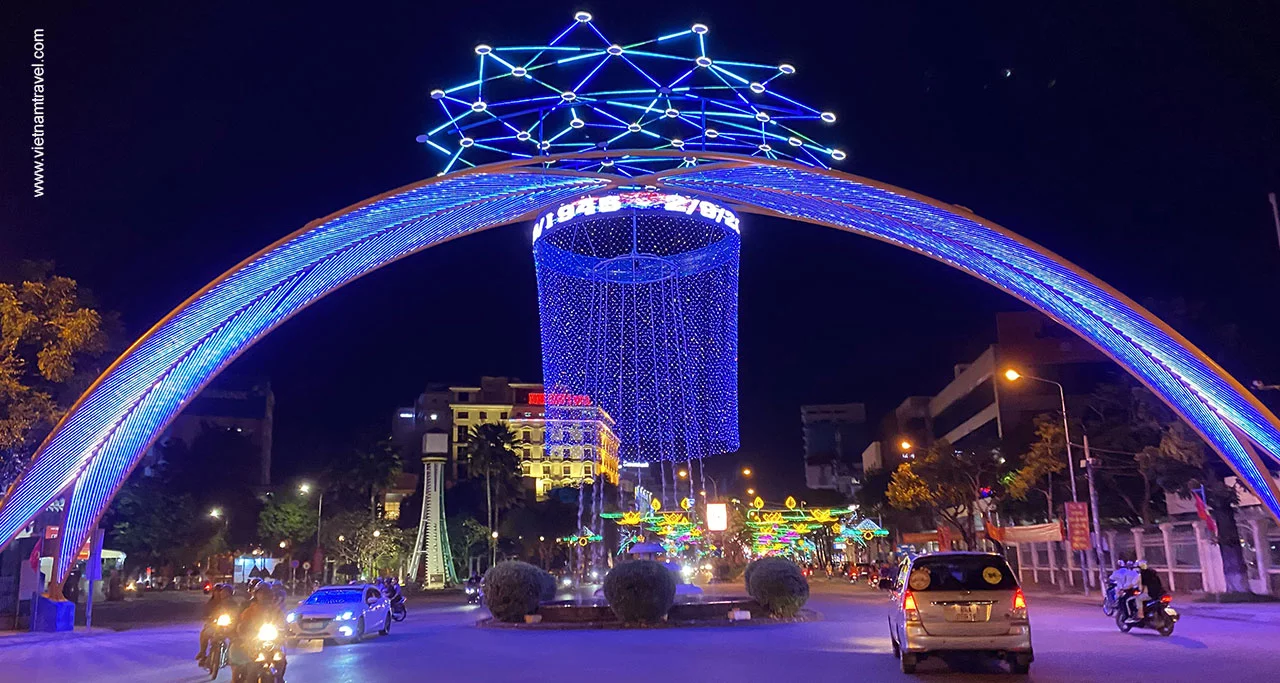 Joining a Spiritual Tour around Can Tho City.
1- Ong Temple.
Built from 1894-1986, Ong Temple is an outstanding religious construction as an excellent example of Chinese temple architecture in South Vietnam. Its materials were directly transferred from Guangzhou and huge incense coils inside the temple are a spectacular sight that amaze you when visiting. The centre of temple worships Kuang Kung – a deity symbolizing loyalty, justice and courage together with the God of Earth and the God of Finance located on either sides. This temple is recognized as a national level historic site since 1993.
Add: 32 Hai Ba Trung Street, Tan An Ward, Ninh Kieu District, Can Tho City
2- Munirangsyaram Pagoda (Munirensay Pagoda).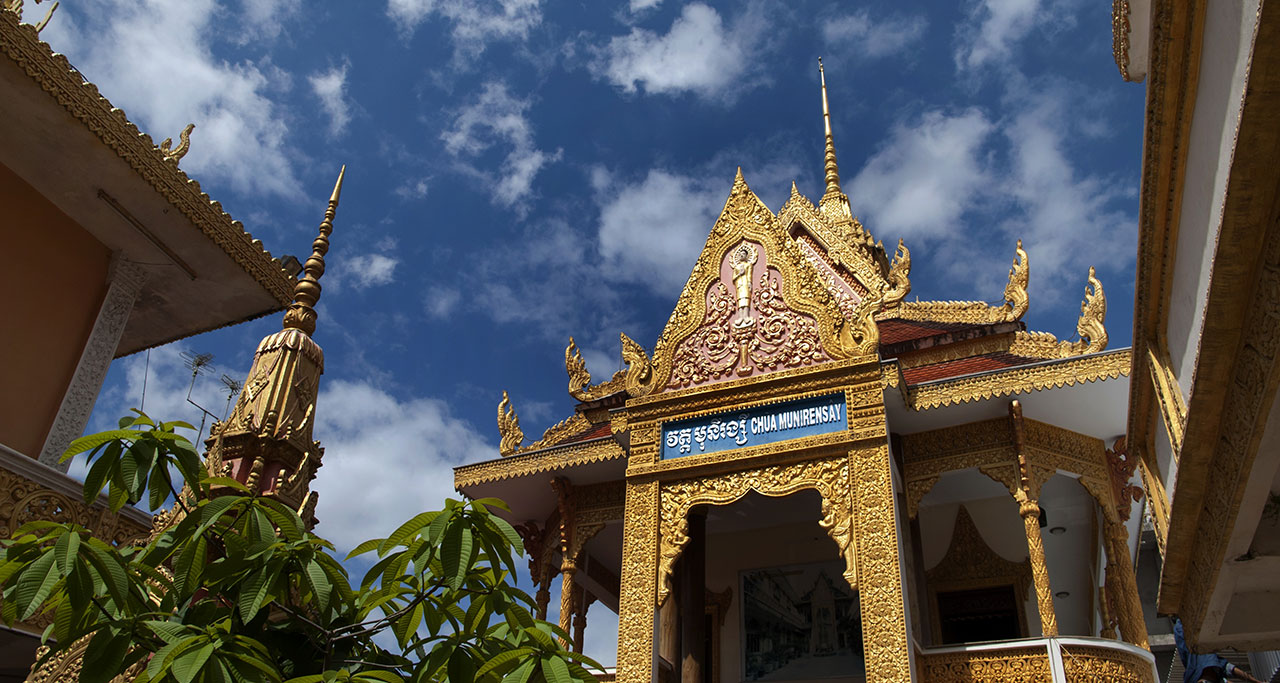 Originally built in 1946 for the local Khmer community, Munirangsyaram Pagoda (or also called Munirensay Pagoda) is a little gem in the city centre. This Khmer Theravada Buddhist pagoda features some fantastic ornamentation and a noticeable lack of Taoist spirit decorations, which are so commonplace in pagodas of the Vietnamese Mahayana style. In addition, the two-storey structure has an upstairs sanctuary that comes with an almost life-size Buddha image.
Add: 36 Hoa Binh boulevard, Tan An Ward, Ninh Kieu District, Can Tho City
3- Pitu Kohsa Rangsay Pagoda.
Hiding down a quiet backstreet, Pitu Khosa Rangsay boasts a splendid architecture that captures your eyes with its glimmering golden roof. This three-level Khmer Theravada Buddhist pagoda was built from 1948, being impressive with the carved, detailed wall patterns, painted columns, huge Buddha statue and city views from the balcony. Its charitable pursuits include helping disadvantaged youths to study. Khmer festivals such as Ok Om Bok, Chol Chnam Thmay and Dolta are often held in the pagoda annually.
Add: 27/18 Mac Dinh Chi Street, Tan An Ward, Ninh Kieu District, Can Tho City
4- Truc Lam Phuong Nam Zen Monastery.
Located about 15 km from the center, Truc Lam Phuong Nam Zen Monastery is not only a famous spiritual attraction in Can Tho but also a unique work of art in Tay Do land with inspired architecture of the Ly – Tran dynasty period. It owns a peaceful setting and considered as one of the largest Zen monasteries in the West with an area of 38,000 square meters. People come here to pray for peace and enjoyment. With the sophistication in each small corner, the spiritual and cultural values ​​of the monastery will surely make visitors feel peace of mind.
Add: My Nhon Hamlet, My Khanh Commune, Phong Dien District, Can Tho City
Joining a Historical Tour around Can Tho City.
1- Can Tho Museum.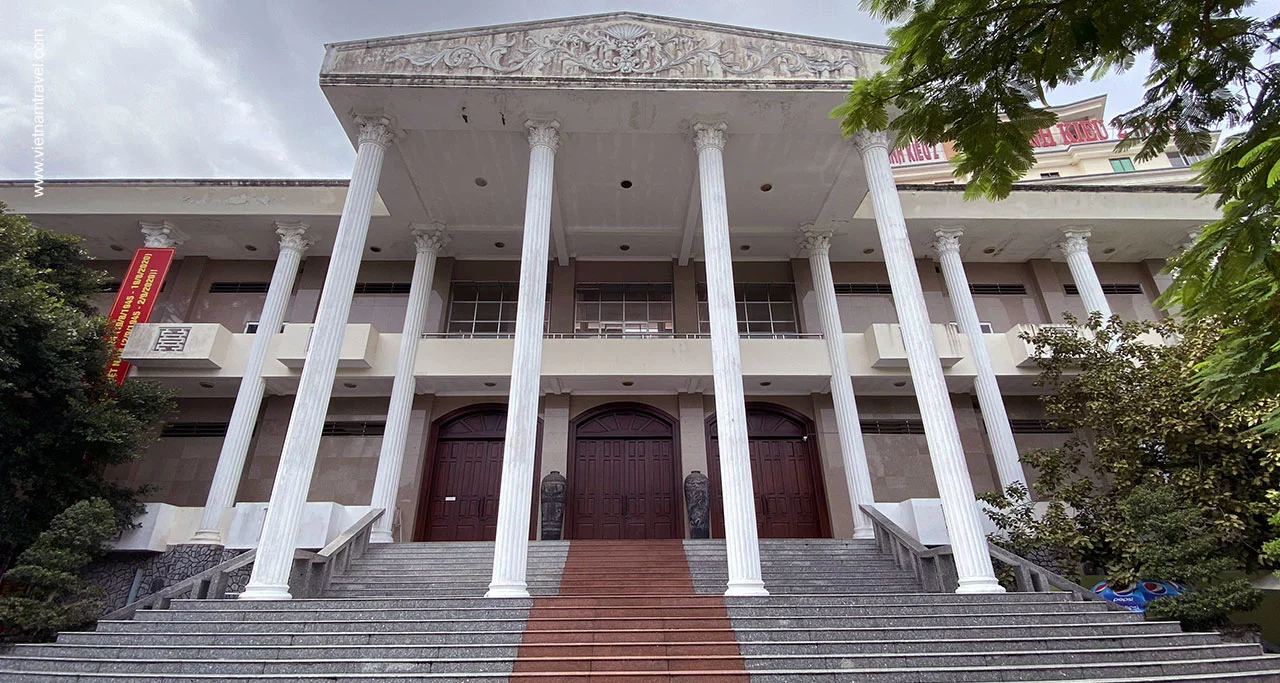 Established in 1976, this is the largest museum in Mekong Delta, covering more than 5000 objects and historical relics which brings local history to life with manikins and life-size reproductions of buildings, including a Chinese pagoda and a house interior. Displays (with ample English translations) focus on the Khmer and Chinese communities, plant and fish specimens, rice production, and inevitably, the American War. The museum is closed on Mondays and Fridays.
Add: 1 Hoa Binh boulevard, Tan An Ward, Ninh Kieu District, Can Tho City
2- Can Tho Grand Prison
Built by the French during the colonial era, Can Tho Grand prison is an important historical site to visit in the city, where Vietnamese revolutionaries and citizens who dissented against the regime were held in cruel conditions, tortured and executed within the walls. The prison has 21 detention rooms, a church, pagoda, a house for the supervisor, and a kitchen. The mannequins depict certain scenes of what it was like in the prison when it was used, and they are quite eerie.
Add: 8 Ngo Gia Tu Street, Tan An Ward, Ninh Kieu District, Can Tho City
Visiting Floating Markets.
1- Cai Rang Floating Market.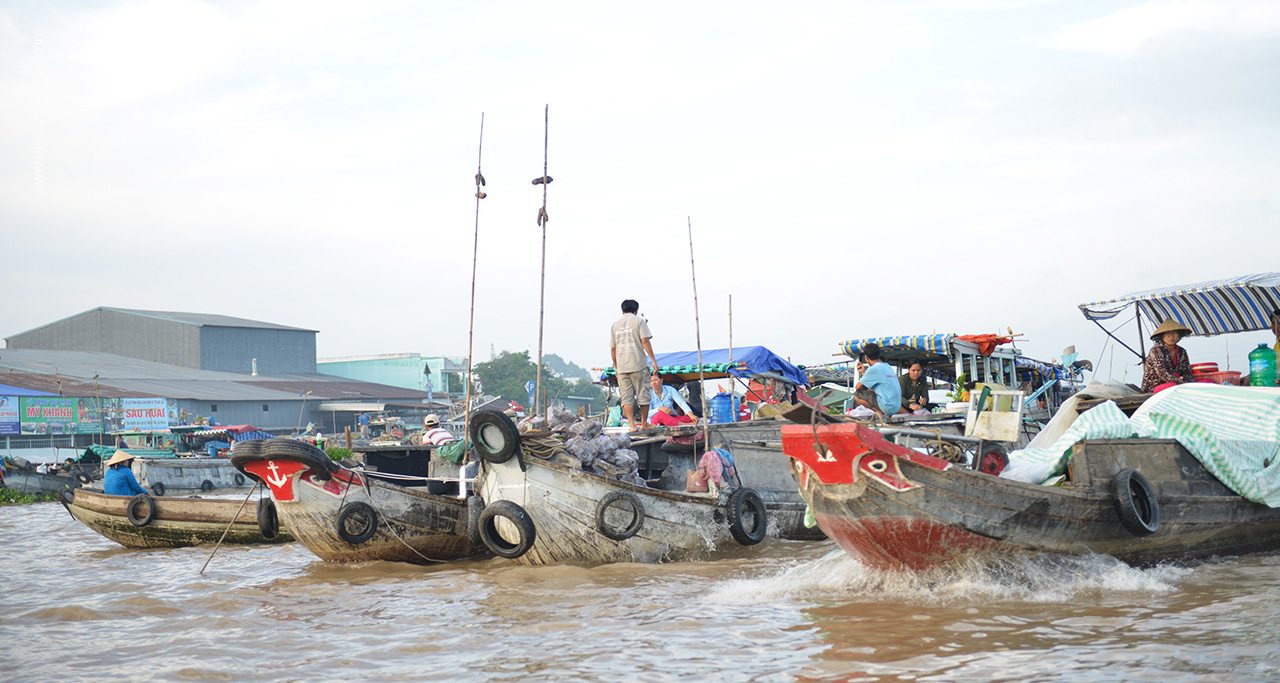 Located about 6km away from Can Tho City center, this is the most famous and biggest floating market in the Mekong Delta featuring an unique culture of local people living along this mighty river. In 2016, Cai Rang Floating Market was recognized as a national intangible cultural heritage. The market was also elected as one of the most impressive markets in the world by UK's Rough Guide.
Once you visit Mekong, this floating market is thing should not miss in your travel plan. Get up early but it is worth for your day visit.
Read more: https://vietnamtravel.com/cai-rang-floating-market/
2- Phong Dien Floating Market.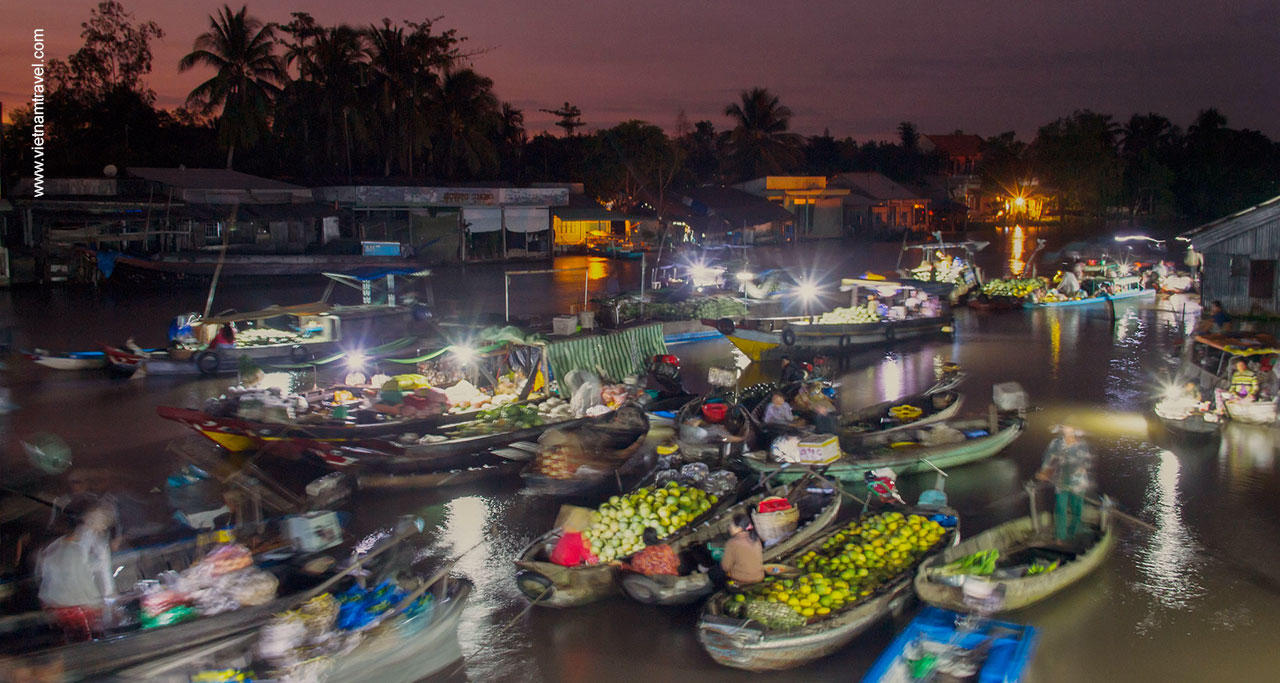 Although not as popular and famous as Cai Rang, Phong Dien Floating Market still brings its own unique characteristics. Located around 20km southwest of Can Tho, you can get here by road. Less crowded, less touristy, more authentic may be what you are seeking for, so let pay a visit to Phong Dien floating market in your journey.
Read more: https://vietnamtravel.com/phong-dien-floating-market/
Ninh Kieu Wharf.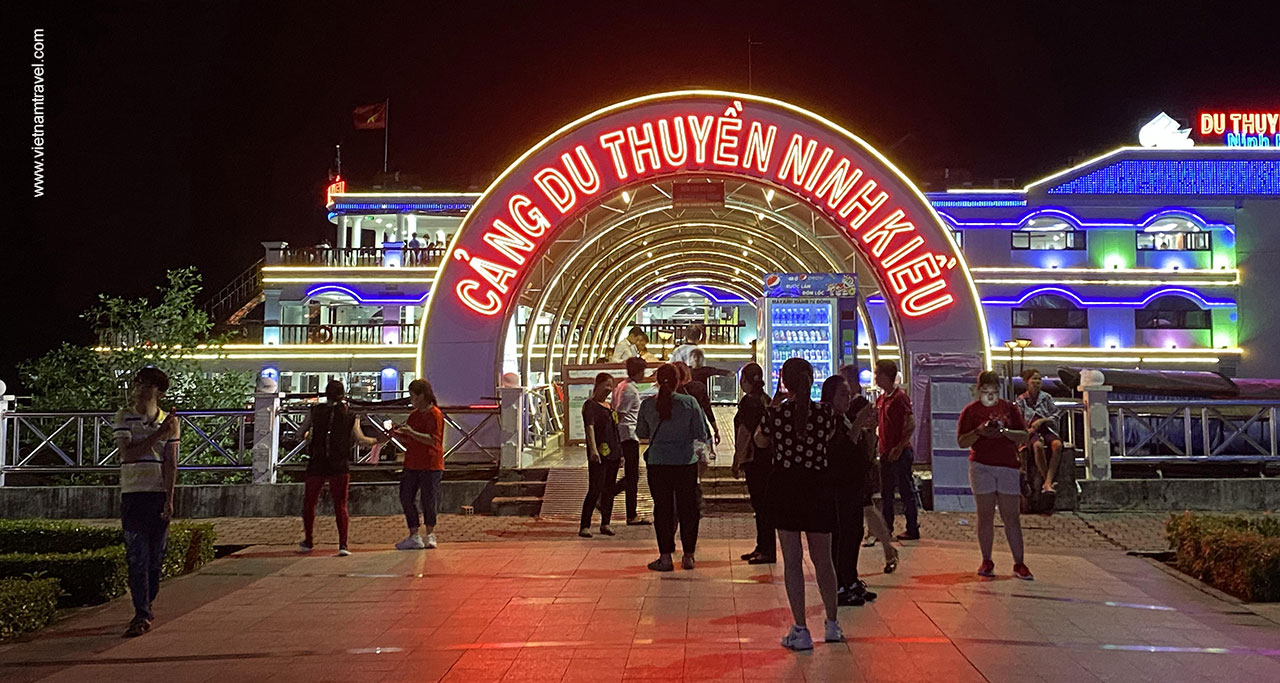 Lying on the bank of Hau River, Ninh Kieu Wharf is the gateway to discover Can Tho's floating markets and orchards. This is also the city's main trading center which becomes quite bustling after dark. More than just a wharf, Ninh Kieu has long been developed into a park featuring a flower garden and floating markets. From 2016, this site attracts more visitors with the walking street, night market, food area and a 200m long pedestrian bridge to connect Ninh Kieu and Cai Khe Islet.
From Ninh Kieu Wharf, you can see Can Tho harbor and Can Tho bridge – the longest main span bridge in Southeast Asia
Ninh Kieu Pedestrian Bridge.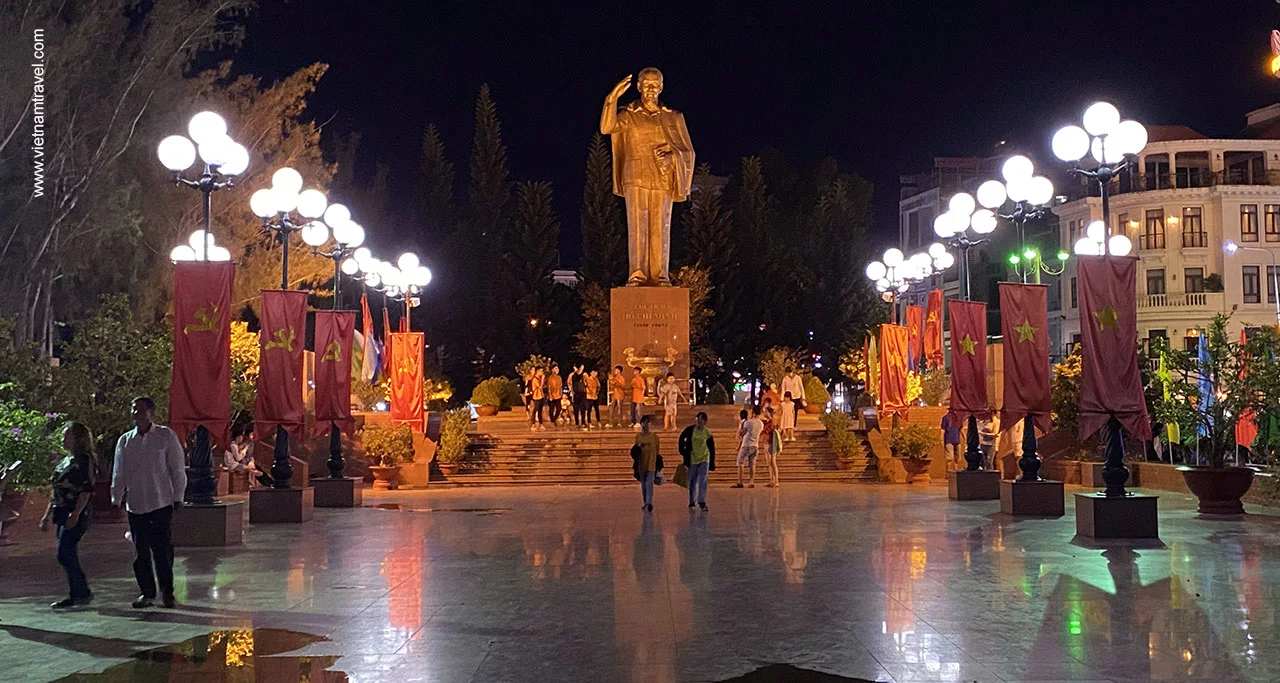 Putting into use since 2016, Ninh Kieu pedestrian bridge has attracted many people. In close distance to Ninh Kieu Wharf, the bridge features a 200m in length and a 7.2m in width, with a very prominent led system and negative lights at the foot of the bridge. Above the bridge, the construction is also designed with the lotus petals blossoming which is very familiar to the people of the Mekong River region. In the morning you can see the panoramic view across Ninh Kieu Wharf and Hau River. When the night falls, the shimmering lights of this bridge will help you get super beautiful photos.
Night markets.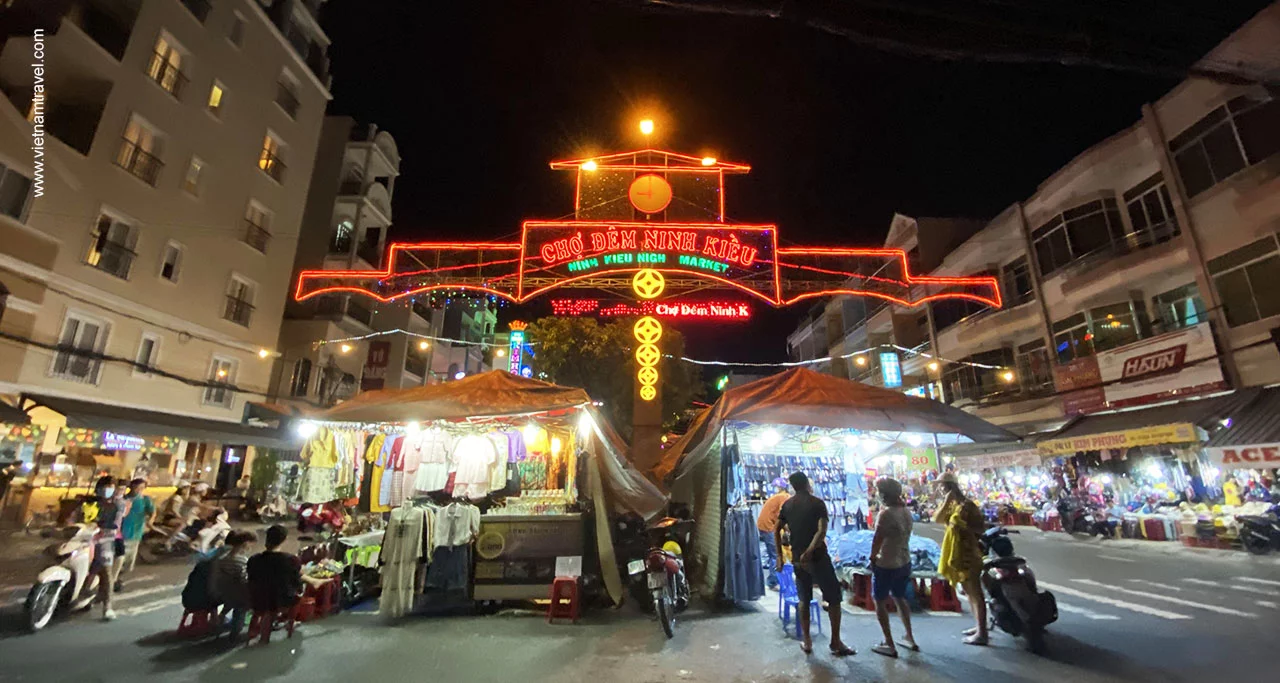 Can Tho City is not only vibrant and crowded around the streets all day long but also more bustling and colorful when the darkness covers. Together with Ninh Kieu Wharf and pedestrian bridge, visitors can join in the nearby night markets to get the fascinating atmosphere of the local life by night. The city currently possesses 3 famous night markets including Tay Do Night Market, Ninh Kieu Night Market & a bit further Tran Phu Night Market. Each of them has a unique feature, so you should visit all of these three if you really have time.
Read more: https://vietnamtravel.com/night-markets-in-can-tho/
Can Tho Beach.
This is the only large-scale, artificial freshwater beach in the Mekong Delta, opening from 10.00am – 10.00pm with a 400m long. From here, you can see Can Tho Bridge in a fairly close distance. There are many interesting water games for your choice such as water motor, kayaking, banana float or rent a speedboat running along the beach.
Not only that, Can Tho Beach offers many high-class services surrounding such as La Ca Beach Restaurant with many European, Asian, traditional and bar dishes; Technology Center for Wedding and Conference with an area of ​​7,000m2; Water music lake, entertainment area for children and adults …
Binh Thuy Ancient House.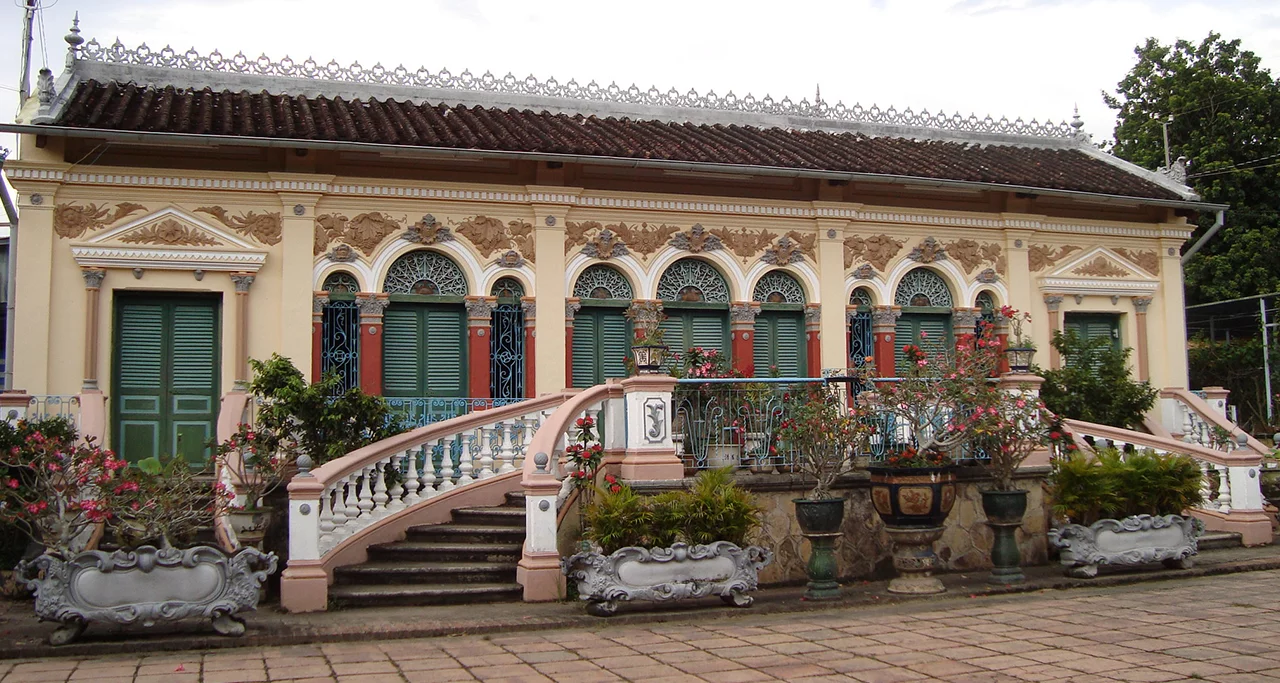 Add: 144 Bui Huu Nghia Street, Binh Thuy Ward, Binh Thuy District, Can Tho City
Built in 1870 by the Duong family on an area of nearly 6,000sqm, this is an ideal place to explore the region's history. It is also one of the rare French style houses remaining in the Mekong Delta city of Can Tho. The site features impressive combinations of Eastern and Western styles, in which, oriental style shows more on the furniture and interior while the western style seen in the outside decorations. There are also rare antiques in the house such as two sets of marble tables and chairs from Yunnan, a set of mosaic tables and loungers with French furniture style from the Louis XV period, chandelier made in the 18th century and more.
Surrounded with lots of trees and flowers blooming all the time that make the space ancient but vivid and fresh, Binh Thuy Ancient House becomes famous as background of many popular films such as "L'Amant" (The Lovers), "Nhung neo duong phu sa" (The alluvial paths), "Nguoi Dep Tay Do" (the Beauty in the Western Capital), "No Doi" (Life's Debt).
Pho Tho – Ba Bo flower village.
This is favourite check in tourist destination loved by young people. Pho Tho – Ba Bo flower village covers an area of ​​20 hectares in Binh Thuy District. There are a variety of flowers planted here, but mainly chrysanthemums, sunflowers, roses, kaleidoscopic flowers, … If you have the opportunity to come to Can Tho, you should once walk around this flower village.
Add: Binh Thuy district, Can Tho City
Orchard Gardens and Cacao Farm.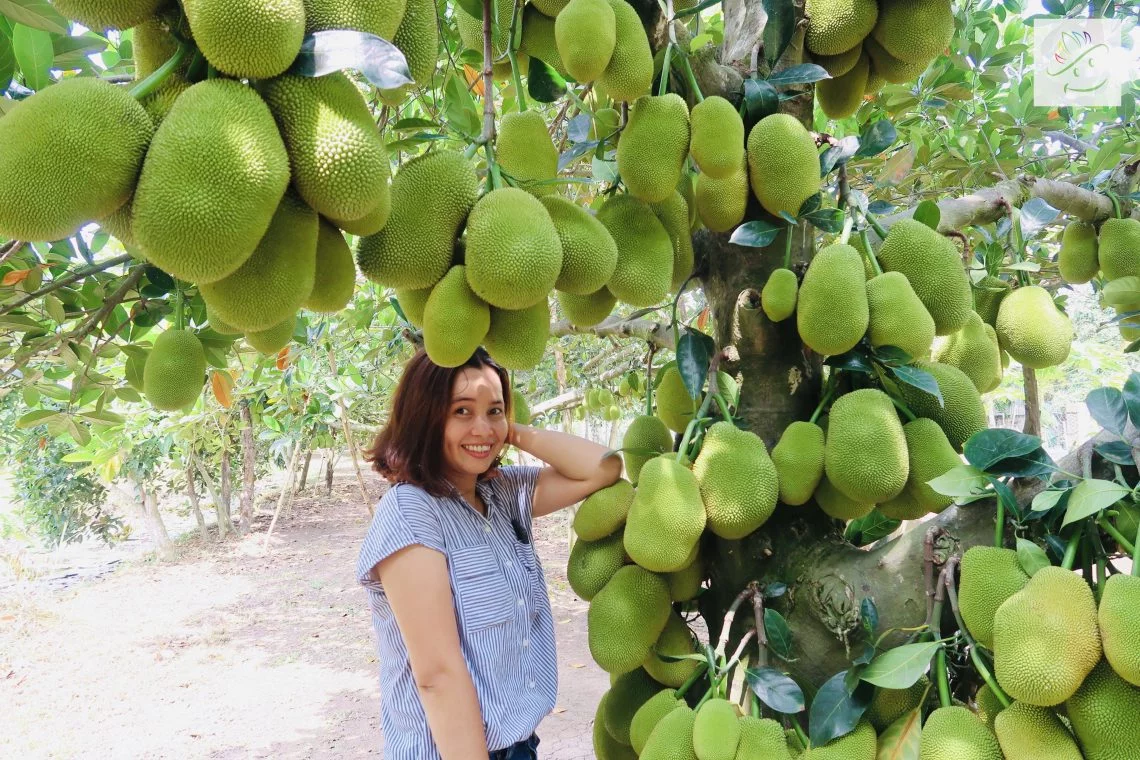 Orchard gardens are a very highlight feature of Can Tho river area. Best time to travel there is in late May to early June when the fruits are ripe. There are all kinds of fresh and delicious Southern fruits such as plum, mango, rambutan, jackfruit, strawberry, durian, mangosteen, star apple…
Addresses of gardens for your reference such as My Khanh Tourist Garden, Mr. Sau Duong's garden, Binh Thuy orchid garden, arc garden on Phong Dien river, Phung Hiep river and many other family tourism gardens in O Mon, Thot Not. Especially, My Khanh Tourist Garden also holds many interesting folk games such as pig racing, dog racing, monkey circus, crocodile fishing … suitable for groups of friends or family to relax on weekends.
Not far from My Khanh Tourist Garden, visitor can head over to Mien Tay Homestay Muoi Cuong (275 My Ai Hamlet, My Khanh Commune, Phong Dien District, Can Tho, Vietnam, +84 292 3942 573), which is not just a homestay but also a modest cacao farm run by Lam The Cuong and his family. Just over a dollar, you can do a small tour of the farm and learn how fruit from a cacao tree becomes familiar cacao products.
Bang Lang Stork Sanctuary.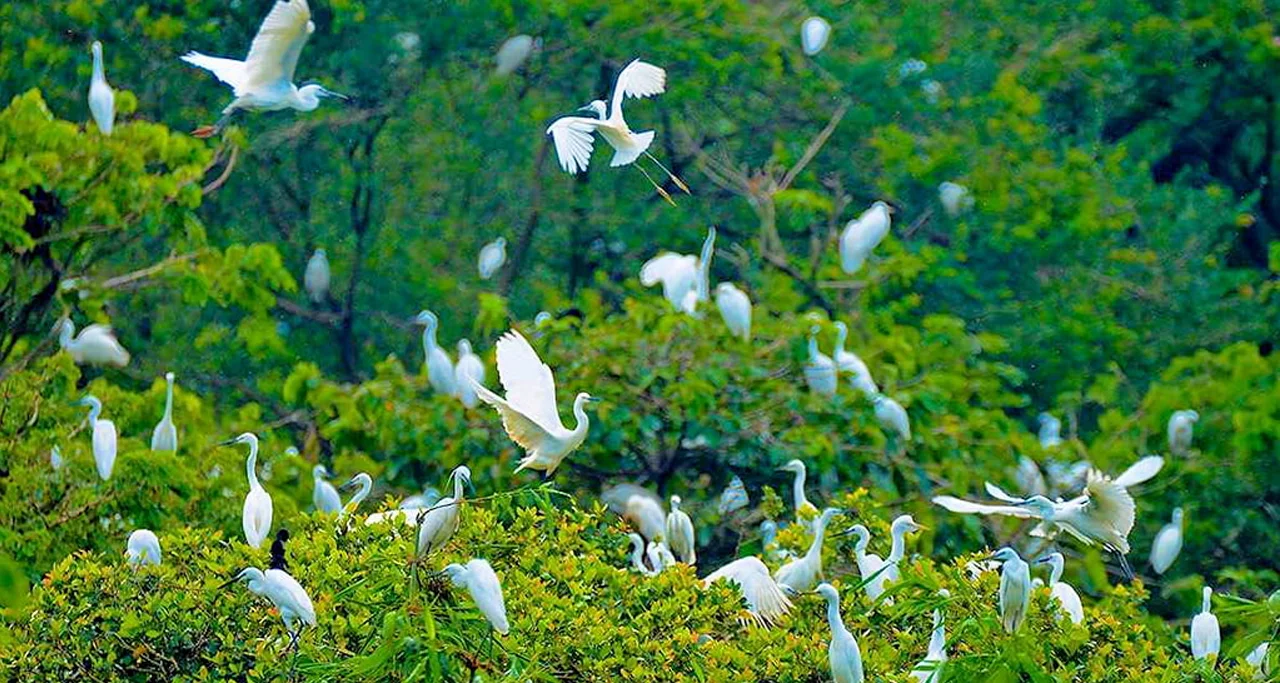 About 60km from Can Tho city centre, Bang Lang stork sanctuary is the largest bird playground in the western part. Covering an area of 19,400sqm, this is home to tens of thousands of storks.
There is a tall viewing platform to see the storks filling the branches. The best time of the day are from 6.00am – 7.00am when they fly off to search for food, and from 5.00pm-6.00pm when they return. It gives a peaceful scene to see in the rural area of Can Tho.
Add: Thuan An Ward, Thot Not district, Can Tho City
Taste Mekong Delta Specialties.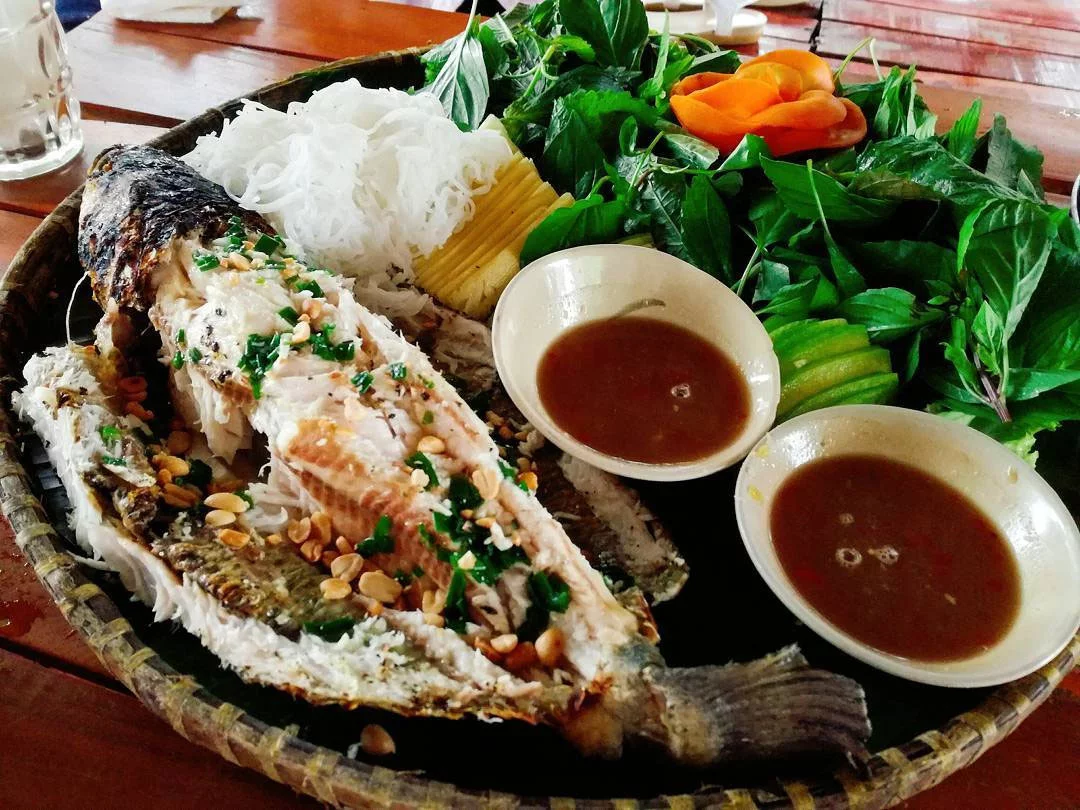 Your trip to Can Tho will be a miss without tasting the indigenous specialties. There are many dishes that you should try while in Can Tho such as the Cai Rang grilled rolls made out of pork and served with pineapple, cucumber, bitter banana, star fruit, and thin rice paper. Other delicious dishes that also should not be missed, including bun ca (fish noodles), hu tieu Sa Dec (dry noodles), bun rieu (crab noodles), lau mam (fish sauce hot pot), banh xeo (Vietnamese pancakes), banh cong (small fried shrimp pancake) or even rat meat which sounds weird and gross but very normal here.
Can Tho is increasingly modern and strongly developed, but still retains the special features of the western river. Hopefully, these Can Tho tourist destinations will bring you interesting experiences. Our Vietnam Travel team will always be ready to assist you in any holiday plan to Vietnam. Please feel absolutely free to contact us at any time!