Cao Dai Temple, Tay Ninh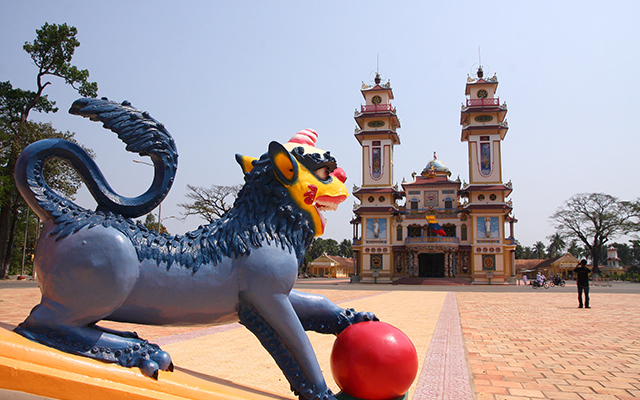 Cao Dai Temple is the center of Caodaism faithful in South Vietnam. It is famous for a unique architectural style reflecting its blended traditions as well as attracts a lot of visitors exploring the Caodaism, an indigenous Vietnamese religion combining the teachings of Confucianism, Buddhism, Taoism… Just 100km from Ho Chi Minh City, Cao Dai Temple is a perfect place for a day trip or combine a visit with Cu Chi Tunnels. This is definitely a must thing to do in the vicinity of Ho Chi Minh City.
General Information
Cao Dai Temple (also called Tay Ninh Holy See) was started to build in 1933 and officially inaugurated in 1955. It is a special religious work of Caodaism (Cao Dai religion), located in Hoa Thanh District, about 4km from Tay Ninh City. In the early 1920s, Caodaism was established in Southern Vietnam but had not been officially codified until 1926. It is the 3rd largest religion in Vietnam borrowing elements of Buddhism, Christianity, Taoism, Confucianism, and Islam. It is currently estimated that there are nearly 3 million followers nationwide, living in 38 provinces and cities, mainly concentrated in the South Vietnam.
The symbol of Cao Dai religion is an eye in a triangle, representing the God. This divine eye is depicted in many places around the temple, especially the main door. In addition, the religion also worships Shakyamuni Buddha, Jesus Christ, Confucius, Lao Tzu, Lady Guanyin …
Cao Dai Temple's Architecture

The architectural of Cao Dai Temple is itself an attraction. The building is a combination of Neo-Gothic, Baroque and Oriental design and is very ornately decorated including dragon wrapped pillars, seven-headed cobras, and ceilings of sky blue.
There are 12 gates to Cao Dai Temple, all of which are decorated with sculptures of four sacred animals of Asian belief and lotus. The main entrance is the largest one with the words "Dai Dao Tam Ky Pho Do" in both Vietnamese and Chinese. This gate is only opened on occasions to welcome heads of states or leaders of religions.
There are about architectural works around the site connected by wide road. In a spacious courtyard, you will walk around the Buddha statues and lush gardens before reaching the Great Temple – one of the most outstanding buildings. It is 97m long and 22m wide and characterized by three 36m-high towers and two 25m-tall pavilions sheltering steeples and drums. The Great Temple was built according to the architectural requirements of the Cao Dai Sect. The construction is a harmonious fusion of Asian and European styles, with domes and embellishments exemplifying the spirit of the region. The floor of the temple is divided into 9 levels called "Nine Fairy Levels". The high domed ceiling is painted sky-blue with fluffy clouds. At the end of the temple is a large sphere, representing the universe with 3,027 stars around and the Divine Eye on it.
What to see in Cao Dai Temple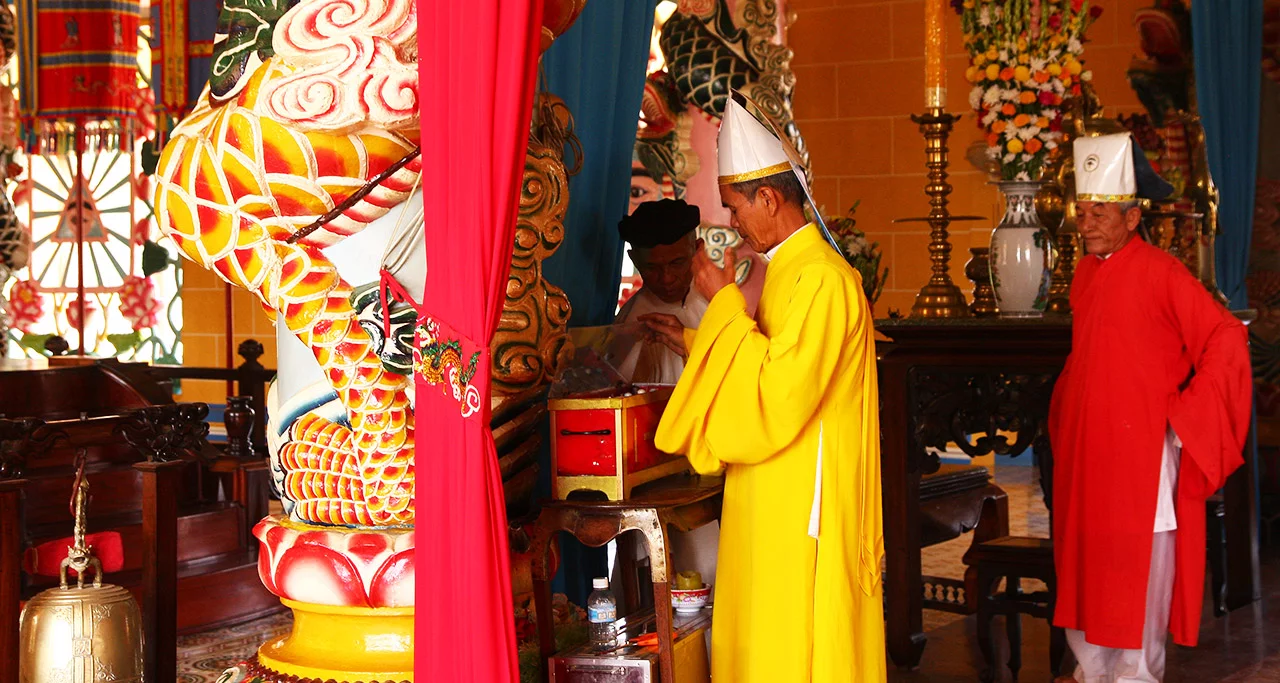 Beside its unique architecture, watching Caodaism prayer is one of the main highlights when visiting the temple. Most worshippers wear pure white robes while men with the rank of priest and higher have brightly colored robes reflecting their own spiritual allegiance: yellow for Buddhism, blue for Taoism or red for Confucianism. Both the bishops and cardinals have the Divine Eye which is emblazoned on their headpieces. During worship, men are seated on the right and women on the left with all devotees seated in orderly rows.
Ritual prayers are held four times daily at 6:00 AM, noon, 6:00 PM and midnight. For day-trip visitors coming from Ho Chi Minh City, the ceremony at noon is suitable to see. Female tourists will enter the temple through a door at the base from the left side and then roam around the outside of the colonnaded hall as a clockwise direction. Meanwhile, men will enter from the right side and move around the hall as an anticlockwise direction. During the visit, you are able to take pictures of the prayer sessions from the upstairs balcony, but under the instructions of the priests. Remember there are some places you have no permission to take photographs.
In addition, Duc Chi Ton Great Ceremony and Dieu Tri Kim Mau Festivals are two largest annual festivals held in Cao Dai temple on the 9th day of January and the 15th day of August in lunar calendar respectively.  and the full moon day of the 8th month of the lunar calendar are the two biggest festivals of the Cao Dai Temple. The holy land of the South welcomes on these occasions thousands of followers and visitors from every corner of the country coming here to soak up in the festive atmosphere.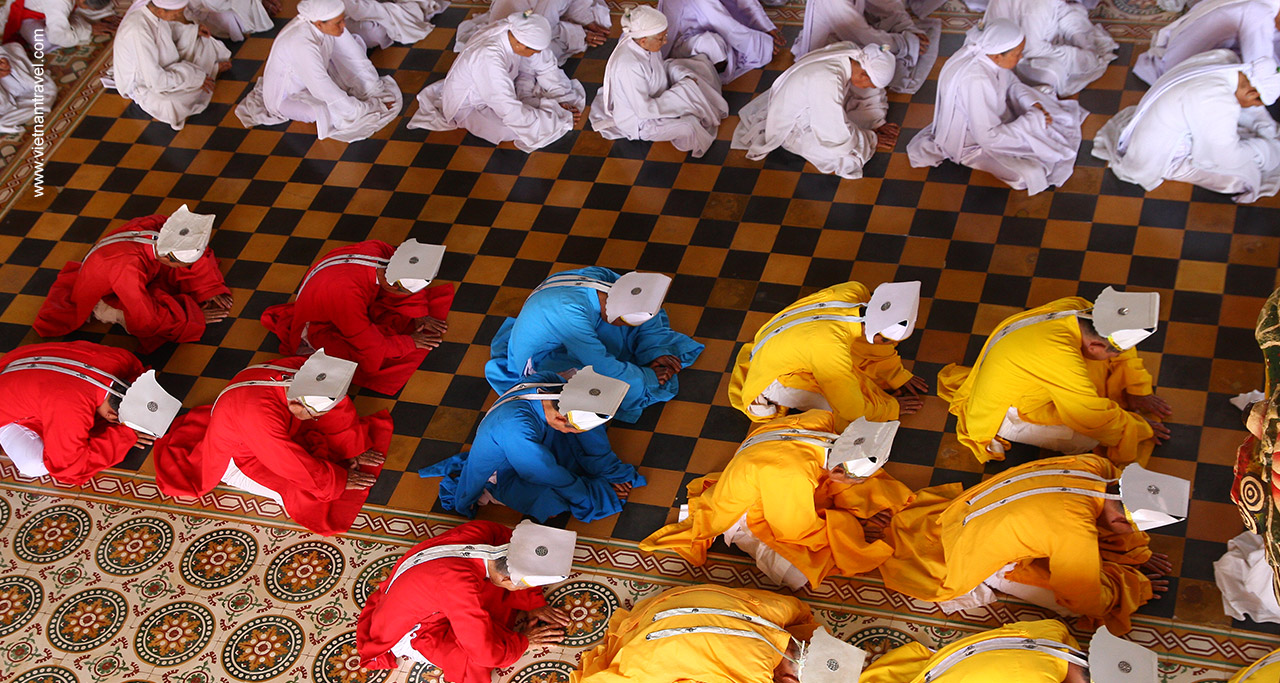 How to get to Cao Dai Temple
Cao Dai Temple is located in Hoa Thanh District of Tay Ninh Province, about 90km northwest of Ho Chi Minh City and approximately 55km of the Cu Chi Tunnels. You can combine a visit to Cao Dai Temple and Cu Chi Tunnels on a day trip. There are some options to reach to Cao Dai Temple from Ho Chi Minh City. Depending on your interest, you can choose one: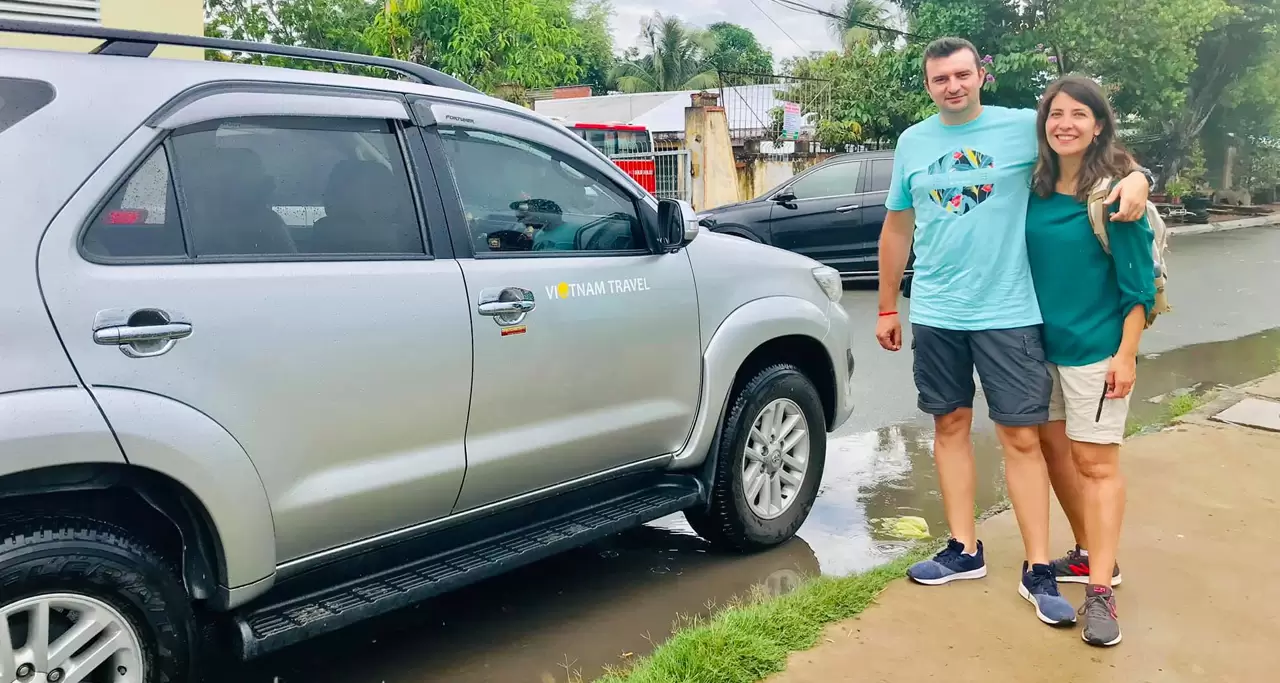 – By motorbike: For those who are familiar with driving motorbike in Vietnam and don't want to depend on any schedule, this option is the best. Tourists can hire a motorbike from a shop in Saigon and drive to Cao Dai Temple. It will take you around 2-2.5 hours to reach there.
– By bus: If you cannot drive a motorbike but still want to find a budget option, taking a bus is alternative. First, you catch a bus #703 from Ben Thanh Market bus stop to Moc Bai, then catch a bus #05 to Tay Ninh Bus Station. After that, you should take a taxi or motorbike taxi to reach to Cao Dai Temple, about 6km away. It will take you at least 3 hours since you have to get on and get off several buses.
– By private car with organized tour: The most convenient and popular way to get to Cao Dai Temple is to book a tour with a local travel agent who will arrange all services from transfer, local tour guide, entrance fees… for you. You can either visit both Cu Chi Tunnels and Cao Dai Temple in a day or just Cao Dai Temple.
Tips & Travel Advice
– As a sacred place, you should dress formerly, avoid tank tops, shorts or skirts over the knee.
– Remember to take off your shoes and hats before entering the temple.
– You can take photos of beautiful structures, scenes and prayer sessions but always ask for permission.
– You are not allowed to go in the middle of main building as this area is for worshipers only.
– 10 minutes before the religious ceremony starts at noon, access to the interior of the temple is prohibited, so make sure you come here before 12:00. During the ceremony, keep silent and don't walk around.