Bich Dong Pagoda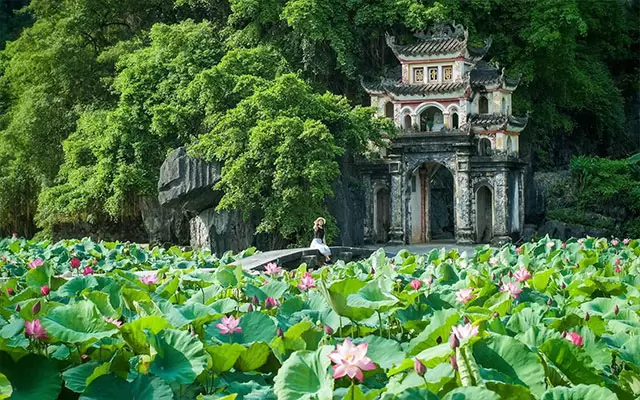 Bich Dong Pagoda is a famous historical and cultural relic in Ninh Binh, just about 100km from Hanoi. Its unique characteristic is the perfect combination of ancient pagodas with cross-covered roofs, natural caves and majestic mountains, and so on, hidden in the green of tropical forests. Bich Dong Pagoda is definitely worth-visiting when you come to Ninh Binh.
General Information

Bich Dong literally means "Emerald Green Grotto". The ancients named it because the pagoda was surrounded by green trees and the scenery was really peaceful. Bich Dong Pagoda was first built in 1428 under the reign of Ly Thai To on the Truong Yen limestone mountains range, Hoa Lu District. In 1705, 2 Buddhist monks, called Tri Kien and Tri The, came here and discovered this cave with a pagoda hidden by dense and strong vine and plants. Then they rebuilt it with 3-layers pagoda. "Chua" in Vietnamese means pagoda – you will see more details below.
Architecture

Bich Dong Pagoda is a typical sample of traditional construction style, made from wood and stone with brick tiled roofs. But what makes it unique is 3 separate layered structures: Ha Pagoda (Lower Pagoda), Trung Pagoda (Middle Pagoda) and Thuong Pagoda (Upper Pagoda). These 3 pagodas are built in ascending order and to reach them you must climb some steep stairs. On arrival at the site, you will see a small gate by a gigantic mountain. Crossing a stone bridge over a lotus flower pond, you go through a beautifully decorated gate and follow a small footpath to explore the whole pagoda.
Chua Ha – Lower Pagoda

Chua Ha, or Ha Pagoda, is situated at the foot of the mountain. It is used as shrine of worshiping the Buddha. Ha Pagoda comprises 5 rooms with two-tier roof including 8 smaller roofs while its broad eaves were constructed by 6 stone steps. The 4-meters stone pillars in the pagoda are all monolithic without any joints.
Chua Trung – Middle Pagoda
From Ha Pagoda, you will climb up 120 S-shaped steps to the halfway of mountain where Chua Trung, or Trung Pagoda, is located. This second pagoda is divided into two areas: half of the pagoda is situated outside and another half is situated inside the cave. It has a two-tier roof, a three-room upper temple, and a forecourt which all head to the west. The precious remains in the pagoda are the bronze bell with sophisticated engravings, the three huge stone statues of Amitabha Buddha, Van Thu Bodhisattva and Thi Kinh Bodhisattva.
Chua Thuong – Upper Pagoda
Chua Thuong, or Thuong Pagoda, is on the top of the mountain. It has two small temples – the left one for the local earth god and the right one for the mountain god. To get there, visitors must climb up 40 stone steps along the mountain side, through Dark Cave where you can find the image of fairy, Buddha, little boys, flying dragon, swimming turtles… Thuong Pagoda is the ideal place to see the panoramic poetic scenery of Tam Coc – Bich Dong.
How to get to Bich Dong Pagoda

Bich Dong Pagoda belongs to Trang An Complex which is inscribed to the UNESCO World Heritage. It is 3 km west of Tam Coc and 11 km southwest of Ninh Binh City. You can ride bicycle or rent a motorbike to reach Bich Dong Pagoda. But it is highly suggested to take a leisure rowing boat trip from Tam Coc Pier along Ngo Dong River with scenic rice fields and limestone mountains surrounded to Bich Dong. No visitors traveling to Ninh Binh to just see this pagoda. It should be included in a day trip itinerary with Tam Coc, Hoa Lu, Trang An… Perhaps you like to read a quick guide to Tam Coc – Bich Dong for further information.
There is no entrance fee to Bich Dong Pagoda but you need to pay a small fee to park your own bicycle or motorbike. Though you can visit the pagoda at any time, you should come here in early morning or late afternoon to avoid the crowds and enjoy the peaceful moment. The summer time from May to July is best to admire the green rice fields turning yellow and the blossoming lotus.