Hoi An Night Market – A Shopping Paradise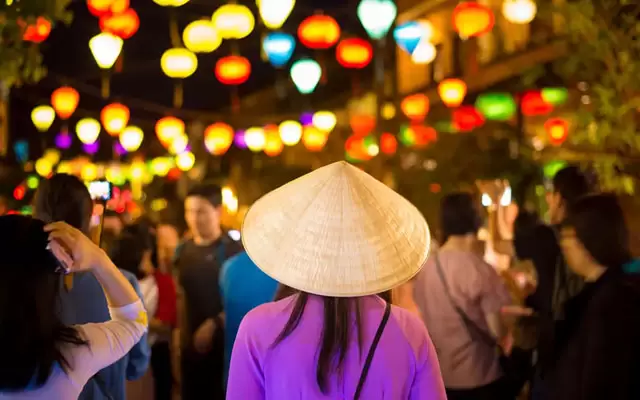 Like any other places, nightlife is always another best part to explore after the sunset in Hoi An ancient town of the Central Vietnam. Among of many attractive activities by night, night markets should be on every traveler's must see list because they will truly present multitude views of Vietnamese local aspects. Of which, Hoi An Night Market (also called Nguyen Hoang Night Market) is considered as the official and popular market at night for both local and foreign travelers.
Let's spend a night here and you will get one of your unique experiences on your trip in this peaceful ancient town!
Location of Hoi An Night Market.
Located along Nguyen Hoang Street on An Hoi Islet, across the river from the ancient town, Hoi An Night Market or locally known as Nguyen Hoang Night Market stretches about 300m wide with more than 50 stalls selling variety of all kinds, from souvenirs, cuisine to decorations, clothes, bags …. The street overlooks Thu Bon River and is illuminated by hundreds of colorful lanterns creating an amazing atmosphere and worth as photography spot.
When to Visit Hoi An Night Market?
The night market will start from 5.00pm when most vendors line up in three rows, forming two main aisles for visitors walking through.
For those who prefer to shop without the crowds, the best time to visit is right before sunset, however, people don't really start coming before 6 pm. For those who love the hustle and bustle atmosphere and want to see the market in full swing, the busiest time is from 6:30pm to 8:30pm. After 9:00pm, there are noticeably fewer people, and the food stall owners will move their carts closer to the entrance of the market to attract new customers. Most stalls close around 10:00pm.
During Tet holiday, there will be an increasing number of night stalls and you are exposed to delicious holiday treats in Hoi An with colorful flowers and unique agricultural products which are unavailable at other times of the year. However, surcharge on prices are expected to apply as well.
What to Buy in Hoi An Night Market?
As selling various items, Hoi An Night Market is a wonderful shopping paradise for those who want to explore. So what does the market offer?
1. Handicraft Products.
It can be easily seen that handicraft products are the most famous as signature ones in this market, so you can find them everywhere. There are variety of handicrafts such as necklaces, rings, bracelets, earrings, miniature bronze statues, beautiful lanterns… made from fabric, stone, bronze, or silk in different colors.  Most of them are brought from traditional handicraft villages around the old town such as Thanh Ha pottery, Phuoc Kieu bronze casting, or Hoian Silk. You can also buy some pretty little rice necklaces as souvenirs. The unique part about the rice necklace is that the names is engraved on the rice grain.
2. Conical Hats.
As a traditional Vietnamese hat, conical hat (non la) is an interesting gift that you can bring home as a good memory of Vietnam.
3. Clothes.
In Hoi An Night Market, you can find plenty of stalls selling clothes with unique design. So let choose your preference on the clothing style instead of looking for the pattern.
4. Straw Bags.
A straw bag is good grab to make your summer outfit pairing perfect. These handmade bags are so nice that you will feel hard to resist their charm. Their uniqueness and the intricate weave work of skillful artisans make them valuable items to buy when shopping here.
5. Bamboo and Ceramic items.
The variety of the handcrafted bamboo products and the ceramic Vietnamese home décor items are also to look forward to while shopping at Hoi An Night Market.
6. Coffee and Silk.
Hoi An's coffee and silk products are very famous amongst tourists. Try and buy some for yourself.
7. Lanterns.
For those who are lantern lovers, this night market is the right place. There are a number of shops selling these products in many different shapes, sizes and colors. This is not only unique and attractive but also easily transportable because they are flexibly foldable.
What to Eat in Hoi An Night Market?
Not only a shopping paradise but Hoi An Night market also a paradise of food. Coming here, you will see plenty of small stalls on the street and have chance to taste these delicious dishes.
1. Hoi An Traditional Food.
Quang Noodles: There are several types of Quang noodles for your choice such as chicken, pork, shrimp, eel, jellyfish, or snakehead fish, together with a rich layer of vegetables, noodles, and a fair amount of broth. Quang noodles can be used with lemons, chili, herbs, or rice crackers.
Cao Lau: This is the signature noodle dish of Hoi An. It has a characteristic texture and color which makes it outstanding from other types of Vietnamese noodles. It consists of smoky pork, chewy noodles, crisp greens, refreshing bean sprouts, and crunchy croutons.
Vietnamese pancake "banh xeo": It is a type of Vietnamese savory pancakes which is made out of rice flour, water, turmeric powder, stuffed with fatty pork, shrimp, and bean sprouts before pan fried. This dish is served by wrapping in lettuce leaves, mustard leaves, and other herbs and dipped in a prepared sauce called "nuoc cham".
Chicken rice: This is a very typical dish of Hoi An, and yet very different from other places in the same province of Quang Nam or Da Nang. The chicken is cut or torn into smaller slices, seasoned with spices like salt, chilli, pepper and Vietnamese coriander – the main factor that makes the dish savory, and combine perfectly with the golden rice which made in pilaf form complete the wonderful dish.
2. Hoi An Street Food
Besides traditional food, other mouthwatering street food are also worth trying. There are 3 dishes that you should not miss, including sweet soup that has red and green beans, lotus seed, and corn; ice cream tubes, or so-called "kem ong", which is Hoi An ice cream specialty with a unique taste; and the sweet soft tofu soup which is a great combination of tofu and sugar sauce.
Around Night Market.
Vy's Market restaurant is located right across from the lantern stalls. This is good place to taste the great authentic Vietnamese food. Ms. Vy is a renowned successful restaurateur and chef in Hoi An. In here, visitors can see their dishes prepared and cooked.
Madam Kieu and The Belleville are both great spots for enjoying live music surrounding the night market. After 8:00pm, you will find both of them filled with many guests. For an amazing Thu Bon River view, heading up to Madame Kieu's balcony.
Hotels near Hoi An Night Market.
Let's check out some recommended hotels below for a good overnight place near Hoi An Night Market:
Vinh Hung Riverside Resort & Spa
Add: 111 Ngo Quyen street, Minh An ward, Hoi An City
Tel: +84 235 3910 393
Vinh Hung Emerald Resort
Add: 127 Ngo Quyen street, Minh An ward, Hoi An City
Tel: +84 235 3934 999
Little Hoi An Boutique Hotel & Spa
Add: 2 Thoai Ngoc Hau street, Minh An ward, Hoi An City
Tel: +84 235 3963 999
Lantana Hoi An Boutique Hotel & Spa
Add: 9 Thoai Ngoc Hau street, Minh An ward, Hoi An City
Tel: +84 235 3869 999
Useful Tips for Hoi An Night Market.
– As listed in famous tourist attractions for both locals and foreigners, you can be expected to mingle in such a big crowd.
– Carefully keep an eye on your valuable properties.
– It is good chance for your bargain skills to get better price.
– Visiting Hoi An Night Market at the 1st and the 15th of Lunar months will give you a chance to see a shimmering Hoi An with the image of lanterns.
– A pair of comfortable shoes will help you discover the night market easier.
– Fun facts:
+ A second night market opened in Hoi An in 2018 and occupies Tran Quy Cape and Bach Dang Streets near the Central Market. It offers more or less the same products as Nguyen Hoang Night Market and less people. However, the major disadvantage is that there is no Lantern market that makes a difference.
+ Another spot is Cong Nu Ngoc Hoa night market where welcomes you for a memorable gourmet stroll along the Hoai River bank.
How to Get to Hoi An Night Market?
Location: Nguyen Hoang Street, Hoian Ancient Town.
Opening hours: Daily from 5.00pm – 10.00pm.
This market is opposite to the Bridge Pagoda, occupying 300m of Nguyen Hoang street. Heading to Hoi An Old Town, then towards the direction of Japanese bridge where you will see a small bridge which leads to over the river. After crossing over the water and turning right, you go straight ahead and turn left right at the first turn. This is where Hoi An Night Market settles.
Although night markets are not as bright and shiny as supermarkets or malls, they still possess their own unique and outstanding characteristics in local way. Please feel free to ask our travel consultants for more information or experienced tour guides will take you to this site to discover another best part of Hoi An's nightlife as well as practice your bargaining skills to bring home some souvenirs from Vietnam for your beloved ones.