The 9 Best Nightlife in Hoi An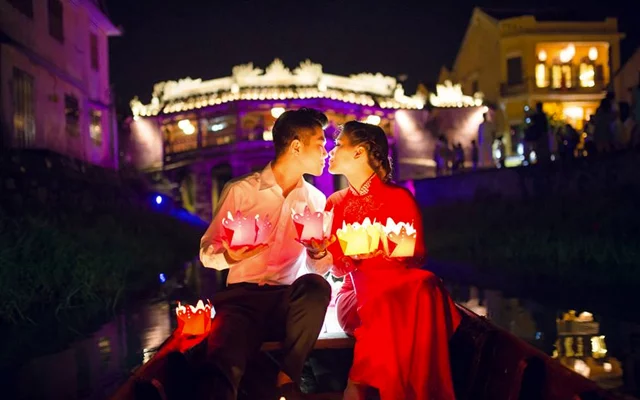 As one of Vietnam's most loved travel destinations, Hoi An Ancient Town at night always brings a serene beauty and makes people strangely drunk. In the daytime, Hoi An is like a lacquer painting which is sophisticatedly made by the talent painter. When the night falls, this place is covered with fanciful shimmering lights. And that's why, in the eyes of visitors, Hoi An is beautiful and attractive at any time. So what does the old town offer at night that makes visitor so passionate? Join us to find out about the great experiences that are only available here.
1. Walking around the old town, enjoying the beautiful images of the lanterns.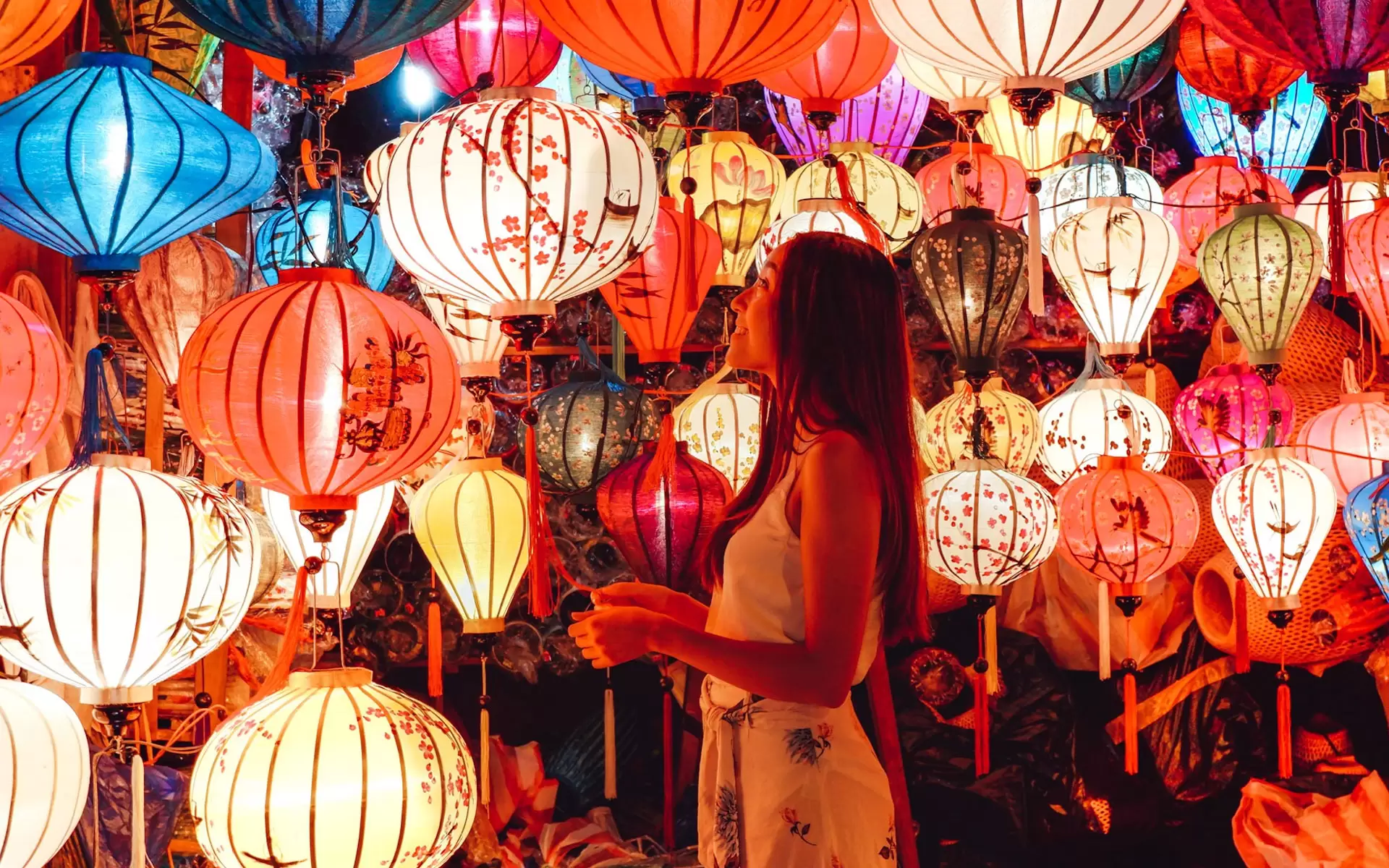 Hoi An at night is like a miniature Venice in the heart of the old town. Yellow light flashes through the alleyways, surrounded by a stream of people enjoying the quiet, nostalgic beauty. Looking back to Hoi An, wandering around the street, indulging in the sedentary space and nightlife delivers a strange peaceful feeling. The ancient and modern combination of the Japanese, Chinese and French influences makes Hoi An more lively but still has a quiet, ancient character that moves people's hearts.
As home to the charming lantern-lit streets of the old town, when the night falls in Hoi An, the lanterns spread throughout the old town are lit up in all kinds of shimmering colors. When you step into it, you feel like going to the light festival in the world of fairy tales.
2. Visit Japanese Covered Bridge by night.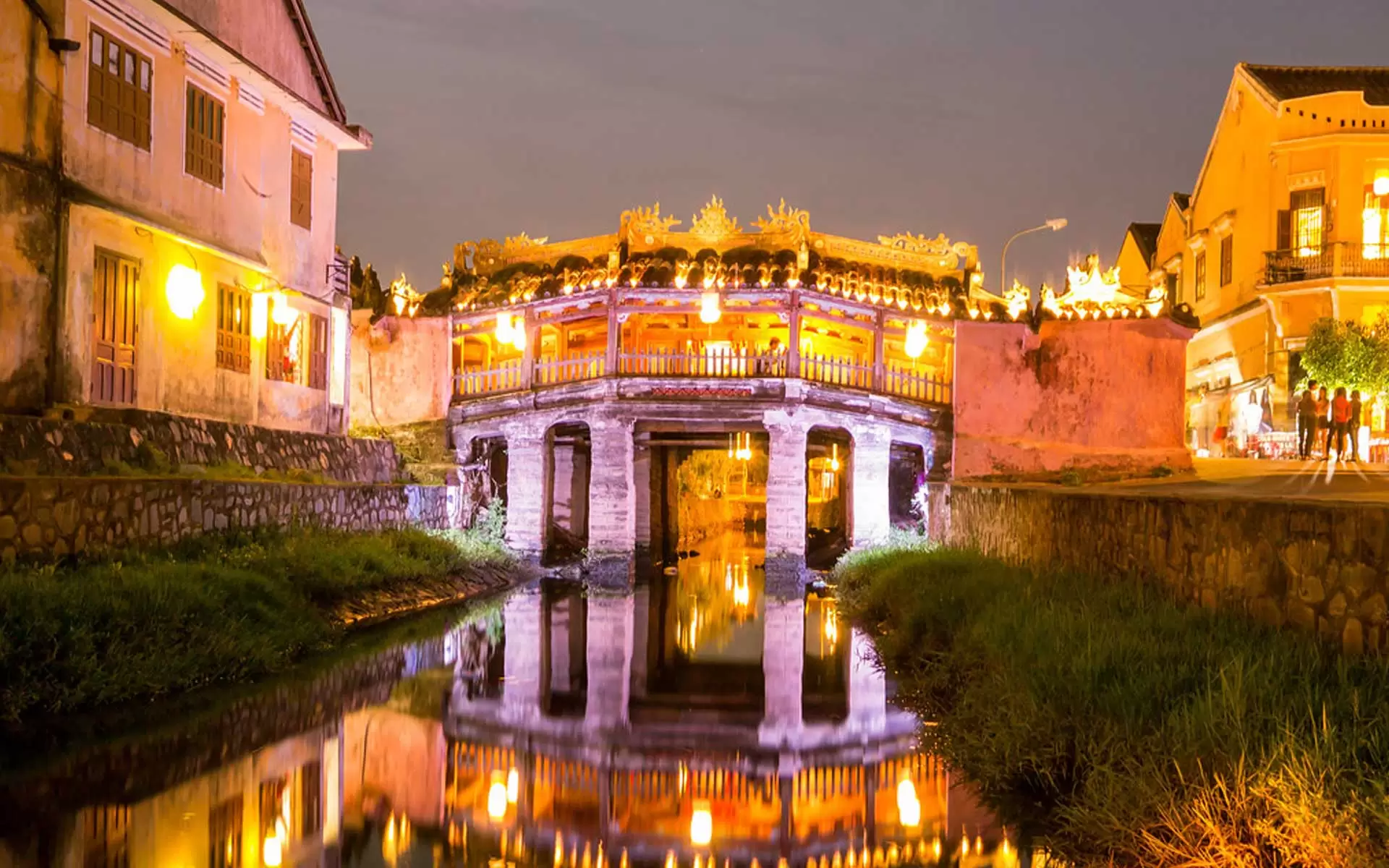 Japanese Covered Bridge is also known as the Japanese Bridge or Cau pagoda, a tourist symbol of Hoi An ancient town, a destination that is no stranger to any visitors coming to this town.
When the darkness covers, Cau pagoda becomes more beautiful and sparkling than ever. The temple is illuminated by sparkling lights, constantly changing colors, opening up a beautiful multicolored picture. Walking around at Cau pagoda with bright lights is a definite experience you must try when traveling to Hoi An at night.
Hoi An Night Market.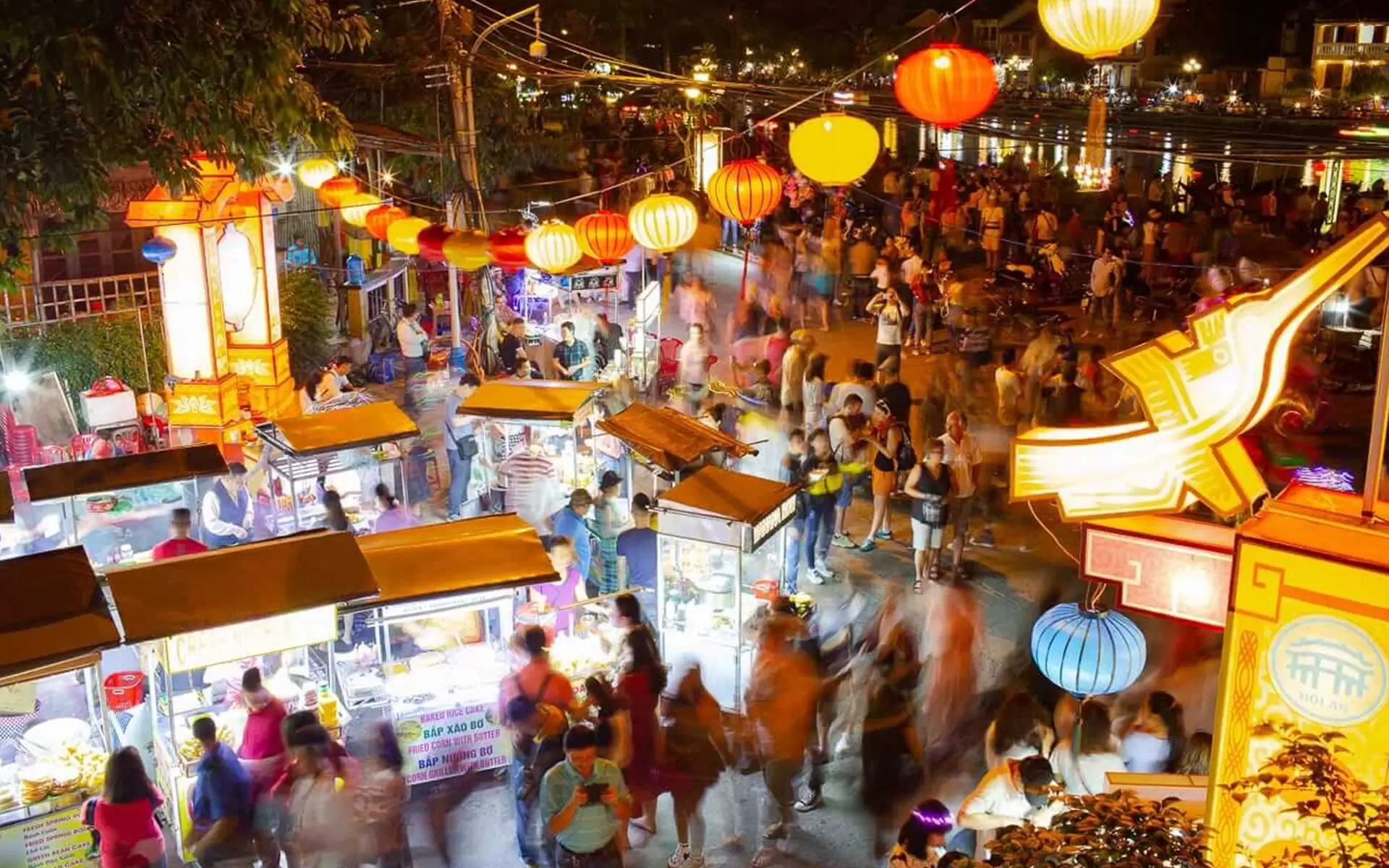 Besides the street or the Hoai River with brilliant lights, Hoi An is also attractive by the busy night market. Located on Nguyen Hoang Street, the market is bustling and attracts many tourists to visit. Coming here, not only immersed in the exciting atmosphere but also an opportunity for visitors to buy some souvenirs home or enjoy specialties of Hoi An with a variety of all kinds for your choice.
4. Boating on Hoai River & Releasing flower lanterns.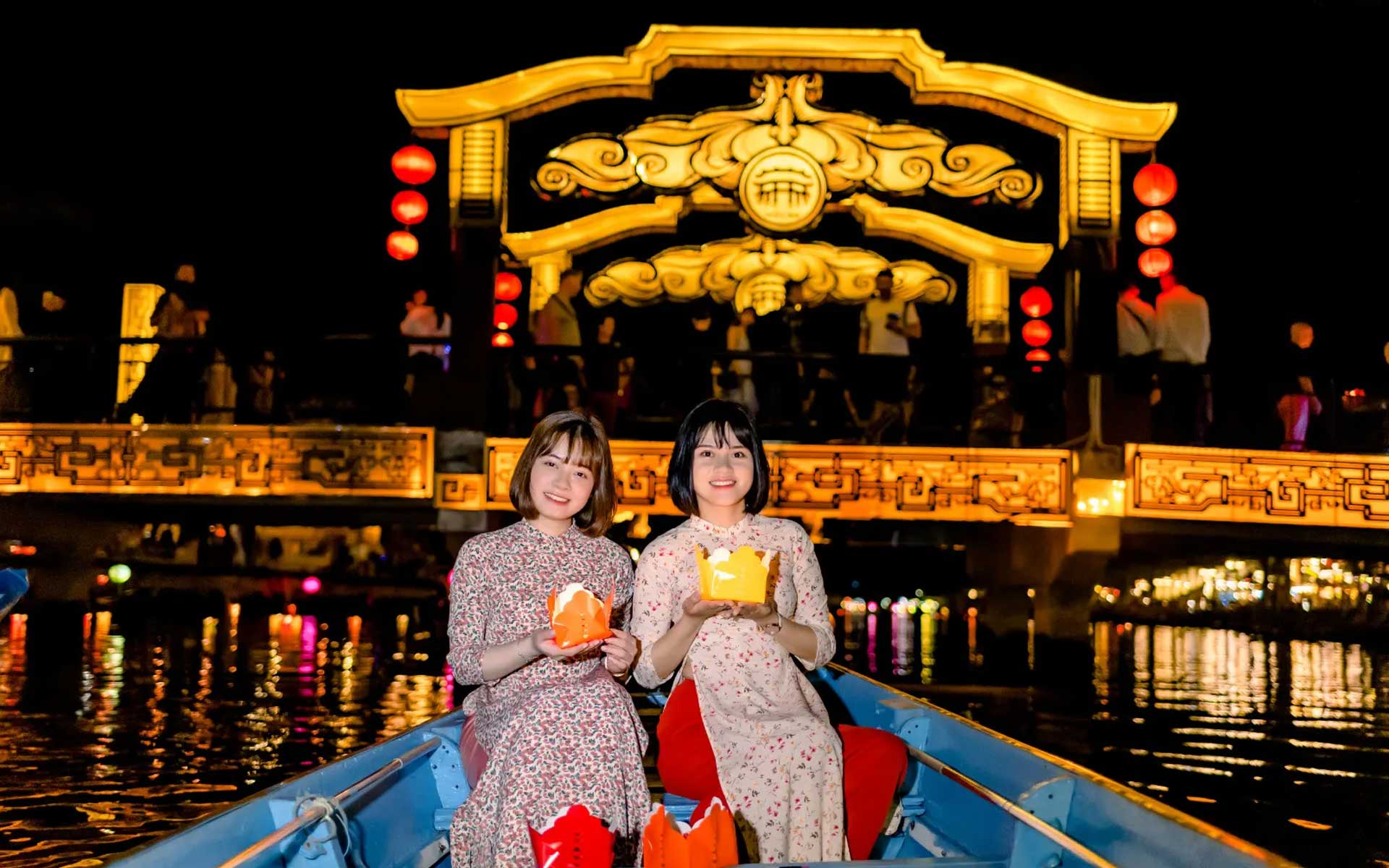 It is flawed to visit Hoi An at night without enjoying the boat trip on Hoai River, a tributary of the Thu Bon River running through Hoi An. Together with relaxing boat cruising, releasing flower lanterns bringing all your wishes is also a meaningful experience you should try. The cost for a boat trip on the river is about 30,000 – 100,000 VND. And the lanterns are sold for 10,000VND along the roads or you can buy them right at the boat.
5. Take a Food Tour.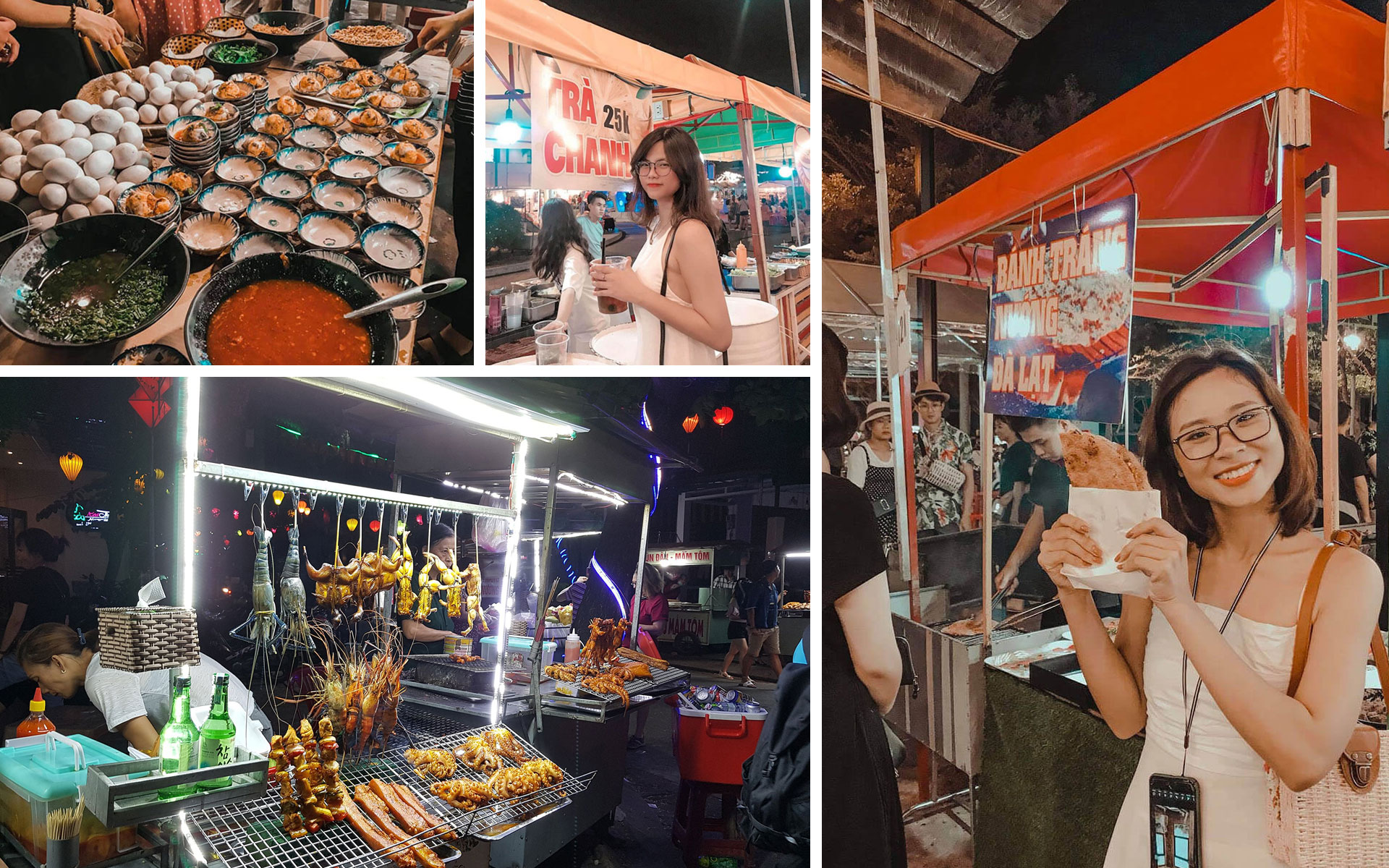 If sightseeing is enough for you, don't forget to stop and enjoy local delicacies of Hoi An which will surely make you passionate. Hoi An' s cuisine at night is varied with characteristic flavors that will help you fill your hungry stomachs. Some typical dishes that you should not miss, such as Quang noodles, Cao Lau, Hoi An bread, Chicken rice… and many other delicious drinks that is mouthwatering at reasonable prices. You can discover the food on your own depending on your taste, or comfortably take a walking food tour for about 4 hours with an experience local guide who can take you around and show you all the famous street food places.
6. Join Folk Games.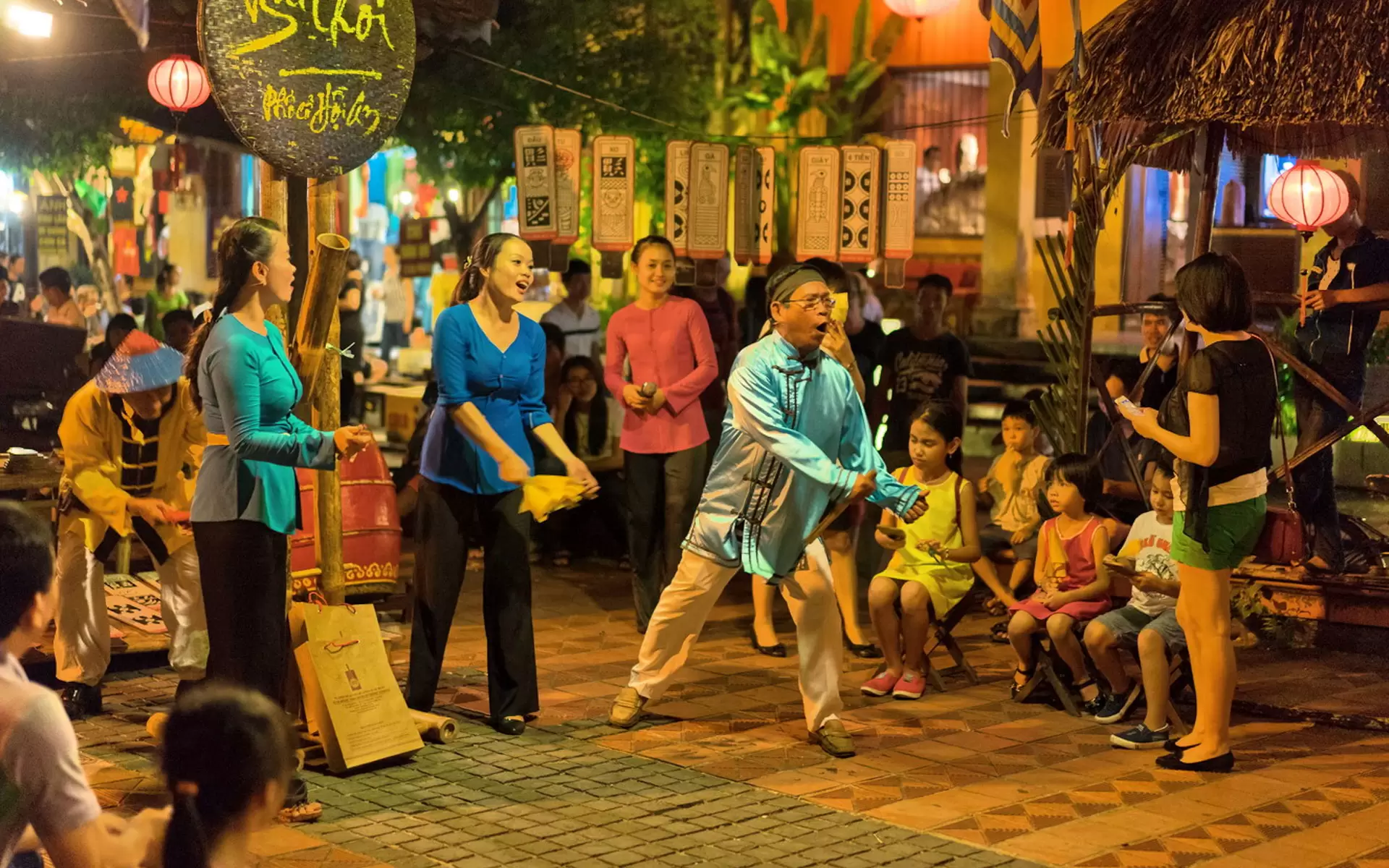 One more interesting experience when the night comes in Hoi An is to participate in folk games. At the night market or at the beginning of Nguyen Thai Hoc Street, there are many folk games for visitors to try from smashing roundabouts, singing folk songs Bai Choi to blindfolded smashing cribs. Every game is crowded with people. The whole space is bustling with cheerful laughs that really stimulates you to try immediately.
7. Music, bars, pubs.
Apart from the peaceful side of Hoi An town, you can also find another interesting face of this UNESCO Heritage Site at trendy bistros, bars, pubs, artistic lounges, and live music venues. Most of them are set within the bustling ancient town and riverside. These nightlife spots stay open and busy, even until 03:00am which are perfect for those who look to party the night away.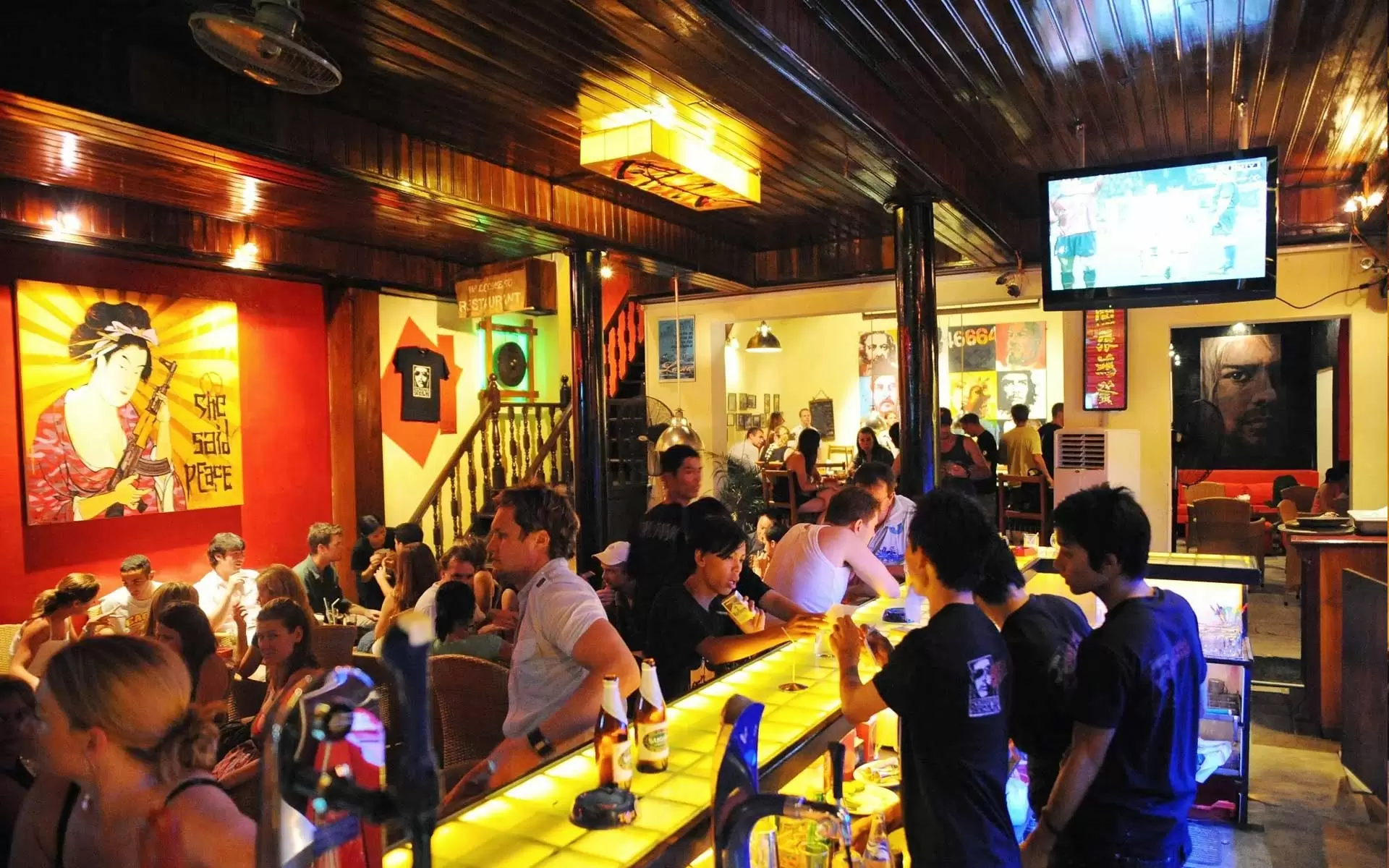 Here are for your travel pocket list:
Mango Mango (45 Nguyen Phuc Chu Street, 08.00am – 00.00am)
Ideally located right next to the famous Japanese Covered Bridge, Mango Mango is a great spot to share a bottle of wine, relax and chic. They also have a selection of Vietnam's craft beers on tap and list of succulent food on offer. Latin inspired music adds to the ambience attracting visitors to enjoy their night perfectly.
White Marble Wine Bar (98 Le Loi Street, 7.00am – 11.00pm)
White Marble Wine Bar is one of the most high-end resto-bars in Hoi An with tastefully furnished space in a gentle mix of new and old. The bar serves an impressive list of 14 different wines in glass, as well as a selection of reasonably priced vodka, rum, whisky and other spirits, both local and from around the world. The background with jazz music adds the charm and makes it an ideal location for a night out.
Before and Now Bar (51 Le Loi Street, 6.00pm – 00.00am)
Being Hoi An's most popular bar although it seems to be mellowing with age, Before and Now is still an attractive nightlife venue for a relaxed night out in Hoi An ancient town.
The two-storey bar features an open-air terrace with plenty of potted plants and colorful lanterns.
Its four-hour happy hour promos, where you can get two drinks for the price of one between 18:00 and 21:00 is also a highlight to enjoy and have fun here, in a high energy atmostphere and even make new friends.
Q Bar (95 Nguyen Thai Hoc Street, 11.30am – 3.00am)
Q Bar is a trendy cocktail bar in Japanese-style furnishing with professional services. It offers an extensive list of unique cocktails, beers, spirits and quality Japanese snacks, attracting a stylish crowd of affluent locals and tourists in Hoi An. Its music is electric and has a beat tempo in the background. Despite of the hefty price tag, Q-Bar remains as one of the most popular nightlife spots in Hoi An.
 Dive Bar (88 Nguyen Thai Hoc Street, 10.00am – 00.00am)
Dive Bar is one of Hoi An' s most popular bars with 'dive' theme, attracting a large number of diving enthusiasts, expats, travellers and locals alike. The Bar is owned by the Cham Island Diving Centre, housing some lounges, pool tables, sofas, garden cafes and an Internet café. The drink menu consists of an assortment of cocktails, wines, whiskeys and mocktails both imported and local. Live music performances are held every Tuesday, Thursday and Saturday evening. 
8. Enjoy tea, drink coffee and freely dip into the atmosphere of the old town by night.
The cafes in Hoi An ancient town are always very popular with tourists. If during the day, from the view of the coffee shop, you get a virtual living check-in corner, then at night, this is a great stop to relax into the night sky of the old town. Sip a cup of hot tea or coffee, enjoy the sparkling light below, you will feel so comfortable and relaxed.
There are some coffee shop names for your choice:
Faifo Coffee: 130 Tran Phu Street, Hoi An (8.00am – 9.30pm).The Chef: 166 Tran Phu Street, Hoi An (9.00am – 10.00pm).Cocobana Tearooms & Garden: 16 Nguyen Thai Hoc Street, Hoi An (from 12.00pm, except Monday).
Hai Café: 111 Tran Phu Street and 98 Nguyen Thai Hoc Street, Hoi An (7.00am – 11.00pm).
Mot Hoi An: 150 Tran Phu Street, Hoi An (8.00am – 9.30pm).
9. Enjoying Cua Dai beach at night.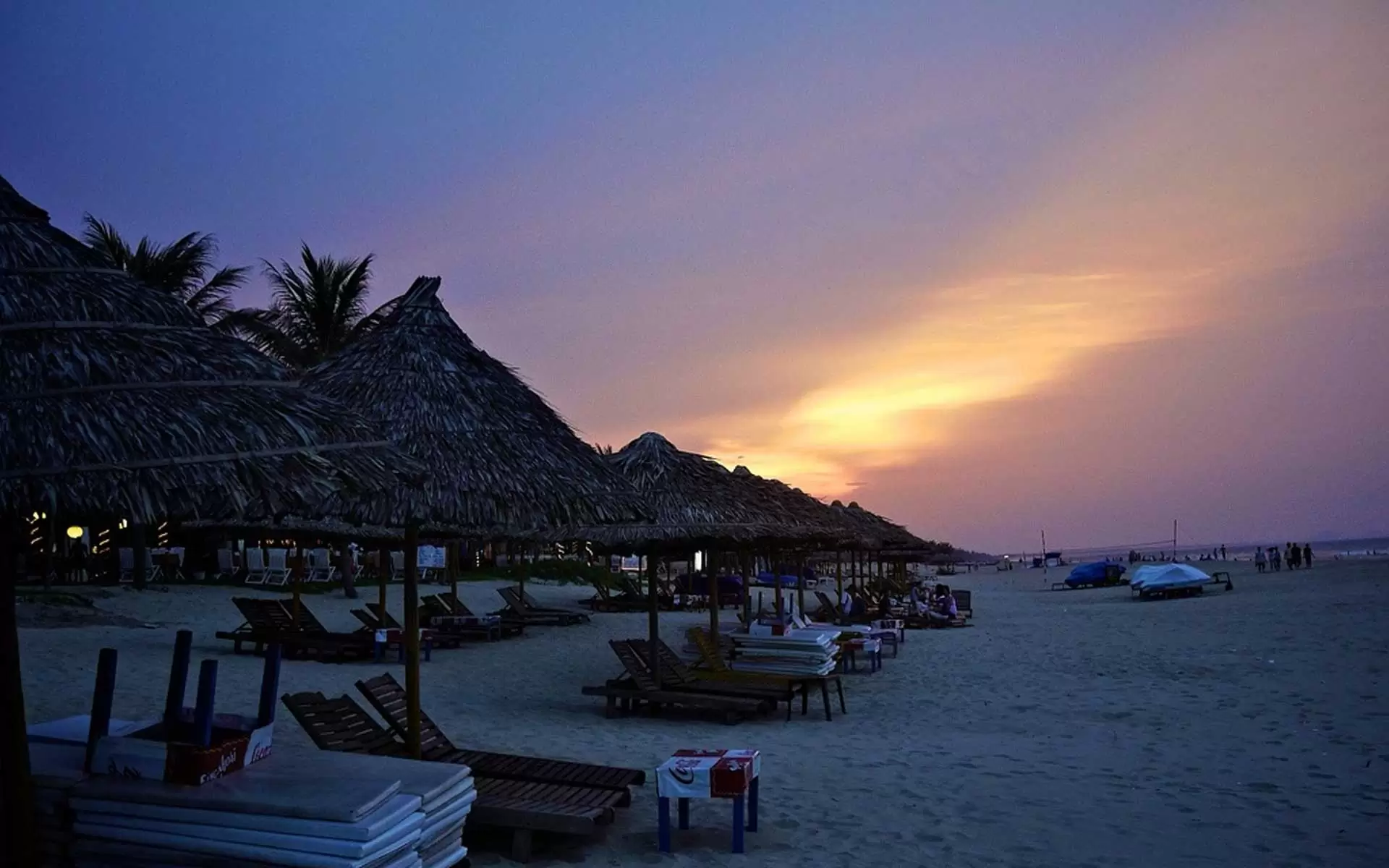 Hoi An has anything else beautiful at night? If you want to have a new feeling, rent a motorbike to go to Cua Dai beach (~ 6km from the town). Sitting quietly by the coconut trees, breathing a little sea breeze and listening to the murmuring waves will definitely be a beautiful memory of Hoi An.
Hoi An City always has ancient, quiet and charming features that attract tourists, especially at night. If you have fallen in love with this beautiful city, don't hesitate to come to Hoi An now. Vietnam Travel team wishes to accompany with you in every trip. Please contact us at anytime.