Quick Guide To Ben Thanh Market, Saigon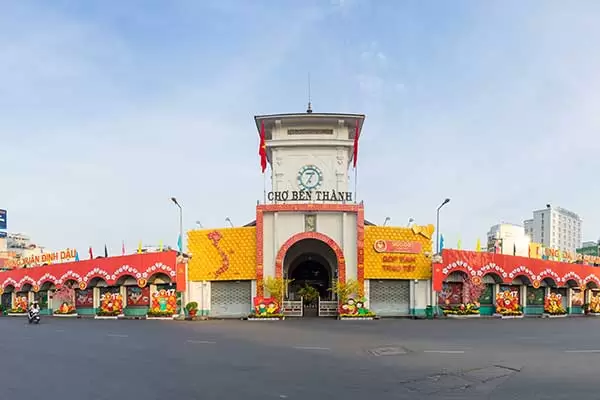 If Dong Xuan Market is a cultural feature of Hanoi in the North, Ben Thanh Market is one of the unique features of Saigon in the South Vietnam that every tourist will gain unique experiences when visiting. With diverse choices of traditional food, handicrafts, clothes, souvenirs, purses and friendly vendors, wandering around Ben Thanh Market is a must-do experience, especially for foreigners visiting Ho Chi Minh City. Here's a guide to help you get around Ben Thanh Market once you visit it.
History of Ben Thanh Market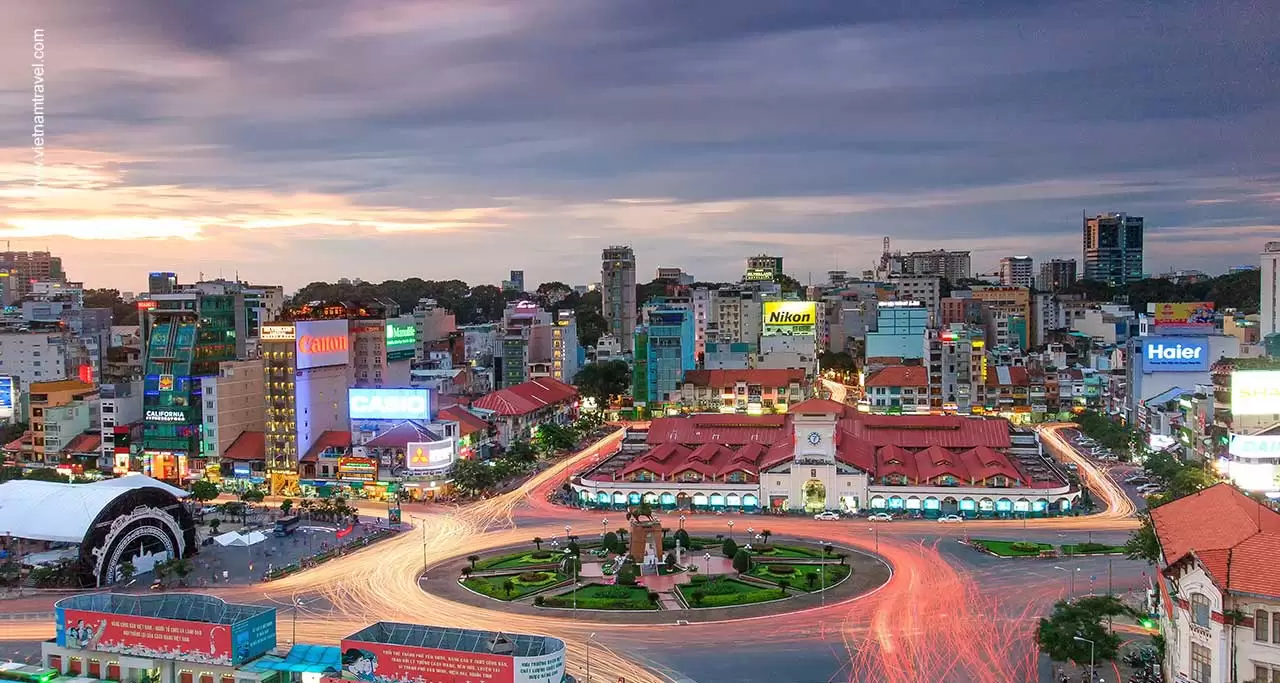 Ben Thanh Market is one of the oldest markets in Ho Chi Minh City and one of the most popular tourist attractions in Vietnam. This destination should not be missed when coming to the city of more than 300 years old. Visitors can explore many colorful stalls to buy food, souvenirs and costumes, fabrics.
The market has a history dating back to the early 17 century, with its original as a meeting place for small businesses selling goods on the street near the Ben Thanh River (now it is Saigon River). In 1870, the French colonial government officially named the area Les Halles Centrales (or Central Market). The market was moved into a new building in 1912 with the new name of Ben Thanh Market.
However, in 1914 the market was relocated to a more central location to what was then near My Tho Railway Station (current Saigon bus station) and again renamed as the "New Ben Thanh Market" to distinguish from its predecessor. In 1985, the new one was renovated to keep up with the city's progress, yet the famous clock tower on the south entrance was left unchanged. Despite the restorations over time, the market remains one of the earliest surviving structures of Saigon – having witnessed war after war, and finally peace.
Location and opening hours
Ben Thanh Market possesses one of the most crucial locations in District 1 – the intersection of Phan Boi Chau, Phan Chu Trinh, Le Thanh Ton streets and Quach Thi Trang construction site. So you can say that all roads lead to Ben Thanh.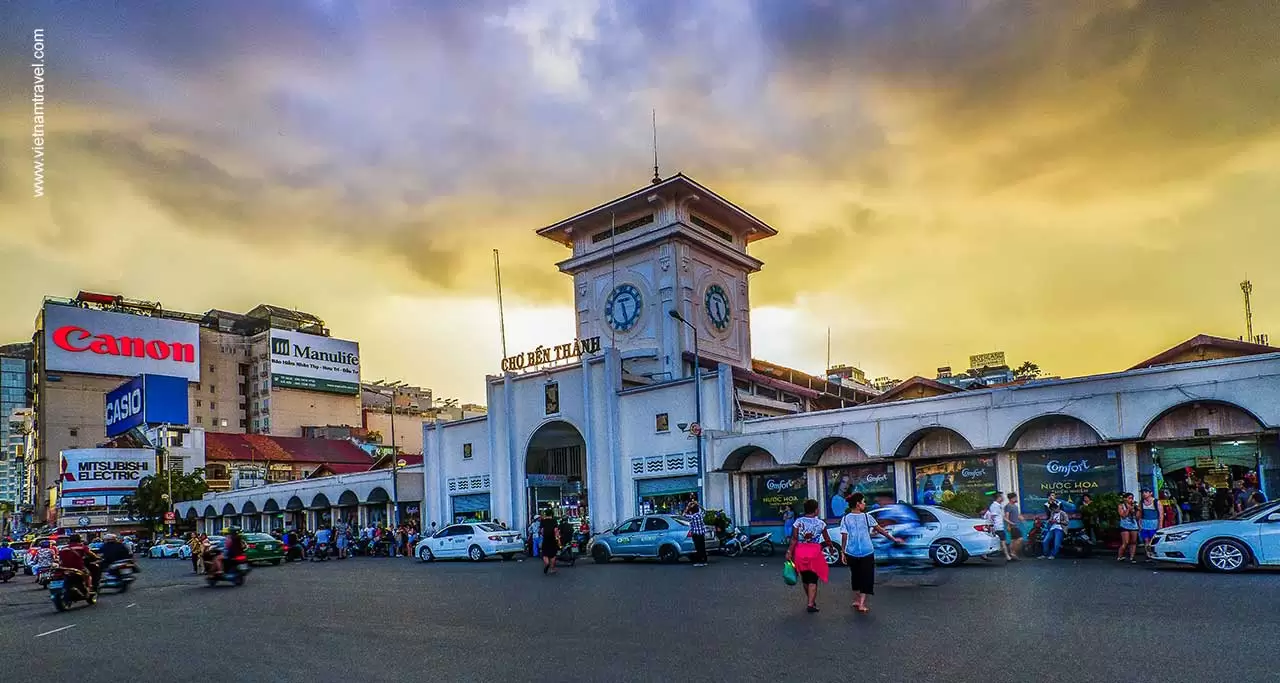 Opening Hours
Ben Thanh Market: 06.00 AM – 18.00 PM
Ben Thanh Night Market: 18.00 PM – 20.00 PM
During Tet (Chinese New Year), Ben Thanh Market is open, however almost shops are closed. It will also be less crowded, so it is a perfect time to explore the quite Ben Thanh market which is decorated with gorgeous lights and flowers. It is a sight to enjoy!
What to buy at Ben Thanh Market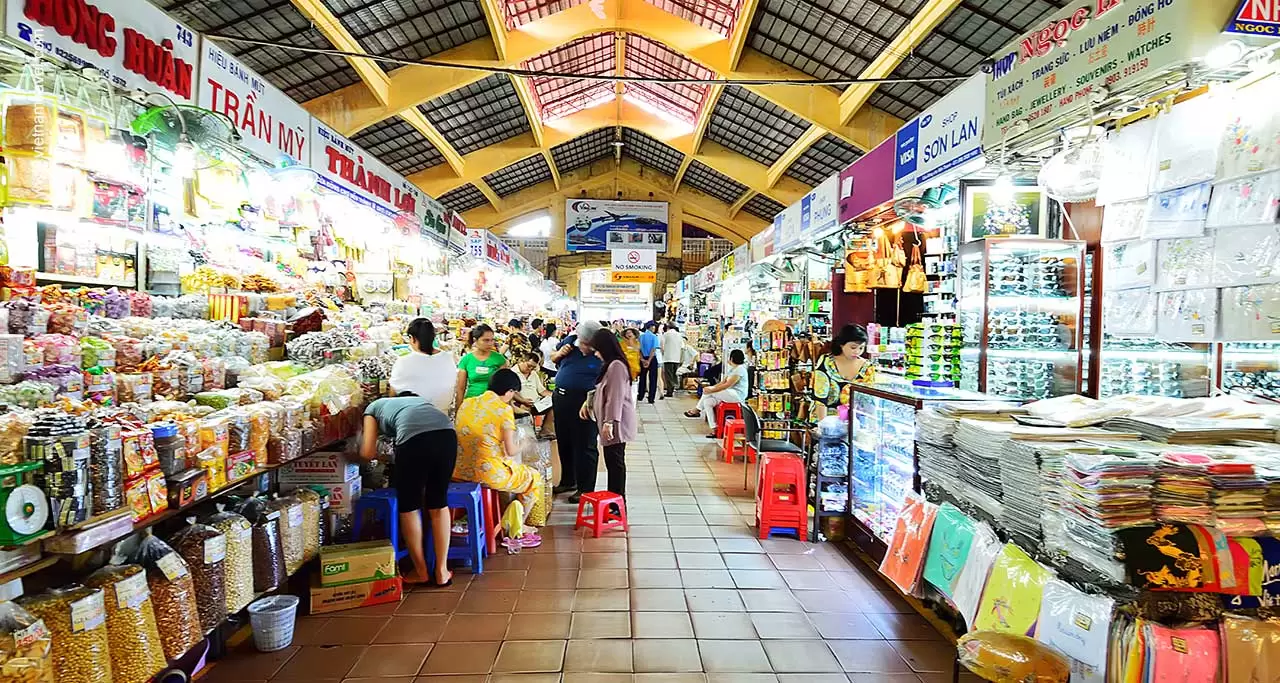 Ben Thanh Market has 4 main gates and 12 entrances. The main front gate or the south gate is on Le Loi Street, the North on Le Thanh Ton Street, the East on Phan Boi Chau Street, and the West on Phan Chu Trinh Street. The main entrance is famous for the big clock tower which is the iconic symbol of Ben Thanh Market. It's a chance to truly get stuck in with the locals and test your bargaining skills. It's a very different experience if you come from Europe or America and are so used to fixed priced items that the idea of bargaining never comes to mind.
– Clothes: Near the entrance, you can find rows of colorful textiles and clothing. You can buy different kind of clothes, even the traditional "Ao Dai" costume and "Non La" – a Vietnamese conical hat you often see people wearing on the street. You also can find them selling mosquito nets, hammocks, embroidery, and even bedding.
– Accessories: jewelry, watches, bags, wallets, handicrafts are sold in the East Gate side.
– Souvenirs: a paradise of many stalls for gifts, ceramics, handicrafts and art will be found on the West Gate side of the market.
– Food: you can buy a lot of Vietnamese packaged food and specialties here such as coffee beans, tea, fish sauces, and dried goods in the East side of the market. They sell different varieties of coffee to take with you back home, available for purchase by the kilo. Phin filters are also available (and make wonderful gifts) for you to use every time you want to make your morning coffee in Vietnamese way. Fresh food with a variety of fishes and meat, processed food and fruits are sold at the North side. You can also find flower shop at this side. The food stalls in the back or outside the market is worth your try because of its variety and tastiness.
Attractions around Ben Thanh Market
Do not forget to pass by Ben Thanh Street Food Market which brings a sense of fresh air to diners, especially to foreign travelers who wish to explore the cuisine of local people. Ben Thanh Street Food Market is only 80 meters away from Ben Thanh Market, starting from the North Gate, opens from 19.00pm to midnight. When visiting the food market, guests should try traditional Vietnamese dishes including bun ca Long Xuyen (noodle with fish), com tam la sen (Vietnamese broken rice wrapped in lotus leaf), bun mam (noodles with broth made of fermented fish), goi cuon (spring roll), chao tom (grilled shrimp mousse on a sugarcane stick) and grilled seafood, with prices starting from VND25,000 each. In addition, those who love street food delicacies of other Asian countries can experience many authentic dishes like Thai fried rice, Malaysian pancakes, Balinese coconut water, and Korean soft serve ice cream among others.
Bui Vien (the backpacker street) is not much further away and can also easily be reached by walk and the same can be said about Walking Street (Nguyen Hue) and other famous tourist sites of the city such as the City Hall, Notre Dame Cathedral, Central Post Office, Opera House, War Museum, Reunification Palace, etc. The interior of these structures may be closed but they are a sight to behold at night with floodlights illuminating their cream-colored walls in the dark. The favorite thing to do is walk around this area at night because the traffic is not congested and it is extremely relaxing. There is also just so much to see – so you can definitely make a good night out of it.
TIPS:
– Visitors should also be wary of pickpockets.
– Be careful with your personal belongings.
– Do not buy the first thing you see.
– Do not pre-determine a fixed price in your head before you start to bargain.
– Be prepared to walk away from a deal.
– Ask questions about quality, original, warranty of goods or products etc.