Beaches Near Phu My Port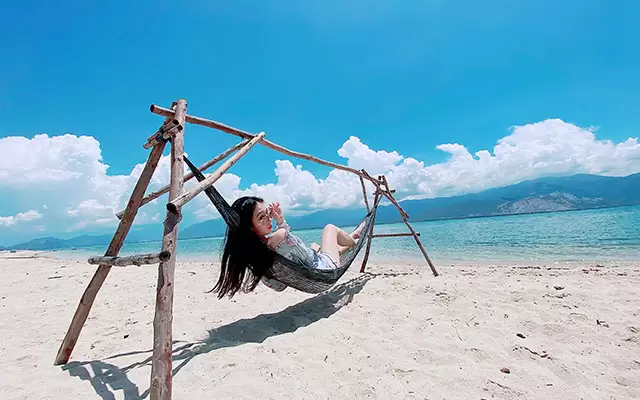 Just less than 50 km from Vung Tau City and nearly 60 km from Ho Chi Minh City, Phu My Port has been recently come into international tourists' minds as one of the main port of calls while sailing cruise around Southeast Asia. While calling in Phu My Port, ocean cruisers can take short break (within the day) or even be there for 2 or 3-day duration. Besides popular destinations like  Cu Chi Tunnels in Saigon or floating markets in the Mekong Delta, tourists have alternative options to come closer to nature and enjoy beautiful pristine beaches, as well as learn more about local traditions. Let's take a dip into local beaches near Phu My Port with Vietnam Travel through this post!
1. General information about Phu My Port.
Located on the banks of Thi Vai River in Phu My Town, Ba Ria – Vung Tau Province, Phu My Port has a strategic location as the gateway to the East Sea. The port was opened in 1993 and became the first deep seaport in the southern Vietnam. Many experts have evaluated Phu My as the leading "port city" in Southeast Asia with many perfect advantages that not many places in Vietnam can possess.
In addition to cargo transshipment, Phu My is chosen as port of call for many world-class superyachts, such as: Volendam Cruise (Holland America), Celebrity Millennium (Celebrity Cruises), Ovation of the Seas and Quantum of the Seas (Royal Caribbean International), Silver Spirit (Silversea Cruises).
Indeed, there is another port of call in Saigon River, which is very close to Ho Chi Minh City center and convenient for short shore excursions in and around Ho Chi Minh City but this port only can accommodate small ocean-going cruises. Meanwhile, Phu My is the large-scale international seaport with an area of ​​26.5 hectares, capable of accommodating ships of up to 70,000 DWT so more and more large cruise ships are calling there on their voyages around Southeast Asia. In addition, it takes only one-hour drive from Phu My Port to Ho Chi Minh City via Ho Chi Minh City – Long Thanh – Dau Giay highway, with a series of modern and synchronous infrastructures.
2. Beaches near Phu My Port for one day shore excursion.
2.1. Thuy Van Beach (Vung Tau Back Beach)
Location: Vung Tau City, Ba Ria – Vung Tau Province.
Distance: 44.4 km ~ 56 minute drive from Phu My Port.
Thuy Van Beach, or locally known as Back Beach (or Bãi Sau in Vietnamese), is located in the southeast of Vung Tau City. With around 8 km long strip of sand stretching from the foot of Tao Phung Mountain to Cua Lap, this is the most beautiful and largest beach in Vietnam. The beach features many high-end hotels, restaurants and beach clubs, as well as lines of umbrellas and sunbathing chairs rent by local vendors. In the south wind season, Thuy Van Beach's sea surface is calm, waves are fairly flat and suitable for swimming and water sport activities. In the weekends or public holidays, the beach will be busier and more crowded with local tourists.
While in Thuy Van Beach, tourists can climb 800 steps to reach the peak of Tao Phung Mountain, where's located the Statue of Jesus Christ. This Statue is 32 meters high, standing on a 4 meter platform with outstretched arms spanning 18.3 meters. You are welcome to climb to the top of Jesus's arms and enjoy the panoramic views of Vung Tau City.
2.2. Long Hai Beach
Location: Long Dien District, Ba Ria – Vung Tau Province.
 Distance: 37.7 km ~ 51 minute drive from Phu My Port.
Lying on the east of town, Long Hai Beach is not much affected by mass tourism development. Coming there, tourists can feel tranquil atmosphere, take a dive into cool water then walk along the shore to explore local daily life. Along the west coast, it's easy to find fishing boats and watch local fishermen prepare the fish boats for new working day. There are several coastal restaurants offering fresh seafood with reasonable prices. Just take a seat, sip a glass of cool cocktail and enjoy the sunset in the murmuring waves. You will quickly forget the daily life's worries and immersed yourself into wild nature here.
The visit to Long Hai Beach can be combined with the nearby religious site: Dinh Co Temple (or translated as Lady Temple). Lying on the Long Hai coastline, the temple attracts tourists by its unique architecture and significant importance in locals' spiritual life. Legend said that a young lady named Le Thi Hong Thuy died at sea and washed ashore about 200 years ago. After her death, she came back in the local fishermen's dreams and helped them to overcome many obstacles. Therefore, locals built the temple to commemorate and consider her as "Long Hai Goddess".
There are not many options for accommodation in Long Hai Beach but below are three resorts with good standards for your references:
– Long Hai Beach Resort
– Anoasis Resort
– Oceanami Villas & Beach Club
2.3. Ho Tram Beach
Location: Xuyen Moc District, Ba Ria – Vung Tau Province.
 Distance: 50 km ~ 1h10m drive from Phu My Port.
With 10 kilometres of unspoiled waters, fine sand and palm trees, Ho Tram Beach was selected as one of the most beautiful and pristine beaches in the world by a famous American TV channel. Ho Tram brings a completely different space in comparison with Long Hai or Vung Tau Beach. Coming there, tourists can experience white smooth sandy beach, green jade water and casuarina forest year round winds. The long sandbar in the west of the beach which is formed by the Ray River, has a really tremendous location, with the East Sea on one side and the river & mangrove forest on the other side. Close to Ho Tram fishing villages are seafood restaurants with affordable prices. Tourists can rent deck chairs on the beach and camping facilities in these restaurants.
If you are a nature lover, don't miss the chance to take a short visit to Binh Chau – Phuoc Buu Nature Reserve, which is only 10 minute drive from Ho Tram Beach. It is the only remaining coastal primary forest in Vietnam which has been listed as national forest since 1984.Stretching at the width of 11.293 ha, this nature reserve has a diverse system of flora most of which are coastal dipterocarpus species and precious woods such as rosewood, afzelia xylocarpa, sindora siamensis, Burma padauk and wild almond. There are also many rare animal species that have been listed in the Red Book, especially, the parthernogenic sand iguana.
In case time permits, tourists are highly recommended to stop at the nearby Binh Chau Hot Springs to end their shore excursion day trip by relaxing in natural pools and mud baths.
The area between the road and the beach in the east has been experienced a rapidly growing range of accommodation from mid-range to luxury resorts.
– Ho Tram Beach Boutique Resort
– The Grand Ho Tram Resort & Casino
– Melia Ho Tram Beach Resort
2.4. Ho Coc Beach
Location: Xuyen Moc District, Ba Ria – Vung Tau Province.
 Distance: 60 km ~ 1h15m drive from Phu My Port.
With golden sands, rolling inland dunes and clear waters, this beach – which stretches for almost 10 km north of Ho Tram – makes a tempting place to stop. Ho Coc is getting increasingly busy with visitors from Ho Chi Minh City but on weekdays it still remains peaceful. Here, you can relax on the beach and enjoy peaceful moments, try kayaking experience, visit Minera Forest…
Besides the above Ho Tram accommodations, you can stay right on Ho Coc Beach and below is the list Vietnam Travel recommends:
– Ho Coc Beach Resort
– Huong Phong Ho Coc Beach Resort
3. Beaches near Phy My Port for 2-day or 3-day shore excursions.
3.1. Cam Binh Beach
Location: Lagi Town, Binh Thuan Province.
Distance: 90 km ~ 2 hour drive from Phu My Port.
Located close to National Road 55, Cam Binh Beach in Lagi Town, Binh Thuan Province serves as a convenient stop-over for tourists on the way from Ho Chi Minh City to Phan Thiet City. Cam Binh Beach is known as the most beautiful beach in Lagi but seems less well-known for both domestic and international tourists. This beach is an ideal option for those who are looking for a beach which still remains authentic and pristine beauty.
Tourism services in Cam Binh Beach are not as developed as the two neighboring beach destinations (Phan Thiet and Vung Tau). However, it still possesses hidden charms of many activities attached with local daily lives. Wake up in the early morning, tourists have chance to join in local fish market right on the beach. The busiest time is from 5:30 AM to 7 AM, when fishing boats return to the shore with full baskets of fresh fishes and other sea creatures. Local fishermen then sort out these catches and sell to local traders and street food vendors on the spot.
You can choose your favorite items and ask local vendors to prepare scrumptious seafood at extremely cheap prices. One interesting activity only can be found here is renting buffalo-cart to go around the coastline.
Not famous for well-equipped hotels and resorts, staying overnight in Cam Binh Beach is quite a strange but memorable experience when tourists can sleep in camping sites or bungalows close to the beach. Night time there is not boring because tourists can mingle themselves into several nightlife activities in Coco Beach Camp, such as: beach or pool party with live music, seaside BBQ party, sea view coffee shop.
3.2. Ke Ga Beach
Location: Ham Thuan Nam District, Binh Thuan Province.
Distance: 125 km ~ 2h40m drive from Phu My Port.
Ke Ga Beach is locally known as Ke Ga Cape with uncrowded sandy beaches and near the lighthouse on a nearby island. The beach in Ke Ga boasts warm and pure water, long white stretches of sand, gentle waves and scattered cliffs with exotic rock formations in different shapes. Therefore, tourists can enjoy swimming, sun bathing or just strolling along the beach. Ke Ga is not suitable for tourists who seek for noisy nightlife and bright attractions.
It's perfectly matched to couples or elders in a non-tourist beach destination. Once in Ke Ga, visitors can't miss Ke Ga Lighthouse. Built in 1898, the lighthouse was designed by a French architect. All materials, such as granite stones and the electric generator and the searchlight, were bought from France. With its unique architecture and at the height of 60m, Ke Ga Lighthouse was selected as the tallest lighthouse in Vietnam. After climbing 184 steps to the top of lighthouse, visitors can enjoy the panorama view of vast ocean and sky with splendid colors, especially at sunset.
In recent years, there is gradually growing rate of accommodations in Ke Ga Cape for every budget. Below are the most popular options for staying overnight in this area:
– Azerai Ke Ga Bay Resort
– Starlight Villa Beach Resort & Spa
– Golden Lotus Resort
– Eco Spa Village
3.3. Mui Ne Beach
Location: Phan Thiet City, Binh Thuan Province.
Distance: 180 km ~ 3h15m drive from Phu My Port.
Mui Ne is the most developed coastal resort town in Phan Thiet with 15km sandy beach. Here is a picturesque of coastline including swaying palm trees, colorful fishing boats and some traditional fishing villages – a popular getaway for tourists and locals alike. Thanks to its rock-free waters and steady wind conditions in the dry season from November to March, it is a top destination for windsurfing, kitesurfing, sailing, kayaking and other water sports.
Besides, Mui Ne is famous for 2 gorgeous sand dunes within easy reach from the town center: White Sand Dune and Red Sand Dune. They are really the masterpiece of nature when you can visit deserts right next to the beaches in a tropical country.
Dubbed as the resort capital in Vietnam, Mui Ne offers wide range of accommodation at any budget. To name a few:
– Anantara Mui Ne Resort
– Sailing Club Resort Mui Ne
– The Cliff Resort & Residence
– Victoria Phan Thiet Beach Resort & Spa
– Bamboo Village Resort
– Seahorse Resort
– Pandanus Resort
– Meraki Oasis Hotel
– Cesar Homestay
4. Some notes when taking shore excursions from Phu My Port.
– To call in Phu My Port, large cruise ships have to sail up Thi Vai River, pass by little swamp mangrove and an industrial container port in the area. The port area for cruise ships has nothing to offer within walking distance. Therefore, passengers should have transportation in advance to access any place of interest.
– Shore excursions booked through the ships are taken by large buses. These buses have priority to pick up passengers but tour options are limited within classic trips, such as:
+ Ho Chi Minh Sightseeing Tour
+ Cu Chi Tunnels Exploration
+ Mekong Delta Day Trip
+ Vung Tau City Tour
In addition, taking this join-in group tours, tourists have no choice but waiting for others who are in long queuing line to get Vietnam Visa Stamp. This will waste time a lot and not much time left for sightseeing activities.
– Remember the rule of thumb is that no walking is allowed in the port because the cruise port is also used as an industrial port. Only vehicles and agents with approved permits can transport within the sea port.
– All ocean cruise ships have strict schedules so that all passengers must follow if they don't want to miss the embarkation time. Otherwise, you have to pay lots of money to catch up with the cruise in case they can't come back the ship on time.
If you book private shore excursions with an independent travel agent like Vietnam Travel, it will be hassle-free because our driver and tour guide will take care of you and your group from the moment you disembark until the time you return your ships. Moreover, our experienced travel consultants can design trip details to perfectly suit to cruise's timetable and clients' travel interests.