Hoa Lo Prison Museum – "The Hanoi Hilton"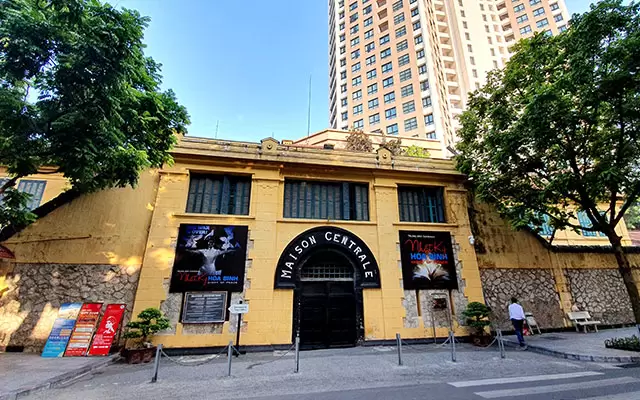 Just few minutes away from Hilton Hanoi Opera Hotel, Hoa Lo Prison, also known as "Hanoi Hilton" and "Maison Centrale", is a historical site in the French Quarter of Hanoi. Loosely translated as "hell's hole", it was originally built by French colonist in 1896 to house and torture revolutionary Vietnam rebels. Under the name "Maison Centrale", Hoa Lo became one of the largest and the most brutal prison complexes in Indochina. Later, Hoa Lo was used to keep US prisoners of war (POW), who referred to it as the "Hanoi Hilton". During the 1990s, most of the prison was demolished, but a part has been kept and transformed into a museum, as one of top Hanoi attractions.
Many emotions are awakened inside the heart of any visitor through a visit to this historical relic.
"Seeing first hand the Hanoi Hilton was very eye opening. You experience the brutal lifestyle of the people serving their time in Hoa Lo Prison makes you realize how much better life in the modern world really is."
"This building house a lot of nasty history. There are many Exhibits that show how it was used during the French colonists & Vietnam War. Which including the guillotine room. Artifacts from prisoners are on display, including flight suit and parachute of John McCain.
It was very educational but very graphic. I was shocked to see people with small children."
These are just some in many reviews that the visitors shared after their recent visit to Hoa Lo Prison that brought them back the past to strongly feel the patriot ideal of prisoners as well as harsh punishments in the hell of hell here.
Let's see what is Hanoi Hilton and why it is worth your visit through this post.
1. History of Hoa Lo Prison Museum
Built by French in 1896, Hoa Lo Prison was considered as one of three most savage prisons in Vietnam along with Con Dao Prison and Son La Prison. The name "Hoa Lo", commonly translated as "fiery furnace" or even "hell's hole", also means "stove" which originated from the street name "Hoa Lo" where wood stoves and coal-fire stoves were sold in pre-colonial times.
The French called the prison "Maison Centrale" (or "Central House") as the designation of prisons for dangerous or long sentence detainees in France. Its intention was to hold Vietnamese prisoners, especially political prisoners who often agitated for independence.
Its capacity was expanded from 460 inmates to 600 in a 1913 renovation. However, it was even overcrowded when holding some 730 prisoners in 1916, then rise up to 895 in 1922 or a figure of 1,430 in 1933. By 1954 it held more than 2000 people in subhuman conditions of poor quality food, poor sanitary conditions, many diseases and bad personal hygiene. It became a symbol of colonialist exploitation and Vietnamese bitterness towards the French.
Following the defeat at the Battle of Dien Bien Phu and the 1954 Geneva Accords; the French left Hanoi and the prison came under the authority of the Democratic Republic of Vietnam. Thereafter the prison served as an education center for revolutionary doctrine and activity.
There are many patriots and revolution leaders of Vietnam who were captured in Hoa Lo Prison including Phan Boi Chau, Luong Van Can, Ho Tung Mau, Nguyen Luong Bang, Nguyen Quyen… and 5 General Secretaries of Vietnam Communist Party: Truong Chinh, Le Duan, Nguyen Van Cu, Nguyen Van Linh and Do Muoi.
From 5 August 1964 to 31 March 1973; the prison was used to capture American pilots who were shot down during their bombing raids against North Vietnam; including US Senator John McCain and the first US Ambassador to Vietnam – Douglas Brian Peterson. By this time, the prison was known to American POW as "Hanoi Hilton".
During the 1990s, the prison was demolished and high-rises (including the Somerset Grand Hanoi) and other developments were built upon its land, but the gatehouse remains as a museum. There is also a memorial monument in dedication to the Vietnamese patriotic and revolutionary fighters.
Hilton Hanoi Opera Hotel was opened in 1999. It was built decades after the Vietnam War was over, but Hilton carefully avoided reusing the dreaded name Hanoi Hilton.
2. Structure of Hoa Lo Prison
In the past, Hoa Lo was one of the biggest and solid prisons in Indochina; covering an area of over 12000 square meters with outer and inner area.
From the first look, the construction of Hoa Lo Prison was included 4m high stone walls; 0.5-meter thickness with pieces of broken glass and bare wire with high-voltage electricity as a reinforcer. Surrounded the prison are four corners of four directions which were arranged with watchtowers for the wardens to closely and carefully follow and observe every single action.
There is a complex with rooms in the prison, including a house for guarding, a house used as a hospital, seven houses to detain the accused prisoners, a workshop for making iron, textiles, leather products and four cells for dangerous and rules violated prisoners.
The most highlight of Hoa Lo Prison is the guillotine which was designed from 2 to 4 m high by wooden columns with a large blade held by latches at above and two semicircular pieces of boards combined into a perfect circle at under to keep the heads of dead prisoners ahead.
Inside Hoa Lo Prison, there is also a dangerous place called Cachot, considered as the hell of hell (extremely dark, cramped and airless) to imprison those who have opposed behaviors, or dangerous offenders. It is really a nightmare with all prisoners.
Nowadays, only nearly 2500m2 is kept and remained to turn into present Hanoi Hilton. This is also place to educate Vietnamese people of all strata; especially young generations. The more brutality and torture this place was, which made the Hilton that no-one wanted to stay in, the clearer images that showed a symbol of strong will of prisoners and revolutionary traditions of those who sacrificed for the sake of the nation's independence and freedom.
3. Things to Know Before You Go
Hoa Lo Prison possesses gruesome displays that are not suitable for children.
You can have emotionally difficult experience while visiting the Museum.
There are English translations on most of the displays.
Other available services inside the Museum including tour guide, audioguide, souvenir store and beverages.
Directed by Lionel Chetwynd in 1987 with the stars of Michael Moriarty; Ken Wright, and Paul Le Mat; there is a film named The Hanoi Hilton. The film focuses on the experiences of American POWs who were held in the infamous Hoa Lo Prison during the 1960s and 1970s and the story is told from their perspectives. The film portrays fictional characters, not specific American POWs. After 2008 US President election, Warner Bros released a DVD of this film.
Notice the instructions on safety guidelines and fire prevention while visiting.
Do not touch and move objects in the prison.
4. How to Get to Hoa Lo Prison Museum?
Hoa Lo Prison Museum is located near the French Quarter of Hanoi, just about a 15-minute walk from Hoan Kiem Lake. You can easily reach here by motorbike; taxi or even bus. There are several buses with stop nearby Hoa Lo, including No.2, 9, 40, and 49; then you take a short walk to the museum with the sign "Maison Centrale" at the entrance of a bright yellow building.
As one of the most famous attractions of the capital, your visit to Hoa Lo Prison can combine with a sightseeing tour to other top war sites; including the Vietnam Military History Museum or Ngoc Ha Village; where part of a downed B-52 has been preserved. The museum can also be combined with visits to other Hanoi's top attractions; such as the Ho Chi Minh Mausoleum, One Pillar Pagoda, or the Temple of Literature, etc.
Best experience will be recommended with private car/van and escorted tour guide for the better understanding about the history. Please contact our Vietnamese Tour Advisors for further information and assistance.
Address: No. 1, Hoa Lo Street, Tran Hung Dao Ward, Hoan Kiem District, Hanoi.
Opening hours: everyday, 8:00 – 17:00 (including festivals and holidays).
Entrance fee: 30.000VND (~ US$1.5)/person.