Ba Vi National Park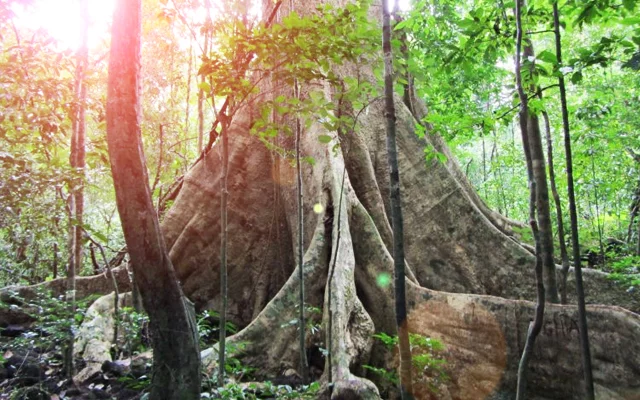 Situated about 60km west in the outskirts of Hanoi (previously Ha Tay Province), Ba Vi National Park is one of Vietnam's most famous areas of outstanding natural beauty. This is an isolated soil-limestone mountainous area (10.814,6 ha) sharing the border with 2 districts of Hoa Binh Province (Luong Son & Ky Son). Ba Vi attracts visitors because of its diversity of ecosystems, cool fresh mountain air in a mystical atmospheric backdrop of clouds, jungle and tropical rainforest. It is also centered around a three-peaked mountain jutting steeply out of the landscape: the highest – Emperor Peak at 1,296m, followed by Tan Vien at 1,226m and Ngoc Hoa at 1,131m.
Visiting Ba Vi National Park, you can also dip yourself in its historical and cultural sites when Ba Vi is home for hundreds of relics dating back a century or more to the French colonial era. No need further searching, Vietnam Travel will bring you more information about the national park in this article.
Location: Tan Linh Commune, Ba Vi District, Hanoi City
Opening hours: 6.00am to 7.00pm
Entrance Fee: 60,000VND / person (from 25 Apr 2019)
Other fees:
+ Filming or Photography services in the park: 800,000VND/group/day (below 10 people), and extra charge at 50,000VND/person/day from group of 10-50 people. If above 50 people, surcharge will be 30,000VND/person/day.
+ Guide services: 300,000VND/group/site/route/day (below 30 people). Surcharge at 200,000VND/site/other route in the park. If above 30 people, extra charge will be 5,000VND/person/site/route.
Legend of Ba Vi National Park.
It is said that Ba Vi Mountain was the place of incarnation of Holy Lord Tan Vien Son Tinh, the top saint of the Four Immortals in the Vietnamese minds. To commemorate the merits of the Holy Lord, local people built his temple on the top of Tan Vien which is called Thuong Temple and the temple was ranked as a national-level historical and cultural monument in February 2008. In addition to historical values, visitors will have the opportunity to learn more about the culture of Van Lang in the 18th Hung King Dynasty and feel more deeply about the love between Son Tinh and princess Ngoc Hoa.
On January 16, 1991, the Chairman of the Council of Ministers (now the Government) issued Decision No. 17 / CT approving the economic feasibility study for the establishment of Ba Vi National Forbidden Forest. On December 18, 1991, the Chairman of the Council of Ministers (now the Government) issued Decision No. 407 / CT on renaming Ba Vi National Forbidden Forest to Ba Vi National Park. In May 2003, Ba Vi National Park was decided by the Government to expand the planning to Hoa Binh Province. At present, the total area of ​​the park is 10,814.6 ha in the administrative boundaries of 16 communes in 3 districts of Hanoi City and 2 districts of Hoa Binh Province.
How is Ba Vi National Park unique?
Thanks to its natural beauty and special geographic and climate, Ba Vi becomes one of famous mountainous ecological tourism centers in Vietnam besides Tam Dao, Sapa, Dalat. There are many attractive relaxing spots in Ba Vi such as Khoang Xanh, King Pond, Tien Sa Lake, Thien Son-Suoi Nga, Thac Da, etc.
Apart from the natural beauty, this is also home to many historical and cultural relics such as: Thuong temple, Trung temple, Ha temple, Uncle Ho temple, Bao Thien tower, Ngoc Hoa cave…
The park has biodiversity values including 3 forest types: subtropical moist evergreen closed forest; closed evergreen mixed broadleaf and subtropical coniferous forest and low montane tropical evergreen broad leaved forest.
Containing 2 high belts, the flora at the park is quite plentiful and diversified, recorded 1209 species of higher plants belonging to 99 families, 472 genera. There are many rare and precious plants such as Calocedrus marcrolepis, Podocarpus nerrifolius, Sen Mat, Gioi La Bac, Quyet Than Go, Bat Giac Lien, etc.
The fauna consist 342 species, in which, there are 65 species of mammals, 169 species of birds, 30 species of reptiles, 27 species of amphibians. Some rare and precious species such as Chrotogale owstoni, Artictis binturong, Prionodon pardicolor, Felis temmincki, Capricornis sumatraensis, Petaurista petaurista, Lophura nycthemera, Eurystomus orientalis, Garrulax chinensis…
More than that, originally created as a hill station during the French Colonial era, Ba Vi National Park has always been an excellent source of medicinal plants for the Dao ethnic group. So far, 503 species of medical plants are recorded in the park.
Hence, these days, tourists flock to Ba Vi National Park not only for enjoying fresh and green ecological area, but studying more about its historical & cultural sides as well.
Best time to visit Ba Vi National Park.
In fact, you can visit Ba Vi National Park which offers pleasant climate at any time of the year as each season has its own specific beauty. However, the best time to visit is usually from April – September when the weather is dry and cool, or from November – December, when the beautiful wild sunflowers start blooming. The average temperature from April to October can be at 23oC, while it reaches highest at 28.6oC in June and July.  For November to March, a temperature will be at approximate 20ºC, and the lowest temperature falls into January which is only about 15.8oC. During this time, the mountains can be covered with fog with little snow (if lucky).
What to do in Ba Vi National Park?
There are plenty of activities and routes for your choice when visiting Ba Vi National Park. Here are some information for your reference.
For those who are interested in spiritual tourism:
– Route 1: Thuong Temple (worshiping the Holy Lord Tan Vien)
– Route 2: Uncle Ho's Temple – Bao Thien Tower.
– Route 3: Tan Vien Pagoda – Trung Temple.
– Route 4: Kho Pagoda.
– Route 5: Ngoc Hoa cave.
For those who prefer to explore the ruins of the French period:
– Route 6: French summer camp.
– Route 7: French ancient church – Orphanage.
– Route 8: French political prison area.
For those who love nature tourism:
– Route 9: Botanical garden.
– Route 10: Natural spring bath.
– Route 11: White cliffs – Bear cave
– Route 12: Ancient Green Bach complex – Peak Tieu Dong.
More details about some spots as follows:
Cactus Garden: About 1km from the main gate where up to 1,200 cactus species are planted and preserved. The ecosystem here is rigidly protected, offering an abundance of colorful cactus flowers that you have never seen in other places.
Pine forest: Located behind the cactus garden and Ba Vi area, 400m in core area. This is a very interesting place to take photos, set up camping tents. This is great area for team building activities and suitable for children.
Ngoc Hoa Cave: Located under a cliff, standing near the foot of Ba Vi mountain for thousands of years, due to the slippage of geology. It's formed an interesting landscape with a large stone arranged neatly, steadily, create a natural creation. For many years, the local people have built and embellished this place to worship Ngoc Hoa Princess.
French ruins: Ba Vi was functioned as a holiday resort during the French colonization in the 19th century. Nowadays, there are many ruins of these resort scattering throughout Ba Vi Mountain Range, offering you a lot of nice photos such as French Summer Camp, the Old Church, the French Military Zone and Political prison under the French.
Trekking to the summits of the mountain: There are 3 peaks in Ba Vi Mountain Range that any trekker desires to conquer once visiting there, including the Emperor Peak (1,296m), Tan Vien Peak (1,226m) and Ngoc Hoa Peak (1,131m). These peaks are usually covered with fogs and clouds so it will challenge you with steep slopes and slippery jungle roads while trekking.
King Peak: As the highest summit of 1,296m, you have a chance to trek through the majestic landscape of the whole park, pay a visit to Uncle Ho's temple on the top point and stand astounded by the magnificent view of surrounding areas from Bao Thien Power.
Tan Vien Peak: At the height of 1,226m, you can visit the Thuong Temple where worships the Holy Lord of Ba Vi Mountain Range.
Ngoc Hoa Peak: The third highest summit at 1,131m, famous for Tieu Dong Peak and Ancient Green Bach complex.
Thuong Temple: Located at Tan Vien Peak, this is to worship Thanh Tan Vien Son. It was built during the An Duong Vuong period, and rebuilt on a large scale under King Ly Nhan Tong which led the culture in worship of Holy Lord Tan Vien spreading throughout Northern Delta of Vietnam. Through the time, the ancient temple was no longer existed. In 1993, the temple was restored into a small scale leaning against the cliff. By 2008, the State recognized Thuong temple (together with Trung temple and Ha temple) as a national-level historical and cultural relic. In 2010, Hanoi City started to rebuild the temple on a fairly complete scale.
Bao Thien Tower: It was completed in 2010 on the occasion of 1000 years of Thang Long-Hanoi. The tower consists of 13 floors, 26.9m high with a large brass lottery at the top. There are 88 large and small statues and 8 Diamonds which are turned to 8 directions. This tower was built to serve the locals' beliefs.
Uncle Ho's Temple: Nestled at the highest peak of Ba Vi range – the Emperor peak. The story is that, Uncle Ho wished to place his ashes in three places after his death, including one at Ba Vi Mountain. That's why the idea of building a Uncle Ho's temple here was raised and immediately responded according to his will. The temple has a traditional architectural style with 8 curved blades in four sides on round pillars on the foot of the stone. Pictures and objects about Uncle Ho are solemnly displayed here. Every year, on July 21 of lunar calendar, on the occasion of Uncle Ho's death anniversary, representatives of the Party, State, ministries, departments, mass organizations and people nationwide come here to commemorate this day as one of Vietnamese traditions.
Specialties in Ba Vi National Park.
Lam rice: This dish is made from rice (usually glutinous rice) and some other ingredients, put into bamboo tubes, bamboo, etc. and bake over heat. It is delicious to eat with grilled chicken and quite easy to bring along.
Chicken hill: Raised in Ba Vi mountain area, the chicken meats are strong and fragrant.
Forest pork: This is very popular dish in this area. Wild boar is absorbed by nutrients from natural food sources so it has lots of lean but very soft, very low in fat, thick skin.
Milk products: Having special privileges of nature from cool water to mild weather, pure climate, the locals have created immense green grass fields and healthy dairy herds, providing abundant milk with a delicious taste.
Apart from these specialities, you can still try many other delicious cuisine in some restaurants here such as fishy rice, barbecued goat, Vietnamese bread, Pho (rice noodle soup) or Bun Cha (grilled meat with rice vermicelli) which are very suitable for a camping or picnic day.
How to get to Ba Vi National Park?
About 60km far from Hanoi, you could easily reach Ba Vi National Park in around 2 hours by scooter or motorbike. Just take the Thang Long highway and keep driving until you see the signs to Son Tay and Ba Vi. The ride up to Ba Vi National Park can be a bit bumpy and tricky, especially in the rainy reason, so your good driving skills are a priority.
It is also possible to take a taxi or a bus to Ba Vi National Park. For bus, there are several buses for your choice at the most convenient place, for example: Bus No. 214 from Yen Nghia Bus Station (Ha Dong District, Hanoi) to Xuan Khanh (Son Tay), or Bus No. 71,74 from My Dinh Bus Station to Xuan Khanh. This final stop (Xuan Khanh) is 5km far from Ba Vi, so you can continue to grab a taxi or motorbike (if available) from here to arrive in the national park.
Renting a private car with driver together with experienced guide are also highly recommended for your stress-free and best experience and knowledge about the visiting destination. Please contact us at any time when you have interests for the instant assistance!
Where to stay in Ba Vi National Park?
In close distance to Hanoi, the most choice of people to Ba Vi National Park is within the day. However, if you wish to stay overnight on Ba Vi mountain, you can choose one of the two options below:
+ Ba Vi Resort:
Location: Cote 400m Ba Vi National Park, Ba Vi District, Hanoi
Tel: +84 97 968 85 56
+ Melia Ba Vi Mountain Retreat:
Location: Cote 600m Ba Vi National Park, Ba Vi District, Hanoi
Tel: +84 24 3200 9999
There are a few areas where you can camp overnight in Ba Vi National Park, such as Cactus garden area, Ngoc Hoa cave area and finally 400m core area. If you go in summer and dry weather, just need a tent and a sleeping bag that you can completely set up camp overnight comfortably.
Some other choices for your overnight including:
+ Ba Vi Homestead:
Location: Van Hoa, Ba Vi District, Hanoi
Tel: +84 24 3943 8205
+ Moon Garden Homestay:
Location: Ky Son village, Xuan Son Commune, Son Tay, Hanoi
Tel: +84 91 322 03 33
+ Tan Da Resort:
Location: Van Hoa, Ba Vi District, Hanoi
Tel: +84 24 3388 1047
Tips on visiting Ba Vi National Park.
– Avoid rainy days as the road to the mountains is very slippery, which is unsafe for travelers.
– The weather in the jungle could be unpredictable, so you should better check the forecast before choosing your trekking tour duration. For trekking lovers, we highly recommend you to plan your tour at least 1 week in advance to have enough time for preparing all necessary items as well as a good health.
– Stay away from small waterfall, muddy water or still water because they are the places where there are lots of creepy creatures such as leeches inside. Put insect repellent can be necessary.
– Carry a map when entering the mountain's base so you can discover this attraction much easily.
– Hire an experienced guide is a wisdom as they have in depth knowledge of the route as well as know exactly where are the ideal places for unique scenery. In emergency, they will easier solve the problem with their professional first aid skills.
– Don't forget to get some specialties of the region as they are really delicious.
– Respect nature is a must. This is the best way to protect the environment.