Vietnam Festivals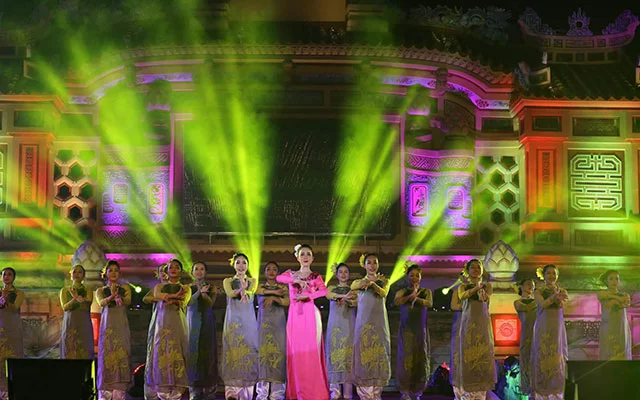 Vietnam festivals are colorful and varied from North to South, region to region. Joining in these festivals is a great way to witness, understand and absorb local culture, beliefs and traditions. So let's check out the most famous festivals in Vietnam in the following article to get more information.
Lunar New Year (Tet Nguyen Dan)
Time: late January – early February
Venue: all over the country.
Lunar New Year or Tet Nguyen Dan is the longest and most important festival in Vietnam. It often takes place from late January to early February, depending on lunar calendar. During Tet holiday, all schools, companies, factories are temporarily closed. According to Vietnamese customs, Tet is an occasion for family unions and gatherings so people always try to return their hometowns no matter how busy they are and far away they live and work.
Before New Year Eve on 1st January in lunar calendar, people are busy to clean and decorate their houses with peach blossom, apricot blossom, kumquat tree…as well as prepare traditional foods such as "banh chung", "banh tet", spring rolls… Each region and ethnic group in Vietnam has different traditions and customs to celebrate Tet holiday so if you travel Vietnam during this time, you will have chance to explore the diversity of culture.
During the Tet holiday, Vietnamese people will visit their relatives, give good wishes to each other; adults will give lucky money (called "li xi") to children and the elder. Besides, they will go to pagodas and temples to pray for a better upcoming year.
Lim Festival
Time: on 12th & 13th day of the 1st lunar month
Venue: Lim Village, Tien Du District, Bac Ninh Province (~18km from Hanoi).
Lim Festival is a chance to dip into the folk culture of Vietnam. "Quan ho" singing – UNESCO's Intangible Cultural Heritage is one of the main highlights of this festival. Both men and women in traditional costumes will perform folk songs about many topics such as love duets, greetings, trivial objects, love sentiments… Besides, there are many interesting activities and local games organized at Lim Festival like bamboo swings, cockfighting, tug-of-war, wresting, human chess… Only 20 minutes driving from Hanoi, Lim Festival is a great chance for tourists to learn more about Vietnamese traditions as well as local culture.
Perfume Pagoda Festival
Time: 6th of the 1st lunar month – at the end of the 3rd lunar month
Venue: Perfume Pagoda, My Duc District, Hanoi.
Perfume Pagoda Festival begins after Vietnamese Traditional New Year and last until the end of March in lunar calendar. As its name suggest, this festival is organized at Perfume Pagoda (Chua Huong) – one of the most famous Buddhist pilgrimage sites in Vietnam. To visit different small temples and pagodas in Perfume Pagoda, visitors will take a boat from Ben Duc Wharf along Yen Stream and pass through many beautiful mountainous landscapes, rice fields, and limestone caves. After that, you can choose to climb 120-step stone stairways or take a cable car to Huong Tich Grotto – most sacred and important place of the complex. In 3 months of festival, hundreds of thousands of pilgrims from all over the country come to this sacred pagoda. They pray for a happy and prosperous year ahead.
Cold Food Festival
Time: on the 3rd day of the 3rd lunar month
Venue: all over the country.
Cold Food Festival (Tet Han Thuc) is a Vietnamese traditional festival which takes places on the 3rd day of the third lunar month. This is an occasion for family gathering and remember ancestors so people will try to come back their home. "Banh troi" and "banh chay" are two traditional cakes of this festival. "Banh troi" are spheres made of glutinous rice flour with piece of dark brown sugar inside. "Banh chay" are larger than "banh troi" with steamed green bean paste inside and served with a sweet soup made of tapioca, grated ginger root and sugar.
The tradition of making these cakes has existed in the country for a thousand years across the nation. People will put these cakes on their altar to worship their ancestors and wish for a safe and happy year ahead.
Hung Kings' Festival
Time: from 8th – 11th day of the 3rd lunar month
Venue: Viet Tri City, Phu Tho Province.
Hung King Temple Festival is held annually in Phu Tho Province (~ km from Hanoi) to commemorate the 18 Hung Kings – the nation founders. This festival lasts 4 days, from the 8th to the 11th day of lunar March. The atmosphere of the festival is always bustling with many different folk games including human chess, bamboo swings, rice cooking competitions, wrestling, lion dance, etc. The highlight of the festival is the palanquin procession and incense-offering up to Upper Temple (Den Thuong) on the 10th day with participation of governmental leaders, villagers, and many visitors.
Ba Chua Xu Temple Festival
Time: on the 23rd – 27th day of the 4th lunar month
Place: Ba Chua Xu Temple, Sam Mountain, Chau Doc, An Giang.
Ba Chua Xu Temple Festival is a famous festival in An Giang Province, Mekong Delta. According to a legend, in the early 1800s, villagers found a statue of a lady dating to the 6th century in the forest. Then they built a temple to worship the lady with the hope that she would bring them better crops and better lives.
This festival consists of 5 ceremonies: Ba Chua Xu's statue washing; inviting the spirit of Thoai Ngoc Hau, a general in Nguyen Dynasty, to the temple as a commemoration of his merit in reclaiming the land; sacrificing offerings (called Tuc Yet); establishing altar; and giving oblations one more time (called Chanh Te).
Offerings are placed on the table in front of Ba Chua's statue, including a white pig, pig's blood and hair (called 'mao huyet' – hair and blood), sticky rice, fruits, areca and betel, rice and salt, and incense sticks.
Hue Festival
Time: around April/ May/ June (once every two years)
Venue: Hue Imperial City, Hue City.
Hue festival is held once every two years in Imperial City of Hue to commemorate the colorful and outstanding cultural heritages of the Nguyen Dynasty – the last dynasty of Vietnam. During one-week event, tourists have chance to enjoy many impressive showcases like art exhibition, calligraphy exhibition, live music, film screenings, acrobatics, puppetry performances, "Ao Dai" Fashion Show… Besides, there are also many interesting activities such as boat racing, kite flying, human chess; performances of dance and fireworks are also included.
Mid-Autumn Festival
Time: on the 15th day of the 8th lunar month
Venue: all over the country, recommended places: Hanoi & Hoi An.
Mid-Autumn Festival or Tet Trung Thu falls on the 15th day of August in lunar calendar. In Vietnam, it was originally conceived as an opportunity for parents to spend time with their children after the harvest season. Therefore, Mid-Autumn Festival is an occasion for family reunion and also a children's day. During the festival, you can encounter groups of lion dancers practicing on the streets, mooncakes displayed in the stores, colorful lanterns and masks hanged and sold in every corners. Hang Ma street in Hanoi and Hoi An Ancient Town are two famous places where you will feel the most bustling atmosphere of Mid-Autumn Festival. The streets are packed with many people and children; music is on and lion dances are performed. People are very happy and excited.
Above is a list of some typical and popular festivals in Vietnam which help you understand more about country's rich culture, diverse traditions and customs. So don't miss the chance to join these festivals when visiting Vietnam.