A O Show – Traditional Vietnamese Culture Show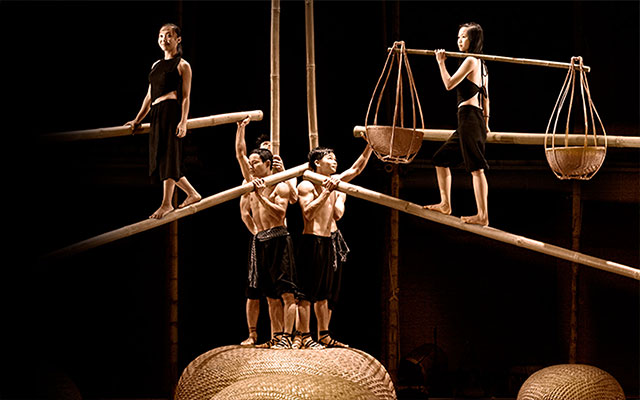 A O Show, one of a must-see shows in Hoian and Saigon, is a unique merge of bamboo circus, acrobatics acts, contemporary dance, traditional Vietnamese music and theatrical visual art. The name "A O" derives from "Lang Pho" which means village and city. The show stands out on the contrast between the charming beauty and cultural richness of Vietnamese life in the countryside and the nation's racing urbanization. This one-hour show is a chance for those who want to transcend time and space for a front-row immersion in the artistic and emotional life of Vietnam.
A O Show's Features
Vietnam's contrasting portrait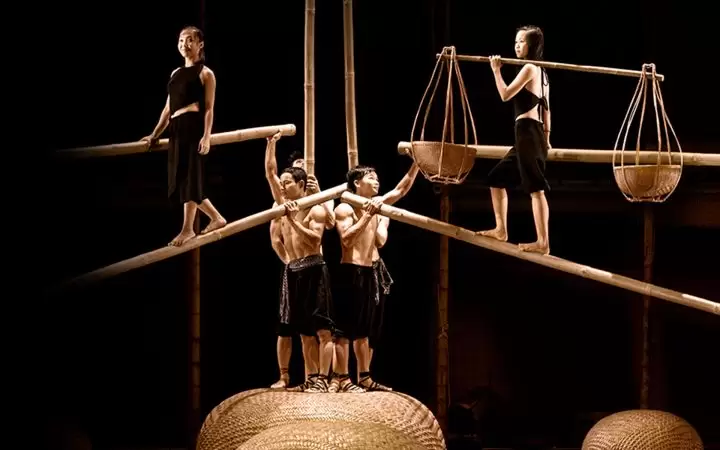 A O Show depicts the placid calm of Vietnamese rural life versus the noise, energy and tumult of urbanization, tradition versus modernity, overpopulation versus the need for privacy… and more than that. The peaceful moments of life in countryside are vividly recreated in A O Show such as going cross monkey bridge, picking lotus flowers, singing and joking in harvesting time…. In contrast, the happening noise and funny discordance of modern life are presented through apartment culture, youth street culture, bus riding culture… A contrasting portrait of Vietnam is painted through the poetic lens of a soulful observer and full of love.
Vietnam bamboo circus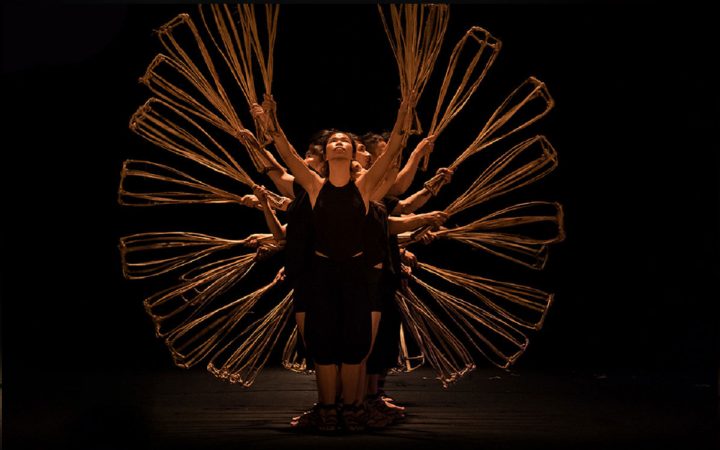 One of the unique features of A O Show is that all the props are made from bamboo. Bamboo is a symbol of strength, stability and resilience of the Vietnamese people and has been associated with Vietnam countryside life for thousands of years.
The bamboo circus is a combination of story-telling circus and creative use of bamboo to perform an inspiring art with unique traditional music. Performers use a variety of props such as bamboo sticks, giant woven baskets and ropes flexibly and smoothly. All movements, choreography, martial arts, circus, and acrobatics are skillfully and subtly mixed, bringing an eye-catching performance to the audience.
A delicate touch of humor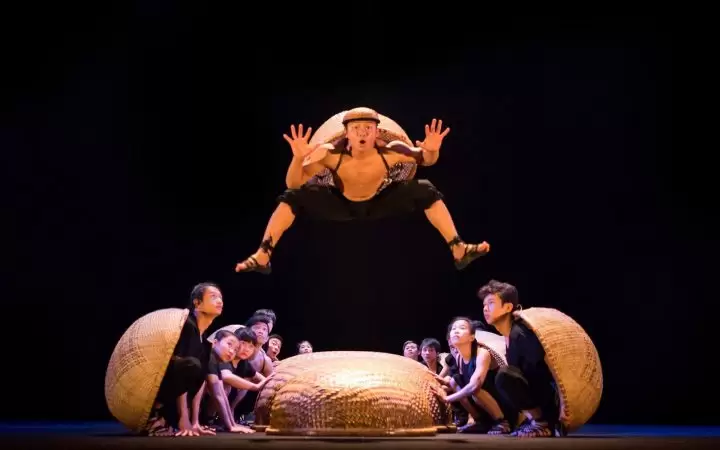 A O Show points out the opposition of rural and urban, but under a humorous and funny way. Amusing creatures' body language with funny half-village, half-city situations makes the show more interesting and brings laughter to the audiences. The show captures the spirit of Vietnam in a tone so charming, endearing and super entertaining.
Location
A O Show is performed in 2 famous tourist attractions of Vietnam: Hoi An and Ho Chi Minh City (Saigon):
Hoi An Lune Center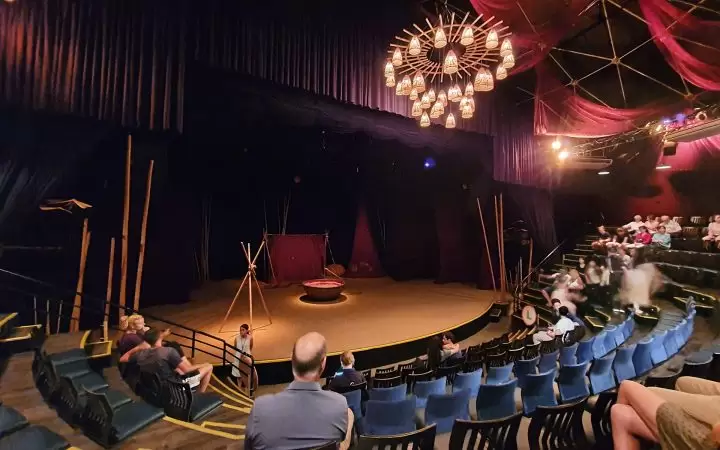 Address: No. 1A Nguyen Phuc Chu Street, Hoi An City, Quang Nam
Capacity: 299 seats
Hoi An Lune Center is the first and only bamboo theatre in Vietnam surrounded by the picturesque scenery of the ancient town. It was built for local art performances, being especially honored as home to the world-renowned Vietnamese Bamboo Circus. Lune Center features its bamboo dome measuring 13m high and 24.2m wide. The beautiful, classic designs and traditional building materials such as wood and bamboo establish the Lune Center as a unique but perfectly-at-home landmark of the poetic Hoi An scenery. Thanks to its unique design and size, a good view is given regardless of where you're seated.
Saigon Opera  House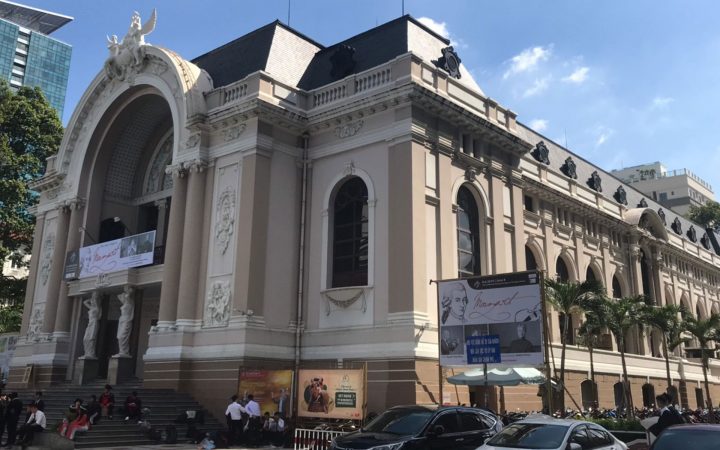 Address: No. 07 Cong Truong Lam Son, District 1, Ho Chi Minh City
Capacity: 468 seats
Saigon Opera House, also known as Municipal Theater is located right at the heart of Ho Chi Minh City (Saigon), very close to the historical Saigon Notre Dame Cathedral and Central Post Office. Built in 1898 by Eugene Ferret, following the "flamboyant" style of the French Third Republic with the applied ornaments, balustrades, and roof imported directly from France, Saigon Opera House is one of the most impressive examples of French Colonial architecture in Vietnam. It was set to be 2 meters higher than the street surface with 2 door layers in order to prevent traffic noise. Saigon Opera House is normally closed for visitors and seeing the A O Show gives you an exclusive opportunity to go on a guided tour of the building before the performance.
Ticket Price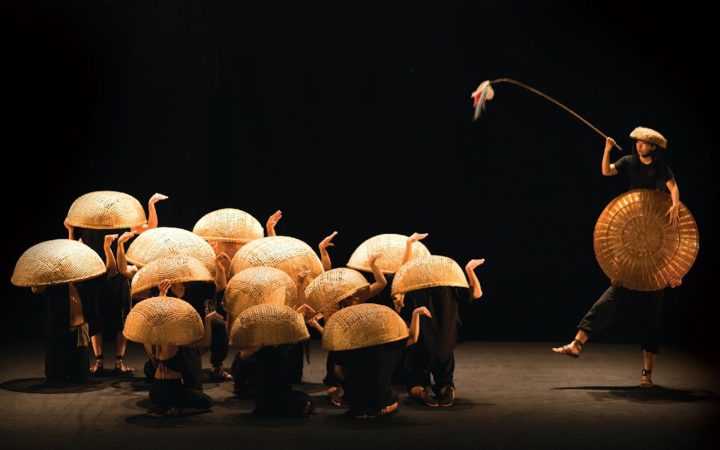 There are 3 types of ticket with price fluctuating from 700.000 VND to 1.600.000 VND. The WOW! tickets give you the best view.
AAH! Ticket: 700,000 VND/ person
OOH! Ticket: 1,150,000 VND / person
WOW! Ticket: 1,600,000 VND/ person
Show time: 18:00 PM
Duration: Approximately 60 minutes.
You can directly book tickets online via its website or ask Vietnam Travel for a help then you will receive e-ticket via email. You should arrive theater at least 15 minutes before the show tome to exchange the e-ticket to a Theater Pass.
Note:

– A welcome drink will be served before the show.
– Audience can take photos with performers after the show.
– Children younger than 5 are not admitted to the show.
– Photography, video recording and live streaming of the show are strictly prohibited.
– Don't make noise and remember to turn off the phone while watching the show to respect the artists and other audiences.