Top 5 Infinity Swimming Pools In North Vietnam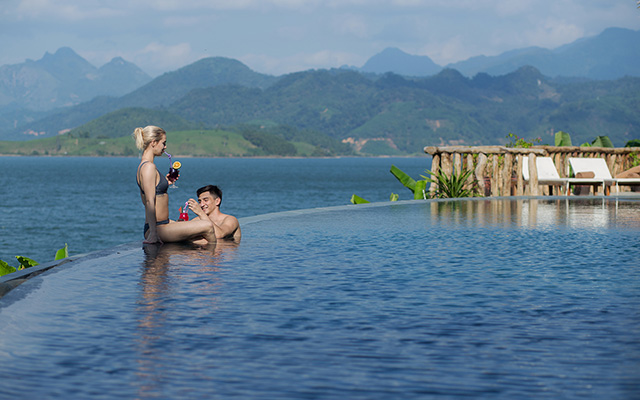 North Vietnam is not only famous for its beauty of magnificent mountains, terraced rice fields and diverse cultures, but it also offers a wide range of accommodation options with stunning swimming pools. If you are looking for a place to immerse yourself both in nature beauty and clear water, let's check top 5 infinity swimming pools in North Vietnam as below:
1. Topas Ecolodge, Sa Pa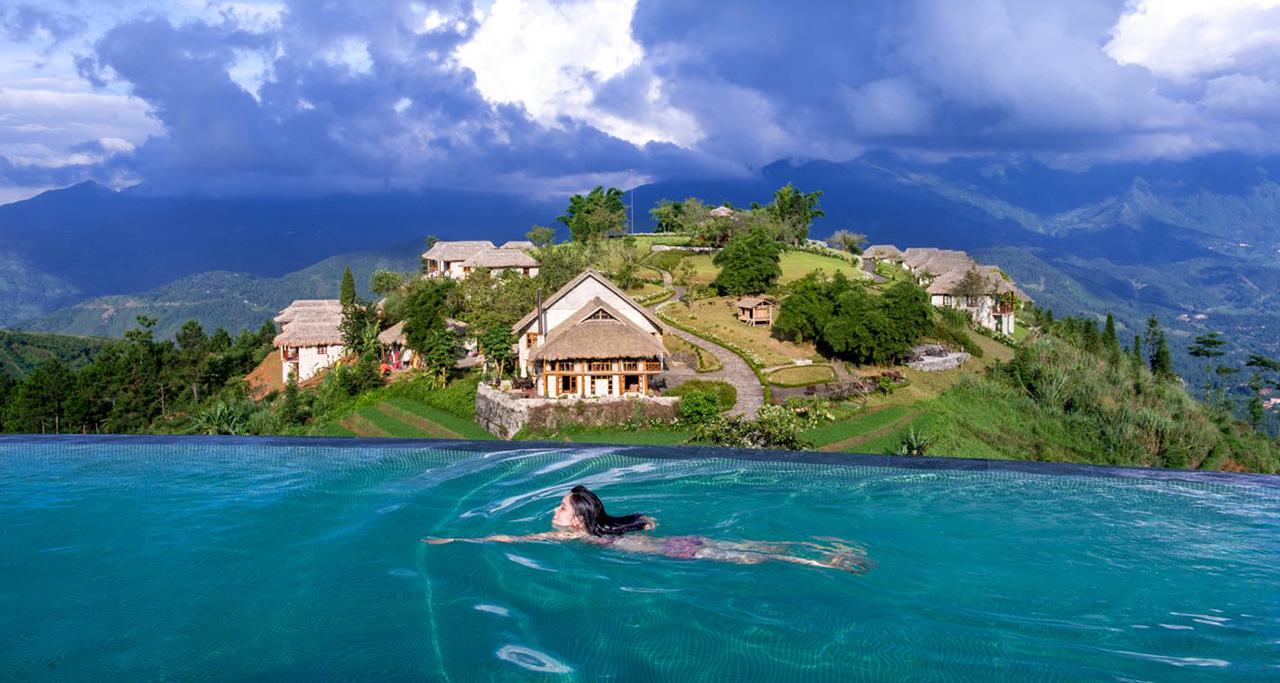 In 2017, Topas Ecolodge, one of the most popular resorts in Sapa, opened the first infinity swimming pool which has attracted a large number of tourists. It just launched the second one with the equipment of Jacuzzi in May 2020. These two tranquil infinity pools are surrounded by rice terraces high in the mountains and have incredible views of the majestic Hoang Lien Son mountain range and stunning valleys. It is the perfect setting to relax, take in the surroundings and feel at one with nature.
Both pools have a shallow section for children and a massage-jet function. Based on sustainable hotel operation values to ensure minimum impact on the surrounding environment, Topas Ecolodge use eco-friendly water heating system for its pools, saving 85% energy compared to standard heating technology. It is named first in the list of best sustainable lodges in the world by National Geographic.
Located about 18km outside Sapa Town with unrivaled location, this resort is perfect choice for those who want to escape the busy city life for a peaceful and authentic mountain getaway.
2. Ba Khan Village Resort, Hoa Binh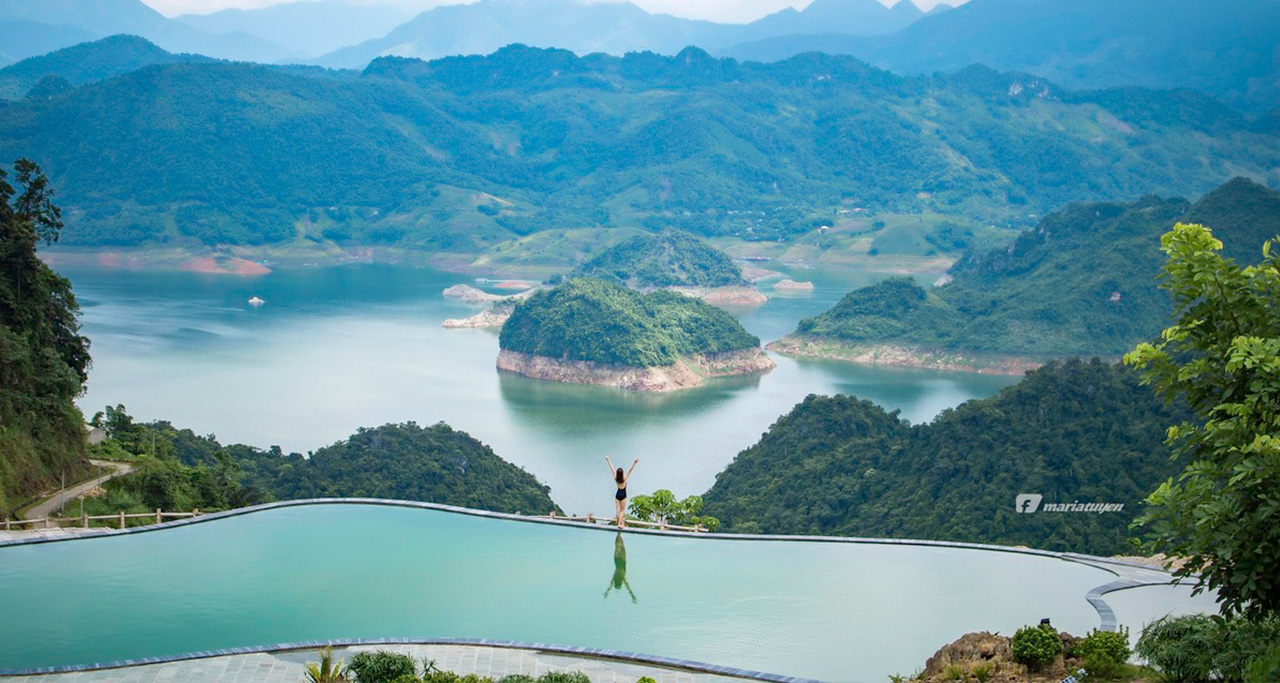 Inaugurated in July 2019, Bakhan Village Resort is located in Khan Ha village of the native Muong ethnic overlooking the breathtaking view of Hoa Binh reservoir. It has an infinity pool halfway up the hill with views of the green valley and the Da River lake. Here you can get the best moment of sunrise beside swimming pool when the sun slowly appears behind the mountains.
The resort covers an area of 4-hectares of massive natural rock fields, diverse plants and a year round running natural stream. All rooms and suites features a pleasant blend of natural materials and contemporary elegance; the minimal decor and furnishings create an inviting ambience fostering relaxation and a sense of well-being. Coming here, visitors can participate in a lot of interesting activities such as walking around Bakhan village, cycling to explore the mountains, sailing boat on the river or exploring stunning caves.
3. Pu Luong Retreat, Thanh Hoa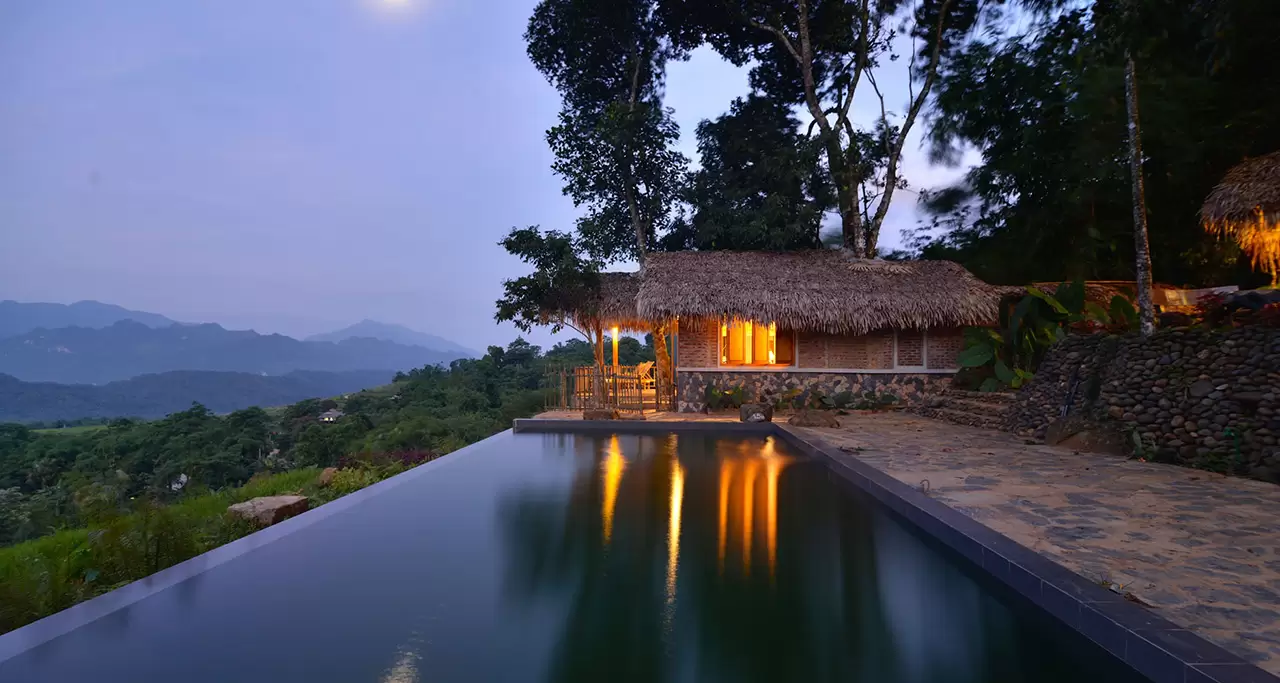 Pu Luong retreat is tucked away on a hillside with the most stunning panoramic views in the area. It provides a refreshing escape from the crowds only 160km – 4 hours drive from Hanoi. Its infinity swimming pool offers a breathtaking view of mountain passes, endless rice terrace fields, traditional villages and rolling hills from afar. Cooling down in the water and admiring the tranquil beauty, ideally in sunset time after a full day of activities is a great memorable experience when visiting Pu Luong.
The resort consists of 9 comfortable bungalows and 1 traditional stilt house with 16 comfy beds. In addition to relaxation, you can also take part in some activities including trekking, bamboo rafting, kayaking and outdoor camping.
4. Mai Chau HideAway, Hoa Binh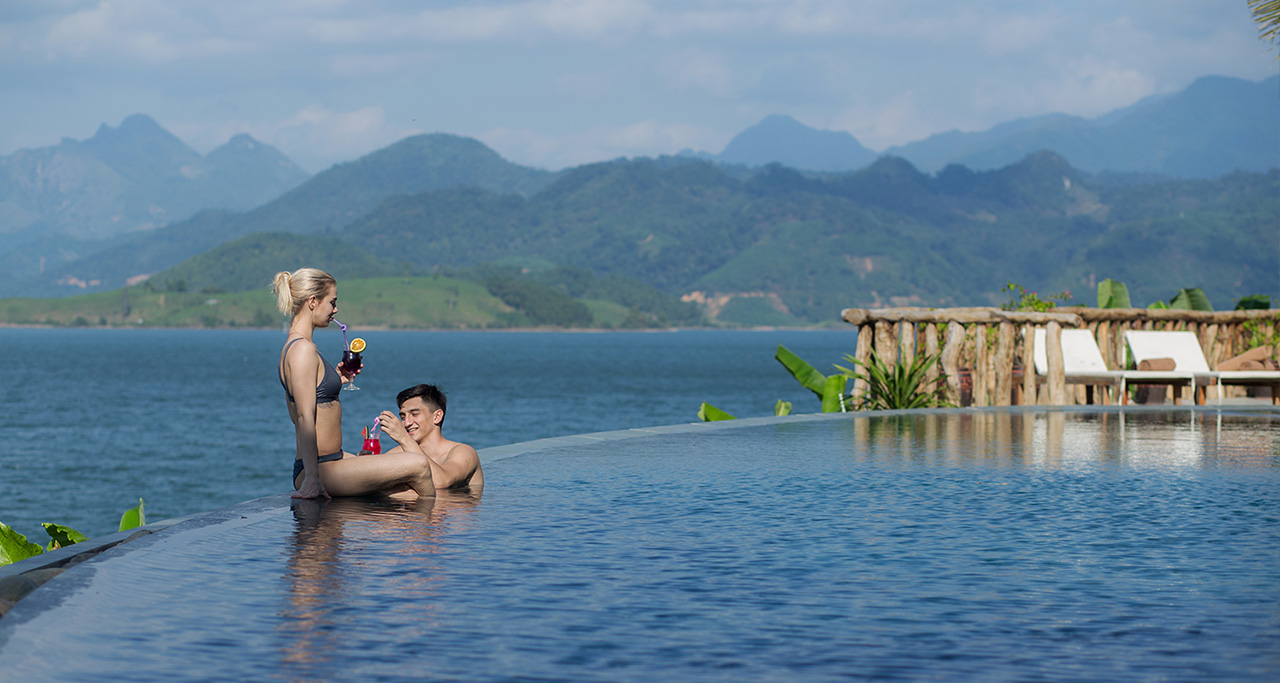 Mai Chau HideAway is the unique ecological resort in the heart of Hoa Binh Lake, surrounded by green mountains and forests. The infinity pool near the edge of the lake is built and decorated with natural stone. This is an ideal place to enjoy the sun as well as admire the surrounding sceneries while immersing yourself in the blue water or relaxing on the sunbeds around the pools, along with small tables and umbrellas.
The resort is a flawless picture of architecture and construction art. Basing on the rustic style in the 60s of the 20th century, all the rustic rooms here are simple but no less modern. There are 5 rustic stilt-houses zones where you could fully enjoy all the cultural features of mountainous ethnic minority minorities in North Vietnam such as Thai, Muong, Dzao, Hmong. Doing yoga, kayaking in Hoa Binh lake, joining cooking class or relaxing at spa are some options you could choose when staying here.
5. Tam Dao Belvedere Resort, Vinh Phuc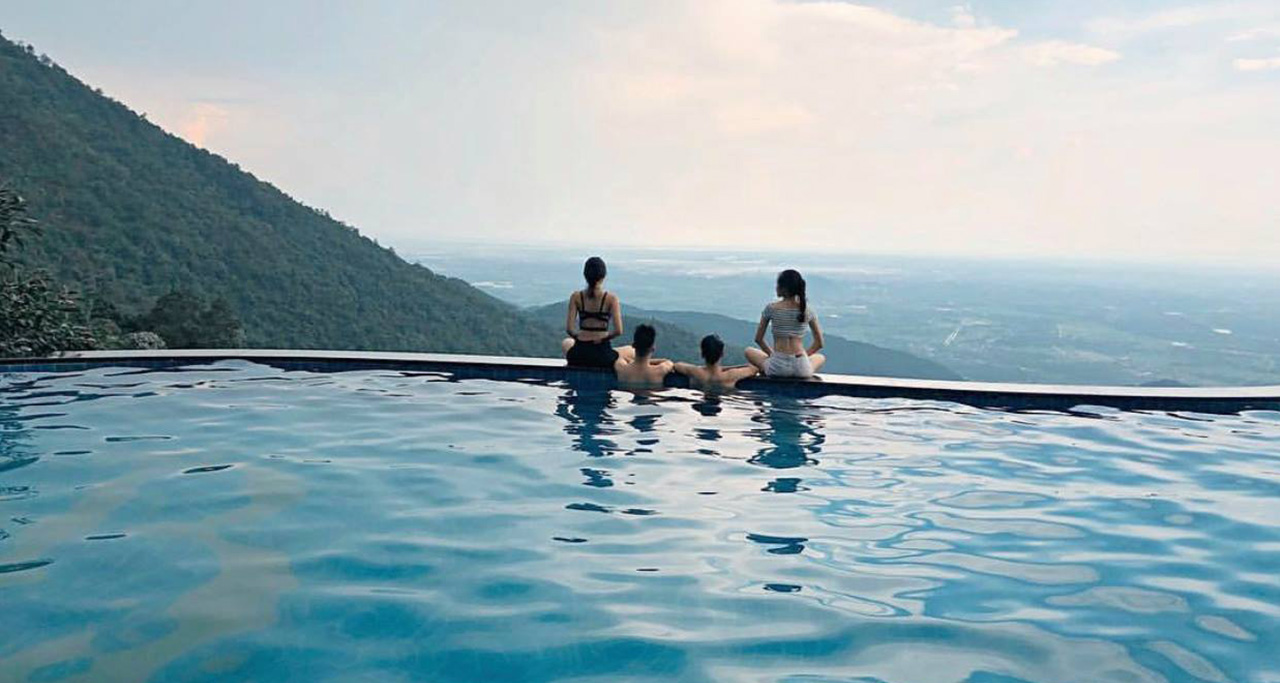 Located in the most ideal place of 30-hectares area in Tam Dao Mountain, Vinh Phuc province, Tam Dao Belvedere is one of the most high-grade and luxurious resort in North Vietnam, with 48 elegant villas and suites. The modern equipped swimming pool is considered as its highlight due to the overflowing design of the pool and the location halfway up to the mountain. Dipping yourself in clear water while enjoying the spectacular view of imposing mountains is the best relaxing moment.
It is far away Hanoi only 70km and takes about 90-minutes driving. This lovely swimming pool is chosen for wedding photos and yoga performances…