Vietnamese water puppets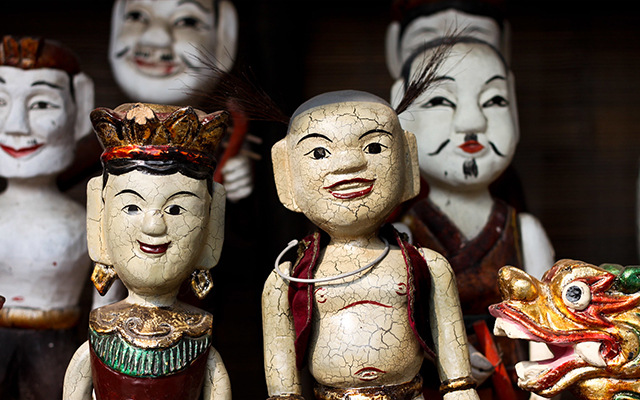 Vietnam Water Puppet goes along with history of  over 4000 years. The traditional form of art was created  when local working on the rice field, first it entertained the farmers then it was performed on the stages for guests during the festival. This performance was conserved  through generations until today. Unlike the shadow puppetry found in other Asian countries such as Cambodia, Myanmar, Thailand, the puppet shows held throughout Vietnam take place over a waist-deep pool of water. A water puppet show will not only demonstrate for the outstanding performance but also the unique, long-established culture, customs of the S-shaped country. Considered as one of the most indigenous cultural traits of Vietnam, it would be a big miss if travelers do not watch the Vietnamese traditional puppet show in their Vietnam trip.
1. Overview of water puppetry & History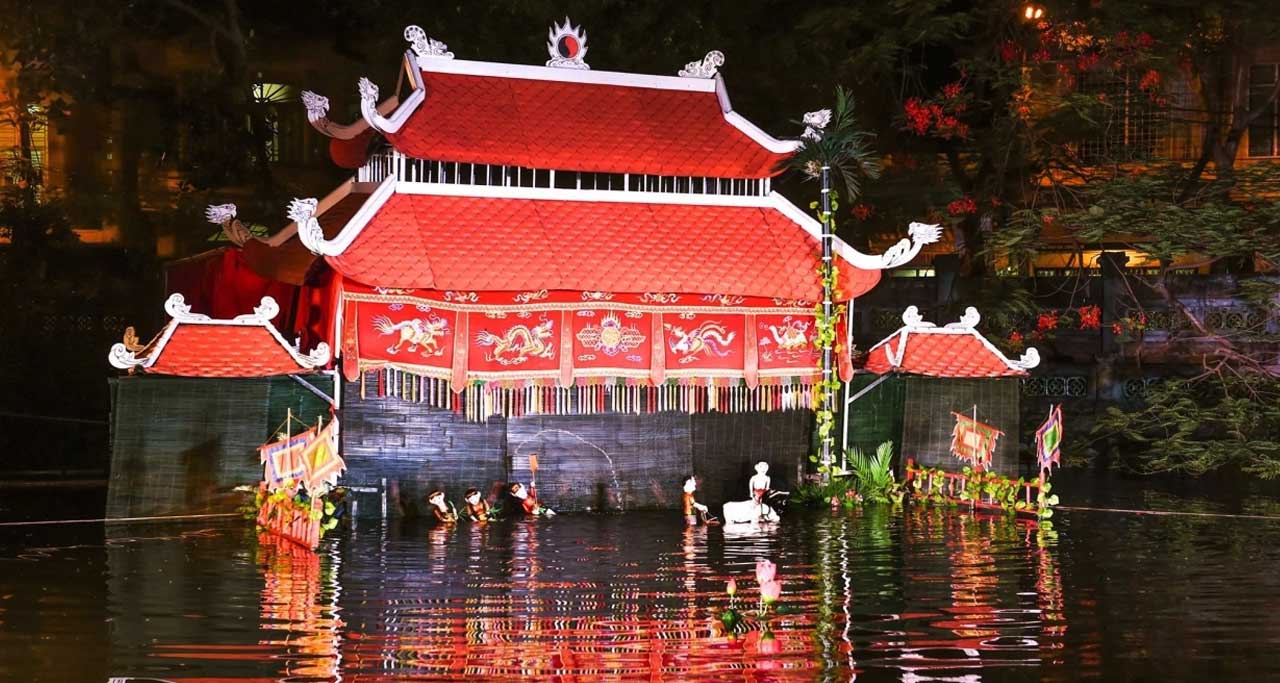 Water puppetry is a form of folk arts originating in the Red River Delta in the North of Vietnam, dating back in the 11th century. The wet rice civilization of Northern Vietnam was believed to be the cradle of nurturing this traditional art form. Being born as a communal entertainment performance during harvest time for farmers, the very first Vietnamese puppet shows weren't just for the entertainment of villagers, but were thought to keep the spirits amused enough to stay away from mischief.
Originally, simple stages were constructed around flooded rice paddies, which were available in most of ancient villages & towns. The easy formation enhanced the widespread development of the art form. The water puppet shows gradually progressed as an entertaining activity for the royals. That's an intriguing adventure from the rice field to the citadel stages.
Until now, the water puppet shows haven't changed significantly from the old days. Shows at this modern theatre are performed in a pool of water as the stage for the puppets.
2. Characters: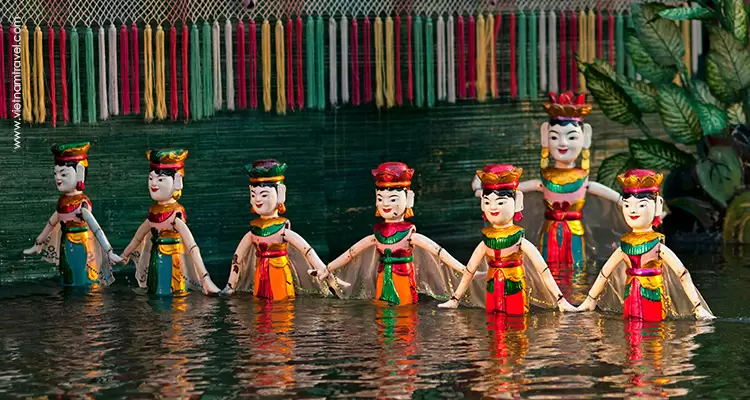 Please don't expect realistic movements or intricate costumes found at puppet shows in other parts of Asia. The puppets are carved out of fig wood and then lacquered. Each puppet can weigh up to 15 kg. Most of the puppets look cheerful and awash in vivid colors to emphasize their own characters. For example, "Chú Tễu" is a recurrent and the most notable character in water puppetry. "Tễu" means "laugh" in ancient Vietnamese. His appearance is of a cheerful boy who often wears simple loincloth, sometimes accompanied by a simple open vest. He is very talkative and optimistic like any typical northern farmer. He sometimes acts as a narrator, sometimes as a commentator on social realities, politics, especially officials' corruption.

3. Performance & secrets of water puppetry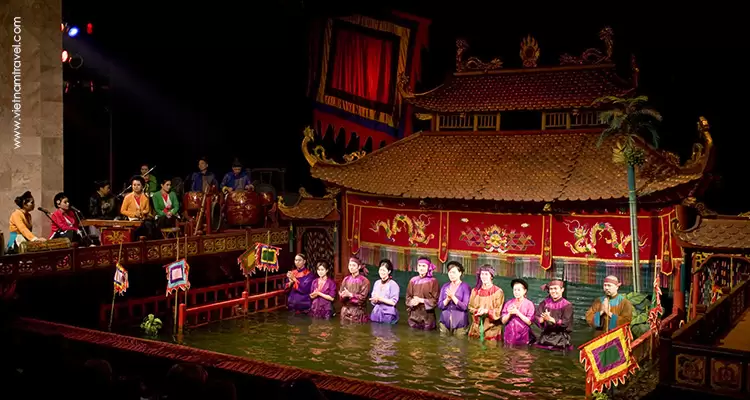 Performance today occurs on one of three venues: 1 – on traditional ponds in villages where a staging area can be set up, 2 –  on portable tanks built for traveling performers, or 3 – in a specialized building where a pool stage can be constructed. This special stage requires a chest-deep pool of water. This water pavilion is called "Thủy đình" ("thủy" means nước, "đình" is a communal house) is where performance carries out. No more than eight puppeteers stand behind a split-bamboo screen decorated to resemble a temple facade, and control the puppets using long bamboo rods and string mechanism hidden beneath the water surface. Performances are accompanied by a Vietnamese orchestra playing traditional music using wooden bells, drums, bamboo flutes, horns, and cymbals.
Have you ever wondered how puppeteers can control the puppets behind the bamboo screen and still can coordinate smoothly to each other?
The secret of how water puppet shows work has been kept quiet for centuries. The puppeteers even forms their own dialect and codewords to prevent ones from overhearing talk of a particular technique.
Trying to figure out exactly how puppeteers can control the intricate movements blindly is part of the magic of each water puppet show. Great shows of skill include passing objects from puppet to puppet and other coordinated movements which have to be done by instinct rather than sight.
The musicians providing voices for the show – who, unlike the puppeteers, can see the puppets and their movements – sometimes shout codewords to warn the puppeteers when a puppet is not where it should be.
As tradition, it is adorable that Vietnamese water puppet shows are typically performed without English. The language makes little difference; the theatrics of the colorful puppets and the constant wonder of how the performers can hide beneath the water says everything best and keep puppet shows entertaining! At the end of each performance, the eight puppeteers typically come out of the water to take a dripping bow.
Some Typical Vietnamese Traditional Water Puppetry Scenes: Flag Raising, Dance of the Fairies, Water-spurting Dragon, Dance of the Four Sacred Creatures, Swinging, Thi Mau Returns her Baby, Wrestling, Planting & Pulling up Flags, Buffalo Fighting, Farming ect.
4. Water Puppet Shows & Theaters
This tradition is unique to North Vietnam but has recently found fame on stages all over the world. It is not difficult to reserve a show ticket wherever tourists congregate in Vietnam. This popular culture show holds regular performances.
– In Saigon (Ho Chi Minh City)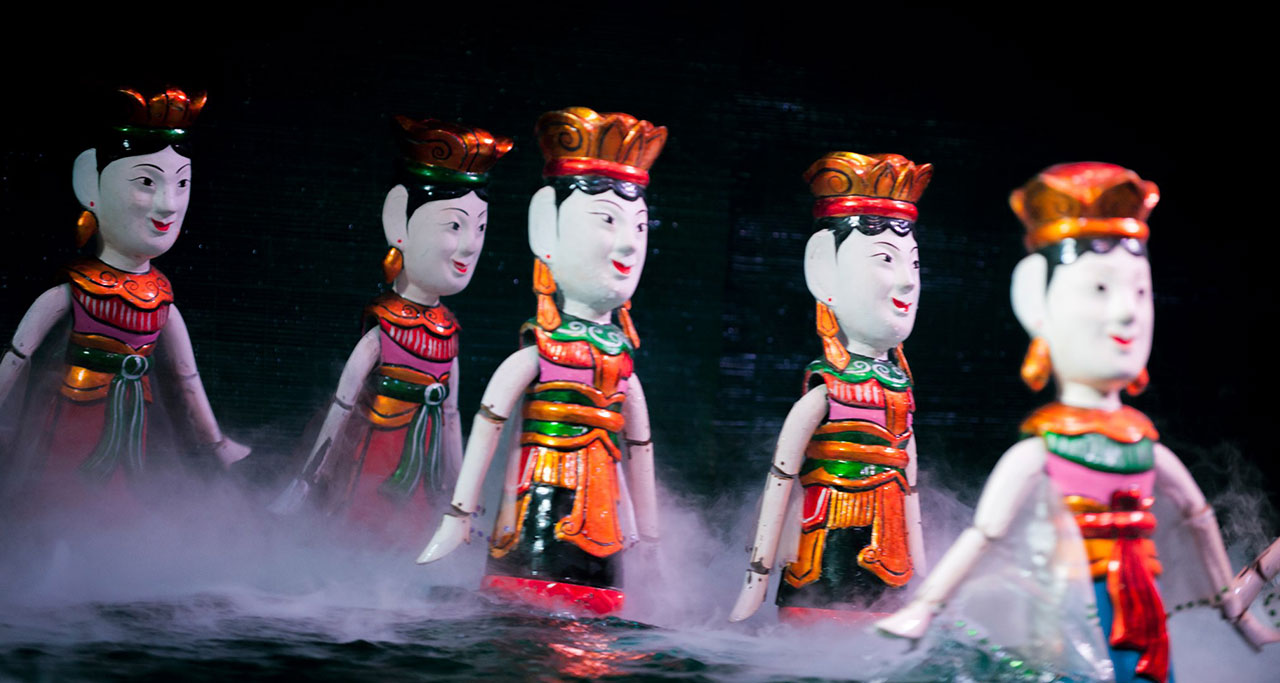 The most popular water puppet venue is Golden Dragon Water Puppet Theatre, which is located inside of a giant sports complex between Tao Dan Park and the Reunification Palace.
The Golden Dragon Water Puppet Theatre in Saigon has three daily shows – 5pm, 6:30pm and 7:45pm. Tickets cost US$7.50/ show, lasting about 50 minutes each.
Address: 55B Nguyen Thi Minh Khai Street, Ben Thanh Ward, District 1, Ho Chi Minh City, Vietnam

– In Hanoi: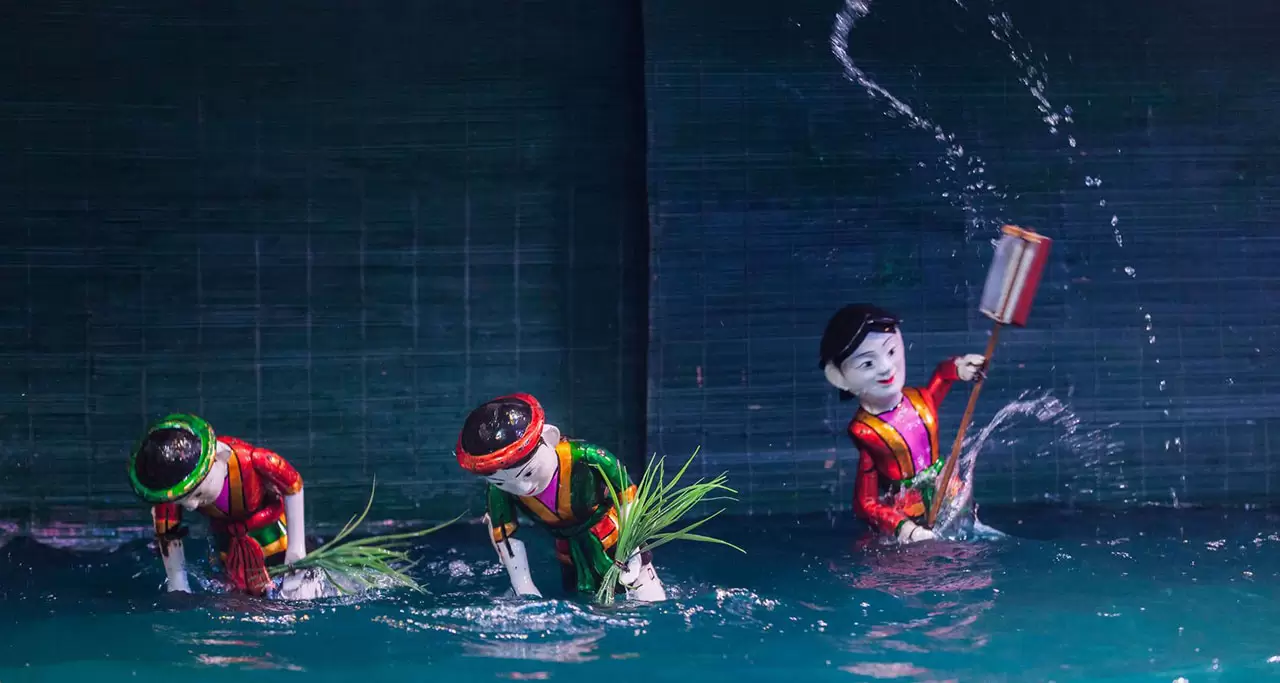 Thang Long Water Puppet Theatre: Conveniently located next to Hoan Kiem Lake and within walking distance of the Old Quarter, Thang Long Water Puppet Theatre is familiar place to enjoy for this traditional artform. This is only water puppet show running 365 days a year. You can't miss it.
The Thang Long Water Puppet Theatre has four daily shows – 4:10pm, 5:20pm, 6:30pm, and 8pm, with the addition of a 3pm show during the busy winter season between October and April. Tickets cost VND 100,000 (about $4.40, read about money in Vietnam).
Address: 57B Dinh Tien Hoang, Hanoi, Vietnam
Site: thanglongwaterpuppet.org/en
Lotus Water Puppet Theater: located on the other side of Hoan Kiem Lake, this ancient theatre is a magnet for both locals and international tourists who want to see the legendary traditional Vietnamese form of art.
If you are looking for more exotic cultural spot, where you not only experience this comical water puppet performances but also meet the water puppetry's professional craftsmen to hear their exceptional story,  Dao Thuc village is a perfect address. Nestled in Dong Anh district 20 km on the outskirts of Hanoi, the village is famous for its 300-year-old water puppetry. "Seeing is believing" is what people talk to each other when come to Dao Thuc and experience water puppetry that has been preserved down through many generations.
– Water Puppet Shows in Hue and Hoi An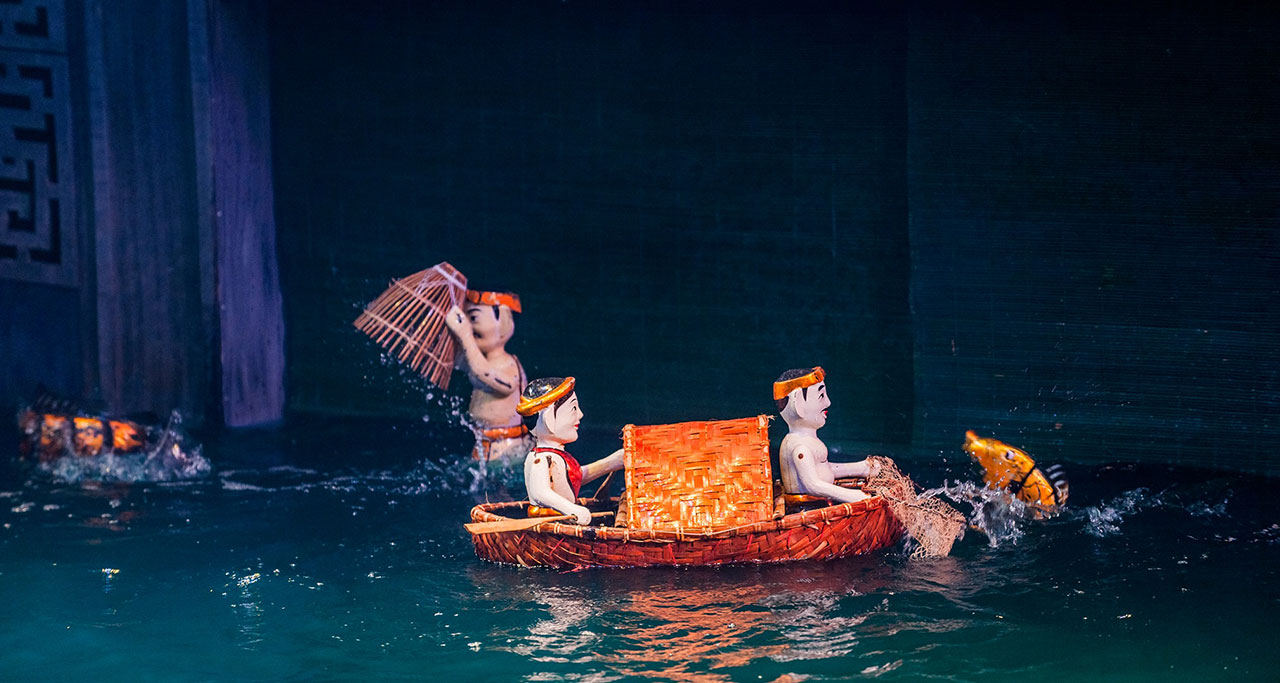 The heritage town of Hoi An in Vietnam's Central area – home to cuisine paradise, the Japanese bridge and a fantastic Old Town – has a water puppet show of its own.
The Hoi An Theater located a little outside of the Old Town operates on water puppet shows daily except Wednesdays and Sundays. The show begins at 6:30pm and at 7:15pm, lasting 45 minutes. Admission costs VND 80,000 (US$ 3.50) for adult viewers, VND 40,000 vnd (US$ 1.70) for children.
Address: Hoi An Theater, 548 Hai Ba Trung, Hoi An
In the ancient capital of Hue, the Co Do Hue Water Puppet Theatre occupies up to 160 seats, situated right in the heart of the city, and stages an impressive three shows per day, even during holidays. First show starts at the same time in any season, at 3:30pm. Summer evening shows take place at 7:30pm and 9pm, while winter evening shows take place at 6:30pm and 8:30pm.
Admission costs VND 50,000 (US$ 2.15) for adult viewers, VND 30,000 vnd (US$ 1.30) for children.
Address: 08 Le Loi, Hue, Vietnam