Top Best Hotels In Hanoi Old Quarter
Hanoi is one of the most mesmerizing cities in Southeast Asia. And Hanoi's Old Quarter is a great place to stay and to see Hanoi at its most authenticity. Streets in Hanoi Old Quarter are lined with charming colonial French architecture alongside traditional Buddhist temples and pagodas, local shop-houses as well as coffee shops, bars, restaurants and galleries. Therefore, it's such a smart choice if spending your holiday in Hanoi at one of many hotels in or around this convenient area. Hotels located in Hanoi Old Quarter convey the long and rich culture of the Vietnamese capital to life, provide excellent boutique accommodation right in the heart of the city's tourism hub. Generally, standards for hotels in Vietnam have improved significantly, as well as those in Hanoi in particularly.
Wherever you choose to stay, catching a Grab motorbike or a rickshaw (cyclo) across town costs just a few bucks. From colonial-fitted boutiques to modern luxury properties, here are the top best-serviced and valued hotels in Hanoi Old Quarter. Hotels are put into this list for providing warm hospitality, excellent facilities, well-maintained guestrooms and also received positive feedback from travelers worldwide.
1. Conifer Grand Hanoi Hotel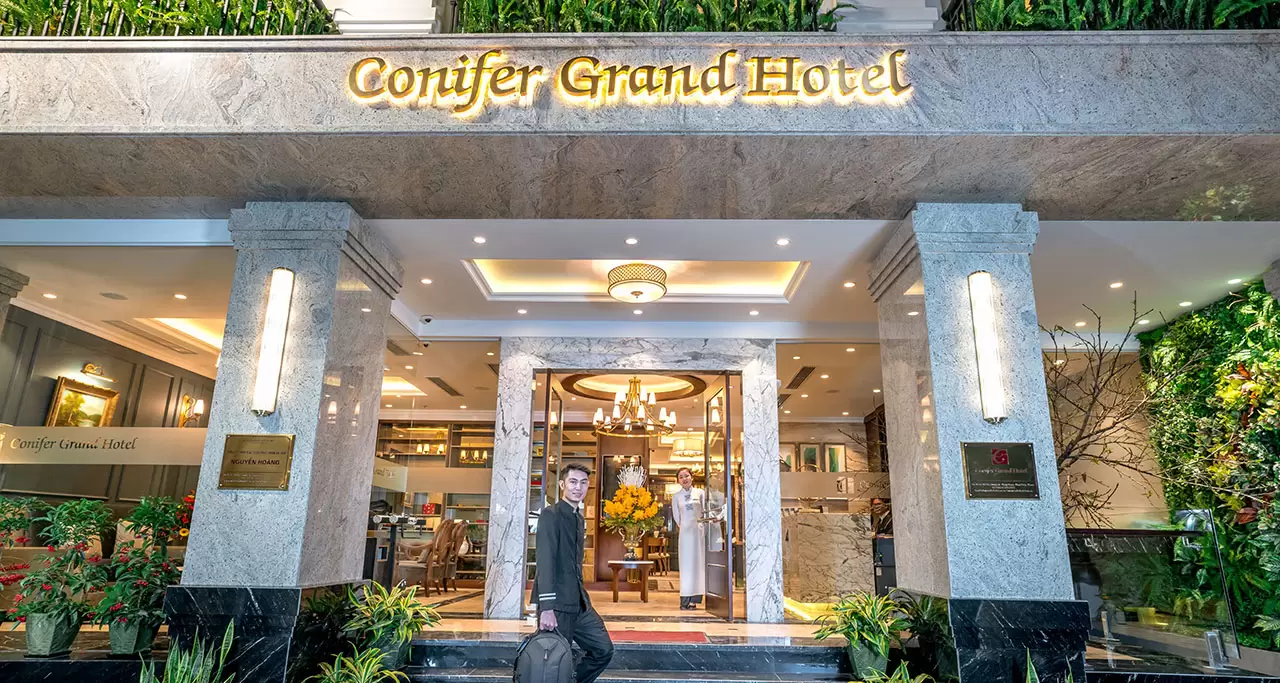 Conifer Grand Hotel is conveniently situated in the heart of the ancient Hanoi Old Quarter, just a few walks away to St. Joseph's Cathedral of Hanoi. When you come to this hotel for the first time, it may be a bit difficult to find the hotel because it's located in a small alley. However, this alley is famous for local street food stalls where foreigners may find very interesting to get familiar with local daily life. Close to entertainment and sightseeing places, you'll find yourself 3 – 5 minutes walk away from almost every destination you choose.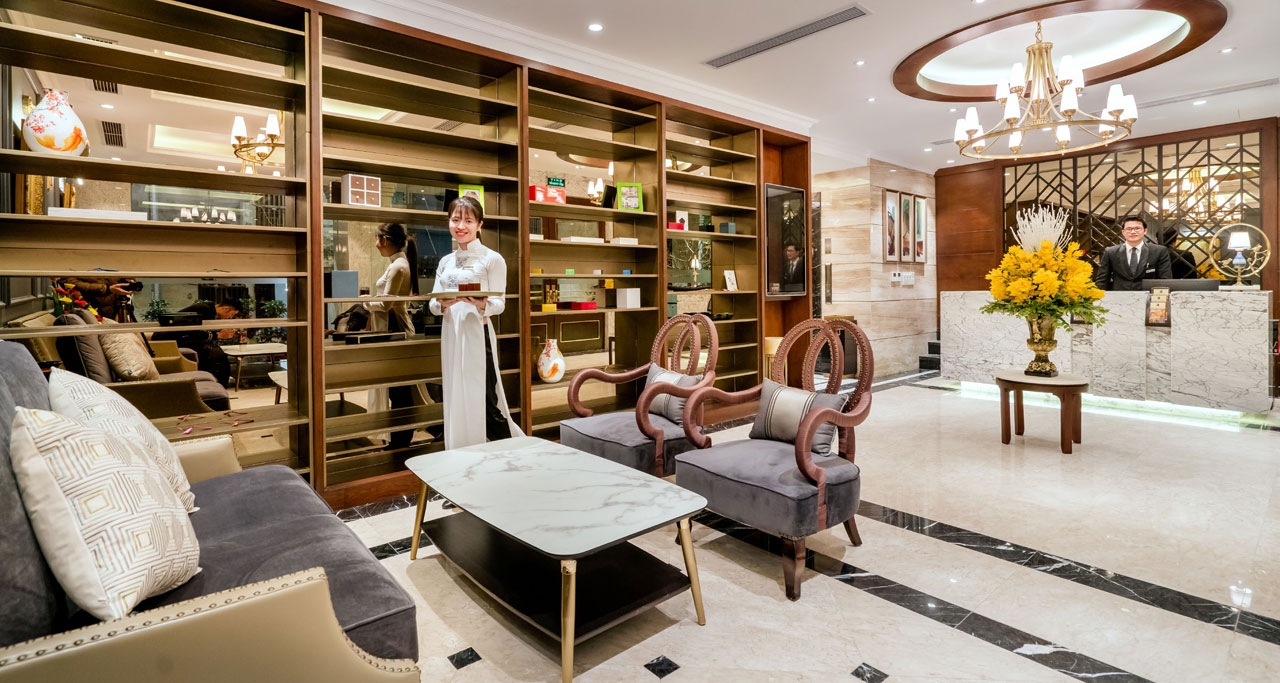 Hotel offers a blend of Eastern and Western hospitality in an atmosphere of elegance interior, beyond comfortable and stylish rooms. The professional staff is always ready to serve with a high hospitality spirit. If you are on a tight budget, Conifer Grand Hotel is definitely a good option to ensure your comfort stay in Hanoi.
* Conifer Grand Hotel, 42 Tho Xuong Street, Hang Trong, Hoan Kiem, Hanoi.
2. La Siesta Central Hotel & Spa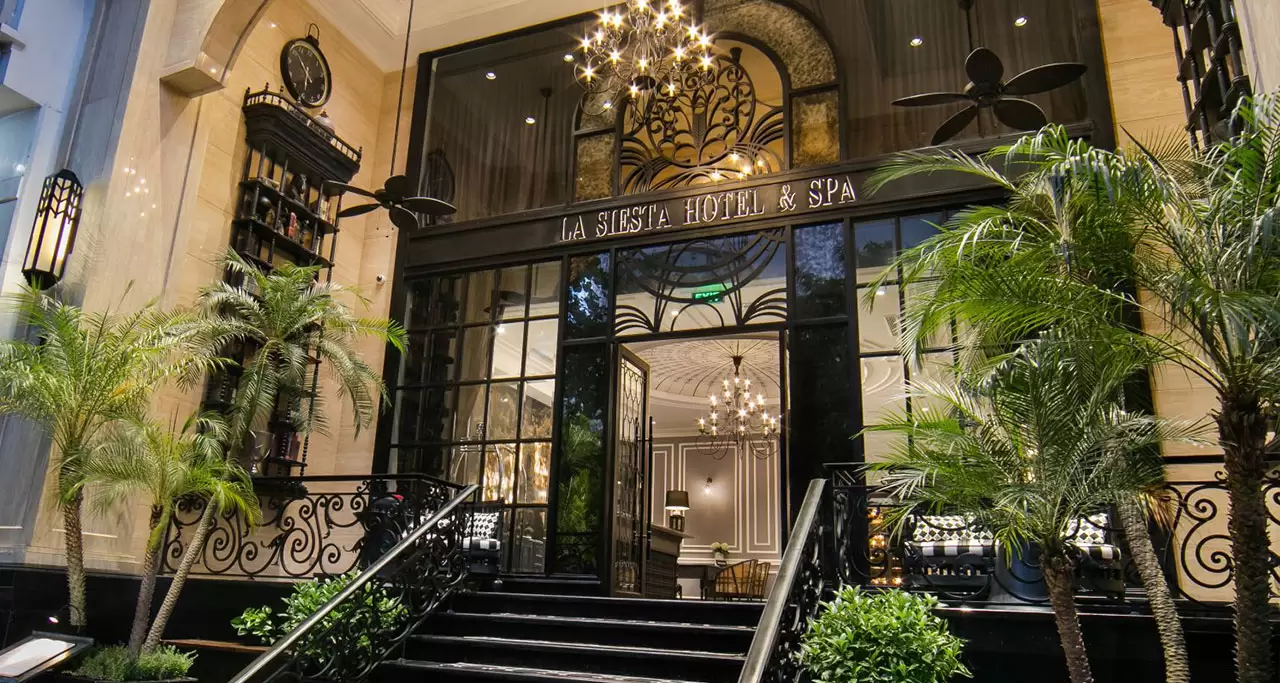 The Hanoi La Siesta Central Hotel is a perfect middle-class accommodation between large luxury hotels and charming hostels. The hotel has five floors with total 27 guestrooms (with 19 rooms overlooking to Hoan Kiem Lake). Guests can enjoy authentic Vietnamese cuisine at the hotel's famous Red Bean restaurant, experience Vietnamese therapies at the luxury wellness spa. The hotel building itself was constructed in the colonial style, decorated with picture dark-wood paneling, black-and-white patterned tiles, wrought-iron furniture, romantic balconies and classic monochrome artwork peppering the hallways. One of the most attractive aspects of this boutique hotel is the level of service and familiarity, mainly contributed by the superb staff who pay great attentions to details. The hotel is just few steps to the historic Old Quarter, and photogenic Hoan Kiem Lake.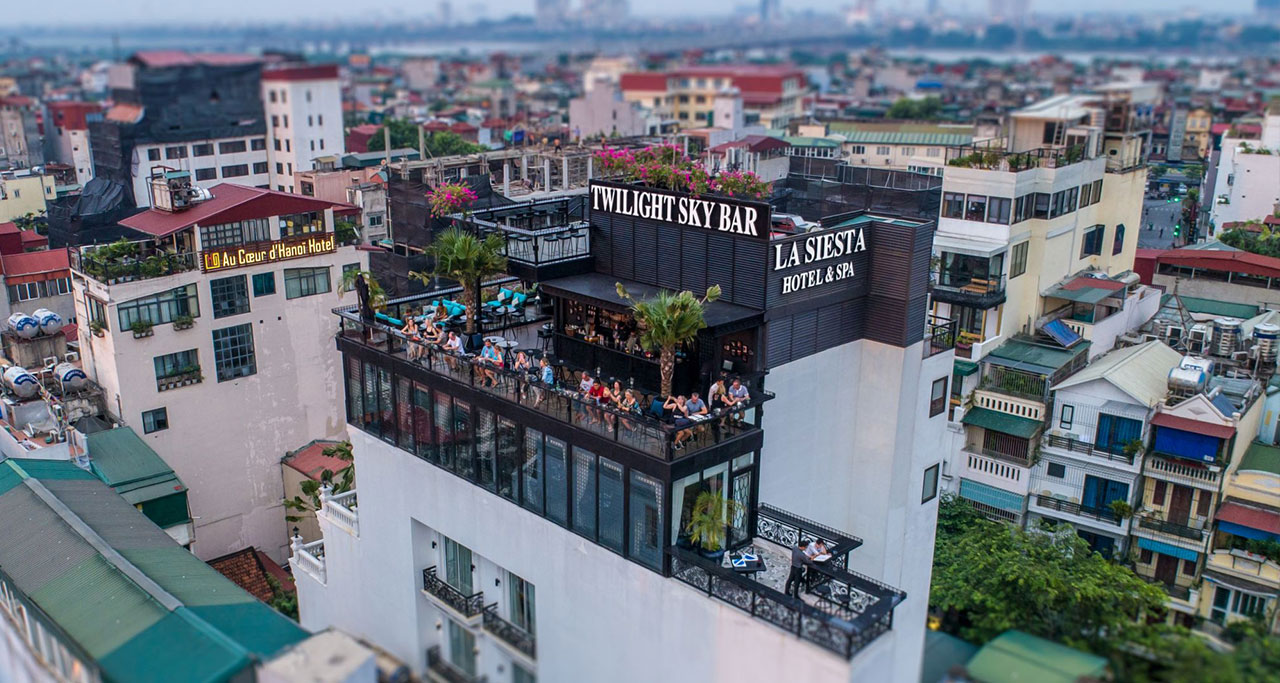 * La Siesta Central Hotel & Spa, 1 Cau Go Street, Hoan Kiem, Hanoi.
3. The Chi Boutique Hotel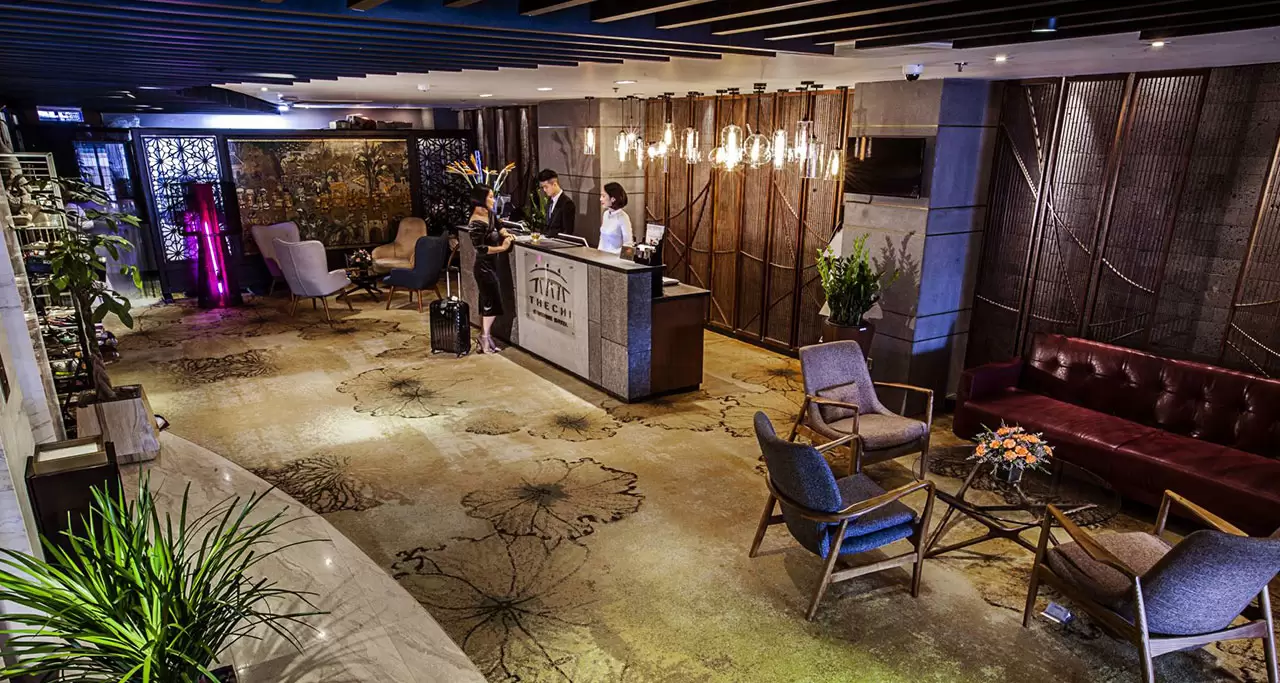 The Chi Boutique Hotel was opened in 2017, just few minute walking distance to Hanoi's St. Joseph's Cathedral. The hotel is suitable for middle-budgeted travellers with 42 guestrooms, offering spacious bathrooms en suite. The contemporary style can be found here as a mixture of dark wooden furniture, lotus-inspired artwork, and spacious interiors. Staying at suite rooms with wrought-iron details, guests will have private balcony with gorgeous view of St.Joseph's Cathedral beyond. Onsite Vietnamese-Cantonese fusion restaurant and Garden Sky Lounge on the rooftop are perfect opportunities for in-house guests to drink, dine and socialize.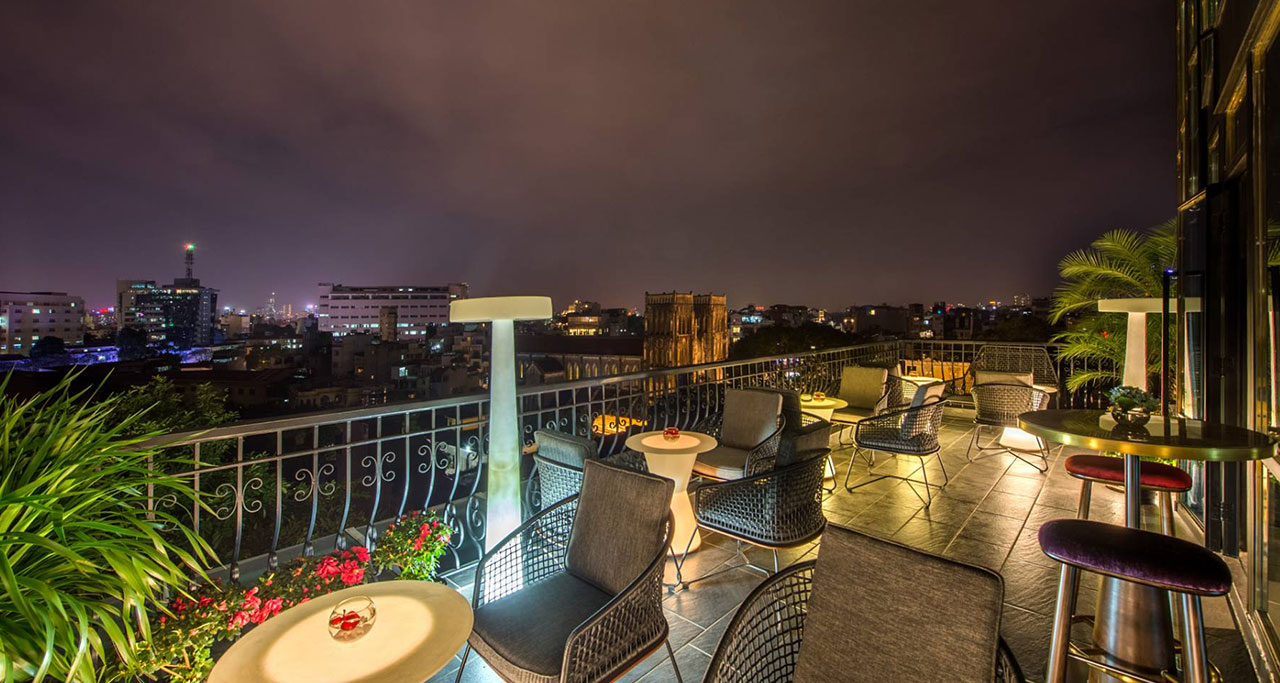 * The Chi Boutique Hotel, 13 Nha Chung Street, Hoan Kiem District, Hanoi.
4. The Oriental Jade Hotel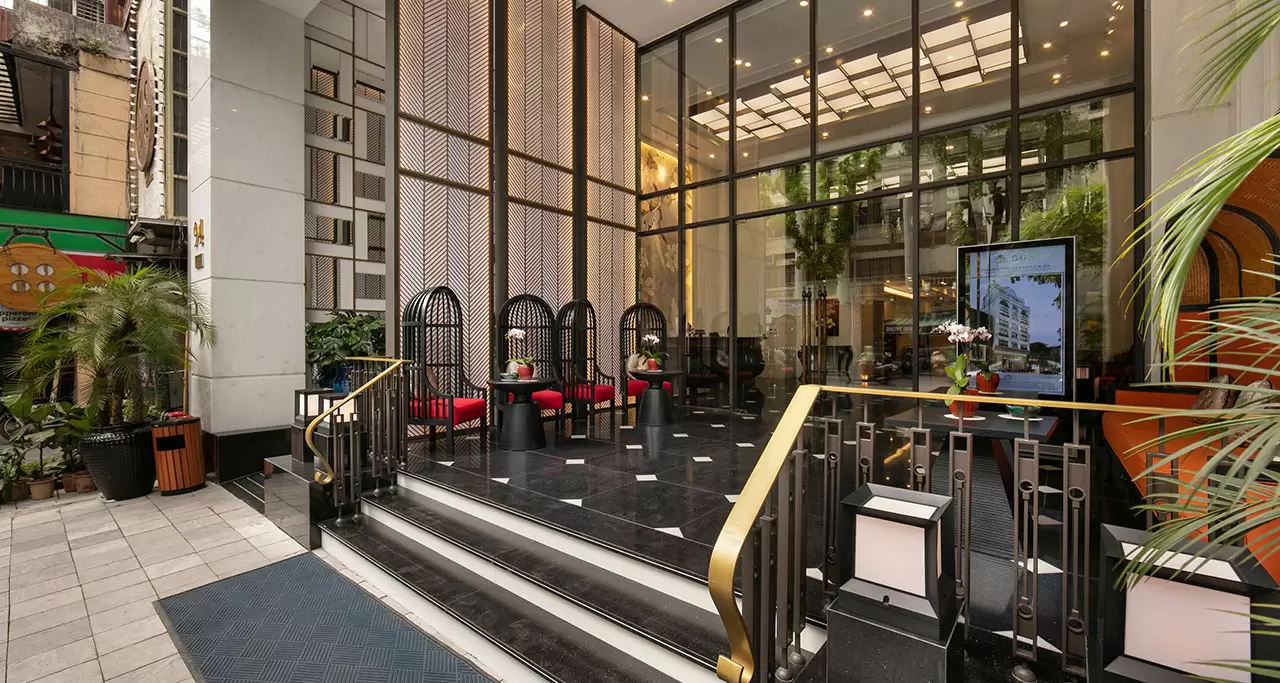 This hotel is one of the newest five star boutique hotel in Hanoi Old Quarter. The hotel offers 120 premium rooms and suites with stunning views of Hoan Kiem Lake, Hanoi Cathedral and Hanoi Old Quarter. It is adorned in contemporary design, with boutique style amenities and stylish suites. All rooms are bright and spacious, feature a combination of classic decor and modern furnishings to maximize guests' comfort.
Guests may feel pampered and relaxed at the hotel, the perfect place to unwind after spending a long day discovering the bustling streets of Hanoi city center.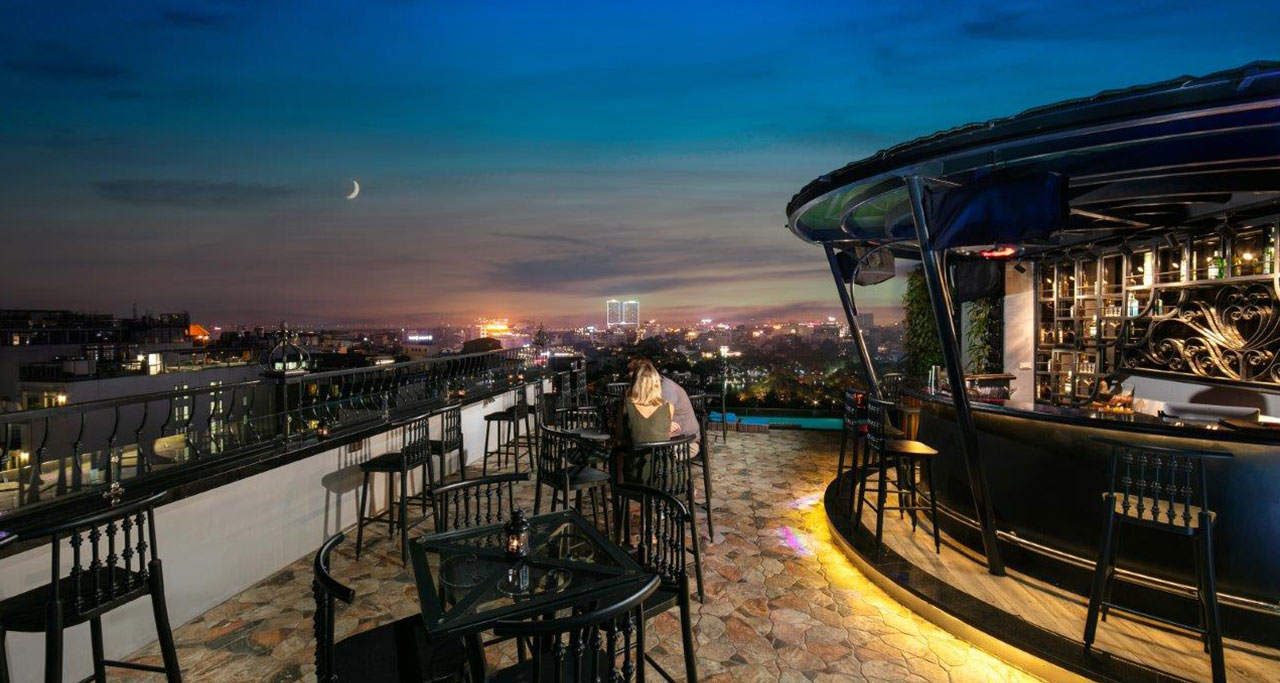 O'Spa Lotus provides locally-inspired treatments and ensure to bring guests the ultimate relaxation. For dining options, Thang Long Signature restaurant on site offers a wide range of Vietnamese and Western cuisine that promises to satisfy all taste buds from the first bite. Sixteen Sky Bar with a mesmerizing view of the Sword Lake is the favourite place for guests who want to chill out at night time and enjoy signature cocktails.
A rooftop pool with a breathtaking view of Hanoi Old Quarter is an ideal place for guests to sunbathe and take s swim after a busy sightseeing day, completed by a poolside bar to imbibe drinks crafted with local Vietnamese flavors.
The Oriental Jade prides itself on delivering bespoke services — the team will go beyond guests' expectations to ensure a memorable stay in Hanoi.
* The Oriental Jade Hotel, 52 – 54 Hang Trong Street, Hoan Kiem District, Hanoi.
Read more: 8 Best Rooftop Bar in Hanoi
5. Apricot Hanoi Hotel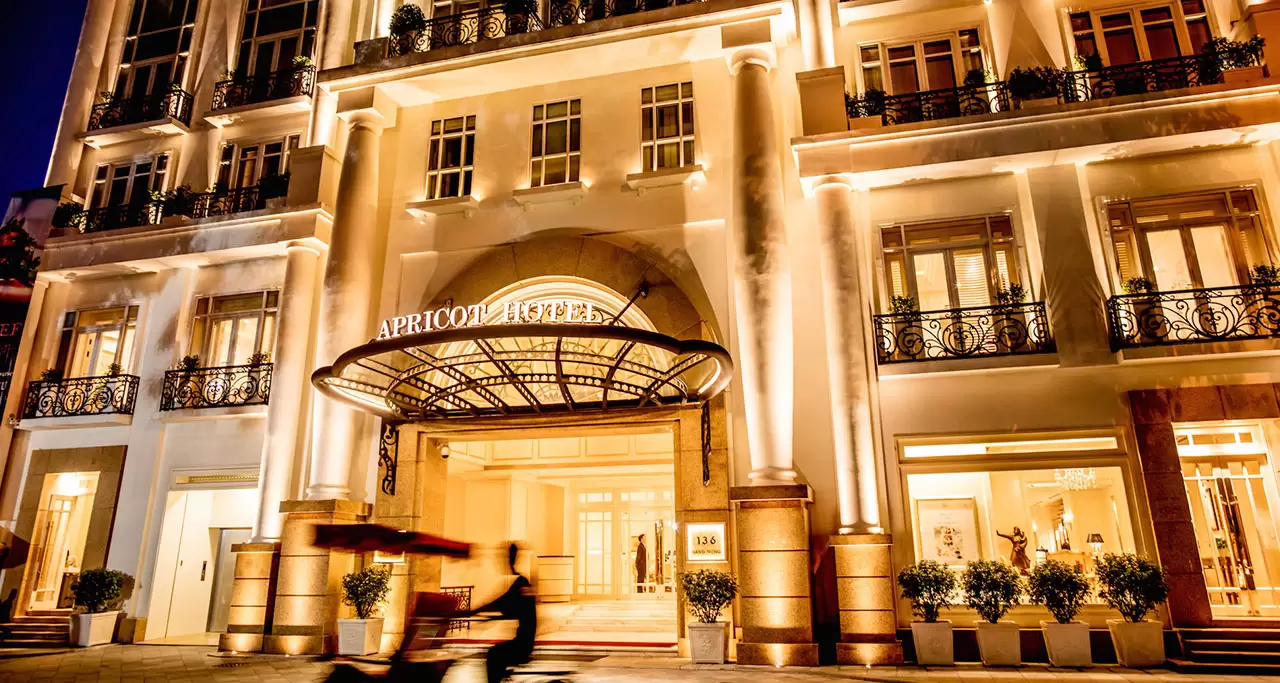 Located only steps away from the city's iconic Hoan Kiem Lake, Apricot Hotel offers a splendid, sweeping view from its rooftop swimming pool and some guest rooms. The hotel's slogan is: "At Apricot Hotel, we are passionate about Vietnamese art, culture and heritage, and we are proud to share local favorites with you". That's the reason why in-house guests can feel a strong sense of art throughout this hotel. From refined dining to the stylish roof-top bar, Apricot Hotel offers the quintessence of entertainment and artistic living.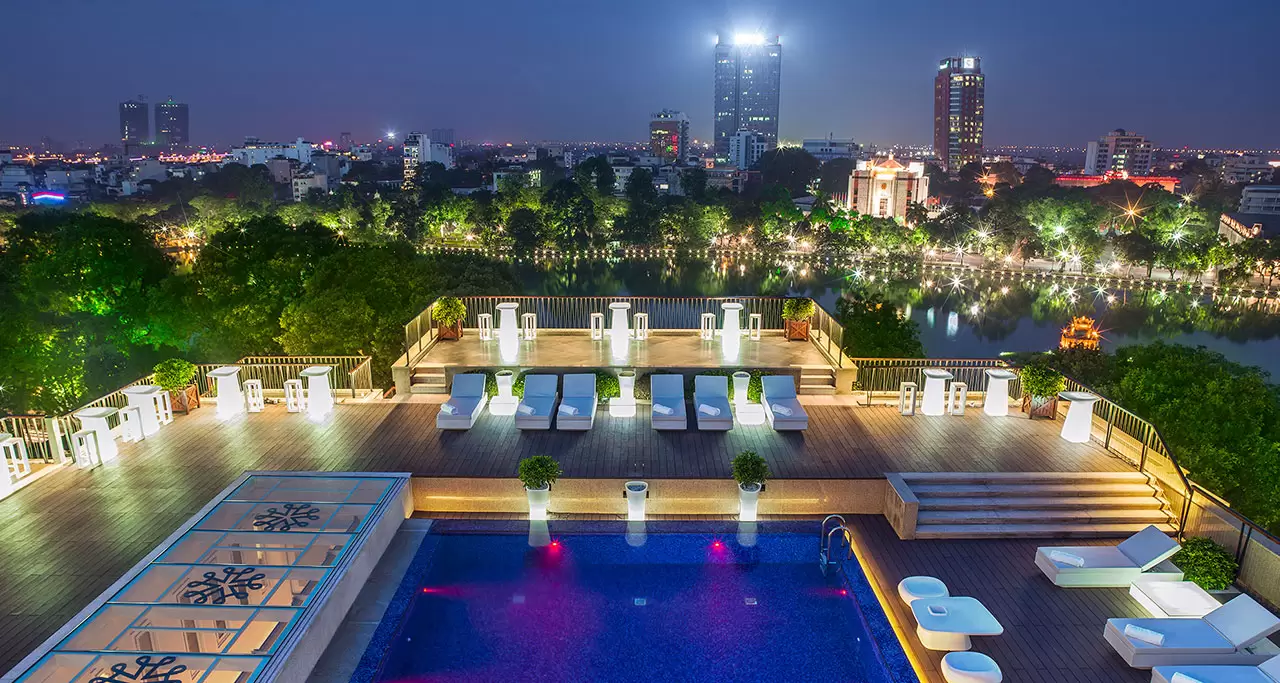 Staying at Apricot Hotel, guests will be led into an artistic journey with meticulous attention to detail where bespoke services come together in a harmonious mosaic of local flavours within the neo-classical design.
Shrouded in neo-classical design with artistic Vietnamese touches, 123 graceful rooms exude luxury in an inviting and cherished atmosphere. The stunning rooftop swimming pool is completed with a trendy bar to refresh guests after a day exploring Vietnam's capital.
* Apricot Hanoi Hotel, 136 Hang Trong Street, Hoan Kiem District, Hanoi.
6. Hotel de l'Opera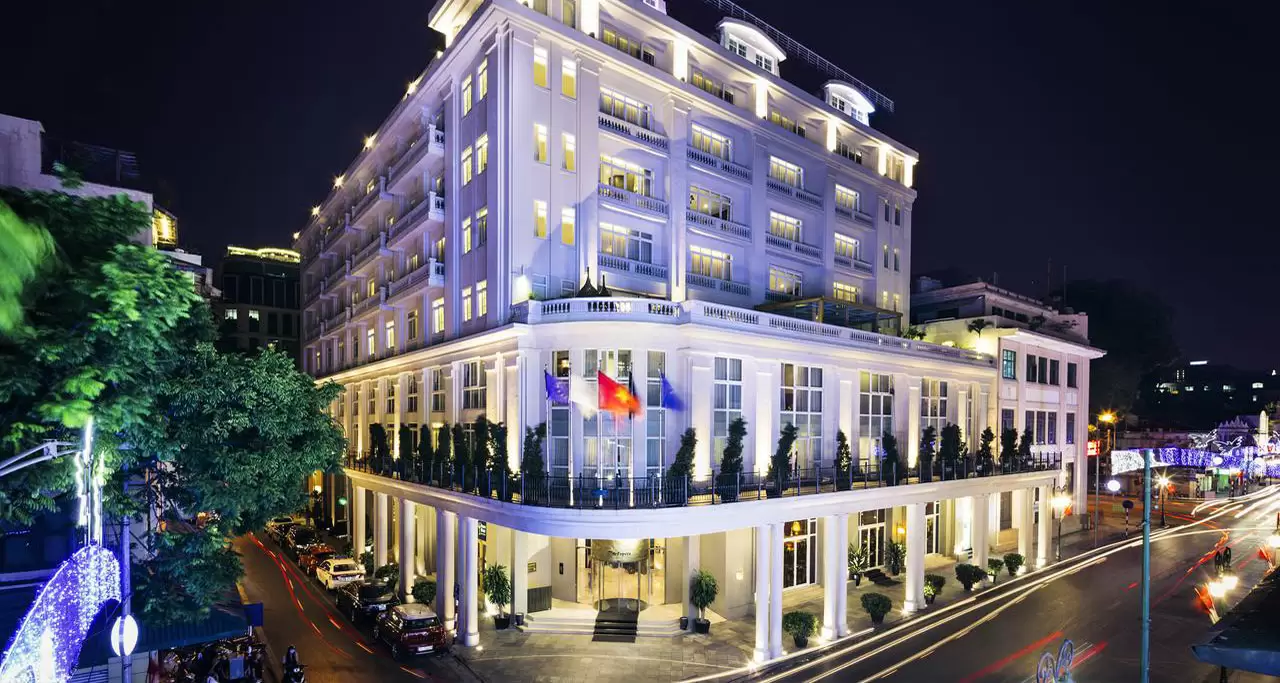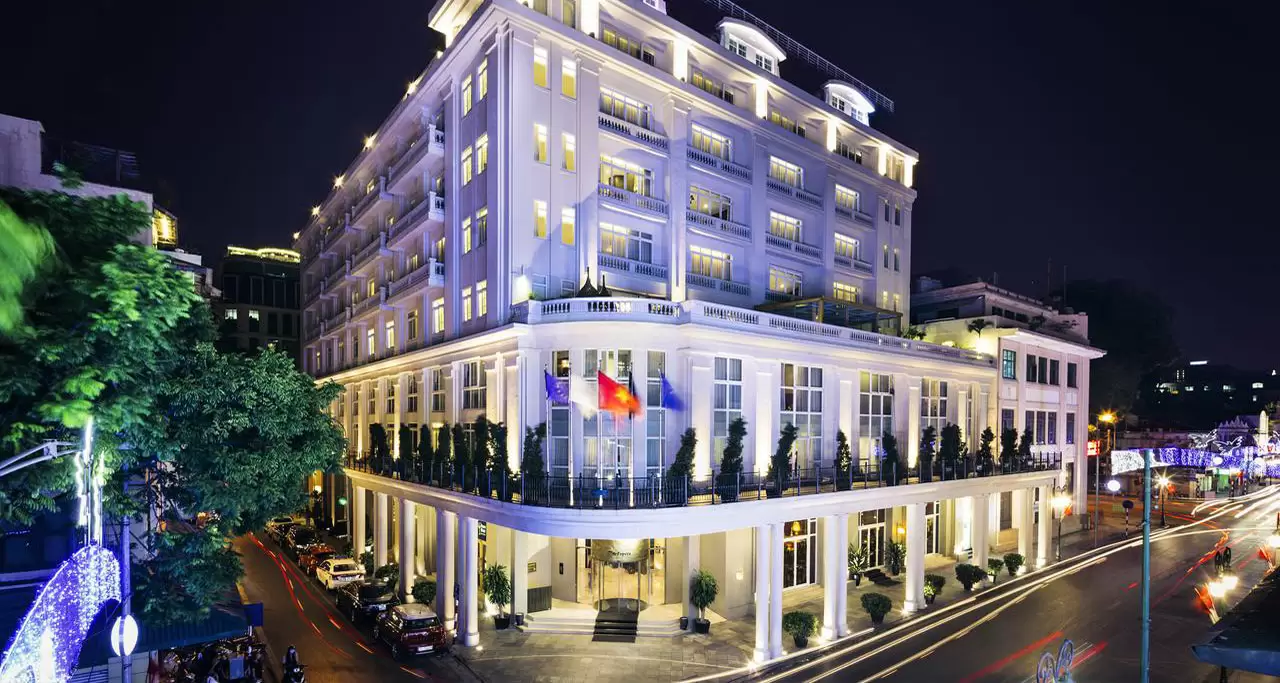 As its name suggests, this five star boutique hotel is just a few steps away from the legendary Hanoi Opera House, which regularly hosts ballet, music and folk performances. On the direct leafy boulevard to Hanoi Opera House, Hotel de l'Opera is enriched with outstanding features of French colonial architecture and operatic interior, fitting to a hotel theme inspired by an opera house. It was voted as Best Boutique Hotels in Asia 2015 by SmartTravelAsia readers.
Going inside, guests will find high ceilings, silk drapes, classic furniture, theatrical pops of color and big-name designer boutiques downstairs, such as Max Mara, Prada and Louis Vuitton. 107 guestrooms and suites in this hotel provide luxurious wood floors, pricey linens, and massive bathrooms en suite. Each room has a slightly different layout and design. Especially, four l'Opera Grand Suites overlook the Opera House, offering the best view in the house.
Don't forget to experience hotel's amenities including a year-round pool, spa and massage treatments at Sante Spa, and an acclaimed restaurant in the hotel's atrium.
Just a few minutes from the hotel, guests will discover the city's central lake, bustling Old Quarter and countless bars and restaurants.
* Hotel de l'Opera, 29 Trang Tien Street, Hoan Kiem District, Hanoi.
7. Sofitel Legend Metropole Hanoi Hotel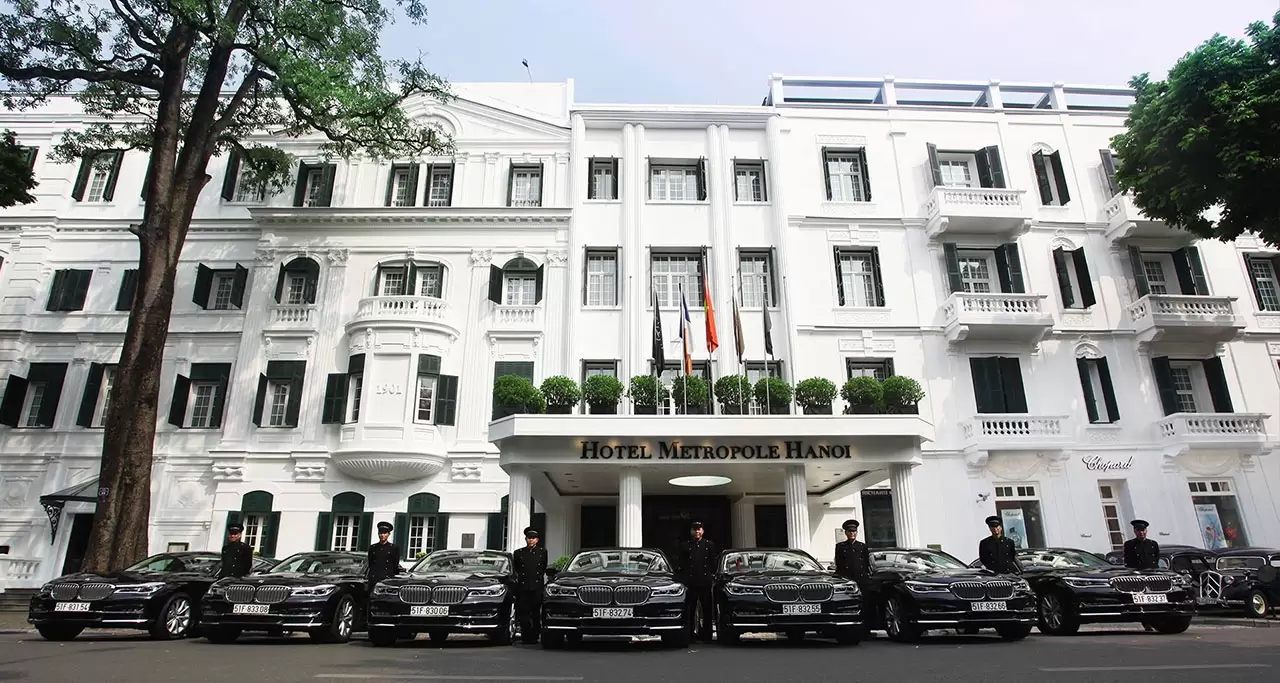 The Sofitel Legend Metropole's building is over a hundred years old. The hotel is conveniently located right around the corner from the Hanoi Opera house and the neo-Gothic St. Joseph's Cathedral. It was once the official residence of the French Governor of Tonkin (the historic name of Northern Vietnam).
The hotel was renovated to preserve the old charming building, as well as usher the Metropole into the 21st century with modern facilities to be worth with 5 star standards. Likewise, the elegant rooms also add to the Indo-French atmosphere with vintage furniture, silk tapestries, green shutters and original wrought-iron details. Both historical and modern wings have 364 rooms in total, with elegant finishes like silk tapestries and wrought-iron fittings that evoke the French colonial experience. Inside, guests will find elegant restaurants, including Le Beaulie (the first ever French restaurant in Hanoi) as well as a Vietnamese fare dining room and the romantic Bamboo Bar in the lush courtyard, by the pool.
Since opening in 1901, the hotel has been chosen for the stay in Hanoi of celebrities, politicians and literary figures alike, having welcomed the likes of Charlie Chaplin and Graham Greene. The hotel was recently the meeting place of U.S. President Trump and North Korea's Kim Jong Un.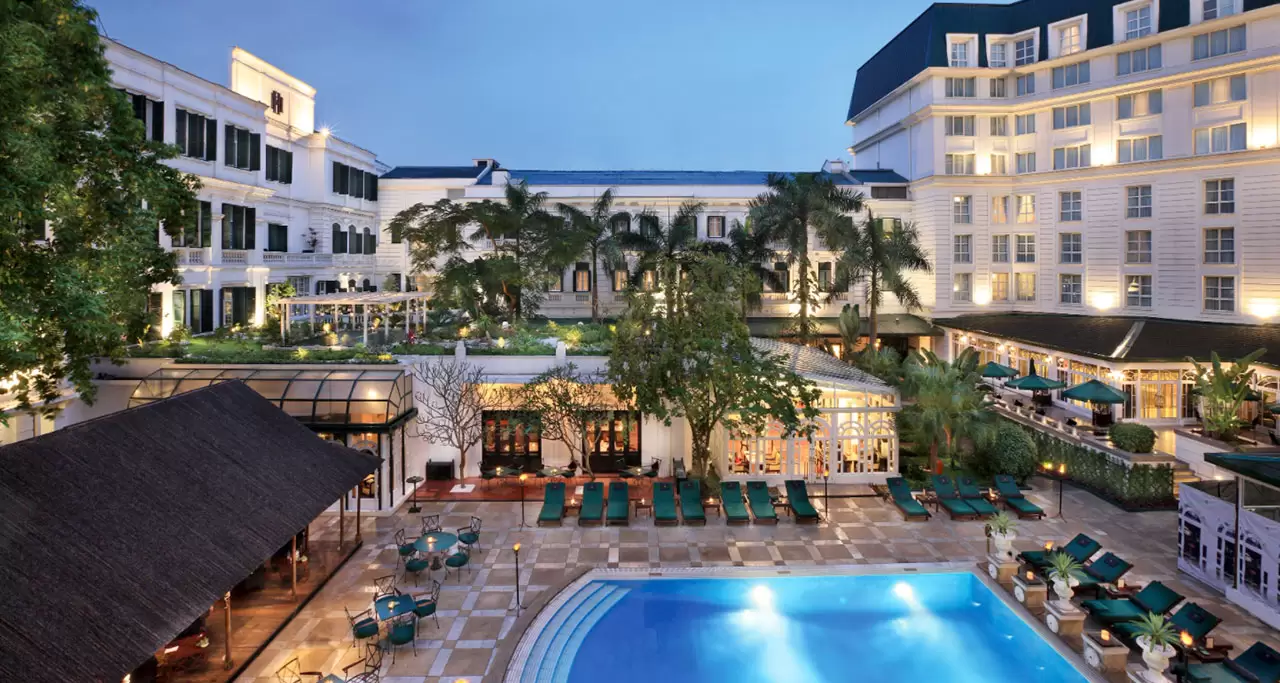 * Sofitel Legend Metropole Hotel Hanoi, 15 Ngo Quyen Street, Hoan Kiem District, Hanoi.
Located in Hanoi's Old Quarter – a network of 36 streets, organized by trade – above quaint hotels combine modern amenities with historic atmosphere. After you settle into your boutique hotel in Hanoi Old Quarter, it is time to explore one of the most interesting capitals in Southeast Asia and move on to Ninh Binh, Halong Bay, Sapa and other destinations with Vietnam Travel team!