The Best Things to Do in Ha Giang (Vietnam)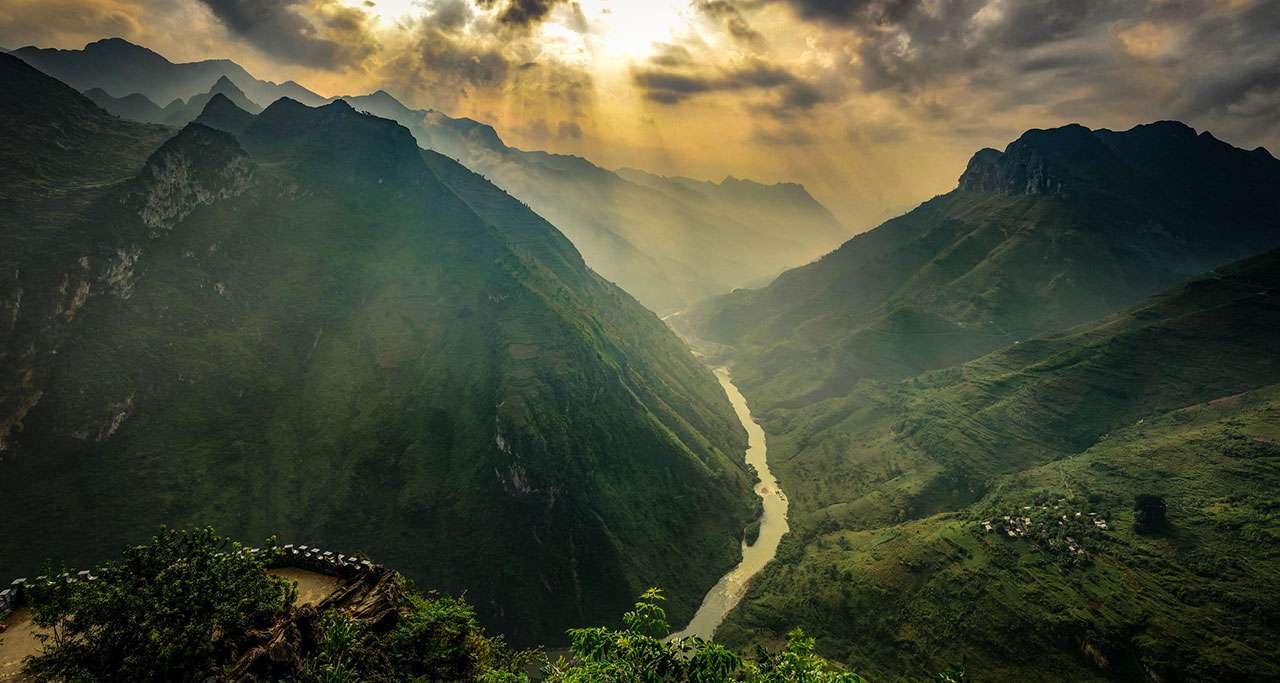 Ha Giang is the final frontier of North Vietnam and home to a large number of ethnic minorities including H'Mong, Tay, Dao, Lo Lo, ect. This destination has been more popular for those who are nature lovers and adventurers thanks to its of natural beauties and indigenous culture. As this is not the easiest place to reach, Ha Giang will be less busy and offers visitors the opportunity to explore Vietnam's raw beauty in a way that few other places still do. To make your trip to Ha Giang an unforgettable experience, our complete guide will show you the following list of things to do and places to see in Ha Giang loop. No need for further waiting, let's explore with us!
Happiness Road
Con Duong Hanh Phuc (or Happiness Road) is about 200km long connecting from Ha Giang City to Dong Van Town then Meo Vac Town. Without a road, Ha Giang was so remote to travel. Therefore, the appearance of this road brought a new opportunity for the stronger development of Ha Giang.
To make the road (1959-1965), many volunteers, workers from 16 ethnic groups had joined hands, even sacrificed their lives to open this very first road in Ha Giang. Its name presents the wish for happiness from the local people to the future.
Also located on this road is 20-km-long Ma Pi Leng Pass – one of the "four great peaks of the pass" in the mountainous regions of Northern.
Quyet Tien Market (Quan Ba District)
Quyet Tien Market is a simple rustic place, located right at the foot of Heaven Gate in Quan Ba District. On every Saturday morning, this market is held for residents in the area with all kinds of vegetables, cattle and handmade goods which are displayed beautifully and attractively. You can also have chance to taste some specialties of the area such as thang co, five color sticky rice, corn wine, soybeans…
This can be considered as the first upland market that you meet on the journey to conquer Ha Giang. About 1 hour far from Ha Giang City, this market should not be missed if you are on its morning Saturday market.
Read more: Hill Tribe Markets in Quan Ba, Ha Giang
Quan Ba Heaven Gate – Twin Mountains
Quan Ba ​​Heaven Gate is on 1500m above sea level, offering breathtaking views of the below valley. This is the first gateway to Dong Van plateau. In 1939, people built a giant wooden door 150cm thick at the Gate of Heaven. At one time in the past, behind this wooden door was another "world" – also known as "the autonomous region of the Meo people", including the districts of Quan Ba, Meo Vac, Yen Minh and Dong Van.
Quan Ba ​​Twin Mountains are located next to National Highway 4C, 40 km from Ha Giang City. Between the rocky mountain and terraced fields, two strange-shaped mountains emerge, making visitors amazed by the great beauty of the nature. These two mountains are associated with the legend of poetic Fairy Mount, become a lovely sight to behold from the road because of its charming appearance.
Dong Van Karst Plateau Geopark – Best things to do in Ha Giang
Dong Van Karst Plateau Geopark officially became a member of the UNESCO Global Geoparks Network and Asia Pacific Geoparks Network in 2010. It takes up most of the area of four of the province's districts: Quan Ba, Yen Minh, Dong Van and Meo Vac in the area of 2356,8 km2. This geopark is on the height of 1400 – 1600 meters above sea level, featuring 60% limestone on its surface with the spectacular and unique landscape of high mountains and deep canyons. Mieu Vac Mount is highest peak (1971m) while Tu San is deepest canyon (700-800m).
The geopark is rich in fauna and flora species as well as cultural heritage of the area with home to 17 ethnic groups such as the Hmong, Dao, Lo Lo, Tay, Nung… One of the mysterious things is that there are the scripts, ancients letter found on many rocks, but the meanings of these letters are left unknown until now.
You may also like: Dong Van Karst Plateau Geopark
Sung La Valley – Lung Cam Village
Sung La Valley is about 20km from Dong Van District and be considered as the most beautiful upland commune of Dong Van Karst Plateau Geopark. Looking down Sung La Valley from the highest and most beautiful point at Pho Bang junction (from Yen Minh to Dong Van), you will see a peaceful and beautiful natural picture. In spring, the valley turns brilliantly colorful with many blooming flowers. When the winter comes, Sung La becomes colder and puts on a new shirt with the white-yellow of buckwheat flowers and the yellow of mustard flowers.
In the center of Sung La Valley locates a small village – Lung Cam with more than 60 households of ethnic groups (Lo Lo, Hmong, Han) living together. This place still preserves the human beauty as well as the tangible and intangible cultural values such as folk songs, dances and traditional instruments. There is a famous check-in point that visitors should not miss, that is the studio "Pao's House" which is a typical house with all rich in the colors of the plateau.
Mansion of Vuong Family
Vuong Chinh Duc was the head of the Vuong family of the Mong people in Ha Giang a century ago. He was on good terms with the French during their colonial rule, then dominated the highlands by his richness and proclaimed himself king.
Located in Sa Phin village, 2-storey Vuong Mansion is a masterpiece influenced by the mix of traditional Chinese architecture and the essence of the H'Mong with 64 different rooms decorated with carvings of dragons, phoenixes which are symbols of royalty and prosperity. It took 10 years of construction to finish as it's seen nowadays and costed a huge expense of 150,000 silver coins, an equivalent of 150 billion VND today.
The Mansion of Vuong Family echoes with the history of time past and deserves to be the pride of the H'mong ethnic people.
Lung Cu Flag Tower – Milestone 428 – North Pole Milestone
Lung Cu Flag Tower is a monument of North Vietnam in Lung Cu Commune of Dong Van District, consisting of a 30-metre tall tower on the summit of Lung Cu Peak (over 1400m above sea level) and topped with a large Vietnamese flag of 54 square meter area, representing the unity of 54 ethnic groups in Vietnam. This is a great place to take panoramic views of Dong Van, Ha Giang, especially the winding Happiness Road below.
The monument was built to mark the northernmost point in Vietnam, however, the farthest north point on the Chinese-Vietnamese border is located under Nho Que River, about 3km from Lung Cu Flag Tower, at Xeo Lung village.
Milestone 428 is not the northernmost point but the most Vietnam-China border landmark with the northernmost point, about 500m from Nho Que River along the flying way of birds. Nho Que is a common river of Vietnam and China, so it is also the boundary of the two countries.
North Pole Milestone is a symbolic northernmost point at Xeo Lung village, about 3km from Lung Cu Flag Tower. Up to now, this is the closest accessible point to the north pole of the country. Standing on the Observatory (simulating One Pillar Pagoda), the view covers the boundary strip of the North Pole cone, where Nho Que River begins to flow into Vietnam.
Dong Van Old Quarter – Full Moon Night – Dong Van Market
Dong Van Old Quarter still keeps its intact contour with the ancient architecture and many ancient houses with 100 years old or even more today. Forming since the early 20th century, the quarter started with a few families of the H'Mong, Tay and Chinese, then more and more other local residents located gradually. Overall, the Old Quarter features Chinese architecture with two-story houses of yin-yang roofs, red lantern and two ancient streets that lead to the mountain.
On every 14th, 15th, 16th day of monthly lunar calendar, there will be "Night in old quarter" held to preserve and promote the value of cultural heritages of Dong Van Old Quarter. During these days, the houses in the Old Street are lighted with lanterns and many other cultural and artistic activities are organized such as cuisine festival, art performance, and traditional handicrafts, etc.
Dong Van Market is an old market, located in the complex of Dong Van Old Quarter, holding a single session on every Sunday. On the day of the fair, from 5.00am – 10.00am, the small and quiet old town becomes noisy and crowded like a festival with colorful costumes of the Dao, H'Mong, Tay, Nung, Giay, Lo Lo… They bring vegetable baskets, firewood, pigs, dogs …to the market. Some people have to go from 3am, cross the mountains to get down in time for the market. This is the place for locals to buy and sell goods, and also a chance to socialize and meet each other weekly.
Ma Pi Leng Pass – Nho Que River
Ma Pi Leng Pass is about 20 km long connecting Dong Van Town and Meo Vac Town of Ha Giang Province. Together with 3 other famous passes including O Quy Ho Pass (Lai Chau – Lao Cai); Khau Pha Pass (Yen Bai) and Pha Din Pass (Son La-Dien Bien) created four great peaks of the pass in Vietnam. Standing from the peak of Ma Pi Leng Pass, the stunning landscapes will be offered in front of your eyes with limestone mountains, green forest, and romantic Nho Que River – turquoise green throughout the year. You can also take a boat trip or go kayaking on Nho Que River to enjoy the scenery around.
You may also like: 10 Scenic Mountain Passes in Vietnam
Meo Vac – Khau Vai Love Market
Khau Vai love market is well-known in Ha Giang with its unique meaningful culture. It is annually organized on 26th and 27th of the third lunar month at Khau Vai village, Khau Vai commune, Meo Vac District. Also called Phong Luu love market, this is a very romantic place for couples who loved each other but could not success to the final together. They gather here with their best traditional costumes on these days to find their ex-lovers to confide and share the moments of life.
The special thing of this market is that, both husbands and wives arrive at the market together before looking for their ex-lovers among the crowd. The meeting will end after 27th day and everyone will be back to their daily lives without any influence from the love market. There is a deep culture hidden behind the love market, which is the human value in the spiritual life of the people in this land.
Hoang Su Phi – Terraced Rice Fields – Phin Ho Village
Hoang Su Phi District is located at the foot of Tay Con Linh Mountain, in the western of Ha Giang Province. The best time to visit Hoang Su Phi is either around March, which is planting season and the terraced rice fields will be a stunning verdant green, or late September and October to witness the fields turning golden and busy scene of the locals during harvest time.
Although "later born" than terraced fields in Mu Cang Chai (Yen Bai) and Sa Pa (Lao Cai), but the national beauty spot in Hoang Su Phi has its own unique features that many people have not known… Thanks to skillful and creative human hands, the fields of thousands of steps were reclaimed by the La Chi, Nung, Dao … in Ha Giang from around 300 years ago, offering breathtaking views of layers and layers of rice fields on mountain after mountain.
Phin Ho Village is famous for its production of tea, as well as the old tea trees in the village, of which, the oldest said to be over 400 years old. This is home to 44 households of more than 200 Dao people. If you're here in January, you may be able to take part in the annual Fire Dancing festival which is part of their culture. 7km from Phin Ho village locates Phin Ho Tea Processing Cooperative where specializes in producing and processing Specialties Che San Tuyet Co Thu. The production materials are selected entirely from fresh old snow Shan tea with a lifespan of over 200 years, located at an altitude of over 1,300 meters above sea level in the high mountains of Phin Ho village.
Hopefully, our post about this province's beauty, unspoiled nature and incredible charm has given you some ideas of what to see and do in Ha Giang. If you are nature and adventure lovers and want to see such kind amazing landscapes, meet wonderfully friendly locals or try unique foods, Vietnam Travel experienced team will be ready to assist for your best stressful-free arrangement and services. Let's contact and give us chance to be part of your journey!