Things to Do in Halong City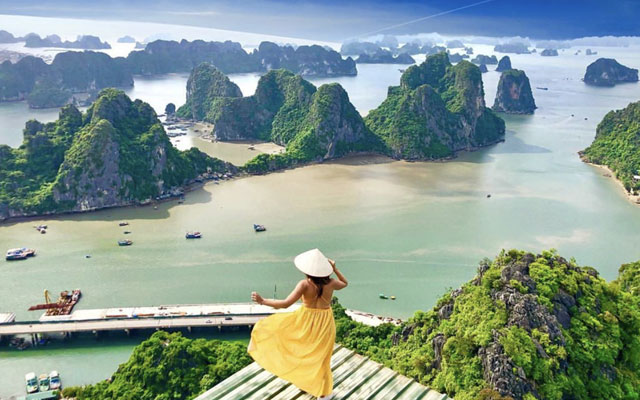 Thinking about Halong, the first thing comes up in our mind is to taking a full-day boat trip or overnight on one of the cruisers in the bay. But if sleeping on the ocean blue or staying overnight in a little island outpost is not your favorite interest, Halong City might be what you are looking for. The town is divided into two main areas: Bai Chay and Hon Gai. Bai Chay is the main tourist strip of hotels and boat piers for ideal trips to the bay. Meanwhile, Hon Gai looks like a more local area with a few mini hotels and local restaurants geared mainly to Chinese tour groups. Experience the absolute best things to do in Halong City with this epic guide to essential eats, drinks, culture, parks, excursions and more, for visitors and locals alike.
1. Sail on the Halong Bay – UNESCO's World Heritage Site.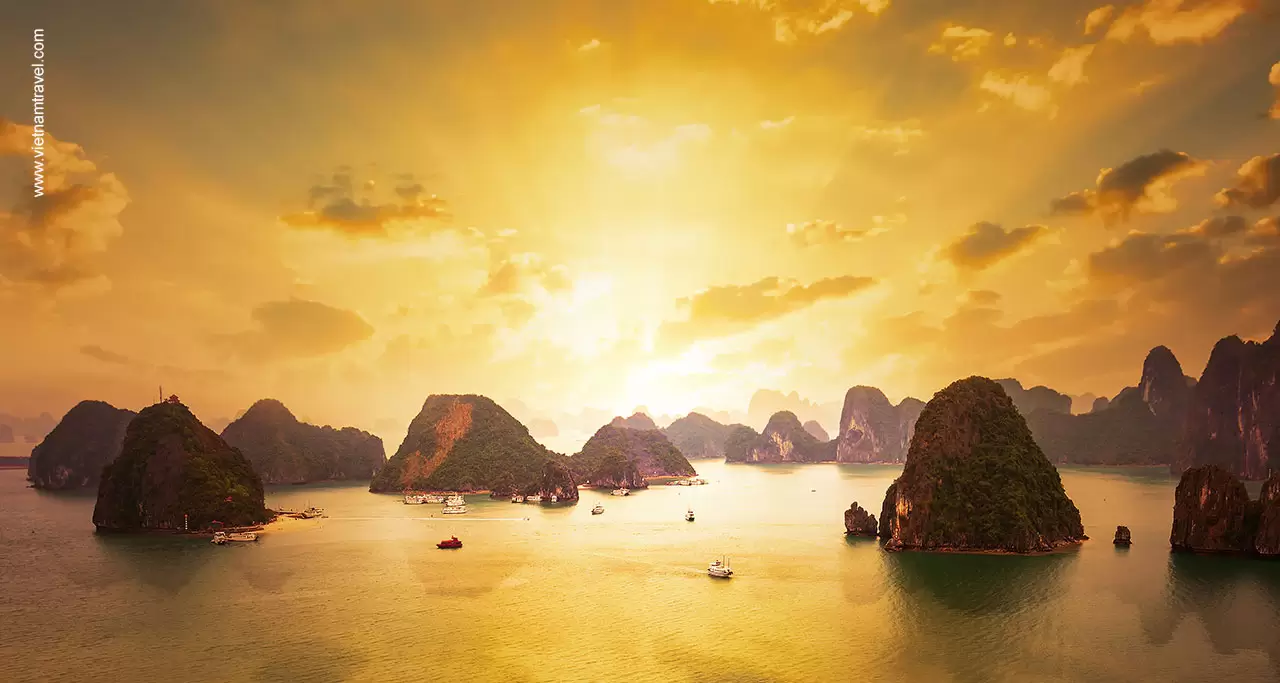 Halong Bay remains the most visited tourist attraction in Northern Vietnam. Halong Bay literally translated as the "Bay of Descending Dragons", features thousands of limestone karsts rising from the water, natural stalactite caves, picturesque islands and unique floating villages to explore. There are several ways to explore Halong Bay: take day cruise (4 hours or 6 hours) or spend your time on overnight cruises (2 days/1 night or 3 days/ 2 nights) sailing through green islets. Cruising brings you closer to the nature, allows you some time to relax and truly enjoy the scenery out in the water, as well as to navigate to remote areas. Each cruise has a planned schedule to follow, but they almost offer popular activities on board, such as: explore beautiful caves, grottoes and islets, kayaking, swimming, take part in cooking demonstration, Tai Chi session on sundeck, photo hunt at dawn & sunset.
2. Take an aerial view of Halong Bay from seaplane.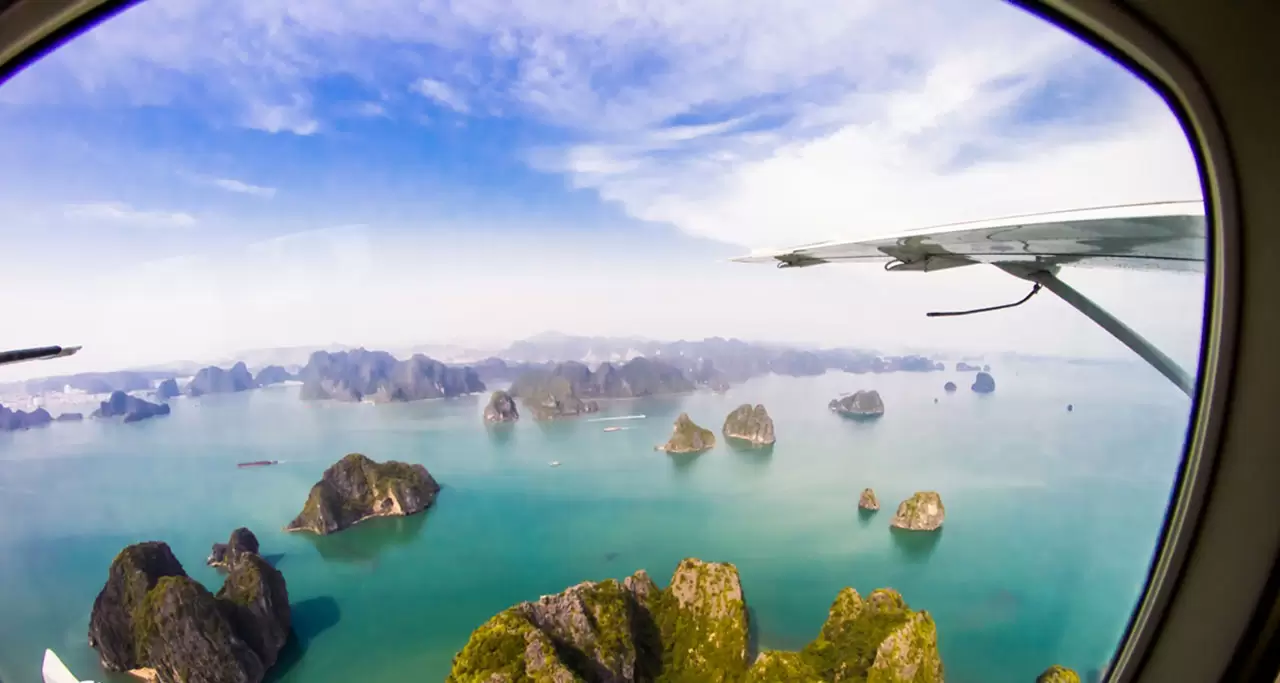 While in Halong City, travelers can take 25-minute sightseeing flight over Halong Bay for beautiful birds-eye views of the bay. Hai Au Aviation and Northern Vietnam Helicopter provide this service. Thanks to their small size and ease of maneuverability, seaplanes are able to fly close to Halong Bay's gorgeous limestone islands for incredible, sweeping views which are completely different from the views enjoyed aboard a cruise at sea level. Despite being rather expensive, hopping on a seaplane and flying over Halong Bay is one of the most thrilling and scenic experiences you should try in your lifetime.
3. Visit Quang Ninh Museum & Library.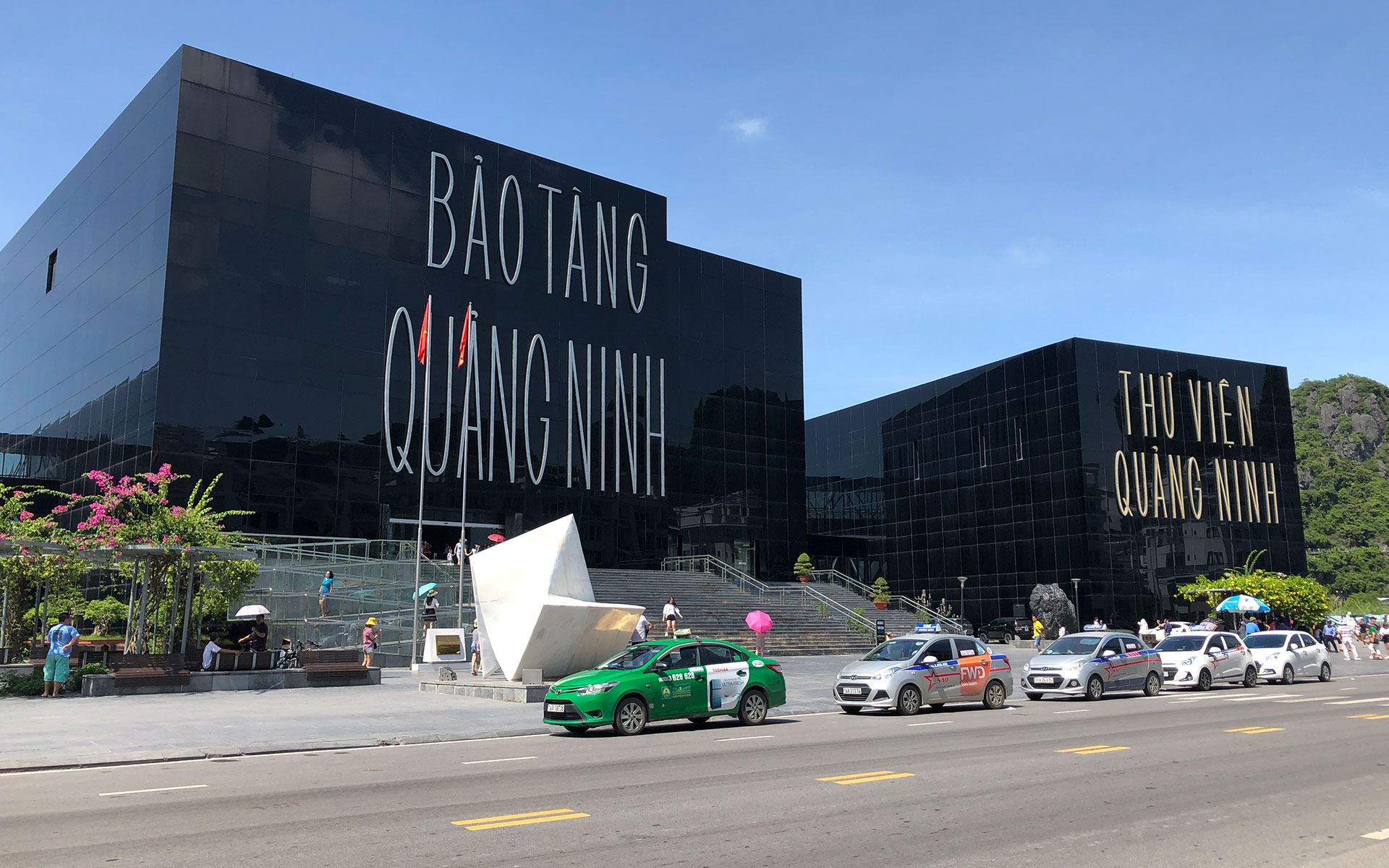 The stop at Quang Ninh Museum & Library is highly recommended to those who are interested in the history and culture of Quang Ninh province. Designed by Spanish architect Salavador Perez Arroyo, the cluster of Quang Ninh Museum – Library won the Works of 2013 prize due to its special architectural design, symbolize the image of coal – the main mineral characteristic of Quang Ninh. From the outside, tourists are impressed by twin buildings with the bold and shining appearance. The outer part covered by dark glasses makes the buildings look like a giant mirror reflecting the gorgeous views of the Halong Bay coastline.
The museum consists of three floors, representing the different stages of Quang Ninh's development in both space and time, from ancient time to present days, from mountain to delta and sea with a high value of science.
+ First floor: Represent the space of the sea and nature.
+ Second floor: Exhibit Quang Ninh's history and culture.
+ Third floor: Display objects related to mining and coal industry.
The museum is open on Tuesday to Sunday (except Monday), from 8 am to 5 pm.
4. Take a stroll over Bai Chay Bridge.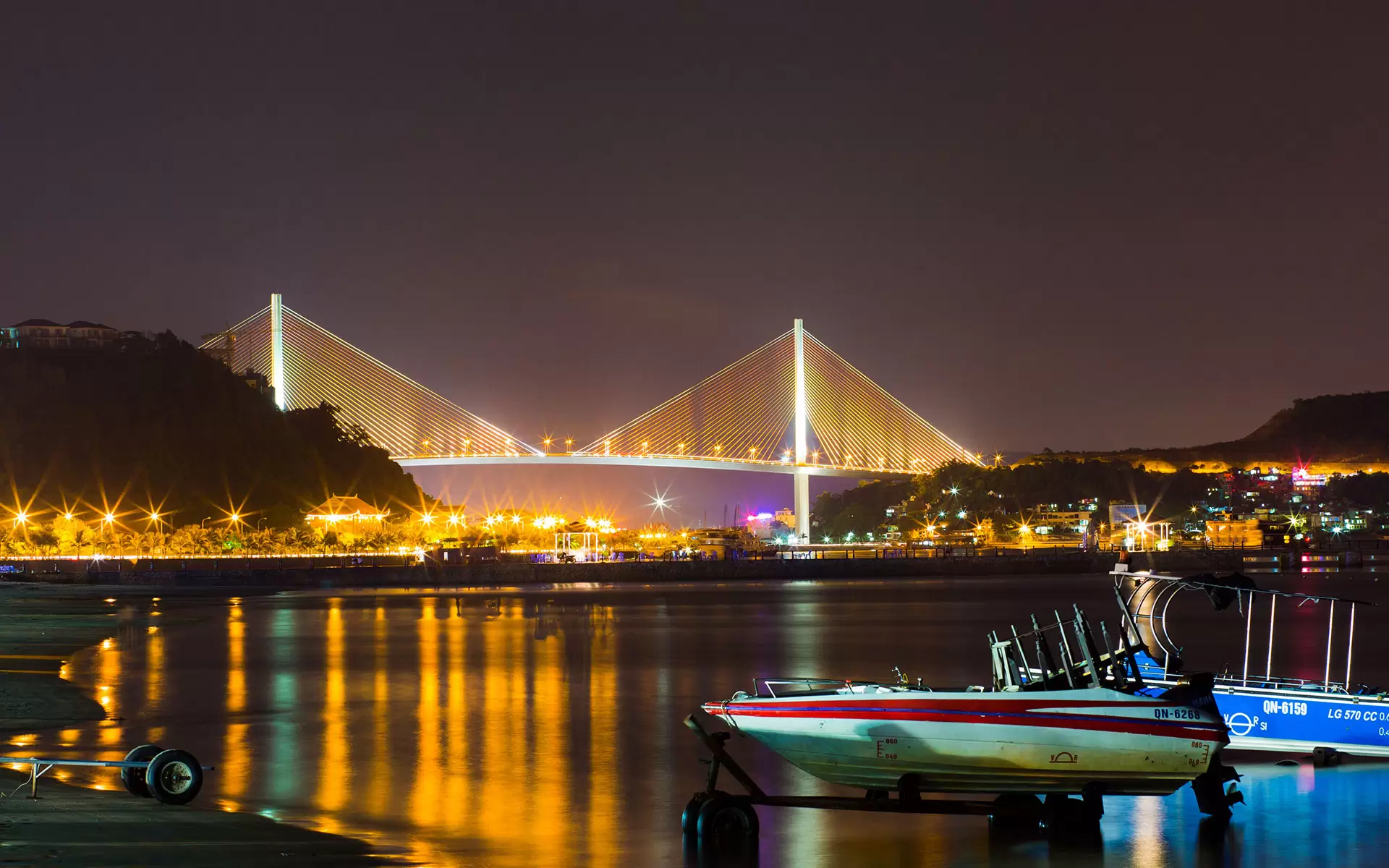 The journey to Halong City will definitely be extremely memorable when tourists set foot on magnificent Bai Chay Bridge. At the time of its inauguration in 2006, Bai Chay Bridge is the first and the longest central-line cable-stayed bridge in Vietnam. It lies at 50m above water level so that all vessels can operate normally when passing under it. The bridge connects Bai Chay and Hon Gai – two important economic and cultural centers of Quang Ninh and plays an important role in adorning the beauty of Halong Bay and Halong City. Take a stroll along the bridge, tourists can take the panoramic view of Halong City and a large part of Halong Bay as well. When viewed from Bai Chay Bridge, the scenery of Halong City and Halong Bay becomes much more splendid, especially at night time when the city is bathed in colors.
5. Entertain at Sun World Halong Complex.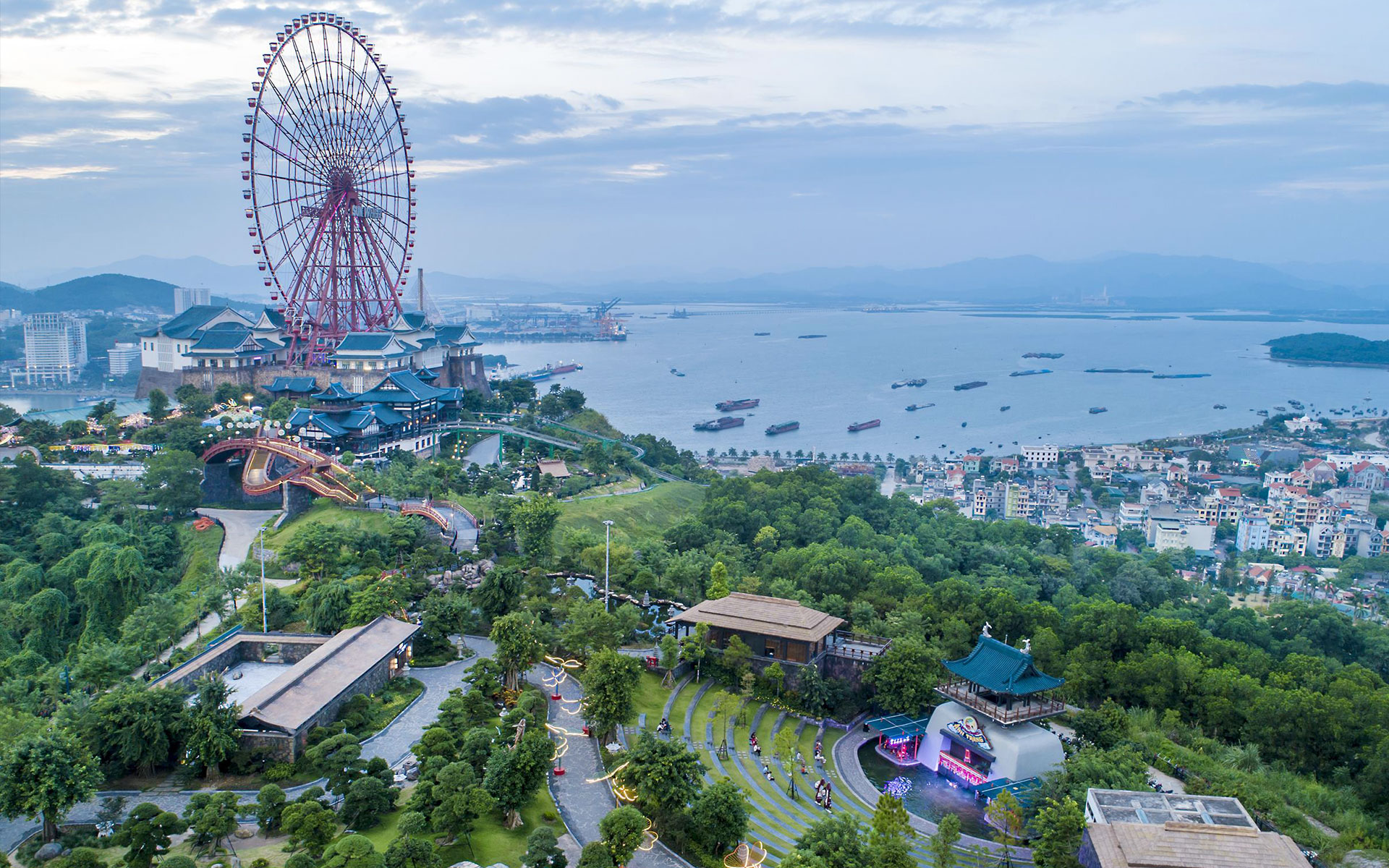 Spanning 214 ha in total, Sun World Halong Complex is world-class amusement and recreational complex that consists of two main areas:
+ The Coastal Amusement Park and Amusement Park on Ba Deo Hill, which are connected together with a unique cable car system.
+ The Coastal Amusement Park on scenic Bai Chay Beach consists of various attractive facilities such as the Dragon Park – an extreme game zone and the most spectacular roller coaster of Vietnam; an exciting Typhoon Water Park called the Tornado Bay; and the unwinding coast of Halong, encircled with the sapphire water and silky white sandy beach.
The Queen cable car connects Bai Chay and Ba Deo Hill with the world's tallest cable post reaches nearly 190 meters in height. This is why a cable car trip makes it in the top places to admire Halong Bay in its best. Each cabin has a capacity of 230 passengers equipped with crystal-clear glass windows allowing you to observe the breathtaking vista down below.
Apart from the cable car itself, Sun Wheel is another phenomenal spot in Sun World Halong Complex to snap some shots of the bay up in the air. Halong Sun Wheel is recorded to be the largest wheels ever built on Earth. Therefore, you can even opt for some stunning selfies of you and your besties while "rolling" in the sky.
6. Capture Halong Bay from Bai Tho Mountain's Peak.
Another place to capture the natural beauty of Halong Bay from above is Bai Tho Mountain's peak. The mountain is located right in the city center so it's quite convenient to add the trip of discovering it into Halong City Tour. Even being only about 200 meters in height, the mountain is still considered as one of the most ideal viewing spots over Halong Bay. The trail leading to the mountain top lies in a small alley and indeed hidden in the retreat at the back of the native lodges. Hence, don't hesitate to get some help from the locals living nearby when you get lost in direction. After about 30 to 45 minutes of hiking, the view from the peak of Bai Tho Mountain is truly the best reward you can ever get. Are you ready to be mesmerized by the oceanic breeze coming from the horizon while capturing the best scenes in your life? Join the private half-day Halong City Tour with Vietnam Travel's local guide for Halong discovery and better care on an adventure to Bai Tho Mountain!
7. Sunbath on the Bai Chay Beach.
Sunbathing on the sandy Bai Chay Beach with the beautiful view of the bay in front of you is an absolute must when you are in Halong City. Bai Chay Beach is a man-made tourist friendly beach, which lies close to the coast of Halong Bay. In summertime, the beach is a popular relaxing destination not only for local people, but also for domestic and international tourists. Many good hotels and restaurants are located along the beach side. The most popular activities can be found here are swimming, sunbathing team building, and water-related games such as jet skiing, surfing, kayaking.
8. Explore Tuan Chau Island.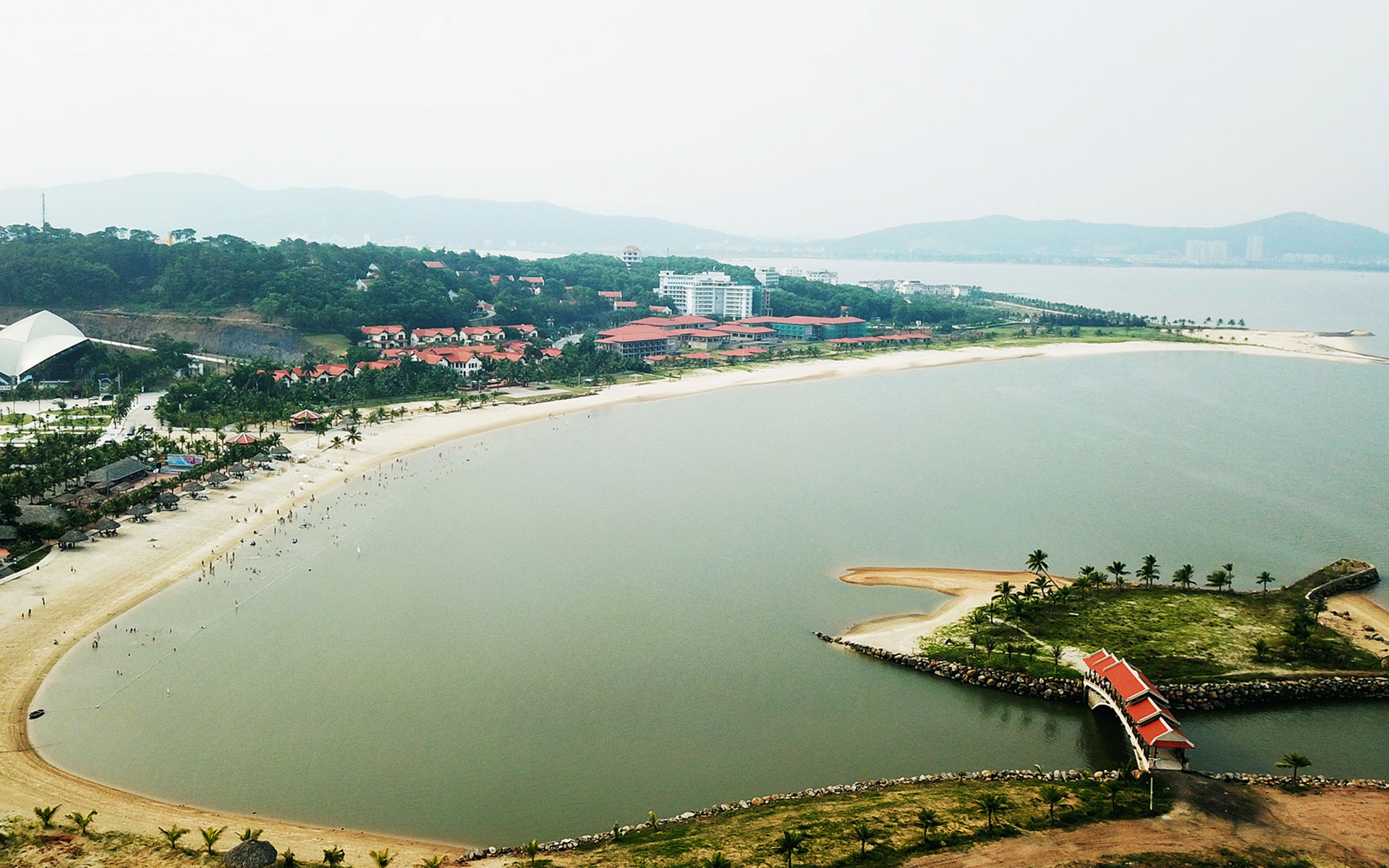 Sitting in the north-west of Halong Bay is Tuan Chau Island, which is located 8 km south-west of Halong City. This island is a perfect destination for slow pace travelers who want to escape from the hustle and bustle of city center. The island is the paradise of resorts and recreation with fully developed facilities and infrastructures. As a newly-developed tourist attraction, Tuan Chau offers many entertaining activities awaiting tourists to discover. Children are keen on dolphin performance, magic show, and circus performances. Teenagers and young people will be immersed in lots of unique and exciting outdoor recreation activities and thrilling games such as fly away, Apollo, love swing, crazy wave, and star flyer. It is also amazing to watch the water show of dancing fountains which is perfectly synchronized with cheerful music.
The artificial Tuan Chau Beach – one of the highlight in this area, stretches over 1 km in length, and is one of the favorite spot for tourists with clear water and white sand.
In addition, Tuan Chau International Marina is the main hub for more than 2,000 cruises (including day cruises, overnight cruises to Halong Bay). It received the Guinness World Record as the biggest artificial harbor in Vietnam.
9. Buy & enjoy local specialties at seafood markets.
Traveling to Halong City allows you to sample the most mouth-watering fresh seafood and local dishes such as grilled chopped squid, sipunculus ("sá sùng"), finger nail snail and other billion kinds of tasty seafood dishes. While in Halong City, tourists can easily find dozens of seafood dining outlets:
– Vuon Dao area – paradise of fresh seafood.
– Ben Doan area – enjoy fresh seafood in floating restaurants and enjoy the cool sea breezes and view of Halong Bay at night.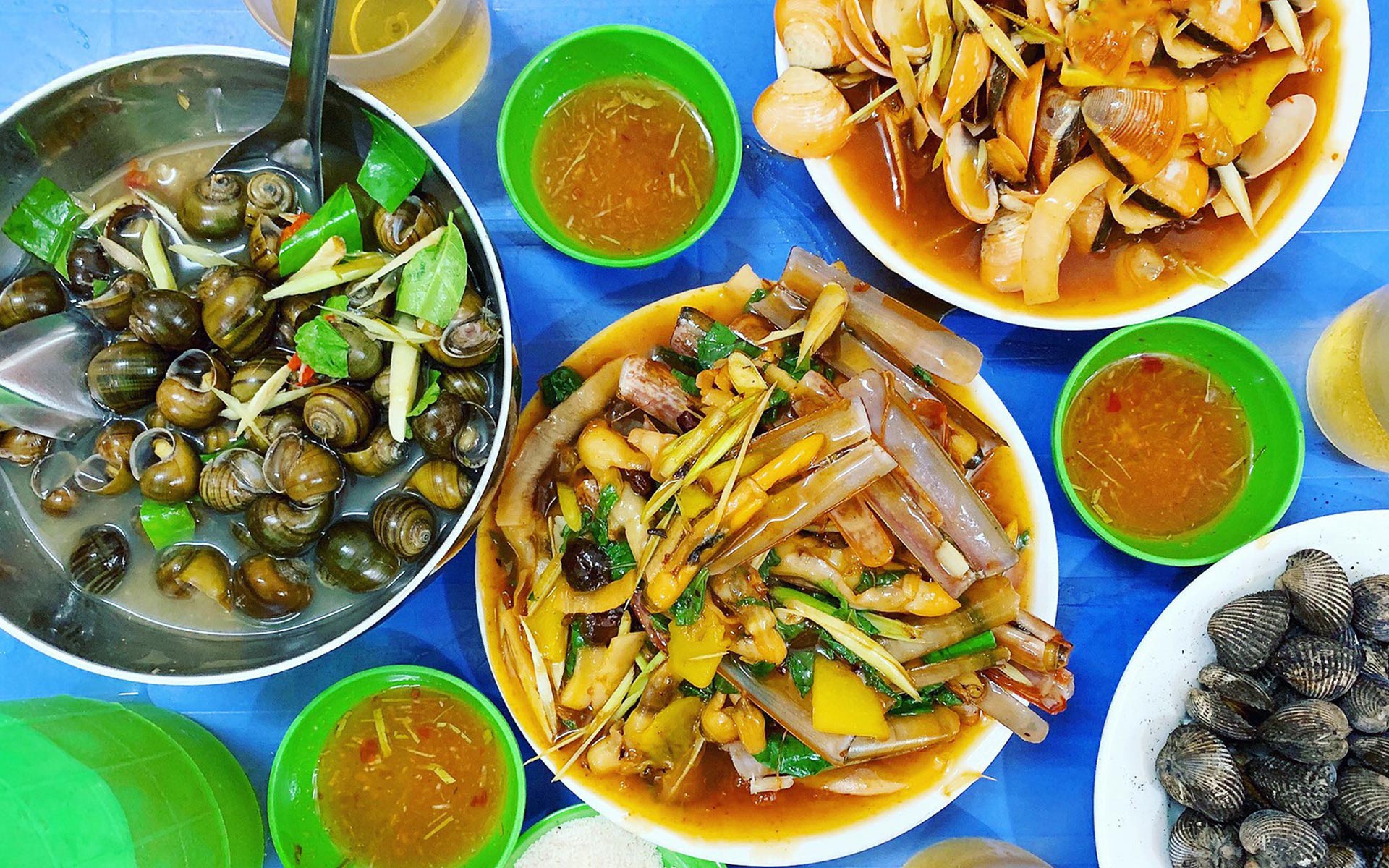 Almost visitors coming to Halong don't miss the chance to enjoy local fresh seafood and also buy them as a special gift to bring back home after the journey to this coastal city. Below is the list of seafood markets recommended by locals:
– Hon Gai seafood market – opposite Vincom Halong; opening hours: 4 AM – 7 AM.
– Halong I seafood market – Bach Dang street, Halong City.
– Halong II seafood market (Long Toong market) – Tran Hung Dao Street, Halong City; opening hours: 8 AM – 5 PM.
– Cai Dam seafood market – Tien Ong, Bai Chay, Halong City; opening hours: 7 AM – 6 PM.

* Seafood trading at Halong Wharf:
Located at the end of Ha Long 1 market, near Bai Tho Mountain, Halong Wharf is where seafood is sold in the retail form, and open at 2 AM in the morning. Within the 300m2 wharf, hundreds of traders and fishermen gather with thousand baskets of the fish, shrimp, crab, squid. The market's busiest time is from 6 AM to 9 AM. When fishing boats carrying fish from the large ships back to the shore, the people on the shore have rounded up.
10. Try bargaining skills in Halong Night Market.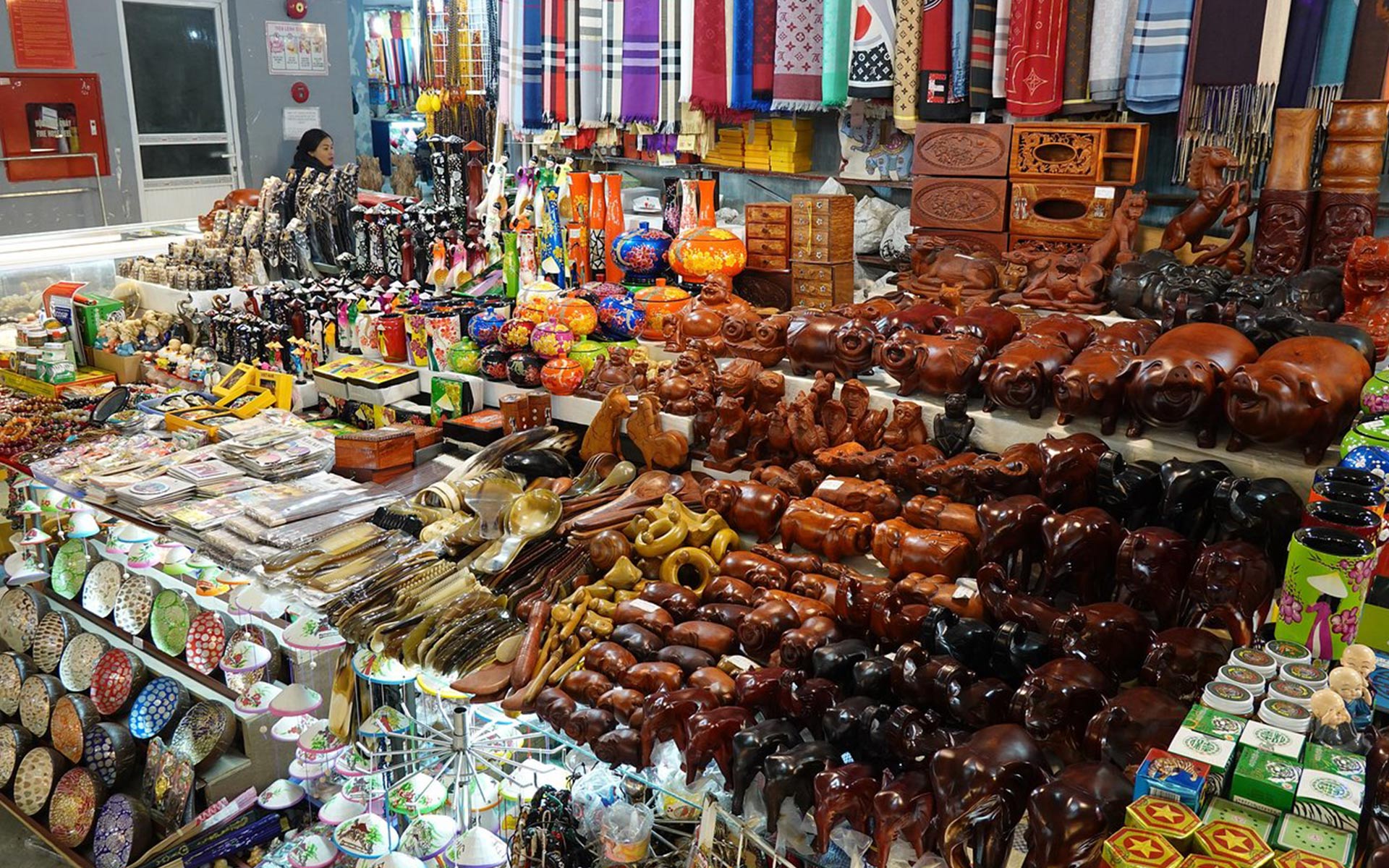 Located nearby Bai Chay Beach and close to the old ferry terminal, Halong night market is a must-go place for souvenirs in Halong City. It opens from 6pm until late night. The market area with more than a hundred stalls, is divided into two floors. The first floor is the space for gifts, postcards, souvenirs. On the second floor, tourists can find many Halong's specialties such as coffee, cashew nuts, cakes, and dried seafood.
The sellers in this market can overprice their products so tourist should try to get some discounts. It is also a fun experience to bargain and get some great deals on the product.