10 Best Places For Trekking In Vietnam
Here we are with the top suggestions on where to head out on your adventure for the best trekking places in Vietnam. Feel the genuine adventure and explore the remarkable beauty of Vietnam's nature on these treks.
There's more to Vietnam than rich history and diversity tradition or mouthwatering food and beautiful beaches. Thanks to the diversified topography, Vietnam offers many stunning trekking routes through rice terraces, green valleys and towering mountains, with varying levels of difficulty, making them suitable for different health conditions and those with different levels of experience. Northern Vietnam offers a plethora of hikes through towering mountains while the rest of the country provides you trails in nature reserves and national parks. From lofty mountains meant for professional trekkers to small hills that can be conquered by amateurs, you'll find a Vietnam trekking tour for you.
Vietnam Travel names Ten of the best places for trekking in Vietnam, listed below.
1. Sapa (Lao Cai)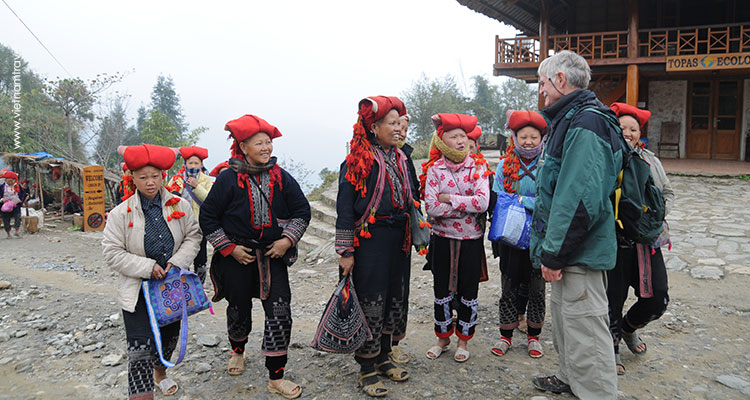 Trekking level: Easy – Medium – Hard.
Highlights: Sapa is probably one of Northern Vietnam's most popular tourist sites with Halong Bay. Nestled at an altitude of 1,500m and 315 km far from Hanoi, this mountainous town overlooks an entire region of green terraced rice fields and amidst beautiful mountains. Sapa is renowned in Vietnam for the ethnic minorities who live there, including Black H'mong, Red Zao, Zay, Tay and Xa Pho. Combining both culture and natural beauty into one enticing package, Sapa is definitely worth visiting if you have the chance. Sapa also attracts many tourists who are spicing up their Vietnam travels by going trekking through the rice terraces and tropical forests. An average trek in Sapa takes two days; however, there are options for trekking for three or four days. One of the draw factor of trekking in Sapa is that you shouldn't miss to spend the night at a local homestay. This is a rewarding experience as you get to make new friends and learn about the local culture at the same time. Sapa is always considered to be a paradise of Vietnam trekking for adventure tourists.
Best time to trek: The climate only allows for one rice crop per year in Sapa, meaning the terraces aren't always bright green. The best time to see the rice terraces at their peak is also the rainiest time of the year (from May to early September). However, no matter what time you visit Sapa, there is something to see at each time of the year.
Popular treks in Sapa: Sapa offer trekkers with a variety of trekking sports. Below are some of the most recommended sites any travelers should experience at least once when they visit Sapa. Get ready to get lost in the breathless beauty of the land and cannot find the way out!
• Cat Cat – Sin Chai (3-5 km).
• Lao Chai & Ta Van Village (6-8 km).
• Y Linh Ho – Lao Chai & Ta Van Village (12-15 km).
• Sa Seng & Hau Thao Village (12-15 km).
• Ta Giang Phinh Village.
• Thanh Kim Village.
• Conquer Fansipan Summit – Roof of Indochina (2 or 3 days).
Sapa Trekking Tour with homestay experience from Hanoi – 4 Days/ 3 Nights
Sapa Trekking Tour: Explore Sa Seng & Hau Thao (day trip)

2. Mai Chau (Hoa Binh)
Trekking level: Easy – Medium.
Highlights: Mai Chau, a mountainous area located in Hoa Binh Province, is a fresh and peaceful place with breath-taking landscapes. Mai Chau is synonymous with not only eco-tourism but also the home to different ethnic minorities. Mai Chau is where you can take some of the best treks in Vietnam. Wandering around the rice fields and local villages (Cun Pheo, Ban Buoc, Hang Kia, and more) may be a highlight of your trip to South East Asia.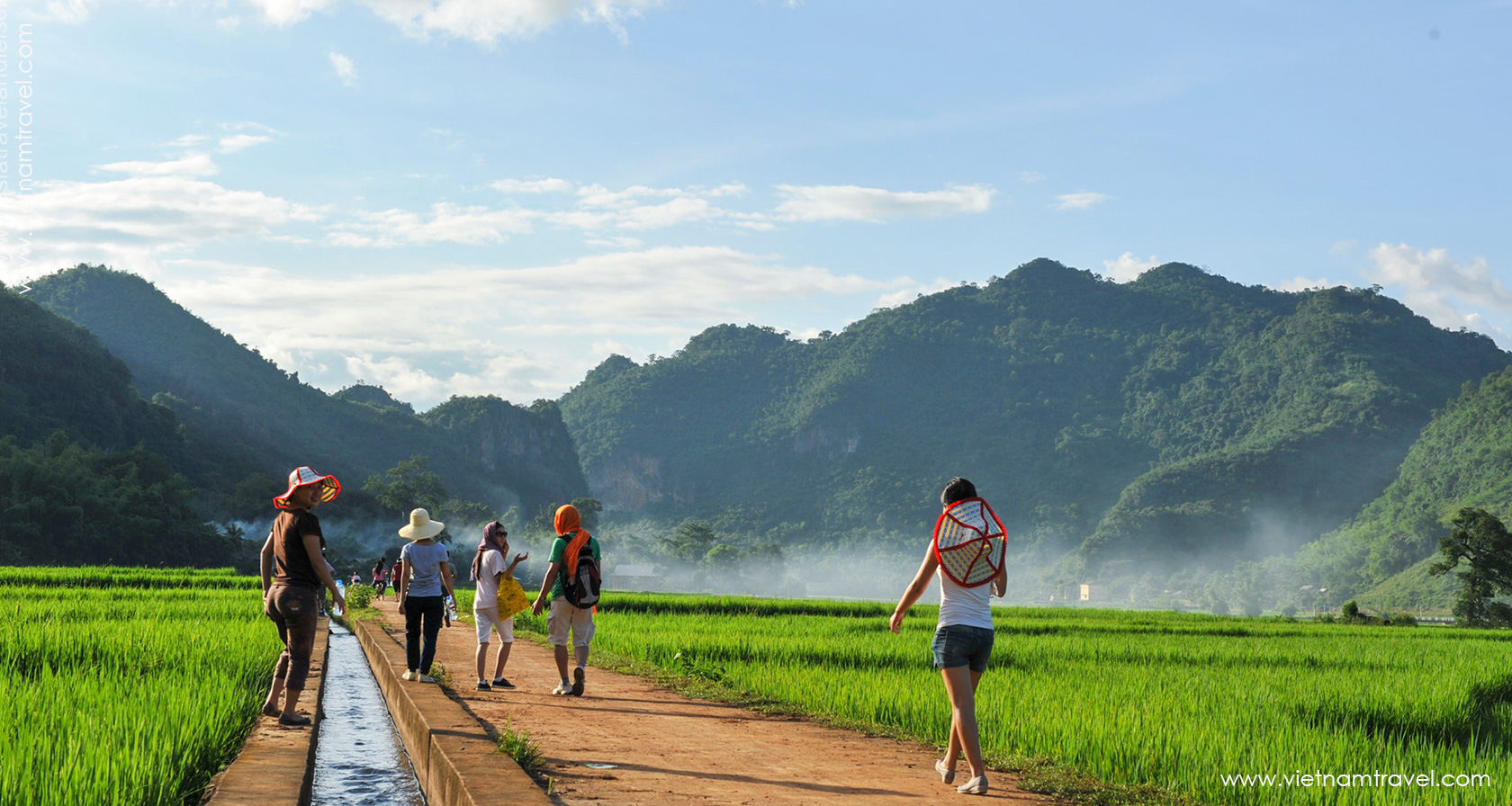 Best time to trek: early October and early May. Out of these times, Mai Chau can become unbearably hot, particular in June through to August.
Popular treks in Mai Chau:
• Light trek to immerse in the slow life of the Thai and Muong people: Ban Buoc, Xam Khoe Market, Cun Pheo, Te Village, Black River…
• More challenging treks: Mai Chau Valley, Hang Kia Village.
Mai Chau Escape – 2 Days
3. Ha Giang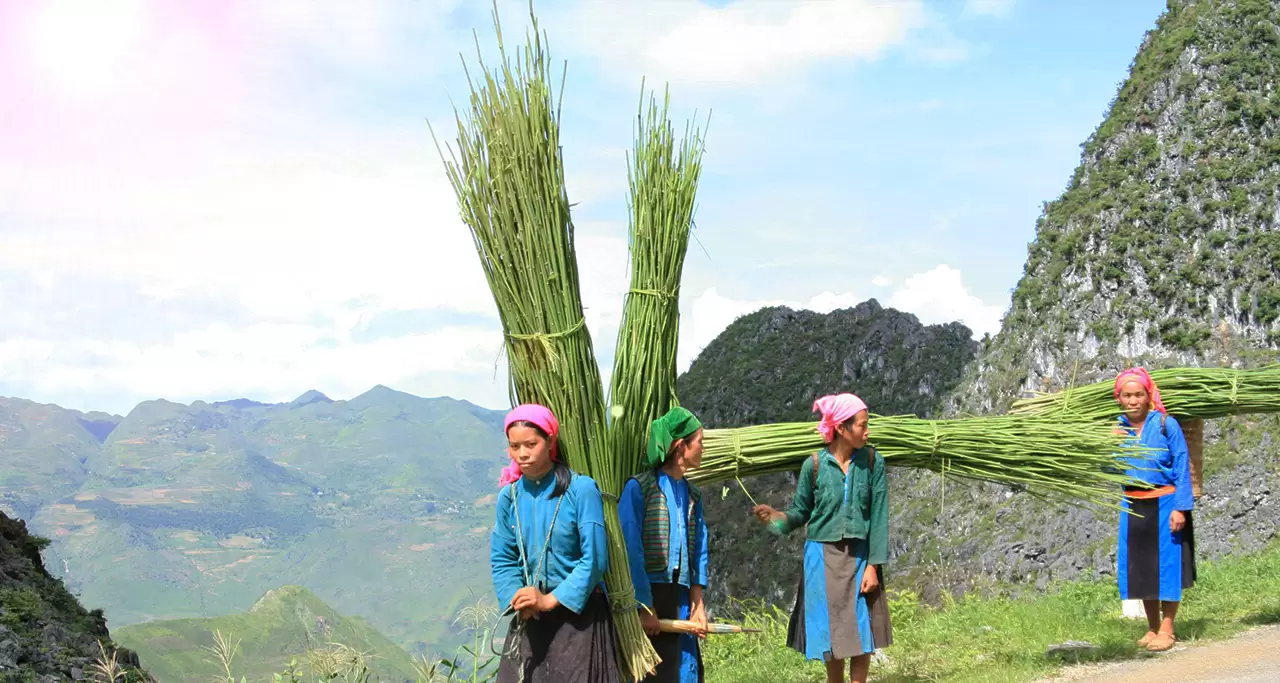 Trekking level: Easy.
Highlights: Ha Giang is located in the most-northern part of Vietnam, about 300 km northwest of Hanoi, bordering China. This remote and mysterious province is one of the top destinations for any adventure lovers. It is a showcase of marvelous mountain landscapes, rolling hills, impressive karsts and green valleys, roaring rivers, smiling people and adorable ethic kids. It boasts of the most majestic and impressive natural landscapes in Southeast Asia, yet so many travelers regretfully overlook it due to the far distance Hanoi gateway. The trekking in Ha Giang fall far enough from the tourist circuit, so you can wander the mountains of Ha Giang uninterrupted for days at a time. Apart from an inspiring scenery, you have easy access to the most ethnic authentic side Vietnam, unique tribe villages…
Highlights of Ha Giang include Quan Ba Twin Mountain, Dong Van Town, Lung Cu Flagpole, Meo Vac Valley, Ma Pi Leng Pass, Hoang Su Phi rice terraces.
Best time to trek: October to May.
Popular treks in Ha Giang: Most treks in Ha Giang range from 2-to-5 days. While you can't trek from Ha Giang itself, there are trails starting from small villages nearby.
• Lung Vai – Khuoi My Village – Ban Tha – Nam Dam.
• Tam Son Town (Heaven's gate).
• Dong Van Valley – Thien Huong Village.
• Ma Pi Leng Pass – Tu San Valley.
• Hoang Su Phi (Ban Phung, Nam Hong, Khoa Thuong, Nam Ai, Nam Son, Lung Thang, Ho Thau – Chieu Lau Thi Peak, Tay Con Linh Mountain).
A Loop of Ha Giang – 4 Days from Hanoi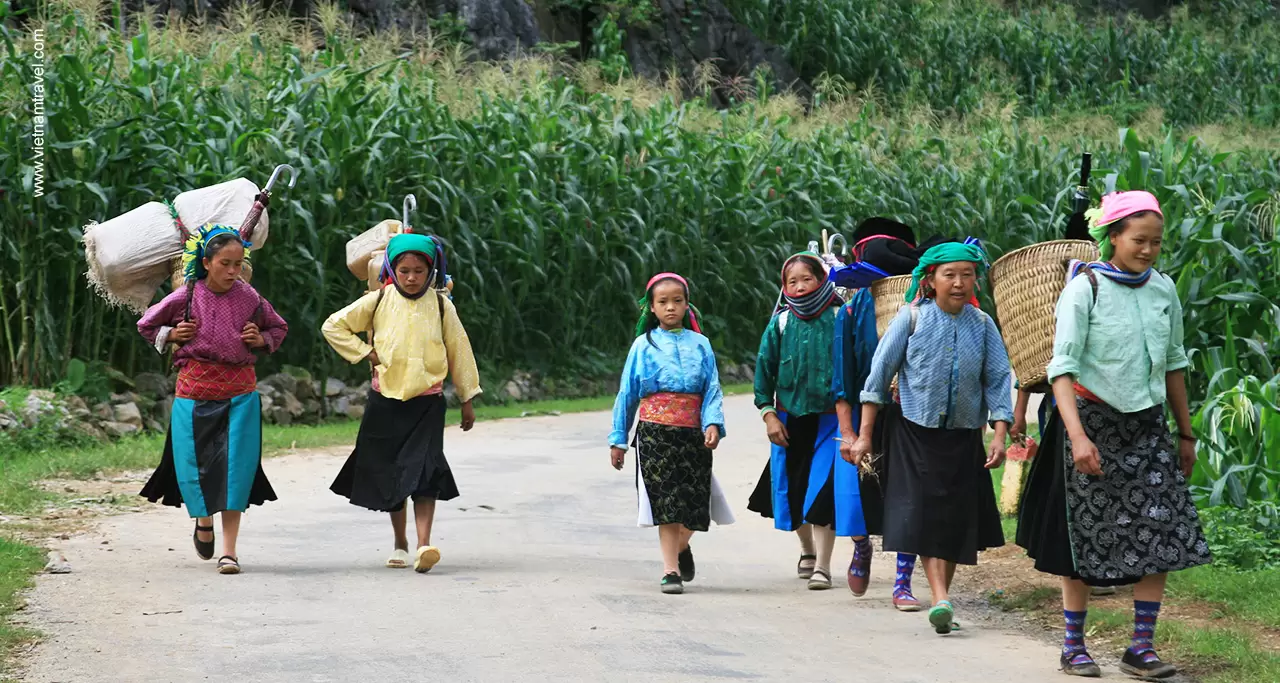 4. Ba Be National Park (Bac Can)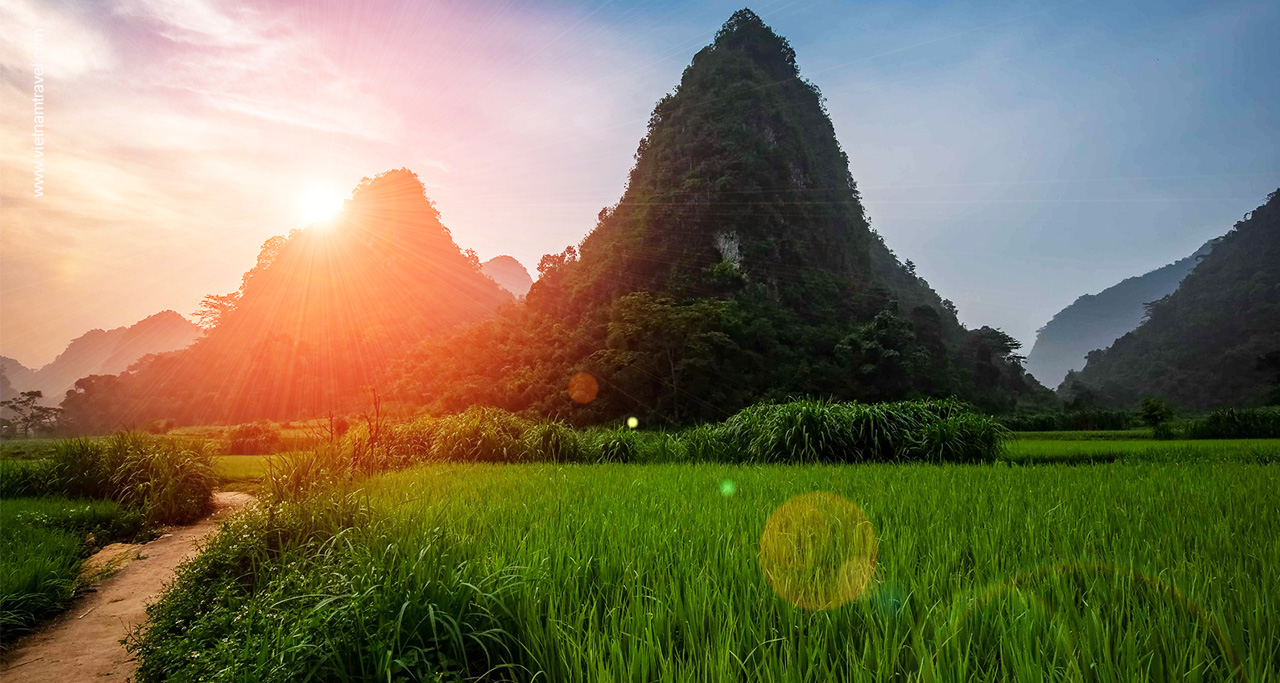 Trekking level: Easy – Medium.
Highlights: Located at a distance of 240 km from Hanoi, Ba Be National Park is a stunning national reserve blessed with rolling hills, tall limestone karsts and over 550 plant varieties. Ba Be is not heavily affected by tourism and still very authentic. It boasts gorgeous scenery with dense rainforests, crystal calm lakes, soaring limestone mountains and caves set amid towering peaks. The whole area is also homes to many ethnic minority communities. A multi-day trek tour passing karst outcrops, waterfalls, caves and rice fields is a perfect choice for nature lovers; it offers a moderate to good level of fitness and a keen sense of adventure.
Best time to trek: from April to October.
Popular treks in Ba Be National Park:
• Pac Ngoi Village – Mo, Qua, Chay Village.
• Coc Toc Village – Pe Lu Stream – Dau Dang Waterfall – Hua Ma Cave.
• Nang River – Puong Cave – Coc Toc Village.
Ba Be Lake & Ban Gioc Waterfall Adventure – 3 Days from Hanoi
5. Cat Ba Island (Hai Phong City)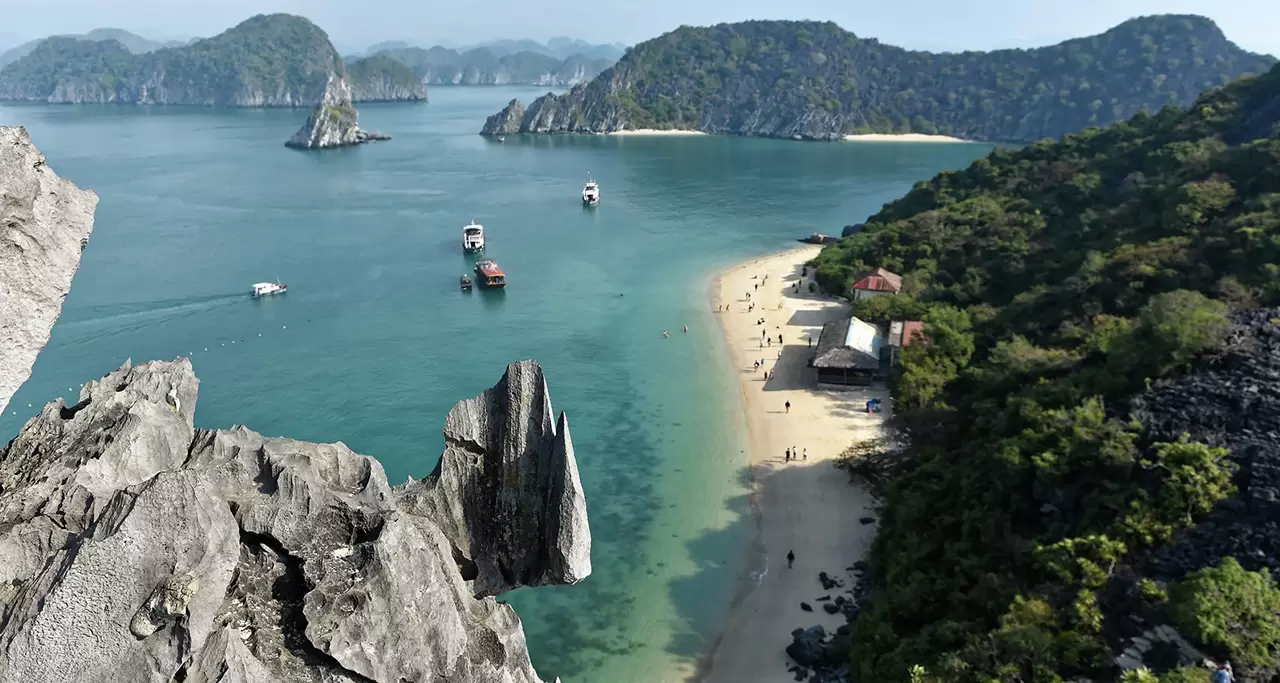 Trekking level: Easy.
Highlights: Cat Ba is the largest island in World Heritage listed Halong Bay and the only island that hosts a substantial settlement. Recognized as a World Biosphere Reserve by UNESCO in April 2005, Cat Ba is the park's unique natural beauty and ecological value. According to UNESCO, the area includes tropical humid forests, wetlands, mangroves, and coral reef ecosystem types. Cat Ba National Park is home to 32 species of mammal, including most of the world's 65 remaining golden-headed langurs, the world's most endangered primate. Besides beach relaxation and Lan Ha Bay exploration, Cat Ba is a good fit for those with some extra time and an interest in exploring the island and its national park. This island is big enough for a fairly tough trekking tour that can last up to 5 – 6 hours per day and make you really sweat. Trekking and other adventurous activities such as kayaking, rock climbing, cycling are offered in Cat Ba Island by Vietnam Travel.
Best time to trek: from April to November.
Popular treks in Cat Ba:
• The short but strenuous trek to the top of Ngu Lam Peak.
• The challenging 9km trekking trail through the park to Viet Hai Village.
Kayak Halong Bay & Explore Cat Ba Island (with the highlight is an overnight cruise on the bay) – 4 Days from Hanoi
6. Pu Luong Nature Reserve (Thanh Hoa)
Trekking level: Moderate to Challenging.
Highlights: If you are looking for a less visited, rustic and supremely beautiful trekking point, you must add Pu Luong Nature Reserve to your bucket list. About 160km southwest of Hanoi, Pu Luong (Pù Luông) is located on the cusp of Hoa Binh and Thanh Hoa provinces. It's a popular weekend getaway for locals and sees an increasing number in foreign visitors. Blessed with rich forest, limestone panoramas, magnificent rice terraces and breathtaking scenery, this hidden gem is the combination of Northern Vietnam's beauty with charming terrace rice fields as Sapa, the magnificent passes as Ha Giang and green fields as Mai Chau. Pu Luong with an area of 17,662 ha is endowed with great biodiversity of flora and fauna. From here, you also have the chance to experience the daily life and culture of the Thai and Muong people.
Best time to trek: during rice harvest season, from September to October and from February to May.
Popular treks in Pu Luong:
• Trekking adventure tour will take you to Pu Luong dense jungle and authentic & remote villages such as Hang, Kho Muong, Kia villages.
• More familiar trekking routes includes Hieu Village – Nua Village, Nua Village – Son Village.
7. Son Doong Cave (Quang Binh)
Trekking level: Extreme.
Highlights: Son Doong is the world's largest cave and one of its greatest natural wonders, comparable with the Great Barrier Reef, the Grand Canyon and Mt. Everest. Son Doong Cave is in the heart of the Phong Nha Ke Bang National Park in the Quang Binh Province. Only recently explored in 2009-2010 by the British Cave Research Association, the cave has only been open to the public since 2013. Son Doong Cave is not your average adventure underground. Imagine trekking straight into the depths of the world's largest cave on an expedition unlike any other. A cave so massive that a 747 could fly through its largest cavern. A space so mesmerizing that it forces you to question whether you are still on this planet at all. To explore this case, adventurers must cross underground rivers, explore two gigantic cave ceiling collapses, traverse through underground rainforests and sleep in some of the world's most magnificent campsites. Son Doong offers a number of unique environments to explore. A long waiting list of guests are starving to discover this exotic cave so visitors have to make early advanced booking attached with health permission. It is only for adventurous travelers who want to join a once-in-a-lifetime experience! Surely, Son Doong is listed in Vietnam's best trekking places.
Best time to trek: Only available January – August due to annual flooding.
8. Bach Ma National Park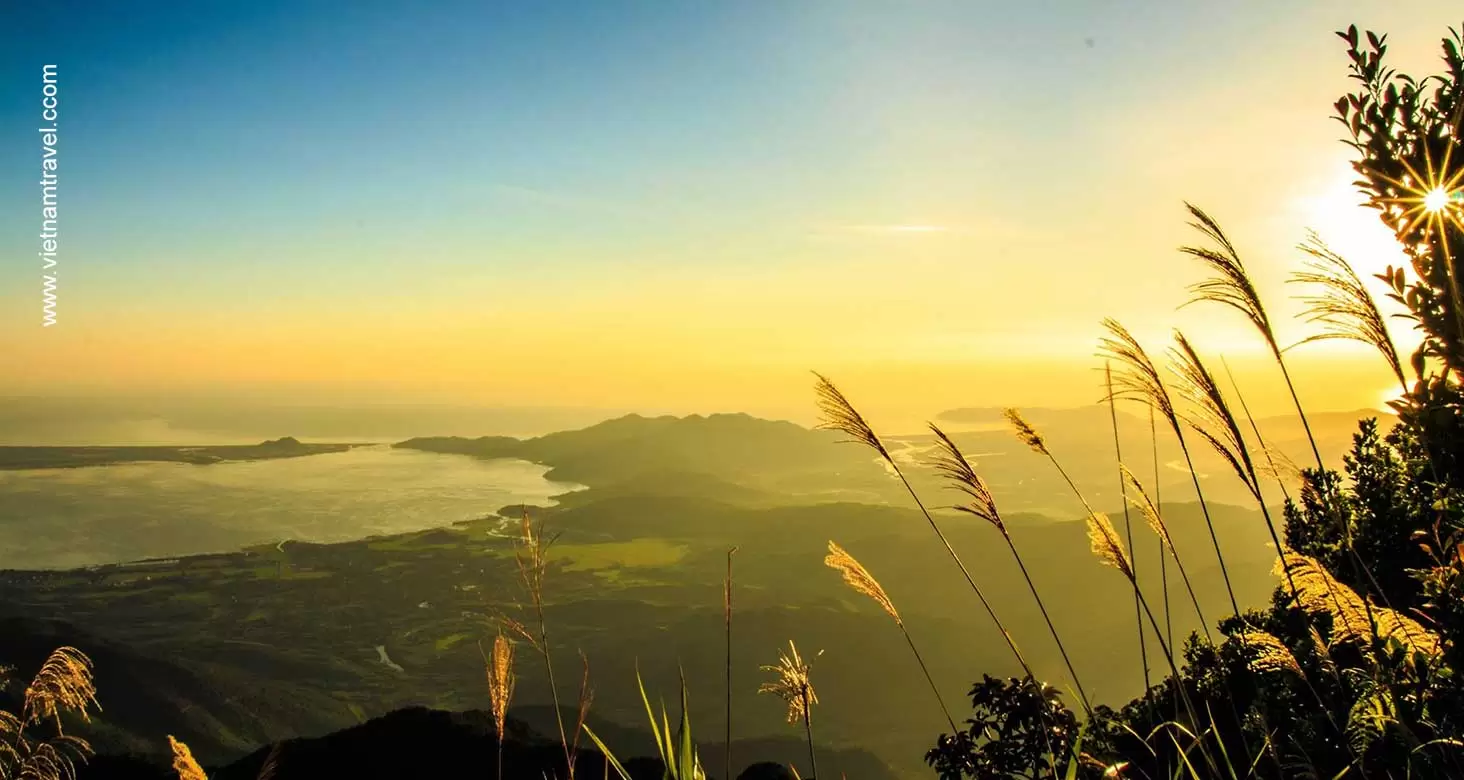 Trekking level: Easy – Medium.
Highlights: Bach Ma National Park is located in a mountainous area exactly on the border between the North and South Vietnam, some 45 kilometers southeast of Hue City, and runs west-east from the Laotian border to the East Sea at the Hai Van Pass. Here you can see a mix of both landscapes, making Bach Ma much more varied than the other national parks. With waterfalls, cool forests and flowering rhododendrons, this area is absolutely beautiful. Although a staple of Hue tourism, Bach Ma is visited more by international travelers than locals. Their adventurous nature, unsurprisingly, is cited as the rationale. The adventure tour typically involves a car drive to the peak, which is 1.450 m above the sea level, and then a 7-kilometre trek in the 5 lakes. While not hard, the trek requires ropes to pass some 10-metre cliffs. Only 6 to 7 hours, this little adventure is a break from central Vietnam's calm and slow traveling tradition.
Best time to trek: December to April.
Explore Bach Ma National Park (day trip from Hue)
9. Lang Biang Mountain (Da Lat)
Trekking level: Moderate – Challenging.
Highlights: Located in Dalat, Lang Biang Mountain has three peaks, (1) a paved road leading up to a radar base, which is used by most tourists as it is a simple drive up with jeeps, (2) the actual Lang Biang peak at 2,167m, which can be reached by dirt roads/trails, and only hiking and (3) an unnamed peak. The trekking up to the top of Lang Biang Mountain, from where the views are truly spectacular, takes 3 to 4 hours from Lat Village. The path begins due north of Lat and is easily recognizable as a red gash in the green mountainside. Take a walk with nature, burn off some calories, and snap some fantastic photos as you trek up to one of the most natural rooftops of Da Lat!
Best time to trek: from November to May (dry season).
10. Cat Tien National Park (Dong Nai)
Trekking level: Easy
Highlights: Cat Tien National Park located in three provinces: Dong Nai, Lam Dong and Binh Phuoc, approximately 150 km north-east of Ho Chi Minh City. The park is home to a vast array of wildlife, including hundreds of species of mammals, reptiles, birds and fish. Primates are particularly prevalent, especially gibbons and langurs, as are Asian elephants, clouded leopards and sun bears. However, Cat Tien's most impressive inhabitants are perhaps the plants, with the area boasting an incredible 1,610 botanical species. The 72,000-hectare park is one of the outstanding natural treasures in Vietnam, a true jungle, and the trekking, biking and birdwatching here are the best in the south of the country.
Best time to trek: December to May each year. It is the dry season when the weather is very pleasant and suitable for trekking. It is very hard to explore around this natural park in rainy season.
Popular treks in Nam Cat Tien:
• Trail walk to Giant Tung Trees.
• Trek to Crocodile Lake.
• Wild Gibbon Trek.
• Trek the dormant volcano ridge of Green Hill.
Nam Cat Tien Adventure from Saigon – 3 Days
What to do before going on treks:
– Consider what you expect to see in the trekking in Vietnam (ethnic villages, rice terraces, mountains or national parks, etc.).
– Understand your trip grade and length of your Vietnam trekking routes.
– Prepare physical and mental health, do a basic health check-up.
– Choose the correct footwear for your trek and don't forget your walking socks.
– Choose the right adventure tour operator that can add a lot of value to your journey.
What to take on treks:
– Invest in durable outfit and a good pair of shoes.
– Water and a first-aid kit.
– The well-packed backpack.
– Raincoat or waterproof jackets and pants in case it rains.
– Flashlight or headlamp.
– GPS navigation devices and a map.
– As Vietnam is a tropical country, don't forget to bring hat, sunscreen & mosquito repellent.
Start planning your private Vietnam holiday with one of the above 10 best places to trek by contacting one of our Vietnam specialists. Vietnam Travel helps every single one count by tailoring experiences that are fun-filled, worry-free, and unforgettable!