Vietnam Visa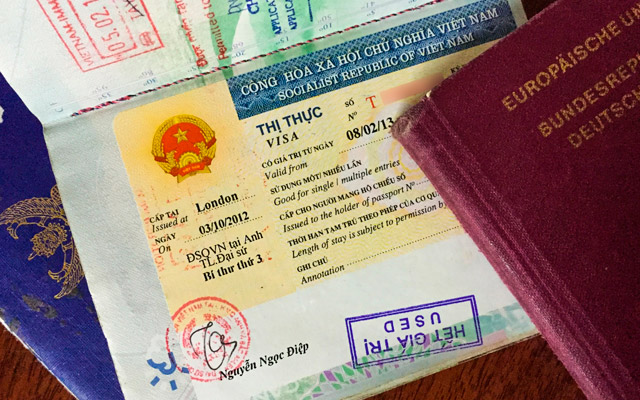 Obtaining a visa for Laos, Cambodia and Thailand has become more convenient, as you can now apply for a visa upon arrival at the airport. However, the process for obtaining a visa for Vietnam and Myanmar is somewhat more complex. In most cases, visitors need to apply for a visa in advance to enter Vietnam and Myanmar. Here, you will find comprehensive information about Vietnam visas, including visa exemptions, visa on arrival (VOA), visa approval letters (VAL), e-visas, visa fees, length of stay and more. If you need further assistance or worthy travel advice, please feel free to contact one of our Travel Consultants.
For most tourists visiting Vietnam, a Tourist Visa is necessary to enter the country. Additionally, all travelers must ensure that their passports remain valid for at least 6 months beyond their planned departure date from Vietnam.

Below is a complete list of 25 countries that are exempt from visa requirements:
– Thailand, Malaysia, Singapore, Indonesia, Cambodia, Laos and Kyrgyzstan (30-day visa).
– Brunei, Myanmar (14-day visa).
– Philippines (21-day visa).
– Japan, South Korea, Sweden, Norway, Russia, Denmark, Finland, United Kingdom, France, Germany, Italy, Belarus and Spain (45-day visa).
– Chile, Panama (90-day visa).
– Citizens of China, Cuba and North Korea holding normal passports endorsed "for public affairs" do not require a visa for Vietnam.
– APEC Business Travel Card (ABTC) Holders from Asia-Pacific Economic Cooperation (APEC) member economies are exempted to stay within 60 days without visa.
– Those who visit Phu Quoc Island directly without a visa can stay for up to 30 days. Foreigners and Vietnamese nationals with foreign passports who enter Vietnam through an international border gate and then travel to Phu Quoc Island for less than 30 days will also be granted a Vietnam visa exemption. If visitors wish to travel to other localities or stay on the island for more than 30 days after arriving in Phu Quoc, the immigration department will issue visas on the spot.
I. VIETNAM VISA APPROVAL LETTER:
Travelers who book their trips through Vietnam Travel will receive a complimentary Visa Approval Letter, subject to their nationality and except for those listed in the "special countries" category. Our dedicated Travel Consultants will handle the necessary paperwork and send you the approval letter via email or fax.
Once you've received your Visa Approval Letter, you have two options for obtaining your Vietnam Visa. To streamline your immigration process, we recommend printing and completing the VISA FORM in advance.
Option 1: Visit the Vietnamese Embassy or Consulate in your home country (or the nearest one) with your Vietnam Visa Approval Letter to obtain the visa stamp.
Option 2: Opt for Visa on Arrival at Vietnam's airports. This is the most convenient choice, especially if you're short on time or don't have access to Vietnamese Embassies in your vicinity. Simply bring a copy of your visa approval letter (you will be asked to show it when boarding your flight) and a passport-sized photo. Upon arrival in Vietnam, present these documents at the Visa on Arrival counter and pay the stamp fee to the immigration officers:
* 25 USD for single entry (<30 days),
* 50 USD for multiple entries up to 90 days,
* 95 USD multiple entries from 90 days to 180 days,
* 135 USD for multiple entries from 180 days to 365 days (cash only).
(Please note that the visa on arrival option is not applicable to Chinese citizens. Chinese citizens will need to get their visa stamp at the Vietnamese Embassy in China before being allowed to enter Vietnam)

Choose the option that aligns with your preferences, and then kindly provide us with the following details:
– Your Full Name (Exactly as it appears in your Passport):
– Gender:
– Date of Birth:
– Passport Number:
– Passport Expiration Date:
– Nationality:
– Date of Entry:
– A scanned copy of your passport (please email this to us).
Once we receive enough information, we will submit it to the Vietnam Immigration Office. You can expect to receive your visa approval letter within a processing time of 3 to 5 business days.
NOTE:
– Visa On Arrival for Vietnam is exclusively applicable when you arrive by air at the international airports of Ho Chi Minh City (formerly Saigon), Hanoi, Danang and Nha Trang.
If you plan to travel overland (by boat or road) from Laos or Cambodia into Vietnam, it is advisable to obtain your visa in advance. This is because the services provided by Vietnam Immigration Offices at the borders (such as Vinh Suong – Chau Doc or Moc Bai) can be complex and time-consuming.
– Citizens of the following countries are required to pay a visa processing fee of 40 USD to 130 USD per visa to obtain a Vietnam Visa Approval Letter. The processing time typically ranges from 7 to 10 working days. For more details, please feel free to contact us:
UNITED ARAB EMIRATES
AFGHANISTAN
BANGLADESH
BHUTAN
CAMEROON
ALGERIA
EGYPT
FIJI
GHANA
GAMBIA
GUINEA
HONDURAS
INDIA
IRAQ
IRAN
JORDAN
KENYA
KUWAIT
SRI LANKA
LILEYA (LIBI)
MOROCCO
MOZAMBIQUE
NAMIBIA
NEPAL
LEBANON
PERU
PAKISTAN
PALESTINE
RWANDA
ARAB SAUDI
SUDAN
SENEGAL
SYRIA
TURKEY
ZAMBIA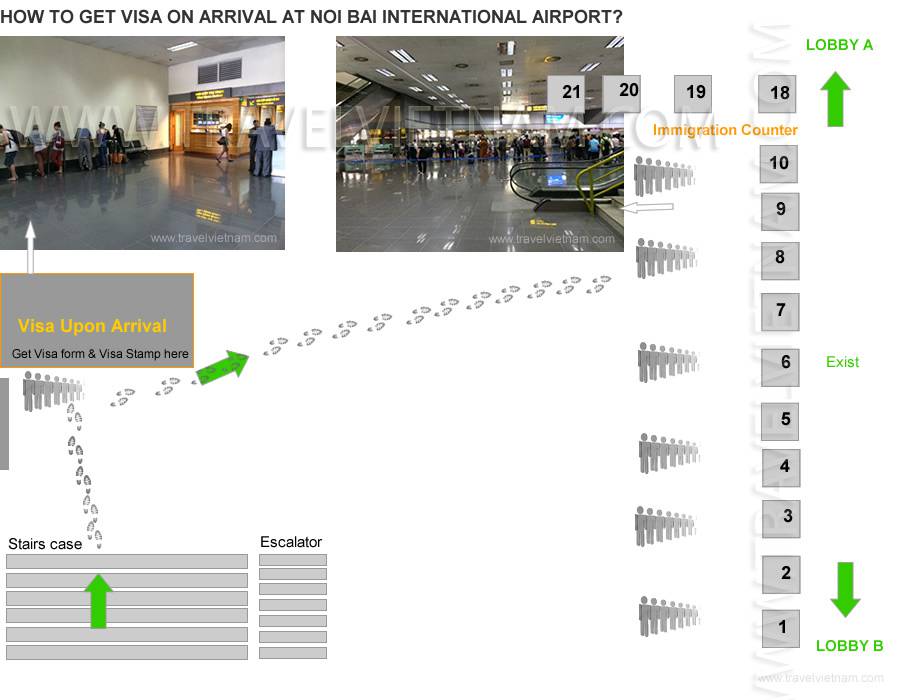 II. VIETNAM EVISA:
From 15th August 2023, Vietnam offers e-visas to citizens from all countries and territories, granting them a 90-day stay with multiple entries permitted.
Foreigners planning to enter Vietnam from abroad can apply for an e-visa either personally or through inviting or guaranteeing agencies and organizations.
The e-visa fee (25 USD/ single entry) is to be paid through the electronic payment gateway provided by the Immigration Department. Please note that this fee is non-refundable in the event of an application being declined.
Applicants are required to complete an application form available on two separate websites, one in Vietnamese and the other in English, both managed by the Ministry of Public Security. According to the directive, it takes three working days for tourists to receive notification regarding the approval status of their applications. Successful applicants will receive a code via email, which they can use to print the visa or access it through the official website of the Vietnam Immigration Department for presentation upon arrival.
Below is a list of border gates where foreigners can enter and exit Vietnam using an E-visa:
International Airports (13): Noi Bai (Ha Noi), Tan Son Nhat (Ho Chi Minh City), Cam Ranh (Khanh Hoa), Da Nang, Cat Bi (Hai Phong), Can Tho, Phu Quoc (Kien Giang), Phu Bai (Thua Thien Hue), Van Don (Quang Ninh), Tho Xuan (Thanh Hoa), Dong Hoi (Quang Binh), Phu Cat (Binh Dinh), Lien Khuong (Lam Dong).
Land Border Gates (16): Tay Trang (Dien Bien), Mong Cai (Quang Ninh), Huu Nghi (Lang Son), Lao Cai, Na Meo (Thanh Hoa), Nam Can (Nghe An), Cau Treo (Ha Tinh), Cha Lo (Quang Binh), La Lay and Lao Bao (Quang Tri), Bo Y (Kon Tum), Moc Bai and Xa Mat (Tay Ninh), Tinh Bien and Vinh Xuong (An Giang), Ha Tien (Kien Giang).
Sea Border Gates (13): Hon Gai and Cam Pha (Quang Ninh), Hai Phong, Nghi Son (Thanh Hoa), Vung Ang (Ha Tinh), Chan May (Thua Thien Hue), Da Nang, Nha Trang (Khanh Hoa), Quy Nhon (Binh Dinh), Dung Quat (Quang Ngai), Vung Tau (Ba Ria – Vung Tau), Ho Chi Minh City, Duong Dong (Kien Giang).
Requirements for E-Visa Approval:
– Foreign nationals located outside Vietnam;
– Holding a valid passport;
– Not falling under any of the entry suspension categories specified in Article 21 of the Law on Foreigners' Entry, Exit, Transit, and Residence in Vietnam.
Notes:
– E-visa holders within Vietnam may be eligible for a new visa if they receive an invitation or guarantee from an authority, organization, or individual in accordance with the Law on Foreigners' Entry into, Exit from, Transit Through, and Residence in Vietnam.
– All foreign visitors entering Vietnam are required to adhere to Vietnamese law.