Vietnam Weather in August
The overall outlook in term of weather in August is not much different from July. This is one of the wettest months of the year but you will still see plenty of sun at this time. The South and North Vietnam remain unchanged with wet season, while the Central part enjoys its last month of dry sunny weather before the monsoon begins.  The prices of shoulder season are attractive, so don't let the rains put you off. We will see what August can bring to you if a holiday in Vietnam awaits you in this month.
Regional climate in August.
Popular destinations: Hanoi, Halong Bay, Cat Ba, Sapa, Ha Giang, Mu Cang Chai, Ninh Binh, Mai Chau, etc.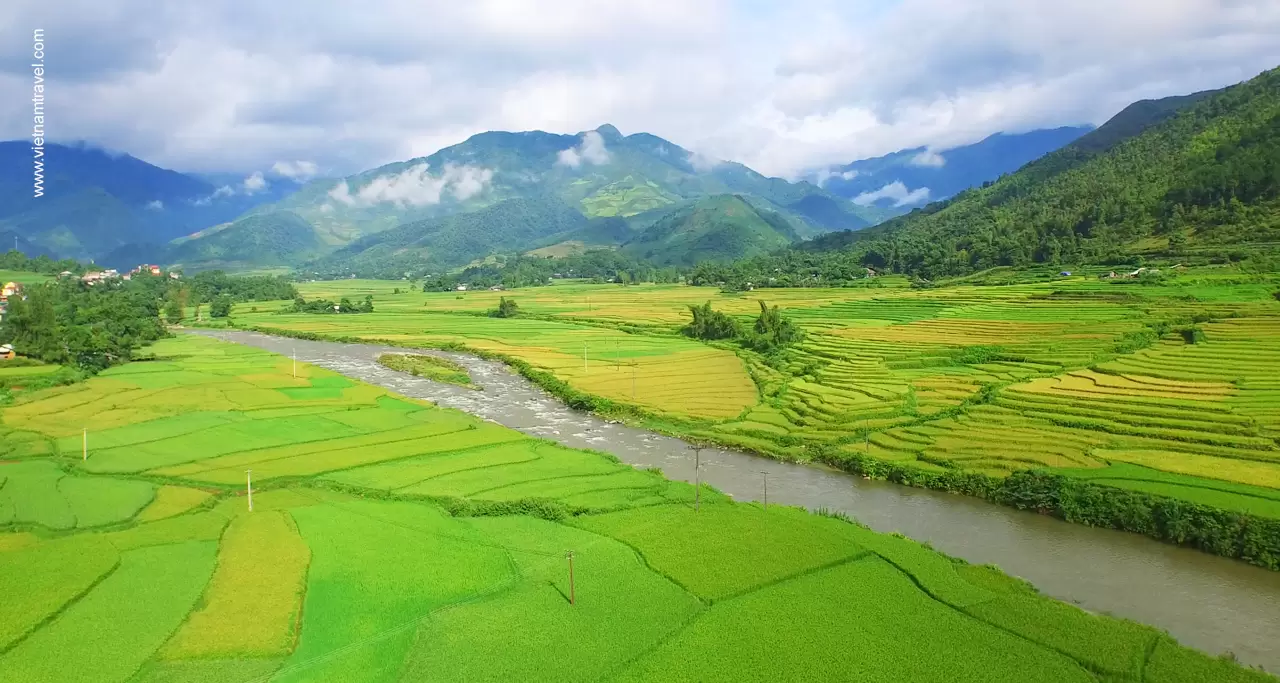 As remaining in the summer mode at the average temperature of 30oC, the North of the country still expects plenty of hot weather, but with rain and at times storms as well. August is one of the wettest months of the year in Hanoi, so the city and surrounding are subject to the force of heavy rains and storms. For Halong Bay, the area can also receive the brunt of the monsoon which may bring gloomy weather and cruise cancellation can unexpectedly happen due to tropical storms and typhoons. Treks are not recommended in the mountainous regions due to the fairly slippery condition. However, the rice terraces start to turn from green to gold in the month of August and it is ideal for beautiful scenery and photography.
Popular destinations: Hoian, Danang, Hue, Nha Trang, Quy Nhon, Dalat, etc.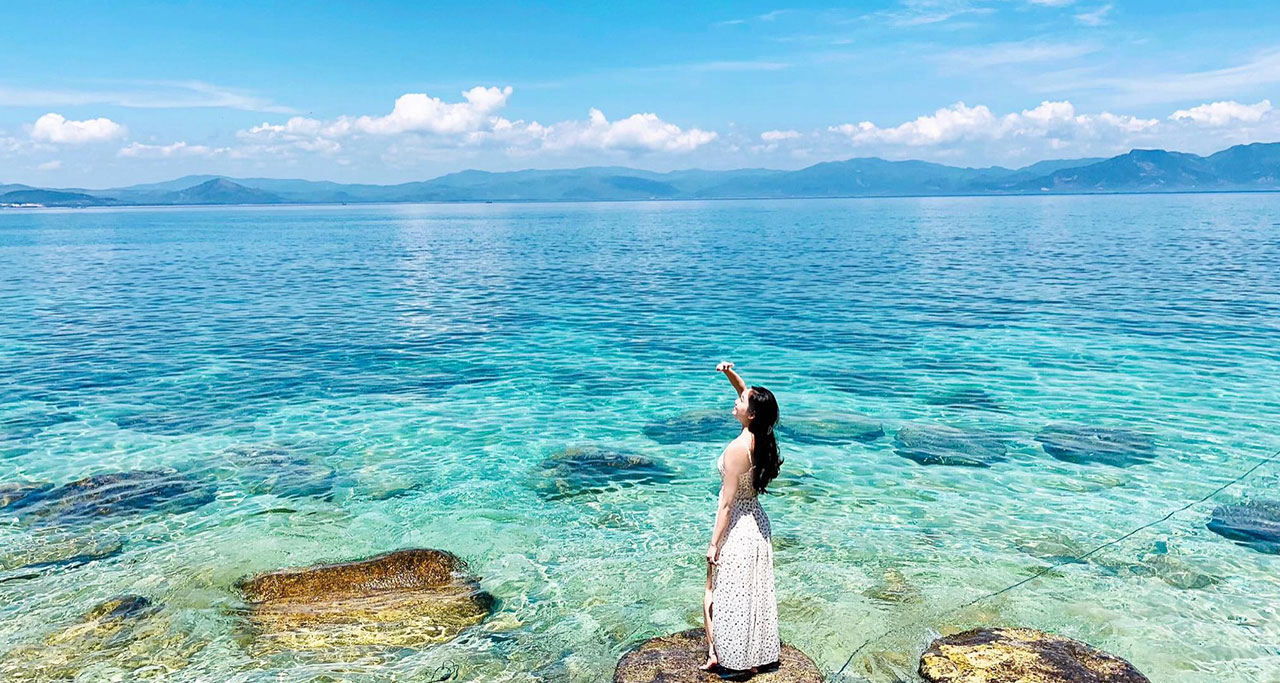 August keeps the beaches of Hoian, Danang, Nha Trang as the hot pick throughout the country thanks to good weather. Temperatures remain high at 30oC on average along with dry weather. Rains will more frequently occur when it towards the end of month. Although the rainfall in Hue starts higher, this is still good choice for visiting in this month. The cities closer to the South Vietnam, such as Dalat and some of Central Highlands will be wetter than other areas in the region but it keeps the milder temperature.
Popular destinations: Ho Chi Minh City, Phan Thiet & Mui Ne, Mekong Delta, Long Hai & Ho Tram, Con Dao & Phu Quoc, etc.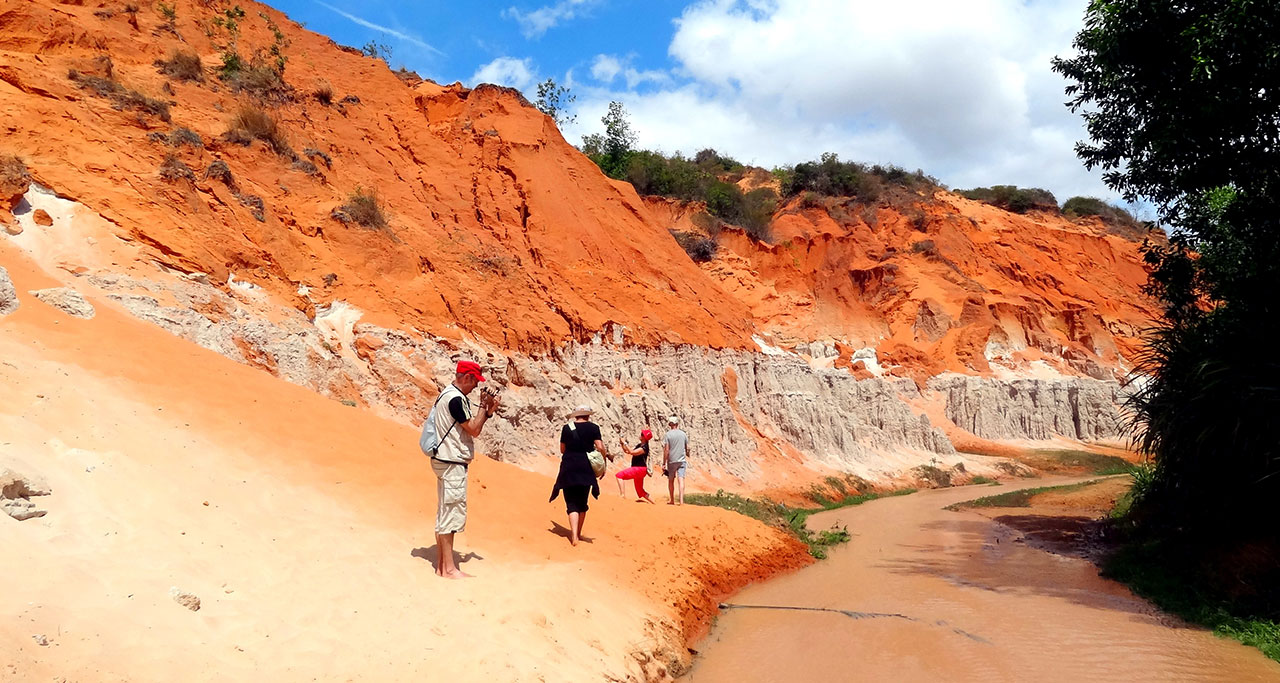 Despite of wet season in the South, you can still expect plenty of dry and bright daylight hours with the temperature at 29oC on average. The showers are slightly heavier than in previous months but help to keep the heat down, though the humidity is normally high all year round. For wildlife lovers, Con Dao island is great place to spot green turtle hatchlings as they make their way to the ocean.
Travel Guide for August.
August is the end of the summer holiday season and the start of autumn so its weather will be cooler. Although storms are beginning to appear, it still cannot stop the footsteps of many visitors because August will help you to save energy for your trip because of cool weather.
North of Vietnam, including Hanoi and Halong Bay can still be in your consideration list as your experience might remain perfect if you are lucky on the nice weather.
Ninh Binh also boasts golden rice terraces, though we'd recommend visiting in September which is more attractive. The same beautiful scenery are probably in some other rice terraces of the country.
Keeping the top draw in August is the beaches and cities of Central Vietnam due to their uniquely sunny weather. You can hit dynamic Danang for its sensational cuisine and nightlife, then marvel at the Imperial Citadel and other historic sites of Hue before spending the beach time at Nha Trang, Quy Nhon, or the golden sands of An Bang as well as the graceful architecture and heritage of Hoian.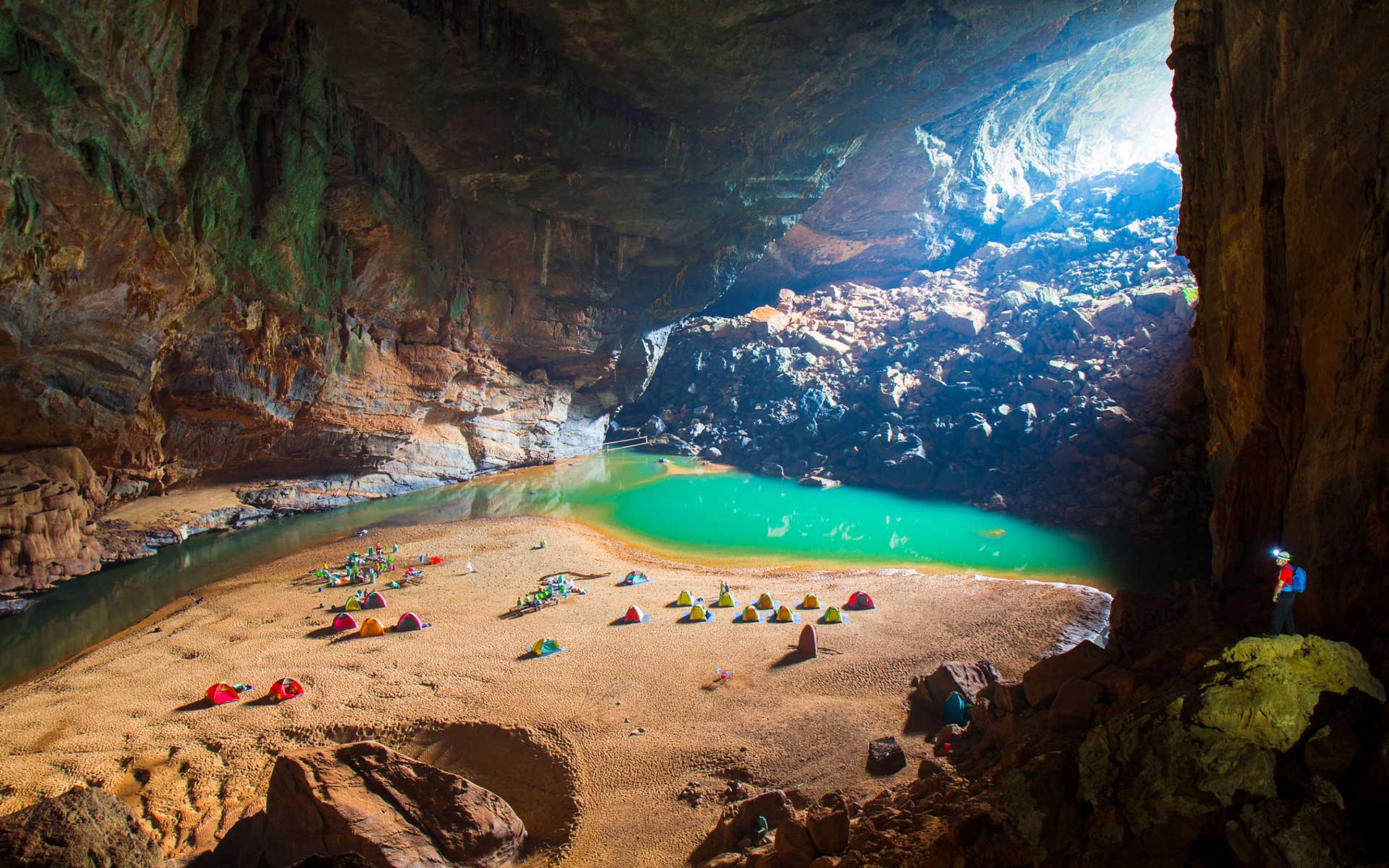 Other site which is unaffected by monsoons in August is Phong Nha-Ke Bang National Park, where you can choose different kind of adventure activities including caving, climbing, forest hiking, mountain biking, or even kayaking the underground rivers.
Exploring coffee area of Buon Ma Thuot with highlight of Trung Nguyen Coffee Village as well as heading to nearby Ban Don to learn about the M'nong people who traditionally tamed with care for the wild elephants of nearby Yok Don National Park.
The Southwest is famous for its rich green fruit gardens. Summer time (June, July, August) is a good time to visit the western fruit gardens and enjoy all kinds of fresh fruits in the region.
August provides an opportunity to witness turtles laying eggs and baby turtles hatching from the white sandy beaches of the Con Dao archipelago, but need a lots of patience and good fortune to see. The female turtles come ashore as late as 2 or 3am between May and October, and their
As featuring mixed weather of hot & wet condition, your preparation for travel in August keeps named summer things with light clothes, sunhat, sunglasses, sunscreen with some more layers for early morning or late night at mountainous areas (if included in your itinerary) as well as raingear such as umbrella / parasol / raincoat…. Remember to bring insect repellent as mosquitoes are still much around.
In early of August, domestic travel is still at a peak as Vietnamese families take last minute chance of their summer vacation before the kids return to school. Therefore, please be prepared for crowded beaches, especially at the weekends. From the second half of August until end of month, it is a good time to visit if you want to avoid crowds of other tourists.
August Events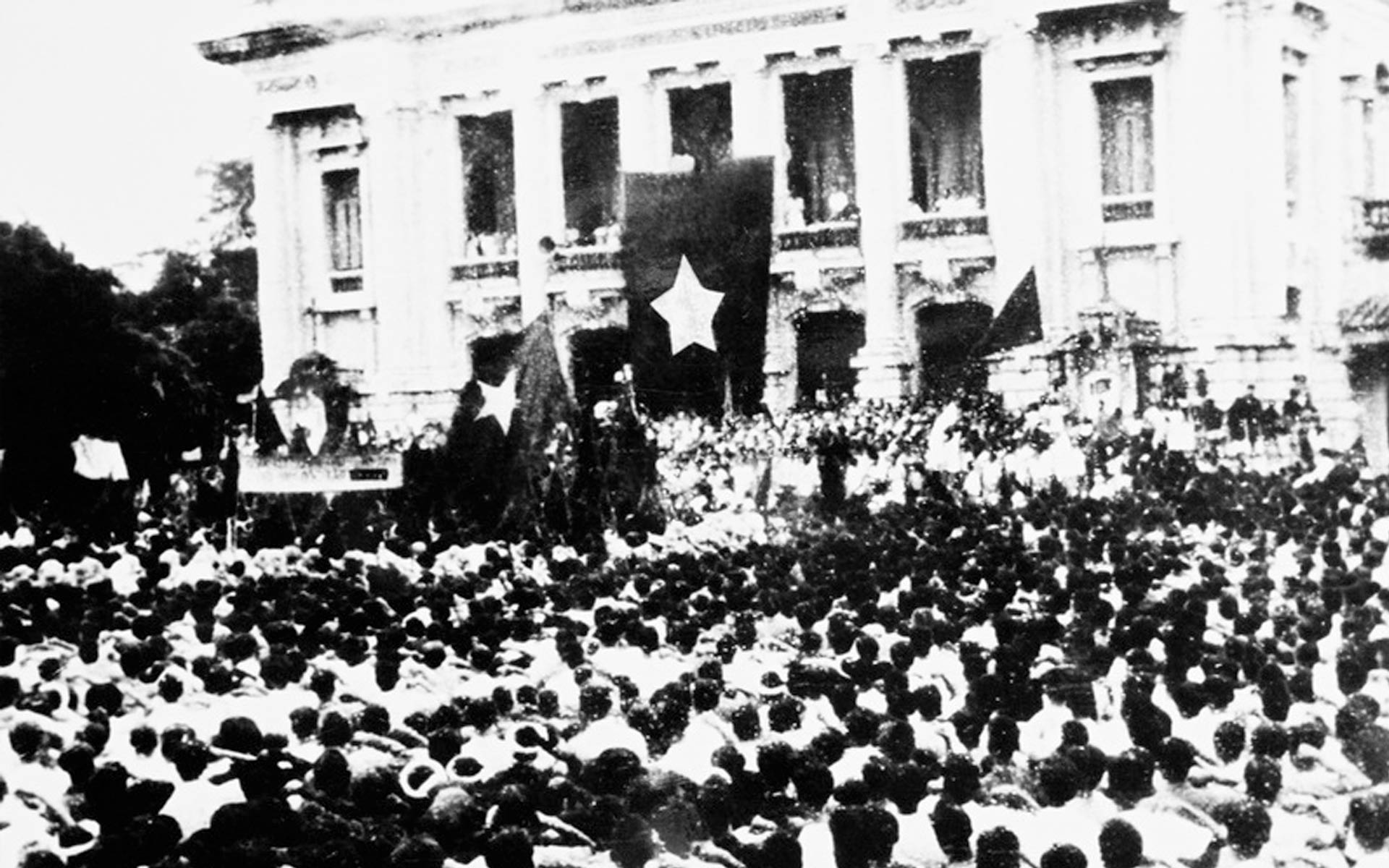 Vietnam Revolution Commemoration Day on 19 August celebrates the 1945 revolution launched by Ho Chi Minh that brought Japanese rule in Vietnam to an end. Although this day is not a public holiday, but the anniversary of the August Revolution still becomes an important memorial day nationwide.
The Mid-Autumn Festival (named "Tet Trung Thu" in Vietnamese) is taken place on the 15th of the eighth lunar month (August-September, varying by year). For Vietnamese, this festival means harvest season has already been completed. During harvest, the parents have no time for their children so this is the right time to buy lantern & snacks, then spend the whole festival holiday with them.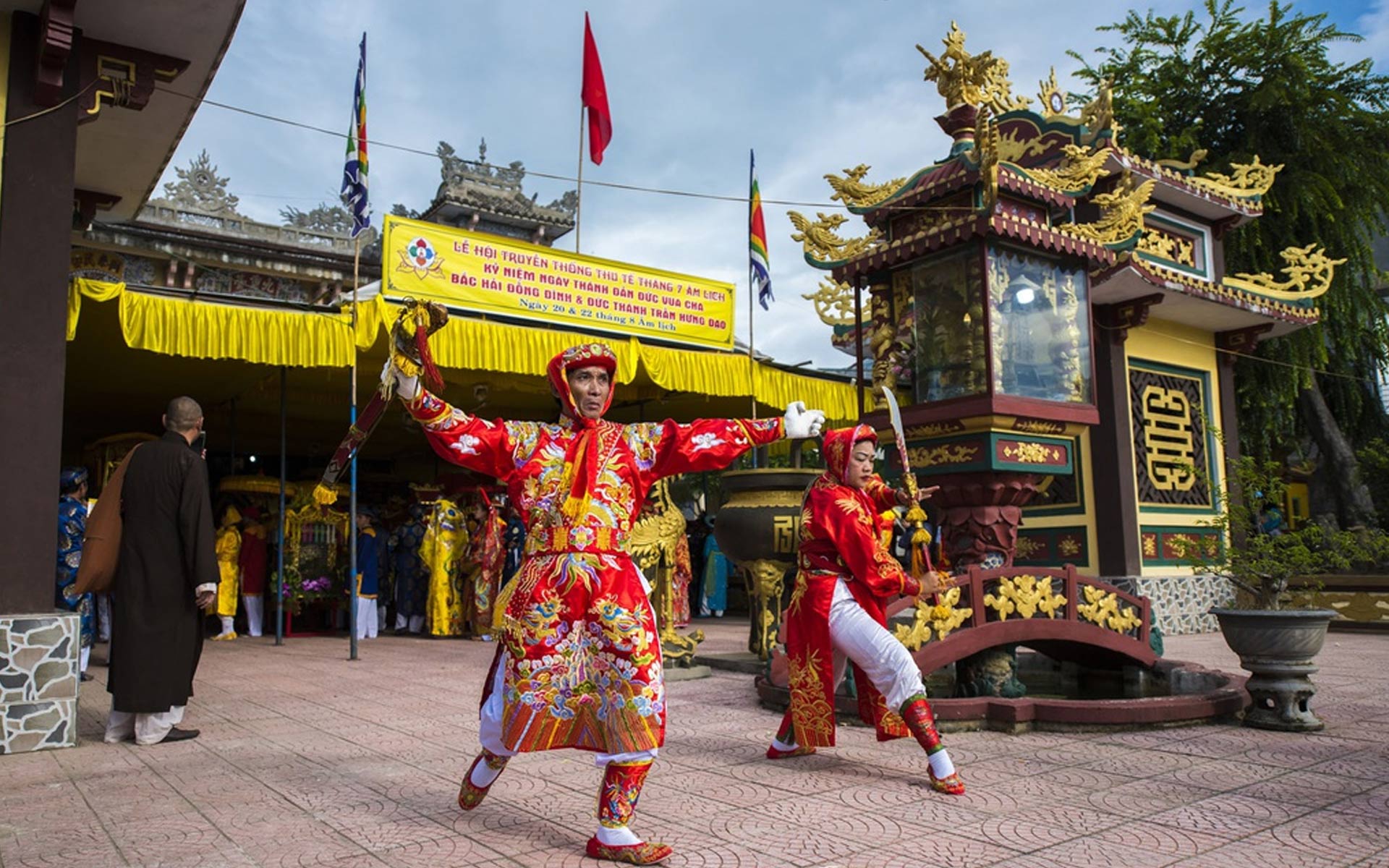 Hon Chen Temple festival takes place twice a year, in the second lunar month for the Spring ritual ceremony, and in the seventh lunar month for the more formal Autumn one (July-August, varying by year)
The festival is to honor the Holy Mother Thien Y A Na in Champa religion, who the Viet people have transformed into an image of the Great Mother blessing the villagers.
There are several rituals of profound folk traditions, and other strange ones, creating an animated as well as sacred atmosphere.
Please check information about Vietnam weather in other months of year at here: