An Giang Tourism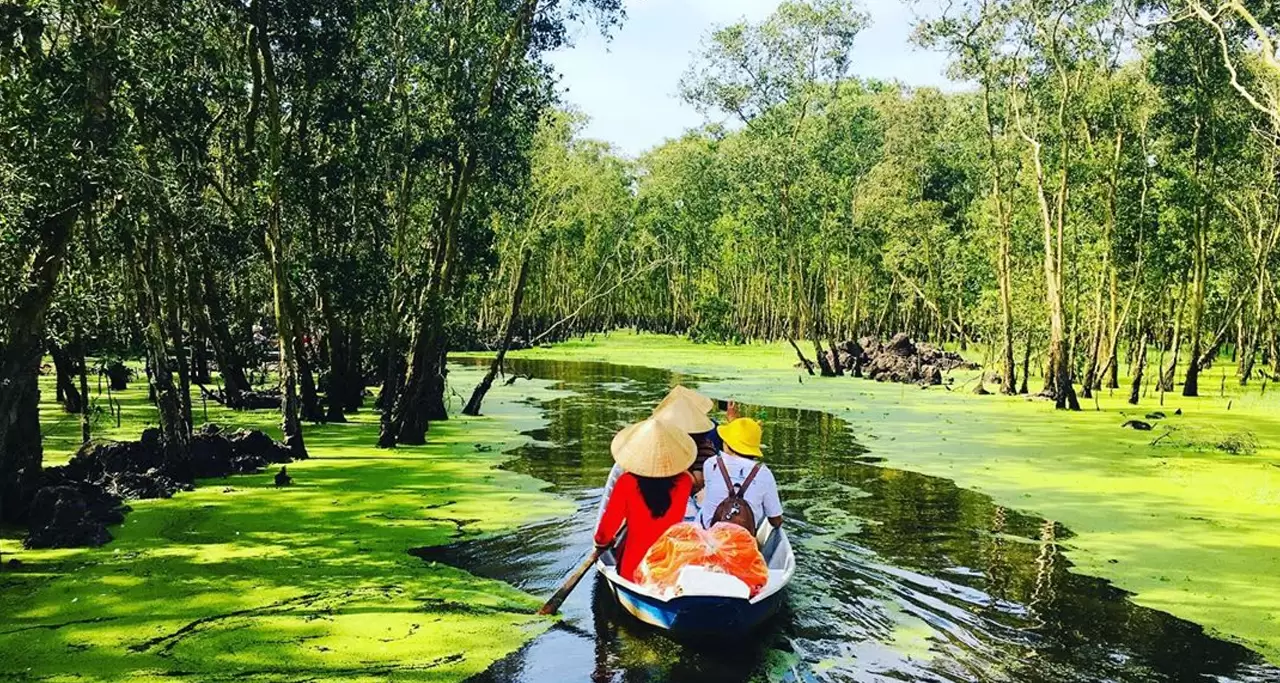 An Giang is one province in the west part of Mekong Delta bordering Cambodia crossing Tinh Bien gate. Therefore, the province is home to a variety of ethnic, notably Kinh, Khmer, Cham, and Chinese. The Khmer ethnic group has 18,512 households, 86,592 people, accounting for 75.54% of the total ethnic minority people.
Scissored by a system of rivers and canals, An Giang is a place for advanced water transportation. With the two tributaries of the Mekong River running across, the Tien and the Hau, the land is filled with generous fat alluvium, giving a prosperous land of rice paddle fields and luxuriant orchards.
Area: 3.536,7 km²
Population: 1.908.352 people (2019)
Provincial Capital: Long Xuyen City
Town: Chau Doc
Districts: An Phu, Tan Chau, Phu Tan, Chau Phu, Tinh Bien, Tri Ton, Cho Moi, Chau Thanh, Thoai Son
Geography
An Giang lies in the western part of the Mekong Delta, where the Tien Giang and Hau Giang Rivers meet. It has a 95-km long border with Cambodia. The province has some low mountains and midlands along the Cuu Long River. An Giang province covers an area equal to 1.03% of the country's. In the west, it borders Dong Thap; in the north is Kandal and Takéo of Cambodia, southwest is Kien Giang, and the south is Can Tho.
The province occupies the upper reaches of the Mekong Delta with geographical features ideal for being a significant agricultural center.
Climate
As a part of the tropical climate in Southeast Asia, An Giang features two main seasons which are rainy and dry. The hottest time of the year can have the temp reaches up to 35ºC – 37ºC from April to May. Months of spring, from December to January, has the most pleasant weather conditions.
Tourism
An Giang is not in the list of must-go destinations, but it has many specialities to offer an unforgettable trip. Since the province is the kingdom of rice fields, fruits and aquatic products, it' t a perfect place to observe how this rural lifestyle takes place. Located right next to the fertile Mekong river, nature has bestowed An Giang many favorable conditions not only for agricultural development but also for promoting eco-tourism. An Giang is like a miniature picture of the West, colorful and extremely peaceful and poetic.
People speak of An Giang as a sacred place where Ba Chua Xu, a deity believed to be divine and respectful, recessed. The festival celebrating Ba Chua Xu taken place in Chau Doc appeals to more than two million visitors each year coming to pray for good fortune.
Other attractions in An Giang include Cam Mountian in the western Bay Nui range with caves and pagodas, Chau Giang Brocade Village, Oc Eo ruins, Tra Su the cajeput forest, Tinh Bien the border market, Co To Mountain, and more.
Transportation
To come to An Giang from Ho Chi Minh city, the only way is to drive or take a bus on National road 91. It takes almost two hours and half for the distance 250km. In the province, it's convenient to travel on the riverways and experience the floating life.