How to get to Hanoi City from Airport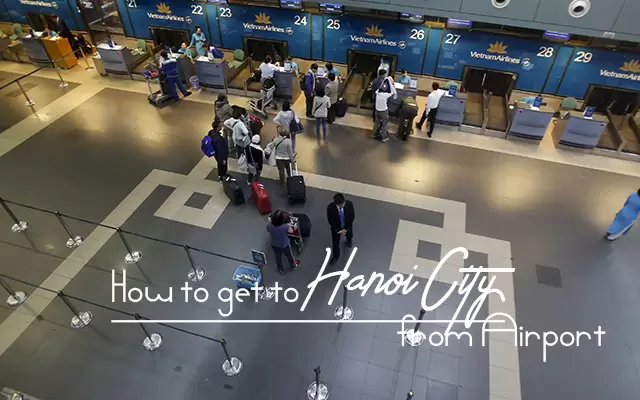 Travelling to a very strange country like Vietnam or any other country in the world will sometimes make travelers a little bit confused and the first task for them is to find out how to reach the city from the airport. This writing is mainly to show you how to get to Hanoi city from Airport but you can use this reference for the other places in Vietnam generally.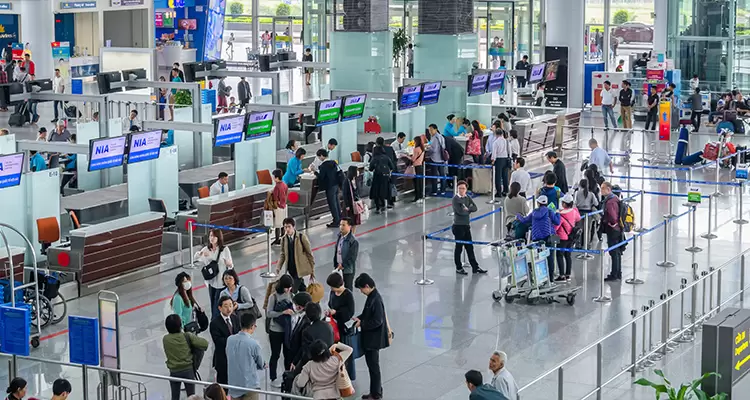 Noi Bai International Airport is a gateway to the city, 28 km far from the city centre and it takes about 45 minutes by car. Passengers may choose some of means of transports as below to get to the city centre from Noi Bai Airport.
1. Public Bus
Taking bus to get to the Hanoi Old Quarter is considered as the cheapest way for travelers who are on tight budget. If you are interested in this kind of public bus, you can go for the bus number 17 which costs about 9.000 VND, drop you off at Long Bien Bus Station. From here, you can take taxi or walk on foot to your hotel in the old town with about 15-20 minutes walking which depends on where is your hotel located. However, it is not recommended for tourists to ride this bus because of its many stops along the way and driver know nothing of English to communicate. Besides, the bus will have a limited luggage allowance if you have so many big bags, it will affect to other customers and some buses they will refuse you getting on bus. It may takes up to 2 hours to get to the city by this type of public bus.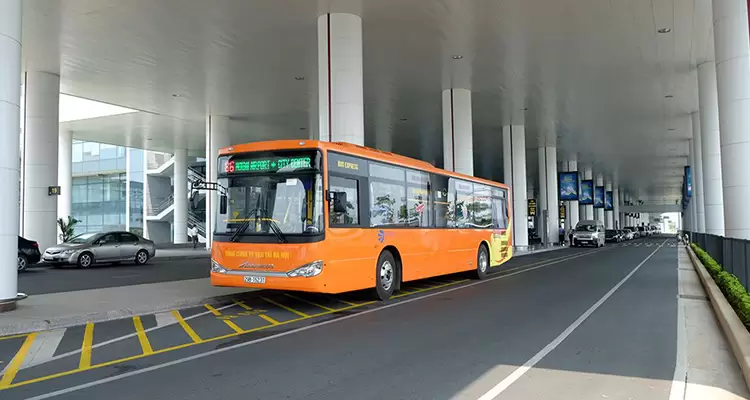 But the 5 star bus line number 86 is really comfortable, as well as the best choice of public transportation, with only about 45 minutes/ way. Bus no. 86 runs from 06.30 to 23.30. This 5 star bus standard costing 30.000 VND/ticket/person will stop at Long Bien Bus Station, Hanoi Opera House and terminates at Hanoi Railway Station. You can ask for assistance from bus driver to drop you off at the nearest place you want. Just show your hotel address to him, he will tell you where you should get out.
2. Traditional Taxi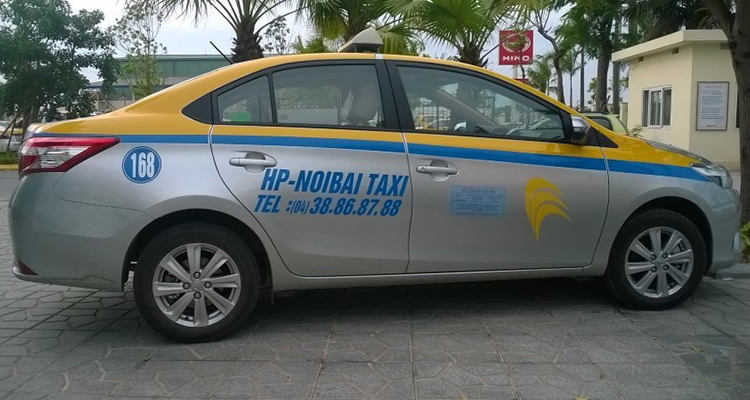 Using traditional taxi is also considered as a way to transfer from Noi Bai Airport to Hanoi City. You can ask to stop at anywhere you want. The other available option is to get taxi/ E- taxi at the airport. In order to avoid spam driver, you should look for a taxi with a name of their company and list price/ km outside of the taxi door. If you are less lucky and approached by an individual taxi driver with no company name or uniform, you should politely say no and find your own way to go outside the terminal where you can find a lot of taxi companies. The cost is about 350.000 VND/way for 4 seat car and you should ask before getting on the taxi. The taxi companies you should choose are Mai Linh Group or Taxi Group or Taxi G7, etc. and try to avoid the nameless taxi company. In order to get to you hotel safe and sound, show him your address, ask for price and confirm your destination. At the end of the ride, ask him to write the receipt of the payment and he should do that without asking. The taxi driver cannot speak English much and you will not carefully taken care from the driver. Just check price and brand name of the taxi so that you can avoid being treated to pay more than it is supposed to be.
3. E- Taxi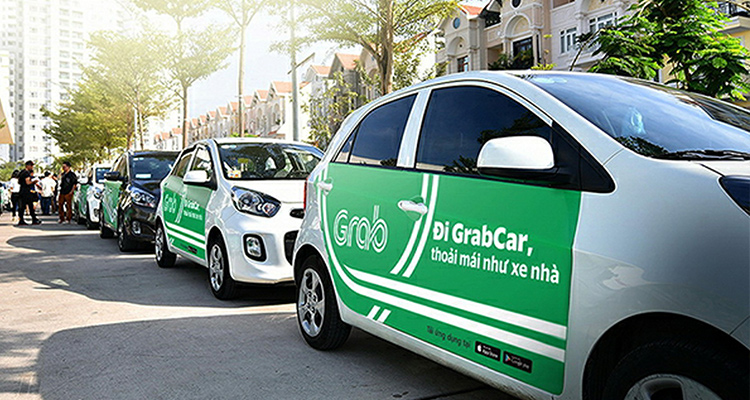 In case you get used to booking a car with Grab app or Go Viet app, you can book your own E Taxi in which you can know how much does it cost directly and straight away. This way will be much easier if you have Vietnamese sim card so that the driver can locate where you are and you can also easily know his car number/ phone number to call when needed. Contrast with traditional taxi, using this app, they also support English so it will not too much trouble for tourist choose and book a car. But similar with conventional taxi, the taxi driver cannot speak much English.
4. Private car
Overall, the private car option must be the most convenient way to transfer to Hanoi City from Airport. The price is quite similar with taxi but you will experience in a professional way from the first sight. Your arrival time is so flexible in which you may arrive early in the morning or late night. Our drivers with many years experiencing and working, he will check information about your flight number and arrival time to see if it is delayed or not and he will be always waiting for you outside the terminal with your name, hotel address in hand and transfer you to the hotel without any hiccup. He not only can speak and understand English, but he also assists you to transfer luggage in and out of the car to your hotel safe and sound. Besides, with all back office from our company, we will always support you from distance together with our driver if there is any issue happened. You will be provided a bottle of water on car, Hanoi's map and be dropped off right at your hotel door. If you need any further assistance related to where to go in the Old Town, our driver who knows well about Hanoi City, will willing to tell you, or through a phone call with our 24/7 supportive travel consultants – your wonders will be solved!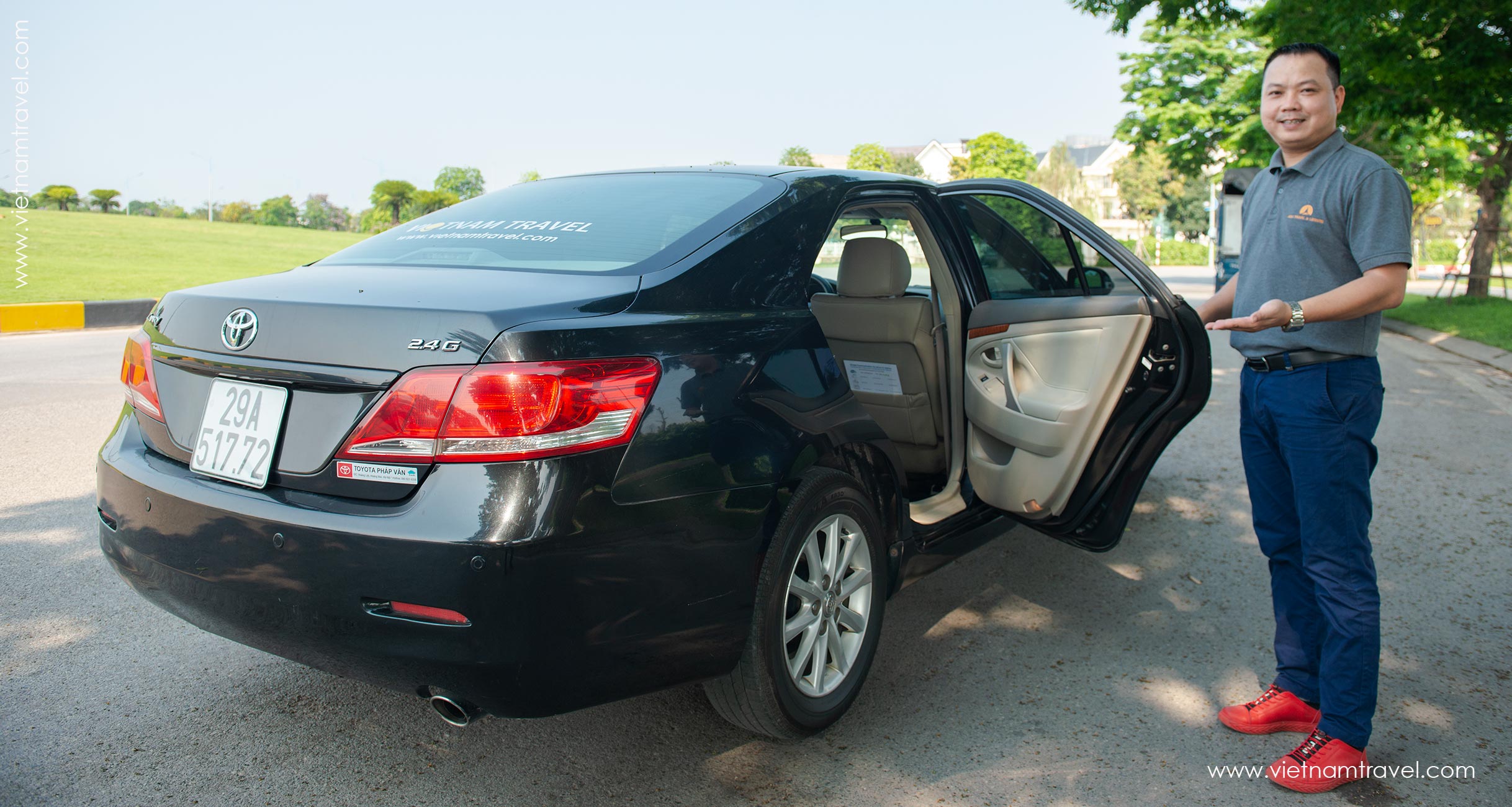 Choosing a private car with professional standard becomes much easier by just click here to visit our website and book our car in a proper way. Apart from airport transfer service which is widely used in both Hanoi or Ho Chi Minh City, Vietnam Travel also provides the other services for travelers such as Visa, Hotel, Vietnam excursions in all around country, our professional and friendly staffs will assist you to make your trip much more easier and enjoyable. Just contact Vietnam Travel and let other things in our hand.
Read more: Vietnam International Airports