Dong Xuan Market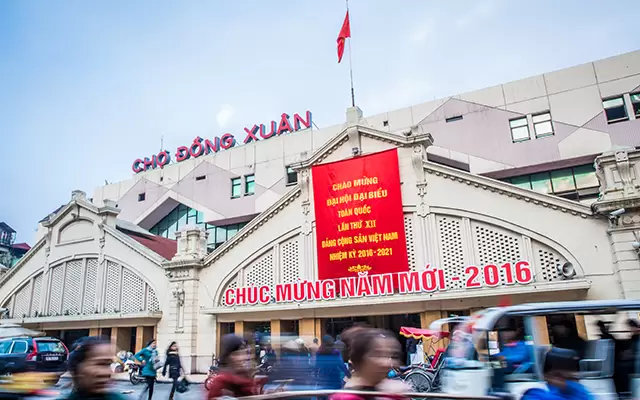 Dong Xuan Market is one of the oldest and biggest markets in the old quarter of Hanoi – Vietnam's capital. It is a symbol, a traditional feature and a pride of all Hanoians. For those who want to explore cultural values and discover local daily life, Dong Xuan Market is a must-visit destination when you are in Hanoi. Built in 1889 as French administration then renovated several times, Dong Xuan Market has been covered market selling everything from souvenirs, clothes, household goods to foodstuffs.
1. History of Dong Xuan Market
At the end of the 19th century, the Old Quarter of Hanoi had two main marketplaces, one at Hang Duong Street and the other at Hang Ma Street. In 1889, these two markets were closed and replaced by the original Dong Xuan Market. Established by the French administration under the Nguyen Dynasty, the market has gone through a lot of historical events. The most significant one is the massive fire occurred in 1994, which almost destroyed the market and caused about a 4.5 million USD loss for Government. Then, it has been rebuilt in its original form and maintained to be Hanoi's busiest commercial location until now.
2. Architecture of Dong Xuan Market
The architecture of Dong Xuan Market deeply followed the French style. It has 3 storeys covering an area of approximately 9,600 square meters. Today, Dong Xuan Market has 3-arch entrance, instead of 5-arch entrance as before. The first and the fifth entrance had been removed to extend Hang Khoai and Cau Dong Streets. Inside the market, it is not hard to see the dorm architectural style with a water fountain right in the center of the ground floor. There are two escalators and 5 other staircases leading to upper levels.
3. What to do in/ around Dong Xuan Market
Similar to most markets in Southeast Asia, Dong Xuan Market has a bustling wet market section on the ground floor, where locals shop for seafood, meat, and vegetables while the back section sells an array of pets (cats, dogs, and fish) and fresh flowers from all across Vietnam. If you are looking for souvenirs and clothes, head to the second floor, where you can find numerous stalls selling T-shirts, fabrics, hat, handbags, dresses, accessories…
The third floor is exactly the place for parents, especially mothers with kids. There are various clothes for newborn babies, pregnant women and children, which are all very colorful and good-looking. Toys, stuffed animals, lego blocks and puzzle games are available here. It is not exaggerated that everything you need can be found here with affordable price as long as you have good bargaining skills. You can also find traditional Dong Ho paintings, Bat Trang ceramics, sand paintings, Binh Da embroideries… at many local shops, surrounding Dong Xuan Market.
Beside purchasing souvenirs and exploring the local market culture, you can taste some awesome Hanoi's specialties on Dong Xuan Alley, which is located in the south of the market. Highly recommended dishes include rib and cartilage gruel (chao suon sun), beef jerky and green papaya salad (goi xoai kho bo), noodle with grilled bamboo-stuck meat (bun cha que tre), and rolled cake (banh cuon).
Dong Xuan Market is open every day from 6am to 6pm. On every Friday, Saturday and Sunday night, you have chance to explore an air-opened night market with a lot of stalls, local food vendors, locals and tourists. It runs through the Old Quarter district from 7pm onwards, starting from Hang Dao Street and running north to the edge of Dong Xuan Market.
Right in Hanoi Old Quarter area, Dong Xuan Market is easily found. It is located at No.15 Cau Dong, Dong Xuan Street, Hoan Kiem District. From this point, you can reach to other famous attractions such as Hoan Kiem Lake (900m), St. Joseph's Cathedral Hanoi (2km), Hanoi Opera House (2km), Thang Long Citadel (3km), Ngoc Son Temple (2.5km), Temple of Literature (3km)…
4. Tips and Travel Advice
• The market is very crowded all the time so keep an eye on all your belongings (wallet, mobile phone…) and do not bring much money or anything important and luxurious.

• It is suggested to visit the market with a group of friends or a local tour guide to avoid awkward moments with shop owners.

• Walking or hoping on a cyclo to get to the market is best choice if you are staying around Hanoi Old Quarter.