Soc Trang Tourism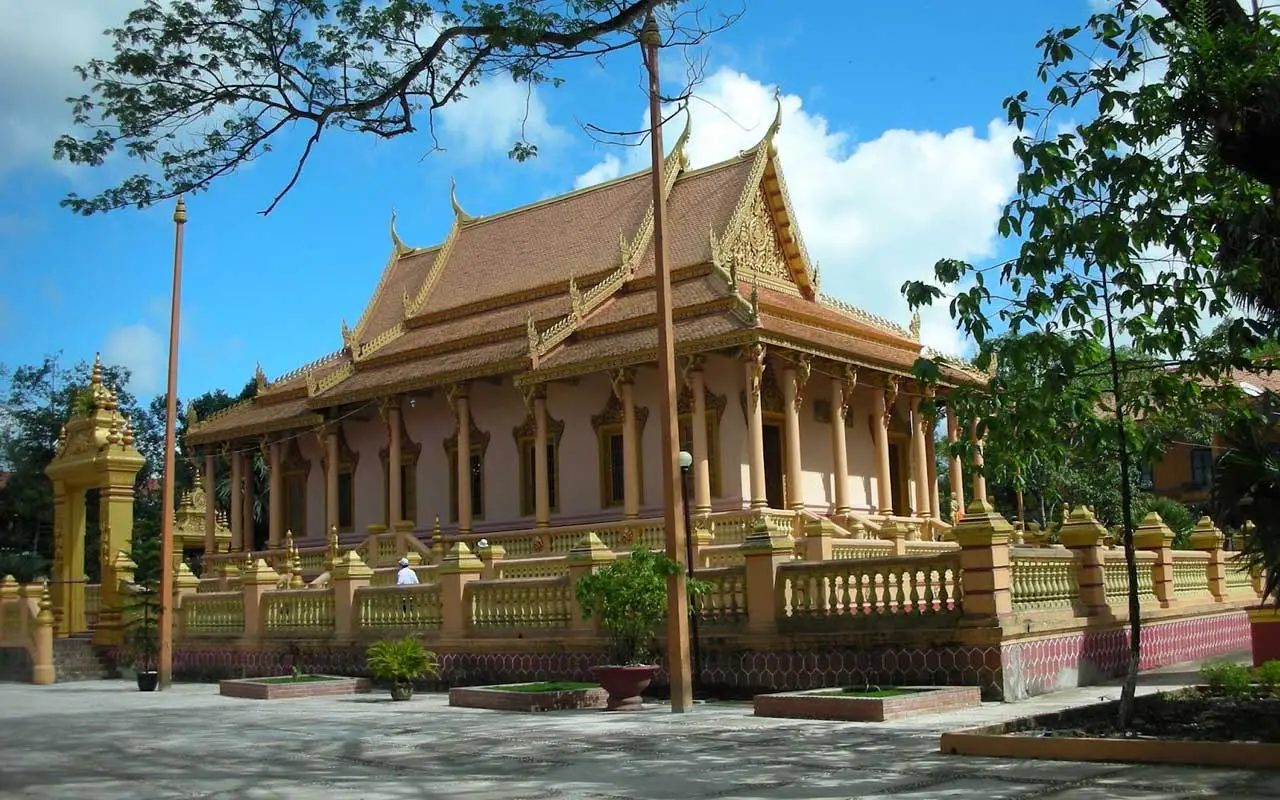 Soc Trang Province in the Mekong Delta is not just land, it's a land of religion, culture, and more waiting for you to discover. Read more here.
Overview
Soc Trang is one of the leading tourist attractions in the Mekong Delta. Not only famous for its delicious food, but the tourist destinations in Soc Trang also attract tourists to explore. The beauty from the ancient temples with unique architecture and spectacular views of the eco-tourism resorts bestowed by nature will sure give visitors an exceptional breeze.
Located just south of the Hau river, there is a cultural intersection among ethnics Hoa – Kinh – Khmer and indigenous people. So, Soc Trang has unique culture, religion, and customs.
Besides famous temples, charming natural scenery sights, and unique festivals, visitors also have the opportunity to enjoy fresh fruits in full-of-sun orchards.
Area: 3.311,87 km²
Population: 1.199.653 people (2019)
Provincial Capital: Soc Trang City
Districts: Ke Sach, My Tu, My Xuyen, Thanh Tri, Long Phu, Vinh Chau, Cu Lao Dung, Nga Nam
Soc Trang was Ba Thac in feudal time; land belonged to Gia Dinh of Dang Trong. It was formally a territory of Cambodia but re-established to become An Bien capital for Cambodian to live in.
In the history of reclaiming the South, King Gia Long allowed Cambodian people to inhabit and collected tax.
The name Soc Trang was given in the French time, and it started to receive more lands from neighboring regions. Until today, Soc Trang is a province with 11 administrative units, of which it contains one city and ten small towns.
Geography
Soc Trang Province is located at the South of Hau River, about 231 km from Ho Chi Minh City, 62 km from Can Tho. It's on National Highway 1A connecting Hau Giang, Can Tho, Bac Lieu and Ca Mau provinces. The coastline is 72 km long, and three large estuaries, Dinh An, Tran De and My Thanh, flow into the East Sea.
Climate
Soc Trang is located in a tropical climate area influenced by the monsoon, divided into seasons as the dry and rainy seasons. The temperature is not always cool in Soc Trang but very pleasant all year round. It rarely has floods. Rain focuses mainly on months 8, 9, 10, with the average humidity of 83% favorable for rice and other crops to grow.
Tourism
Some of the famous Soc Trang tourist destinations that appeal are Nga Nam floating market, Doi pagoda, Tan Long stork garden, Khmer museum, Clay Pagoda, My Phuoc dunes, My Phuoc tourism area, Thai Binh An eco-park, Ho Be and the provincial Communist Party base area. Here, visitors will be able to breathe the fresh air with the image of endless green rice fields or the image of a crowded meeting market.
Transportation
Soc Trang doesn't have an airport, but it's not far from Ho Chi Minh and Can Tho. From Ho Chi Minh city, it's easy to go to Soc Trang on a 4-5-hour bus.