Nice ending of British couple's Extraordinary trip in Vietnam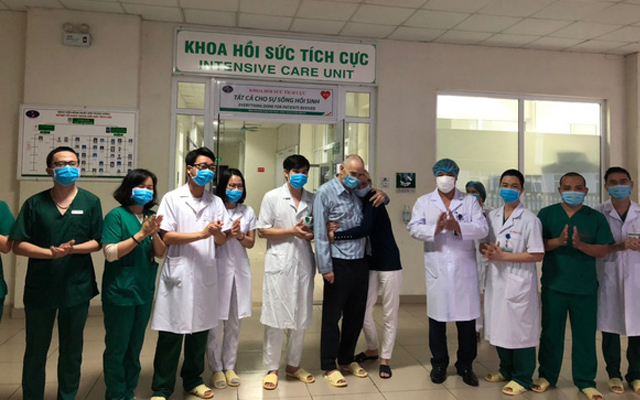 A British couple looked for a holiday to Vietnam 3 years ago, but they have not seen the Northwest Vietnam's famous hill tribe rice terraces yet due to contacted with nCoV.
Mrs. Mary Craddock, 70 years old, talked pleasantly with doctors and nurses at Hanoi National Hospital of Tropical Diseases in the afternoon of Tuesday, 14 April 2020. "He is alright now", said by Mary while she was walking around. She is waiting for Graham Craddock, her 69 year-old husband, to move to the normal treatment area. He has been in the intensive care unit for nearly a month.
"Just missing a bouquet of flowers", she smiled squinty eyes behind her face-mask.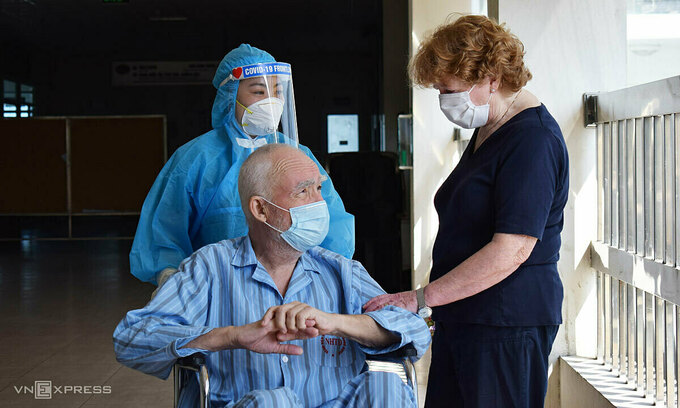 Mrs. Mary Craddock and the medical worker & Mr. Graham leaving the intensive care area, Hanoi National Hospital of Tropical Diseases, April 14 afternoon. Photo by: Chi Le.
The couple had planned for some holidays to enjoy rest of their lives after 47 years of marriage. In 2018, they chose Vietnam for their holiday destination and planned to come in early 2019. Unfortunately, Mary's mother passed away, the trip was cancelled after then.
One year later, they continued to plan another Vietnam vacation. Mary said: "We traveled to Vietnam without any worries. There were 16 confirmed infections, all of them were treated well and discharged from hospitals. Why we must be scary?". They rebooked tickets and flew to Hanoi on the fight VN54 for their Vietnam tour from London – UK. Arrived in Hanoi on 2 March, they continued their adventure to Sapa on 5 March but then transferred to the local hospital in Lao Cai Province 2 days later.
Mary said that they have been in Vietnam for 6 weeks but most of their time is spent in hospital for treatment. "I am upset to stay here instead of visiting to rice terraces, spectacular mountain ranges and sunset in the Northwest of Vietnam".
Health became more serious after admitting to hospital in Lao Cai Province, Mr. Graham was urgently moved to the intensive care unit at Hanoi National Hospital of Tropical Diseases. Followed her husband, Mrs. Mary was treated at the isolation area for mild patients.
Working at the intensive care unit, Doctor Pham Van Phuc said that Mr. Craddock has many underlying diseases such as high blood pressure, diabetes, cerebral vascular accident and hemiplegia, so his disease progression is very severe when infected with Covid-19. The heath-care workers not only gave him mechanical ventilation but also provided dialysis and emergency aid.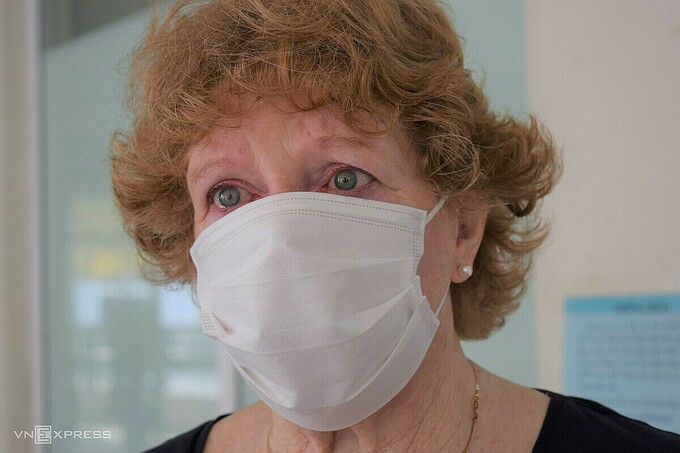 Mary Craddock shed tears as she shared about the time waiting for her husband treatment. Photo by: Chi Le.
Mary said she was afraid that Graham might have to stay on a ventilator longer, because at first "he looked so chaotic, he didn't recognize anyone, he couldn't remember anything".
"I tried to speak to the doctors, but they didn't talk much. I only knew that they were trying to save my husband", said by Mary while her voice was stifled and her eyes turned into red. "We were very lucky, very very lucky!".
Released from hospital on 14 April, Mr. Graham Craddock was able to walk in a short distance and to talk happily with people around. He was one of three serious Covid-19 infected patients who had to be ventilated and then cured at the Hanoi National Hospital of Tropical Diseases.
"I was very touched to witness people working all day and night to save our lives. I only saw doctors on the front lines who often stayed up throughout the night. There must be hundreds of healthcare workers behind to support each other. It is incredible", he said while his wife was pushing the wheelchair out of the intensive care unit.
"This is a lifetime holiday. We survive, thank you everyone," said by Graham Craddock.
"The extraordinary trip to Vietnam ended happily," the wife added.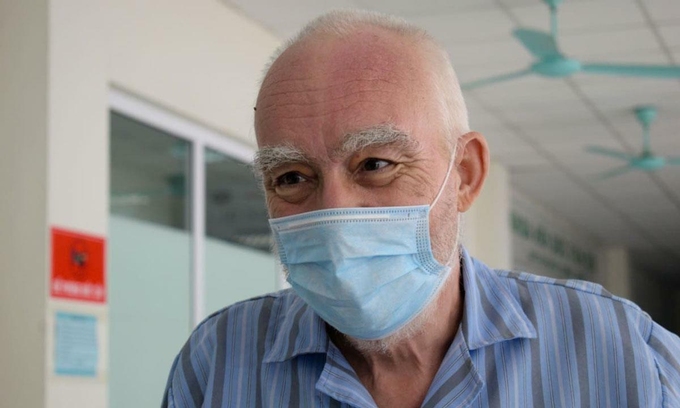 Mr. Graham Craddock was cured and leaving hospital. Photo by: Chi Le.
(Translated from Chi Le's article on VNExpress)