3 days in HCM City, What to do?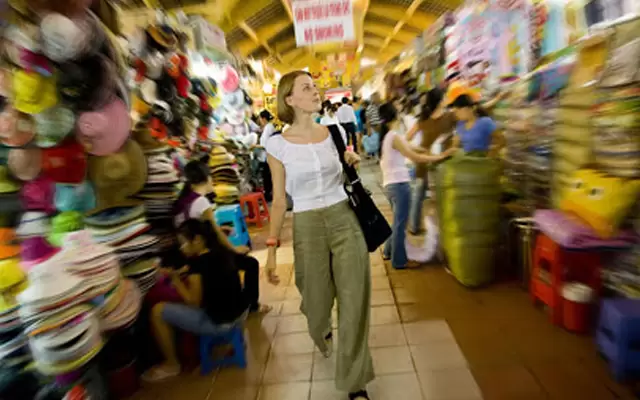 Ho Chi Minh City is the biggest, busy and fascinating city in Vietnam. Formerly known as Saigon, the city is an eclectic blend of the traditional and the modern. With historic attractions, fascinating day trips and bustling streets lined with food stalls and pavement cafes, there's certainly plenty to see and do in 3 days in Ho Chi Minh City.
Despite the pace of the city, you won't need to rush to make your way through our Ho Chi Minh City travel itinerary. You could choose some of your favorite options bellows.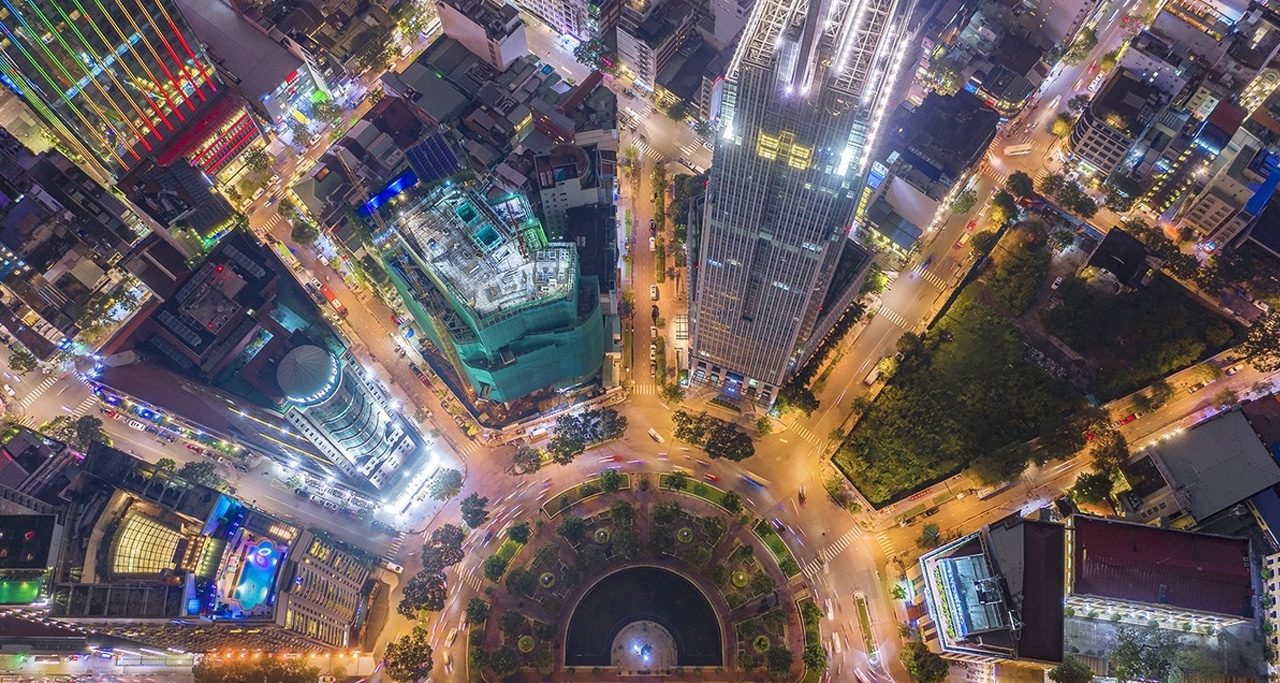 1. Things to do in your first day in HCM City
On your first day you get to jump right into the best things to do in Saigon around the city center. This way, you'll be able to get your bearings and get a feel for the city before exploring further.
Reunification Palace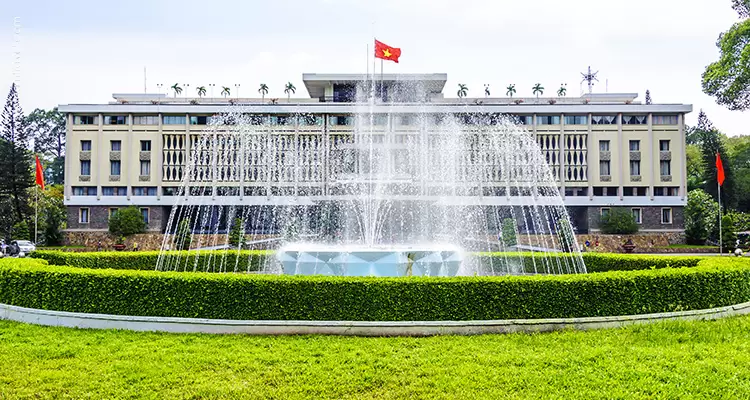 Home to the presidents of South Vietnam before the fall of Saigon in 1975, interestingly, the palace has been left exactly as it was back then. Don't leave without seeing the underground bunker – it features a telecommunications center and a fascinating series of tunnels.
War Remnants Museum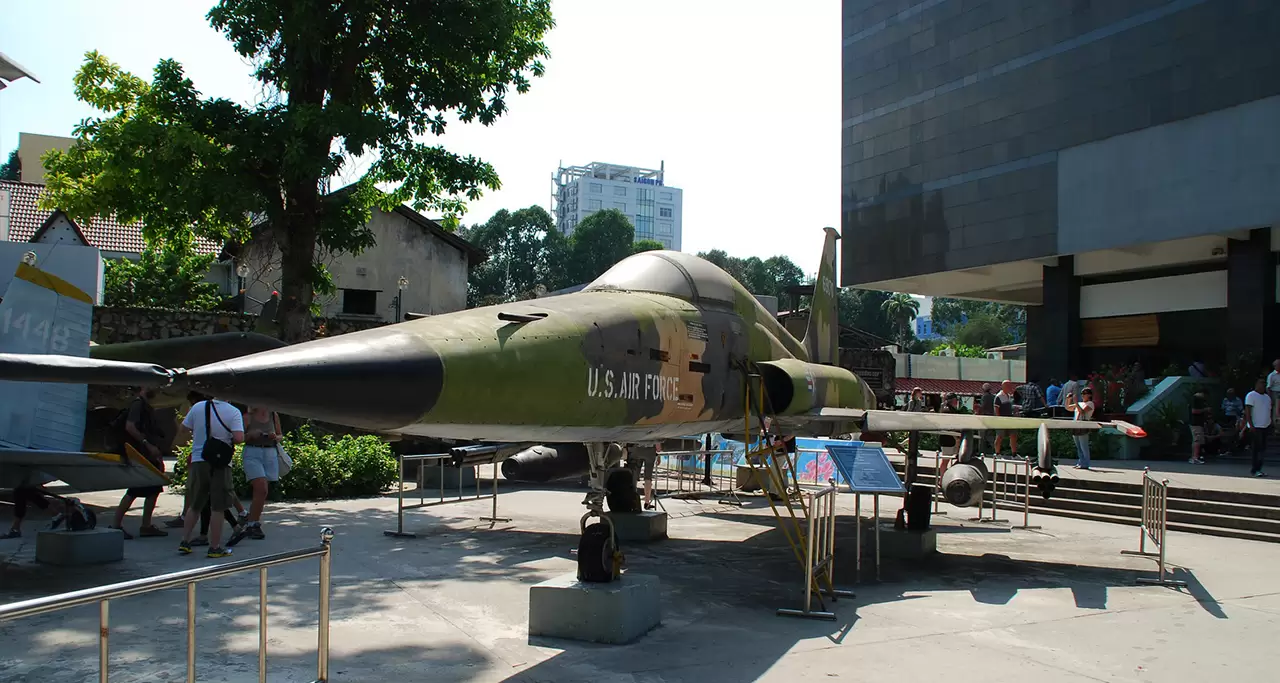 Visit to the War Remnants Museum is an important and educational stop on your Ho Chi Minh City itinerary and creates a basis for understanding the rest of your time in Vietnam.
Notes:
You'll get more out of this museum the more you know about the Vietnam War before you arrive.
The upper floors of the museum display graphic images of the effects of agent orange and unexplored ordnance so are best avoided if visiting with children.
Notre Dame Cathedral of Saigon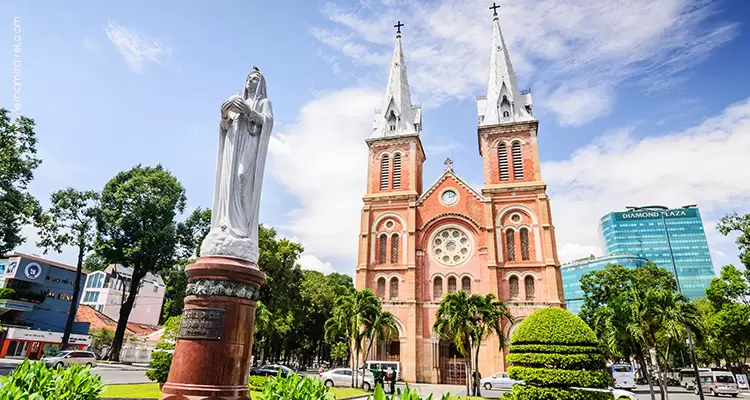 Notre-Dame Cathedral is a holdover from the French colonists and dates from the 1880s. It's one of the most important surviving catholic churches in Vietnam and its bells still ring out across the city.
Saigon Central Post Office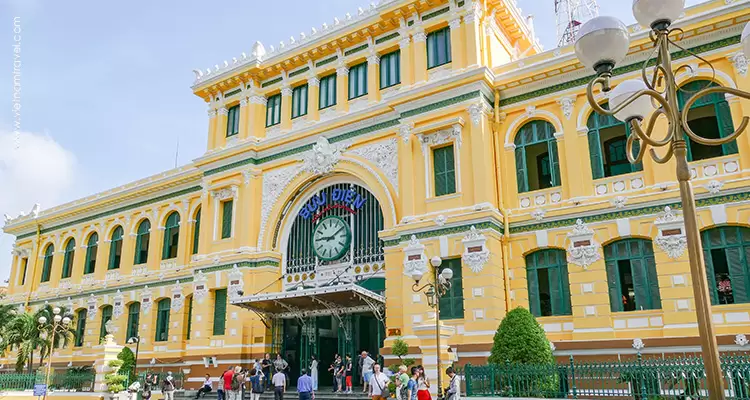 The place is a bright and elegant colonial building decked out in yellow and green. It's not just the exterior that is beautiful as the inner decor perfectly matches the outer architecture. Inside, the post office is also a bit of a time warp to the turn of the 20th century, thanks to little touches like wooden phone booths.
Emperor Jade Pagoda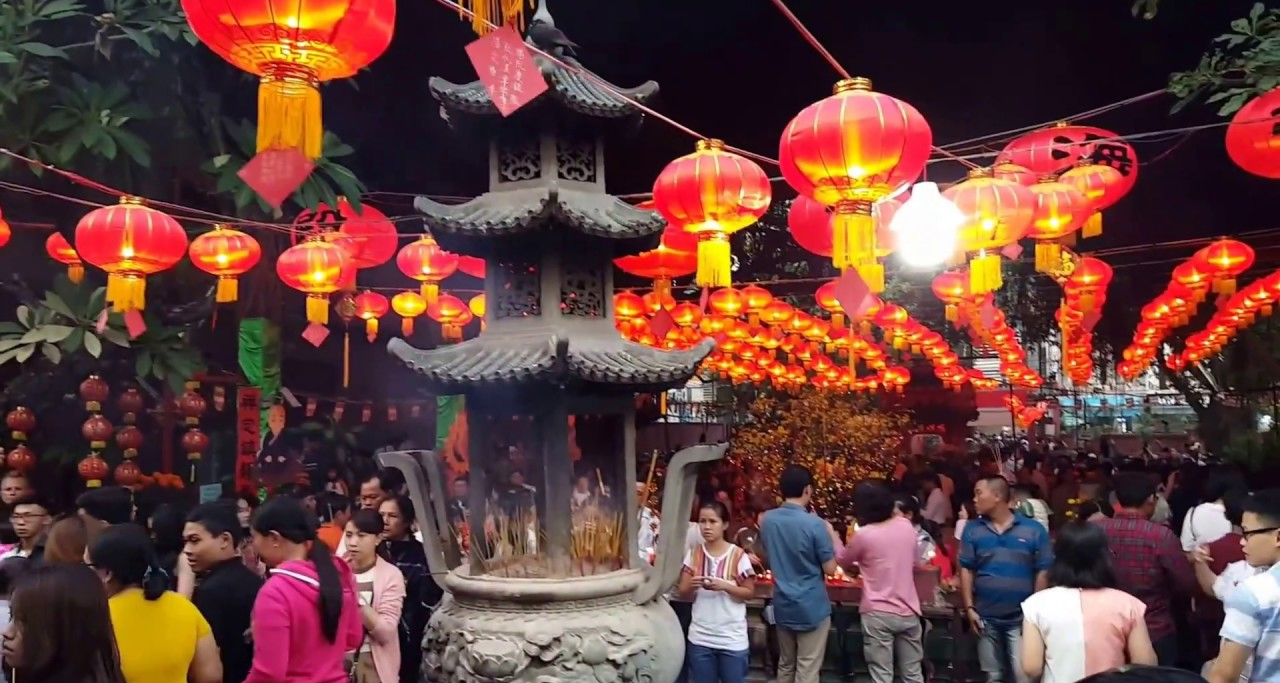 This is the oldest and most atmospheric temple you're likely to find in the whole of Ho Chi Minh City. Filled with fascinating sculptures and figurines, the decor and ambience gives this place its undeniable charm.
Note: Open from 7am to 6pm most days, but 5am to 7pm on the 1st and 15th of the lunar month.
The Cafe Apartment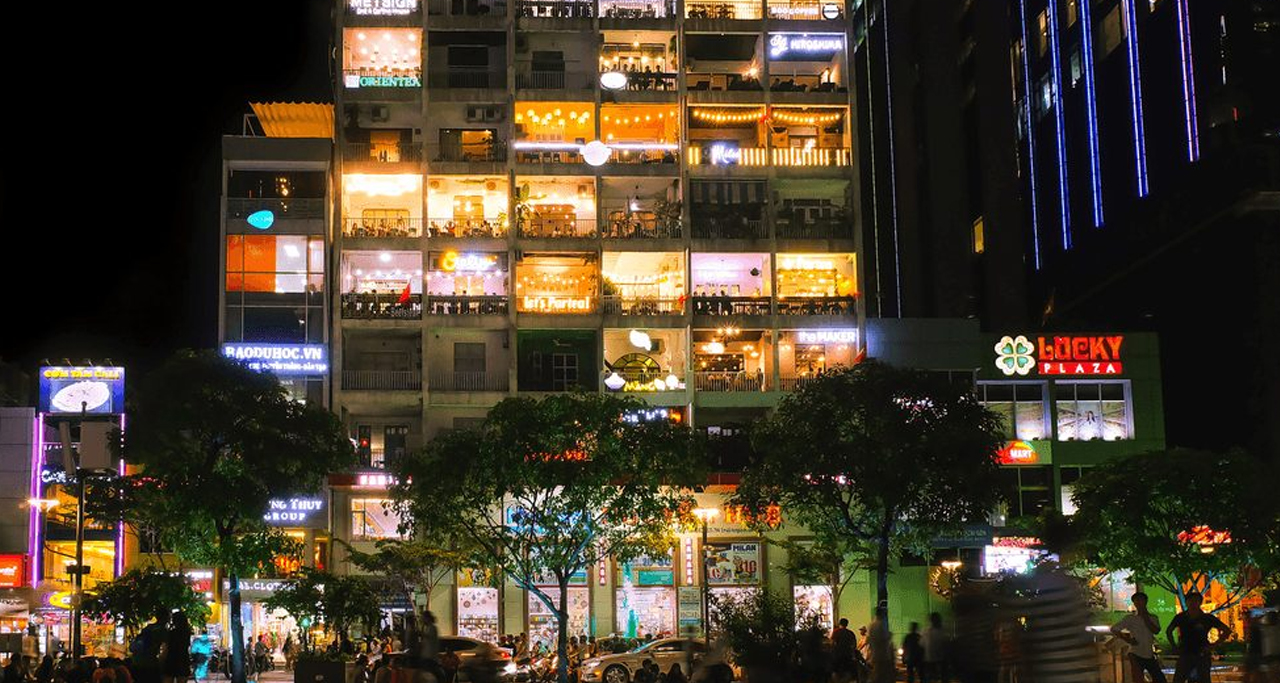 For a nice break and a change of pace, find your way to 42 Nguyen Hue street to see the undeniably cute Cafe Apartment building. Once an ordinary residential building, this apartment complex now hosts a variety of cafes and shops inside each of the once apartments. This is a fun concept and you could spend quite some time seeing what is in store on each level of the building. Then there are the balcony views, where you can look down on the city streets, with coffee or tea in hand.
Ben Thanh Market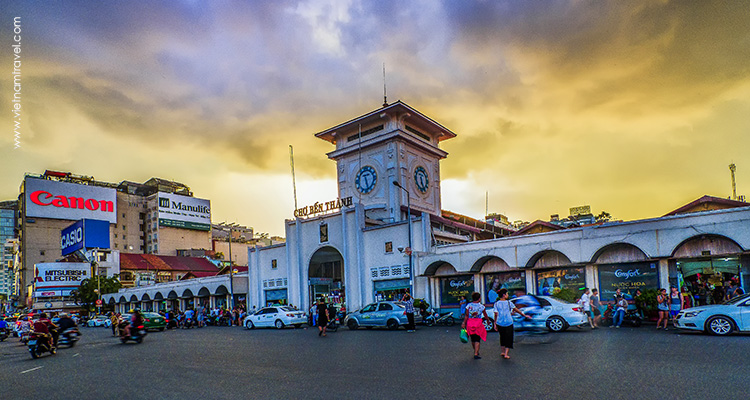 Chaotic yet fun, a trip to Ben Thanh Market, the city's busiest and most central market, is worth the assault on the senses! It's a lively and colorful place where determined market vendors and customers haggle for everything from fresh meat and vegetables to clothes, domestic items and souvenirs.
Night Market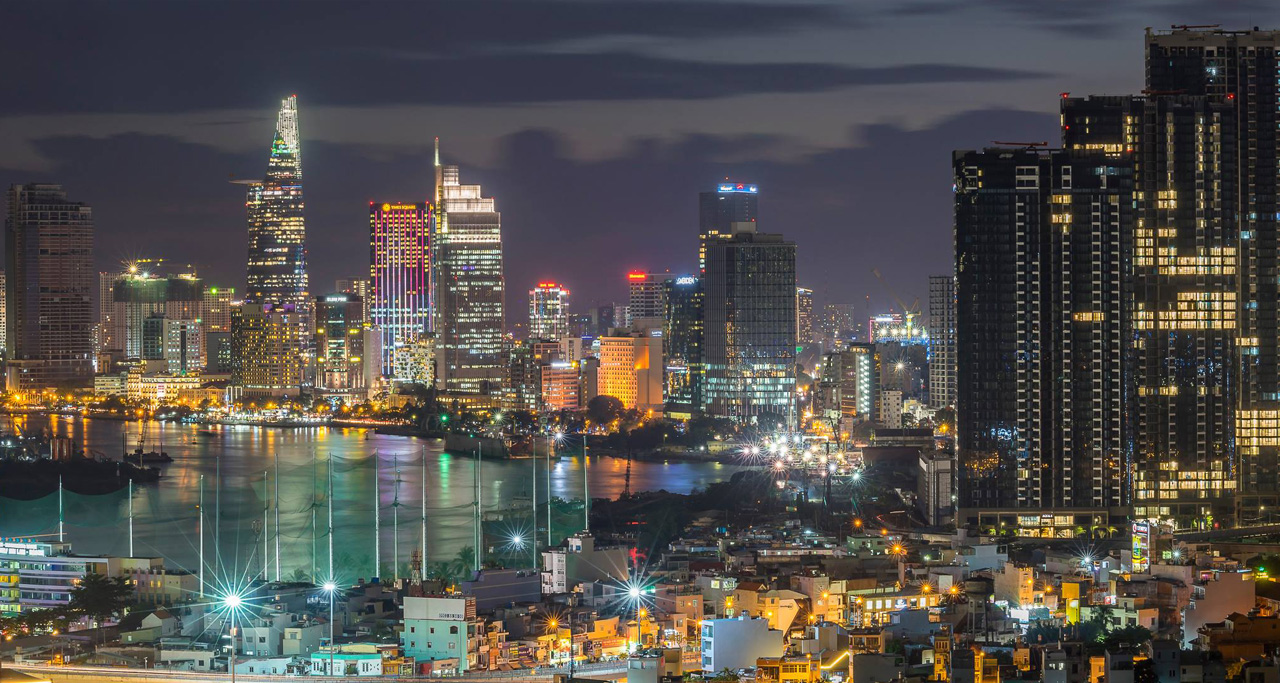 The night market is just the other side of Ben Thanh market that springs up at 6pm. Countless food stalls and open-air restaurants fill the space outside the market hall, perfect for trying some street foods.
2. Things to do in your second day in HCM City
Cu Chi Tunnels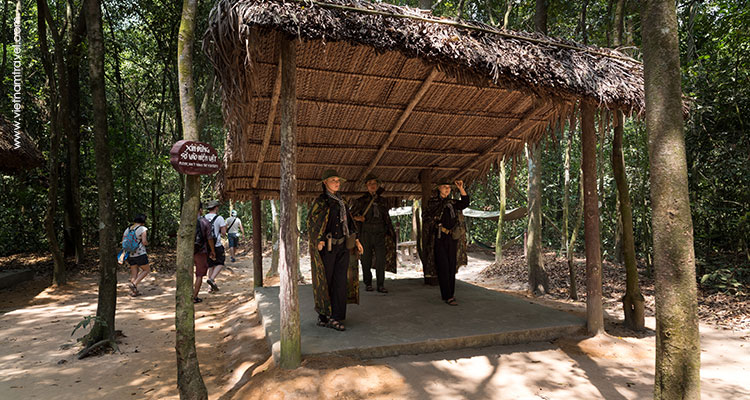 Many visitors to Ho Chi Minh City are curious about the Vietnam War, making a day trip to the famed Cu Chi Tunnels a natural choice. These tunnels to the north of the city were built by the Viet Cong soldiers to help fight the US forces. Very much a maze of narrow tunnels, the soldiers didn't just use the tunnels for combat, but also as living spaces and supply routes.
You'll also see bomb craters along with booby traps that were used on American troops. For those who aren't afraid of small spaces (some of them are incredibly narrow) you can experience the tunnels firsthand by getting in them.
Cao Dai Temple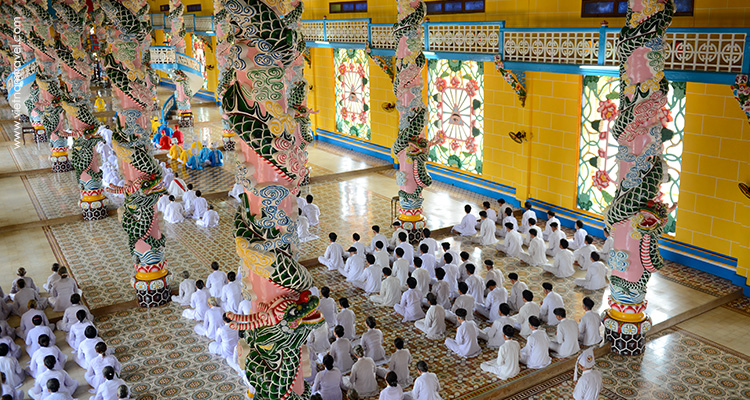 The religion of Caodaism only began back in 1926 and selectively took elements from major world religions like Buddhism, Christianity, and Confucianism. Just as the religion incorporates ideas for other religions, the Cao Dai Temple interestingly borrows features from temples, churches, and shrines. Although it is shaped much like a church from the outside, step inside the Cao Dai Temple and you're overwhelmed with a vibrantly colored and ornate interior, complete with beings that look like dragons circling up the pillars.
Bitexco Financial Tower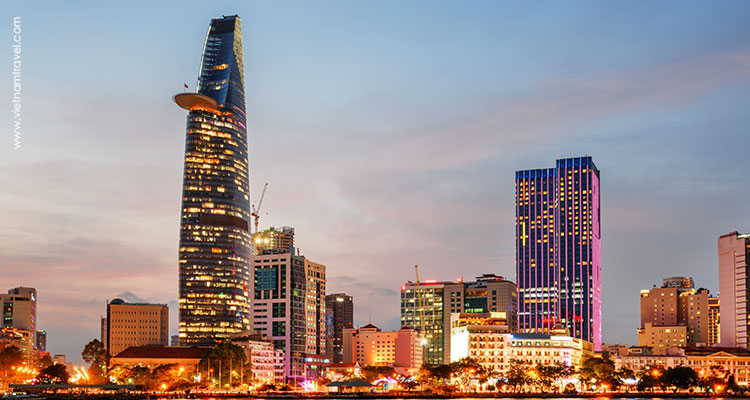 One of the best ways to experience the city from an entirely different angle – the Bitexco Financial Tower is a huge skyscraper that features what's known as the Saigon Skydeck. From here you can admire incredible panoramic views of the sprawling Ho Chi Minh City below.
Tips: Arriving half an hour before sunset is ideal – the views are truly incredible.
A O Show
À Ố Show is one of Vietnamese Bamboo Circus performances. À Ố – derives from Làng Phố, which means 'village and city'. À Ố Show tells a captivating story of the transition from the peaceful life of the countryside to the fast-paced metropolitan life of modern Southern Vietnam. The soul of village life and, in stark contrast, familiar scenes from the city, are beautifully brought to life — with bamboo! The stunning simplicity of the bamboo props frames an awe-inspiring circus featuring acrobatics, contortion, juggling, and stunting. Throughout the show, both traditional and modern music harmonize richly, performed live with 17 musical instruments. À Ố Show has become a world-renowned circus, critically acclaimed in 11 countries.
3. Things to do in your third day in HCM City
Mekong Delta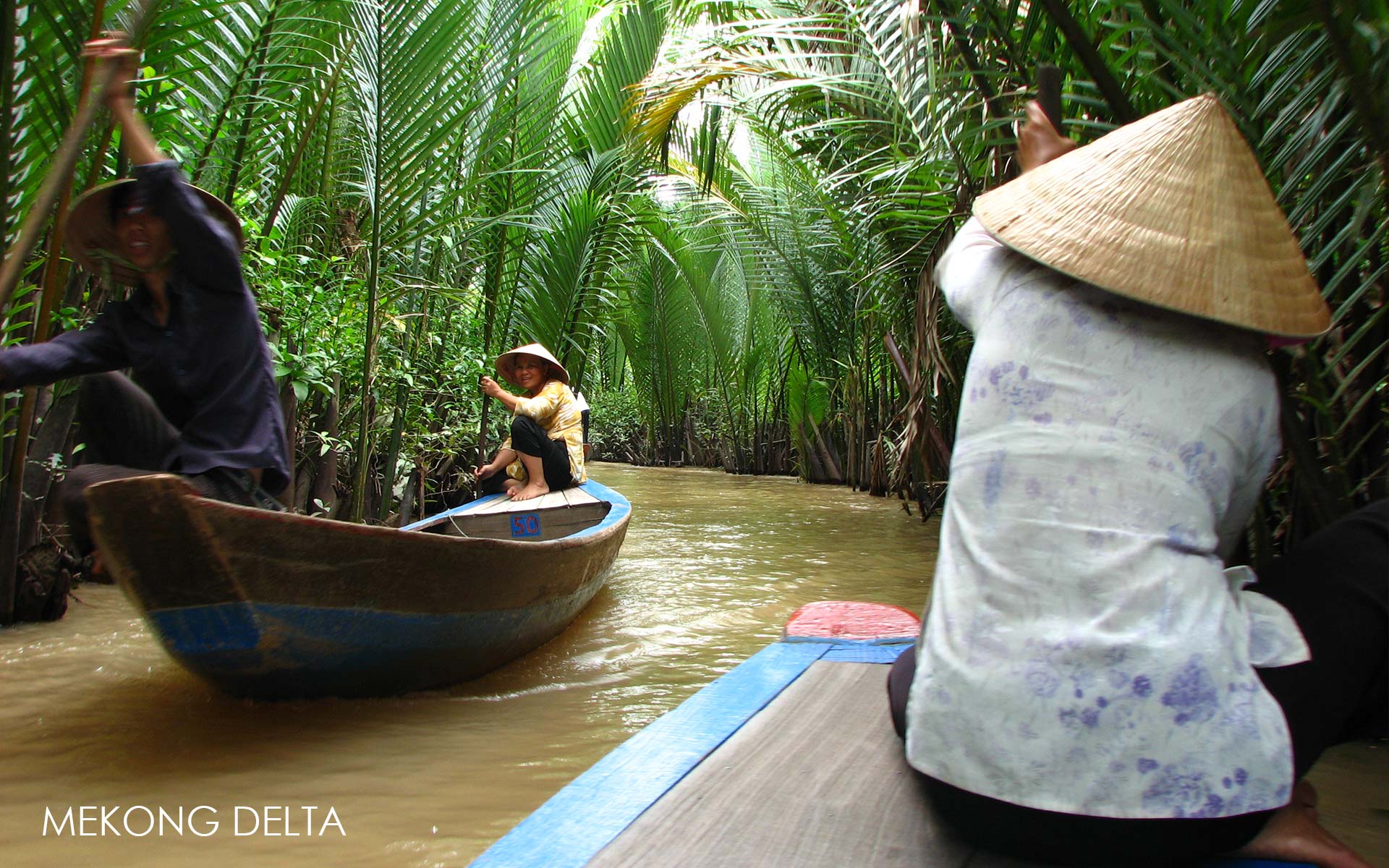 No trip to Ho Chi Minh City would be complete without exploring the Mekong Delta.
This is a great opportunity to enhance your cultural experience in Vietnam and to interact with the locals. The agricultural heartland of Vietnam is surely a Photographer's paradise so make sure to bring your cameras. Once your group reaches the town, you'll hop on a motorboat that will take you around the Mekong Delta. Tours normally include a visit to a local village where you can hop onto a bicycle and explore the surrounding orchards.
SHOPPING
Malls
Ho Chi Minh City's shopping scene offers a good mix of old and new, ranging from boutique outlets and shopping malls to expansive markets and souvenir outlets.
Conveniently located adjacent to popular landmarks, there are many shopping malls can be reached within minutes by different means of transportation or on foot. They offer a wide array of international brands and renowned local designs as well as all of your retail needs at fixed prices. An additional benefit of going shopping in a mall is that it's possible to put together an itinerary that combines relaxation, amazing food and of course, shopping.
Vincom Center
Address: (Vincom Center A) 171 Dong Khoi & (Vincom Center B) 72 Le Thanh Ton Street
Opening hours: 9 AM – 10 PM daily
Takashimaya Vietnam
Address: 92-94 Nam Ky Khoi Nghia Street, Ben Nghe Ward, District 1
Opening hours: 9:30 AM – 9:30 PM daily
Parkson Plaza
Address: 45 Le Thanh Ton Street, District 1
Opening hours: 9:30 AM – 10 PM daily
Boutiques
If you want to gain some insight into modern Vietnamese fashion, stop by little designer boutiques. Mostly centered around the popular streets of District 1, all the top fashion boutiques in Ho Chi Minh City can be covered in a day. You may not be able to bargain unless you buy a large quantity which may (or may not) get you a discount.
Libé Workshop:
Address: 1st floor, 26 Ly Tu Trong Street, District 1 or 1st floor, 52 Nguyen Trai Street, District 1
Opening hours: 10 AM – 9 PM daily
L'Usine
Opening hours: 8.00AM – 9.00PM
Address: 19 Le Thanh Ton, District 1, 151/5 Dong Khoi District 1, 70B Le Loi, District 1.
Markets
The local markets are where you can discover the local culture and blend in with Vietnamese people for the most authentic experience. The goods are also sold at much more reasonable prices. And the best thing is that haggling is commonly acceptable in these markets and may even work to win you great bargains.
Tips:
– None of the stalls have visible prices, you'll need to be ready to chat with the store owners and potentially negotiate.
– Bring cash! The market stalls usually don't have credit card machines
– Always keep an eye on your belongings
– Try not to get overwhelmed. There's a huge selection available, so sometimes it's good to browse then take a break with a coffee and come back later
Saigon Square.
You may find functional kitchenware, trendy clothes and technology accessories with plenty of promotions and sale outlets throughout the year. A favorite shopping spot for youngster and international tourists.
Address: 77-89 Nam Ky Khoi Nghia Str, District I / 179 E Hai Ba Trung Street, District I
Opening hours: 9:30 AM – 9 PM daily
Ben Thanh Night Market
The place sets up alongside the main hall, offers an authentic glimpse into real, living night market with a lot of goods including clothing, crafts and souvenirs.
Address: Le Loi, Ben Thanh, Quan 1, Ho Chi Minh
Opening hours: 6 PM –12 AM daily
Binh Tay Market (Cholon – Chinatown market)
The market offers a vibrant atmosphere opulent Chinese architecture and local Buddhist culture.
Products: Handicrafts, lacquerware, textiles and fresh products.
Opening Hours: Daily 07:00 – 18:00
Address: 57 Thap Muoi, District 6, Ho Chi Minh City
Shopping Streets
Fashion street vending is very popular in Vietnam. Vendors selling cheap fashion and accessories in the evening, bargaining is a must.
Places: Le Van Sy Street, Nguyen Trai Street, Nguyen Dinh Chieu Street…
For those staying longer in Saigon or already been to Saigon before, here are some further tips that help you to plan your holiday more interesting:
– A beach holiday to Mui Ne
– A day trip to Can Gio Forest
– An adventure package to Nam Cat Tien Forest
– …
IF you need personal assistance or agent support, please contact Vietnam Travel.