Heritage Line Ylang Cruise
---
Ylang, the latest member of Heritage Line's ship collection in Lan Ha Bay, features a splendid blend of Asian-Vietnamese design with French-Colonial accents. This ancient flair of Indochina emanates throughout the vessel with a delicate floral leitmotif inspired by local poetry and related to the four seasons of the year. Local artisans contributed to Ylang's decoration with hand-crafted paintings and artwork using various materials and techniques. All suites are dedicated to a particular blossom which typically represents a season in Vietnam. All this creates an inimitable sense of bliss and an exceptional abode at sea.
Ylang has only ten spacious suites on two decks – each room is flooded with natural light pouring in through floor-to-ceiling panoramic doors which open onto a private balcony. What makes Ylang unique, is her expansive spa with its extensive selection of thoughtfully selected treatments. The focus on wellness lives on in the more dynamic activities such as yoga in a dedicated room, or early morning Tai Chi lessons on the upper deck.
Senses of Lan Ha (three days – two nights)
Dedicated to well-being and serenity, Ylang and its three-day/ two-night journey offers guests deep insights into Lan Ha Bay's natural beauty all while providing a holistic wellness experience.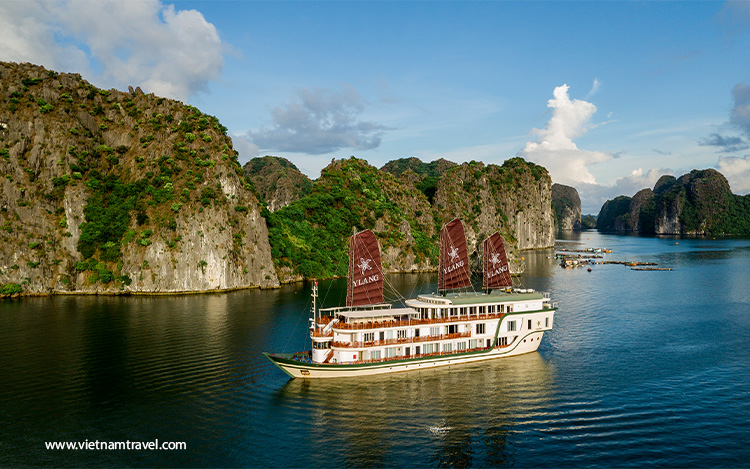 Highlights
Suites only with Large Private Balconies
Panoramic Restaurant
Pool on Terrace Deck
Cruising in Lan Ha Bay
Wellnes themed with an expansive spa, sauna, and yoga room
Very unique itinerary combining active expriences with onboard recreation
Age range

under 87 year olds

Star

5 Stars
Itinerary
Show all
Day 1: Hanoi - Halong Bay

- Leave Hanoi at 9:30 AM if you take the private transfer or from 9:00 AM to 9:30 AM if you take the shuttle bus and arrive in Halong City around 12:00.
- After meeting at Heritage Line's welcome lounge at the Tuan Chau Marina, take a quick speedboat transfer to your luxurious floating home before starting the unique journey of exploring one of the wonders of nature – Lan Ha Bay and its main island of Cat Ba. The first highlight of the cruise is lunch, which you will be served in Ylang's nearly 360-degree light-flooded, elegant restaurant. Enjoy a fine menu of tasty local, international or vegetarian dishes freshly prepared by the cruise's culinary team.
- Relax on the terrace deck or on your private balcony and soak in the enchanting aura which emanates from the surreal seascape. While cruising along in the early afternoon, there is time to enjoy Ylang's vast wellness and spa facilities. Take a plunge in the pool with infinity-like vistas or choose your favourite treatment from an extensive spa menu.
- As you reach the shore of a small lagoon on Cat Ba Island, hop on bicycles (electric cart transfers are also available) for a tour along small paved roads towards Viet Hai village. Little has changed in Viet Hai since the ancestors of the 80 households settled here centuries ago. Situated in a valley within Cat Ba National Park and surrounded on all sides by forest and mountains, the locals are isolated from the island's other villages and towns. The community is self-sufficient, as the residents provide for themselves by working the farms, fishing, or collecting rain water for drinking. Here you have the unique and authentic opportunity to meet the local inhabitants, learn about the fruits and vegetables grown in the valley, have a glimpse of the local households and try some homemade liquors.
- Back on board, there is time for you to partake in our activities offered while the cruise sets sail to a tranquil place for an overnight mooring nearby. A tea tasting class is held in the Ylang Restaurant where you may learn about Vietnam's traditional herbal teas and gain insight into their health benefits. Alternatively, let us pamper you with a spa treatment, opt for a foot massage in the privacy of your suite or gaze upon the beauty of the bay during sunset from the terrace deck.
- For dinner, choose from a diverse selection of dishes on the menu as the cruise's chef prepares a delectable multiple course meal. Afterwards, the cruise offers in the Wellness Studio a guided "singing bowl meditation", an ancient Tibetan ritual which invokes a deep state of relaxation, alleviates stress, and promotes a better night of sleep.
- One of the best ways to spend the evening is to take a seat under the stars on the terrace deck or on your private balcony to embrace the serenity of this surreal landscape. And if you would like to fully immerse yourself in relaxation, the spa is open until late.

Day 2: Halong Bay Cruise

- Wake up early and join our Tai Chi session on the terrace deck to ease your mind and muscles with the first rays of the sun touching the water. Then re-energize yourself from the cruise's wide selection healthy or hearty breakfast offerings.
- Ylang sails towards the southern tip of Cat Ba Island. Board a tender and visit one of a few remaining authentic floating fishing villages near Ben Beo. This fishing village is home to 300 families living in floating houses and earning a living from fishing and aquaculture, much like their ancestors. Get a close view of how the villagers live and work on the water in this unique community.
- Then continue on tender towards Ben Beo Pier, where you'll come ashore and travel a short distance along scenic island roads to Cat Ba National Park. For passengers craving a bit of exercise, we invite you for a leisurely and mindful walk (taking the same path both ways) through this lush, jungle-like forest. Cat Ba National Park is designated as a biosphere reserve and hosts over 1,500 plant species, 78 avian, 20 reptilian and 32 mammalian species including deer, macaques and civets. Or you may opt to stay aboard and take advantage of Ylang's facilities.
- During lunch, Ylang Cruise resumes sailing northeast through the stony labyrinth of Lan Ha Bay, eventually reaching a secluded spot in the bay. Head to a natural island beach via tender for kayaking, swimming and optional guided meditation session (snacks and juices are provided). Otherwise, kick back and treat yourself from the cruise's wide selection of wellness offerings on board.
- In the early evening, a food carving demonstration is held in the Ylang Restaurant, where the cruise's chef demonstrates the Asian art of shaping and transforming fruits and vegetables into a various decorative items, some which are served during your meals.
- After dinner, soothe your body and mind and bring your day to a gentle close with another guided "Singing Bowl Meditation" ceremony, or simply unwind on your private balcony while taking in the tranquillity of Lan Ha Bay.

Day 3: Halong Bay - Hanoi

- Start the day early again with another open-air session of Tai Chi before having a light snack to go with your tasty, traditional Vietnamese coffee. This morning, Ylang moors in another quiet spot to offer you one last chance to go kayaking or take a refreshing early morning swim - conveniently from the ship's platform. Enjoy these final moments to fully take in the senses of the bay.
While passing back through Lan Ha and Halong Bay towards Ylang's mid-bay anchoring spot, you will be served breakfast and have some time to savour the moments of this unique journey while relaxing on comfy sun beds on the terrace deck.
- The driver will take you back to your hotel in Hanoi. Trip ends.

Notes: Due to cruising conditions, itineraries may change without prior notice. Wi-Fi is available in the restaurant/bar area, but internet connectivity is limited due to the geography of Halong. Thank you for your understanding.
Cabins
Full Side Ocean View
40m2
Non-Smoking
Shower & Bathtub
Private Balcony
none
Full Side Ocean View
53m2
Non-Smoking
Shower & Bathtub
Private Balcony
none
Price Includes
• Luxury accommodation with A/C, hot shower, mini bar.
• Boat trip & specified program.
• English speaking guide on board.
• Cooking demonstration on board.
• Kayaking.
• All meals per program.
• Sunrise Tai Chi Class.
• All entrance and visiting fees.
• Tax and Services charges.
Price Excludes
• Personal travel insurance.
• Beverages, tips.
• Surcharge for Regency Suite in front of the cruise (Glory Daisy - Suite 203 and Royal Bamboo - Suite 204): US$ 50 per person.
• Other personal expenses.
• Transfers (on request).
Policies
Cancellation & Refund:
• Cancellation will be charged as follow:
+ 31 days prior to the arrival: No charge.
+ 30 days - 15 days prior to the arrival: 20% of the total rate charged.
+ 14 days - 8 days prior to the arrival: 50% of the total rate charged.
+ Less then 8 days prior to the arrival: 100% of the total rate charged.
+ No-Show: 100% of the total rate charged
• Cancellation must be sent to and confirmed by Vietnam Travel's cruise specialist in writing (by email or fax).
Child Policy (to be confirmed upon reservation and subject to availability):
- Children under 5 years old are not allowed.
- Only 01 child under 13 years old is allowed to share cabin with parents and will be charge 30% of adult rate.
- Extra bed charge for children is 30% of adult rate
Open