Avalon Saigon
---
The all-suite Avalon Saigon, Avalon Waterways' newest Suite Ship in Asia, was specifically designed to offer the best cruise experience on the Mekong River. She is one of only two ships in the travel industry, along with her elder sister ship - the
Avalon Siem Reap
, cruising from Ho Chi Minh City to Phnom Penh (or vice versa) eliminating hours of motorcoach travel time, which means you enjoy more cruising! The ship has been meticulously crafted to offer all the modern features you expect, yet it retains the colonial charm fitting to Vietnam and Cambodia.
While the number of guests on the ship may be small, the ship is not. Built as long and wide as other ships that carry twice as many guests, the public spaces never feel congested. From the air-conditioned Panorama Lounge to the open-air observation lounge, there is plenty of seating and spots to relax. Plus, lounges are located at the front of the ship, not the back, so no matter where you sit you will always have a great view.
Avalon Saigon's crew embodies the spirit of you first, no matter what. From the reception staff and bartender to wait staff and room attendant, you will be always delivered exquisite service that's comfortable and friendly, never stuffy! With Avalon Siem Reap, the ship becomes your home away from home.
Vietnam Travel
is dedicated to providing you with a high level of service at competitive prices with our exclusive collection of
Mekong River Cruises
, vacation packages and last minute bookings. Contact our young and dynamic travel constants to get a private assistance today!
Note:
- Avalon offers the opportunity for solo travelers to sail with no single supplement (subject to availability). Please check with our Travel Consultants for single accommodation details and prices. Triples not available.
- Whilst all information is correct at the time of publication, offers are subject to change. Please note that many of the prices shown on this website are not shown in real time. While we endeavour to keep our pricing as up-to-date as possible, the published prices shown here may differ slightly from the live prices in our booking system. Vietnam Travel reserves the right to correct errors without penalty.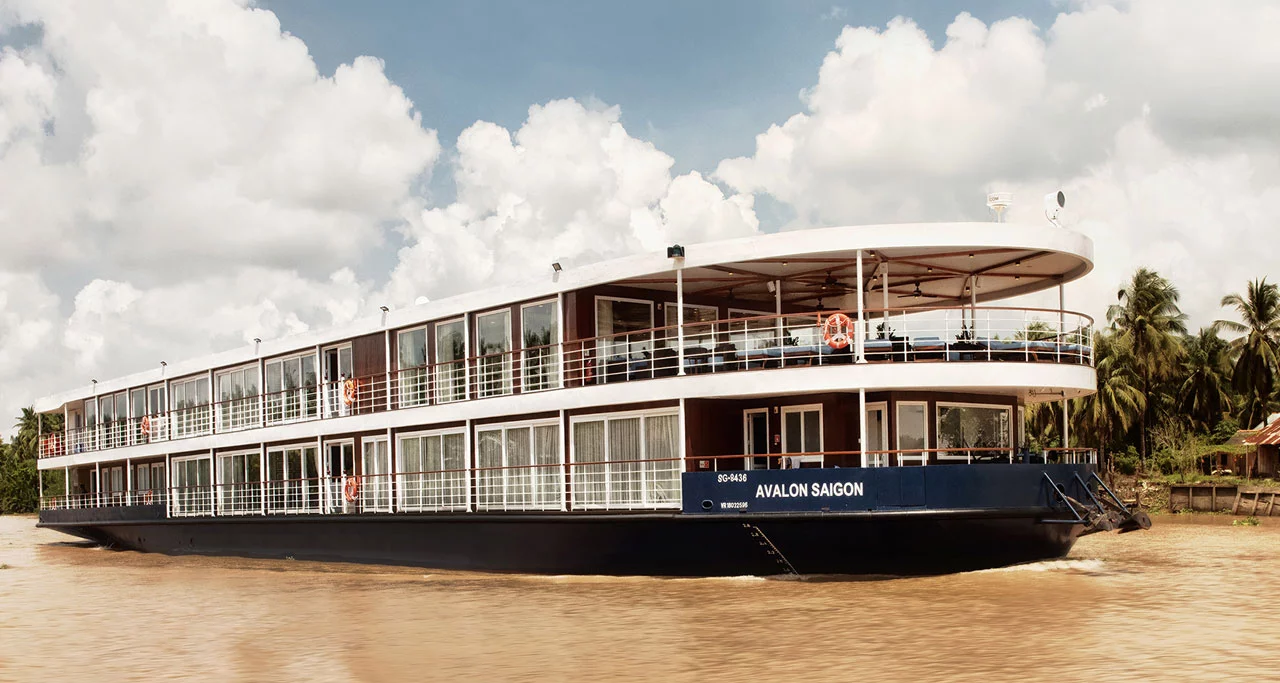 About This Cruise
On this unique and inspiring Southeast Asia river cruise through Vietnam and Cambodia, you'll be immersed in the cultures and ancient traditions as you sight-see and spend time with locals in the most interesting places along the mighty Mekong River.

Via sampan, cruise into Vinh Long and experience Vietnamese culture with a visit to a workshop to learn how rice wine and traditional candies are made. See firsthand how handcrafted sampans are built at the home of a family in Cu Lao Gieng. Walk through a colorful market as the locals are busy with their daily routine of buying and selling produce. In the capital of Cambodia, Phnom Penh, tour the National Museum and Royal Palace with its striking Silver Pagoda. Enjoy a song and dance performance by children from a local orphanage.

On a hilltop at the site of the 8th-century temple of Wat Hanchey, take in the stunning views before walking through the rural village of Angkor Ban to visit with welcoming schoolchildren. Continue this diverse river cruise and stop in a Silversmith Village to see craftsmen making silver artwork using ancient techniques. Go on an ox cart ride amongst rice paddy fields in the enchanting Cambodian countryside and witness the daily lives of farmers. This once-in-a-lifetime Southeast Asia river cruise vacation is sure to create lasting memories!
Detailed Itinerary
Show all
Day 1: Ho Chi Minh City (Embarkation).

Your Suite Ship® is ready for boarding.

Transfer to the port on the Saigon River for embarkation. Get acquainted with the ship and relax before your welcome reception this evening.

Afternoon/ Evening cruise to Vinh Long.

Day 2: Vinh Long - Cu Lao Gieng.

Board a sampan this morning to visit a local workshop in Vinh Long where you will see how rice paper, rice wine, and traditional candies are made.

This afternoon, enjoy scenes of daily life on Cu Lao Gieng Island via sampan and local motor cart. Your guided excursion starts at a local workshop, where a skilled family hand-crafts sampan boats. Then, visit the home of a local family that makes Vietnamese conical hats, or "Non la", from materials available to them such as palm leaves and bamboo. These iconic hats are primarily used as protection from the sun and rain but you may also see them used as a basket to carry home goods from the market. Lastly, stop at one of Vietnam's oldest Catholic churches.

Afternoon/ Evening cruise to Chau Doc.

Day 3: Chau Doc - Long Khanh A - Cambodian Border Crossing.

In Chau Doc take a guided walk through the local market and absorb the atmosphere as locals are busy buying and selling fish, meat, and produce. Then embark on a river excursion down the backwaters of the Mekong. Along the way, see traditional floating homes, speedboat merchants, religious sites, a market selling dried goods, and more.

After lunch, a sampan brings you to the village of Long Khanh A for a Cotton-Weaving Demonstration of a well-preserved artisan's tradition.

Return to the ship to set sail for the Cambodian border.

Day 4: Phnom Penh.

Take a city tour of Phnom Penh by private cyclo to visit the Royal Palace with the spectacular Silver Pagoda, and the National Museum featuring an outstanding display of Khmer artifacts.

The remainder of the day is yours to enjoy the city at your leisure. Consider a Guided Optional Tour of a local brewery with free-flowing local beer!

Just before dinner, children from a local orphanage will perform a show featuring local song and dance.

Day 5: Phnom Penh.

This morning, a guided visit of the Tuol Sleng Genocide Museum and one of the Killing Fields offers a glimpse into the atrocities inflicted on the Cambodian people by the Khmer Rouge regime, or visit the lively Central Market by tuk-tuk to see its unique Art Deco design.

After lunch, depart Phnom Penh and enjoy some time at leisure on the ship.

Afternoon/ Evening cruise to Wat Hanchey.

Day 6: Wat Hanchey - Angkor Ban.

Visit Wat Hanchey, a hilltop temple dating back to the 8th century. Climb or be driven to the top where you will enjoy stunning views of the surrounding area and partake in a traditional water blessing given by local monks.

After lunch, enjoy a walking tour through the rural village of Angkor Ban. Here, you will visit a traditional Khmer house and interact with children at a local school.

Evening/ Overnight cruise to Konpong Louang.

Day 7: Konpong Louang - Kampong Tralach.

Start your guided sightseeing at the silversmith village in Konpong Louang. Here, see talented craftsmen use age-old techniques to turn pure silver into works of art. In Kampong Tralach board an ox cart for a ride through the beautiful Cambodian countryside. Along the way, stop to meet a local farmer and learn about his daily life.

This afternoon, enjoy scenic cruising on the Tonle River.

Evening cruise to Phnom Penh.

Day 8: Phnom Penh (Disembarkation).

Your vacation ends with breakfast this morning.
Deck Plan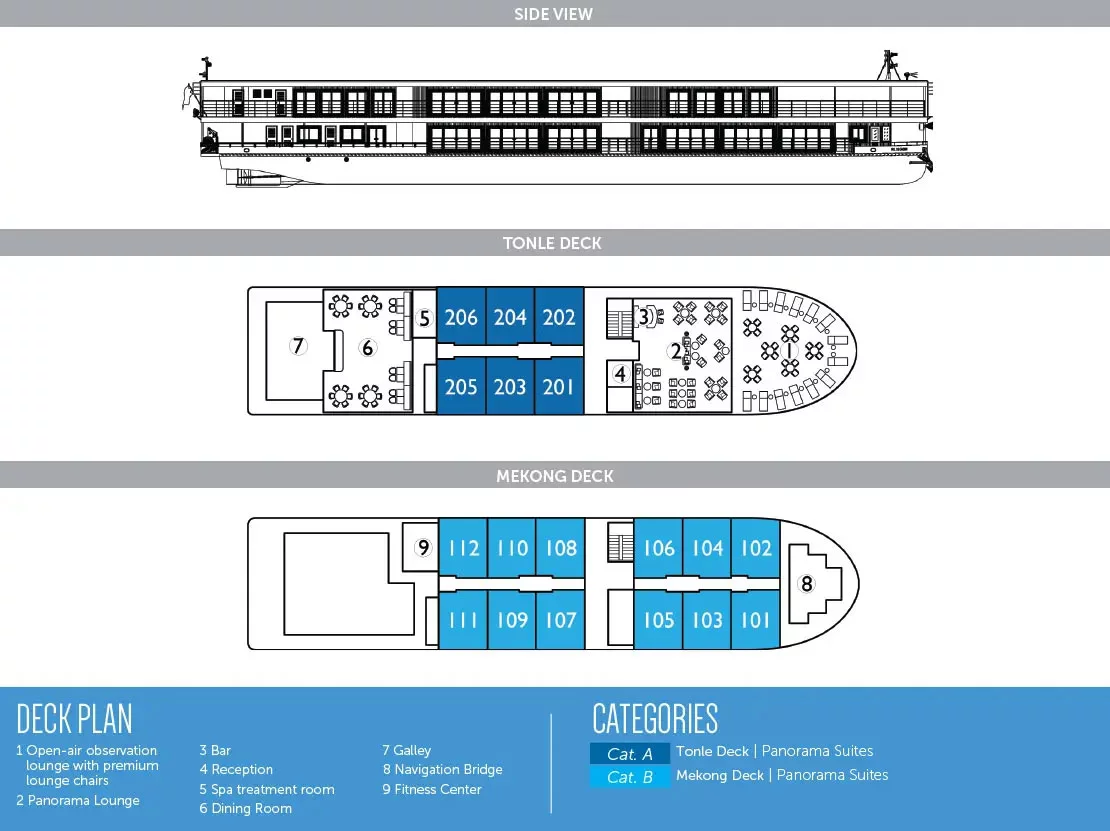 Cabins
Full Side River View
22.8m2
Non-Smoking
Shower
Non Balcony
1 King Size Bed or 2 Single Beds
Full Side River View
22.8m2
Non-Smoking
Shower
Non Balcony
1 King Size Bed or 2 Single Beds
Price Includes
• All meals onboard.
• Complimentary sparkling wine with breakfast, soft drinks with lunch and wine, beer, or soft drinks with dinner.
• Cruise directors to guide and assist.
• Captain's Welcome and Farewell Receptions, Gala Dinners
• Authentic local entertainment onboard, onshore.
• Use of all fitness facilities, pools, hot tubs, sports courts, etc.
• Fully escorted tours, activities , excursions in most ports, conducted by certified local guides.
• Prepaid gratuities (excludes extensions which are to be paid locally).
• All port charges/taxes.
• Multiple dining venues, from a la cart to fine dining.
• Complimentary WiFi internet.
Price Excludes
• Airfare and transfers to the ship.
• All visa costs.
• Soft drinks, beer or wine served in the lounges or consumed from the in-room mini-bar.
• Laundry.
• Spa or Salon services.
• Items of a personal nature like souvenirs, photos, etc.
• Wide variety of shore excursions.
• Personal travel insurance (recommended).
Policies
• Vacation departures, itineraries and prices are subject to change.

• A non-refundable, non-transferable deposit is required to reserve space for you:
- A $250 non-refundable, non-transferable, per person, per vacation deposit is required to reserve space for you.
- Final payment for your vacation is due 90 days prior to commencement of services. Within the final payment date, payment in full is required at time of booking to reserve space. Reservations (land, cruise, and air) are canceled if final payment is not received by the due date; cancellation penalties apply, as noted below. For group reservations, travel agents should refer to the Group Policy, which will be provided to you by our travel consultants upon request and is also located on the Travel Agent Portal.

• Booking cancellations:
- If a booking cancellation is received by Vietnam Travel prior to the final payment date of your vacation, your non-refundable cruise deposit and Travel Protection payments will be retained in addition to your Flex-Air deposit, Instant Purchase Air payment and service fee, and/or intra-vacation air deposit or payment.
- For individual reservations, the following per person cancellation fees apply for cancellations within final payment date. Total price does not include discounts, promotions, or special incentives. (For group reservations, refer to the Group Policy.)
- Travel Protection payments are always non-refundable once purchased, and will be added to the cancellation fees noted below.

• Standard Cancellations fees:
- 90-60 days prior to commencement of services: 35% of total price.
- 59-30 days prior to commencement of services: 50% of total price.
- 29-1 days prior to commencement of services: 80% of total price.
- On departure day and later: 100% of total price.
View Terms & Conditions for limited exceptions.

• Young passenger restrictions and discounts:
- Passengers who are under 18 years old on the departure date must be accompanied by an adult throughout the vacation, and are requested to share an adult's accommodation. There are no connecting staterooms on Avalon Waterways. Children under 8 years of age are not allowed on any Avalon vacation. For any special requirements regarding airline tickets for children, contact your airline directly.
- There are no discounts for young passengers on Avalon cruise vacations.
• Baggage restrictions: Avalon Asia vacations with intra-vacation air have a baggage weight limit of 44 lbs (20kg) per person. Baggage over this limit will incur additional fees, which are not included in the vacation price and are payable to the airline directly at the airport.

• Authority to remove or refuse passengers:
In the sole discretion of Avalon or the Ship's Operator or the captain, Avalon may refuse transport to any passenger or may require any passenger to disembark if it is reasonably believed that the passenger (1) is dangerous to others or to himself or herself; (2) has engaged in, is engaged in, or is threatening to engage in behavior that may adversely affect the safety, security, comfort, enjoyment, or well-being of other passengers or crew members, including, but not limited to, behavior that is disruptive, verbally abusive, physically abusive, obnoxious, harassing, discriminatory, or obscene; or (3) has failed or refused or is failing or refusing to following Avalon's rules and procedures or the instructions of Avalon, its representatives, or the crew members. In the event a passenger is removed, such passenger may be left at any port or place the ship calls without any liability to Avalon or its representatives. Avalon shall not be required to refund any portion of the fare paid by any passenger who is removed under the terms of this paragraph, nor shall Avalon be responsible for expenses for lodging, medical care, meals, transportation, or any other expenses incurred by the passenger. Avalon shall be entitled to recover from the passenger any costs or expenses incurred by Avalon, its representatives, or the crew members in the removal of the passenger or the exercise or enforcement of this clause.

• Additional airline-imposed fees for seat assignments may apply and are not included in your total package cost. Please refer to carrier websites for seat assignment policies and applicable pricing.
START PLANNING NOW