Song Xanh Sampan
---
"Song Xanh" - a flotilla of 4 unique, authentic and charming sampans - was designed for travelers looking for "private" cruise experiences in the Mekong Delta. Song Xanh Sampans are designed as authentic traditional Mekong Delta boats using natural materials such as rattan, bamboo and exotic wood. The sheer variety in color and products promises spectacular photos and memories of a lifetime.

The fleet of 2 and 3-cabin Song Xanh Sampans ply the waters of the Mekong Delta on overnight itineraries. Sail in groups of up to 6 people, visiting destinations including Can Tho, Chau Doc, and Rach Gia (gateway to Phu Quoc). Enjoy excellent meals onboard along with excursions to floating markets and other Delta attractions by rowboat and walking.

* 2 cabin (2-4 pax): 1 bedroom, 1 living room transformed into 1 more bedroom at night, 1 shared bathroom with WC, lavabo and shower, 1 sundeck at the back where chairs, tables, and meals or drinks can be served.
* 3 cabin (4-6 pax): 2 bedroom, 1 living room transformed into 1 more bedroom at night, 1 shared bathroom with WC, lavabo and shower, 1 sundeck at the back where chairs, tables, and meals or drinks can be served.

Experience the Mekong Delta at the river level on a traditional sampan for a unique insight into the Mekong people's life. Discreet and attentive, Song Xanh's crew takes care of your every need as you travel along the river. Book your private sampan and discover Mekong River Delta with Vietnam Travel today!
Song Xanh Sampan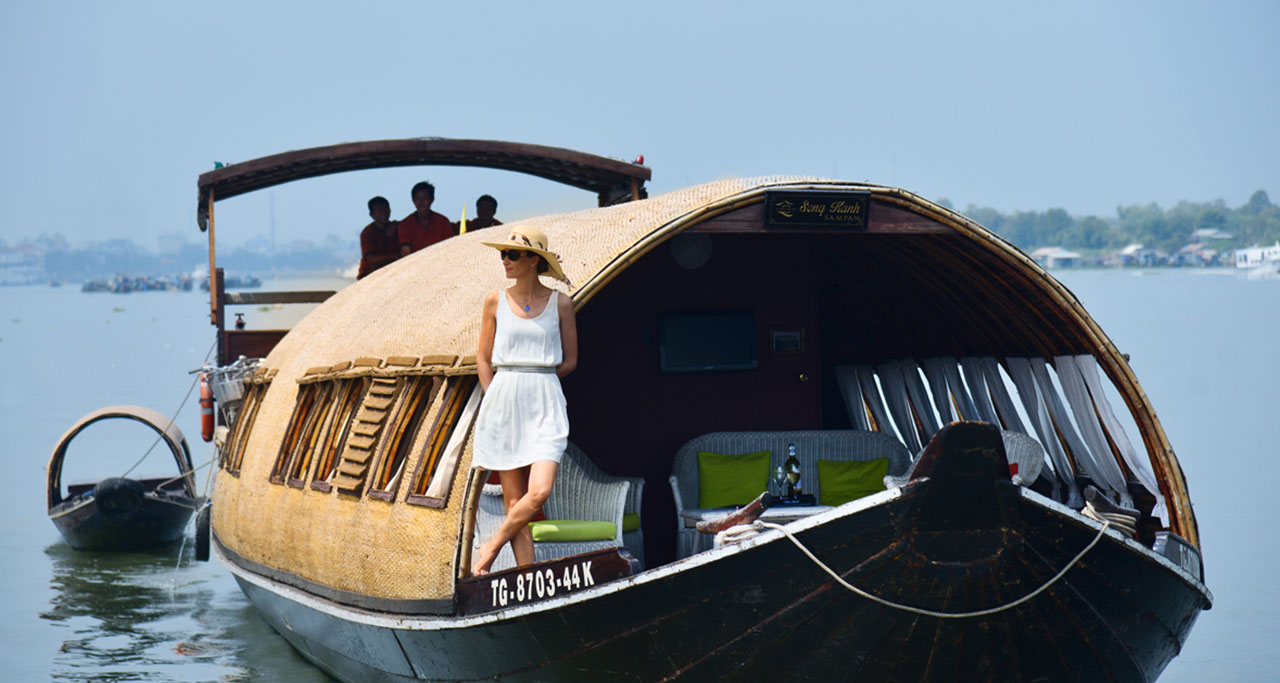 About This Cruise
Away from the hustle and bustle of life on the Mekong's main tributaries lies a world of pastoral harmony among the many tiny waterways that make up the Mekong Delta. Embark on a river cruise aboard the Song Xanh Sampan, witnessing life as it is lived on and by the river as you cruise past mangroves, boats laden with produce from the Delta, children playing in the river, and stilt houses along the banks.

Highlights include:
- Explore how life is lived along the river
- Discover local handicrafts
- Experience the largest floating market in the Mekong Delta at dawn.
- Enjoy spectacular photo opportunities.

Duration:
Private 1-Night Cruise

Cruises type:
Song Xanh Sampans

Destinations:
Can Tho - May Islet - Cai Rang.
Detailed Itinerary
Show all
Day 1: Can Tho – Cai Von - Tra On - May Islet.

- You will be greeted at Victoria Can Tho Resort at 12:00 for lunch at Spices Restaurant.

- After lunch, the crew welcomes you on board the Song Xanh Sampan with chilled towels and a refreshing drink as the boat begins its leisurely cruise on the river. Observe the endless boat traffic and the quiet but constant activity along the banks.

- Head ashore at Cai Von Town and stroll through an outdoor market as vendors trade in farming tools, fish traps, Chinese medicine, and fresh produce.

- Return to the sampan and visit a nearby village where seedlings are grown in a scenic nursery.

- Continue cruising on the narrow Tra On River, taking in the riverscapes of mangroves, coconut trees, and stilt houses.

- Towards sunset, join the larger Hau River, passing green islets with small rowing boat as the sunsets on this branch of the Mekong River. Enjoy dinner on board as the sampan moors on the river for the evening.

Day 2: May Islet - Cai Rang Floating Market - Can Tho.

- At about 6:30 am, set off early to arrive at the famous Cai Rang Floating Market at its peak. Breakfast is served on board while the Song Xanh navigates among dozens of local barges laden with rice and other products from the Delta.

- Continue cruising towards Victoria Can Tho and disembark at the hotel's private jetty.
CHECK RATE
Cabins
Full Side River View
30m2
Smoking
Shower
Private Balcony
1 Queen Size Bed
Partial River View
30m2
Non-Smoking
Bathtub
Non Balcony
1 King Size Bed
Additional Services
Exclusive Offer: Vietnam Visa Approval Letter
Price Includes
• Private 1- night cruise overnighting aboard Song Xanh Sampan.
• 1 breakfast and 1 dinner served on board.
• 1 lunch at Spice Restaurant.
• Sightseeing fees included in above itinerary.
• English-speaking tour guide.
• "Xuong" rowboat rides.
• Crew assistance.
Price Excludes
• Road transportation (before and after cruise).
• Individual travel insurance.
• Personal expenses.
• Beverages not specified in above program.
• Tips for crew and tour guide.
• Any expenses not clearly indicated in above program.
START PLANNING NOW