RV Tonle Pandaw - Luxury River Cruise in Vietnam & Cambodia
---
RV Tonle Pandaw is a luxurious river cruise ship that offers guests the perfect way to explore Vietnam & Cambodia. The ship sails along the Mekong Delta, giving passengers stunning views of the surrounding countryside. Guests can also visit ancient temples and enjoy the local cuisine on board the ship.

Hand-built luxury comes no finer than Pandaw. The four-deck Tonle has a brass and teak finishing, which not only showcases the phenomenal beauty of the vessel, but the care and attention to detail that the liner prides itself on. Due to its breathtaking beauty and depth of fascinating history, South East Asia is becoming a more travelled area of the world. Pandaw offers a cruise experience like no other, with its ultra-shallow drafts allowing ships to travel through low water unreachable by a larger vessel. This access into the remotest parts of the river provide travellers with an intimate relationship with the Tonle and its unique surroundings.

With 28 crew members dedicated to caring for the 56 passengers on board, you will receive exceptional service with a personal touch.

Start planning your Vietnam Cambodia cruise holiday with RV Tonle Pandaw by ​contacting one of our Vietnamese travel consultants today.
RV Tonle Pandaw – Luxury River Cruise in Vietnam & Cambodia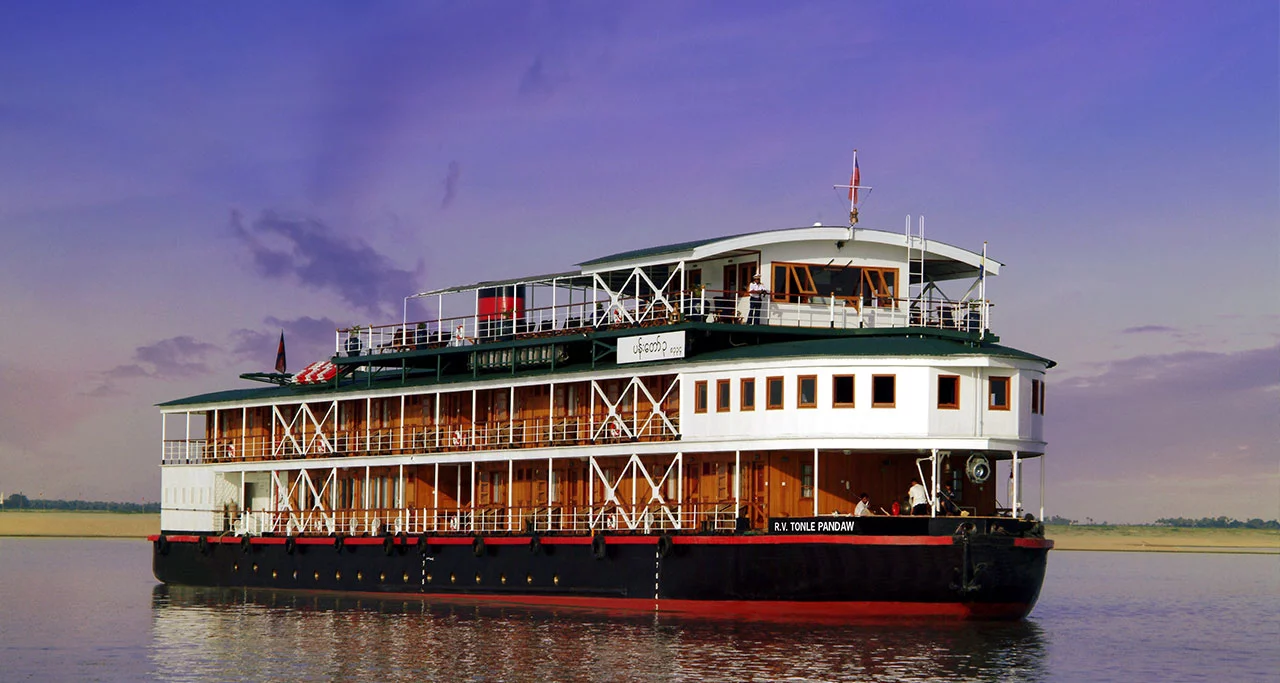 About This Cruise
IDEAL TO COMBINE WITH LAND ARRANGEMENTS
There can be no tapestry of river life as fascinating and varied as the Mekong River. Indeed there can be no more striking a cultural contrast as that between the bustling Vietnam Delta and the tranquility of Cambodia. This three night cruise passes from the vibrant French colonial port of Saigon, through the vast delta so rich in human life and endeavor, to travel along the main channel into the rich countryside of Cambodia. Your journey will end in Cambodia's capital Phnom Penh.

UPSTREAM TRANSFERS & JOINING
Day 1: Saigon to My Tho
Transfer from the InterContinental Asiana Saigon Hotel in Saigon to the port of My Tho by coach to embark cruise.

Registration Details
INTERCONTINENTAL ASIANA SAIGON HOTEL
Registration is at 10:00 A.M
THE LIBRARY Bar, ground floor next to the hotel's reception
39 Le Duan Street, Ben Nghe Ward, District 1, Ho Chi Minh City, Vietnam
Tel: (+84) 28 3520 9999

- Morning transfer from the Inter Continental Asiana Saigon Hotel to the port of My Tho by coach to embark on the Pandaw vessel.
- Please arrive at meeting point no later than 10:00 A.M. Transfer will depart 10:30 A.M.
- Your guide will collect your passports at the meeting point so we can arrange the immigration formalities.

Day 5: Phnom Penh
Disembark in Cambodia's capital, Phnom Penh, at the International Passenger Pier at Sisowath Quay, next to Titanic Restaurant.

DOWNSTREAM TRANSFERS & JOINING
Registration Details
Day 1: Phnom Penh
- The check-in time should be no later than 12:00 noon, as the cruise needs your passport to process the immigration formalities for the border crossing. Please hand out your passports to the crew at embarkation.
- The ship is moored at the Cargo Jetty 649 Preah Sisowath Street, Sangkat Sras Chork, Khan Daun Penh next to the tourist jetty.

Day 5: My Tho to Saigon
Disembark in the early morning for a coach transfer to the InterContinental Asiana Saigon Hotel, arriving late morning at around 09:30 - 10:00 A.M.
Detailed Itinerary
Show all
Day 1: Saigon - My Tho.

Transfer from the meeting point in Saigon to My Tho Port. After boarding your Pandaw, you sail downstream to Ben Tre and anchor midstream. In the afternoon, there is a lecture on Vietnamese life on the Mekong Delta. During cocktail hour you are entertained by an indigenous dance group and meet your key crew.

Day 2: Ben Tre.

Travel by sampans through mangroves and bamboo groves to the fruit orchards of Ben Tre. Local artisans are at work they will be more than happy to invite you into their homes for tea, fruit and honey product. This is an area rich in bird life and on your return journey you'll travel by local transport through the lush countryside.

After lunch, the ship moors off Cho Lach island for pot making and further glimpses of Delta life, agriculture and local Viet hospitality including a culinary lesson in making traditional Banh Xeo.

Day 3: Con Phuoc Island.

After breakfast, there is a short coach journey to the Gao Giong "green oasis" with its bird sanctuary. Here a diverse selection of water and egrets that gather in the tens of thousands across the Dong Thap Muoi or "Plain of Reeds". Rowing boats traverse the canals to take you to see the principal nesting areas. After returning to the boat, you will cruise upstream to Con Phuoc Island. Moor in a small canal off Con Phuoc Island and go ashore to explore the island by Xe Loi seeing basket production and visiting a 100-year old Catholic Church as well as local woodworking artisans.

Day 4: Cambodia Border.

Afternoon, explore the labyrinthine canal system around Tan Chau to visit a Taoist temple where the monks will read fortunes. Continue through local villages by Xe Loi stopping off to help locals tend their fields before stopping off to visit a fish farm and earn merit by releasing fish back into the Mekong. Border crossing formalities take up much of the afternoon and during this stationary period there is an optional tour of the working ship and fruit carving classes on deck.

Day 5: Phnom Penh.

Disembark in Cambodia's capital, Phnom Penh, after breakfast.

Please note: The crew will hand out your passports after the immigration formalities at 10:00.
Deck Plan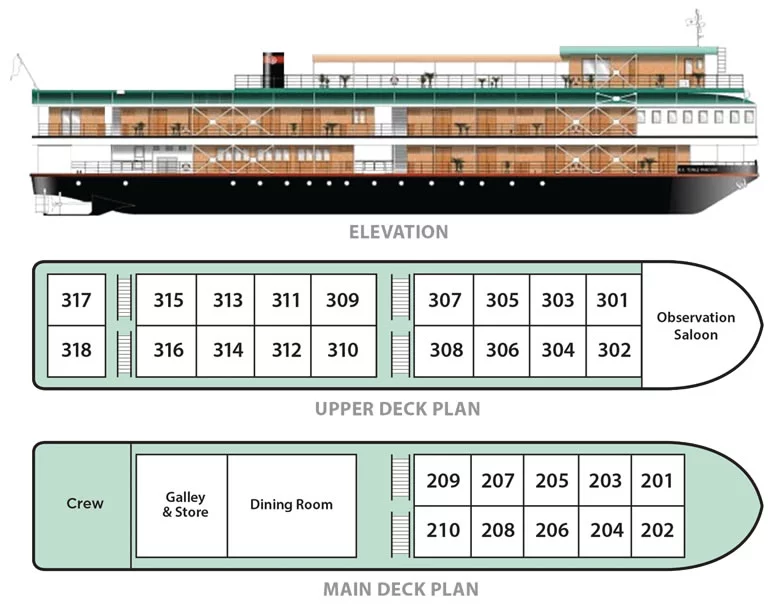 Cabins
Half Side River View
15.8m2
Non-Smoking
Shower
Private Balcony
1 Queen Size Bed or 2 Single Beds
Half Side River View
15.8m2
Non-Smoking
Shower
Private Balcony
1 Queen Size Bed or 2 Single Beds
Price Includes
• Entrance fees.
• Guide services (English language).
• Gratuities to crew.
• Main meals.
• Local mineral water, jugged coffee, teas & tisanes.
• Transfers from meeting point in Saigon to ship or vice versa.
Price Excludes
• International flights.
• Transfers in Phnom Penh.
• Port dues (if levied).
• Laundry.
• All visa costs.
• Fuel surcharges (see terms and conditions).
• All beverages except local mineral water, jugged coffee, teas & tisanes.
• Tips to tour guides, local guides, bus drivers, boat operators and cyclo drivers.
START PLANNING NOW