Aqua Mekong
---
Embark on a cultural odyssey through Cambodia and Vietnam aboard the finest of river cruise ships in Asia

A magnificent presence on the Mekong River, Aqua Mekong Cruise showcases modern architecture and interiors by renowned architect Noor Design. The Mekong river cruise ship's 20 spacious, air-conditioned suites feature full-length windows that offer spectacular panoramas of the ever-changing Mekong scenery. Aqua Mekong also received the coveted Gold Award in the Architecture/New Build category in the 2015 Asia Hotel Design Awards. With its commitment to safety and comfort, Aqua Mekong remains the leader in Cambodia and Vietnam luxury cruises.

As the Aqua Mekong charts a luxurious passage across Cambodia and Vietnam, on-board guests embark on an inspiring journey of local flavors with a dining experience crafted by Michelin-starred consulting chef David Thompson. The ship's bar menu, created by renowned spirit experts and cocktail designers Proof & Co, echoes a similar locally-minded philosophy.

Aqua Mekong Cruise guarantees utmost safety, comfort, and exclusivity for off-shore excursions, as Aqua Expeditions owns and operates the only private fleet of launch boats on the Mekong River. The four ergonomically-designed launch boats bring guests on highly personalized day trips to explore the Mekong Delta. Cruise your Mekong river boat to landmarks, temples, and villages where tradition, spirituality, and craftsmanship reside.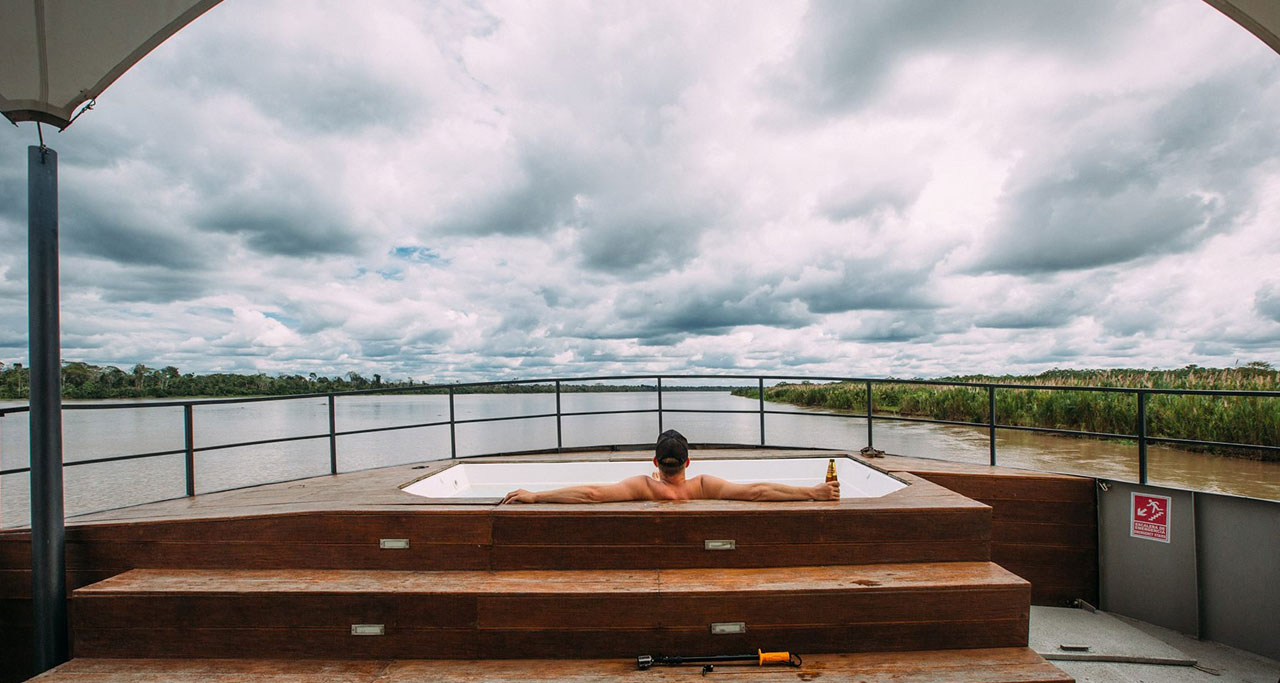 About This Cruise
Go deeper into the mesmerising culture and life the Mekong River

Every activity onboard the five-star Aqua Mekong brings a fresh perspective of culture and life in Cambodia and Vietnam, so the 4-night itinerary is an ideal addition to any existing travel itinerary of the region. Included are twice-daily excursions (walk, bike, kayak or ride a tuk-tuk) and expert-guided visits to Mekong River's dynamic riverside markets, villages, and holy sites.

Departures are available Phnom Penh year-round. All disembarkations are also in Phnom Penh, where you'll take an extension flight to Siem Reap.

Note: All itineraries are subject to change, due to weather and other conditions.
Detailed Itinerary
Show all
Day 1: Phnom Penh.

Aqua Mekong crew warmly welcomes you aboard with special refreshers, such as the salted watermelon crush with Thai basil. Celebrate your journey towards the heart of the Mekong River with the Khmer Apsara dance performance, a famous centuries-old tradition that is memorialized on the temple walls of Angkor Wat.

Day 2: Tonle Sap River – Koh Chen – Kampong Prasat.

In the silversmith village of Koh Chen, witness artisans produce magnificent royal Khmer silverware. Keep an eye out for their famous silver bowls, regularly chosen by Cambodia's king as gifts for visiting dignitaries. Continuing onwards to Udong, the royal capital from the 17th to the 19th century, learn about the life of Buddhist monks and interact with them at the Vipassana Dhura Mandala meditation center. In the afternoon, a walking tour of Kampong Prasat offers an intimate look at local ways of life and their riverside habitat.

Day 3: Tonle Sap River – Kampong Chhnang – Kampong Tralach.

As the sun rises on the lush countryside, head to the residence of traditional potters and palm-sugar producers, whose age-old techniques are still valuable today. On a bicycle or chauffeured tuk-tuk, head into the rice paddies to watch wizened masters scale sky-high palm trees to harvest their fruit towering over you. Cruise across the glassy water and disembark among the lotuses for an ox-cart ride along the Tonle Sap riverbanks, past lacquered wooden houses where during these dry months residents take refuge in the relative cool of these impromptu outdoor living rooms.

Day 4: Mekong River – Koh Oknha Tey – Preah Prasob.

Sail into the legendary land of the glittering former Khmer empire. At Koh Oknha Tei, watch how Khmer artisans dye and weave krama, a silk scarf loved by locals and a treasured cultural asset that dates back from the Angkor period. Then, cycle the idyllic riverbank past Buddhist temples and traditional thatched and stilted homes and see farmers with white Brahman oxen working the rice fields. After lunch, board Aqua Mekong's private fleet of launch boat and head towards the tamarind trees of Preah Prasob, a remote village little changed over several lifetimes and home to a startlingly colorful Buddhist temple.

Day 5: Phnom Penh – Siem Reap.

Explore the Cambodian capital by motorized tuk-tuk, the Royal Palace, Silver Pagoda and the National Museum of Cambodia, home to the world's largest collection of Khmer art. For those who wish, you'll visit the Tuol Sleng Museum of Genocide or choose to shop at the Russian Market. Airplane transfers are provided if you would like to continue your Cambodian adventure to Siem Reap and its ancient lost city of Angkor Wat. You will be fully escorted by your guide in a luxury car transfer to Phnom Penh Airport.

SIEM REAP FLIGHT EXTENSION
During low water season, cruise vessels are not able to travel up to the Tonle Sap Lake due to the water level. Airplane transfers via Cambodian Angkor Air are included in your cruise fare in order to continue your Cambodian adventure to Siem Reap and its ancient lost city of Angkor Wat. Requests for flight changes and/or upgrades are not available. Please kindly inform us should you choose to remain in Phnom Penh after disembarkation.
Deck Plan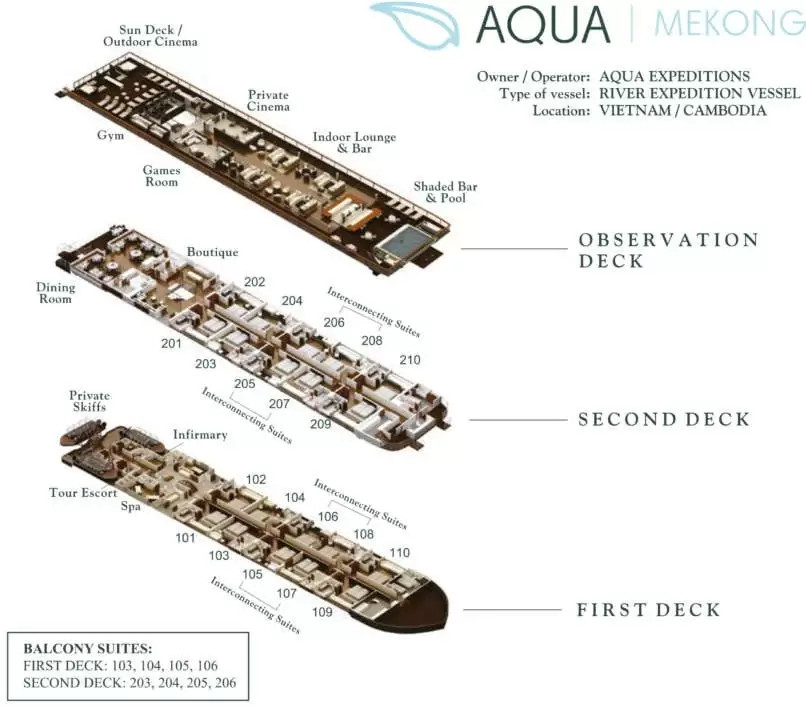 Cabins
Full Side River View
30m2
Non-Smoking
Shower
Private Balcony
1 King Size Bed
Full Side River View
30m2
Non-Smoking
Shower
Private Balcony
1 King Size Bed
Price Includes
• All meals while on board.
• Premium selected wines and beer, non-alcoholic drinks.
• Excursions with knowledgeable local guides.
• 1 flight from Phnom Penh to Siem Reap.
• Group transfers between vessel and meeting point.
• Laundry.
• Internet connection (intermittent depends on locations).
Price Excludes
• Flights into and out Cambodia.
• All visa costs.
• Soft drinks, beer or wine served in the lounges or consumed from the in-room mini-bar.
• Spa or Salon services.
• Items of a personal nature like souvenirs, photos, etc.
• Personal travel insurance (recommended).
START PLANNING NOW