Vietnam Culinary Adventure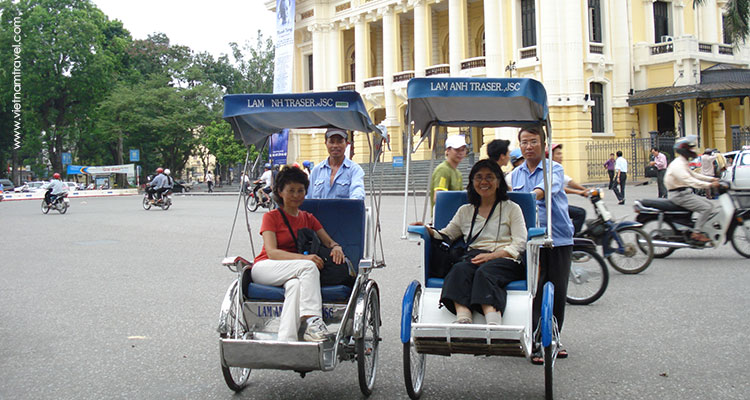 Starts

Hanoi

Destinations

Ends

Ho Chi Minh City

Hanoi → Halong Bay → Hue → Hoi An → Ho Chi Minh City → Mekong Delta → Can Tho
Highlights
Join in cooking classes in Hanoi, Hoian & Saigon to find the unique culinary of each regions.
Drift on emerald waters amongst the picturesque peaks of Vietnam's most famous bay.
Delve into Vietnam's dynastic past in Hue Imperial City.
Stroll through the lantern-filled streets and riverside promenade of Hoi An Ancient Town.
See the Delta's floating markets.
Explore vibrant Saigon, learn Vietnamese history at Cu Chi Tunnels.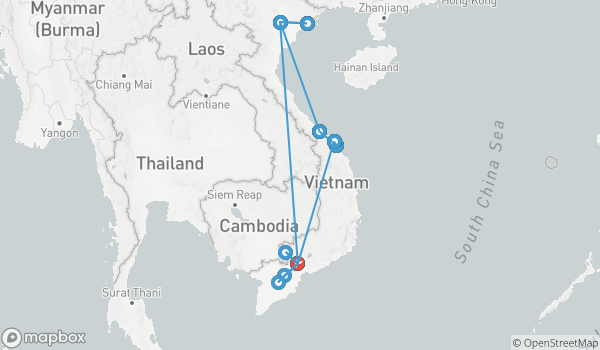 Age range

13 - 90 years old

Accommodation

3

/ 4

/ 5

Transportation
Located in the South- East Asia, Vietnam is well-known for its beautiful landscape, rich culture and its best cuisines. The 13-days Vietnam Culinary Adventure tour is carefully designed to orient you right to the heart of the different country's cuisine centres. Start with the harmonious flavors of Hanoi followed by the sizzling spice of Hue and the typical subtle sweetness of Saigon. You'll get to see the entire process from the point where the food is cultivated in the countryside, its presentation in the local markets and then, to learn how it is prepared by attending cooking classes or joining mouthwatering street foods. Yet, this culinary journey is a perfect way for you to experience Vietnam through its great cuisine.
We offer even better rate for group of more than 10 people.
Let our travel consultant custommized your dream Vietnam Package
Go to customize.
Service Category

2

Adult(s)

0

Child(s)

0

Infant(s)
Discount
Total
Select

$ 1,408 x 6

-

-

-

$ 8,448

Book It

$ 1,516 x 6

-

-

-

$ 9,096

Book It

$ 1,879 x 6

-

-

-

$ 11,274

Book It
Itinerary
Download PDF Brochure
Show all
Day 1: Hanoi Arrival

Welcome to Hanoi! Upon arrival, you will be greeted by our guide and escorted to the hotel in the city center. Check in and time for leisure.
Tonight, have your first taste of Hanoi with us. Your guide will take you out to explore city's nightlife in the Old Quarter which comes alive in the evening. First, walk to the most exciting encounter of the area - Bia Hoi junction, the corner of Ta Hien and Luong Ngoc Quyen streets. Here you will be in streamlines with hundreds of locals and travelers sitting on plastic stools with a glass of Bia Hoi (draft local beer) in hand, cheering and shouting "bottoms-up!" Do it as locals do and enjoy your new city with all your senses. Then, walk through the Old Quarter's narrow streets where you will see a range of tasty noodles, breads and snacks. At night the sidewalks become a stage where these small pop up restaurants feature lively, but they all disappear during the day. Sit down and enjoy a flame grilled Vietnamese barbecue of beef, chicken, tofu and vegetables on skewers. End the night with dessert from Hanoi's best-known ice-cream shop by Hoan Kiem Lake before getting a good night's rest.
Meals: Dinner.
Accommodation: Hotel in Hanoi.

Day 2: Hanoi Sightseeing Tour.

Today is a full day sightseeing tour of Hanoi:
- City within the Rivers
- Due to the numerous waterways flowing through the city. Start with a visit to the Ba Dinh Square where stands the Mausoleum of President Ho Chi Minh who led Vietnam to independence from French colonial rule. This site has become an important city landmark and a perfect place to learn more about Vietnam's rich history. From there, wander through the beautiful surrounding gardens toward the One Pillar Pagoda and Presidential Palace, where a replica of Ho Chi Minh's simple working space is on display. Follow it with a visit to the Temple of Literature, which is well known as the first university of Vietnam. Then tend to your rumbling stomach with a traditional Vietnamese lunch at Cha Ca La Vong, a rustic restaurant founded more than 100 years ago and was the first restaurant to serve this iconic dish of Hanoi.
After lunch, stroll down the streets and try "Café Trung".
- Egg coffee at Café Giang, a charming Vietnamese version of cappuccino. Being in the list with Pho and Bia Hoi, hot Café Trung becomes a must- try drink when you are in Hanoi. Walk back to the nearby Hoan Kiem area to watch a water puppet performance - a unique Vietnamese Art form hailing from Southeast Asia's wet-rice culture. Supported by a large rod placed under the water and manipulated by experienced puppeteers, the wooden puppets appear to be dancing over the water, telling folk tales. It's entertaining and suitable for all audiences. Transfer back to the hotel and relax then.
Meals: Breakfast & Lunch.
Accommodation: Hotel in Hanoi.

Day 3: Hanoi – Wake up today local way!

Wake up early to see another Hanoi before 7:00 A.M. Walk around Hoan Kiem Lake, where you will find yourself among thousands of locals doing Tai-chi and exercise. Continue to try a beef noodle soup at Ly Quoc Su Street. "Pho Bo" - the national typical dish - is loved by locals and tourists. Leave the tasty restaurant for the close by Roman Catholic Saint Joseph Cathedral, another landmark of Hanoi. This biggest and oldest cathedral was built by the French in late 1880s in the neo-gothic style and beautifully designed with stained-glass windows and a high-vaulted interior. At the nearby sidewalk, you will find lots of iced lemon tea shops. Just take a seat like the locals do and try a cup of tea while watching the life passing by! Then, conclude your early sunrise tour with an electric ride back to the hotel. Refresh and enjoy your main breakfast.

09:00am After refreshment, take part in a cooking class. Meet and walk to the local wet market with a native to Hanoi, who is a talented chef and always aims to keep the soul of Hanoi food with her pride. The chef will tell you the tips to select fresh food, special spices, and share with you the secret of using those spices to cook typical Hanoi dishes. Sample your efforts afterward. Board a "cyclo", the traditional bicycle rickshaws for a leisurely ride, which is perfect chance for photos and slow-moving sightseeing. Sit back and relax while riding through some of the Old Quarter's busiest streets where people still trade in old ways. Disembark at the hotel and spend the rest of day at your leisure.
Meals: Breakfast & Lunch.
Accommodation: Hotel in Hanoi.

Day 4: Hanoi – Halong Bay (World Heritage Site) – Overnight on cruise.

(The itinerary is a sample and it will be different between cruises. Our travel consultants will provide the exact schedule and program if you book other cruise such as Hera Cruise, Paradise Elegence Cruise, Emperor Cruise, Halong Violet, Halong Jasmine, Ginger Cruise, Paradise Luxury Cruises, Orchid Cruise, Indochina Junk, Au Co Cruise, Starlight Cruise, Oriental Sails etc.)

Following breakfast, journey east through the rich farmland of the Red River Delta to Halong Bay, truly one of Vietnam's most scenic impressive sights. On arrival you are welcomed onboard a traditional junk. Settle into a private comfortable cabin and unpack for a two day cruise around Halong Bay. Along the way, enjoy a huge lunch served on board and admire the picturesque scenery of islands. These limestone karst formations are littered with beaches, grottoes and beautiful caves. You will anchor for a leisurely swim in a secluded cove and an enjoyable visit to Sung Sot cave, one of the many hidden grottoes beneath towering cliffs. The remainder of day is for your own pleasure; observing the bay, lazing around the deck or simply soaking up the sunshine.
Meals: Breakfast, Lunch & Dinner.
Accommodation: on cruise.

Day 5: Halong Bay – Hanoi – Fly to Hue.

The sailing junks navigating past over 2,000 limestone islands and outcrops jutting out of the clear and emerald water of the bay make for a marvelous scene. Take an option to get up early to observe the splendid landscape and see the fishermen on a morning catch. The huge breakfast is a perfect way to start your relaxing day. Weave your way past Man Head and Tortoise rocks. These imposing islets are named by their distinctive shapes. Cruise through Bai Tu Long and arrange your luggage to disembark at noon. Then, drive back to Hanoi, straight to the airport to catch your domestic flight to Hue. Upon arrival, your guide & driver will greet and transfer you to the hotel. You then will be free for your own arrangement.
Meals: Brunch.
Accommodation: Hotel in Hue.

Day 6: Hue City Tour.

Begin your day with a gentle activity. Board the local traditional boat cruising along the peaceful Perfume River toward Thien Mu Pagoda, the symbol of Hue City. Continue to the Imperial Citadel for the walking tour within its inner area where the Nguyen Dynasty ruled between 1802 and 1945 including Flag Tower, Noon Gate, Nine Dynastic Urns, Nine Holy Cannons, Thai Hoa Palace, and Forbidden Purple City.

The today highlight is a visit to Dong Thuyen Pagoda. Located on top of a hill, the pagoda is very green, peaceful and quiet with a great view. On arrival, take a walk around and visit the main hall of the pagoda with its beautiful collection of Buddha statues. Visit the kitchen and say "hi" to the nuns who will prepare your lunch on a wood burning stove. Then, sit down and experience this special vegetarian meal in the atmosphere of peace where the time seems to be much slower. After lunch, you can enjoy some dessert and interact with the nuns to know more about their lives in the pagoda, the practice of Buddhism, and how they became nuns. In the afternoon, transfer to the tomb of Emperor Khai Dinh to admire the unusual combination of architecture that blends a traditional Chinese past with a modern Western future. Then, visit Thuy Xuan incense village, one of the last villages preserving the traditional profession, the elegant beauty of this ancient capital. In the evening, enjoy some Royal dishes in a fine restaurant in the city.
Meals: Breakfast, Lunch & Dinner.
Accommodation: Hotel in Hue.

Day 7: Hue – Drive to Danang – Hoian – Walking Tour.

Breakfast at the hotel then transfer to the sleepy riverside town of Hoian via the Hai Van Pass which divides the climate from the North and South. As you pass through the city of Danang, stop at the Cham Museum. The Cham civilization ruled central Vietnam from the 2nd - 13th centuries and was considered extremely important for religion and learning.

Upon arrival, check in to the hotel to relax and to avoid the heat at noon. In the afternoon, go on a walking tour around this charming ancient town with its great fascinate architecture. You will be amazed by the Old Japanese covered bridge, Chinese assembly hall and, of course, the ancient houses where you will meet and chat with the local people who share their life experience. You also have a chance to talk with stall holders about their food on the way as well. Next, stop at the famous baguette – "Banh Mi Phuong" for a taste. Conclude the day with a relaxing sunset boat trip along the Thu Bon River.
Meals: Breakfast & Bread.
Accommodation: Hotel in Hoi An.

Day 8: Hoi An Cooking Class.

Following breakfast, transfer to the city centre to enjoy a cup of tea or coffee at one atmospheric café then walk with the chef to the nearby local market before boating along the river to the Red Bridge, where your cooking class of some local dishes begins. Sample the results of your efforts at lunch. After lunch, you will be driven back to the town to have some free time to explore numerous art galleries, souvenirs and tailor shops where you can get some express made-to-order clothes if you like.
Meals: Breakfast & Lunch
Accommodation: Hotel in Hoi An.

Day 9: Hoi An – Danang – Fly to Saigon – City Tour.

After breakfast, transfer to the Danang Airport to fly to Saigon, the largest and most vibrant city of Vietnam. Upon arrival at Tan Son Nhat Airport, you will be escorted to your desired hotel in the city center. Check in and have a short break. The afternoon tour includes the Independence Palace, the Notre Dame Cathedral, the colonial Post Office, the Opera House, the City Hall and Ben Thanh Market, which are all the key sites of the city. Enjoy the special dinner at Cuc Gach stylish restaurant.
Meals: Breakfast & Dinner.
Accommodation: Hotel in Saigon.

Day 10: Saigon – Cooking Class & Cu Chi Tunnels

Depart at 8:00 A.M for the agricultural villages in Saigon suburb. On arrival, stroll around to visit the area where grow cow, buffalo, fish, prawn, chicken, duck followed by stepping into the rice fields, herbs, spices, vegetables, mushroom farm to learn how they are planted. Afterward, take your part in a cooking class and sample your efforts. Drive further to the nearby Cu Chi Tunnels, an underground labyrinth of passageways, used by the Viet Cong during the Vietnam War (or "American War" as it's referred to here) as protection against American air raids. Those inclined are invited to crawl through selections of the tunnels to better understand what life was like for the Vietnamese soldiers during wartime. On the way back to the city, you may experience the every day traffic-jam that the Saigonese regularly face after work.
Meals: Breakfast & Lunch.
Accommodation: Hotel in Saigon.

Day 11: Saigon – Mekong Delta – Can Tho.

Today journey out of Saigon to the Mekong River Delta. Enjoy an early breakfast at the hotel before driving to the riverside town, Cai Be. Along the way, stop at a candy factory and orchard garden, where you have an opportunity to listen to traditional music. Enjoy a relaxing lunch at a riverside restaurant, then cross the river by motorized boat to an island in the middle of the Mekong. Explore a small local village by bicycle, before heading to the pier where your car awaits to transfer you to Can Tho. Rest of the day you may like to wander along Ninh Kieu Quay Park and Can Tho Pedestrian Bridge by the Mekong River.
Meals: Breakfast & Lunch.
Accommodation: Hotel in Can Tho.

Day 12: Cai Rang Floating Market – Saigon.

Wake early and transfer to the famous Cai Rang floating market by motor boat. Continue the boat ride to visit the Mekong Delta's famous orchards and sample some of the fresh, exotic fruit. Enrich your experience with the special broth made by Di Hai, a famous local chef in a tiny boat visited by Luke Nguyen & Gordon Ramsay within their culinary trip throughout Asia 2012. Then venture deeper into the country side, passing traditional houses made of wood and palm leaves as you observe the activities of the local people. Return to Can Tho for lunch then drive back to Saigon, arriving in the late afternoon. Spend the rest of your last evening in Vietnam while exploring the city's vibrant nightlife.
Meals: Breakfast.
Accommodation: Hotel in Saigon.

Day 13: Saigon Departure.

Time to savor some last sights, sounds and snacks with what little time you have left in the city before driving to the airport to catch your departure flight.
Meals: Breakfast.
Accommodation: N/A.
Detailed services
Show all
Accommodation

Rated Excellent by past passengers

Note:All the hotels/ cruise are subject to availability and can be changed. In case any of the listed hotels are fully booked, alternatives of equivalence will be taken.

Guide

Rated Excellent by past passengers

English Speaking Tour Guide (other language on request)

Meals

Rated Excellent by past passengers

Meals as mentioned in the itinerary: 4 lunch, 3 dinner

Transport

Rated Excellent by past passengers

Private Car/Van with Air-Conditioning.
Flights

Hanoi - Danang by Vietnam Airlines
Danang - Saigon by Vietnam airlines

Note:Please note that airfares are subject to availability and to change without notice
Price Includes
• Accommodation with daily breakfast.
• 2 flights: Hanoi – Hue; Danang – Saigon
• Services of private drivers and air-conditioned vehicles.
• Service of English speaking guides as mentioned in the itinerary.
• Entrance fees, performances, boat trips & excursions.
• Meals as mentioned in the itinerary.
Price Excludes
• International flight into and out Vietnam.
• Early check-in and late check-out at hotels.
• Personal expenses (such as laundry, telephone, drinks, etc.).
• Tips for guides and drivers.
• Personal travel insurance.
• Vietnam Visa fee.
START PLANNING NOW
Open