North Vietnam & Laos Adventure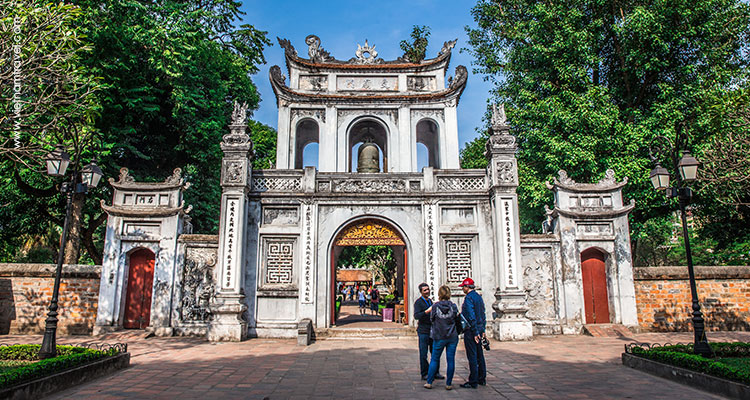 Starts

Hanoi

Destinations

Ends

Vientiane

Hanoi → Halong Bay → Mai Chau → Dien Bien → Nong Khiaw → Luang Prabang → Phonsavan → Xieng Khuang → Vientiane → Laos
Highlights
Explore charming capital of Vietnam.
Sail a cruise among thousands of island and islet of Halong Bay
Explore beautiful nature and diverse culture of Mai Chau
Travel back in time with history of Dien Bien Phu
Take a long tail boat trip along Mekong River
Admire the most vibrant temples in Laos.
Discover the mystery of Plain of Jars.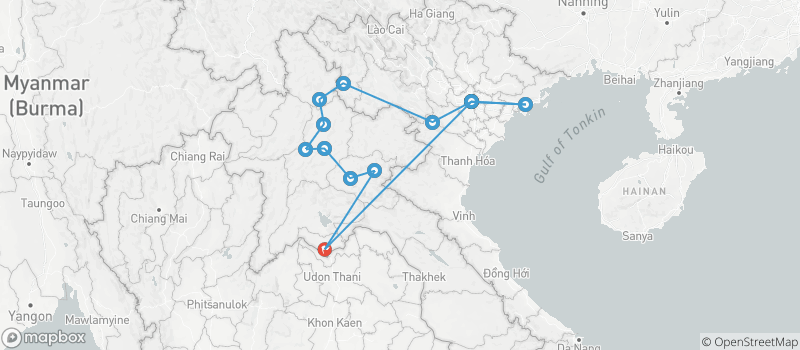 Age range

13 - 90 years old

Accommodation

3

/ 4

/ 5

Transportation
We have designed this tour to highlight two of Indochina's most exceptional destinations. Discover Vietnam's incredible diversity: Walk through the ancient city of Hanoi, enjoy a boat cruise on the picturesque Halong Bay, experience a homestay with the Thai tribe people of Mai Chau, visit the old French battle field in Dien Bien Phu, and marvel at the peaceful countryside of the Red River and Northwest hill tribes.
To discover the enchanting land of Laos, cross over from Vietnam via the newly opened border gate of Tay Trang, head to the rugged mountain town of Muang Khuon, and then down to the UNESCO World Heritage site of Luang Prabang. Visit the sacred Pak Ou Caves, local villages along the Mekong river, and the beautiful boulevards of the capital city – Vientiane. This breathtaking and inspiring journey through Indochina is sure to astound you at every turn.
We offer even better rate for group of more than 10 people.
Let our travel consultant custommized your dream Vietnam Package
Go to customize.
Service Category

2

Adult(s)

0

Child(s)

0

Infant(s)
Discount
Total
Select

$ 1,238 x 6

-

-

-

$ 7,428

Book It

$ 1,457 x 6

-

-

-

$ 8,742

Book It

$ 1,764 x 6

-

-

-

$ 10,584

Book It
Itinerary
Download PDF Brochure
Show all
Day 1: Hanoi Arrival.

Welcome to Hanoi, Vietnam's bustling colonial capital. Your tour guide will meet you outside the baggage claim at Noi Bai International Airport and take you to your hotel in the city center. In the afternoon, enjoy an orientation walk, visiting some of Hanoi's main attractions: the Old Quarter, the Opera House, Hoan Kiem Lake & Ngoc Son Temple. In the evening, savor a welcome dinner of authentic Vietnamese food at one of Hanoi's finest restaurants.
Meals: Dinner.
Accommodation: Hotel in Hanoi.

Day 2: Hanoi City Tour.

Today you have a full day to explore Vietnam's charming capital. With its wide tree-lined boulevards, French colonial architecture, peaceful lakes and ancient oriental pagodas, Hanoi is an eclectic mix that offers something for everyone. Your city tour will take you to Hanoi's key sites: the Ho Chi Minh Complex (Ho Chi Minh's Mausoleum and stilt house), the nearby One Pillar Pagoda; the Presidential Palace; the Temple of Literature; the Quan Thanh Temple, the sedate Tran Quoc Pagoda & West Lake; and one of the city's museums (a choice between the History Museum and the Ethnology Museum). In the evening enjoy a traditional Water Puppet Performance – a unique Vietnamese Art form hailing from Southeast Asia's wet-rice culture.
Meals: Breakfast.
Accommodation: Hotel in Hanoi.

Day 3: Hanoi – Halong Bay – Overnight on cruise.

(The itinerary is a sample, depends on weather and it will be different between cruises. Our travel consultants will provide the exact schedule and program if you book other cruise such as Hera Cruise, Halong President Cruise, Emperor Cruise, Halong Violet, Halong Jasmine, Paradise Luxury Cruises, Orchid Cruise, Indochina Sails, Au Co Cruise, Starlight Cruise etc.)
Halong Bay is one of the most loved spots in Vietnam for a reason - it's gorgeous. On this Halong Bay tour, we take you away from the hectic pace of life in Hanoi and introduce you to the tranquil, beautiful Halong Bay... Following breakfast, journey east through the rich farmland of the Red River Delta to Halong Bay, truly one of Vietnam's most scenic impressive sights. On arrival you are welcomed onboard a traditional junk. Settle into a private comfortable cabin and unpack for a two-day cruise around Halong Bay. Along the way, enjoy a huge lunch served on board and admire the picturesque scenery of islands. These limestone karst formations are littered with beaches, grottoes and beautiful caves. You will anchor for a leisurely swim in a secluded cove and an enjoyable visit to Sung Sot cave, one of the many hidden grottoes beneath towering cliffs. The remainder of day is for your own pleasure; observing the bay, lazing around the deck or simply soaking up the sunshine.
Meals: Breakfast, Lunch, Dinner.
Accommodation: on cruise on Halong Bay.

Day 4: Halong Bay – Hanoi.

Awake early and participate in Tai Chi on the top deck or simply relax and enjoy the sunrise over the bay's towering islands. Enjoy a morning cup of coffee or tea, before setting out to explore nearby islands by rowboat. Return to the junk for breakfast then take advantage of the sundeck and admire the amazing rock formations of Bai Tu Long Bay as you navigate back to Halong City. Have brunch on board the boat before returning to Halong pier. Your driver will meet you at the dock and take you to Hanoi. Rest of the day is free at leisure.
Meals: Breakfast, Brunch.
Accommodation: Hotel in Hanoi.

Day 5: Hanoi – Mai Chau.

Your driver and guide will meet you at your hotel and take you along highway 6 to Mai Chau: a small town nestled in the midst of a lush valley and surrounded by emerald-green rice fields. Enjoy picturesque views of the scenic landscape, sown with pagodas and rural villages. Stop along the way to visit the Muong tribe and then at Thung Khe Pass for a spectacular view of Mai Chau Valley. Have an authentic lunch with a local family of the White Thai Tribe and enjoy some free time to acquaint yourself with the villagers. In the afternoon, trek through terraced rice paddies and small villages, discovering the natural beauty of the valley and encountering the culture of the ethnic minority Thai people on our visits to the Thai villages. Return to the homestay and help cook the evening meal. This is an opportunity to learn about the local cuisine and culture as you join the family to prepare a traditional dinner. In the evening, enjoy a live dance and music performance. Stay overnight in the traditional house. Note: A stay at hotel or lodge in Mai Chau will be arranged if you don't like homestay experience (depending on tour price category).
Meals: Breakfast, Lunch and Dinner.
Accommodation: Homestay in Mai Chau.

Day 6: Mai Chau – Dien Bien Phu.

Start the day with a simple breakfast with your host family. Then take a short drive through the surrounding countryside, before setting off on a long and nice drive to the tea plantations and plateau of Moc Chau. You then travel from Son La, all the way to Dien Bien Phu on the newly upgraded highway No.6. This gorgeous stretch of road is lined with stunning scenery. The nice drive passing the impressive Pha Din pass - a highlight of the day. Pha Din sits 1,000 meter or 3,280 feet above the sea level. According to local legend, "Pha Din" means the connection between Heaven and Earth. Arrive in Dien Bien Phu in the afternoon.
Meals: Breakfast, Lunch.
Accommodation: Hotel in Dien Bien Phu.

Day 7: Dien Bien Phu Historical Tour.

Nestled in a heart shaped basin near the border with Laos, lies Dien Bien Phu. The famous historical battle field, where the Vietnamese successfully defeated the French, marking the end of French colonial occupation in 1954. Start the day early with a visit to the local market where you will meet charming Thai tribes in their traditional costume purchasing their farm products. The next is military base and historical site of the First Indochina War. Drive 30 minutes out of city to the base of The Command of Dien Bien Phu Campaign (Muong Phang) – Located in a primitive forest in Muong Phang commune to the commanding bunker of General Commander-in-chief Vo Nguyen Giap and Hoang Van Thai. In the afternoon, visit Dien Bien Phu Museum – Built at 1984 on the occasion of the year 30th after Dien Bien Phu Victory before visiting A1 Hill - The most important camp of the French and Bunker of the French General De Castries. Some free time of your own in the afternoon relax by the hotel's pool or strolling around the town.
Meals: Breakfast.
Accommodation: Hotel in Dien Bien Phu.

Day 8: Cross border to Muang Khua – Drive to Nong Khiaw.

After breakfast in the hotel, drive down south through the peaceful Muong Thanh Valley to the Tay Trang border gate to Laos where your Laotian tour guide and driver are awaiting you (It may take some 30 minutes for Immigration and customs processes). Crossing the border, continue through one of Laos' most remote regions to Muang Khua, a border town located on the banks of the Nam Ou River. Have an early lunch here in Muang Khua then we continue the journey to Nong Khiaw – a charming rustic little town on the bank of the Ou River. It is squeezed in between some of the most fantastic limestone mountains north of Laos.
Meals: Breakfast.
Accommodation: Hotel in Nong Khiaw.

Day 9: Nong Khiaw – Pak Ou Cave – Luang Prabang.

Have breakfast in the hotel then ride a bicycle around the village enjoying the fresh air and peaceful scenery. After lunch, say goodbye to peaceful Nong Khiaw to drive to Luang Prabang, the UNESCO World Heritage Site. This exquisite town in Laos is not to be missed under any circumstances. Situated on the peninsula formed by the Mekong and the Nam Khan River, Luang Prabang is a perfect spot to unwind, eat good food and enjoy the scenery. This relatively small, palm fringed place is packed with fabulous colonial villas, top class restaurants, coffee shops and stunning Buddhist temples. On the way to old town, stop to visit Pak Ou Cave, a mysterious cave packed with hundreds of Buddha statue into the nooks of the limestone cliffs. Head to Ban Xang Hai. Stop here to learn how local make "Lau Lao" (Lao whisky) and Lau Hai (Lao wine).
Meals: Breakfast.
Accommodation: Hotel in Luang Prabang.

Day 10: Luang Prabang City Tour – Kuang Si Waterfall.

This morning you will wake up early (05:30 AM) and take participate in the daily early morning ritual of saffron-clad monks with their black Alms-giving bowls being given offerings from the local people, including the ubiquitous sticky rice. Back to hotel for breakfast. Your visit will start with Royal Palace Museum which was built between 1904 and 1909 during the time of French colonial occupation as the residence of the Laos Royal Family. Then head to Wat Xiengthong, once known as "The Temple of the Golden City". It's the most historic and enchanting Buddhist monastery in the entire country. After lunch, drive and take soft trek to visit the Ban Ouay, Hmong Hill tribe and Ban Ou, Lowland Lao. Our next visit is Butterfly Park which is just 300m before the entry of Kuang Si Waterfall. Continue driving to the beautiful Kuang Si Waterfall where you can splash around in the pools or walk along the forest paths. Back to Luang Prabang to climb on Phousi mountain to admire sunset over ancient town.
Meals: Breakfast.
Accommodation: Hotel in Luang Prabang.

Day 11: Luang Prabang – Phonsavan.

Today drive from Luang Prabang to Phonsavan, passing through Laos' pristine countryside. This 7-hour transfer with spectacular view of Laos forests and mountain ranges. Along the way we will stop for photo opportunities and visit various hill tribe villages. On arrival, check-in at your hotel and relax.
Meals: Breakfast.
Accommodation: Hotel in Phonsavan.

Day 12: Xieng Khuang – Plain of Jars.

Start the day with a trip to Phonsavan's bustling central market. Visit the MAG exhibition before heading out to see the great stone wonders of Xieng Khuang, the Plain of Jars. First we will explore Site 1 where hundreds of large stone jars lie scattered about the enchanting plateau. Next, is the forested area of site 2 and a short scenic trek to Site 3. Drive to the airport for a short domestic flight to Vientiane. Upon arrival, our driver will take you to your hotel in the city center. Free at your leisure in the evening.
Meals: Breakfast.
Accommodation: Hotel in Vientiane.

Day 13: Vientiane City Tour – Buddha park.

Today we have a full day to explore Vientiane - the charming and fascinating capital of Laos, one of the classic Indo Chinese cities which conjure up exotic images, with its intriguing mix of Lao, Thai, Chinese, Vietnamese, French, American and Soviet influences. Our visit will take you to the key sites: Wat Sisaket the city's oldest surviving temple with thousands of silver and porcelain images in the gloriously authentic temple compound that offers you a glimpse into the Vientiane of the past, the next stop is Haw Phra Kaeo. This large temple is beautiful both interior and exterior, it was built to house the famed Emerald Buddha in courtyards filled with frangipani trees. Next is the visit Pha That Luang, the giant golden stupa is a sight to see as the bright gold holds a sharp contrast to the pure blue sky. Then you will go to climb the Arc De Triomphe of Laos, Patuxai. The massive arch has a beautiful mosaic tiled ceiling and once at the top you can see for miles around Vientiane. In the afternoon we take a half day tour to Buddha Park, also known as Xieng Khuan (as well as other variations of the spelling), is a sculpture park located 25 km southeast from Vientiane.
Meals: Breakfast.
Accommodation: Hotel in Vientiane.

Day 14: Vientiane Departure.

Have breakfast at the hotel and then enjoy a free morning at your leisure before driving to the airport to catch your departure flight.
Meals: Breakfast.
Accommodation: N/A.
Detailed services
Show all
Accommodation

Rated Excellent by past passengers

Note:All the hotels/ cruise are subject to availability and can be changed. In case any of the listed hotels are fully booked, alternatives of equivalence will be taken.

Guide

Rated Excellent by past passengers

English Speaking Tour Guide (other language on request)

Meals

Rated Excellent by past passengers

As mentioned in the itinerary: Daily breakfast at hotel, 2 lunches, 3 dinners.

Transport

Rated Excellent by past passengers

Private Car/Van with Air-Conditioning.

Boat: Local boat to Pak Ou cave
Flights

Phonsavan - Vientiane by Laos Airlines

Note:Please note that airfares are subject to availability and to change without notice
Price Includes
• Accommodations with daily breakfast
• Meals as mentioned in the itinerary
• Private tours, transfers and all services as mentioned in the itinerary
• Services of private drivers and air-conditioned vehicles
• Service of English speaking tour guides
• 1 flight (Xieng Khuang - Vientiane)
• Entrance fees, performances, boat trips & excursions.
Price Excludes
• International flights into Vietnam and out Laos
• Meals other than those mentioned in the itinerary
• Early check-in and late check-out at hotel
• Personal expenses (such as laundry, telephone, drinks, etc.)
• Tips for tour guides and drivers
• Travel insurance
• Visa fees.
START PLANNING NOW
Open